A first day of school cone, or back to school cones or German schultute, are great ideas for first day of school! And, this Minecraft theme is perfect for your gamer kid to send them off to class or homeschooling! Get your free Minecraft printable paper to wrap the cone!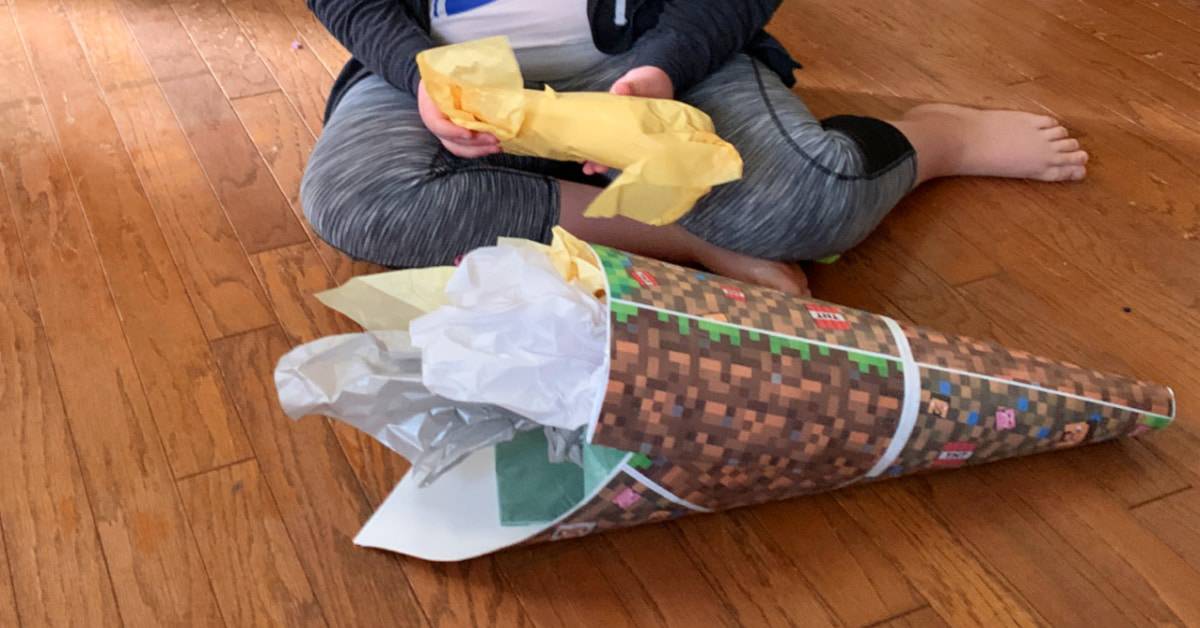 HOW TO MAKE A FIRST DAY OF SCHOOL CONE
What is a German school cone?
A German school cone, or Schultüte (pronounced shool-too-tuh), is a back to school gift given on the first day of school. It is a cone-shape filled with things like pencils, paper, and candy that will help kids at school and also help celebrate their new school year.
This is one of those activities for first day of school that we look forward to every year!
How do you make a back-to-school cone?
To make a back-to-school cone, roll a large, flexible piece of construction paper (poster board) into a funnel (or cone) shape. Tape at the seams. Decorate the outside of the cone with drawings, stickers, or tissue paper or wrapping paper. Fill the cone with school supplies, snacks, and small gifts. Top the cone with festive tissue paper.
Affiliate links are used on this site. As an Amazon Associate I earn from qualifying purchases. Read more in our DISCLOSURE.
Don't miss the full instructions to the Minecraft School Cone below (along with free Minecraft printable paper)!

What is inside a schultüte?
A schultüte, or back to school sugar cone, is filled with supplies for school, fun toys, and chocolate and candy. You can tailor your cone for back to school for each child's grade / age and their specific interests.
What do you put in a Schultute?
A Schultüte usually holds back to school supplies and candy. Back to school cones can include anything students need for school, plus a few surprise!
Crayons
Pencils
Pens
Notebooks
Markers
Erasers
Notecards
Post-It Notes
New wallet or keychain
Ruler
Glue or glue stick
Candy
Chocolates
Suckers
Granola bars
Gum
Gummy snacks
Lip palm
Small hand sanitizers
Bookmarks
Any special items your kids like
Back to school gifts for your Minecraft gamer kids:
Who gets Schultute?
Traditionally, a German schultüte was given to younger kids on their first day of school. However, today, the back to school cones are used for kids of all different ages and stages for their first day of school all across the world because it's a great way to make a first day of school super special!
How To Make a Minecraft First Day of School Cone
This is a perfect first day of school elementary activities, preschool, or even high school! Fun way to send best wishes for first day of school for any age!
Yield: 1
Minecraft Theme First Day of School Cone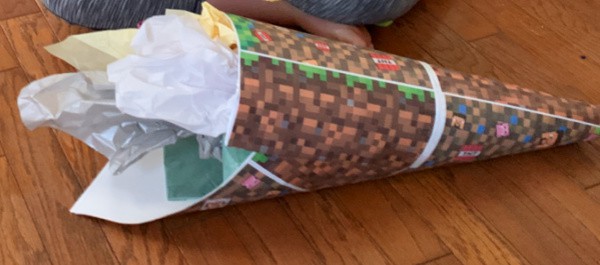 Add some Minecraft theme prizes to your Back to School Cone!
Total Time
1 hour
10 minutes
Materials
Thin poster board (not the thick board)
Scissors
Clear packing tape
Green, black, and brown tissue paper (to stay with the Minecraft theme), but white works fine
Minecraft printed paper (see the free printable in the post!)
Minecraft theme Items to fill the cone like (or whatever fun things you would like to include in your schultüte)
Instructions
Place the poster board on a flat surface in front of you, with the shorter width side at the bottom. Starting in the right lower corner, roll the poster board from the lower corner toward the top corner to form a cone. Holding the cone, release it a little so that it unrolls (just a little, not all the way) to make the inside part of the cone larger. (It may take a couple of practice rolls to achieve this). You want the top (open part) of the cone to be larger than the bottom (tip). Think of an ice cream cone shape. Secure the seam all the way done the cone on the outside with clear tape. (Packing tape works the best.)
Print out multiple copies of the free Minecraft printable. Tape the pages (decoration side out) around the outside of the cone you just made until it is completely covered in Minecraft paper.
Wrap some of your back to school cone gifts in tissue paper. Stuff the bottom of the cone with tissue paper to prevent smaller items from falling out (especially important if the point, or bottom, of your cone ended up having a bigger opening).
Put the bigger (more important gifts) into the cone first, so they're the last things that are opened.
Layer in different gifts, tissue paper, school supplies and candy.
End your back to school cone by either taping tissue paper over the top or just stuffing in different pieces of tissue paper from the cone.
Present the school cone to your student on the first day of school! (Don't forget the back to school pictures!)
Free Minecraft Printable Wrapping Paper
Use the Minecraft printable grass block printouts to wrap your back to school gifts and cover your back to school cone! CLICK TO GET THE FREE MINECRAFT GRASS PRINTABLE SHEETS. (Personal use only.)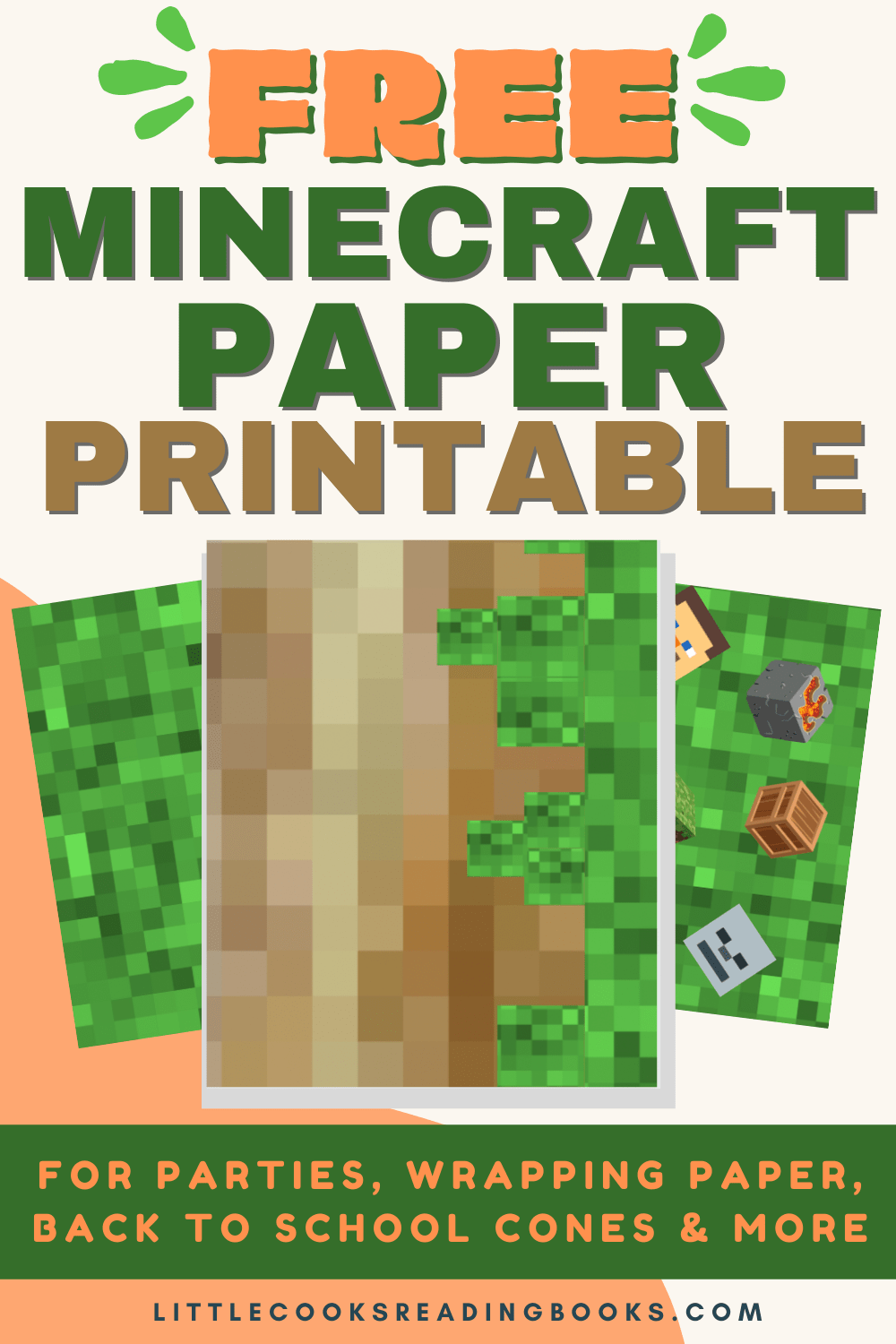 Have fun with your first day of school cone!
LOOKING FOR FUN COOKING PRINTABLES FOR KIDS?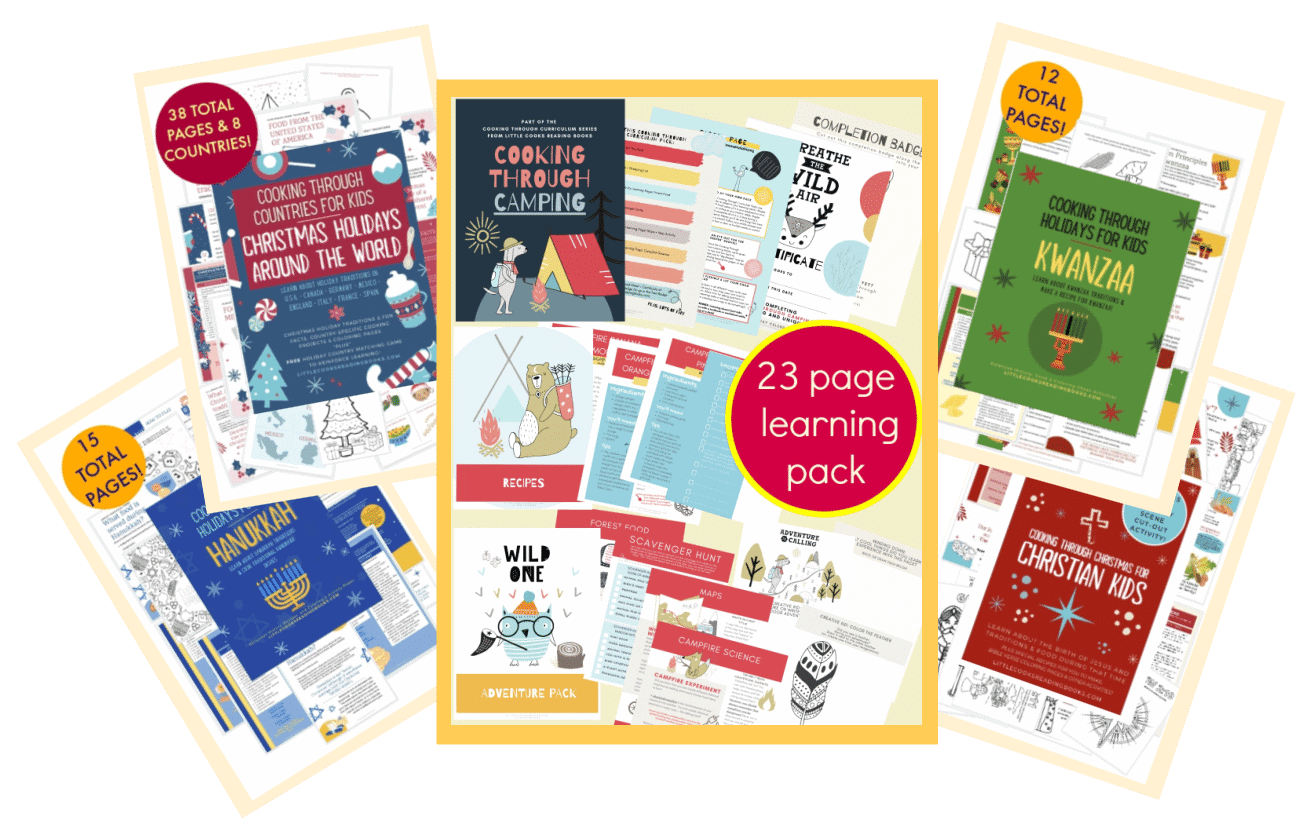 As an Amazon Associate I earn from qualifying purchases. Please refer to our
DISCLOSURE
.