This cucumber dip is such an easy recipe that it will quickly become one of your favorite summer recipes or snacks for kids. It's one of those recipes a kid can make on their own, too. Also, if you're wondering what to do with cucumbers that are going bad, this dish is perfect for those!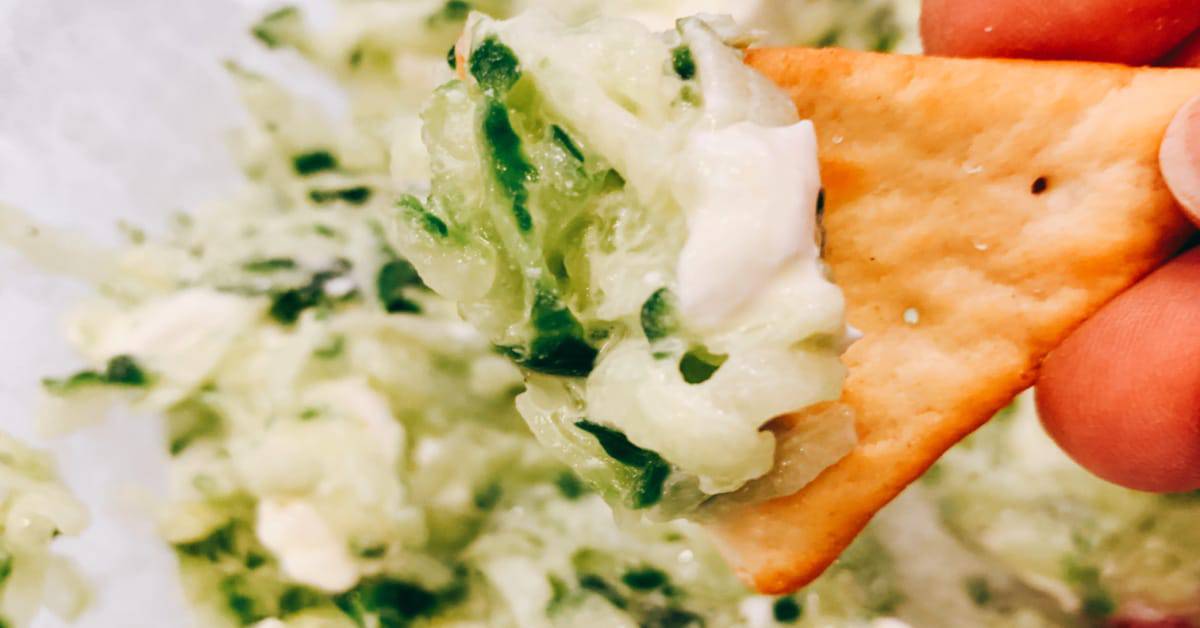 BEST CUCUMBER DIP RECIPE
Cucumbers are the perfect summer snack and you'll love this easy appetizer recipe. This dip using cucumber is one of our favorite easy dip recipes!
How Do You Make Cucumber Dip?
This simple recipe has two ingredients for cucumber dip: cucumbers and cream cheese. It works as well for fresh cucumbers from the garden as it does store bought cucumbers that are going bad. This dish has a cucumber dip tzatziki sauce flavor.
Affiliate links are used on this site. As an Amazon Associate I earn from qualifying purchases. Read more in our DISCLOSURE.
Also, if you're wondering what to do with an abundance of cucumbers, keep this recipe in mind!
Before we get to the this simple summer recipe, let's answer some common questions people have about these vegetables (like what to do with cucumbers besides pickles).
What is the best way to eat cucumbers?
23 different things to do with cucumbers:
Cucumber and onion salad
With hummus
Cucumber salsa
In smoothies
With feta cheese
Cucumber vegetable dip
Greek salad
With crackers
Cucumber tomato dip
On deviled eggs
Cucumber yogurt dip for falafel
Baked cucumber chips
Cucumber shrimp dip
Cucumber soup
Salad dressing (as a cucumber dipping sauce)
Cucumber dipped in vinegar
Cucumber spinach dip
In stir fry dishes or cucumber Thai dishes
Cucumber sticks and dip of choice
Cucumber jalapeno dip
Tzatziki sauce

Cucumber mint dip recipe

Alone with a little salt or other seasoning!
Is it good to eat the skin of a cucumber?
The skin of a cucumber is perfectly safe and even good to eat. However, it is mostly a taste preference. Store-bought cucumbers often have an edible wax applied for preservation. It is safe, but we always scrub cucumbers from the store before eating them with the skin on.
YOU MAY ALSO LIKE: Homemade Guacamole in 10 Minutes!
What can I do with extra large cucumbers?
Sometimes, cucumbers that have grown to a large size can taste bitter. However, what you can do with extra large cucumbers is cut out the seeds and then shred them for use in salads, dips, soups, or sauces. Very large cucumbers usually aren't good for pickling.
Can you freeze whole cucumbers?
You can freeze cucumbers, even whole cucumbers, but they will not be the fresh crunch cucumbers that get from the garden once defrosted. One of the best ways to freeze cucumbers for use later is to shred them. Then, they can be added to a variety of dishes and recipes.
Now that we've covered those FAQs, let's get to the recipe for cucumber dip!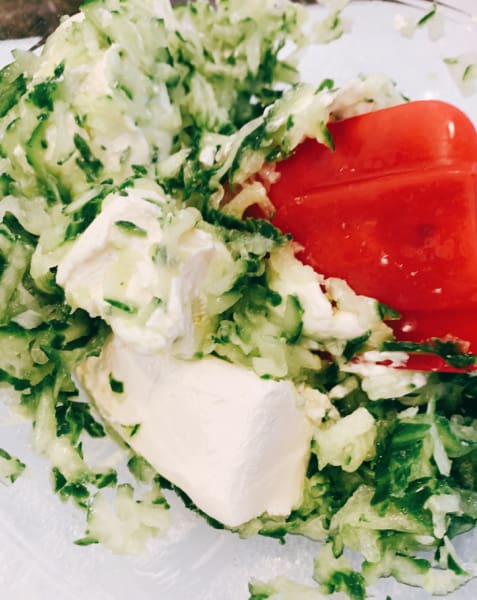 How To Make Cucumber Dip
You can make this a cucumber dip yogurt recipe, but we make this as a cucumber dip with cream cheese.
If you're looking for simple cucumber recipes, this will quickly become a favorite for everyone in your house!
Do you need to peel cucumbers?
We don't peel cucumbers for this vegetable dip recipe. I find that the peels give this dish an extra added crunch that makes it more enjoyable.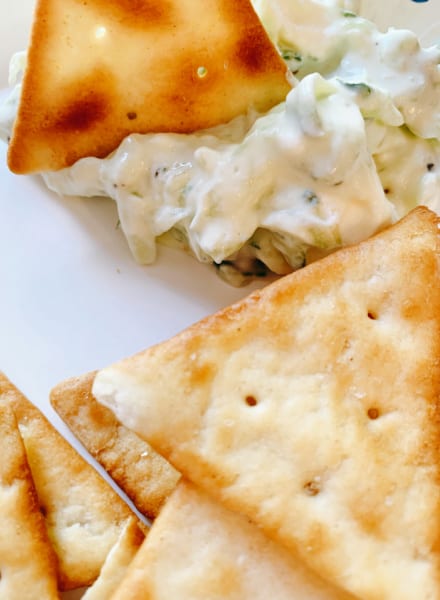 This is the perfect simple summer recipe! It's great if you have extra cucumbers or cucumbers going bad that you need to use ASAP. Don't throw them out! Instead, spend a couple of minutes making them into an easy snack for kids or even a cookout appetizer!
Ingredients
1 cucumber, skin on, shredded with cucumber juice
1 8-ounce block of cream cheese, softened
Salt and pepper, to taste
Instructions
1. In a medium mixing bowl, shred cucumber (including the skin). Don't drain the juice!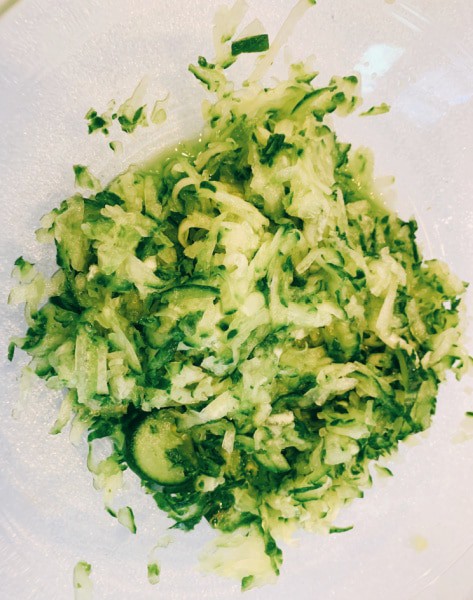 2. Add in softened cream cheese. Stir until combined.
3. Salt and pepper, to taste. Serve with salty crackers, celery and carrots, bread, or tortilla chips.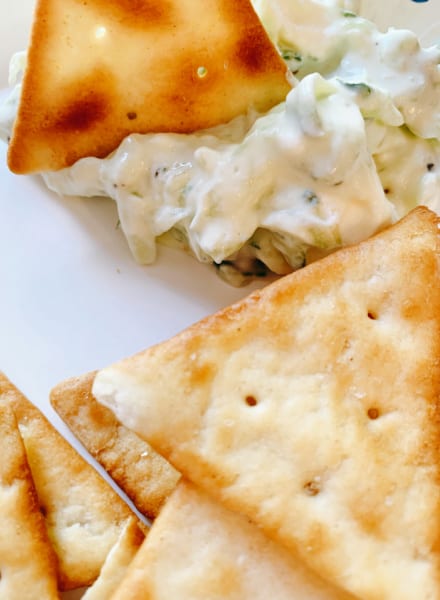 Notes
Recipe for Cucumber Dip Cream Cheese Tips
Cucumber dip with greek yogurt: You can also use plain greek yogurt to make a healthier version.
Some have told me that they make this as a cucumber dip sour cream. I've never tried it that way, but seems like it would be good, too!
Also, this is a fun recipe to play around with. Try hot sauce, garlic, chopped red onion or even a cucumber dip with dill for a quick recipe.
Nutrition Information:
Yield:
8
Serving Size:
1
Amount Per Serving:
Calories:

109
Total Fat:

10g
Saturated Fat:

6g
Trans Fat:

0g
Unsaturated Fat:

3g
Cholesterol:

29mg
Sodium:

180mg
Carbohydrates:

4g
Fiber:

0g
Sugar:

2g
Protein:

2g
Nutrition information is estimated. Changes to the recipe and use of different brands may cause changes to the nutritional information to vary slightly from the ones provided here.
Children's Books and Recipe Ideas
This is a one of those great recipes inspired by books for you and your kids because you can cover gardening, cucumbers, vegetables, farming and more!
Try these children's books to go along with your cucumber recipe:

(Not a vegetable, but I think it would be fun to discuss the difference between garden cucumbers and sea cucumbers and then make the vegetable dip!)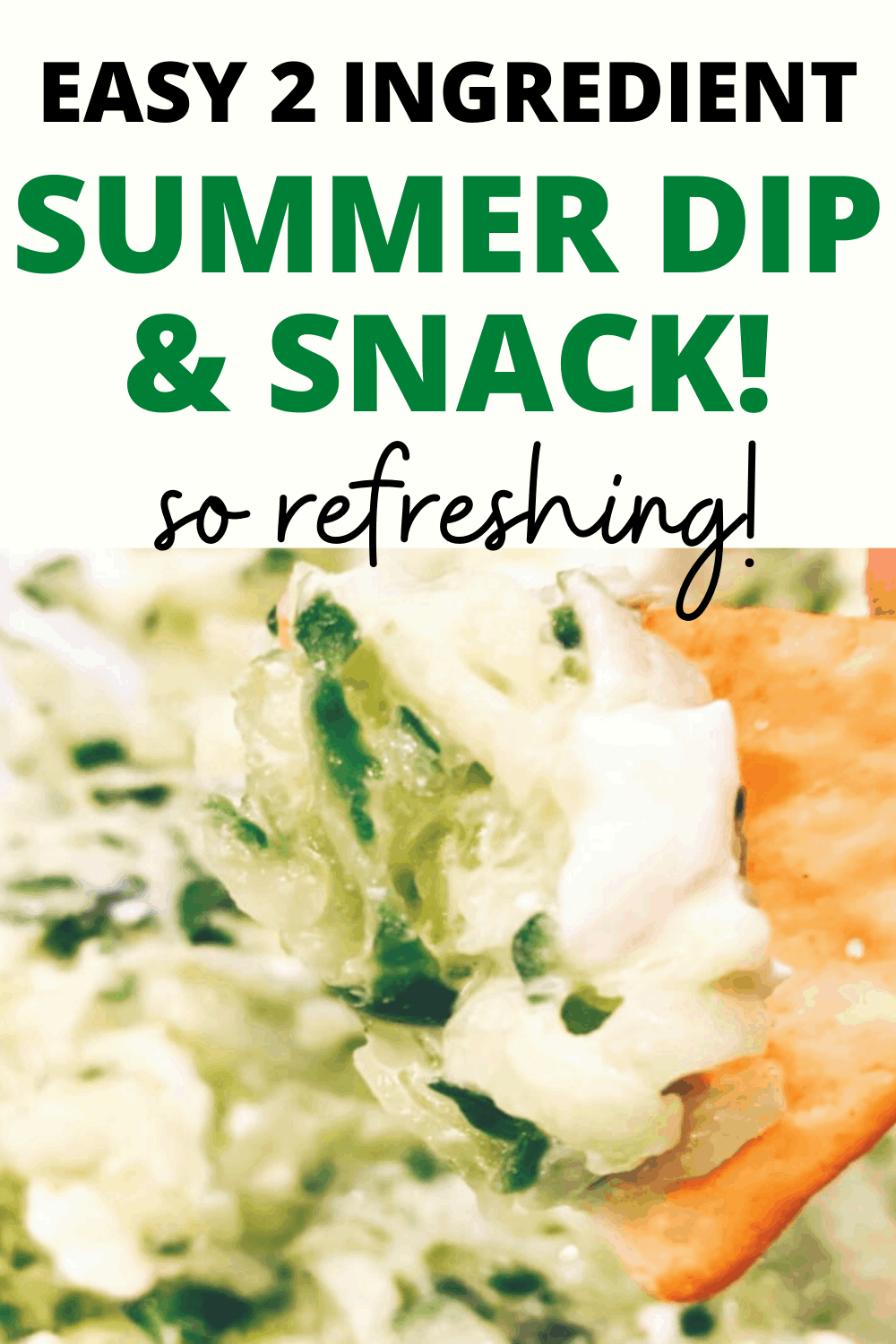 ENJOY YOUR CUCUMBER DIP!
LOOKING FOR FUN COOKING PRINTABLES FOR KIDS?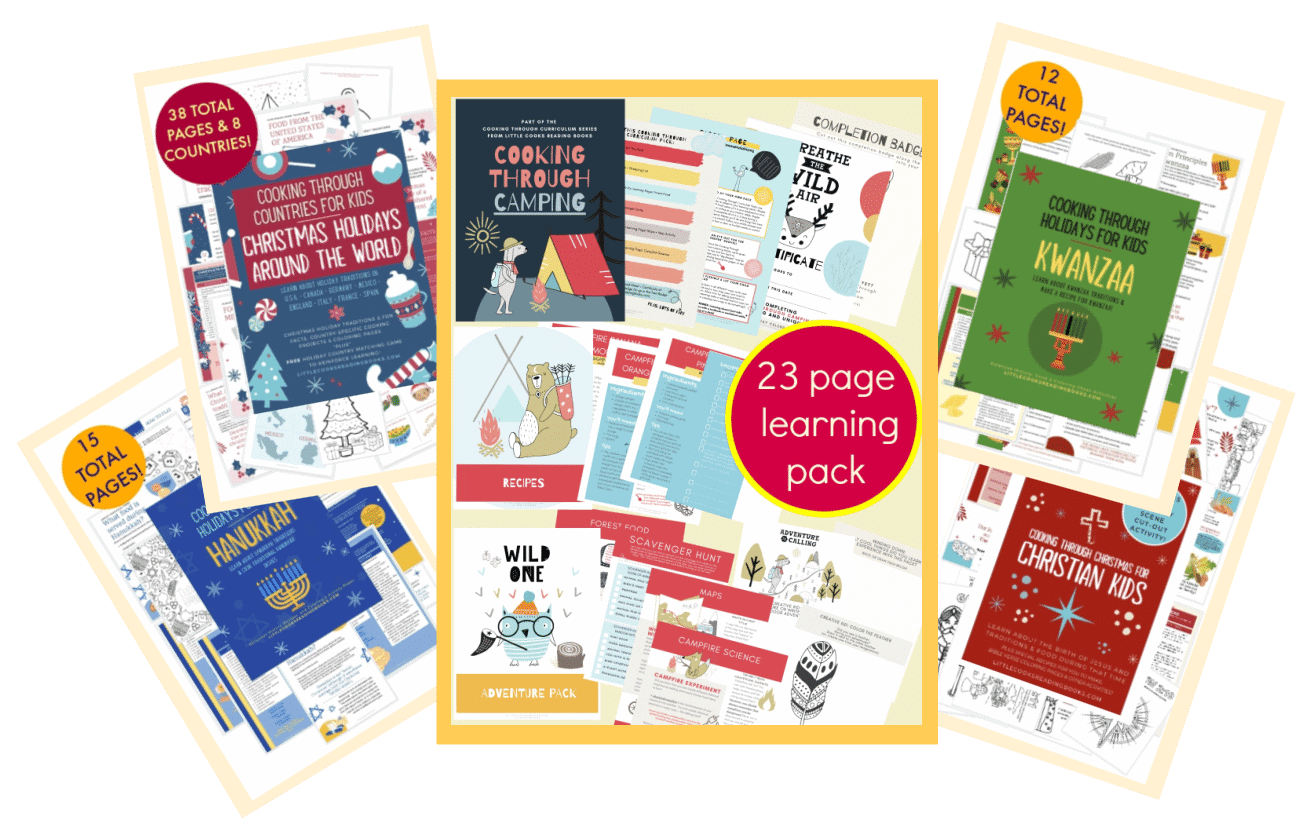 As an Amazon Associate I earn from qualifying purchases. Please refer to our
DISCLOSURE
.