Need recipes for July 4th for kids or July 4th food ideas for your summer cookout, Independence Day party, family gathering, or wondering what do you serve at a Fourth of July party or picnic? Try these super simple recipes, patriotic food ideas (including fun 4th of July desserts!), and red white and blue food themes for kids and adults!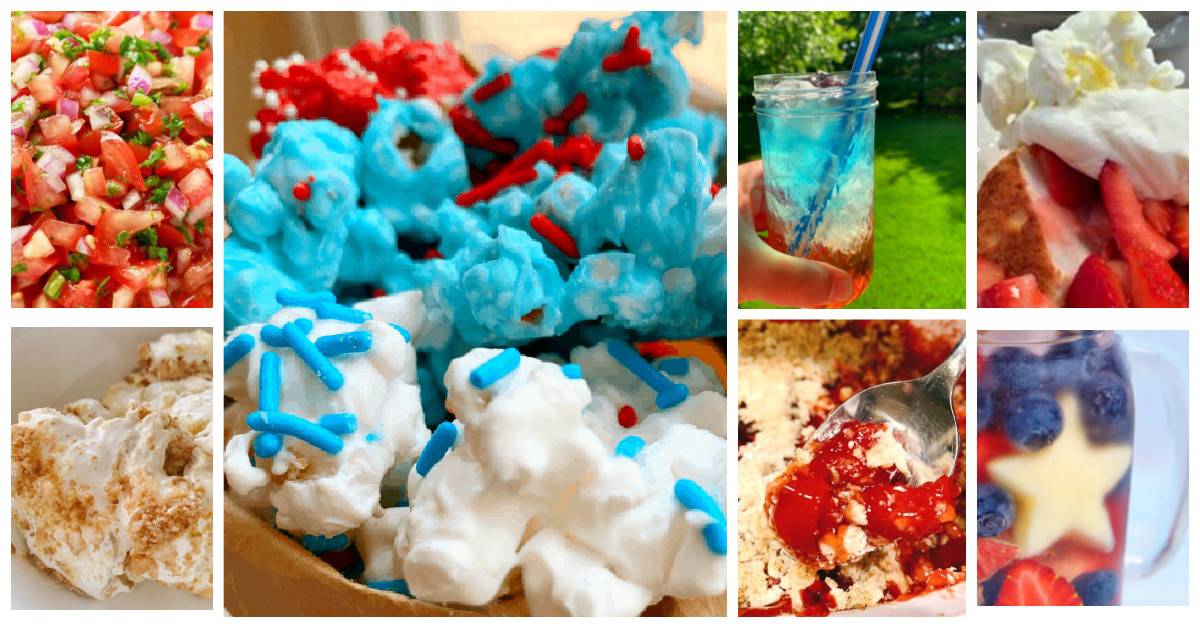 Easy Recipes For July 4th For Kids And Adults
These are fun Fourth Of July foods ideas for kids and also recipes for the 4th of July adults will love!
What is a traditional 4th of July meal?
Traditional 4th of July meals vary by region in the United States, but are usually American picnic or cookout foods on the grill (hamburgers, chicken, hotdogs). July Fourth food also includes picnic foods, and red, white, and blue recipes to honor the day. There are plenty of cool drinks and also chilled fruit to combat any heat of the summer.
What do you eat on the 4th of July?
17 Easy Traditional July 4th Foods That Kids Love:
Affiliate links are used on this site. As an Amazon Associate I earn from qualifying purchases. Read more in our DISCLOSURE.
Hotdogs
Hamburgers
Barbecue grilled chicken
Ice cream
Potato salad
Pasta salads
Fruit salad
Coleslaw
Banana pudding (my daughter's favorite fourth July foods for kids – see recipe below!)
Sun tea
Lemonade
Watermelon (or patriotic red, white & blue watermelon blueberry salad for an easy 4th july dessert!)
July 4 fruit platter in shape of a flag (also easy for 4th July desserts)
4th of July cookie platter with red white blue cookies (or flag Independence Day cookies)
Other Red, white, and blue foods (for an all-American cookout)
The most popular 4th of July food items are easy recipes for a pitch-in picnic or 4th of July finger foods.
KEEP SCROLLING for kids food for 4 of July and blue, red and white snacks, beyond just 4th of July traditional foods! Fun 4th of July recipes links below!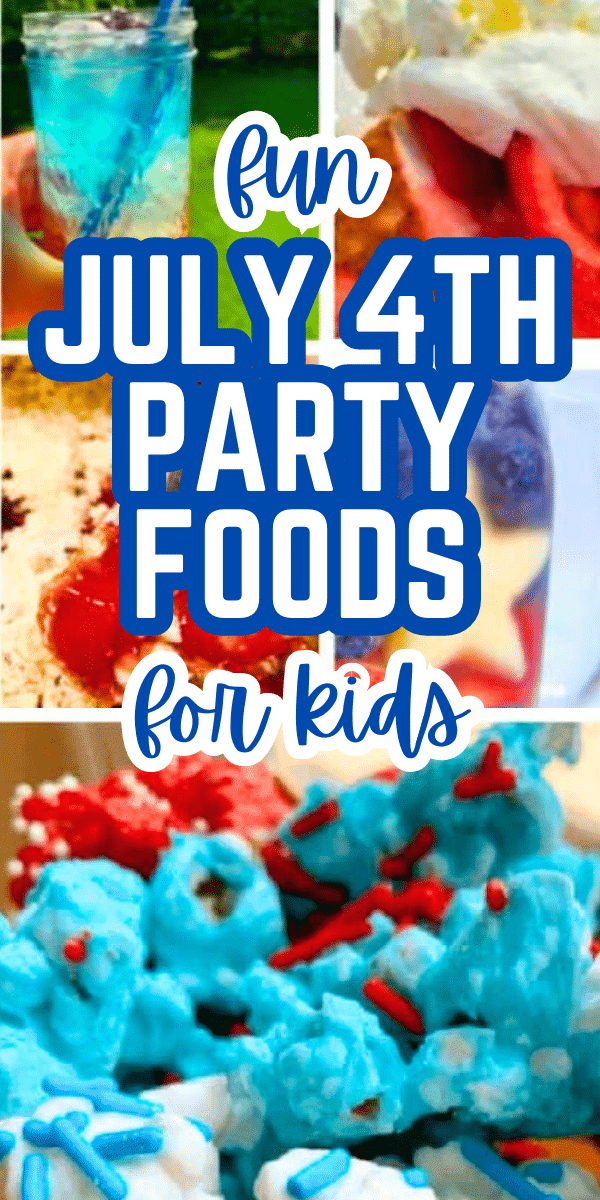 AFTER RECIPE 4TH JULY, ALSO CHECK OUT THESEE KIDS ACTIVITIES: What is Independence Day? July 4th Activities, Lessons, Games for Kids
What do I need for a 4th of July picnic?
If you are hosting a 4th of July picnic you'll need fun patriotic decorations and red, white, and blue decorations like:
Red, white, and blue streamers or balloons
Red white blue dishes, glasses, and utensils
Small American flags (grab a pack like this that you can use for decorating and to give to attendees)
Fun patriotic sprinkles for desserts
Tables
Plenty of seating and even fun July 4th blankets spread on the ground
Outdoor yard games (we love this one for all ages!)
Patriotic playlist (or a grill and chill playlist for music)
Tents or umbrellas
Sparklers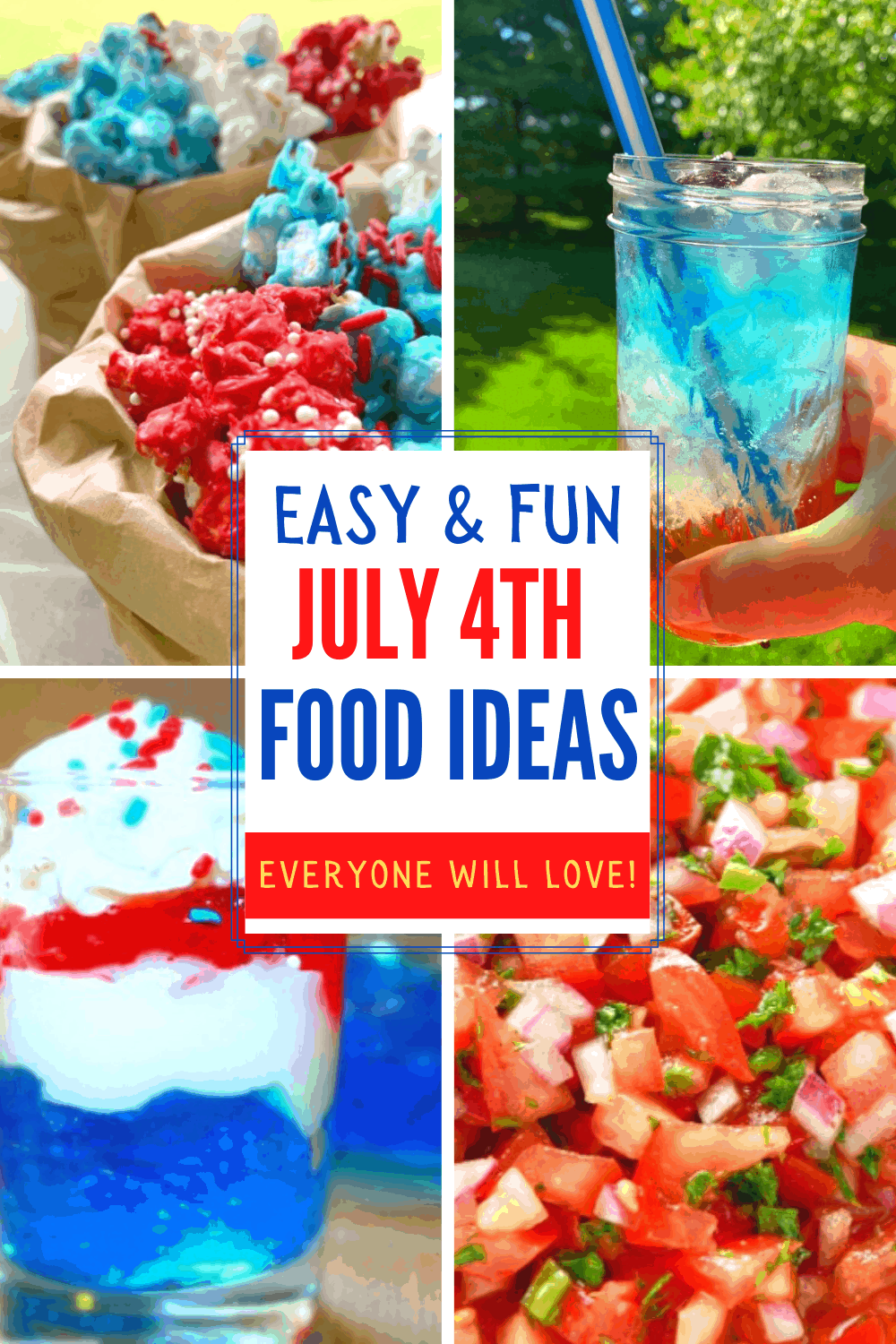 Food Ideas for 4th of July For Kids and Adults
Fun 4th of July Red White and Blue Recipes!
These are fun ideas for 4th of July party with kids — whether you're looking for 4th of July snacks for preschoolers or want foods in red white and blue for kids of all ages, you'll find fun patriotic snack ideas and recipes for your Fourth Of July party! Add these treats for the 4th of July to your traditional 4th of July foods!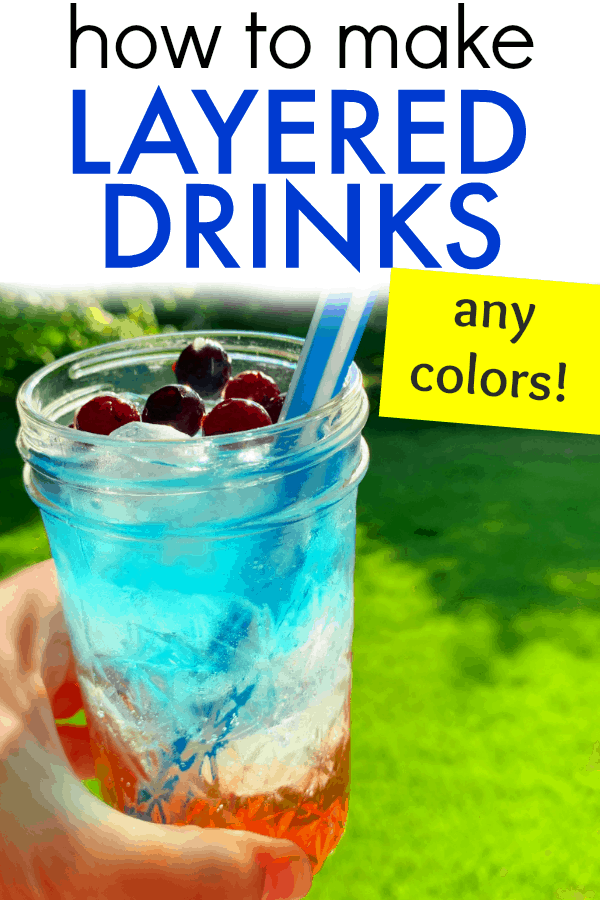 Patriotic Punch For Kids
This red, white and blue drink patriotic punch is fun to make, especially if you have a party with kids.
It's fun to serve this layered drink, where the red-white-blue drink layers stay separated.
Kids love this summer party drink!
It's also fun for July 4th STEM or even 4th of July food crafts for kids' ideas.
Red White Blue Patriotic Punch Recipe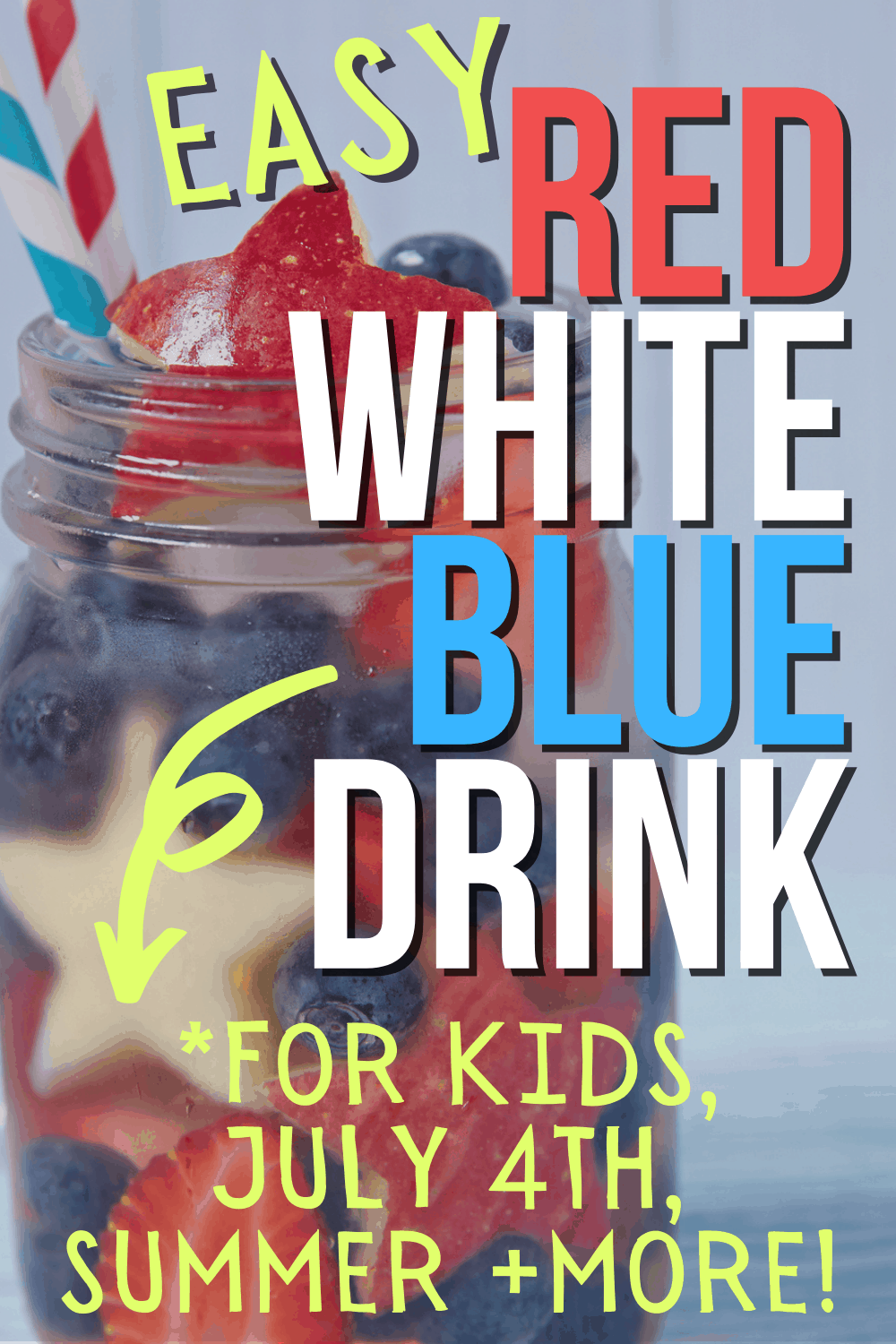 Red White Blue Drink
Looking for patriotic drinks but want to keep it healthy?
Make homemade drinks red white and blue with fruit and water or seltzer water.
This is also great for star shaped snacks for preschoolers!
Red White Blue Party Drink Recipe
Red, White, And Blue Jell-O Patriotic Treats
OK, if you're looking for an easy 4th of July dessert that kids and adults enjoy for the holiday, this is it!
These are super EASY patriotic desserts, red, white, and blue desserts, or kids desserts.
Make them in small shot glass sizes and place them in a fun patriotic ice chest on a table.
This is one of those easy red white and blue snacks that kids have fun making, too! (Another one that's great for Fourth of July for preschool recipes to make.)
My daughter was 4 years old when we first starting making these as part of our Jello Fourth of July recipes and she loved it!
Definitely add this if you need red white blue food ideas for children and simple desserts 4th of July!
Red, White, and Blue Dessert Recipe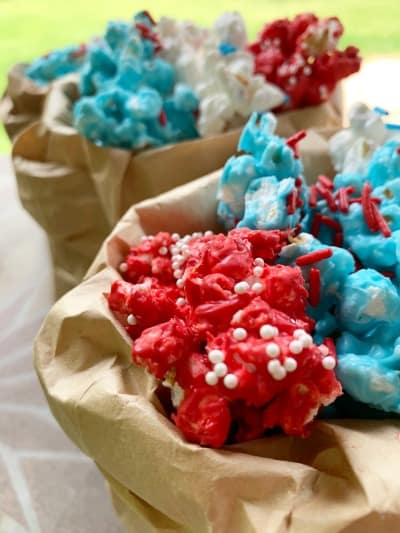 Patriotic Popcorn Dessert Recipes For The Fourth Of July
This red, white, and blue Patriotic Popcorn is fun for all ages and adds a patriotic decoration to your table!
Fun if you're looking for white, red, and blue food recipes that are different from what everyone else brings to an Independence Day picnic!
(This is my favorite Fourth of July party food and such a fun patriotic snack mix for a kid dessert recipes!)
Colored Red White Blue Popcorn Recipe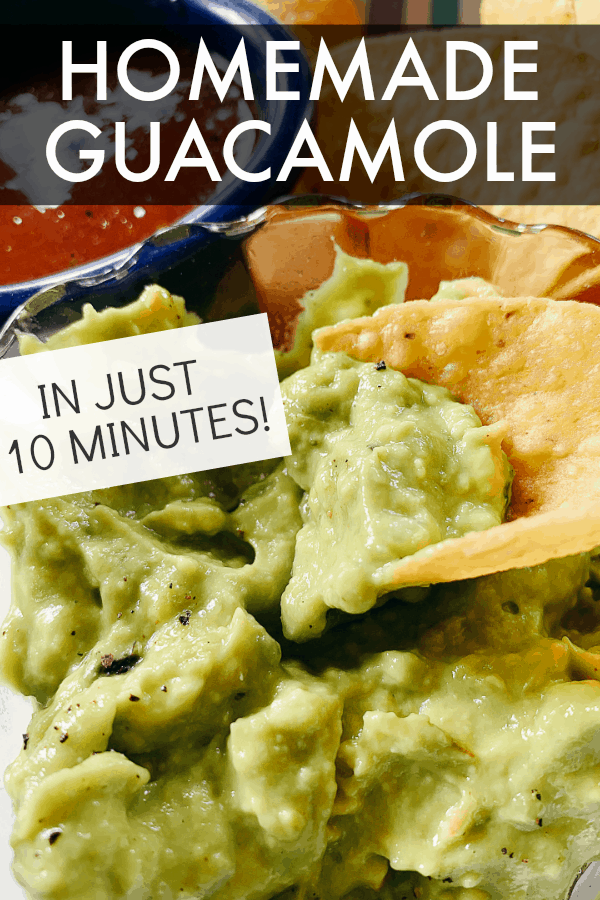 Guacamole Recipe
It's not a red, white, and blue food, but a guacamole recipe is a great addition to your 4th of July party food ideas because it's easy to make, it's refreshing on a hot day, and almost everyone likes it!
It's great for cold 4th of July appetizers!
Pico De Gallo Dip
Pico de gallo adds another red food to your theme and is an easy tomato salad.
It's an easy party appetizer to throw together at the last minute and can be eaten with a lot of your other July 4 party food ideas and fun for a patriotic side dish.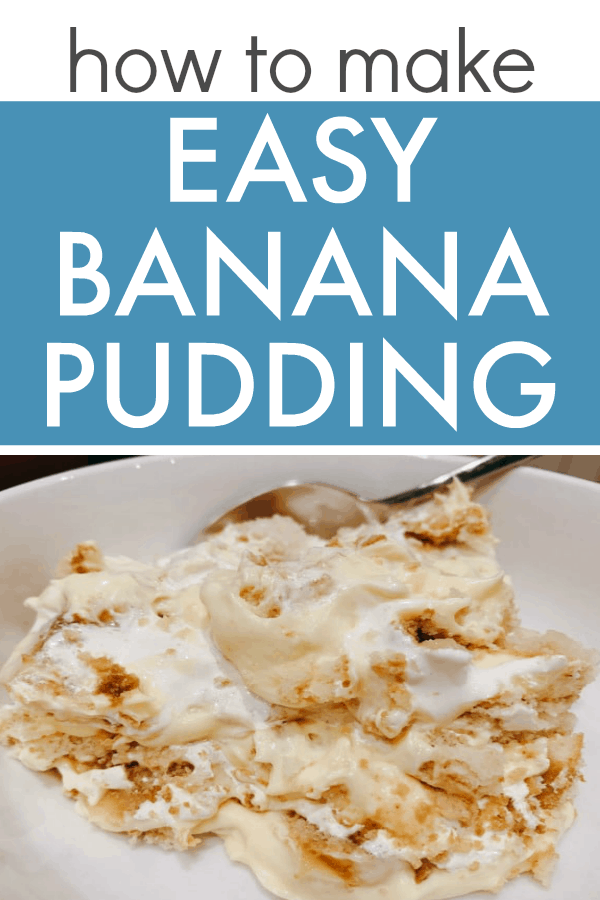 No-Cook Banana Pudding
This is our go-to summer dessert and perfect for your 4th of July picnic, especially if you're looking for no bake July 4th food ideas for kids.
RECIPE TIP: Take an extra dish, add some ice and then sit the banana pudding dish on top of it to keep it cool during the cookout.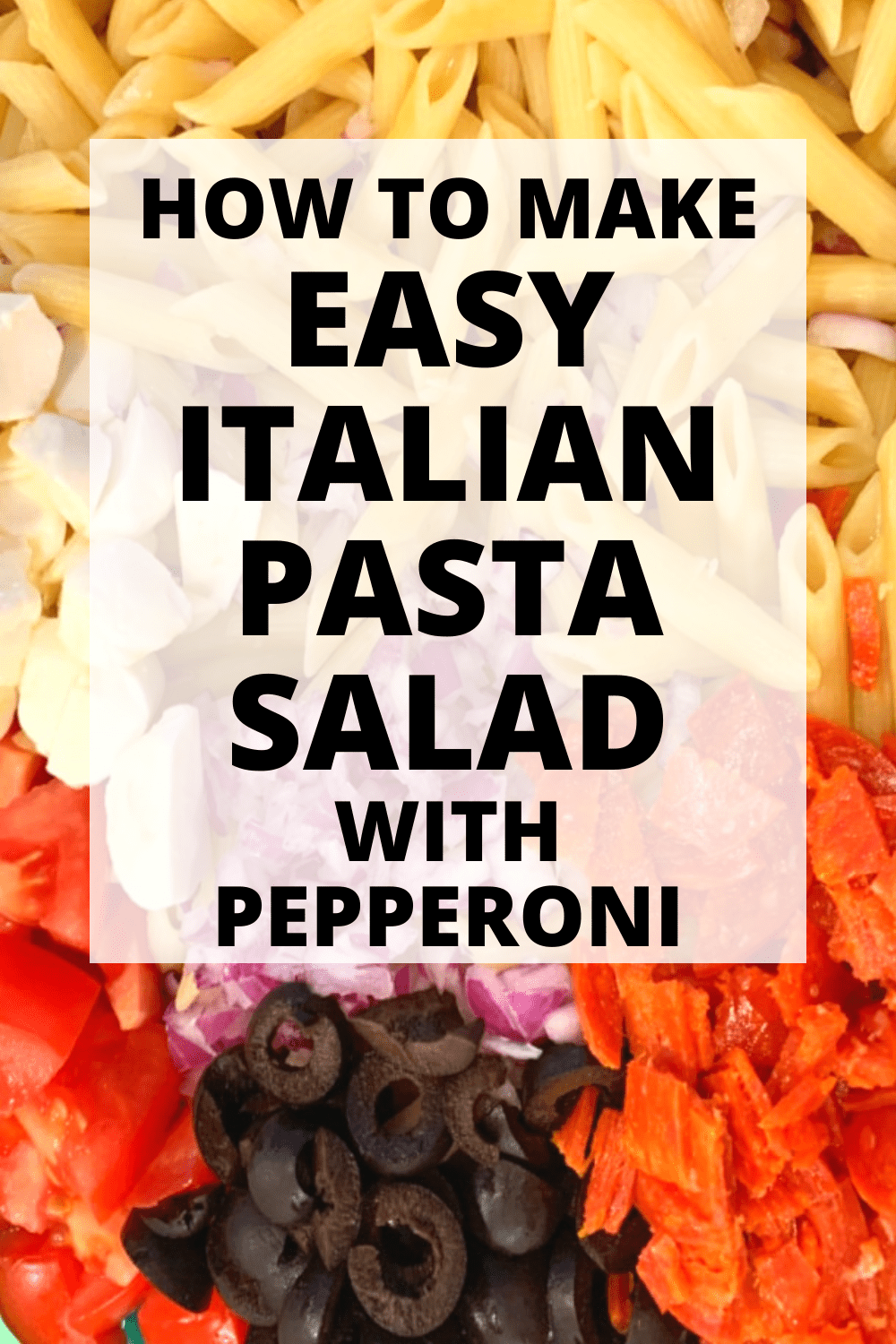 Easy 4th Of July Salads
I love this cold pasta salad for salads for 4th of July or even sides for 4th of july for burgers and hotdogs!
It's easy, a festive recipe, and everyone loves it!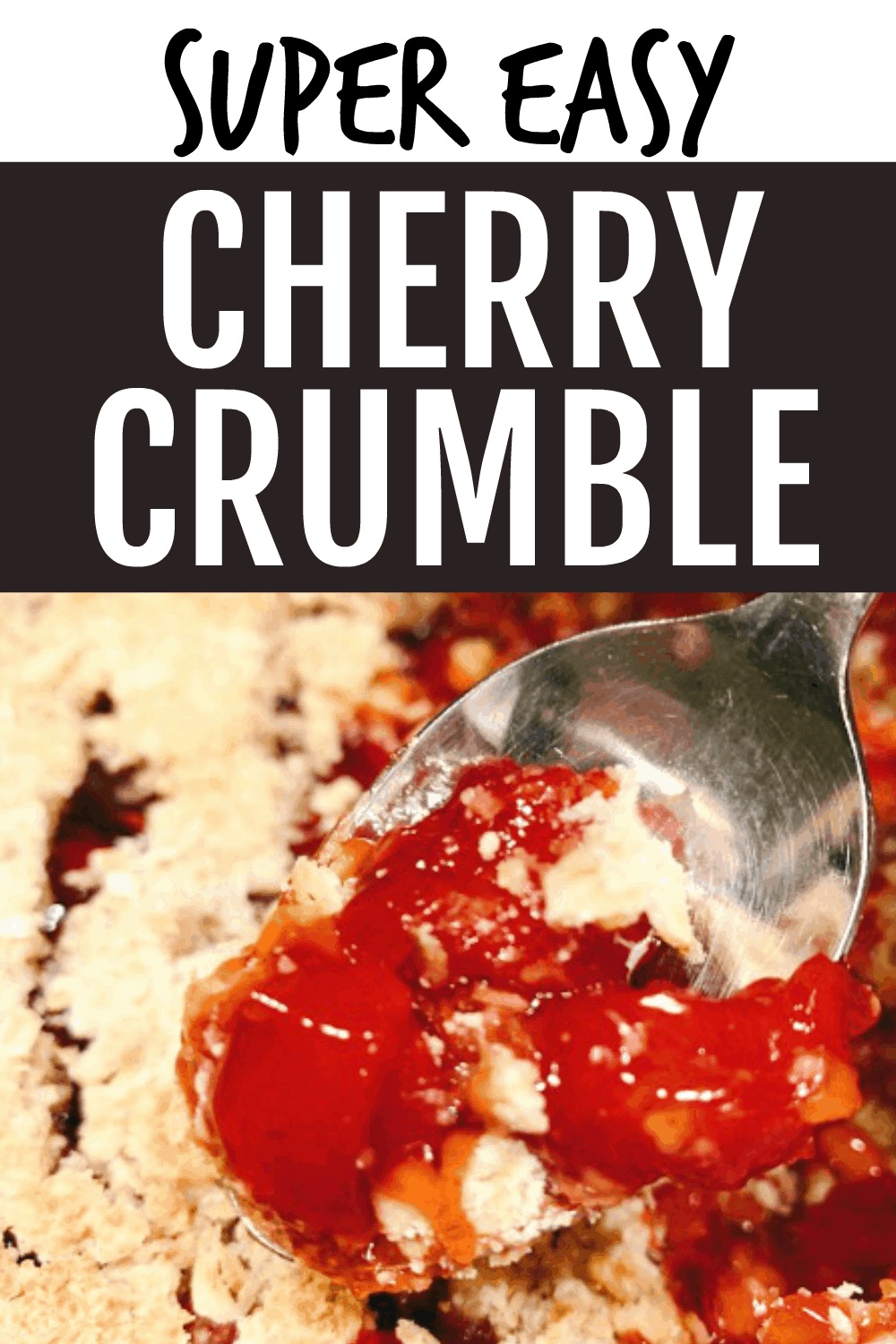 Cherry Crumble Dessert
This is a perfect go- for cookouts! Super easy dessert to make (and it's a red food, to stick with the theme!).
This easy fruit dessert is good hot (with vanilla ice cream on top) or cold, so you can't go wrong!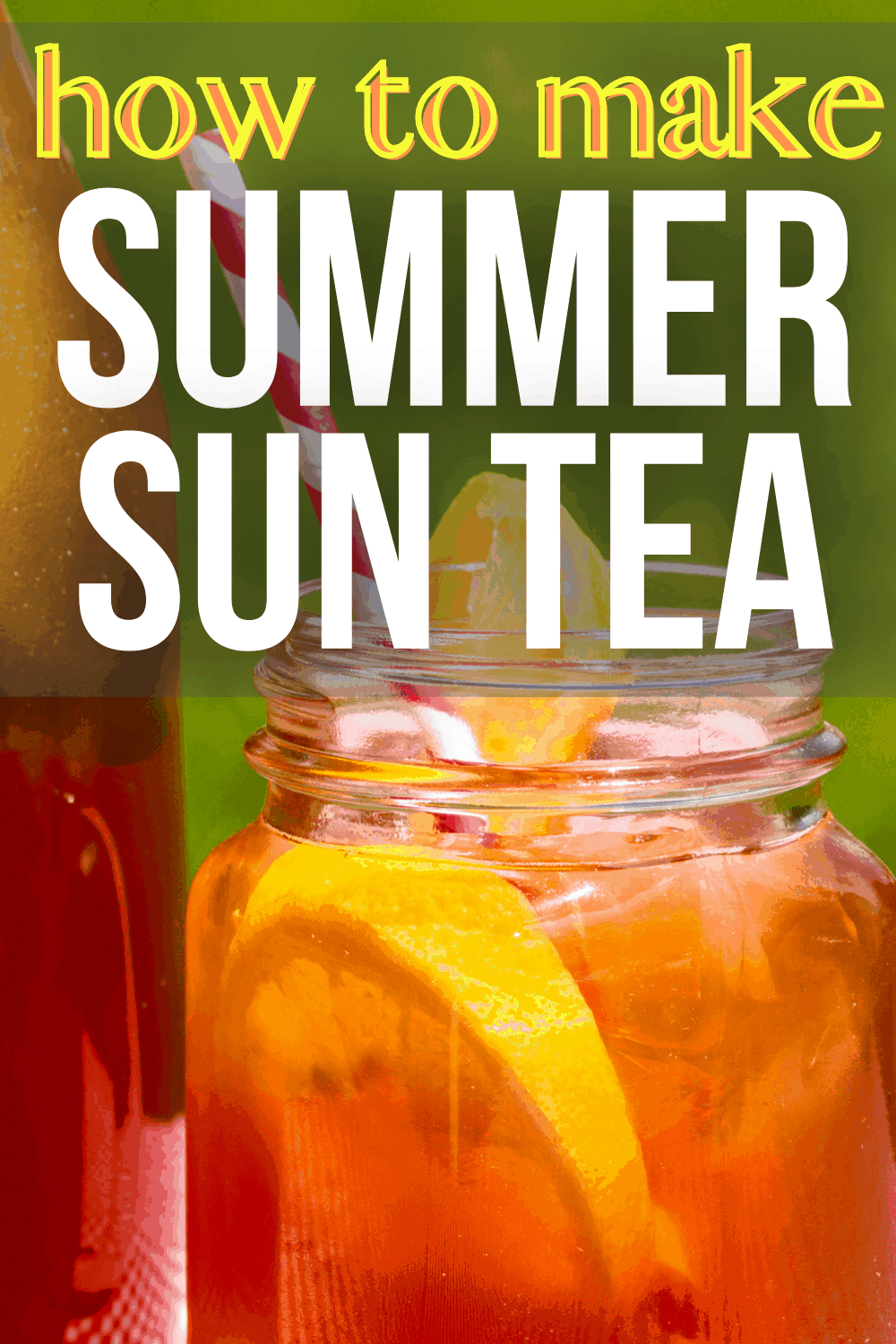 Sun Tea Drink
Sweet tea is a must at your July Fourth picnic, especially if you're looking for something different for July 4 drinks!
Set this sun tea out in the morning and it's ready for your party drink a little later! Let others add in their own sugar, lemon, or other fun drink toppings.
It's a great drink recipe for 4th of July to go with your food for 4th of July!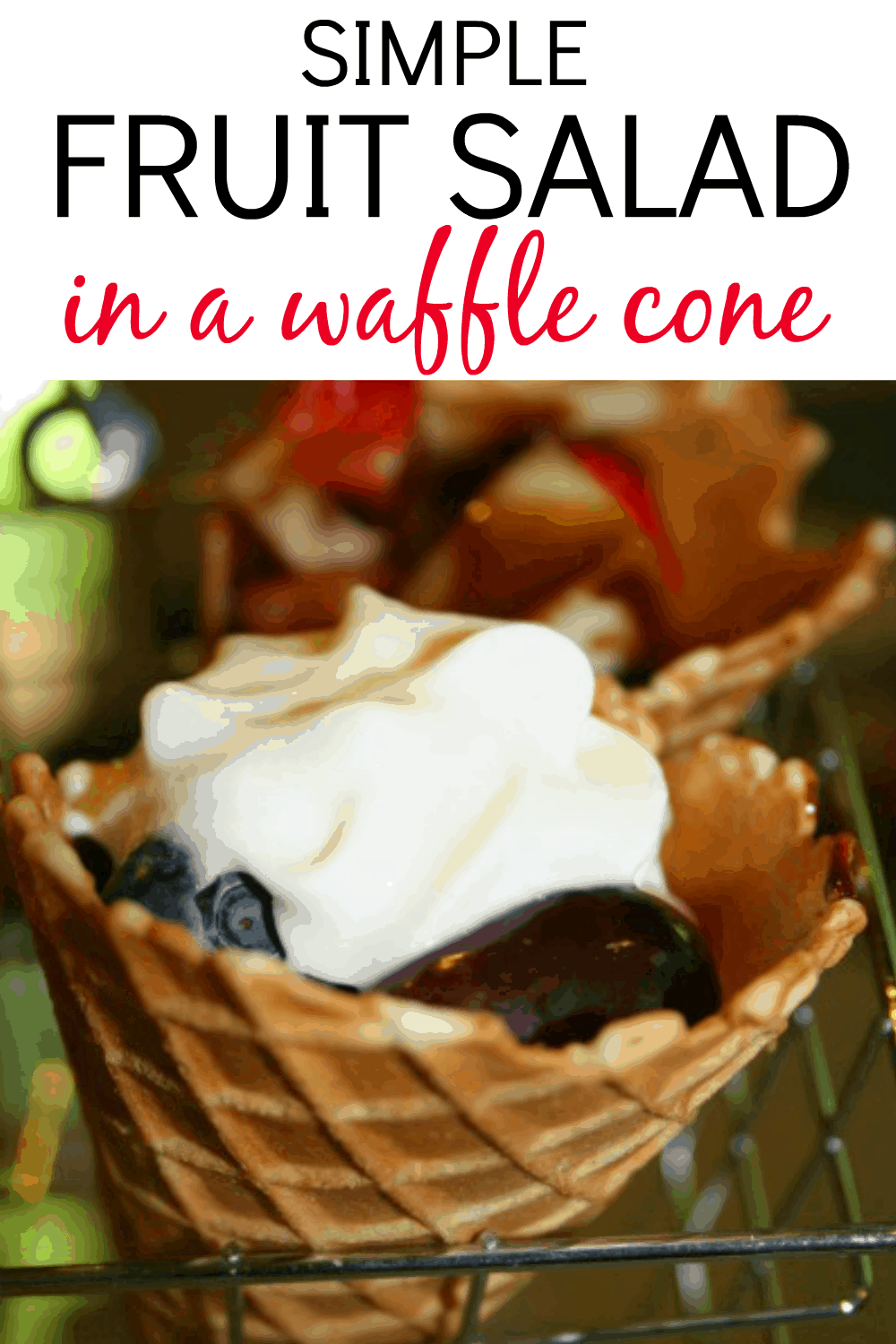 July 4th Walking Fruit Salad
Looking for fruit ideas for 4th of July, fourth of July treats and snacks for all ages, or healthy 4th of July food?
Make a red, white, and blue fruit salad with red white blue fruits!
Spoon it into a waffle cone for an easy, edible dish guests can eat while walking around the cookout or patriotic picnic! This is a great alternative to the 4th of July fruit tray that everyone does!
Great for a 4th of July snack for kids at home, too.
RECIPE TIP FOR DESSERTS FOR FOURTH OF JULY: Add our home made whipped cream (see recipe below) and a few red white and blue star sprinkles to the top for a festive fruit dip!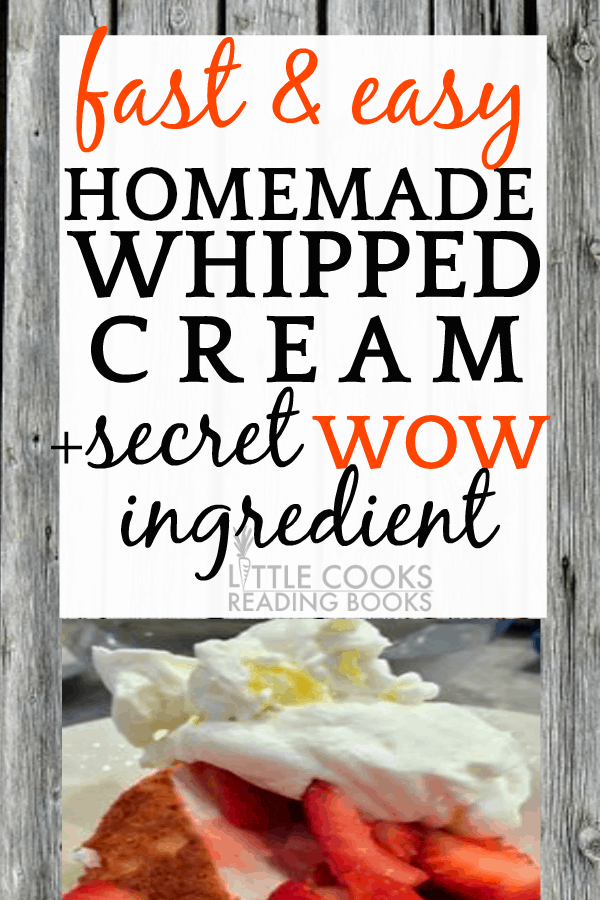 DIY Whipped Cream
Before you buy whipped cream for your July 4th desserts, try this homemade whipped cream recipe.
It's easier than you think and is so much better than the store-bought products!
Whip cream homemade goes well on fruit salads, patriotic Jello, strawberry shortcake, and many other July 4th desserts!
It's a must-have 4th of July recipe because it goes with almost any desserts for 4th of July (even toppings for cookies and brownies!).
RECIPE AND READ: July Fourth Books for Kids
Add these fun recipe and read books to go with your recipes for 4th July for kids!
Fun Fourth of July books for preschoolers and up:
MORE FUN SUMMER RECIPES TO TRY NEXT: Fun Beach Snacks For Kids (Plus Easy Beach Snack Mix Recipe)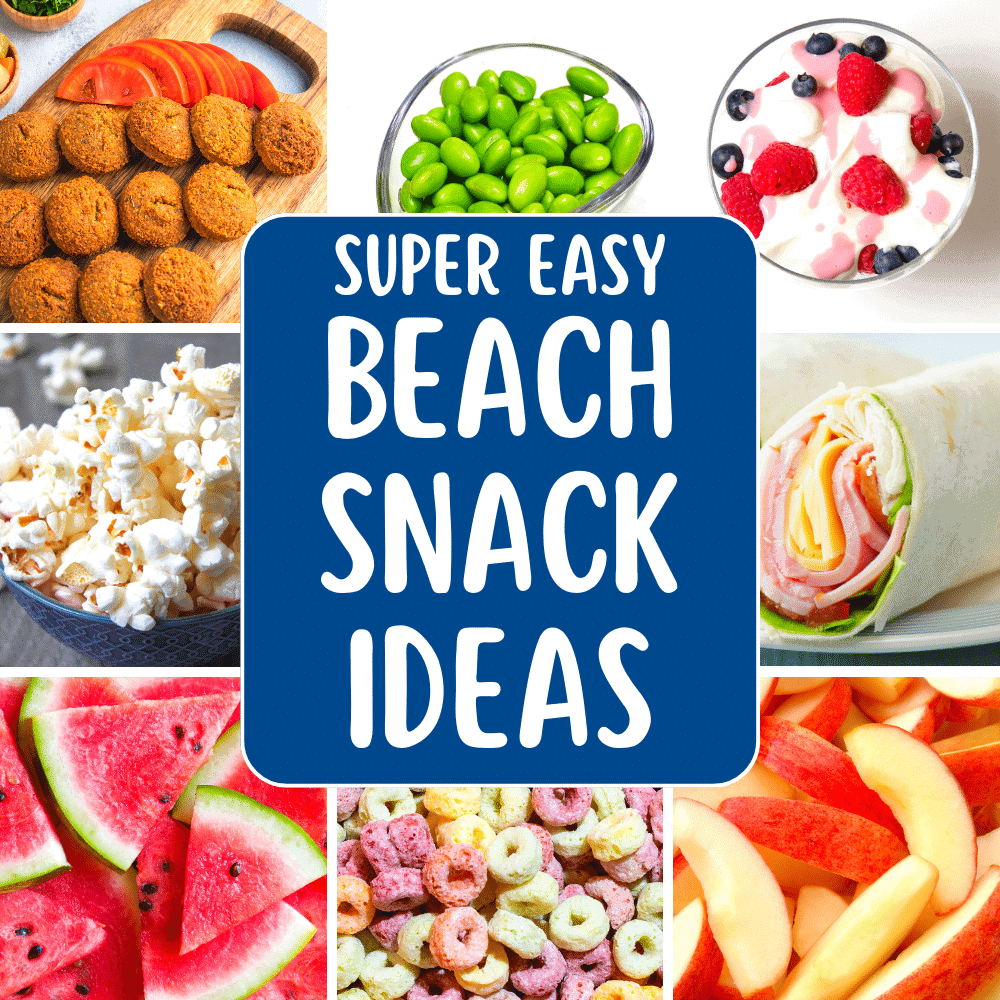 Let us know your favorite 4th July food ideas for kids!
Hope you enjoy these recipes for July 4th for family!
LOOKING FOR FUN COOKING PRINTABLES FOR KIDS?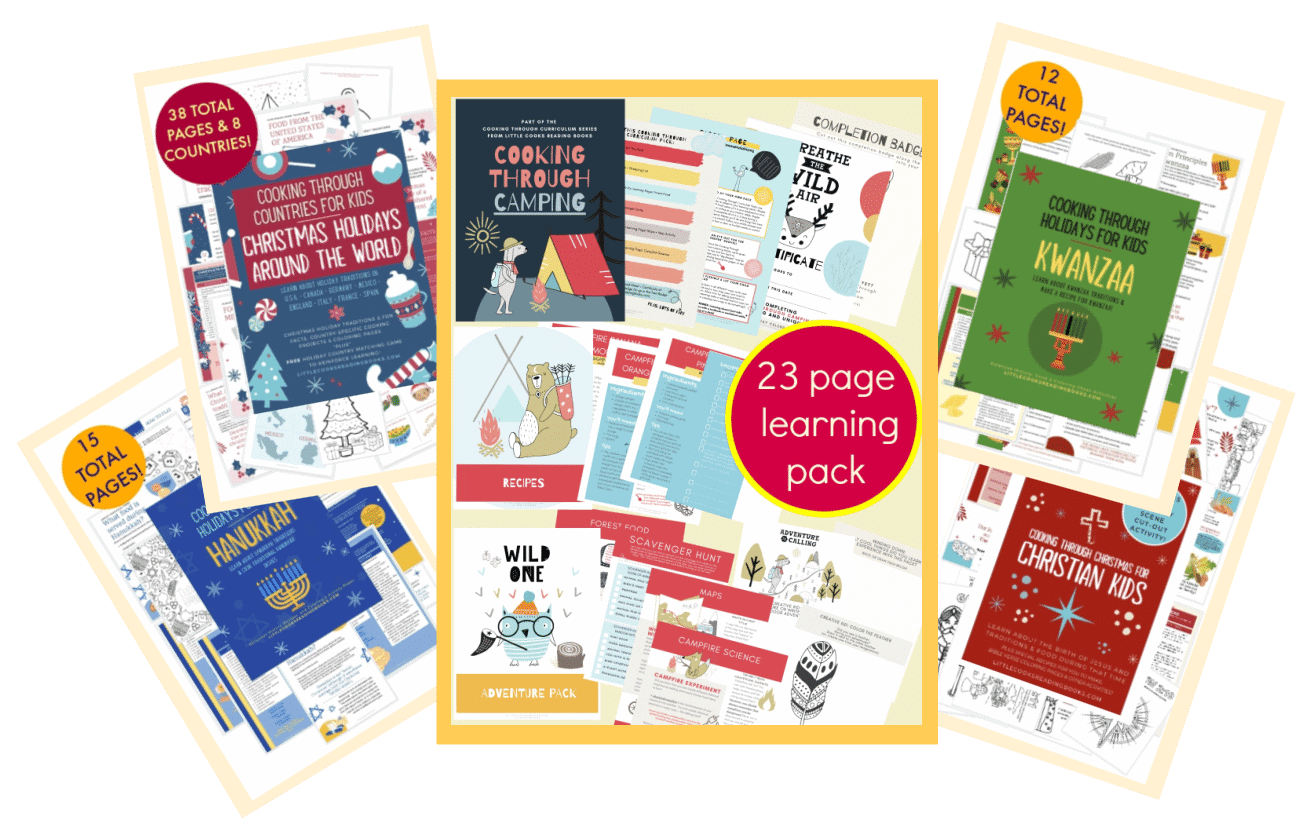 As an Amazon Associate I earn from qualifying purchases. Please refer to our
DISCLOSURE
.