This white chocolate popcorn recipe (or candy popcorn) is such an easy recipe for parties. It's fun as patriotic popcorn (July 4th red, white and blue treat or Memorial Day snack), confetti popcorn, rainbow popcorn, or if you're wondering how to make blue popcorn / how to color popcorn without sugar sprinkles. Change up the color of the white chocolate melts to match your party theme or holiday. (Yes, even purple popcorn!)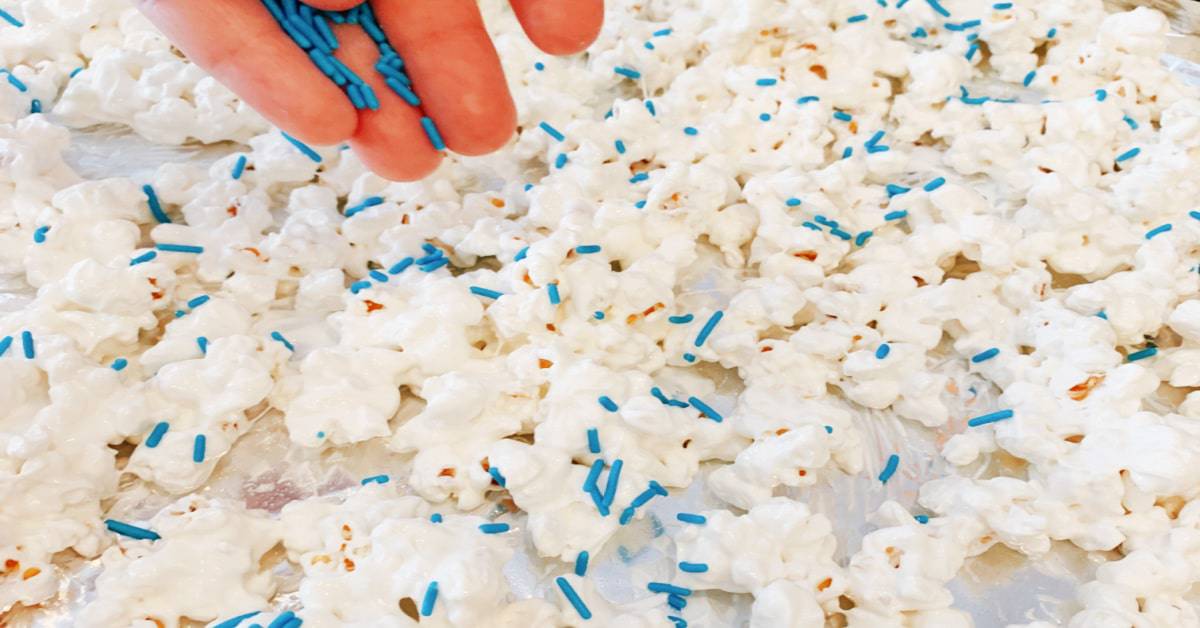 White Chocolate Popcorn Recipe (and Red White Blue Popcorn Recipe!)
This is the perfect treat — you get a sweet treat along with a salty treat! (And who doesn't love a sweet and salty snack?!) This crunchy popcorn covers all the best things!
This is our favorite popcorn white chocolate recipe / white fudge popcorn!
How Do You Make Coated Popcorn?
For a colored white popcorn (or any color popcorn), you'll need:
Affiliate links are used on this site. As an Amazon Associate I earn from qualifying purchases. Read more in our DISCLOSURE.
White candy melts (or colored candy melts / candy coating to match a theme party, we made red white and blue popcorn for a patriotic party theme)
Popped popcorn kernels
Vegetable oil or coconut oil (if not using microwaved popcorn in a microwave bag and making popcorn on stove top)
Salt
Chocolate safe food coloring*
Butter (optional)
Sprinkles (optional)
Candies (optional)
*Only use food coloring if you can't find colored chocolate melt packages / candy coating for this popcorn and white chocolate recipe and are using things like white chocolate chips.
Don't worry about where to buy colored popcorn because this is such an easy party treat to make — just as good as any gourmet chocolate drizzled popcorn from the store!
See the full recipe for white chocolate popcorn below. KEEP SCROLLING for the popcorn mix with white chocolate step-by-step instructions.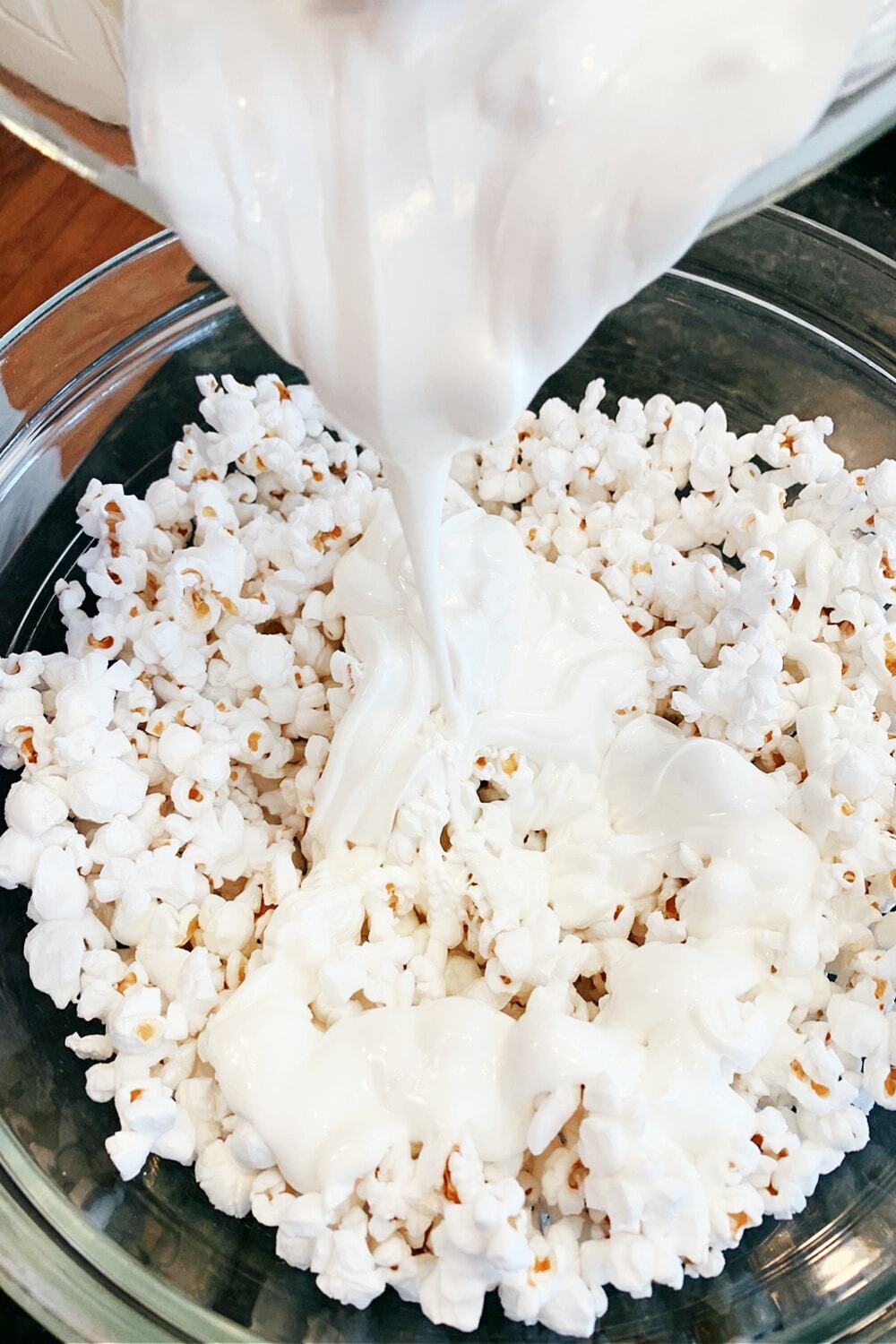 Tips On How To Make White Chocolate Covered Popcorn Recipe
This popcorn with white chocolate recipe is so great because you can leave it as white chocolate or use white chocolate melts in different colors to match holiday snacks, special occasion colors, or a party desserts theme.
Or, use this gel-based color to make your chocolate the color you need! Just be sure to add gel coloring slowly while the chocolate is still warm.
I love how versatile this recipe is because you can also add M&Ms, sprinkles, or anything else to this colored popcorn!
It's also really cute with heart sprinkles like these, pink and red M&Ms for a white chocolate Valentine popcorn, or with fun baby shower sprinkles like these for a white chocolate popcorn recipe baby shower theme!
You can also make this a white chocolate raspberry popcorn recipe (or any flavor) by adding flavoring to your chocolate.
Another cute idea is to make unicorn popcorn (if you're wondering how to make pink popcorn, use these pink chocolate melts. Then, add sprinkles (I love these!), small colored marshmallows, candy, and unicorn horns marshmallows.
Some people make this with white chocolate chips or as a white chocolate popcorn recipe with almond bark.
But, I like to use the Wilton chocolate melts because you can now find them in almost any color to match with your theme.
IMPORTANT: Be careful if you're searching for how to make blue popcorn with food coloring (or any other popcorn color). Not every food coloring will work well with every kind of melted chocolate!
How long does candy popcorn last?
How long does candy coated popcorn last?
Candy popcorn like white chocolate covered popcorn lasts for around a week in an airtight container. You do not need to store it in the refrigerator. Just store it in a cool place in an airtight container with a lid.
If you're making this as a white chocolate popcorn with sprinkles recipe, sometimes the sprinkles get softer as the popcorn sits longer.
Can I add food coloring to white chocolate?
Do not use food coloring (or any water based coloring) to color white chocolate. It will cause the chocolate to seize, or turn stiff and grainy, and you won't be able to use it. Instead, use a gel based color or powder based color, or buy the white chocolate (vanilla) melts that are already colored.
(And allows you to eliminate the next step of coloring your chocolate!)
Check out powdered food coloring here if you do want to color melted chocolate.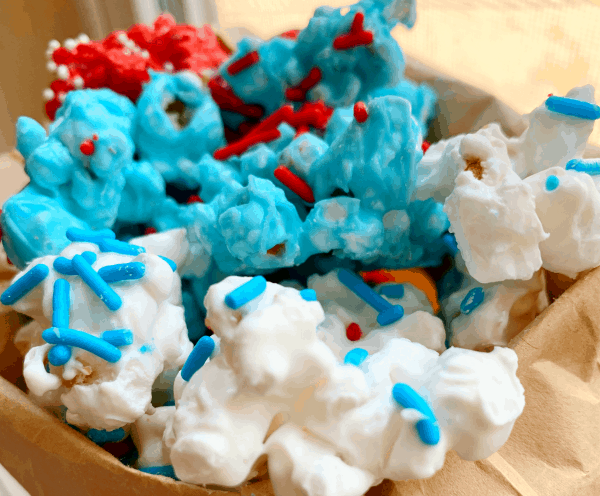 MORE PARTY POPCORN RECIPES TO TRY:
Simple Recipe for Toffee Popcorn At Home
(If you like homemade caramel popcorn, DEFINITELY try this popcorn toffee recipe!)
How To Make Homemade Kettle Corn
How To Pop Old Fashioned Popcorn On Stove
How To Make A Homemade Popcorn Garland
Purple People Eater Popcorn Balls Recipe (How To Make Purple Popcorn for Baby Showers and Halloween Popcorn Balls without Corn Syrup)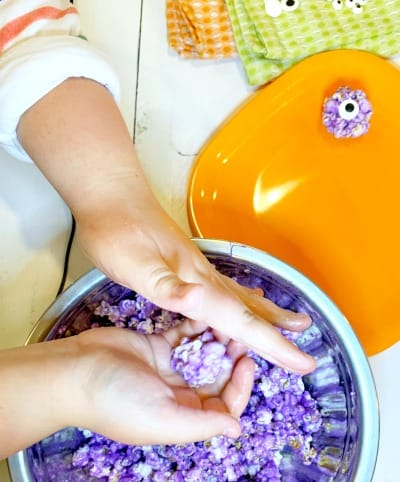 Let's get on to how to make white chocolate on popcorn recipes!
This tastes like the white chocolate gourmet popcorn you get in candy stores, especially if you're a fan of white chocolate! (You'll never buy white chocolate popcorn after learning how easy this is!)
This is how to color popcorn pink, or blue, or even black popcorn.
(Yes! There are black color melts perfect for Halloween popcorn balls!)
Also, if you're looking for how to color already popped popcorn, this is it!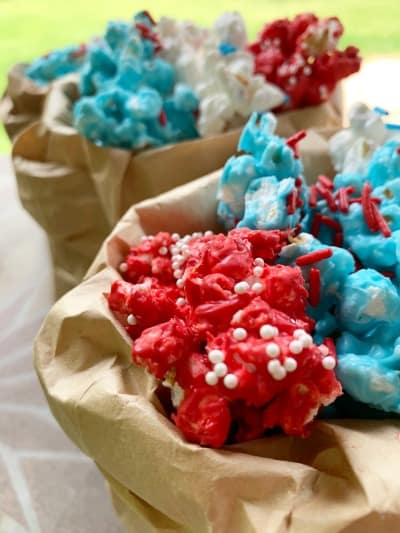 COATED WHITE CHOCOLATE COVERED POPCORN RECIPE
How To Make Colored Popcorn To Match A Party Theme
This is a perfect white chocolate popcorn recipe baby shower treats, birthday party, or holidays (even Easter popcorn!).
You can use unpopped kernels and pop popcorn the old-fashioned way on the stovetop or use bags of microwave popcorn.
Remember, you can change up the white chocolate color to match your theme, and/or use sprinkles, or even make this a white chocolate popcorn with M&Ms, mini marshmallows, or other candies (like popcorn with candy corn for Halloween). It then makes it more of a recipe for white chocolate popcorn snack mix!
This also makes a really beautiful white chocolate Christmas popcorn to give out as homemade gifts or special treat for holiday parties. (Just add in fun Christmas sprinkles and candies.)
If you don't want to cover the popcorn completely with white chocolate, you can make this a white chocolate drizzled popcorn recipe by spreading out the popcorn and just drizzling the white chocolate back and forth over the popcorn with a spoon.
(Some people like this as a popcorn drizzled with white chocolate recipe and then drizzle different colors.)
For our Patriotic Popcorn recipe, we use this red, white, and blue pack that came with the melts and the sprinkles.
For our party, we used simple brown paper lunch bags, rolled down the top (about half way) and then filled them with the red, white, and blue popcorn.
It was a cute way to serve AND if the person didn't eat all their popcorn, they already had a take-home bag as an easy treat party favor!
POPCORN RECIPE TIP:
Instead of a large bowl, you can also line a baking sheet / cookie sheet (with foil, parchment paper, or wax paper) and mix popcorn in a single layer on those. This allowed us to easily make a large amount of popcorn colored in different colors.
If using mixing in bowls, you will need a really big bowl for each color for your popcorn mixture. For large popcorn recipes, work in increments alternating between melted chocolate colors and stirring to make sure the popcorn is covered.
Keep the chocolate / candy coating on low heat over a double boiler so it's ready as you work through each popcorn batch.
Yield: 12
White Chocolate Popcorn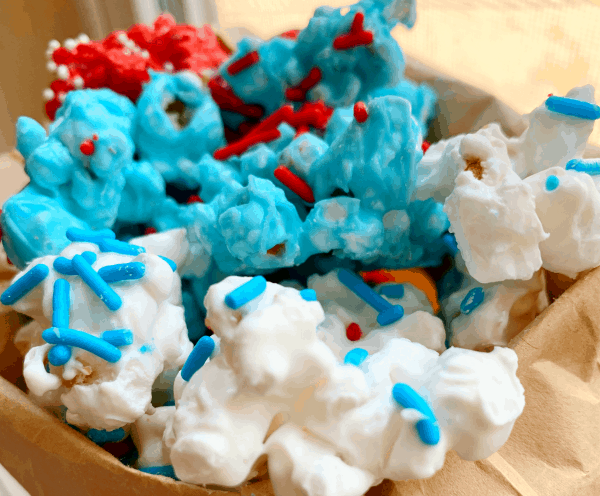 We made this as red, white, and blue Patriotic Popcorn, but you can easily change up the colors of the melted chocolate or sprinkles for any theme or colored popcorn.
Also, we made our popcorn old school (with oil in a popcorn maker or on the stove). You can also use microwave popcorn.
Additional Time
20 minutes
Ingredients
1/2 cup unpopped popcorn kernels (12 cups popped popcorn)
1/4 cup vegetable oil (if popping on the stove or in a popcorn maker) (you could also use coconut oil)
1 12-ounce package Wilton white chocolate melts, white
1 12-ounce package Wilton white chocolate melts, red
1 12-ounce package Wilton white chocolate melts, blue
Red sprinkles, white sprinkles, blue sprinkles (optional)
Instructions
Spread a large section of foil or parchment paper on the counter (enough to spread out the popcorn to dry). Lightly spray with cooking oil to help prevent popcorn from sticking.
Pop popcorn.
Separate popped popcorn into three different mixing bowls (or the number of bowls for the number off different colors you have - we had 3 for red, white, and blue).
Place white melts in a microwave-safe bowl. Heat for 30 second intervals, stirring after each 30 seconds until chocolate is completely melted. Be careful not to overheat.*
Immediately pour melted chocolates over one bowl of popcorn. Carefully stir until popcorn is covered completely.
Turn popcorn onto the foil or parchment paper. Spread the popcorn into a single layer.
Sprinkle white popcorn with sprinkles. (OPTIONAL)
Repeat steps 4-7 with the blue and red chocolate melts.
Allow popcorn to cool completely and harden, approximately 20 minutes or until no longer sticky.
Store in an airtight container for up to 1 week.
Notes
*You can also use a double boiler for melting the chocolate.
We placed our popcorn in plain brown lunch bags. We rolled down the top of the bag half way and filled with popcorn. Then, it's ready to take home if a person doesn't eat it all.
Nutrition Information:
Yield:
12
Serving Size:
1 cup
Amount Per Serving:
Calories:

506
Total Fat:

32g
Saturated Fat:

17g
Trans Fat:

0g
Unsaturated Fat:

13g
Cholesterol:

18mg
Sodium:

79mg
Carbohydrates:

51g
Fiber:

0g
Sugar:

51g
Protein:

5g
Nutrition information is estimated. Changes to the recipe and use of different brands may cause changes to the nutritional information to vary slightly from the ones provided here.
TIP: If you have any remaining chocolate, dip pretzel sticks in them and them cover with sprinkles for your party themes!
Let us know how your popcorn mix recipe with white chocolate goes!
CHANGE UP THE COLOR OF POPCORN KERNELS OF THIS WHITE CHOCOLATE POPCORN RECIPE FOR ANY PARTY THEME!
LOOKING FOR FUN COOKING PRINTABLES FOR KIDS?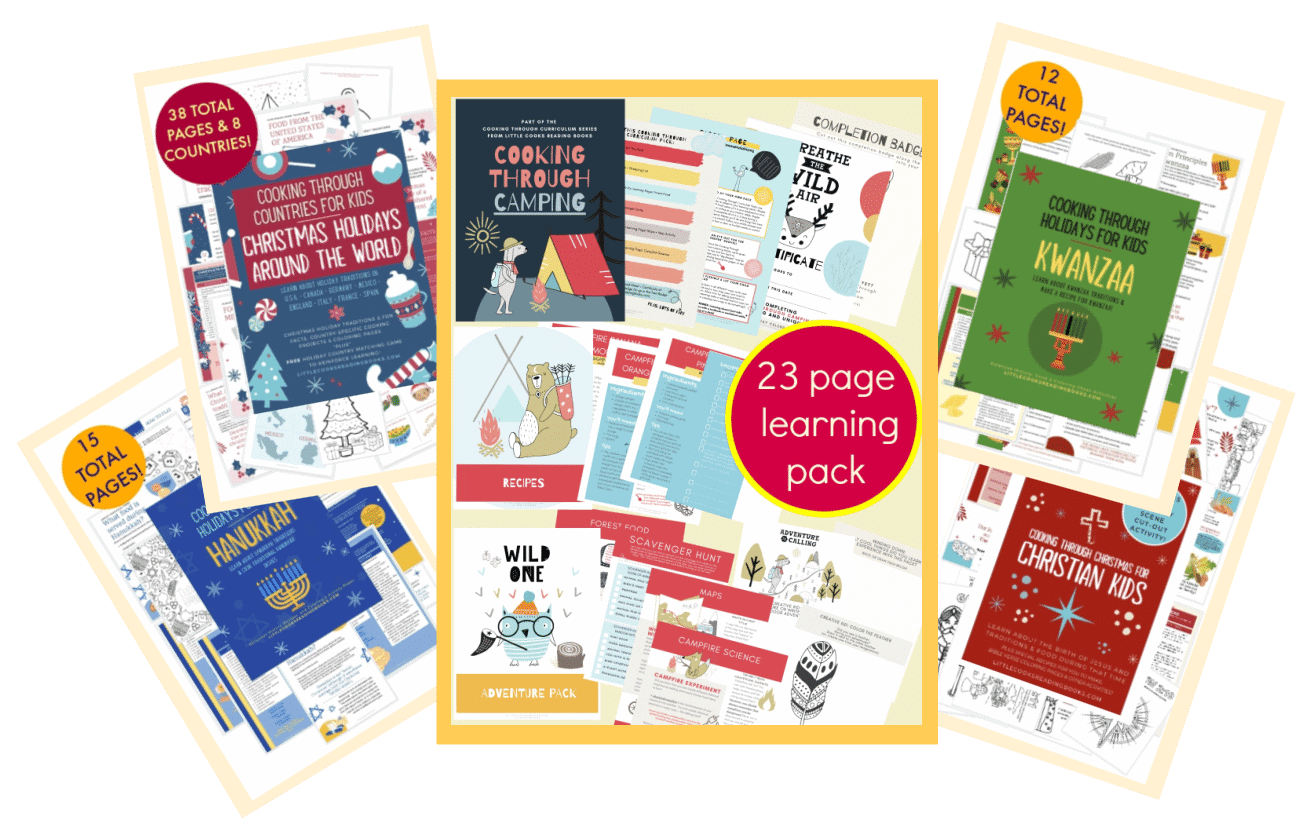 As an Amazon Associate I earn from qualifying purchases. Please refer to our
DISCLOSURE
.