This easy white chocolate popcorn recipe (or candy popcorn) is fun as patriotic popcorn (July 4th red, white and blue treat or Memorial Day snack), confetti popcorn, or if you're wondering how to make blue popcorn or just how to color popcorn. Change up the color of the white chocolate melts to match your party theme or holiday. (Yes, even purple popcorn!)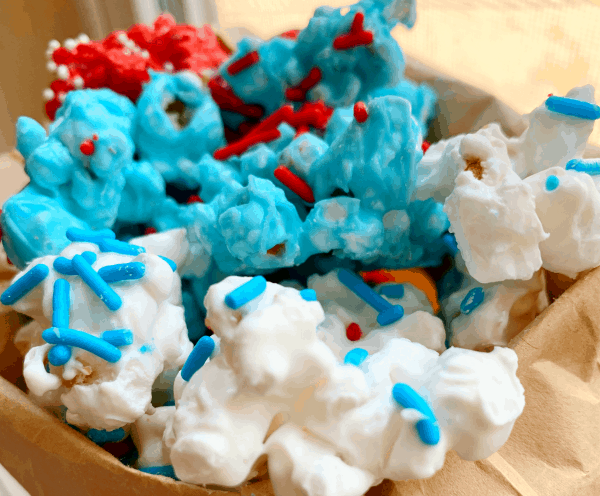 White Chocolate Popcorn Recipe (for Red White Blue Popcorn)
This popcorn with white chocolate recipe is so great because you can leave it as white chocolate or use white chocolate melts in different colors to match holiday snacks or a party desserts theme. (Or, use this gel-based color to make your chocolate the color you need! Just be sure to add gel coloring slowly while the chocolate is still warm.)
You can also add M&Ms, sprinkles, or anything else to this colored popcorn! (It's really cute with heart sprinkles or pink and red M&Ms for a white chocolate Valentine popcorn!)
You can also make this a white chocolate raspberry popcorn recipe (or any flavor) by adding flavoring to your chocolate.
Affiliate links are used on this site. As an Amazon Associate I earn from qualifying purchases. Read more in our DISCLOSURE.
Some people make this with white chocolate chips or as a white chocolate popcorn recipe with almond bark. But, I like to use the Wilton chocolate melts because you can now find them in almost any color to match with your theme.
How long does candy popcorn last?
Candy popcorn like white chocolate covered popcorn lasts for around a week in an airtight container. You do not need to store it in the refrigerator. Just store it in a cool place with a lid.
Can I add food coloring to white chocolate?
Do not use food coloring (or any water based coloring) to color white chocolate. It will cause the chocolate to seize, or turn stiff and grainy, and you won't be able to use it. Instead, use a gel based color or powder based color, or buy the white chocolate (vanilla) melts that are already colored.
Check out powdered food coloring here.
---
ALSO CHECK OUT:
Purple People Eater Popcorn Balls Recipe
---
Let's get on to how to make white chocolate on popcorn recipes!
This tastes like the white chocolate gourmet popcorn you get in candy stores! (You'll never buy white chocolate popcorn after learning how easy this is!)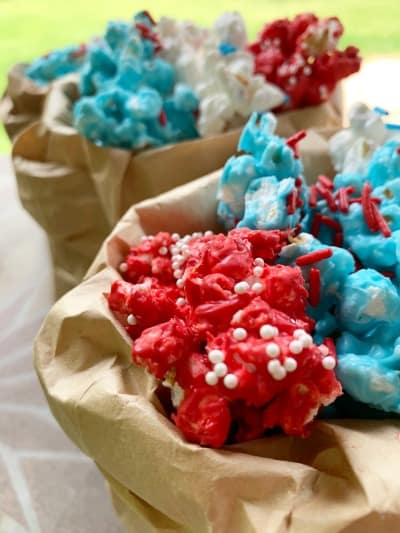 WHITE CHOCOLATE COVERED POPCORN RECIPE
How To Make Colored Popcorn
This is a perfect white chocolate popcorn recipe baby shower, birthday party, or holidays. Remember, you can change up the white chocolate color to match your theme (and/or use sprinkles). This is how to color popcorn pink, or blue, or even black popcorn. (Yes! There are black color melts perfect for Halloween popcorn balls!)
Also, if you're looking for how to color already popped popcorn, this is it!
If you don't want to cover the popcorn completely with white chocolate, you can make this a white chocolate drizzled popcorn recipe by spreading out the popcorn and just drizzling the white chocolate back and forth over the popcorn with a spoon.
For this Patriotic Popcorn recipe, we use this red, white, and blue pack that came with the melts and the sprinkles.
For our party, we used simple brown paper lunch bags, rolled down the top (about half way) and then filled them with the red, white, and blue popcorn.
It was a cute way to serve AND if the person didn't eat all their popcorn, they already had a take-home bag!
Yield: 12
White Chocolate Popcorn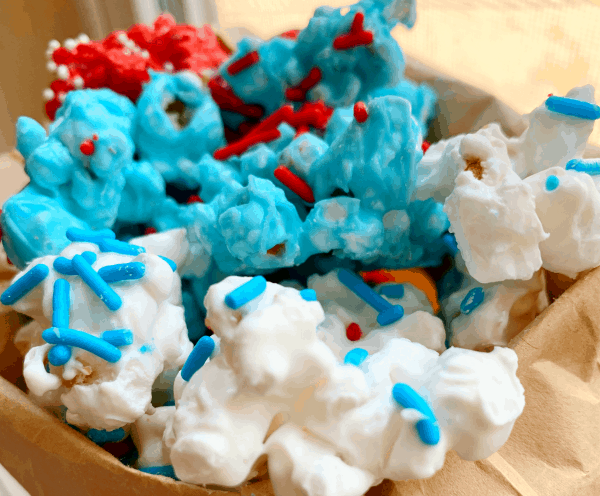 We made this as red, white, and blue Patriotic Popcorn, but you can easily change up the colors of the melted chocolate or sprinkles for any theme or colored popcorn.
Also, we made our popcorn old school (with oil in a popcorn maker or on the stove). You can also use microwave popcorn.
Additional Time
20 minutes
Ingredients
1/2 cup unpopped popcorn kernels (12 cups popped popcorn)
1/4 cup vegetable oil (if popping on the stove or in a popcorn maker)
1 12-ounce package Wilton white chocolate melts, white
1 12-ounce package Wilton white chocolate melts, red
1 12-ounce package Wilton white chocolate melts, blue
Red sprinkles, white sprinkles, blue sprinkles (optional)
Instructions
Spread a large section of foil or parchment paper on the counter (enough to spread out the popcorn to dry). Lightly spray with cooking oil to help prevent popcorn from sticking.
Pop popcorn.
Separate popped popcorn into three different mixing bowls (or the number of bowls for the number off different colors you have - we had 3 for red, white, and blue).
Place white melts In a microwave safe bowl. Heat for 30 second intervals, stirring after each 30 seconds until chocolate is completely melted. Be careful not to overheat.
Immediately pour melted chocolates over one bowl of popcorn. Carefully stir until popcorn is covered completely.
Turn popcorn onto the foil or parchment paper. Spread the popcorn into a single layer.
Sprinkle white popcorn with sprinkles. (OPTIONAL)
Repeat steps 4-7 with the blue and red chocolate melts.
Allow popcorn to cool completely and harden, approximately 20 minutes or until no longer sticky.
Store in an airtight container for up to 1 week.
Notes
We placed our popcorn in plain brown lunch bags. We rolled down the top of the bag half way and filled with popcorn. Then, it's ready to take home if a person doesn't eat it all.
Nutrition Information:
Yield:
12 cups
Serving Size:
1 cup
Amount Per Serving:
Calories:

506
Total Fat:

13g
Saturated Fat:

17g
Trans Fat:

0g
Unsaturated Fat:

13g
Cholesterol:

18mg
Sodium:

79mg
Carbohydrates:

51g
Fiber:

0g
Sugar:

51g
Protein:

5g
Nutrition information is estimated. Changes to the recipe and use of different brands may cause changes to the nutritional information to vary slightly from the ones provided here.
CHANGE IT UP AND HAVE FUN WITH THIS WHITE CHOCOLATE POPCORN RECIPE!
LOOKING FOR FUN COOKING PRINTABLES FOR KIDS?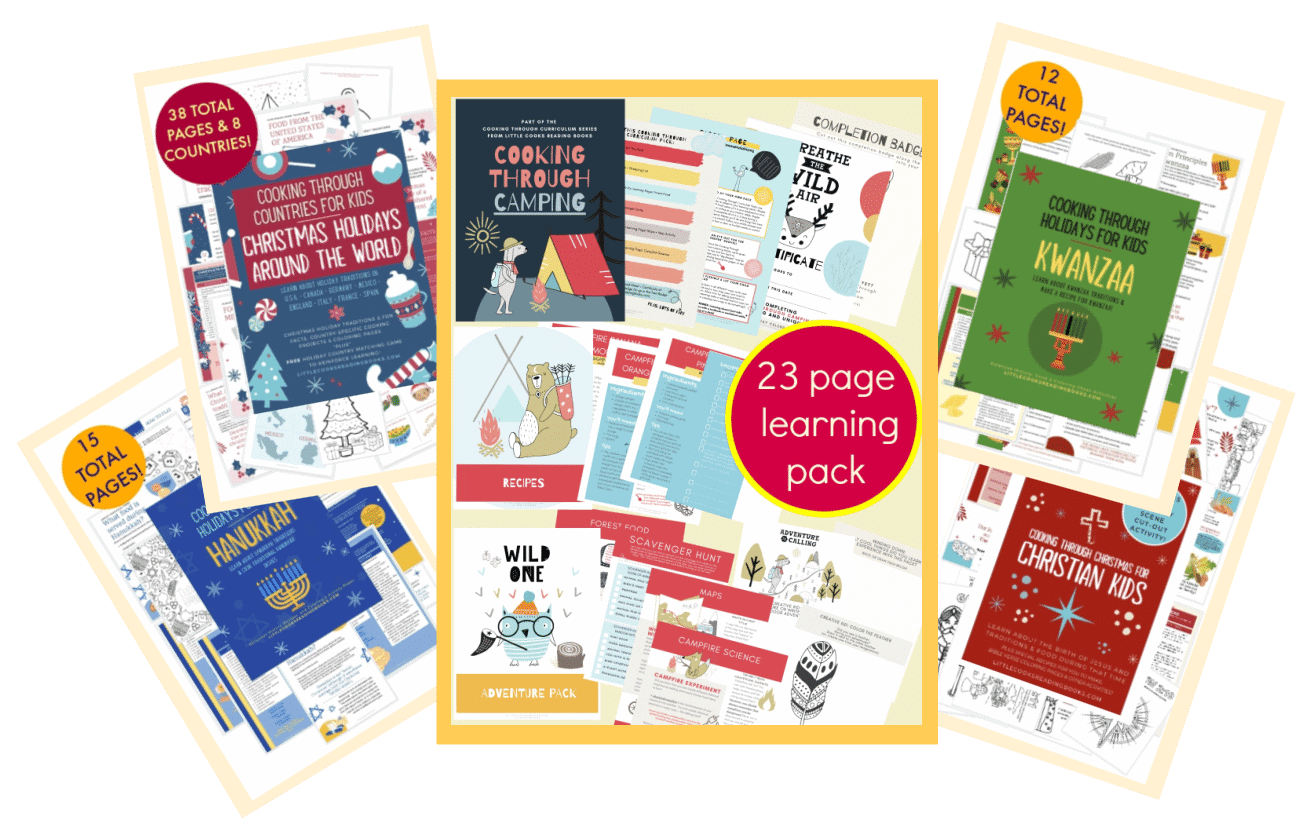 As an Amazon Associate I earn from qualifying purchases. Please refer to our
DISCLOSURE
.