These easy Halloween food ideas for party your little trick or treaters will love! From best Halloween party appetizers to easy snacks for Halloween party and Halloween party food on a budget, to fun pumpkin desserts and ideas for Halloween treats, we've got your Halloween party table covered!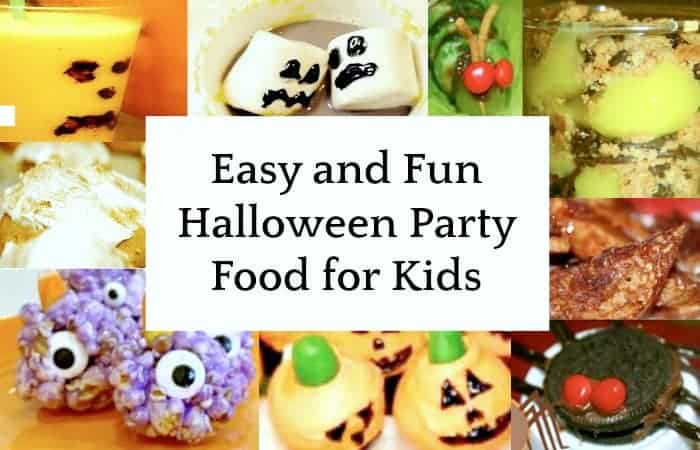 Easy Halloween Food Ideas For Party
What do you serve at a Halloween party?
Unique Halloween Food Ideas and Spooky Food For Your Party:
Homemade Popcorn Balls
Monster Milk
Soft Pumpkin Cookies
Roasted Pumpkin Seeds (different flavors!)
Creepy Crawly Bug Snacks
Worms in a Bun
Jack-o-Lantern Smoothie Halloween Drink
Pumpkin Cake Pops
Witches Fingers
Worms in Dirt
Brain Cake
Homemade Halloween Peeps
Zombie Apples (or Spooky Apple Pumpkins)
(see details on these Halloween party food fingers and Halloween treats for kids below)
Halloween party food should be fun, right? And, you shouldn't have to spend a ton of time in the kitchen or prepping. (RIGHT?!)
You don't need 100+ Halloween party and food ideas to make for a great Halloween party.
(Ugh. How overwhelming!)
You just need a few scary-easy Halloween appetizers and ideas for halloween party food to create a spooktacular event.
And…
That's why you'll love these easy Halloween party ideas for kids!
Some can even double as Halloween party decoration ideas or trunk or treat ideas because many are quick treats, ridiculously cute, and make for wicked-good Halloween fun!
(And, they won't take too long to put together and are super affordable so they won't break the budget.)
DON'T MISS:
These easy Halloween recipes and spook-tacular ideas are sure to impress your guests with unique Halloween food ideas for kids to adults!
YOU MIGHT ALSO LIKE THESE HALLOWEEN ACTIVITIES FOR KIDS:
57 Fun Halloween Movies to Watch with Kids
How do you throw a kid friendly Halloween party?
Teen Halloween Party Ideas (including teenage Halloween party food ideas!)
Best Scary Halloween Movies for Your Party or Sleepover
It's The Great Pumpkin Charlie Brown Activities
OK!
Let's get on to the recipes for Halloween party food! Many of these are easy make ahead Halloween party appetizers and treats!
Recipes for Halloween: What can I serve at a kids Halloween party?
You'll love these simple Halloween party food ideas. Don't forget to get your kids involved! They're fun recipes for kids to make!
13 Ideas for Easy Halloween Party Food for Kids
These fun Halloween party food appetizers, Halloween finger food snacks, and desserts will be a hit at your party, and they're EASY!
Halloween Kids' Movies for Your Party
Looking for some Halloween kids' movies to add to your party?
Check out:


Have fun with these easy Halloween food ideas for party fun!