This pumpkin cookies recipe will become your go-to pumpkin cookies when you need ideas for Halloween treats, Thanksgiving recipes or fall desserts. (You can easily turn these into pumpkin cookies chocolate chip, too!) File under: cookie recipes with pumpkin.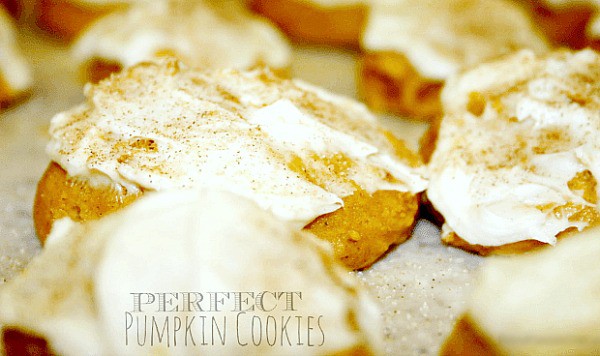 How To Make Pumpkin Cookies
Ahhhh, yes.
Pumpkin Season.
Fall is full of the best pumpkin recipes, so you'll definitely want to add recipes for pumpkin cookies to your fall dessert rotation (especially if you love a soft pumpkin cookie!).
Affiliate links are used on this site. As an Amazon Associate I earn from qualifying purchases. Read more in our DISCLOSURE.
And, these super easy pumpkin cookies with icing seem to be one of those desserts that everyone loves.
They're not too sweet and, as an added bonus, they're a pretty easy pumpkin recipe to make!
Whatever you do, double the recipe because you'll definitely want some for yourself later if you're making them for a party.
(And, they freeze well, too!)
If you like your pumpkin cookies soft and chewy, these will definitely become your new favorite, especially if you have some leftover Libby's canned pumpkin and are asking, "What can I make with pumpkin?"
(Think of them as pumpkin pie cookies!)
Once you make this pumpkin cookies recipe, you'll never need those pillsbury pumpkin cookies from the grocery store again!
How do you make pumpkin cookies?
Pumpkin cookies are made with a traditional cookie dough batter including flour, sugar, shortening, and eggs. Then, add in canned pumpkin and spices for a soft, chewy pumpkin cookie recipe. They can be iced with cream cheese icing or left plain.
---
FUN FOR THIS TIME OF YEAR: CHECK OUT THIS FRIENDLY MONSTERS ACTIVITY PACK FROM OUR SISTER SITE!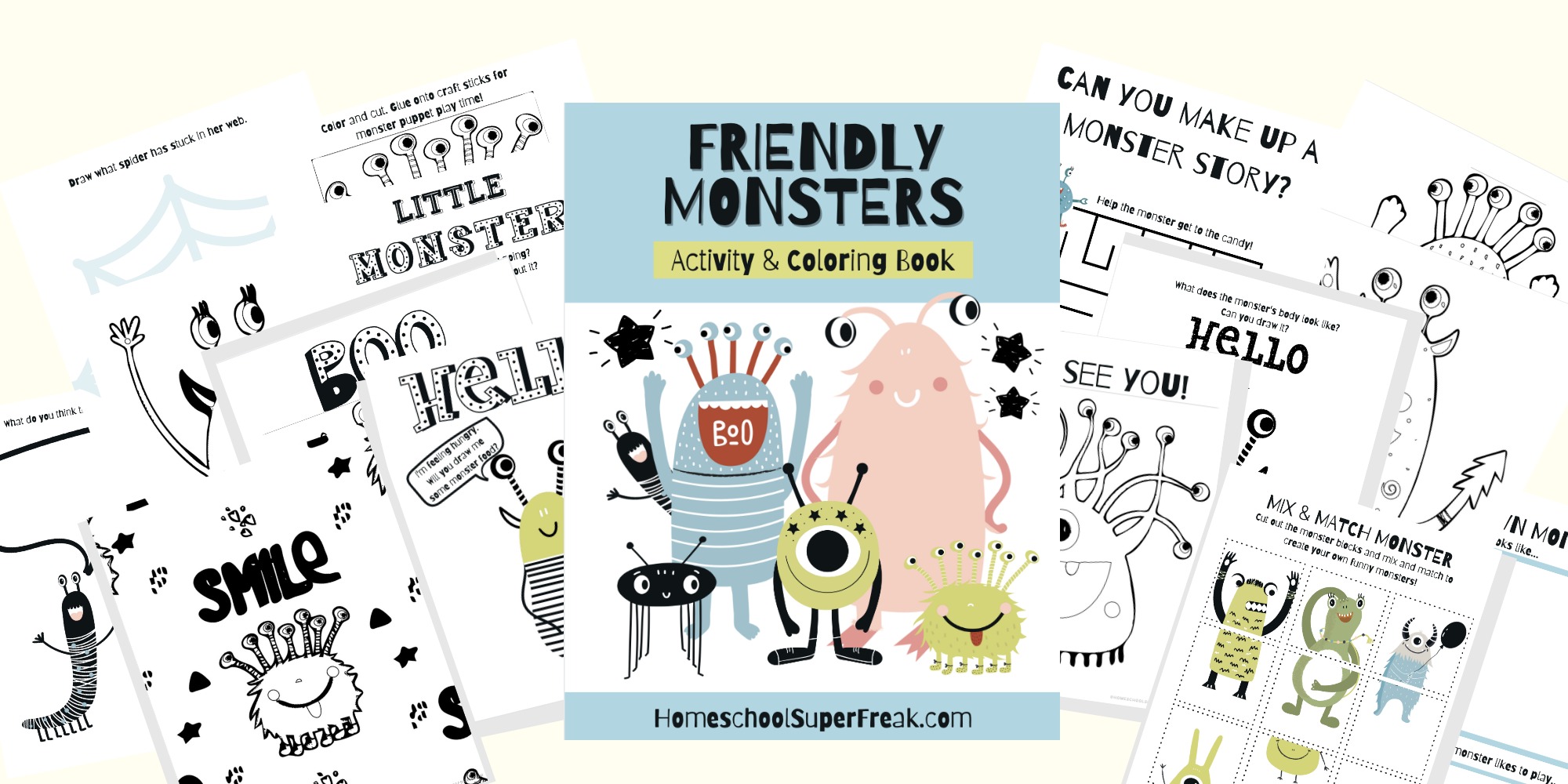 Kid Printables Coloring Pages & MORE!
---
Before we get to the recipe for pumpkin cookies (and our book pairing with this recipe), let's answer some common questions on how to make homemade pumpkin cookies:
Pumpkin Cookie Recipes: Pumpkin Cookies Icing
These are pumpkin cookies with cream cheese frosting. This icing for pumpkin cookies makes them just sweet enough, so kids and adults alike love them.
Although the frosting for pumpkin cookies is yummy, we also make a huge batch without the icing because they're really good that way, too (and make for more healthy pumpkin cookies).
Don't freeze the pumpkin cookies with cream cheese icing. Leave the icing off if you're freezing and then ice after defrosting.
ALSO CHECK OUT THESE APPLE RECIPES & PUMPKIN RECIPES:
Easy Apple Fries Recipe (Baked and Air Fryer!)
Snickers Salad with Apples
Easy Apple Salad with Pear and Cranberry
How To Dry Apple Slices For Healthy Snacks and Nature Crafts
EASY Recipe For Apple Butter
4 Yummy Roasted Pumpkin Seeds Recipe Ideas
Is Pumpkin A Fruit? Learning About Pumpkins and Pumpkin Recipes
How To Store Pumpkin Cookies
Store pumpkin cookies in a single layer in an airtight container for up to three days. If you are icing this recipe pumpkin cookies with cream cheese frosting, store in the refrigerator in an airtight container for up to three days.
Can You Freeze Pumpkin Cookies?
Soft, bakery-style pumpkin cookies freeze well. If you want to freeze cookies, place the uniced cookies in layers, with wax paper in between, in freezer bags. The plain pumpkin cookies can be frozen for up to six weeks.
Chocolate Chip Pumpkin Cookies
This recipe is also really good if you add chocolate chips.
Just add 1/2-1 cups of chocolate chips into the batter and stir right before putting them on the cookie sheet.


Soft Iced Pumpkin Cookies Recipe paired with It's The Great Pumpkin, Charlie Brown Children's Book
We paired our pumpkin cookies up with one of our favorite stories: It's the Great Pumpkin, Charlie Brown
.
No matter how old we get, Peanuts still seems to be a favorite for all of us (the books and the movies).
You remember It's The Great Pumpkin, right?
Everyone loves watching to see if Linus will be visited by The Great Pumpkin this year, but my favorite part is when they all go trick-or-treating and Charlie Brown keeps getting a rock.
(I know, warped, what can I say?)
At any rate, while your pumpkin cookies are baking, watch It's The Great Pumpkin Charlie Brown full movie or pull out your favorite Halloween or Thanksgiving book and spend some family time reading while you wait.
Then, you'll have some hot and fresh cookies to eat after!
Enjoy!
Listed Book Age Range: 4 years and up


---
TRY THESE PUMPKIN RECIPES NEXT


---
Perfect Pumpkin Cookies Cream Cheese Frosting
If you like your pumpkin cookies soft, this will quickly become one of your favorite pumpkin cookies recipes!
These are pumpkin cookies iced with yummy homemade cream cheese frosting.
You can easily make these pumpkin chocolate chip cookies by adding 1/2 cup to 1 cup of chocolate chips to the batter.
Or, switch out the chocolate chips and make them pumpkin cookies with raisins or nuts!
This is definitely one of those cookie recipes that you can play around with and try different ways!
Ok!
Here's how to make pumpkin cookies from scratch…
Yield: 48
Easy Pumpkin Cookies Recipe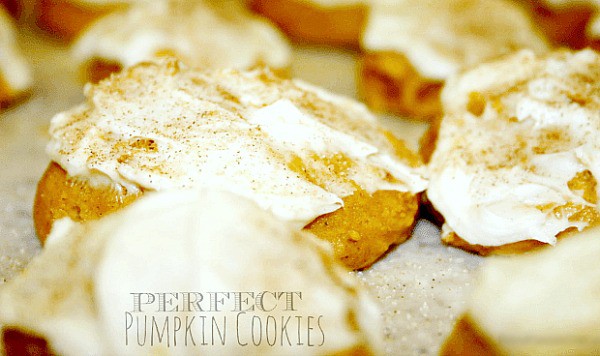 This is one of my favorite recipes for pumpkin cookies! These pumpkin cookies are equally as good iced or without the icing. Be sure to try them without the cream cheese icing to see if you want to leave some that way.
Ingredients
1 Cup Shortening
3 Cups Sugar
2 Eggs
30 ounce can pumpkin, (like Libby's Pumpkin)
1 Teaspoon Vanilla
5 Cups Flour, sifted
2 Teaspoons Cinnamon
2 Teaspoons Nutmeg
2 Teaspoons Baking soda
2 Teaspoons Baking powder
1 Teaspoon Salt
2 8-ounce Cream cheese bricks, softened
1/2 Cup Butter, (softened)
2 Cups Confectioner's (Powdered) sugar, sifted
1 Teaspoon Vanilla extract
Pumpkin pie spice (optional, for decorating)
Instructions
Heat oven to 350 degrees F.
Mix together shortening and sugar. Add eggs and mix until combined.
Add canned pumpkin and mix until combined.
To the canned pumpkin mixture, mix in vanilla and sifted flour. Then, add cinnamon, nutmeg, baking soda, baking powder and salt. Mix until just combined.
Line baking sheet with parchment paper. Spoon rounded spoonfuls onto a baking sheet.
Bake at 350 degrees F for 10-12 minutes. Cool completely if before icing.
Store iced cookies in an airtight container for up to 3 days.
FOR CREAM CHEESE ICING
Combine softened cream cheese and softened butter. Mix until combined.
Gradually mix in the sifted confectioners sugar.
Add vanilla extract. Mix until smooth.
Ice each cookie with the cream cheese icing. Sprinkle with pumpkin pie spice on top.
Notes
*If you want pumpkin cookies with chocolate chips, just add 1/2 cup - 1 cup chocolate chips to the batter and stir before baking.
Nutrition Information:
Yield:
48
Serving Size:
1 cookie
Amount Per Serving:
Calories:

192
Total Fat:

10g
Saturated Fat:

5g
Trans Fat:

0g
Unsaturated Fat:

4g
Cholesterol:

25mg
Sodium:

165mg
Carbohydrates:

24g
Fiber:

1g
Sugar:

13g
Protein:

2g
Nutrition information is estimated. Changes to the recipe and use of different brands may cause changes to the nutritional information to vary slightly from the ones provided here.
---
MORE COOKIE RECIPES TO TRY NEXT: COOKIES FROM CAKE MIX!

---
Enjoy these pumpkin cookies chewy and soft for a fall desserts treat!
As an Amazon Associate I earn from qualifying purchases. Please refer to our
DISCLOSURE
.