Recipe for toasted pumpkin seeds ideas are fun fall snacks for kids! Wondering how to roast raw pumpkin seeds or how to prepare pumpkin seeds for eating? I think you'll be surprised at how easy pumpkin seed roasting is! Definitely add these easy flavored roasted pumpkin seed recipes to your Halloween recipes, delicious snack for fall, or fun autumn kids activities! Get the full recipe for pumpkin seeds roasted with different seasonings you've never tried!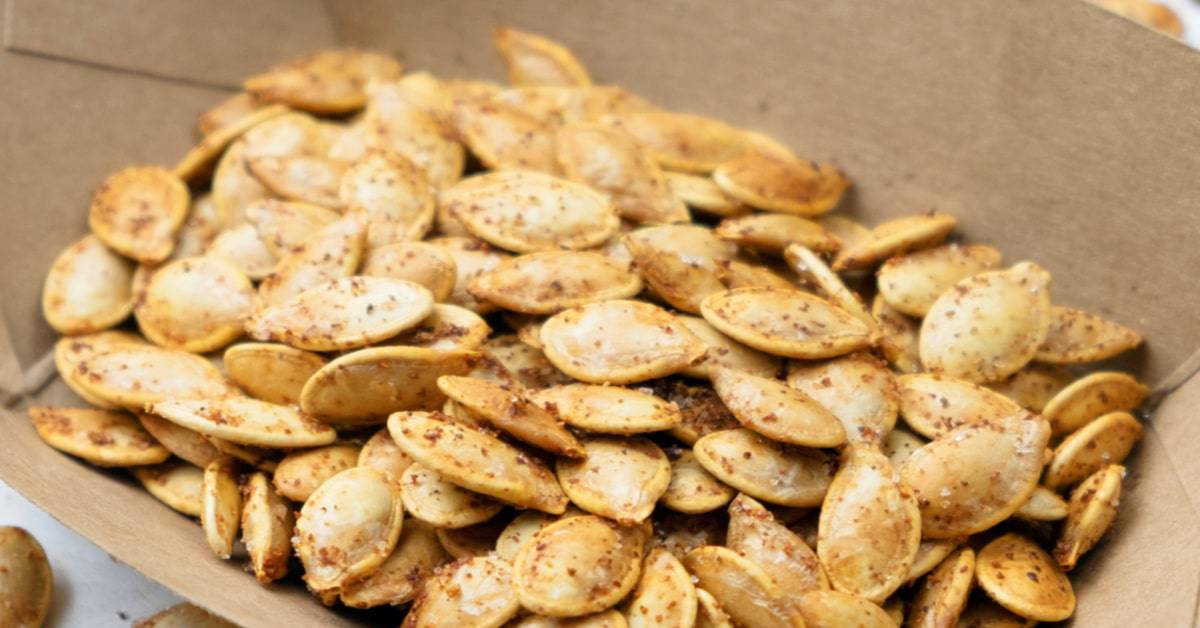 Recipe For Toasted Pumpkin Seeds Flavoring Ideas
Toasted Pumpkin Seeds (aka: roasted pumpkin seeds or sometimes called roasted pepitas) can be eaten all on their own as a healthy snack and enjoy their natural nutty flavor or as toasted pumpkin seeds for salads or toasted pumpkin seeds for soup! You can make savory pumpkin seed recipes (even spicy toasted pumpkin seeds!) or sweet roasted pumpkin seeds!
If you're looking for some good recipe ideas check out these four ways how to make homemade pumpkin seeds.
So, what to do with pumpkin seeds and how do you season them after toasting pumpkin seeds?
Affiliate links are used on this site. As an Amazon Associate I earn from qualifying purchases. Read more in our DISCLOSURE.
Recipe for Toasted Pumpkin Seeds
How To Eat Toasted Pumpkin Seeds:
Fresh pumpkin seeds
Olive oil
Sea salt
Worcestershire sauce
Black pepper
Garlic / garlic powder
Garlic salt
Curry powder
Cajun seasoning
Cayenne pepper
Chili powder
Cinnamon and sugar
Brown sugar and butter
Ranch powder
Pumpkin pie spice
Apple pie spice
Maple syrup
Dried dill / dill powder
Popcorn butter powder (or different flavors of popcorn seasonings)
Or any of your favorite seasoning!
See below for full recipe for roasted pumpkin seeds seasoning, including how to dry your seeds. KEEP SCROLLING for different homemade pumpkin seed flavors and how to make roasting pumpkin seeds sweet and salty!
How do you toast seeds?
There are several ways to toast pumpkin seeds:
Oven baked pumpkin seeds (bake pumpkin seeds)
Air fried pumpkin seeds, aka: deep fried pumpkin seeds (you can make air fryer pumpkin seeds as no oil roasted pumpkin seeds)
Boil pumpkin seeds
Pan toasted pumpkin seeds / pan fried pumpkin seeds / sauteed pumpkin seeds
Get full roasted pumpkin seed recipe seasonings and how to cook pumpkin seeds recipe card to print below.
ALSO CHECK OUT: Fun Backpack Snacks For Kids
About Roasting Pumpkin Seeds
I love roasted pumpkin seeds straight from our Halloween pumpkin — just sea salt pumpkin seeds. Once roasted, these are the perfect crunchy snacks. (If you like sunflower seed, you'll like toasted pumpkins seeds!)
It's one of my favorite delicious snacks for Halloween—not to mention, they're healthy snacks for kids!
So, I'm always up for saving pumpkin seeds to eat.
However, my husband and daughter don't share that same love of those toasted, crunchy seeds with salt, which means that they aren't that excited about sifting through the pumpkin guts to get the seeds out of the whole pumpkin when we do our jack-o-lanterns.
(To say that aren't a fan of pumpkin seeds is an understatement.)
So, one year, I decided to try different pumpkin seed flavors with my recipe for pumpkins seeds.
My family likes flavored popcorn, so I decided to try flavored pumpkin seeds to see how they like those, too!
And, guess what?
They loved the flavored pumpkin seeds as a tasty snack! (They even gave it a five star rating because they got to put their own choice of pumpkin seed flavorings on them!)
I've given you the basic pumpkin seeds recipe for salted pumpkin seeds, but I've also included different pumpkin seeds seasoning ideas if you want a little more flavoring.
(Don't be afraid to experiment on your own and make a recipe for pumpkin seeds salty and sweet!)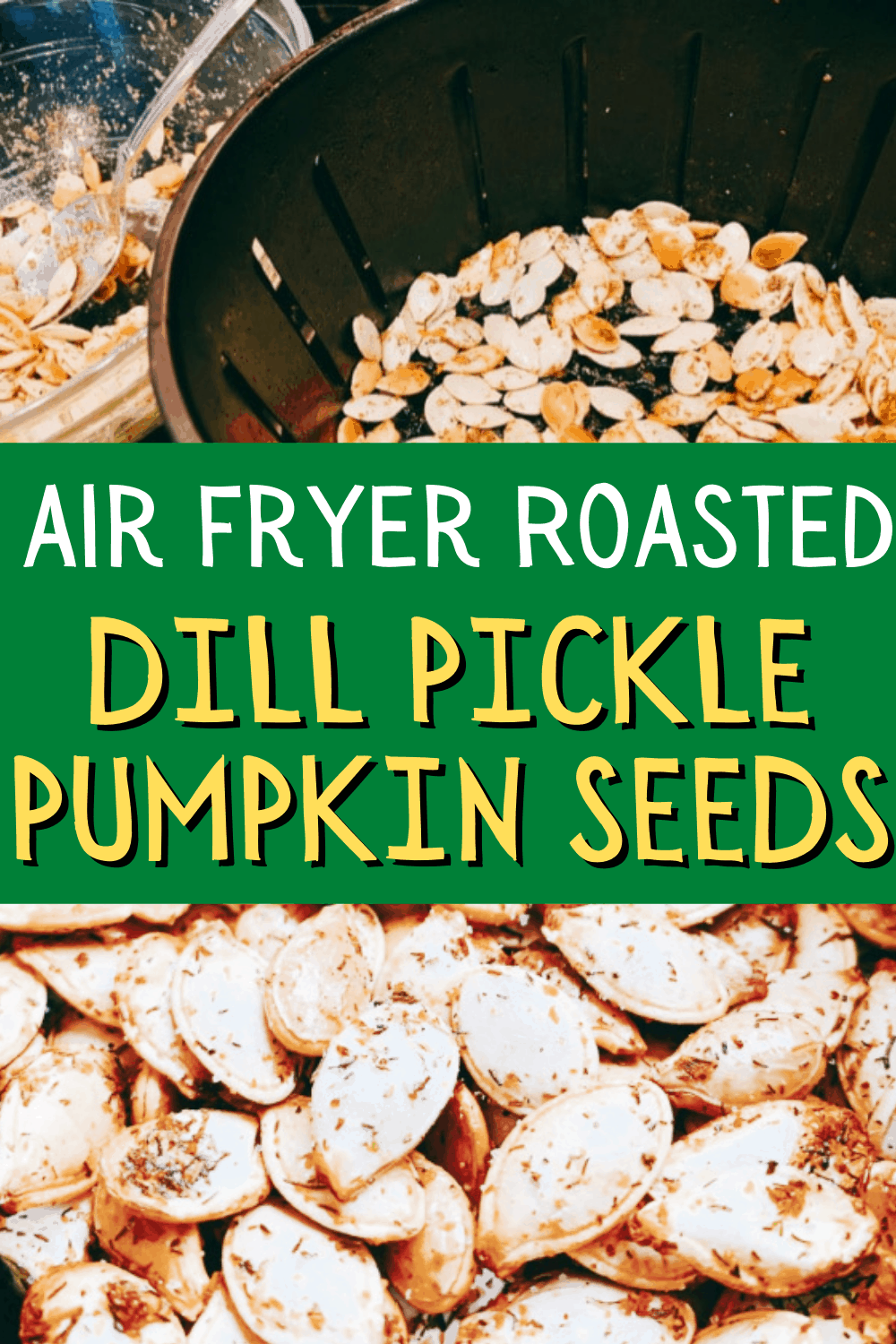 Want to try something different than pan toasted pumpkin seeds?
ALSO CHECK OUT OUR PUMPKIN SEED RECIPE IN AIR FRYER
Should pumpkin seeds be soaked before roasting?
Soaking pumpkin seeds before roasting and toasting is a regular discussion. Some people thinking that soaking fresh pumpkin seeds in water before toasting makes a crunchier pumpkin seed recipe because it softens the pumpkin seed shell, making it crispy during roasting. However, we've made them without soaking and have gotten crispy toasted pumpkin seeds, too.
Some people make a brine for pumpkin seeds with salt water and soak them overnight. I prefer to rinse the pumpkin seeds, spread them out on wax paper or parchment paper, and let the seeds dry overnight before roasting them in flavorings.

THIS WILL ALSO HELP FOR THE PUMKIN SEEDS RECIPE: How To Dry Pumpkin Seeds
What can you do with pumpkin guts?
You may be wondering what to do with pumpkin innards (called pumpkin guts or pumpkin brains) after scooping them out of fresh pumpkin to make your pumpkin seeds. Once you separate the pumpkin insides (fibrous strands) from the seeds of the pumpkin, use you can them for a variety of things.
What can you make with pumpkin guts?
Compost pumpkin guts
Use it for homemade pumpkin puree (especially if you're using sweet pie pumpkins!)
Feed the pumpkin guts to wildlife
Give pumpkin to farms
Make soup with pumpkin guts
Puree it for pumpkin recipes
Make pumpkin bread or pumpkin muffins
How To Prepare Pumpkin Seeds For Eating
Preparing pumpkin seeds for eating is very simple (and messy to clean seeds).
You're going to have to get in there and get messy, so prepare yourself (and kids usually have a lot of fun with it, so just put some plastic down and go with it!)
Also the process to clean seeds takes a little time, this really is an easy snack to make after that.
To prepare pumpkin seeds for roasting:
1. If you're using seed pumpkins to carve a jack o' lantern, carefully cut a round "lid" around the stem at the top of the pumpkin. (If you're not using the pumpkin for a jack-o-lantern, just cut the pumpkin in half.) Using a large spoon or your hands, scoop out the inside of the pumpkin ("guts" and seeds) into a large bowl.
(Save the pumpkin to make a jack-o-lantern if it's close to Halloween or discard/compost the pumpkin if you're not going to use it for anything else.)
2. Once the "guts" (insides of a pumpkin) are in the bowl, separate the seeds from the guts the best you can. Place the seeds into a colander and discard the guts (or composting pumpkin guts recipe is a great way to use them, too).
3. Rinse the seeds until the majority of the pumpkin has been rinsed off. (You'll have to wash pumpkin seeds for a little while to get them free of the slimy pumpkin flesh.)
4. To Dry Seeds: Spoon the clean pumpkin seeds onto a paper towels or parchment paper in a single layer on a cookie sheet / baking sheet. Pat with another paper towel to dry. Let seeds dry overnight.
5. Roast the whole seed s according to the toasted pumpkin seeds seasoning recipes to make crispy seeds below.
6. Store in airtight container at room temperature.
(See the full easy DIY toasted pumpkin seeds recipe below and pumpkin seeds how to roast them with different flavors.)
---
HALLOWEEN FALL FUN: FRIENDLY MONSTERS ACTIVITY PACK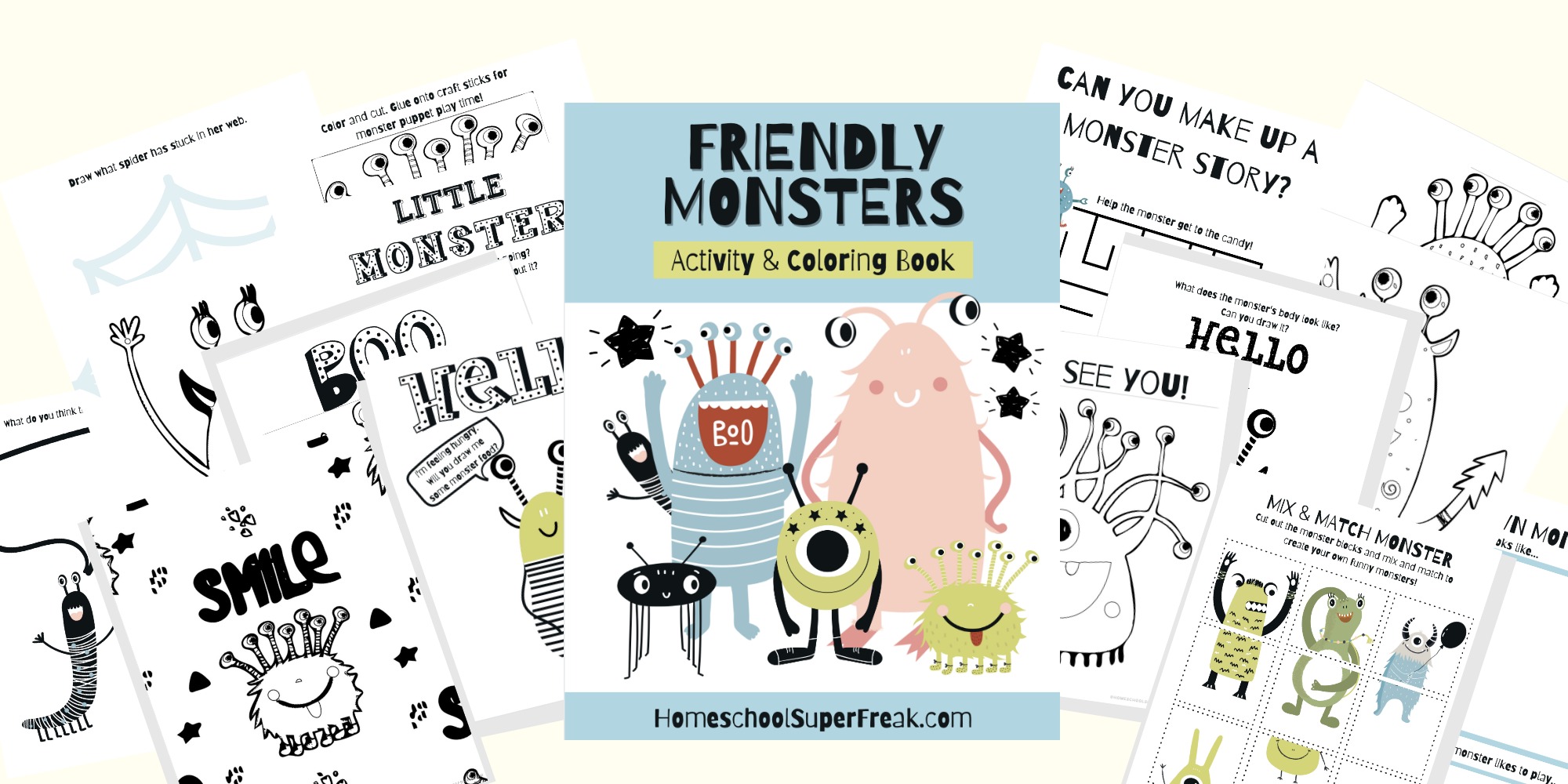 Kid Printables Coloring Pages & MORE!
---
Here are my favorite roasted and flavored pumpkin seed recipes flavors to make crispy pumpkin seeds.
I've given you the basic pumpkin seeds recipe (how to roast raw pumpkin seeds) and then followed it with the pumpkin seeds seasoning recipes if you want to make some of those, too! So don't miss pumpkin flavorings for seeds in the recipe!
Let's get to the flavored toasted raw pumpkin seeds recipe!
Easy Recipe for Toasted Pumpkin Seeds
This is the best pumpkin seeds recipe and includes how to roast pumpkin seeds step-by-step. If this is your first time making pumpkin seeds, you may have to play around with the toasting, roasting, and seasoning to find the recipe you like.
We know the recipe for pumpkin seeds with Worcestershire sauce is popular, so we've included that one, too, and also recipes for pumpkin seeds with cinnamon sugar to cover both salty pumpkin seeds and sweet pumpkin seed recipes!
Yield: 6
Toasted Pumpkin Seeds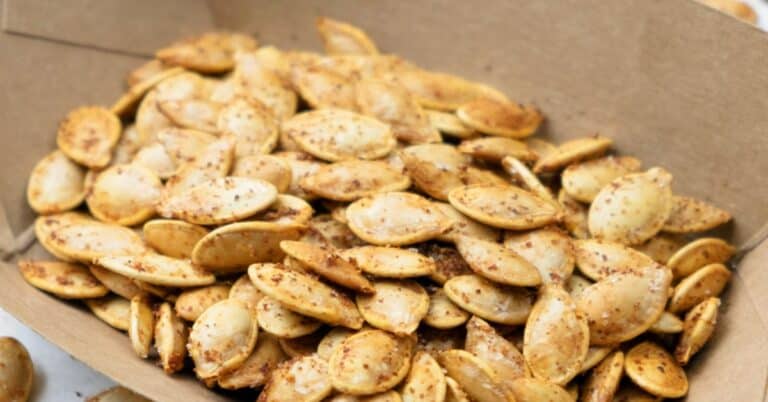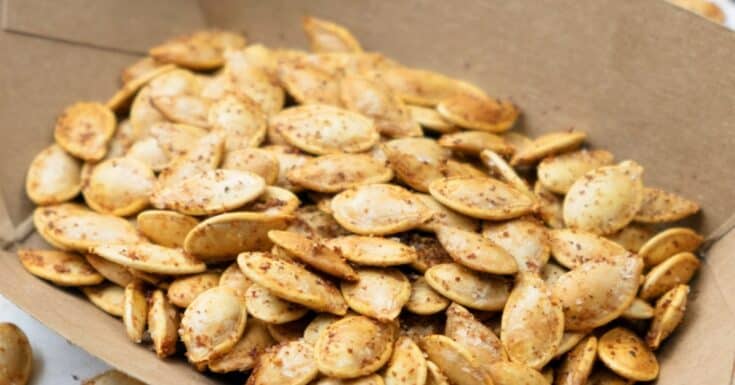 For the recipe for toasted pumpkin seeds, allow your pumpkin seeds to dry overnight. (See our directions on how to do that in the post.) It is the trick to making this pumpkin seeds recipe super crispy.
If you want seasoned pumpkin seeds with different flavoring, be sure to read all the way through the recipe. The flavorings are listed at the end.
Ingredients
1 Cup Pumpkin seeds from a fresh pumpkin
2 Teaspoons Butter, melted (or olive oil or coconut oil)
Sea salt (to taste)
Instructions
Rinse fresh pumpkin seeds and remove all pumpkin pulp ("guts" and strings). Pat dry with a paper towel. Let dry overnight.
Heat oven to 325° F.
Place clean, dry pumpkin seeds in a bowl and toss with melted butter (or olive oil).
Spray a baking sheet lightly with cooking spray. Spread seeds onto a baking sheet in a single layer. Sprinkle with sea salt.
Bake for 20-30 minutes or until light brown and crisp, stirring halfway through.
Sprinkle with sea salt. Cool before serving.
ROASTED PUMPKIN SEEDS SEASONING
SPICY ROASTED PUMPKIN SEEDS: To the melted butter (or olive oil), add ½ teaspoon Cajun seasoning, 2 dashes of Worcestershire sauce and toss with pumpkin seeds. Bake according to directions. After roasting, zest lime on top before serving. Sprinkle with sea salt and a little more Cajun seasoning before serving.
SWEET ROASTED PUMPKIN SEEDS: To the melted butter (or olive oil), add 1 tablespoon brown sugar and ½ teaspoon cinnamon and toss with pumpkin seeds. Bake according to directions. Sprinkle with a little more cinnamon and sugar before serving, if desired.
DILL ROASTED PUMPKIN SEEDS: To the melted butter (or olive oil), add 1 teaspoon dill, 1/4 teaspoon onion powder, 1/4 teaspoon garlic powder and toss with pumpkin seeds. Bake according to directions. Sprinkle with sea salt and pepper before serving. (SEE FULL RECIPE FOR AIR FRIED PUMPKIN SEEDS DILL FLAVORED)
Nutrition Information:
Yield:
6
Serving Size:
1 servings
Amount Per Serving:
Calories:

67
Total Fat:

3g
Saturated Fat:

1g
Trans Fat:

0g
Unsaturated Fat:

2g
Cholesterol:

3mg
Sodium:

109mg
Carbohydrates:

8g
Fiber:

2g
Sugar:

1g
Protein:

2g
Nutrition information is estimated. Changes to the recipe and use of different brands may cause changes to the nutritional information to vary slightly from the ones provided here.
After your learn how to clean and cook pumpkin seeds, add this recipe and read book for kids! Enjoy these pumpkin seed recipe ideas while reading this fall kids book.
Pumpkin Seeds Recipe paired with
From Seed to Pumpkin Children's Book
And, you know, we always like to pair up a great recipe with a cool children's book and this book is perfect to go along with your recipe for making pumpkin seeds:
From Seed to Pumpkin (Let's-Read-and-Find-Out Science 1) by Wendy Pfeffer
The book uses simple language to describe how a farmer uses a pumpkin seed to grow pumpkins.
At the end, there's a recipe (roasted pumpkin seeds!) and a science experience.
It's also an excellent illustration of how plants grow in general.
Listed Book Age Range:4-8 years
Don't Miss More Kids Activities For Fall:
Ideas for Pumpkin Recipes and Pumpkin Activities for Kids
What To Do With Your Leftover Halloween Pumpkins
What seasonings do you like for your recipe for toasted pumpkin seeds?
LOOKING FOR FUN COOKING PRINTABLES FOR KIDS?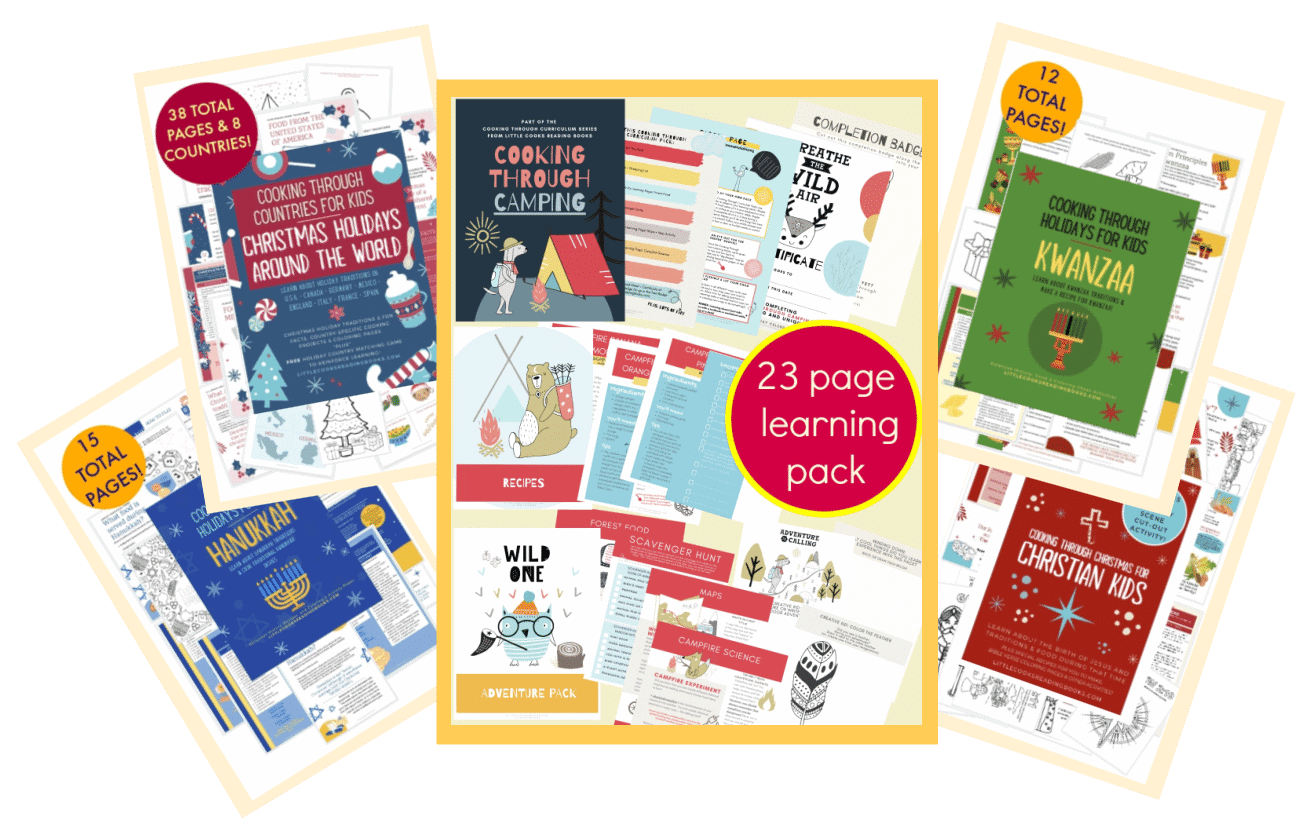 As an Amazon Associate I earn from qualifying purchases. Please refer to our
DISCLOSURE
.