An ugly Christmas sweater cookie decorating party is a great alternative to a tired gingerbread cookie decorating party or traditional Christmas cookie exchange party and a fun holiday party theme for adults and kids alike! We also turned it into a family charity activity for family and friends (and everyone loved that aspect)! We'll show you how to do that, too!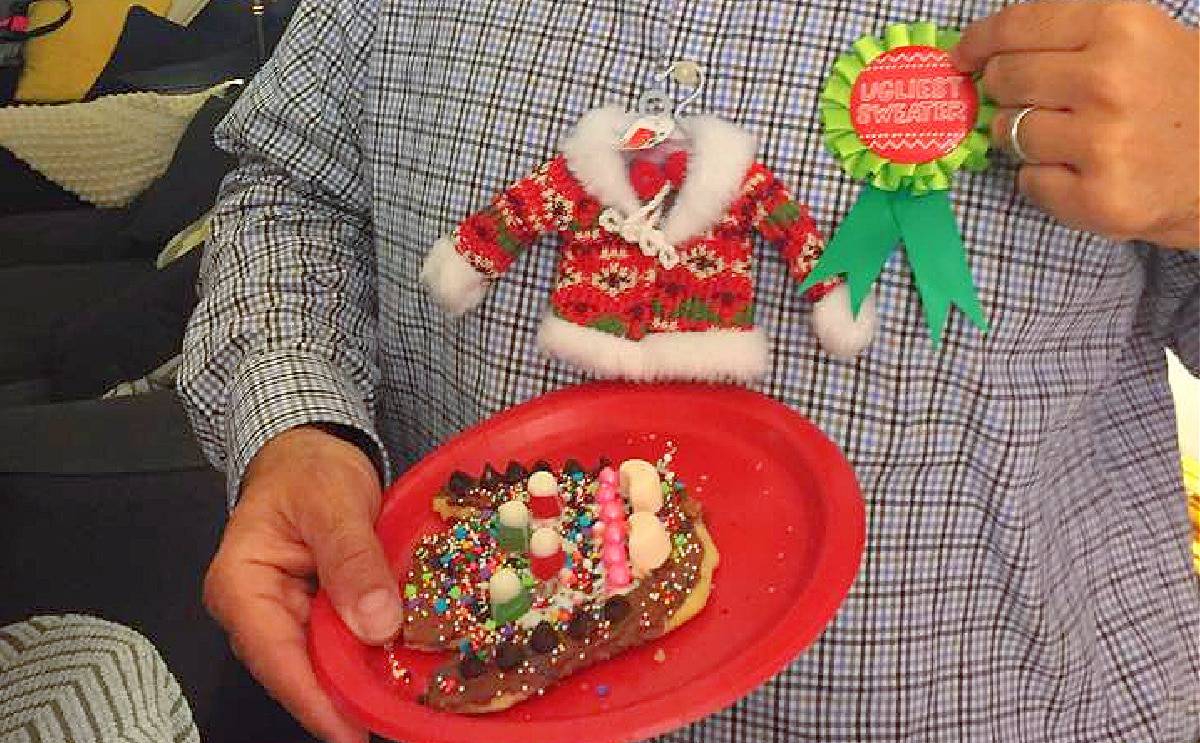 Hosting An Ugly Christmas Sweater Cookie Decorating Party During the Holidays
This is on of my favorite holiday cookie decorating party ideas that we've ever done (and ugly sweaters are a popular Christmas theme right now)! Here's how to organize a cookie decorating party…
Hosting A Cookie Decorating Party
Hosting an ugly sweater Christmas cookie decorating party is actually easier than you think!
You'll need these Christmas cookie decorating party supplies:
Affiliate links are used on this site. As an Amazon Associate I earn from qualifying purchases. Read more in our DISCLOSURE.
Cookie decorating party set with different colored cookie icing, sprinkles, and candies to decorate
Different colored cookie icing
Icing bags / cookie decorating party tips for icing (optional)
Decorating gels
Small cups for different icing for cookies
Plastic knives and spoons
Ugly sweater cookie cutters
Baking sheets / cookie sheets
Baked sugar cookies
Holiday wipe off (or plastic) tablecloths
Rolls of paper towels
Wet Wipes
Mini craft aprons for kids (

they're really cheap

and so helpful!)
(see full printable cookie party directions and Christmas cookie party ideas below)
Your supplies for cookie decorating party may differ a little from this list. Don't be afraid to put your own spin on hosting cookie decorating party!
We buy our cookie icing to make things easier, but if you love making homemade icing for cookies, go for it!
How many cookies for a cookie exchange?
For a cookie exchange party, you should plan on having enough Christmas cookies that guests can go home with at least as many as they brought. (For example, if they bring a dozen, they should be able to go home with at least a dozen assorted cookies decorated.) If you're decorating cookies, plan on at least 3-4 cookies per person for decorating.
What icing is best for decorating cookies?
You may be wondering what kind of icing is used for decorating cookies. The best icing for cookie decorating party is the easiest and, for us, that means store-bought icing in tubs that we divvy out to different small cups. However, many find that royal icing for cookie decorating party is the best icing to make at home.
(Read on for more best cookie exchange party ideas!)
ALSO CHECK OUT:
Ugly Christmas Sweater Cookie Decorating Ideas
Be sure to let your cookie party guests know that they don't have to be artists to make ugly sweater cookies! You can also give your holiday party guests themes for ugly sweater cookies if you feel like that would be easier.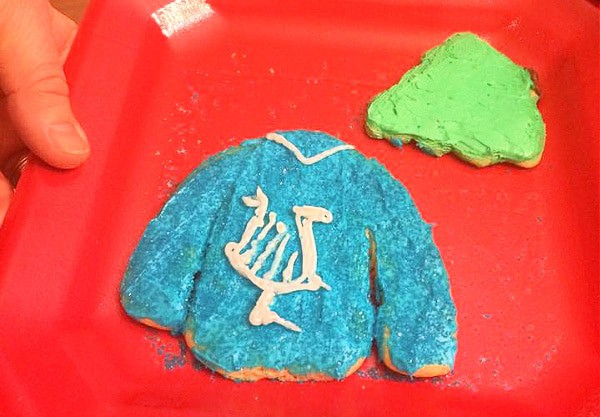 Christmas cookie decorating party ideas:
Ugly Santa sweater cookie
Clark Griswold sweater cookie
Elf inspired ugly holiday sweater cookie
Ugliest sweater cookie with a present
Ugly Rudolph Christmas cookie
Ugly Frosty the Snowman Christmas cookie
Grandma Got Run Over By a Reindeer ugly Christmas cookie theme
Most colorful ugly holiday sweater cookie
Best Dressed ugliest sweater
Festivus ugly cookie sweaters
Any funny theme can make up your novelty Christmas cookies! Think of favorite holiday cartoons, Christmas decorations, or anything else that will inspire cookie decorators.
You may also want to have some ugly holiday sweater pictures around for holiday inspo and special cookies for Christmas!
Tell your guests there are no rules on how to decorate ugly sweater Christmas cookies and get creative with their ideas for Christmas cookie exchange party!
Important Ugly Sweater Cookie Party Tips
1. You can buy an ugly Christmas sweater cookie decorating kit. But, honestly, it will be cheaper for you to assemble your own cookie party kit for a group. (And it's easy! See the directions below.)
2. It's OK to go the "cheater" way and use store-bought, refrigerated cookie dough and store-bought icing (especially if it saves your sanity and takes some stress off so you can enjoy the party!).
3. Plan for each person to decorate 2-4 cookies (some will decorate more, some will decorate less). After that, people start to just move around the party (eating, talking, etc.).
4. You can handle the cookies two ways: bake sugar cookies yourself or ask each guest to bring a dozen sugar cookies to share. (They can go home with a dozen decorated cookies from the Christmas cookie swap party!) Then, you bake a couple of dozen yourself for your family and any extras for families who forgot their cookies. We've also done just a few kids and made it a Christmas cookie baking party where they bake and decorate cookies.
Having everyone pitch in their own dozen cookies to share is the best for cookie exchange ideas for large groups.
5. The easy way to do icing is to buy the store-bought icing tubs in different colors (like Duncan Hines, Betty Crocker, etc.). We also buy a few extra white tubs and make fun colors using food coloring. Then, we divide the icing up into little cups with lids so that each person can have 3-4 icing colors that they don't share. (Remember, little kids will stick their fingers and licked spoons into the icing, so you don't want to share!) Having the icing in little cups will lids will also allow you to give your guests the leftovers to take home for their own decorating (so you're not stuck with them!).
6. Have a contest with your ugly cookies! (This was a HUGE hit at our cookie parties!) Have everyone vote and award UGLY SWEATER COOKIE RIBBONS for different funny categories: Most Beautifully Tacky, Most Festive, Most Disturbing, Ugly But Tacky, etc.
One year we even gave away sweater ornaments to the winners and that was a HUGE hit! (There are even Festivus sweaters if you love Seinfeld.)
Another year we gave ribbons for different categories, but had people vote with money (coins and dollars, or whatever they had). Then, we gave the money to charity! The kids had a ton of fun with this and their handful of pennies and coins!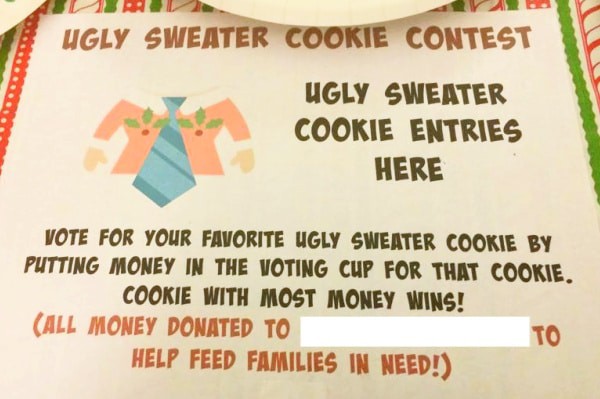 7. You will need to provide cookie swap containers for guest to take home cookies they decorated. You can either have extra paper plates and foil or plastic wrap (many guests won't want to stack their cookies and ruin decorating that hasn't dried yet). Or, you can get cute holiday cookie containers (our guests loved these cookie swap boxes one year!).
8. Make sure you have finger foods, snacks, and drinks for your cookie swap party menu. You can even ask your guests to pitch-in for a snack dish to share.
9. Encourage everyone to get into the holiday spirit by wearing their own ugly Christmas sweater or festive shirt.
10. Don't forget the festive Christmas music to set the tone of the party!
(Read on for the full directions on how to host a holiday cookie exchange party…)
Now…
Here's how to host your xmas cookie decorating party for ugly sweaters!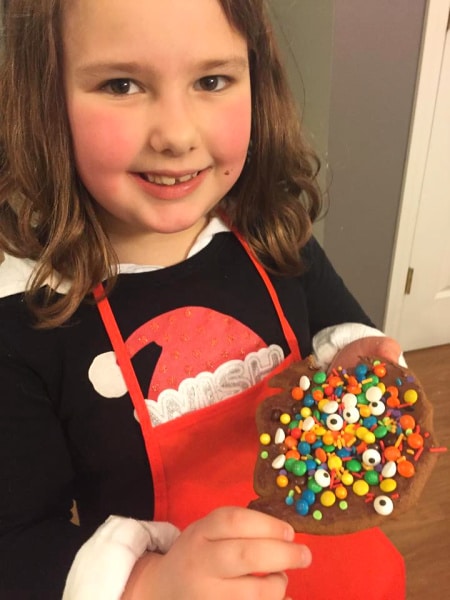 How To Host A Christmas Cookie Exchange Party
Plus, How To Have an Ugly Christmas Sweater Cookie Decorating Swap Party For Charity!
This is a fun Christmas cookie decorating party for adults or children's cookie decorating party (or a mix!).
We made all our cookies for the cookie decorating Christmas party, but if you want an easy Christmas cookie decorating party you can also ask each guest to bring 6-12 sugar cookies to share (if that's easier). Just let them know they can leave with 6-12 decorated cookies!
An ugly sweater cookie party is a fun holiday theme Christmas cookie decorating party for adults and kids!
Yield: 12
DIY Cookie Decorating Party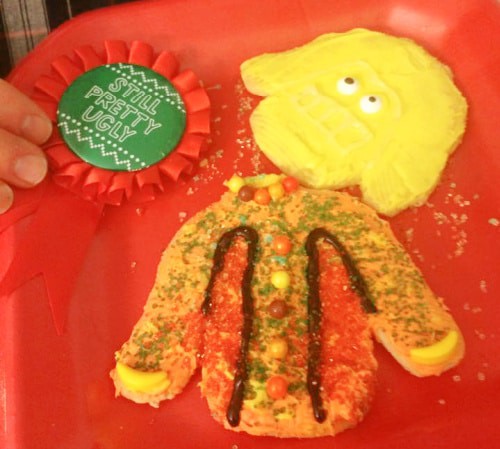 Having an Ugly Sweater Cookie Party is one of our favorite holiday party ideas. And, hosting a Christmas cookie decorating party is easier than you think!
Materials
Cookies (or cookie dough to make cookies), plan for 3-4 cookies per person if you are making them
Sweater shaped cookie cutter, large
Tub Icing, colors of choice, 1-2 containers of each color (amount depends on size of party)
Holiday sprinkles and candies, variety of choice
Decorating Gels
Paper plates
Small plastic cups with lids
Plastic spoons and knives
Plastic tablecloths (or wipe off tablecloths)
Paper towels, 1-2 rolls for each table
Wet wipes, 1-2 containers for each table
Craft aprons for kids (optional)
Ugly Sweater award ribbons (optional)
Cookie take-home boxes (optional) or foil/plastic wrap for guests to wrap their decorated cookies
Instructions
A day before the party, bake cut-out sugar cookies using the sweater cookie cutter. Cool and store.
Scoop different colored icings into plastic cups with lids. Plan on 4 different colors for each attendee. (Use the white icing with food coloring to make colors or any colors you couldn't buy.) Set aside until party.

DAY OF THE PARTY
Prepare tables by covering with plastic or wipe-off holiday tablecloths.
In the middle of each table, place 2 rolls of paper towels and 2 containers of wipes (like Wet Wipes).
At each place setting (one place setting per guest) place: 2 paper plates (stacked on top of each other so they have an extra one if the first one gets messy), 3-4 cookies on each plate, 2 plastic spoons and 2 plastic knives, 4 different colors of icing (in the prepared icing cups with lids), child apron (optional).
In the middle of each table, place a variety of cookie decorating supplies like sprinkles, candies, gels, etc. (You can also place the extra small containers of icings with lids in the middle too, in case they need more.)
Encourage everyone to get creative with their ugly sweater decorating and not to worry about being perfect. If you have a theme (like ugly reindeer sweaters, etc.), make sure everyone knows the theme.

FOR THE COOKIE CONTEST (OPTIONAL)
Buy or make ribbons or awards for different categories.
Have a separate table or counter space for people who want to enter their cookies into a contest. Have those entering the contest write their names on the bottom of the paper plate, but assign a number to each plate. (So the voting is anonymous.)
On styrofoam cups (or whatever you have), write the category on each cup (like Ugliest Ugly Sweater, Best Dressed Sweater, Funniest Sweater, etc.).
Provide slips of paper and pens and have each person vote for each category. For example, if they think the plate with #1 on it is the Best Dressed Sweater, they would write #1 on the slip of paper and put it in the cup for BEST DRESSED SWEATER. Make sure to tell the guests to vote for each category!
Near the end of the party, tally each category and give out awards (and, if you want, small gifts).

TO MAKE IT A COOKIE CONTEST FOR CHARITY:
Follow the directions from the FOR THE COOKIE CONTEST section above. Instead of voting with slips of paper, guests will be voting with money. You still give the awards, but all the money collected goes to a charity.
We made sure the guests knew ahead of time to bring change or dollar bills (and included it on our invitation) and announced the charity. (For our party, we really had people getting competitive and giving $5, $10, and even $20 bills so they could win and they knew it was going to a charity. It was awesome!)
Notes
Be sure to have snacks and drinks for your party. Don't forget to play festive Christmas music!
We also bought some inexpensive crafts and had a craft table. It gave people who didn't want to decorate cookies something to do and give people a break from decorating. People will just float back and forth between cookie decorating, eating food and hanging out, and craft decorating!

Have fun with your ugly Christmas sweater cookie decorating party!
LOOKING FOR FUN COOKING PRINTABLES FOR KIDS?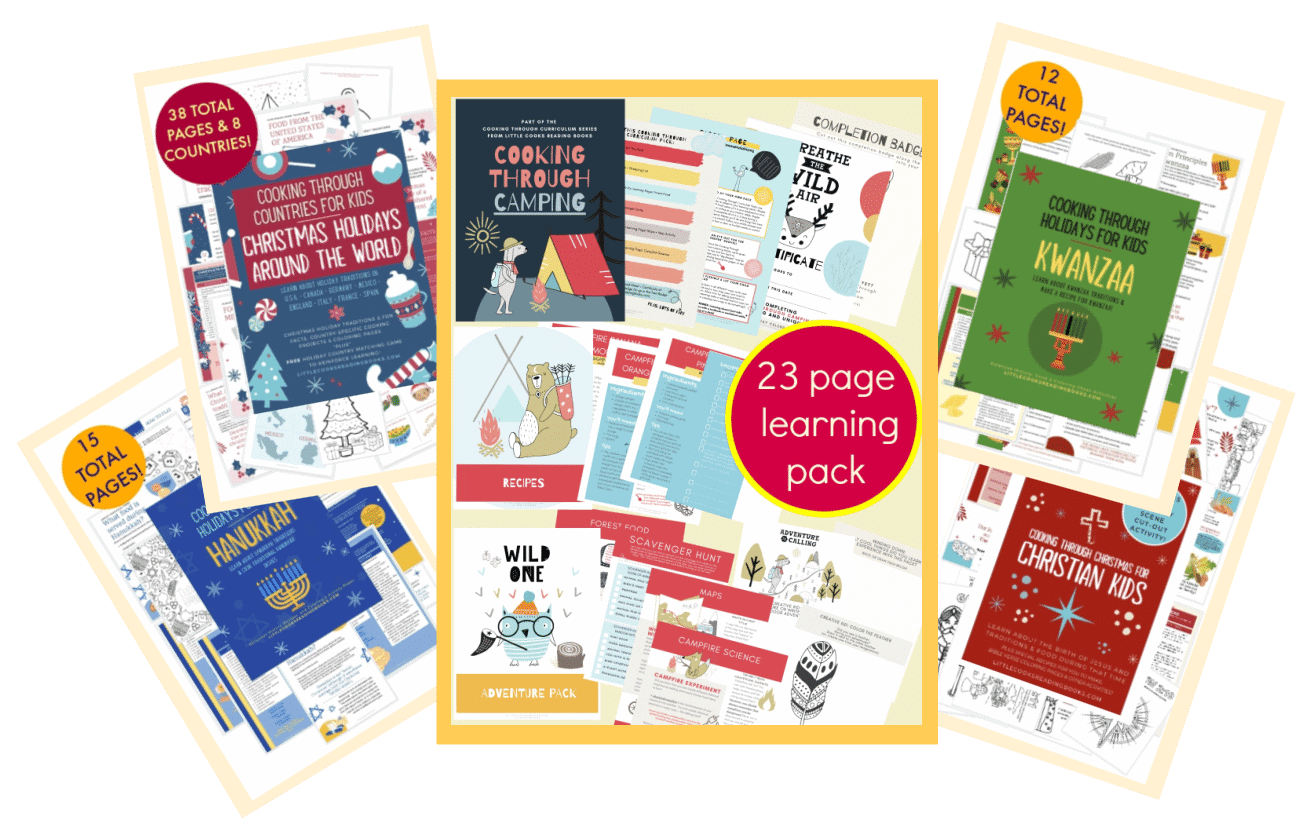 As an Amazon Associate I earn from qualifying purchases. Please refer to our
DISCLOSURE
.