These sugar cut out cookies are the best sugar cookie recipe to decorate or Christmas cookies that won't melt when baked— perfect cutout cookies every time! How to make cookies decorated is easier than you think with this baking recipe. We've tested and perfected this easy cookie recipe / no spread sugar cookie recipe! You'll be able to enjoy this easy sugar cookie recipe and baking with kids for an easy dessert for the holidays or theme parties.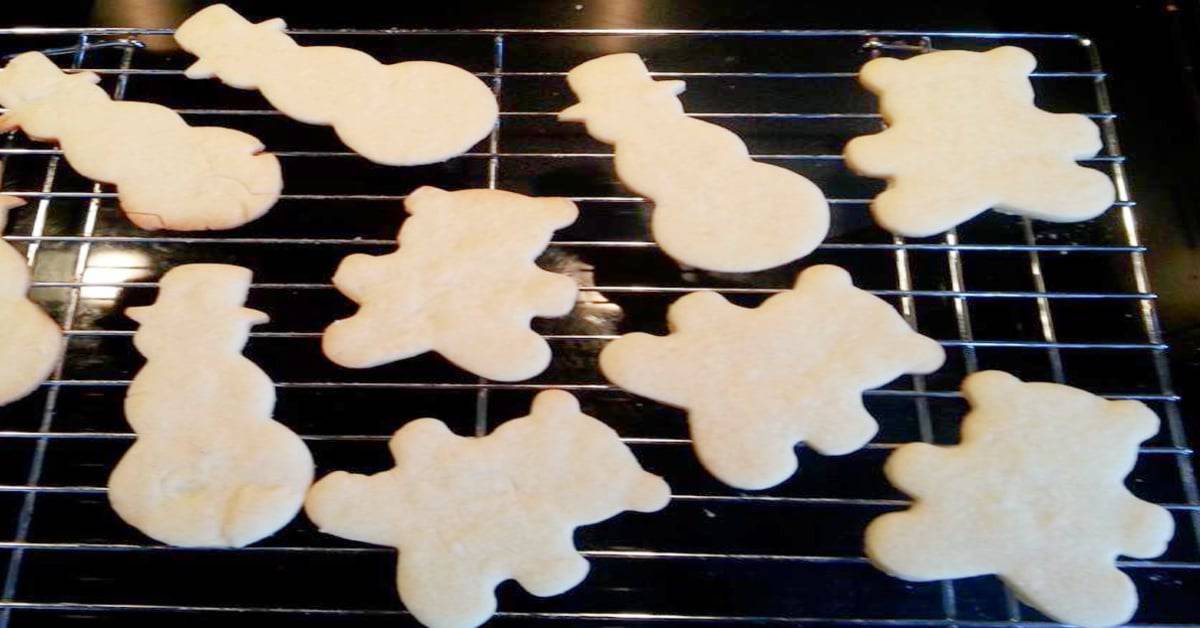 Best Sugar Cut Out Cookies For Decorating Cookies
This simple sugar cookies recipe are buttery cookies that will melt in your mouth, but the vanilla cut out cookies dough is sturdy enough for cookie cutters and decorating Christmas cookies for holiday kids activities.
This recipe for sugar cookies (butter sugar cookie recipe) is from my friend Angela's mom. She used to bring these to our annual DIY cookie decorating party and they were always a huge hit! Now it's my go-to recipe for sugar cookies for Christmas or any time I need baked cookies for decorating.
For the sugar cookie recipe, you'll need:
Sugar
Flour
Butter
Cream Cheese
Egg Yolk
Salt
Almond Extract
Vanilla Extract
Get the full sugar cookie cutters recipe card printable below. KEEP SCROLLING for the best sugar cookie recipe for decorating and how to make sugar cookies keep their shape!
Affiliate links are used on this site. As an Amazon Associate I earn from qualifying purchases. Read more in our DISCLOSURE.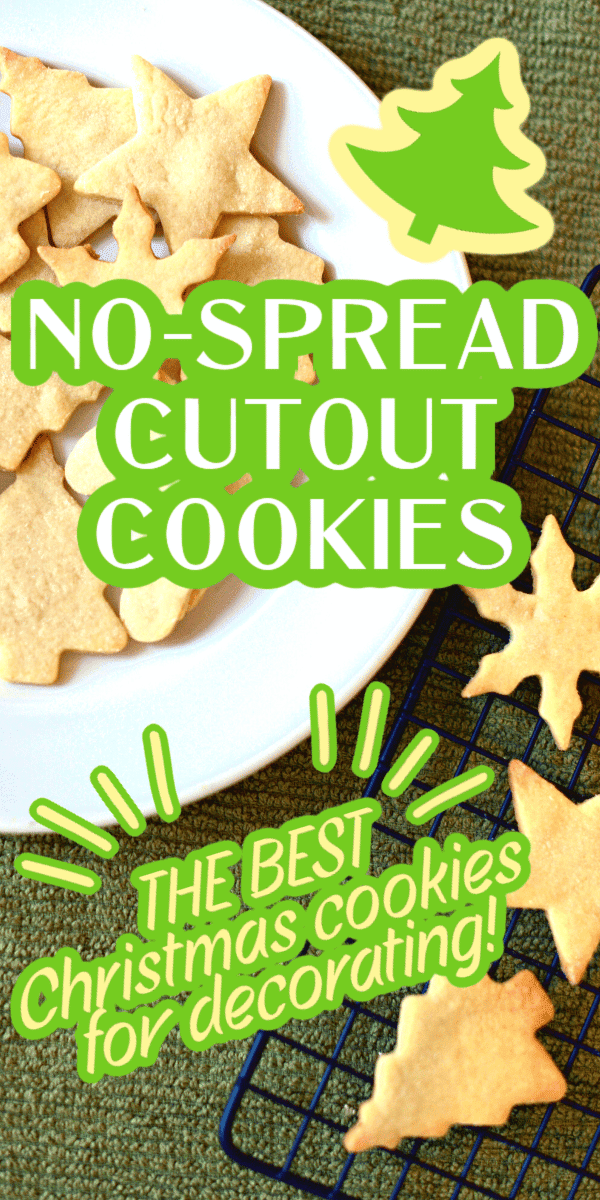 Do you cut cookies before or after baking?
For cutout sugar cookies, roll the dough and cut the cookies before baking. Place on an ungreased cookie sheet to help prevent your cookies from spreading. (The spreading is what makes you unable to recognize your cutout shapes sometimes!)
What is needed to decorate cookies?
To decorate cut-out cookies, you'll need:
Icing (colors of choice)
Food Coloring (optional)
Pastry bags and tips (optional, if making special designs)
Sprinkles
Colored Decorating Sugar
Other decorating items based on holiday or theme (like candy eyes for Halloween, mini Christmas tree candy for holidays, etc.)
Add any sugar cookie recipe best decorating items / favorite icings to these baked cookies. This sugar cookie cut out recipe is great for cookie decorating parties (we used this sugar cookie cutout recipe for an ugly sweater cookie party and they turned out great for cookies to decorate!).
Do you decorate sugar cookies before or after baking?
You can decorate sugar cookies before baking with colored sugar. The cookie sugar will melt into the cookies a little and give it some color. To ice the cookies, wait until after baking. Cool the cookies before icing.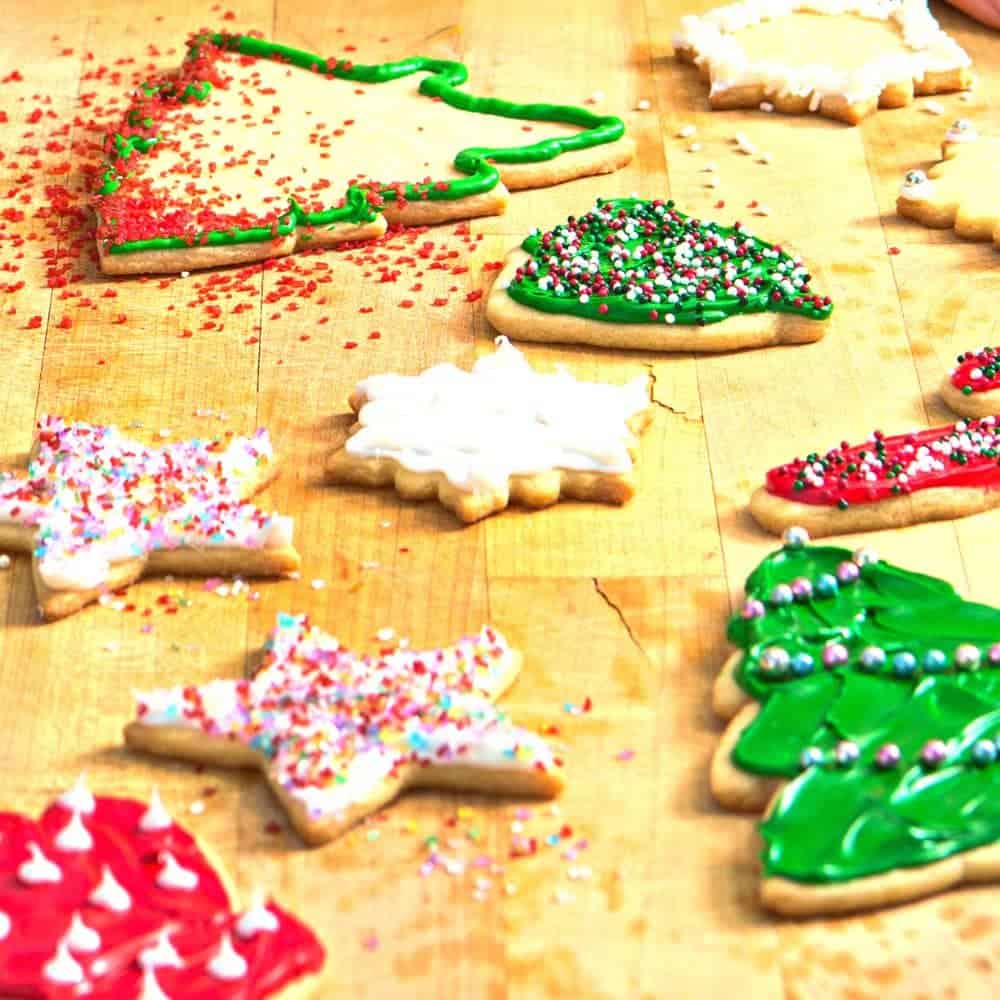 This makes the perfect Christmas sugar cookie recipe or cookies recipes for parties!
How long after baking sugar cookies can you decorate?
To decorate your cookies after baking, you should make sure that they cool completely. Allow your cookies to cool on the baking sheet for 5 minutes, then transfer to wire cooling racks to cool completely before icing and decorating.
We use a cooling rack like this for our cut out sugar cookie recipe.
Icing For Cut Out Cookies
Sugar cookie icing can be:
Candy Melts
Royal Icing
Buttercream Frosting
Marshmallow Cream
Colored sugar for sugared cookies (and no frosting)
The type of icing you use for sugar cookies will depend on what flavors you like and if you are looking for a sturdy icing, more of a flooded icing, or that smooth, flat icing that you get from royal icing. Don't forget to make them Christmas cookies with sprinkles!
How long does it take for icing to dry on sugar cookies?
How long it takes for icing to dry on sugar cookies will depend on the type of cookie icing you use. In general, you should allow cookie icing to dry for 24 hours, especially if you are placing them in favor bags for a party.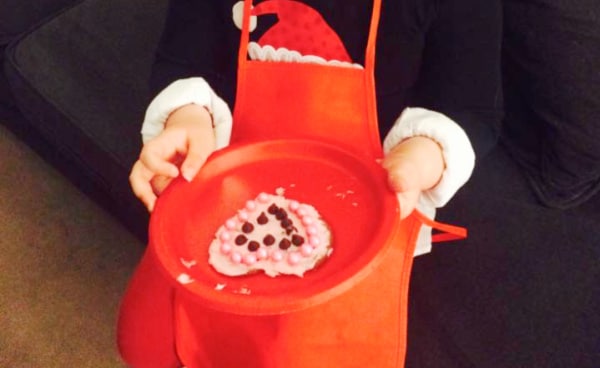 Can you use canned frosting for cut out cookies?
Yes! We actually use the canned (tub) frosting for our holiday cookie parties to save time and it works just fine.
How To Store Decorated Cookies
Store decorated cookies in an airtight container in a cool, dry place. Don't store decorated cookies in the refrigerator.
How do you get sprinkles on sugar cookies without icing?
If you're not icing the cookies, you can add sprinkles to the cookie dough before baking for a colored sugar look or, before baking, brush cookies lightly with beaten egg white and then sprinkle with colored sugar. Bake as normal.
ALSO TRY:
Best White Chocolate Christmas Cookies Recipe
How do you keep cookies from spreading when baking?
Greasing your cookie sheet will help cookies to spread when baking, which can make cut out cookie shapes unrecognizable. To help keep cookies from spreading, use an ungreased cookie sheet or a baking mat to prevent sticking and spreading.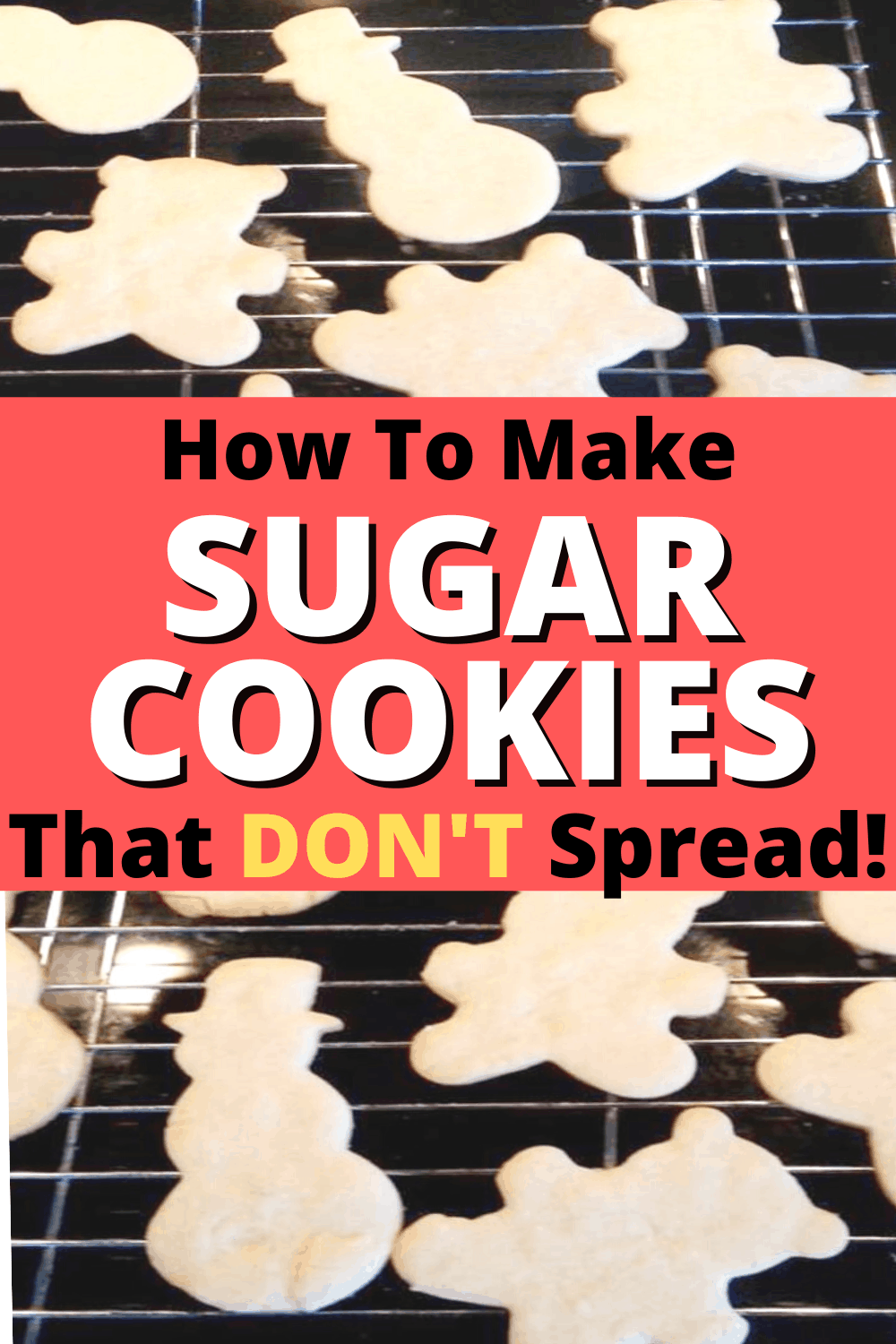 HOW TO MAKE SUGAR COOKIE RECIPE TO DECORATE
These really are the best cookie for cutters and one of the best sugar cookie recipes I've ever made. If you need a decorate sugar cookies recipe, this is definitely it!
Sugar cookies from mix are super easy (try these cake mix cookies), but these homemade sugar cookies from scratch are such easy recipes for sugar cookies!
If you're always frustrated trying to make cookies with cutters that spread, definitely check out the no-spread cookie tip in the recipe!
Here's how to make sugar cookies (some call them salted butter sugar cookies)…
Yield: 12
Homemade Sugar Cut Out Cookies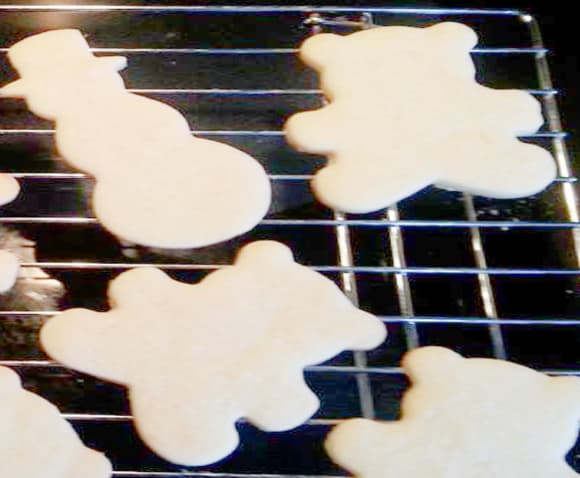 This is our favorite sugar cookie recipe and cookie recipe for cutters.
The special trick to this sugar cookie recipe to decorate is to use an ungreased cookie sheet so that your cutout cookie shapes don't spread!
Total Time
3 hours
30 minutes
Ingredients
1 cup white sugar
1 cup butter, softened
1 3-ounce package cream cheese, softened
1/2 teaspoon salt
1/2 teaspoon almond extract
1/2 teaspoon vanilla extract
1 egg yolk
2 1/4 cups all-purpose flour
Instructions
1. In a large mixing bowl, combine the sugar, butter, cream cheese, salt, almond extract, vanilla extract, and egg yolk. Beat until smooth.

2. Stir flour into the sugar and butter mixture. Mix until well blended. Chill the dough for 2-3 hours, until firm.

3. Remove 1/3 of the refrigerated dough, leaving remaining dough chilled in refrigerator until ready to use. On a lightly floured surface, roll out the refrigerated dough to 1/4-inch or a little thicker (based on how you like your cookies).

4. Cut into desired shapes with lightly floured cookie cutters. Place 1 inch apart on ungreased cookie sheets.

5. Preheat oven to 375 degrees ˚F.

6. Bake cookies for 7-10 minutes, or until light and golden brown. Cool cookies completely before frosting.
Notes
Leave cookies plain for frosting. If you want to put colored sugar on before baking, brush cookies with beaten egg white and then sprinkle with colored sugar.
Nutrition Information:
Yield:
12
Serving Size:
1
Amount Per Serving:
Calories:

316
Total Fat:

18g
Saturated Fat:

11g
Trans Fat:

1g
Unsaturated Fat:

6g
Cholesterol:

63mg
Sodium:

233mg
Carbohydrates:

35g
Fiber:

1g
Sugar:

17g
Protein:

3g
Nutrition information is estimated. Changes to the recipe and use of different brands may cause changes to the nutritional information to vary slightly from the ones provided here.
Pair these books up for a fun recipe and read to go with the best recipes for sugar cookies ever!
Cookie Books for Kids
Baking cookies and decorating cutout sugar cookies is such a fun thing to do with kids, so be sure to get them involved.
Try these books about cookies to add with your kids' baking activity and sugar cookie recipe cut out:
The Cookie Fiasco
If You Give A Mouse A Cookie
May I Please Have a Cookie?
A World of Cookies for Santa: Follow Santa's Tasty Trip Around the World (GREAT book to go with the recipe for sugar cookies to cut out!)
We hope you love this sugar cookie recipe to decorate for holiday cookies (or any party theme)!
Enjoy these sugar cut out cookies and decorating cookies with kids!
LOOKING FOR FUN COOKING PRINTABLES FOR KIDS?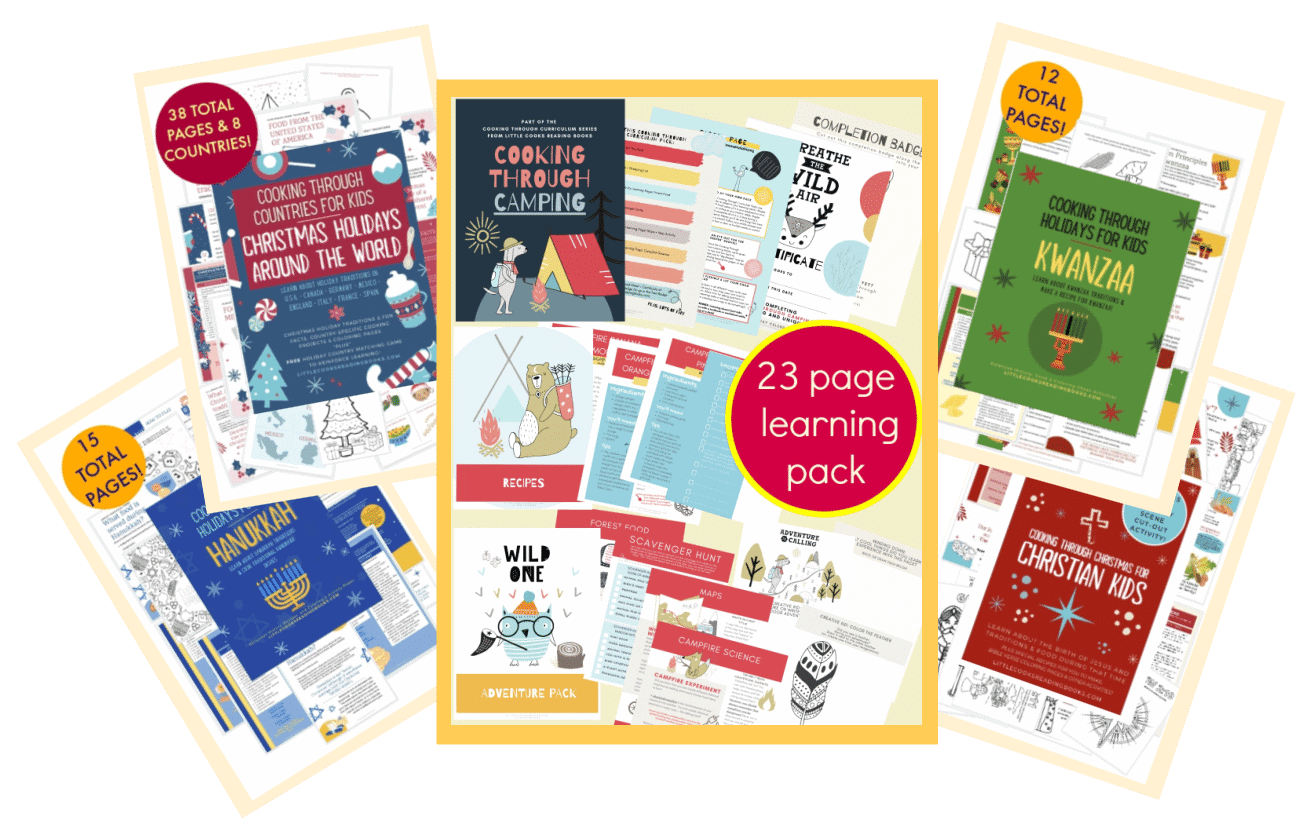 As an Amazon Associate I earn from qualifying purchases. Please refer to our
DISCLOSURE
.