Want hot chocolate without hot chocolate mix? This easy, homemade hot cocoa recipe is so rich and creamy that kids AND adults will love this winter drink recipe after winter activities outdoors. Try it on your hot chocolate charcuterie board or hot chocolate bar, too!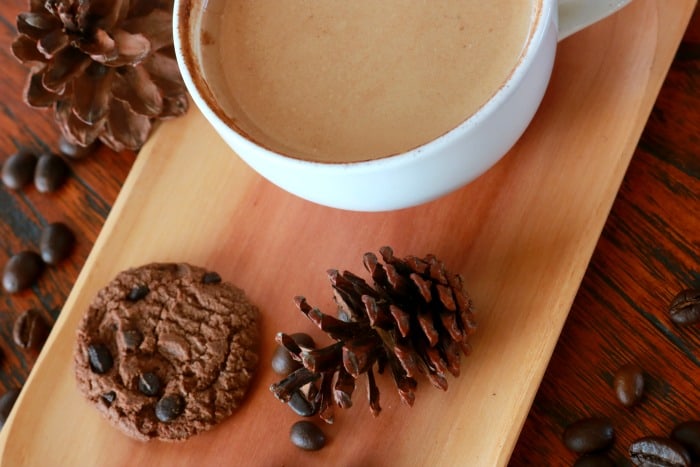 HOMEMADE HOT CHOCOLATE RECIPE
PLUS, HOW TO MAKE A DIY HOT CHOCOLATE CHARCUTERIE BOARD OR HOT CHOCOLATE BAR
We've all gotten so accustomed to the convenience of those little packs of instant hot chocolate mix that many of us no longer make our own hot chocolate. However, this easy hot chocolate recipe will change your mind!
How To Make Hot Chocolate Without Hot Chocolate Mix
How to make hot chocolate with cocoa powder and water:
Unsweetened cocoa powder, Cadbury cocoa powder, or your favorite cocoa powder
Sugar
Salt
Water
Milk (optional, but makes a creamy hot chocolate)
Vanilla extract
Whipped cream (optional)
Marshmallows (optional)
Chocolate chips (optional)
Additional fun toppings (see list)
(See the full homemade hot chocolate recipe without mix below!)
The taste of this homemade hot chocolate mix is so rich and creamy that you have to try it (at least once!) — especially if you're doing a hot chocolate charcuterie board or hot cocoa bar!
You don't need a hot cocoa mix! We'll show you how to make hot chocolate without mix below! KEEP SCROLLING!
Can you substitute cocoa for hot chocolate mix?
Yes! You can substitute unsweetened cocoa for hot chocolate mix. Just remember that pre-packaged hot cocoa mix has sugar mixed in, so you will need to add some sweetness (sugar or honey) to your hot chocolate made with cocoa.
You may also be wondering can you make hot chocolate without cocoa powder…
Does chocolate milk make good hot chocolate?
Yes, chocolate milk also makes good hot chocolate because of the creaminess of the milk. Just heat up the hot chocolate in a mug in the microwave or in a pan on the stove. Then, add the normal hot chocolate toppings like marshmallows, whipped cream, chocolate drizzle or shavings, crushed peppermint and more.
This is especially good if you're looking how to make hot chocolate without cocoa powder or a hot cocoa mix. (And, it's super easy!) It's a creamy hot cocoa!
What are good toppings for hot chocolate?
Whipped cream
Marshmallows
Crushed cookies
Caramel drizzle
Sprinkles
Shaved chocolate or chocolate chips
Crushed candy canes
Cinnamon
Coconut
Nuts
ALSO CHECK OUT:
How do I make hot chocolate better?
If you want to spice up your hot chocolate a little, try one of these mix-ins:
Cinnamon
Peppermint
Marshmallow cream
Chili powder (for a spicy hot chocolate)
Vanilla
Shaved chocolate
Chocolate chips
Peanut butter
Nutella
Crushed cookies
How to serve hot chocolate at a party?
A great way to serve this hot chocolate recipe is on a fun hot chocolate bar or to make a hot chocolate charcuterie board. Pour the hot chocolate in cups or put in a pump dispenser and then provide with fun hot chocolate toppings.
Looking for hot chocolate charcuterie board for sale? Just use a tray!
What goes in a hot cocoa bar?
This is a really fun recipe to make for a hot cocoa bar or a hot chocolate station at a party! Setting up a DIY hot cocoa bar is easy!
What do you put on a hot cocoa bar?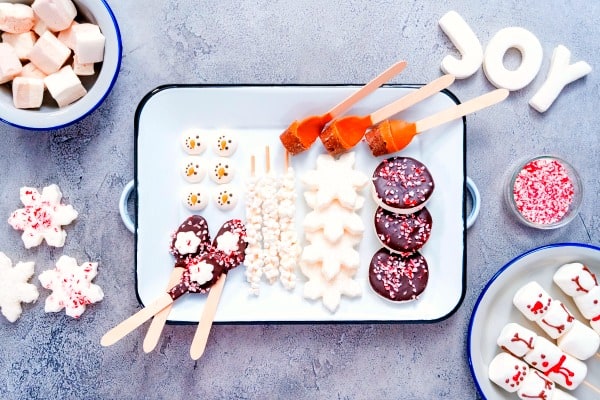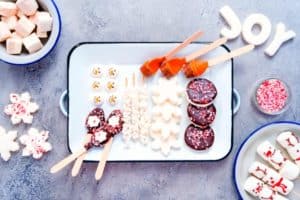 How to Make Hot Chocolate Boards
Hot chocolate charcuterie boards (also called hot chocolate dessert charcuterie boards or Christmas charcuterie) are all the rage right now and great if you're looking for a fun way to give your hot cocoa bombs as gifts!
(Charcuterie actually means a group of cooked meats, but people are using it to describe hot chocolate boards now, too.)
Hot Chocolate Charcuterie Ingredients
Some ideas for hot cocoa boards:
Hot chocolate in mugs or

hot chocolate bombs

Cookies
Fun marshmallows
Holiday candy
Full peppermint candy canes
Scones
Chocolate chips
Chocolate drizzle
Sprinkles
Crushed candy
Chocolate candy squares
Here's how to make hot chocolate with powder cocoa…
Recipe for Homemade Hot Chocolate Without Hot Chocolate Mix
This recipe covers how to make hot chocolate with milk, but if you have dietary issues with dairy you can leave out the milk and just use water. (It won't be as creamy, but it's still yummy!)
This is an easy recipe to play around with and adjust to your tastes and figure out what to add to hot chocolate mix and how your family likes it. (For example, some people leave out the vanilla.)
Yield: 4
Homemade Hot Chocolate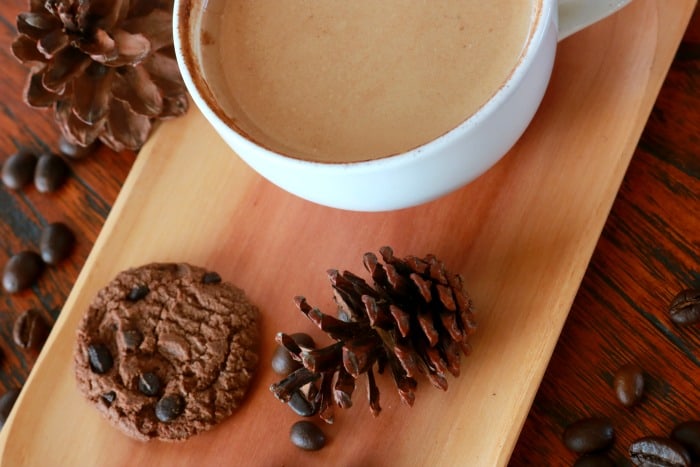 This homemade hot chocolate without a hot chocolate mix will quickly become your favorite for a Fall party or Halloween hot cocoa bars or just a winter afternoon drink treat!
WE'VE INCLUDE LOTS OF HOT COCOA TIPS IN OUR POST. BE SURE TO SCROLL UP TO READ THEM ALL!
Ingredients
1/3 cup unsweetened cocoa powder
1/2 cup white sugar
1 pinch salt
1/3 cup boiling water
3 1/2 cups milk
3/4 teaspoon vanilla extract
Whipped cream (optional)
Marshmallows (optional)
Instructions
Combine the cocoa, sugar and pinch of salt in a saucepan.
Add in the boiling water.
Bring to slow boil, stirring constantly.
Simmer mixture, while stirring, for about 2 minutes.
Stir in the milk and heat until very hot, being careful not to boil or scorch.
Remove from heat and stir in vanilla.
Divide between 4 cups and top with whipped cream or marshmallows (or other toppings).
Notes
TIPS:
If you like a sweeter hot chocolate, add another 1/4 cup sugar while cooking.
You can also substitute whole milk for almond milk, etc. (or just use water).
This recipe is easy to double or triple for a party, or even just for a hot chocolate recipe for 1!
Nutrition Information:
Yield:
4
Serving Size:
1
Amount Per Serving:
Calories:

245
Total Fat:

5g
Saturated Fat:

3g
Trans Fat:

0g
Unsaturated Fat:

1g
Cholesterol:

18mg
Sodium:

147mg
Carbohydrates:

41g
Fiber:

1g
Sugar:

26g
Protein:

9g
Nutrition information is estimated. Changes to the recipe and use of different brands may cause changes to the nutritional information to vary slightly from the ones provided here.
Homemade Hot Chocolate paired with The Sweet Story of Hot Chocolate Children's Book
We paired up our homemade hot chocolate recipe with a book about (what else?) hot chocolate!

At our house, we love books that tells the history behind stuff, so The Sweet Story of Hot Chocolate! (History of Fun Stuff)
by by Stephen Krensky and illustrated by Rob McClurkan was perfect for this.
The book starts by asking the kids enticing questions like who first made hot chocolate, how it's made and how it became popular.
Through simple but colorful illustration, the book then goes on an interesting journey from the cacao bean all the way to drinking the hot chocolate!
You may also like Do Frogs Drink Hot Chocolate?: How Animals Keep Warm.
HAVE FUN WITH YOUR HOMEMADE HOT CHOCOLATE WITHOUT HOT CHOCOLATE MIX RECIPE!