These Christmas DIY pine cones ornament crafts make a beautiful homemade Christmas ornaments made from nature or fun nature crafts any time of year. Easy kid's pinecone Christmas ornaments for holiday activities for all ages! We'll even give you a list of pinecone kids' books to read aloud!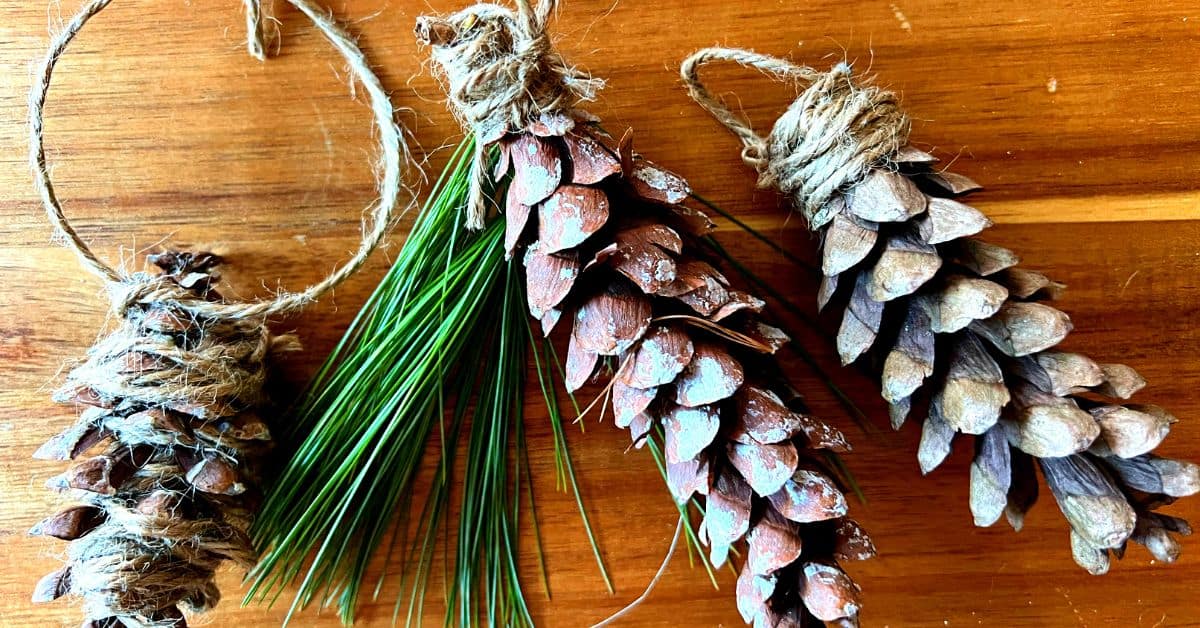 Christmas DIY Pine Cones Ornament For Kids
How To Make A Pinecone Christmas Tree Ornament
To make quick and easy pinecone ornaments you'll need:
Pinecones for crafts
Twine or ribbon
Glue (optional)
That's all you need to make homemade Christmas decorations made with pine cones! KEEP SCROLLING for printable pine cone Christmas ornaments instructions card below and books about pinecones to read with kids!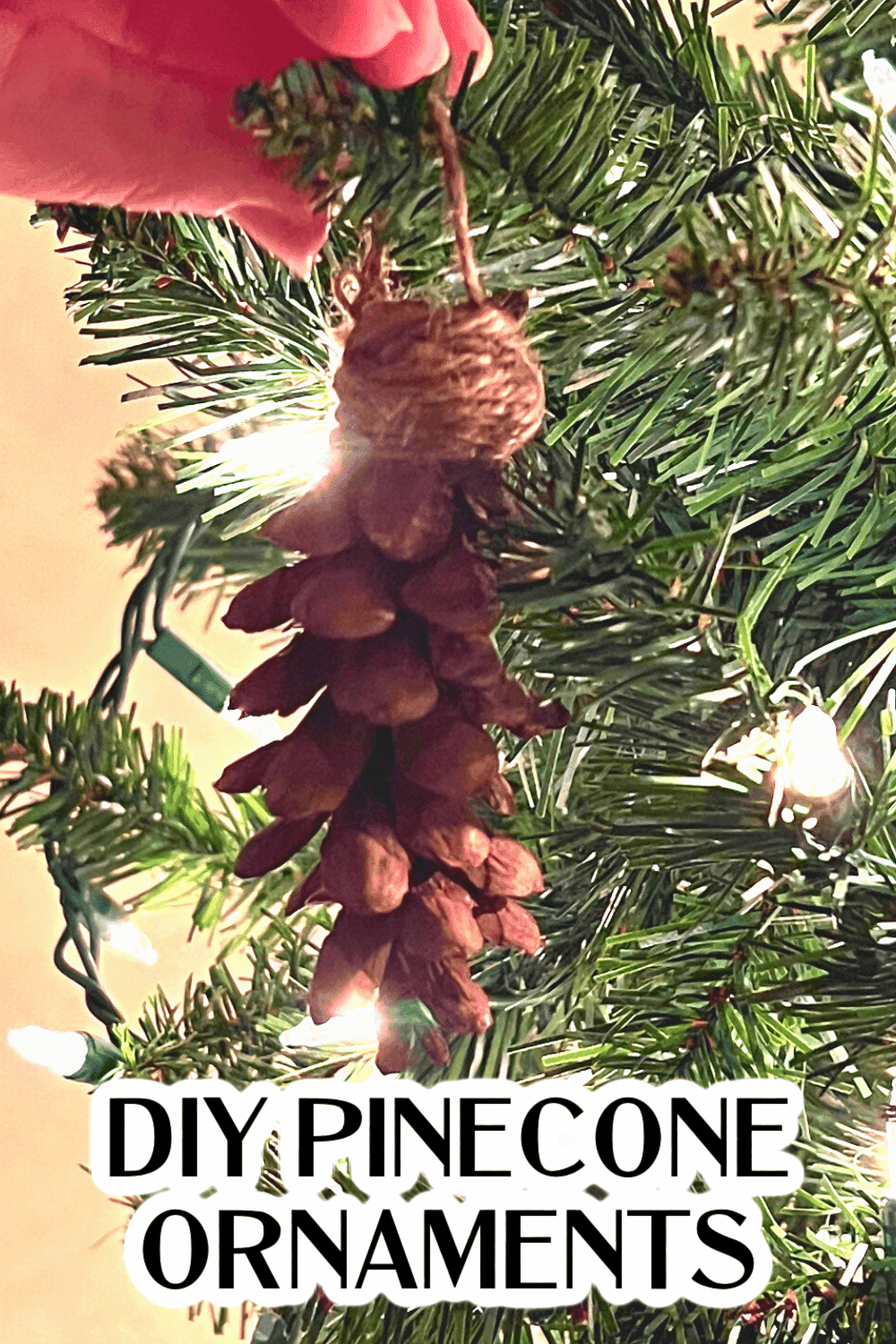 Affiliate links are used on this site. As an Amazon Associate I earn from qualifying purchases. Read more in our DISCLOSURE.
Where to buy pine cones for crafts?
You can get pine cones for crafts from local craft stores or even online. You can also go on a nature hike and collect pinecones with kids for free pine cone crafts! You can use large pine cones for crafts or medium and small pine cones (or a mix!) for your pine cone children's crafts.
Where to find a pine cone depends on where you live and if you have access to pine trees. If you do, take your kids on a nature hike to gather pinecone crafts for toddlers, preschool and up!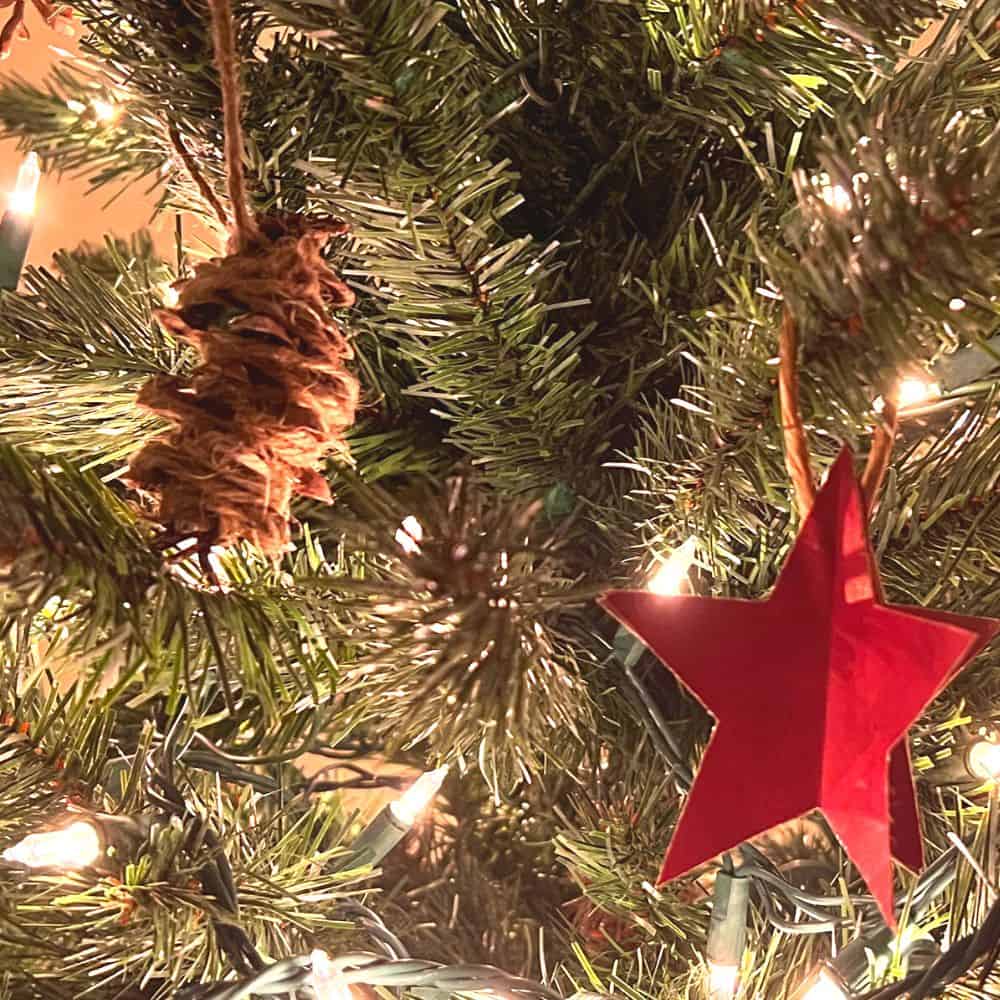 After making homemade ornaments with pine cones, also try:
Create An Easy Paper Star Ornament
String Old Fashioned Popcorn Garland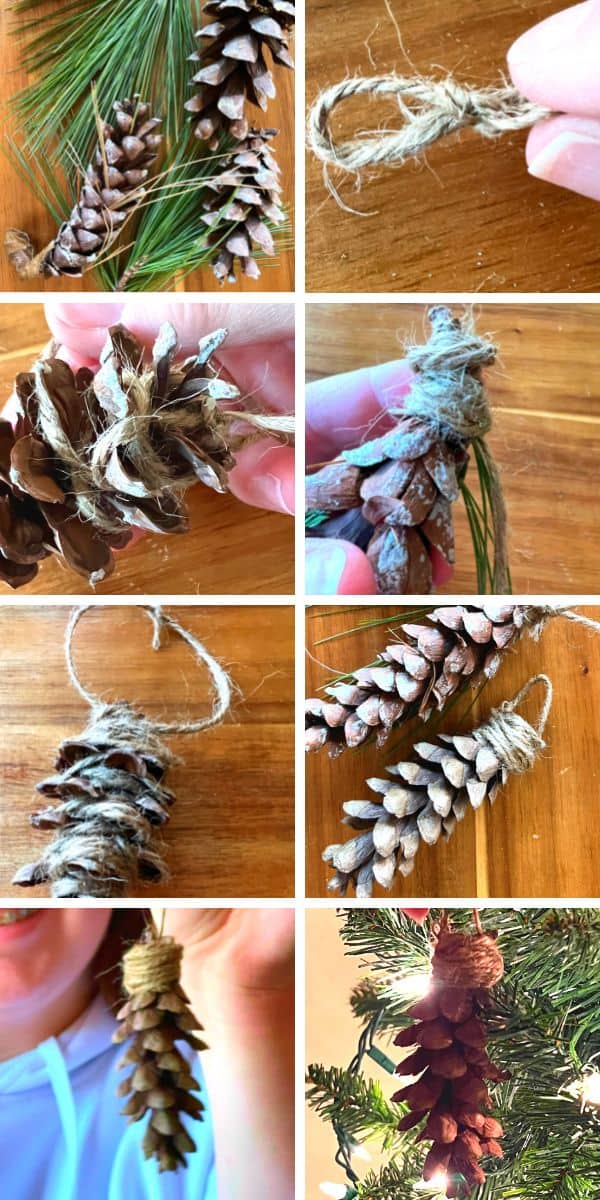 How To Make Easy Homemade Christmas Ornaments Made With Pine Cones
These are super simple pine cone crafts for kids that they will love!
They are great pine cone Christmas crafts for toddlers or easy pinecone crafts for preschoolers and up.
Cute for mini pine cone craft ideas, too!
If you're teaching little hands how to make ornaments out of pine cones, you may want to start the ornament out for them by creating the loop and tying it onto the pinecone. This makes it an easy holiday holiday craft for toddlers or preschool project because they just have to wrap the twine. Then, you can help tie the loop at the end!
Here's how to make DIY pine cone Christmas decorations with kids (also, don't miss the children's books on pine cones after the printable craft card)…
Yield: 1
Christmas DIY Pine Cones Ornaments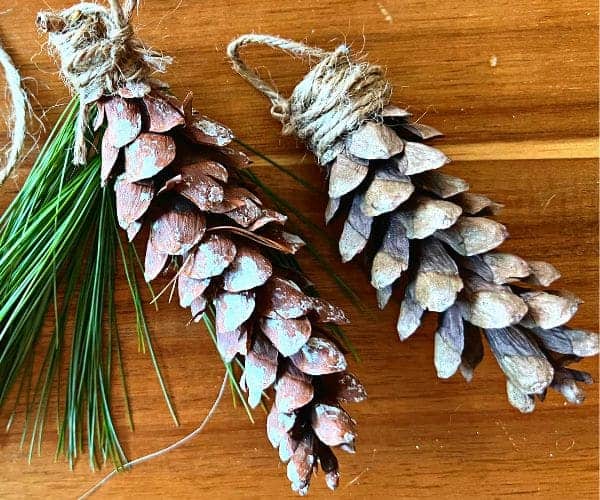 You'll be surprised at how to make easy Christmas DIY pine cones because they're simple crafts for all ages but still make beautiful holiday ornaments or nature garland!
Instructions
Cut a 12 inch piece of twine.
Make a slip knot with one end of the twine. Loop it over the top of the pinecone. (You can also use glue, but we didn't need to.)
Wrap the twine around the top of the pinecone and keep wrapping until you have about 2 inches of twine left.
Loop the loose end of the twine under one of the wrapped pieces and tie into a knot to form a hanging loop at the top. (You can also just tie off the twine and then use an ornament hanger to hang the pine cone ornament.)
Hang on your tree or string together to make a nature garland!
Notes
*If you can, find the long, skinny pinecones. These will make the top easy to wrap the twine around. (It's OK if you can't. We had all different shapes and pinecone sizes!)
*You can also get creative and include embellishments on your pinecone ornament. We tied pine branches/leaves to some of our ornaments and it made a really beautiful nature ornament!
Don't forget to add these children's nature books and holiday books to go with your pinecone Christmas crafts for kids!
11 Must-Read Children's Books About Pine Cones
Pinecone children's books to read with this pinecone craft project:
DO THIS FUN CHRISTMAS KIDS ACTIVITY NEXT: Have a Little House Pioneer Christmas!
Have fun with your Christmas DIY pine cones activity with children!
LOOKING FOR FUN COOKING PRINTABLES FOR KIDS?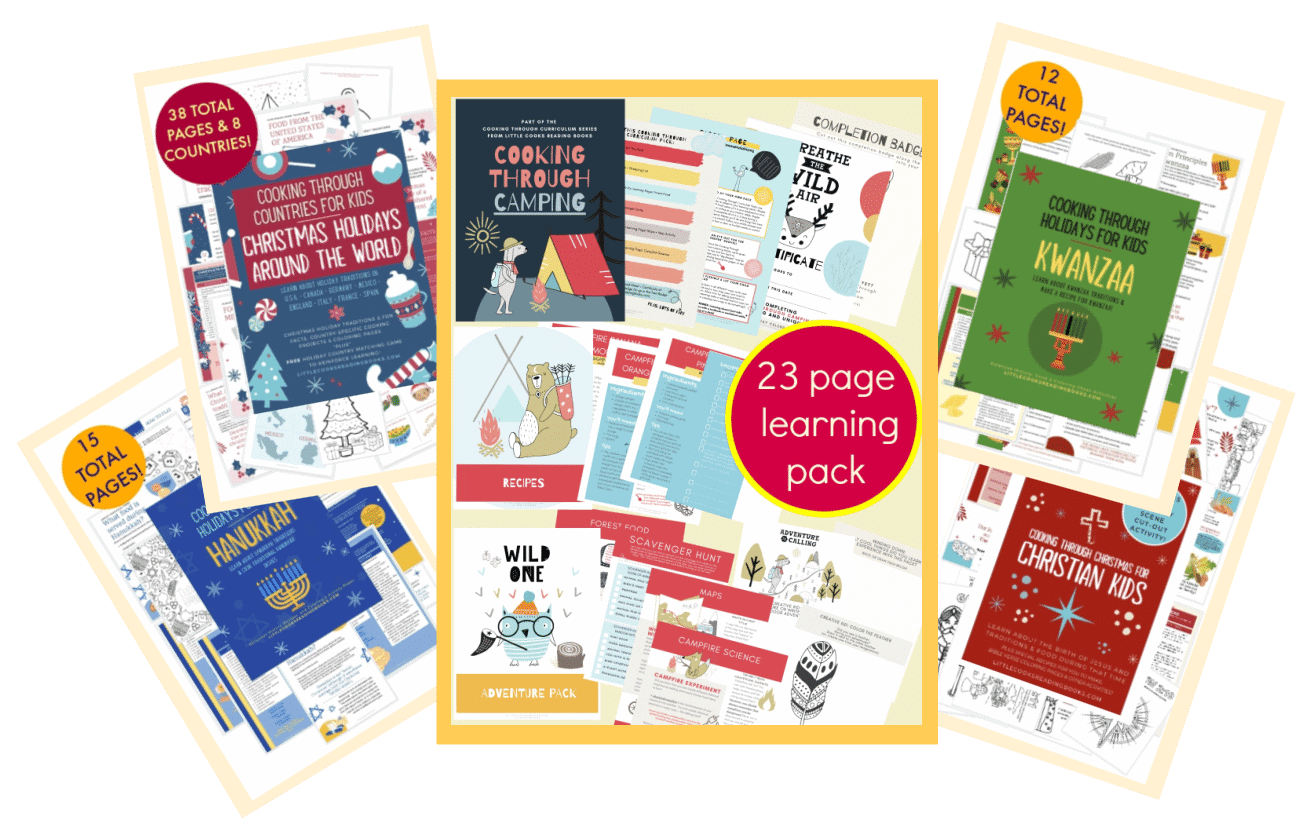 As an Amazon Associate I earn from qualifying purchases. Please refer to our
DISCLOSURE
.