This Christmas tree star paper craft is a simple craft project for preschoolers and up! Fun paper crafts to make for holiday kids activities or if you're wondering how do you make a hanging star decoration. Easy and beautiful homemade stars ornaments / paper star craft!
Simple Christmas Tree Star Paper Craft For Kids (DIY Old Fashioned Tree Ornaments Star Crafts)
Whether you're looking for a preschool Christmas star craft project or fun Christmas ornaments for kids to make at home, these DIY paper star ornaments will work for all ages! Definitely add these to your cut out paper ornaments activities! Here's how to make star crafts for Christmas…
How To Make A Paper Star
How do you make a paper Christmas tree star?
Use a star cookie cutter to trace a star onto paper.
Cut out the stars and fold them (to make a 3D star shape).
Glue layers together.
Attach jute twine or ribbon.
Hang on the Christmas tree!
Lean how to make Christmas star below. KEEP SCROLLING for the full easy paper star printable instructions!
Affiliate links are used on this site. As an Amazon Associate I earn from qualifying purchases. Read more in our DISCLOSURE.
I love those beautiful folded paper stars with all the different folds and pieces. But, those seem a little advanced for a holiday craft for all ages (like a star craft for preschool).
These paper stars are easy and make cute decorations for Christmas tree.
You can leave the loop off and just use them as table decorations (they stand up easily on their own!).
These paper star decorations DIY project is simple, but they're even fun Christmas crafts for adults!
(I had a lot of fun making these star decorations! It was one of my favorite star ornaments to make because they seemed like old-fashioned ornaments. We hung our stars on the tree.)
You can even make large paper star decorations for a tree topper!
Definitely add these paper Christmas stars to make with your kids (or even as a Christmas Eve activity with family). Maybe these easy to make Christmas star decorations will become an annual holiday event!
These are also great if you're looking for star of Bethlehem crafts. (Have a back to Bethlehem journey and add this homemade star ornament as one of your kids activities.)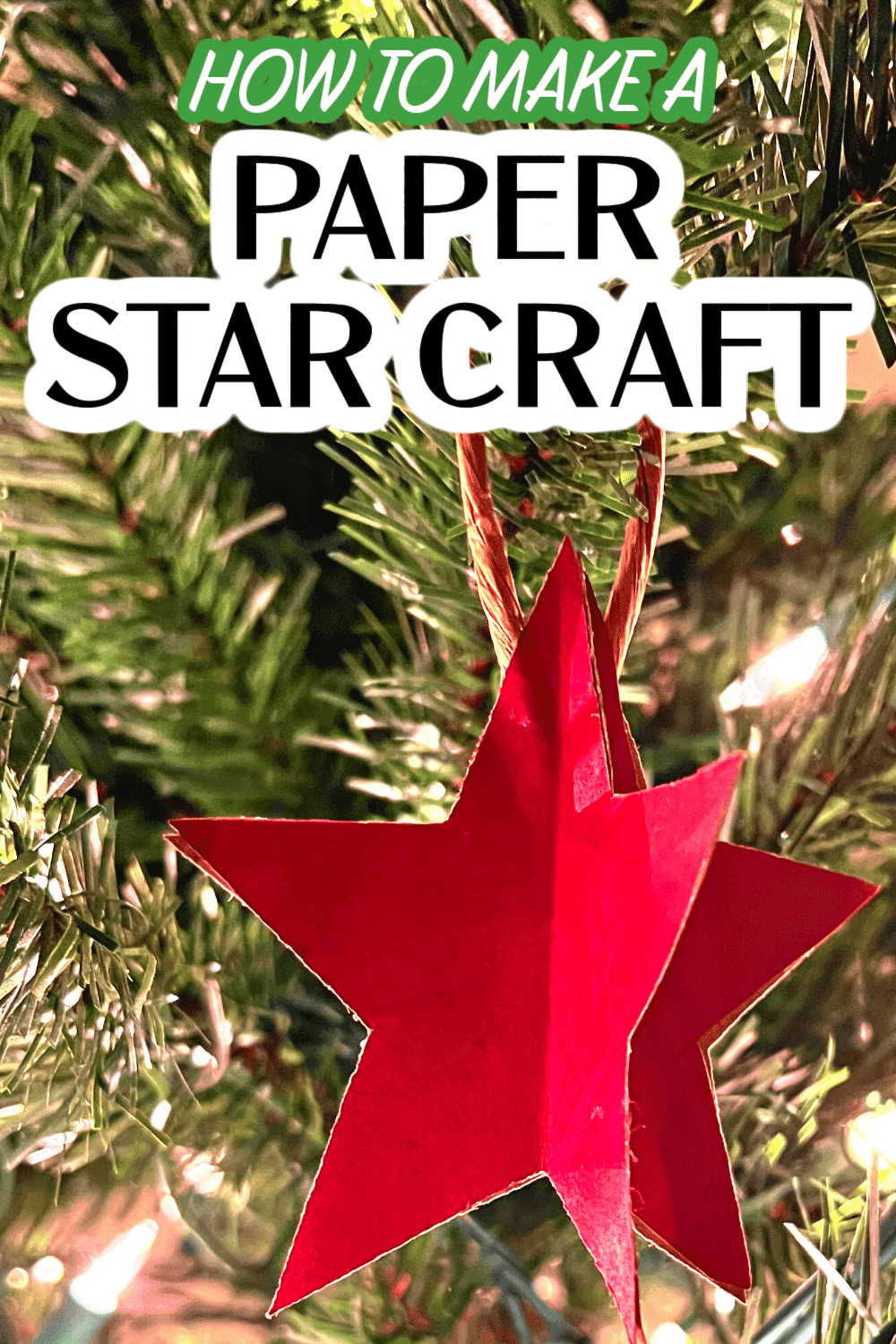 What To Do With Paper Stars
How to use your paper star ornament DIY craft:
Use them to top a Christmas tree
Make them into Christmas tree decorations
Attach them to the ribbon of a gift package as a decoration
Hang them with stockings
Make star garland out of them
Sit them on the table or a basket for holiday table decorations
Give them as gifts to others
Making paper stars is fun and you can do so many things with them!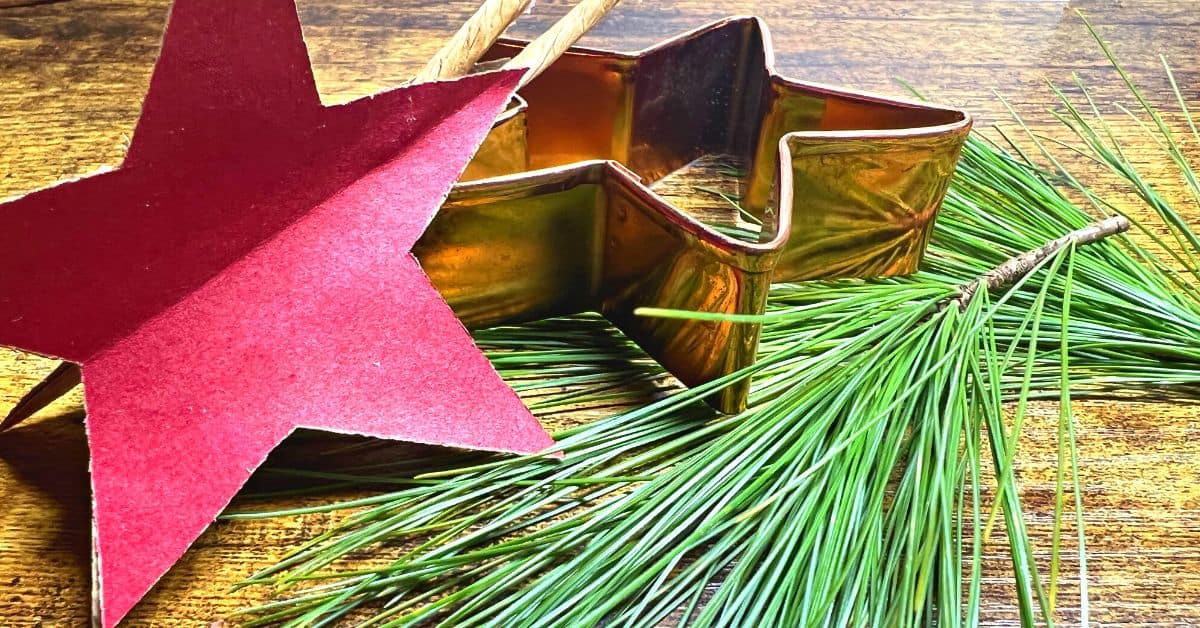 After making stars out of paper, also try these Christmas activities for kids:
Winter Solstice Craft Projects
Throw a Pioneer Christmas Party
Make Edible Christmas Story Soap Candy (from the movie!)
How To Make DIY Beeswax Ornaments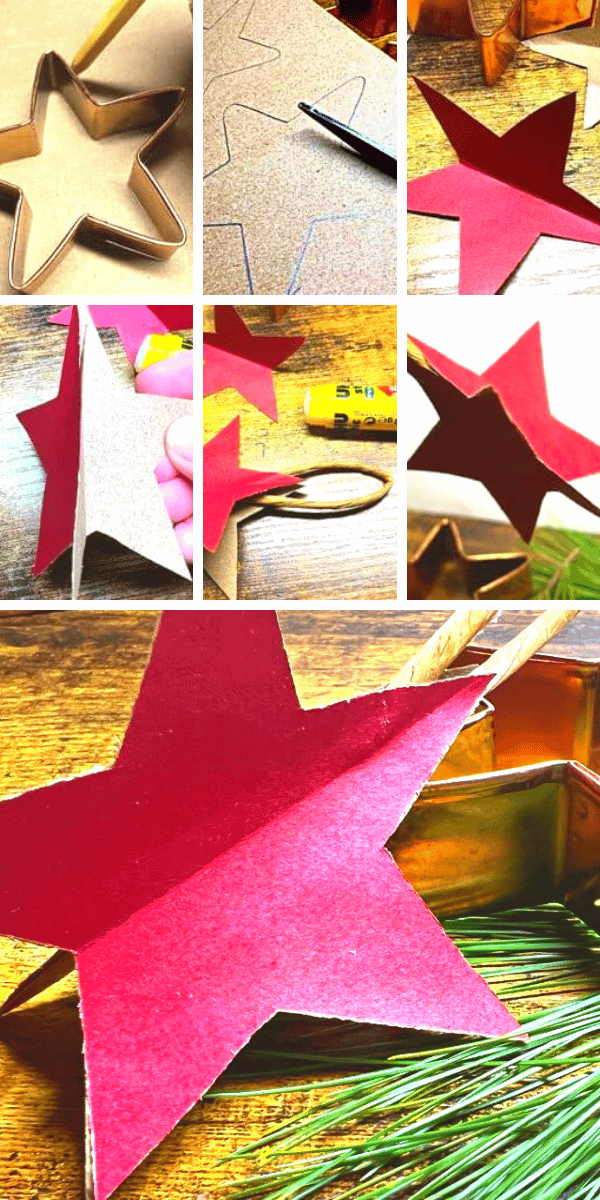 Let's get to how do you make a paper star easy way (aka: how to make Christmas paper star decorations)!
How To Make Paper Christmas Star Step By Step
DIY 3D Christmas paper star making is fun for holiday kids activities.
And, since they're easy to cut, these paper stars make great Christmas cutting practice for preschoolers!
We didn't put it in the paper Christmas star instructions, but you can make your hanging paper star decorations out of any paper.
(We actually used an old Christmas gift bag because I liked the red color and it was sturdy paper.)
You can also use plain white paper and let the kids color and decorate their paper stars before gluing them.
You don't need special 3d star patterns (or a special folded paper star template) for this craft project. We just used a star cookie cutter to trace our star, but you can draw your own Christmas star cut out (if you're good at those things!).
Also, if you're doing this as a group holiday craft (or classroom Christmas craft), you can cut the stars out ahead in order to save time for the star ornament craft.
Here's how to make paper star Christmas ornaments (how to make 3d paper stars easy step by step)…
Yield: 1
Christmas Tree Star Paper Craft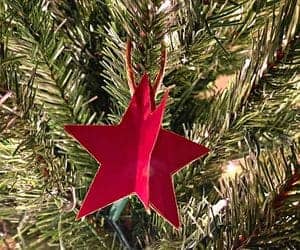 These easy paper star decorations DIY are fun to do as holiday activities for kids!
We put some tips in the Christmas tree star DIY post, so be sure to scroll back up and read all the tips (including a step-by-step tutorial image of how to make a paper Christmas star).
Materials
3 sheets sturdy paper (color & decoration of choice)
2 inches of jute twine or ribbon
Tools
Star cookie cutter
Scissors
Glue stick
Instructions
Using a medium star cookie cutter, trace a star onto a sheet of paper.
Stack the other papers under the one with the traced star. Cut out three stars.
Fold the paper stars in half.
Put glue on the half back of one of the stars. Repeat with another star. Place the two glued sides together.
Before gluing the third star onto the others, glue a loop of twine or ribbon on the top inside.
Line up last star and glue back of last star (the third star) onto the others. Press lightly all the way around.
Star Christmas Books For Kids
These are great star books to read for kids to go along with your DIY star decorations craft!
Holiday children's books to go with your DIY stars for Christmas trees:
Merry Christmas!
We hope you have fun learning how to make paper stars for Christmas!
Enjoy making your Christmas tree star paper craft!
LOOKING FOR FUN COOKING PRINTABLES FOR KIDS?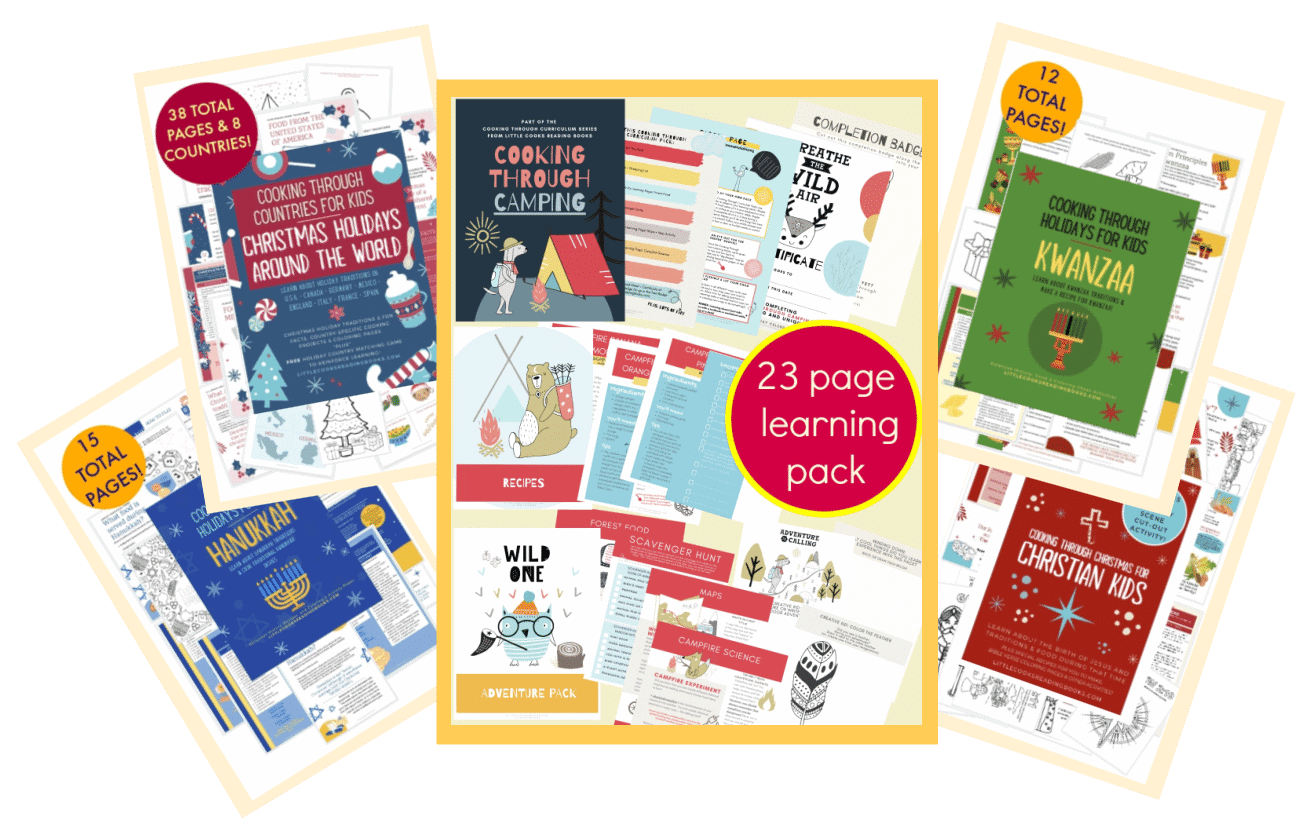 As an Amazon Associate I earn from qualifying purchases. Please refer to our
DISCLOSURE
.