Add a Bethlehem dinner to your Christmas activities with family and celebrate the reason for the season! If you're looking to include the Bible Christmas story into your holiday celebrations or Christmas traditions (especially for holiday kids activities), this special food celebration is a unique way to do it (even on Christmas Eve)!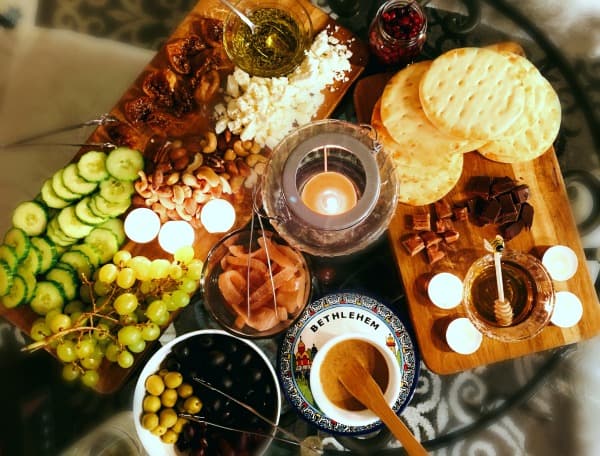 What Is A Bethlehem Dinner?
A night in Bethlehem dinner is a way to honor the birth of Jesus Christ during the Christmas season. Recreate the journey to Bethlehem by serving traditional foods during the time. Some families even dress up and recreate sights, smells, and sounds of the time!
What did Mary and Joseph eat on the way to Bethlehem?
Mary and Joseph probably kept food very basic on their journey to Bethlehem as they had to bring their own provisions and did not have much room to bring a great deal of food. They probably had water to drink and ate bread with herbs and oil.
Affiliate links are used on this site. As an Amazon Associate I earn from qualifying purchases. Read more in our DISCLOSURE.
HOW TO HOST A BETHLEHEM DINNER
A Bethlehem supper is really quite easy. You want to include traditional foods of the time, served in simple (communal) serving bowls and platters that is shared by everyone.
1. Serve only foods that were commonly eaten during Biblical times.
Make a Bethlehem dinner menu made up of any of the foods from that time. Don't be afraid to try new things (like figs and honey!) for your journey to Bethlehem night!
Traditional foods of this time included:
Unleavened bread/wheat
Herbs
Goat cheese / feta
Goat's milk
Fish
Eggs
Vegetables
Fruits
Figs
Dates
Olives
Olive Oil
Pomegranates (

learn how to cut and eat pomegranates

)
Grapes
Honey
Lentils
Wine
Unleavened bread is a flat bread without an agent to make it rise (like yeast). You can use pita bread or naan as your unleavened bread.
---
GRAB COOKING THROUGH CHRISTMAS FOR CHRISTIAN KIDS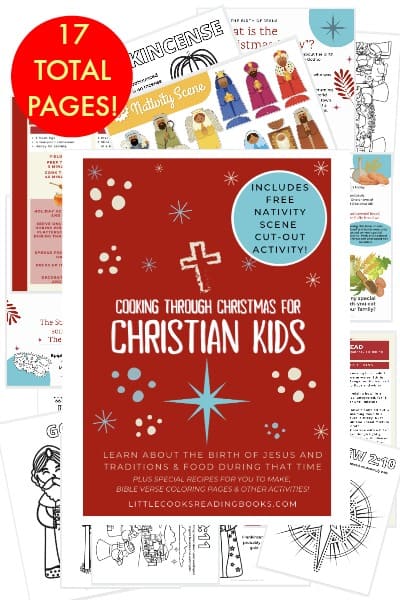 LEARN MORE ABOUT THE CHRISTMAS PRINTABLE
---
For our Bethlehem dinner, we included:
Grapes
Pomegranate seeds
Cucumbers
Nuts
Feta cheese
Olive oil with rosemary
Roasted figs
Pickled onions
Olives
Flat bread (we used Naan)
Honey
Although these weren't available during Biblical times, we included toffee and chocolate from Israel that we received in a Bethlehem box (that cute Bethlehem plate and the Halva butter came in there, too!).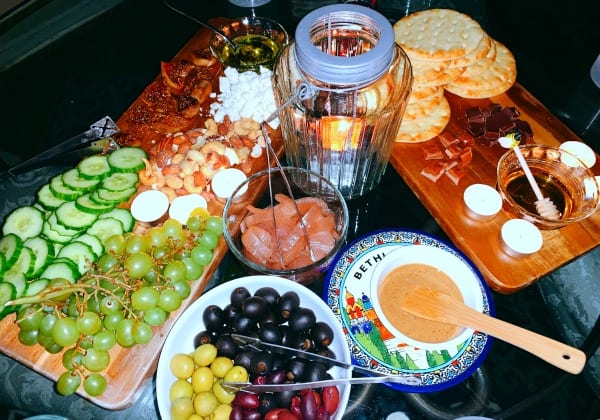 2. Make a food spread.
Place food on simple, communal platters and bowls that everyone shares (like these wooden serving plates).
Food during that time was eaten with hands instead of utensils, so have fun with it!
Serve water or grape juice with your meal.
We actually served ours on wood cheese boards that we had and they worked perfectly!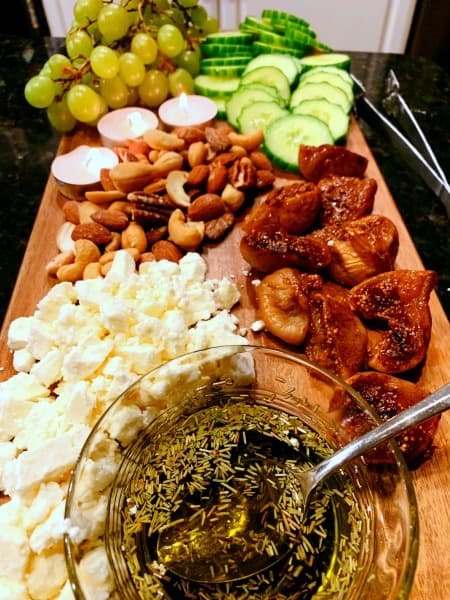 Spread food platters on a tablecloth on the floor or on a low table and have everyone sit on pillows around the spread.
3. Dress up in clothing appropriate for the time period.
If you really want to get into your Bethlehem journey, have everyone dress up in period clothing for the time!
Men and women both wore tunics and sandals.
Women's tunics were long enough to cover their feet.
Women may have also worn head coverings (like scarves) over long hair that was braided.
Women also wore jewelry, especially bracelets.
4. Decorate with oil lamps or candles.
Remember, there was no electricity during this time.
Recreate the atmosphere by turning off the lights and instead using candles or oil lamps on your table and around the room.
5. Create smells from the time.
The open, outdoor markets during the time Jesus was born was filled with smells — spices, animals, food and more.
You can recreate the smells by burning frankincense and myrrh candles (or other spice candles), incense, wax melts, or using essential oils.
6. Play ancient music of the Middle East.
Music was also a big part of this time (just like any other time).
Play ancient music of the Middle East (like this from the San Antonio Vocal Arts Ensemble or from here).
7. Read Christmas Bible verses.
You can also go even further and take turns reading Bible verses about the birth of Christ.
Try:
Matthew 1:18-23

Matthew 2:1-12

Luke 2:7

Luke 2:21

Luke 2:11-14

Matthew 2:11-12
8. Read children's Christmas books.
Books on Birth of Jesus for Kids:

Let us know if you create a Bethlehem journey dinner and how it goes! Tag us @LilCooksReading on Instagram so we can see your pics!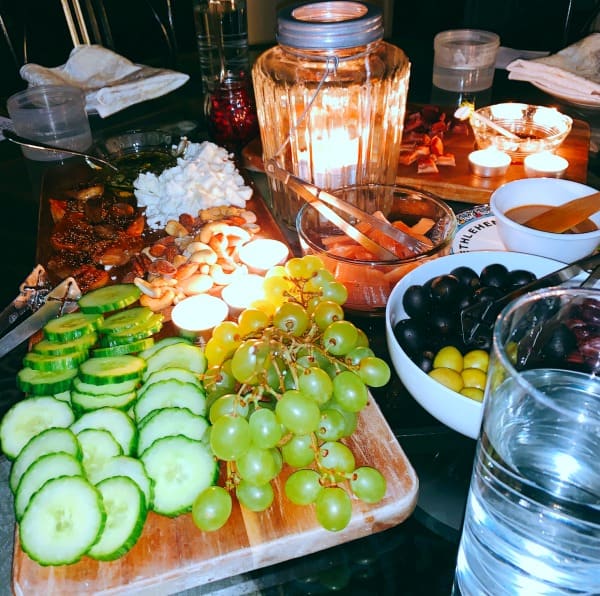 HAVE FUN WITH YOUR BETHLEHEM DINNER!
LOOKING FOR FUN COOKING PRINTABLES FOR KIDS?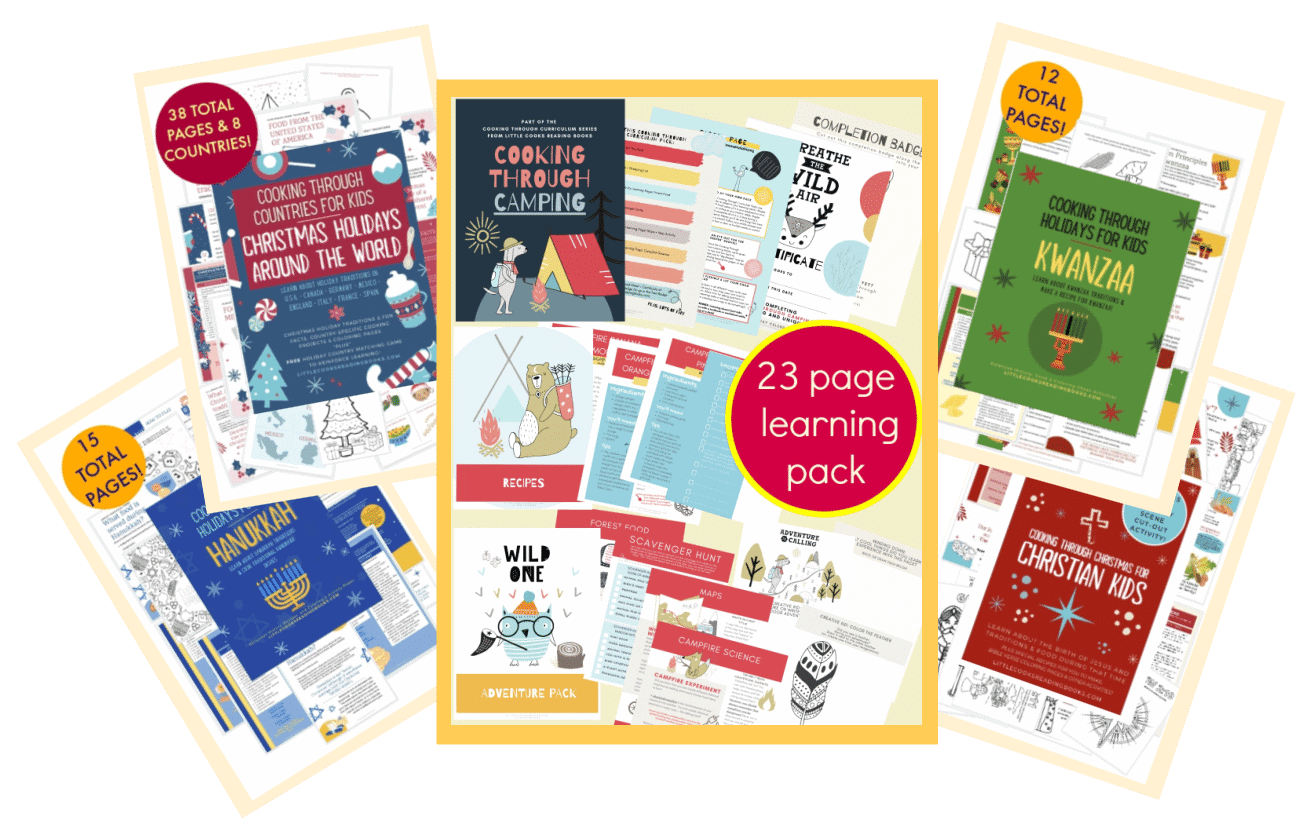 As an Amazon Associate I earn from qualifying purchases. Please refer to our
DISCLOSURE
.