Wondering how to cut open pomegranate easily, deseed, and how to eat pomegranate? Learning how to open a pomegranate with your hands is a super fun food / cooking project with kids! Use these pomegranate eating tips for a healthy fruit snack for kids and for easy fruit recipes (perfect for holiday foods, too) and other ideas on what to do with pomegranate seeds.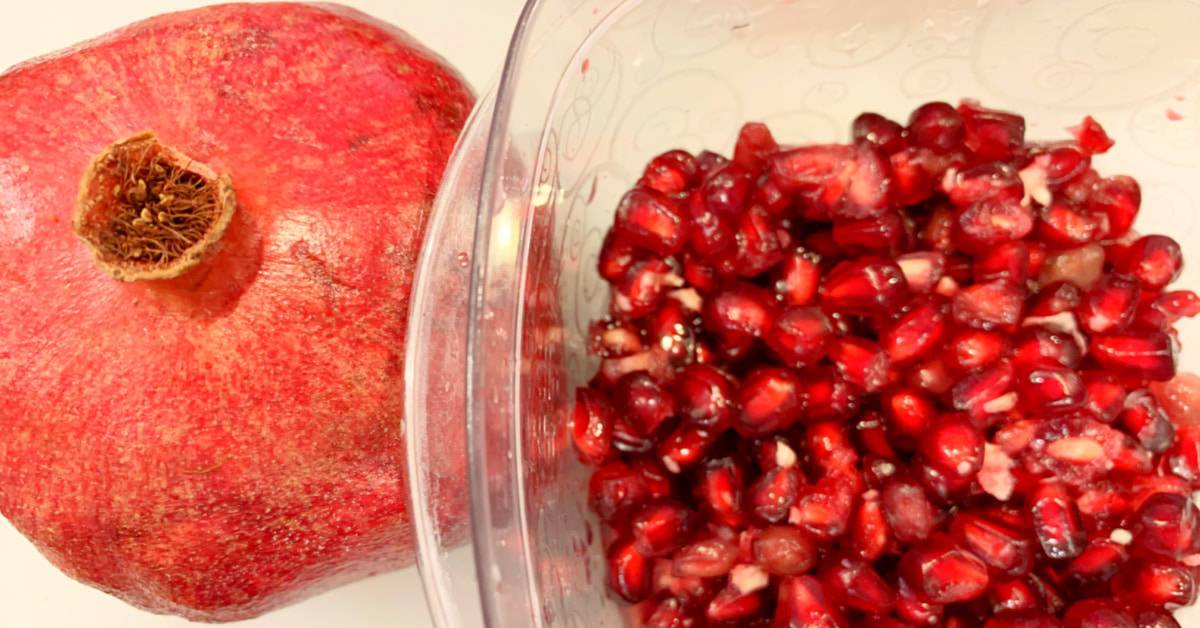 How To Cut Open Pomegranate (Easiest Way!)
Ever wondered how to cut, de-seed, and eat a pomegranate? If you've never had fresh pomegranate, you (and the kids!) are in for a treat. It's a healthy snack to eat on its own, great for holiday recipes, and easy to use in dishes and pomegranate recipes!
What is the best way to cut a pomegranate?
The best way to cut a pomegranate is to score the pomegranate on the top, submerged the pomegranate in water, and pry apart the pomegranate pieces. Then, you can easily scoop the pomegranate arils right into the water to drain and eat later.
(Get our full directions on how to cut a pomegranate in water below. Keep Scrolling!)
Affiliate links are used on this site. As an Amazon Associate I earn from qualifying purchases. Read more in our DISCLOSURE.
Do pomegranate seeds need to be refrigerated?
Yes, pomegranate seeds should be refrigerated once a pomegranate has been cut and the arils and seeds removed. Place them in an airtight container for the pomegranate arils and seeds to last for one week (maybe a little more).
Opening a pomegranate can be… intimidating.
Which part do you eat?
Which part do you discard?
Are pomegranate seeds poisonous?

GAH! So many questions!
Before we get to how to cut pomegranate in water (and how to eat a pomegranate), let's answer some of these common questions.
What are pomegranates?
Pomegranates are fruits full of edible arils, the pulpy part around the seeds. Pomegranates come from the Mediterranean region.
When are pomegranates in season?
Pomegranates are in season around late October into early November. You'll start seeing them show up in the grocery stores. They're great to incorporate into your fall fun or holiday recipes!
How To Tell If A Pomegranate Is Ripe
How do you know when a pomegranate is ready to eat? A pomegranate is ripe and ready to eat when the fruit appears more square (and less round) and is flatter on the ends. Also, ripe pomegranates will feel heavier than fruit that aren't ripe. Pomegranates that are ripe are full of juice.
What is the aril of a pomegranate?
Pomegranate arils are the red, fleshy part around each seed. They are a combination of a sweet and tart fruit taste. You can eat the arils and the seeds that are in the arils.
Arils, or arillus, are not just specific to pomegranates.
How do you eat pomegranate?
You only eat the red arils (and the seeds if you want). You don't eat the outer peel or the spongy inner flesh. To eat the pomegranate, remove the top and score pomegranate in a cross. Pull apart sections and then remove the arils and seeds, which can be eaten fresh or added to recipes. Discard the other parts of the pomegranate.
Are you supposed to eat the seeds of a pomegranate?
You can eat the seeds of a pomegranate, if you like. The juicy pulp around the crunchy seed is called the aril and is the part that most people suck from the seed, but many people eat the seeds too.
Is it safe to eat pomegranate seeds?
Yes, the crunchy pomegranate seeds inside the pulpy arils are perfectly safe to eat. The arils, or the juice-filled pulp, is difficult to remove from the seed, but you could spit the seeds out after eating the arils.
How To Use Pomegranate Seeds
What goes well with pomegranate?
You can eat the pomegranate arils (and seeds) alone (with a spoon right from the fruit!), or you can use them in a variety of dishes and recipes!
Oatmeal
Cold cereals
Yogurt
Salads
Smoothies
Cheese platters
Drinks
Holiday or festive dips
Desserts
Spread on bread or crackers
Pomegranate Recipes Ideas
Want more pomegranate recipes and ideas? Grab a pomegranate cookbook!
How To Store Pomegranate Seeds
Once you cut your pomegranate and remove the seeds, you should scoop them in an airtight container. Then, store the seeds and arils in the refrigerator for a couple of weeks. You can also freeze pomegranate seeds for up to one year in an airtight container (like a freezer bag).
OK!
Let's get to how to cut a pomegranate and eat it!
How To Cut Pomegranate Easily and Safely
If you're wondering what is the easiest way to cut a pomegranate, this is it! It is also a super fun activity for kids to open and de-seed pomegranates.
TIP: The pomegranate juice is very red and can stain, so be careful what you're wearing when you cut a pomegranate (and it squirts — we splattered two shirts in the process!). And, YES! You can juice pomegranates and drink that yummy pomegranate juice!
It can make a mess, so prepare your surfaces and clothes for that. (For projects like this I find those disposable kid aprons helpful!)
Yield: 1
Pomegranate How To Open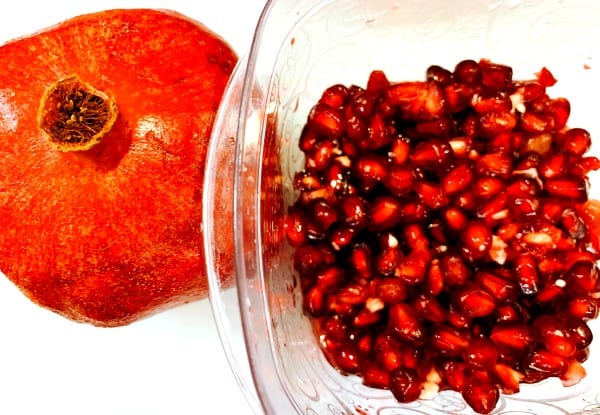 Learning how to cut open pomegranate easily may not be as intimidating as you think! One pomegranate has a ton of arils (seeds). Store them in a container in the refrigerator until you're ready to eat them, for around a week.
Tools
Knife
Cutting board
Bowl with cold water
Instructions
STEP 1: CUT OFF THE TOP.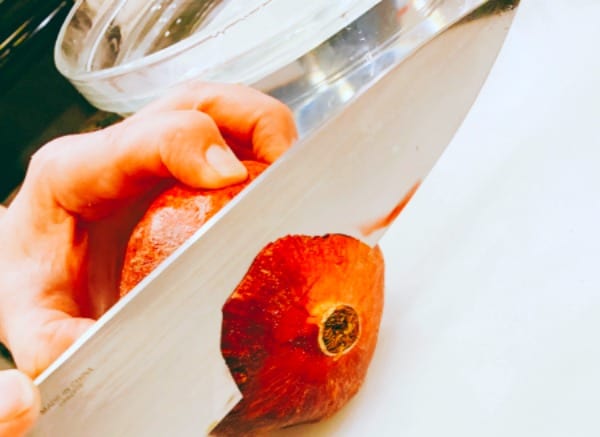 How to prepare pomegranate: Find the top with the "bellybutton" (what my daughter calls the "stem" part) side. Slice off the top, about 1/4-inch.
(Don't miss any seeds in the part you cut off! Be sure to scoop them out!)
STEP 2: SCORE THE POMEGRANATE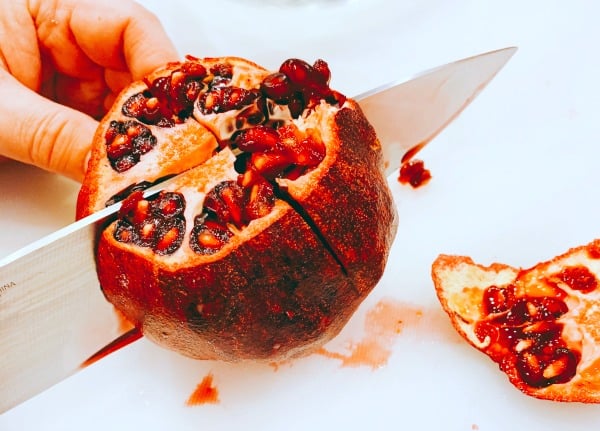 On the top where you sliced it, cut a "cross" a little ways down into the fruit.
This will help you section the pomegranate.
STEP 3: SUBMERGE THE POMEGRANATE INTO THE BOWL OF WATER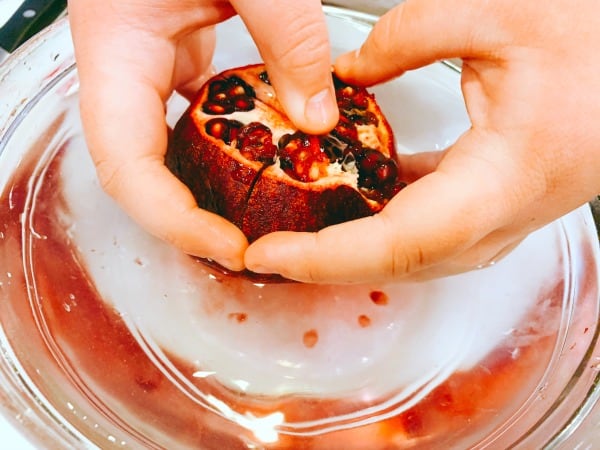 While in the water, gently pry apart the sections of the pomegranate where it is scored.
Work through each section and scoop out all the seeds into the water.
(Discard the peel and white spongy inside.)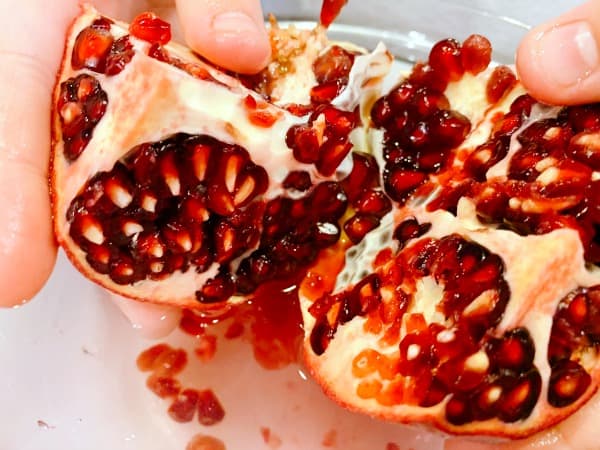 Remove arils/seeds from water and store in an airtight container in the refrigerator.
Notes
IMPORTANT SAFETY TIP: If you're showing your kids what is the best way to cut a pomegranate, we recommend that you do the knife cutting and scoring portion and then let your kids open the pomegranate in water and remove the seeds.
We Hope This Helped With How To Cut Pomegranate Easily! ENJOY!
LOOKING FOR FUN COOKING PRINTABLES FOR KIDS?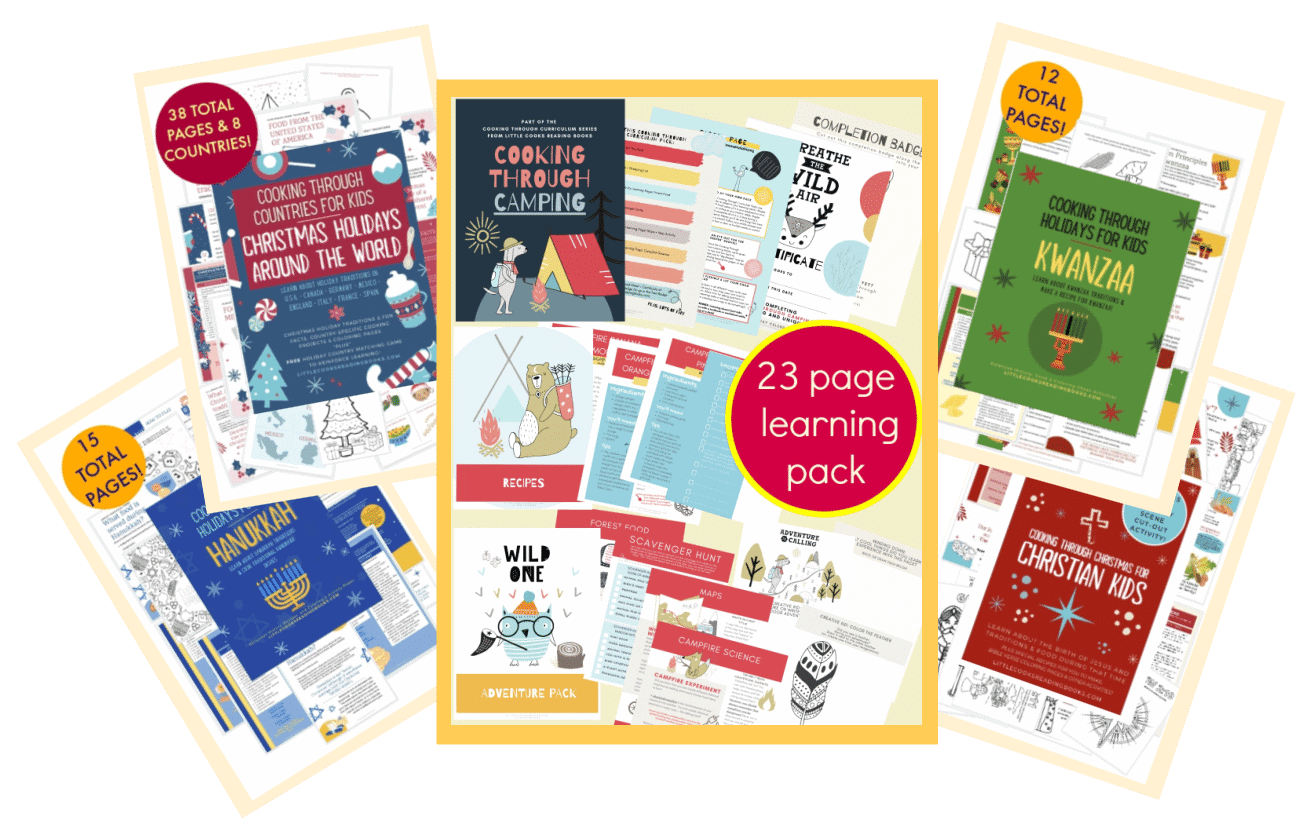 As an Amazon Associate I earn from qualifying purchases. Please refer to our
DISCLOSURE
.