Need a fruit salad recipe that's a super easy dessert idea or party food treat? Try this fruit salad in waffle cones for healthy snacks kids and adults will love! (We'll also cover some common questions about how to make fruit salad and keep the fruit fresh.)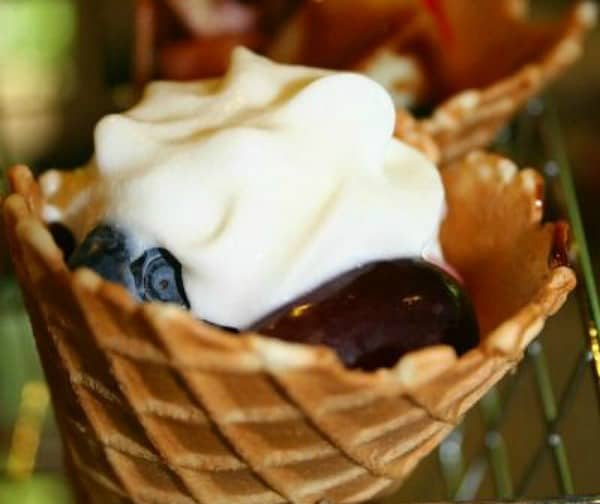 This fruit salad in a waffle cone is such a perfect snack for kids and especially if you need grab and go party food!
Add this to your easy fruit recipes!
HOW TO MAKE FRUIT SALAD
What does fruit salad contain?
The great thing about fruit salad is that it can contain any fruit that you like! You can cut up strawberries, add blueberries, kiwi, apples, pineapples, grapes and more. Generally, it is not necessary to sweeten a fresh fruit salad. However, if you need it sweeter, sprinkle it with a little powdered (confectioner's) sugar or whipped cream.
Affiliate links are used on this site. As an Amazon Associate I earn from qualifying purchases. Read more in our DISCLOSURE.
How do you keep fruit salad from turning brown?
One of the problems with fresh fruit recipes is that it can easily turn brown once the fruit is cut. To keep a fruit salad from turning brown, toss it in an acidic juice like lemon juice, pineapple juice, or orange juice. The acid in those fruit juices will keep the fruit from oxidizing.
There are also fresh fruit preservers on the market that you can buy and mix in with the fruit.
How long will fruit salad keep?
If your fruit salad has been treated with an acidic juice to keep it from turning brown, fresh fruit salad will last stored in an airtight container for up to 5 days. If you are using a fruit salad dressing recipe, store the fruit and the dressing separately until the fruit is ready to serve.
---
TRY WITH THIS RECIPE:
---
Is it OK to make a fruit salad the night before?
If you are cutting fruit for a fruit salad the night before, cut each fruit type. Toss each fruit type in an acidic juice (like lemon juice or pineapple juice) to prevent oxidation (browning). Store each fruit type in separate containers in the refrigerator until ready to toss together as a salad.
Can bananas go in fruit salad?
Yes, bananas can go in a fruit salad. However, if you are going to add bananas to your fruit mix, cut and add them right before serving, otherwise they may quickly turn brown and mushy. Also, adding bananas that are less ripe will help them hold up better in fruit salad.
Can I cut up strawberries the night before?
Yes. You can cut up strawberries the night before they are to be used. Actually, you can cut strawberries for up to 3-4 days before using. Just be sure to store them in a airtight container with a lid or a resealable bag in the refrigerator.
Should grapes be cut for fruit salad?
It is not necessary to cut up grapes for fruit salad unless you have small children eating the salad because the grapes can be a choking hazard. In that case, just slice the grapes (or other fruit) in small enough pieces that they can't get stuck in a child's throat.
How do you sweeten fruit?
If you find that your fruit is tart and you like sweeter fruit, add sugar, powdered sugar, yogurt, whipped cream, or a honey dressing for fruit salad are all ways to sweeten fruit for fruit recipes. If you are using some canned fruit, sometimes adding a little of the fruit juice from the can will sweeten your fruit salad dressing or salad.
If you want a healthy recipe fruit salad, you can leave out the sugar. Most of the time, the mixture of the fruits and their juices are sweet enough.
I really think that fresh fruits salad using natural juices as a sweetener (or without fruit salad dressing) is the best fruit salad!
---
YOU MAY ALSO LIKE:
---
The Fruit Salad Friend Children's Book

If you want a cook and read book for this theme, try this sweet book called, The Fruit Salad Friend: Recipe for A True Friend, paired up with our fruits salad recipe.
From the book:
"Chloe loves going to school, but lately something is different. She has all the ingredients of a great friend and still wonders, 'What do you do when friends don't treat you with kindness?'
Find out how this brave girl navigates the trials and tribulations that pop up on her way to discovering the recipe for lasting friendship."
Pair it up with the recipe for fruit salad for a great discussion topic on changes and how adding different things together can be a good thing.
A Fruit Salad Recipe Perfect for Kids, Cookouts, and Parties
Try these fruit salad waffle cones anytime you need an quick dessert or easy snacks for kids! (This is one of our favorite salad fruit recipes as a dessert!)
If you need cheap fruit salad ideas, use the fruits that are in season and even canned fruit that you find on sale (like pineapple). Recipes for fruit salad can vary based on the fruits you love!
TIP: We use a cone holder that works really well for this recipe, especially if you're making this as a recipe of fruits salad for a crowd.
If you don't want to use a cone holder, use waffle bowls to turn this into a fruit bowl recipes.
Yield: 10
Fresh Fruit Salad in a Waffle Cone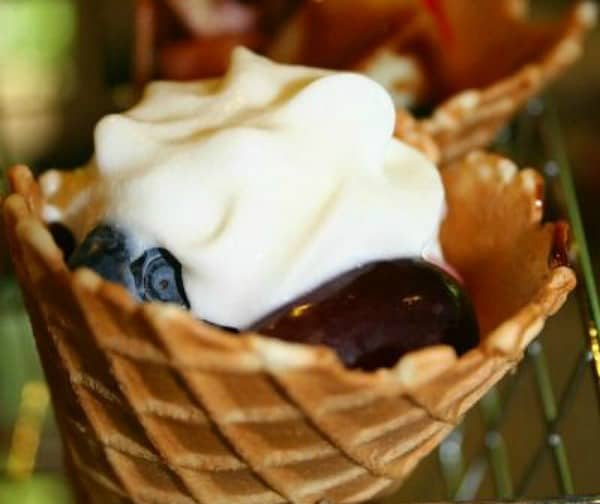 A fruit salad recipe is an easy last-minute addition to any party or for a snack. This is also a great camping treat or picnic dessert! Prepare the salad before and store it in the cooler until ready to spoon it into the waffle cones.
Ingredients
2 cups cubed fresh pineapple
2 cups strawberries, sliced
1 cup seedless grapes, whole (slice if little kids are eating)
2 cups blueberries
3 bananas, sliced (slice right before serving)
⅓ cup fresh lemon juice (or orange juice or pineapple juice)
10 waffle cones
Whipped cream (optional)
Lemon zest (optional)
Instructions
In a large glass bowl, add all cut fruit except bananas.
Squeeze fresh lemon juice over fruit and toss. (This helps prevent fruit from browning).
Slice bananas and add to other fruit. Toss lightly.
Place 10 waffle cones in a cone holder. Spoon fruit salad into each cone until filled to the top.
(OPTIONAL STEP) Top each fruit cone with whipped topping and then zest with lemon.
Serve immediately.
Notes
Also try 3 kiwi fruit, peeled and sliced, or any other of your fruit and berry favorites. There really are no rules to this fruit salad!
If you like a sweeter fruit salad, add 1/3 cup brown sugar when tossing before you spoon the fruit into the cones.
To change it up, leave off the lemon zest and drizzle whipped cream with chocolate sauce or sprinkles!
Nutrition Information:
Yield:
10
Serving Size:
1
Amount Per Serving:
Calories:

320
Total Fat:

11g
Saturated Fat:

2g
Trans Fat:

0g
Unsaturated Fat:

8g
Cholesterol:

52mg
Sodium:

394mg
Carbohydrates:

50g
Fiber:

3g
Sugar:

16g
Protein:

7g
Nutrition information is estimated. Changes to the recipe and use of different brands may cause changes to the nutritional information to vary slightly from the ones provided here.
WHAT ARE YOUR FAVORITE TIPS FOR A FRUIT SALAD RECIPE?
As an Amazon Associate I earn from qualifying purchases. Please refer to our
DISCLOSURE
.