Fruit in water recipes and infused water recipes are healthy drinks for kids and make refreshing summer drinks. These quick and easy recipes only take a few minutes and are fun recipes to make with kids, too! Here's how to flavor water with fruit and other fresh items for the best fruit-infused water ideas!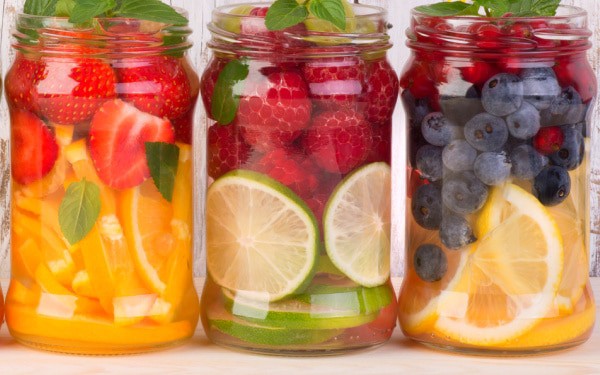 FRUIT IN WATER RECIPES & VEGETABLES IN WATER RECIPES
Let's talk about infused water recipes and benefits! If you and your kids have never tried water with fruit or water with vegetables, you're in for a refreshing treat (especially if you're looking for summer healthy drink ideas and ways for kids to get enough water in their diets!). We'll talk fruit infused water recipes and benefits of infused water, too!
What fruits are good to flavor water and make fruit flavored water?
What fruit can you put in water to flavor it?
What fruits can I put in my water?
Best fruit to put in water:
Lemons
Oranges
Limes
Strawberries
Blueberries
Pineapple
Grapefruit
Watermelon
Cantaloupe
Cherries
Kiwi
Raspberry
Blackberry
Pomegranate seeds (

here's how to cut pomegranates

!)
Apples
Pears
Coconut
Also include other items like basil, mint, cucumber and more with your fruits to put in water and infusion water recipes! Try out different combinations to see what your family enjoys (and even best ways to make infused water with frozen fruit!). Infused water is only limited by your imagination!
**Get a full infused water recipe below and don't miss even more flavored water recipes after the main recipe. Keep scrolling for step-by-step directions on how to infuse water with fruit and vegetables of all kinds, including frozen fruit infused water.
If You Love Fruit Water Ideas, Also Check Out:
What are the health benefits to drinking infused waters?
Benefits of Infused Water Recipes
Fruit infused water benefits:
Adding fruit to water gets kids to hydrate in a fun way on a hot summer day or any time of the year
Healthy alternative to processed juices, sodas, and sugary drinks
Fruit flavored water recipes are easy to make
Cheap drink source (cheaper than buying vitamin water all the time — added bonus!)
Great source of Vitamin C and other vitamins
Sweet with no added sugar — with so much flavor!
Can make ahead of time without prepping – just need to know how much water and how many fruits
Easily scales from a large drink dispenser for party drinks to individual water bottles
Engages kids to learn more about nutrition and healthy living (and is more exciting than plain old water)
Easy recipes for kids to make on their own (Let them add their choice of ingredient to their own tall glass of water or large mason jar glass for single servings! They'll have fun coming up with their own combination of fruit!)
Improves water intake (best thing ever!)
Some recipes can be used as detox water
Creates a novelty to entice kids to eat more fresh fruits and vegetables (especially if they don't normally like eating them)
Great way to use fresh produce that you need to eat right away / leftover fruits
Water with fruit for party is an a great option for an easy drink and a great way to keep guests hydrated!
Want infused fruit water on the go? TRY THIS FRUIT INFUSER WATER BOTTLE!
Fruit Infused Water Tips
How to make fruit infused water:
Use only cold, filtered water in your fruit-infused water recipe
To change things up, use cold seltzer (carbonated) water instead of plain water for some bubbles!
Use organic fruits and vegetables to keep the water pure from chemicals and pesticides
Thoroughly wash all fruits and vegetables before using
Cut the fruits and vegetables in order to help release the juices into the water faster
Peel citrus fruits to avoid bitterness (or removed citrus with the peel on after a couple of hours to help decrease the bitter flavor)
Use ice to help avoid bacteria growth while your water is sitting out (and make sure you have plenty of water to cover the fruits)
Muddle the herbs before using to help release flavor for best results
Store unused water in the refrigerator for around 3 days
Use a melon baller or even small cookie cutters to cut your fruit into shapes or balls for a party
Don't throw the fruit out when you're done! Snack on it or use it immediately for fruit smoothies!
*How to make fruit water different ways below.
INFUSED WATER IS PERFECT FOR: Beach Party Sleepover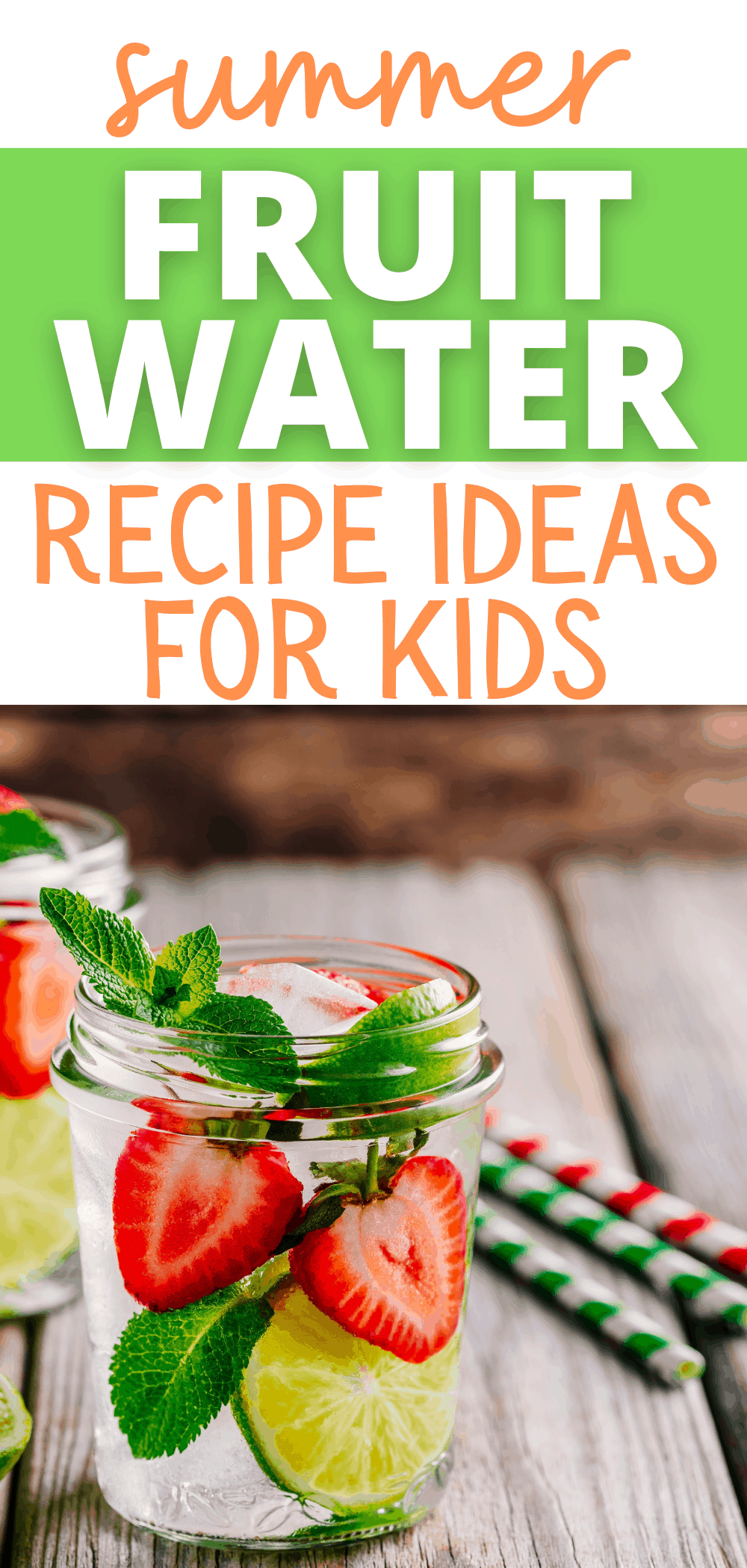 Can you eat the fruit after infusing water?
Yes! You can eat fruit from your water infusion recipes, especially if you plan on eating it within a couple of hours (and still want to get the nutritional benefits). Just know that fruits and vegetables will be less flavorful after sitting in water because their juices have been released into the water. Also, the consistency will be softer. Also be aware that after a couple of hours at room temperature (without ice), fruit in water can start to form bacteria.
ALSO CHECK OUT: What Can I Make With Cucumbers?
Can you freeze fruit for infused water?
Yes! You can use frozen fruit in infused water. Frozen fruit in water will keep your water cold and slowly release the flavors into the water. Your infused water won't be as flavorful as using fresh fruit, so try a mix of frozen and fresh. For the healthiest fruit infused water, stick with organic, fresh fruit and vegetables.
What fruits and vegetables should NOT be used for flavored water?
Stay away from naturally soft (mushy) fruits and vegetables like bananas. Also, the peel and rind of citrus will become more bitter the longer that it sits in water. If you are making infused water for a party that will sit out for a couple of hours, peel and cut off the rind of citrus to avoid the bitterness.
Can we drink infused water everyday?
Yes! Your entire family can drink infused water everyday. Just make sure you switch up the fruits and vegetables you are using each day so you get different nutrients and also aren't getting a high amount of acids from just citrus water, which can affect teeth and also give some people heartburn.
CHECK OUT: Infused water recipes beverage dispenser / infusion pitcher
How long does it take to infuse water?
How long it takes to infuse water will vary based on the ingredients you use and the recipes for fruit infused water. Strong herbs like mint, and melons or citrus will infuse water more quickly, while blueberries, or other more mild ingredients will take longer, like overnight, to infuse. Fruit water recipes can be made a couple of hours ahead of time in order to have time to create flavored water. If you can, make it the night before and place it in the refrigerator.
How long should infused water sit?
How long can you leave fruit in infused water? How long infused water will be good will depend on the ingredients you use. Infused water in the refrigerator will last longer, while water infused with fruit or vegetables sitting out (without ice) will only last for around 2 hours before the fruits or vegetables start to get mushy or slimy, start to have little flavor, and may start to form bacteria. Infused herb water will last a lot longer (sometimes up to a week) than fruit water or vegetable water.
Dangers Of Infused Water
If you are making infused water recipes for a party or a large amount, make sure you are changing out the water every couple of hours or are adding ice regularly to help prolong the water use and decrease the chance of bacterial growth. You can also use individual water bottles and make each serving fresh. Just add fruits or veggies to a fresh tall glasses of water when your guests are ready to drink them!
According to Ohio State University:
Because you are adding fresh fruits or vegetables, the infused water is perishable. When serving infused water at a party or on a buffet table, treat it like other perishable foods. Add ice to the water and remember that perishable foods should not be left at room temperature for more than two hours. After two hours at room temperature, the food can enter the 'danger zone,' a range of temperatures between 40 and 140 degrees Fahrenheit at which bacteria grows most rapidly.
TIP: There are infuser water bottles that keep the fruit and water separate. That way your kids can get the benefits of fruit in water, but then also eat the fruit when the water is gone! CHECK THEM OUT
Let's get to our strawberry blueberry infused water!
Summer Fruit Infused Water Recipe (Strawberry Water Recipe)
NOTE: We've added more fruit and water combinations after the recipe, so keep scrolling so you don't miss those infused water ideas with different fruit and vegetables than the summer water recipe here! This is just one of our favorite ways to make flavored water. Your kids will never guess these refreshing drinks have such a sweet flavor!
TIP: You can also add ice cubes with frozen fruit to your waters or even cinnamon sticks!
Here's how to make fruit flavored water with strawberry…
Yield: 8
How To Make Strawberry Infused Water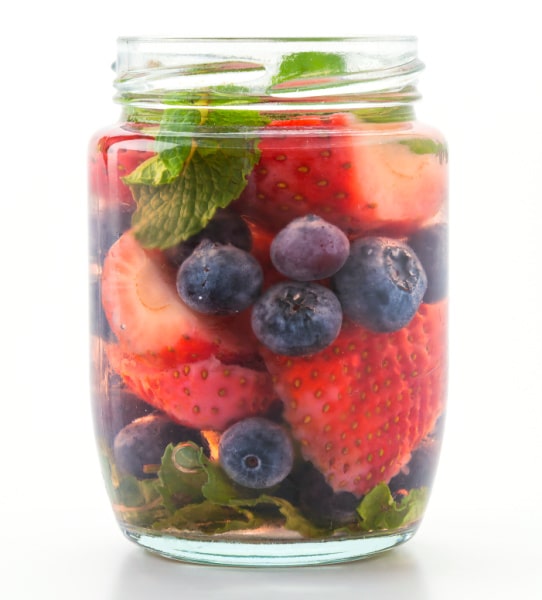 This infused strawberry water is the perfect summer drink for kids, party drink recipes, or just drinks for hot days outside!
Ingredients
8 cups of cold filtered water or cold seltzer (carbonated) water
1/4 cup fresh mint
1 cup strawberries, quartered
1 cup of blueberries
1 lime, sliced (optional)
Ice
Instructions
Add mint to bottom of a glass pitcher. Muddle slightly by mashing down on the mint 3-4 times with a wooden spoon.
Add strawberries, blueberries, and limes to the pitcher. Mix with mint.
Pour water into pitcher. Place in refrigerator overnight to infuse or chill for 10 minutes, stir, and serve over ice. If using for a party, reserve some of the lime slices, strawberries, and large mint leaves and garnish glass before serving.
Notes
If you are going to infuse the water for more than 2 hours, peel the limes before adding (or remove them after 2 hours). The peel sometimes makes the water bitter.
Change it up by trying cucumber, lemon, or even jalapeno for a spicy drink!
Nutrition Information:
Yield:
8
Serving Size:
1
Amount Per Serving:
Calories:

20
Total Fat:

0g
Saturated Fat:

0g
Trans Fat:

0g
Unsaturated Fat:

0g
Cholesterol:

0mg
Sodium:

10mg
Carbohydrates:

5g
Fiber:

1g
Sugar:

3g
Protein:

0g
Nutrition information is estimated. Changes to the recipe and use of different brands may cause changes to the nutritional information to vary slightly from the ones provided here.
Here are some of the best recipes for infused water! You can use these for infused water recipes for a party or even for individual water bottles for your kids.
Homemade Fruit Water Recipes: How To Make Water Infused With Fruit, Vegetables and Herbs
Infused water is fun to make. Get your kids involved and let them come up with their own recipes to make and fruit infused water combinations for fun fruity flavors!
Here are some of the best infused water recipes to try for muddled fruit water and veggie water…
Fruit In Water Recipes Ideas
Orange Infused Water: 8 cups of cold water, 2 sliced oranges, 1/2 cup of blueberries, ice
Lemon Infused Water: 8 cups of cold water, 1 sliced lemon, ice (also add 1/2 cup blueberries for lemon-blueberry infused water!)
Infused Lime Water: 8 cups of cold water, 1 sliced lime, ice
Infused Pineapple Water: 8 cups of cold water, 1 cup fresh pineapple (peeled and cubed), ice
Raspberry-Orange Water: 8 cups cold water, 1 sliced orange, 1 pint raspberries, ice (change it up with different berries for berry infused water!)
Strawberry Lemon Water: 8 cups of cold water, 1

cup quartered strawberries, 1 sliced lemon, ice

Melon Water: 8 cups of cold water, 1 cup cantaloupe balls or cubes, 1 cup honeydew balls or cubes, ice
Don't forget, you can also make vegetable water infused recipes!
Vegetable Infused Water Recipes Ideas
Infused Cucumber Water: 8 cups of cold water, 1 thinly sliced English cucumber, ice (My daughter's favorite!)
Strawberry-Cucumber Water: 8 cups of cold water, 1 thinly sliced English cucumber, 1 cup quartered strawberries, ice (DEFINITELY put this on your list of things to make with cucumbers!)
Tomato-Basil Water: 8 cups cold water, 1 cup cube tomato, 1/4 cup fresh basil (muddled), ice
Fresh herbs also make great infused water recipes! Don't worry if some of these unique combinations seem weird. They are subtle flavors that enhance the fruits and vegetables! Give them a try!
Herb Infused Water Recipes Ideas
Mint Watermelon Water: 8 cups cold water, 4 cups cubed watermelon, 1/4 cup fresh mint (muddled), ice (or just infused water with mint and no watermelon is yummy, too!) — switch it up by adding other fresh berries to this
Cucumber Mint Water: 8 cups of cold water, 1 thinly sliced English cucumber, 1/4 cup fresh mint (muddled), ice
Cucumber Lemon Water: 8 cups of cold water, 1 thinly sliced English cucumber, 1/4 fresh lemon (slices or quarters), ice
Strawberry-Lavender Infused Water: 8 cups of cold water, 1 cup quartered strawberries, 1/4 cup fresh lavender (muddled), ice
Mint Ginger Pineapple Water: 8 cups of cold water, 1 cup fresh pineapple (peeled and cubed), 6-8 pieces thinly sliced fresh ginger, 1/4 cup fresh mint (muddled), ice
What are your favorite combinations?
Let us know your favorite fruits to add to water, fruit in water recipes, or other infused water recipes your kids love!