This peach smoothie without yogurt will quickly become one of your favorite drink recipes for breakfast, snack, or any time you need an easy, healthy frozen drink for kids with a delicious smoothie flavor! FILE UNDER: peach smoothie no yogurt.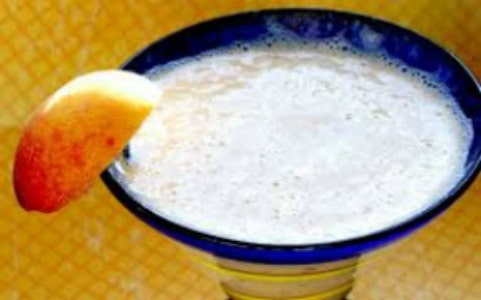 Peach Smoothie Recipes Without Yogurt
Who doesn't love a good smoothie right?
Well, we're going to get away from the go-to, popular strawberry smoothie recipe or banana peach smoothie and instead make peach smoothie recipe!
(YAY!)
Affiliate links are used on this site. As an Amazon Associate I earn from qualifying purchases. Read more in our DISCLOSURE.
And, we made this peach smoothie recipe without yogurt, which I think makes it a lighter and more refreshing smoothie (especially good for summer!). (But, if you like a creamier smoothie, add the yogurt back in!)
We have also made this peach smoothie with almond milk, regular milk, and even left out the milk (or milk substitute) and it was still a great frozen drink! You can easily play around with this one to make it to your own liking.
Do smoothies need yogurt?
Smoothies don't need yogurt to make it creamy. You can use other things for a smoothie recipe like frozen fruit, avocado, and nut butters for a creamier texture. It's not necessary to use any of those and your smoothies will come out lighter and just as tasty!
What can I use in smoothies instead of yogurt?
How to thicken smoothies without yogurt:
Bananas
Sweet potatoes (really!)
Frozen fruit
Avocado
Peanut butter
Almond butter
Cashew butter
Almond milk
Soy milk
More fresh fruit (to make it thicker)
Can I use milk instead of yogurt in a smoothie?
Yes! You can use milk of any kind (regular milk, almond milk, soy milk, etc.). However, many people who are looking for smoothie recipes without yogurt need it because they are lactose intolerant or have any allergy to dairy-based products.
MORE HEALTHY EATING: Healthy Food Activities For Toddlers
Before we get to how to make smoothies, let's talk about why smoothies recipes?
Smoothie recipes are great for kids because:
They're quick and easy.
They're fun.
They're very healthy.
Kids can add a variety of different things and tailor them to their liking.
How To Make A Smoothie
Smoothies are so easy!
To make easy healthy smoothie recipes, just add fresh fruit and/or vegetables, yogurt or milk, and a couple of ice cubes into a smoothie blender.
Blend until smooth and serve immediately!
What can you put in smoothies?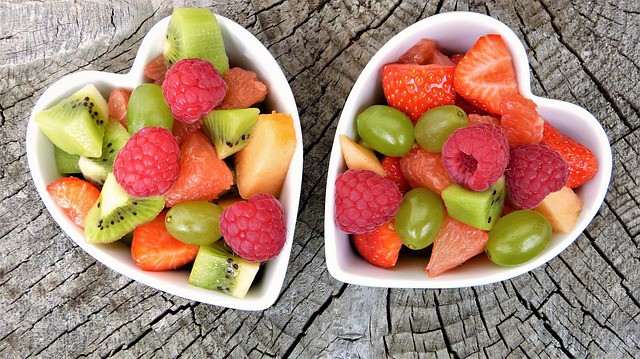 Honestly, you can put anything that you want in smoothies!
(That's one of the reasons they're so great, especially for kids!)
Smoothies are a great way to help kids get their daily vegetables because you can add in things like spinach and kale and your kids won't even know.
Here are some ideas on what to put in smoothies that kids will love:
Bananas
Strawberries
Mangoes
Blueberries
Cherries
Carrots
Spinach
Avocado
Kale
Oatmeal
Peanut butter or nut butters
Chocolate
Milk
Soy milk
Coconut milk
Rice milk
Yogurt
& MORE!
Smoothie recipes really are only limited by your and your children's imaginations!
So, don't be afraid to play around with them.
How do you make a smoothie thicker?
Sometimes you can add too much milk (or too many ice cubes) and your smoothie becomes watered down or too thin. To make a smoothie thicker, you can add frozen fruit. Some people also add things like avocado, pumpkin puree, or yogurt to make it creamier and thicker. Just don't add more ice cubes or milk!
Since we made a frozen peach smoothie without yogurt, we added more peaches to make our drink thicker!
Should you peel peaches for a smoothie?
There is no need to peel peaches for a smoothie. Simply wash the peach, cut it into pieces, and then blend it! If you don't usually like the peach peel, you'll probably not be able to taste or feel the peeling texture once it is pulverized in the blender and mixed with the other ingredients.
Can you make a canned peach smoothie?
Yes! Just be aware that the texture of canned peaches are softer, so the texture of your smoothie may be different than when you use fresh peaches. Also, you may need to reduce the liquid a little when using canned peaches so that your smoothie isn't too runny and doesn't thicken.
Before we get to our peach smoothies without yogurt recipe, let's talk about our book pairing!
We made this drink recipe during our MLK week studies, so I had to come up with a way to tie a smoothie recipe into Georgia and MLK.
(Yep. I know.)
ENTER: The "Georgia" Peach Smoothie
Georgia Peach Smoothie Recipe Paired With Martin's Big Words
I always want to be sure to talk to my daughter about different aspects of history, difficult times, and the important people in it.
So it was clear that we would read about Martin Luther King, Jr. as one of our children's books and theme recipes pairing.
One of our favorite books has become Martin's Big Words: The Life of Dr. Martin Luther King, Jr. written by Doreen Rappaport and illustrated by Bryan Collier.
We read it a couple of times each year (still!) and especially make sure to read it on Martin Luther King, Jr. Day.
Because of the significance of King and his journey, I wanted a children's book that was accurate and not filled with fluff that dodges the difficult issues.
After reading the synopsis online, this biographical book seemed to fill that.
The book starts with King as a child and his understanding of racism (with seeing "Whites Only" signs) and moves all the way through significant events in his life to his death.
I love that the book incorporates different quotes from King within the story and covers the importance of the civil rights movement in a basic way without getting too detailed and going over children's heads.
There are fantastic watercolors that fill each page, also.
Listed Book Age Range: 5-8 years
CAUTION: This is a difficult topic, so be sure to consider your child's age and maturity stage. I first read it to my 4 year old, but I spent a great deal of time discussing each page and the issue of race and civil rights and hatred from some people. Although the book doesn't go into details on his death, it does reveal that he was shot and died, which may be too much for little children. Later, after reading the book and discussing it, I asked my daughter if she was happy we read it and she said "yes and no" and then she wanted to look at the page that talked about him getting shot again.
Since this is such a serious and important topic, it was hard to come up with a recipe to pair with this book.
However, in a nod to Dr. King's birthplace of Atlanta, we decided to make a "Georgia" peach smoothie.
We first made this recipe for peach smoothie without yogurt when my daughter was four years old and she said, "This is the best smoothie I've ever had!"
(It IS tasty! If you're making it for a healthy smoothie for yourself, throw in a tablespoon of flaxseeds or chia seeds!)
We made our peach smoothie without yogurt, but you can also make this peach smoothie with yogurt for a creamier version.
Also, if you want to do a variation on this drink, add some blueberries for a yummy blueberry peach smoothie!
HOW TO MAKE A PEACH SMOOTHIE WITHOUT YOGURT
Yield: 2
Peach Smoothie Recipe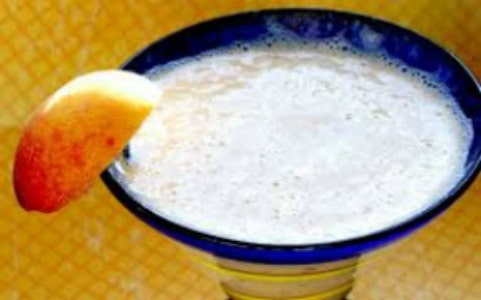 This is such a refreshing peach smoothie recipe that it will quickly become a favorite in your house! You can also use frozen fruit or canned peaches instead of fresh fruit.
Ingredients
2 Peaches, washed and sliced
1 Banana
1/2 Cup Orange juice
1/2 Cup Soy Milk (You can also use regular milk, coconut, almond milk, or any other milk substitute to meet allergy or intolerance needs)
3-5 Ice cubes
Instructions
Wash and slice peaches. Add to blender. (We like to set aside a couple of slices of peaches to garnish with!)
Peel and slice banana. Add to blender.
Add soy milk and orange juice to blender. Blend until all ingredients are blended completely.
Add ice cubes and pulse/blend until ice is blended into mixture.
Pour into a glass and garnish with a piece of peach (optional). Serve immediately. (Bonus points for using a fun cup or glass!)
Nutrition Information:
Yield:
2
Serving Size:
2 Servings
Amount Per Serving:
Calories:

174
Total Fat:

2g
Saturated Fat:

0g
Trans Fat:

0g
Unsaturated Fat:

0g
Cholesterol:

0mg
Sodium:

32mg
Carbohydrates:

39g
Fiber:

5g
Sugar:

29g
Protein:

4g
Nutrition information is estimated. Changes to the recipe and use of different brands may cause changes to the nutritional information to vary slightly from the ones provided here.
Enjoy your peach smoothie healthy drink! Let us know what you think!
LOOKING FOR FUN COOKING PRINTABLES FOR KIDS?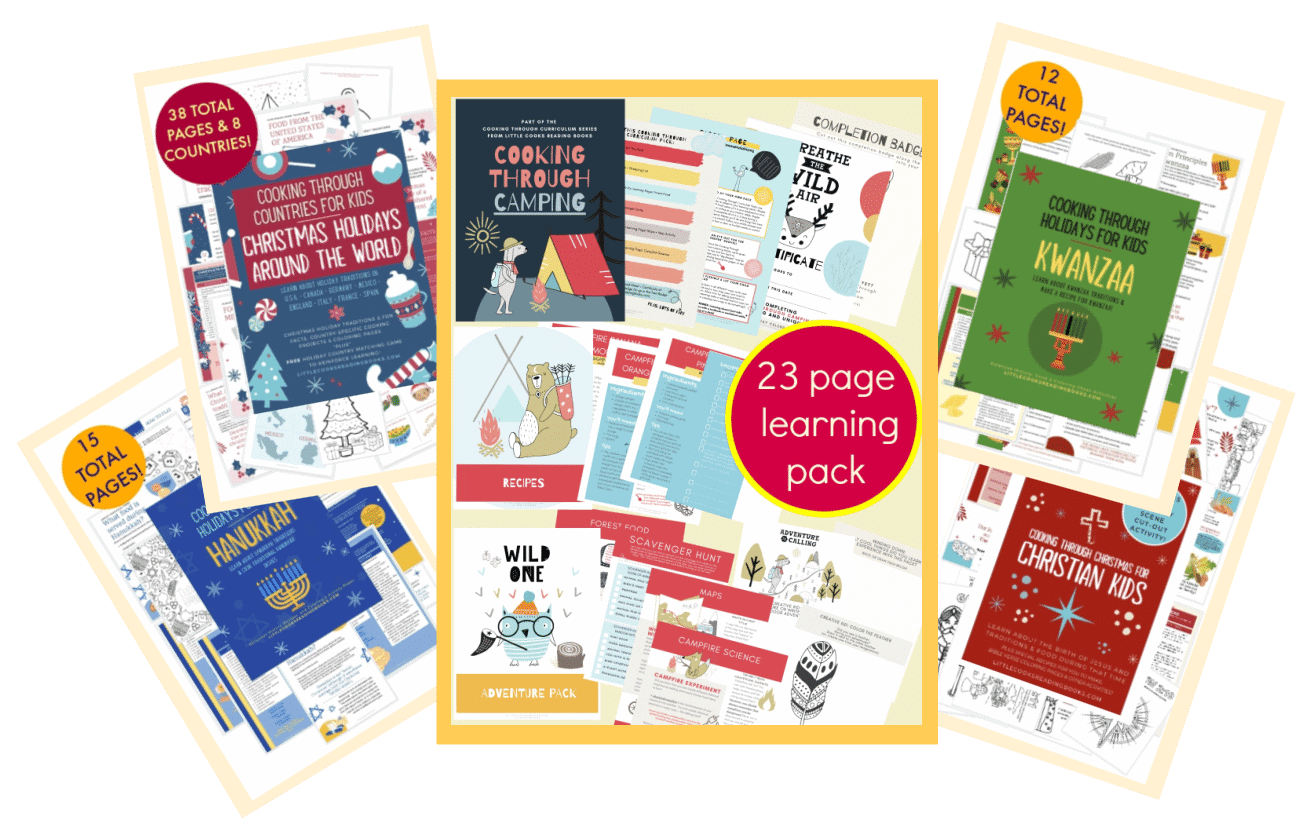 As an Amazon Associate I earn from qualifying purchases. Please refer to our
DISCLOSURE
.