Layer drinks make super fun drinks for kids! These easy layered drinks can be adjusted to any party theme colors. We made patriotic red white and blue drinks for kid friendly 4th of July drinks (patriotic mocktail), but you can make your drink layers any color you want — even a rainbow drink! (Plus, we have a super secret trick if you can't get your drinks layered!)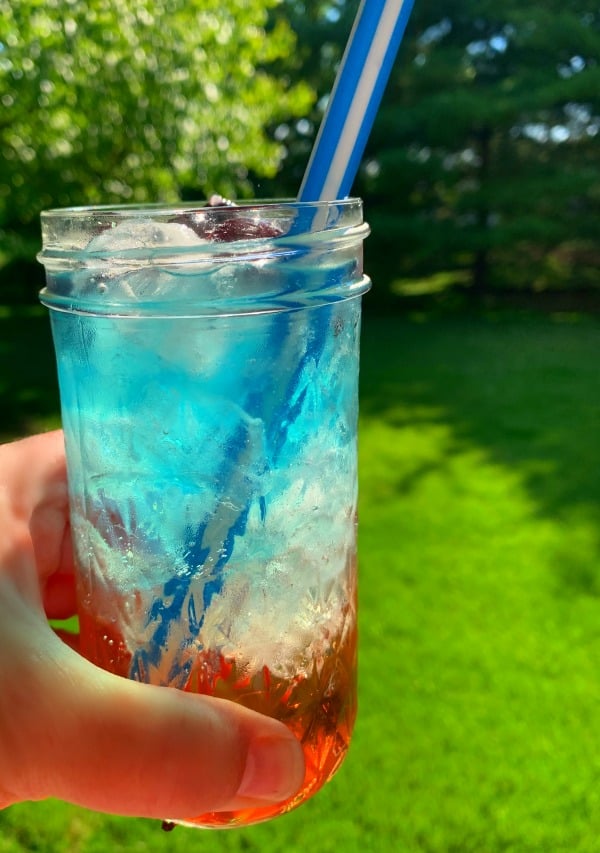 How To Make Layer Drinks Without Alcohol
These layered drinks are perfect kid friendly drinks for parties! We made ours a layered red white and blue drink, but you can make your drinks any color you want!
But, before we get to the layer drinks, let's talk about the drink science (because this is a fun science lesson to do with kids, too!):
Why do certain drink layers sink and others stay at the top?
Affiliate links are used on this site. As an Amazon Associate I earn from qualifying purchases. Read more in our DISCLOSURE.
Science Behind Layered Drinks
Layered drinks density depends on specific gravity and a lot on sugar content.
(Sorry about that.)
"Specific gravity is the term that's used to describe a density of a substance when it's compared to another substance, usually water at 4 °C [39.2°F]. This gives you a single number that's useful because it allows you to compare the densities of many different types of material. The specific gravity of water is 1, and other substances can be measured against this." 

[get a science project here]
In our layer drink, the liquid with the most sugar will sink to the bottom (if poured correctly).
The drink with the second-most amount sugar should stay in the middle.
And — you guessed it! — the drink with the least amount of sugar will stay floating at the top.
This is a great science concept for kids: things may look the same and be the same size, but can weigh different. (Density tells you how tight those molecules are packed together!)
How do you pour layered drinks?
The liquid with the heaviest sugar content will sink to the bottom, so you want to start with that layer.
To pour layered drinks:
Tip your glass and slowly pour the liquid with the heaviest sugar into the glass.
Next, hold a spoon near the bottom layer with the back turned up. Slowly pour liquid with the next highest sugar content over the back of the spoon, making sure not to mix it with the bottom layer.
Repeat the process with the liquid with the next highest (third highest) sugar content for the top layer. Slowly pour over the back of the spoon so you don't mix with the other two layers.
If you have more than three layers, continue the process, going from highest sugar content liquid at the bottom to the least amount of sugar at the top.
The trick is to make sure they sugar contents of each drink are significantly different.
We had three drinks for our layered red white blue drink and two of the layers were only 1 sugar count different and it took us a few tries to get the layers to pour separate.
So, if you can, use liquids with significantly different sugar counts.
IMPORTANT: IF YOU CAN'T GET YOUR DRINK LAYERS TO STAY SEPARATE, SEE OUR SECRET TRICK THAT WE'VE LISTED IN THE RECIPE!
Are you supposed to mix layered drinks?
Layered drinks are mainly for a cool visual effect. Drink them through a straw with the understanding that you'll probably be drinking each layer separately. Mixing them often results in a less than pleasant looking drink color, but if you're doing mocktails for kids they won't care.
How do you drink layered drinks?
The best way to drink a layered drink is with a straw so that the layers stay (partially) separated. However, as you drink, the layers will begin to mix together. At this point no one will care because they've already experienced the drink its cool layered drink form.
Kitchen Science
If you want to dig deeper into kitchen science with kids (in addition to our fun layered party drinks for kids), check out:
---
LOOKING FOR MORE PATRIOTIC FOOD OR RED WHITE AND BLUE FOOD?
CHECK OUT:
---
OK!
Let's get to how to make our red, white and blue layered drinks!
Be sure to use clear glasses so you can see the layers!
We used small mason jars like these and they were super cute.
(These really do make cool party drinks for kids!)
How To Make a Layered Red White and Blue Drink
Yield: 4
Patriotic Punch Layer Drinks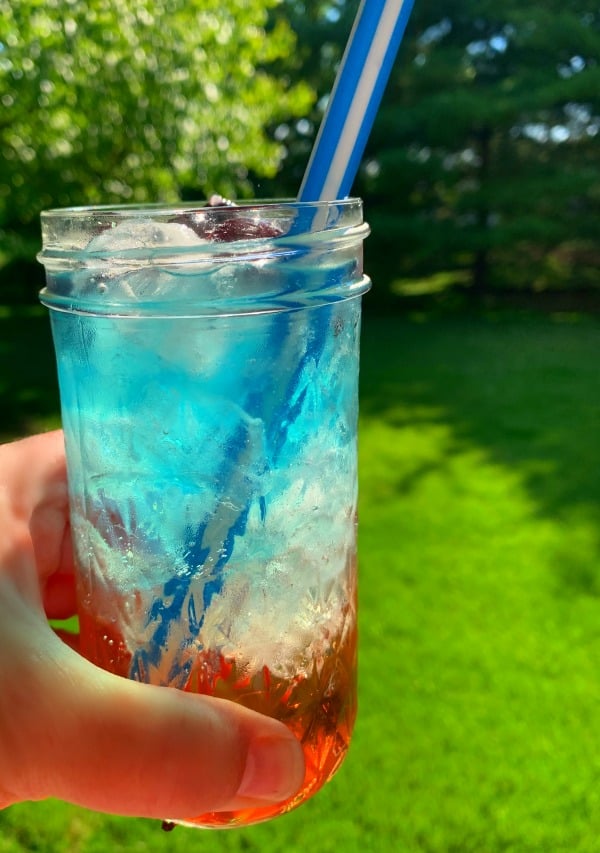 These red white and blue layered non alcoholic drinks are perfect for any occasion. Just change up the colors to meet your specific party theme if you're not doing a red, white and blue theme or patriotic party.
PLEASE READ THE NOTES SECTION BEFORE TRYING THIS RECIPE!
Ingredients
Cranberry Juice
Sprite
Blue Gatorade (or other blue drink)
Ice
Frozen blueberries (optional)
Instructions
Fill a small clear glass with ice to the top.
Tip glass to side and slowly pour cranberry juice to the bottom 1/3 of the glass. Allow to settle.
Next, slowly pour the Sprite over an ice cube (close to the side of the glass) until it fills the middle 1/3 of the glass.
Lastly, slowly pour the blue drink over an ice cube (near the side of the glass) until it fills almost to the top.
Top with a few frozen blueberries (optional) and a straw. Serve immediately.
Notes
IMPORTANT: The drink layers work by sugar content. Before purchasing liquids for the drinks, check the sugar content. The heaviest sugar content will sink to the bottom and the lightest one will float on top. If you can, buy drink colors that are significantly different in sugar content. For example, a white layer with 21 grams of sugar and a blue layer with 20 grams of sugar will have a hard time staying separate.
TIP: If you can't get your layers to stay separate (no matter how hard you try!), pour the first layer in a glass without ice. Freeze just until a small layer of ice has formed over the top. Remove from freezer and slowly pour next layer. Freeze again until a small layer of ice has formed. Pour the last layer on top and serve.
Nutrition Information:
Yield:
4 glasses
Serving Size:
1
Amount Per Serving:
Calories:

93
Total Fat:

0g
Saturated Fat:

0g
Trans Fat:

0g
Unsaturated Fat:

0g
Cholesterol:

0mg
Sodium:

44mg
Carbohydrates:

24g
Fiber:

1g
Sugar:

21g
Protein:

0g
Nutrition information is estimated. Changes to the recipe and use of different brands may cause changes to the nutritional information to vary slightly from the ones provided here.
HAVE YOU EVER MADE LAYER DRINKS?
LOOKING FOR FUN COOKING PRINTABLES FOR KIDS?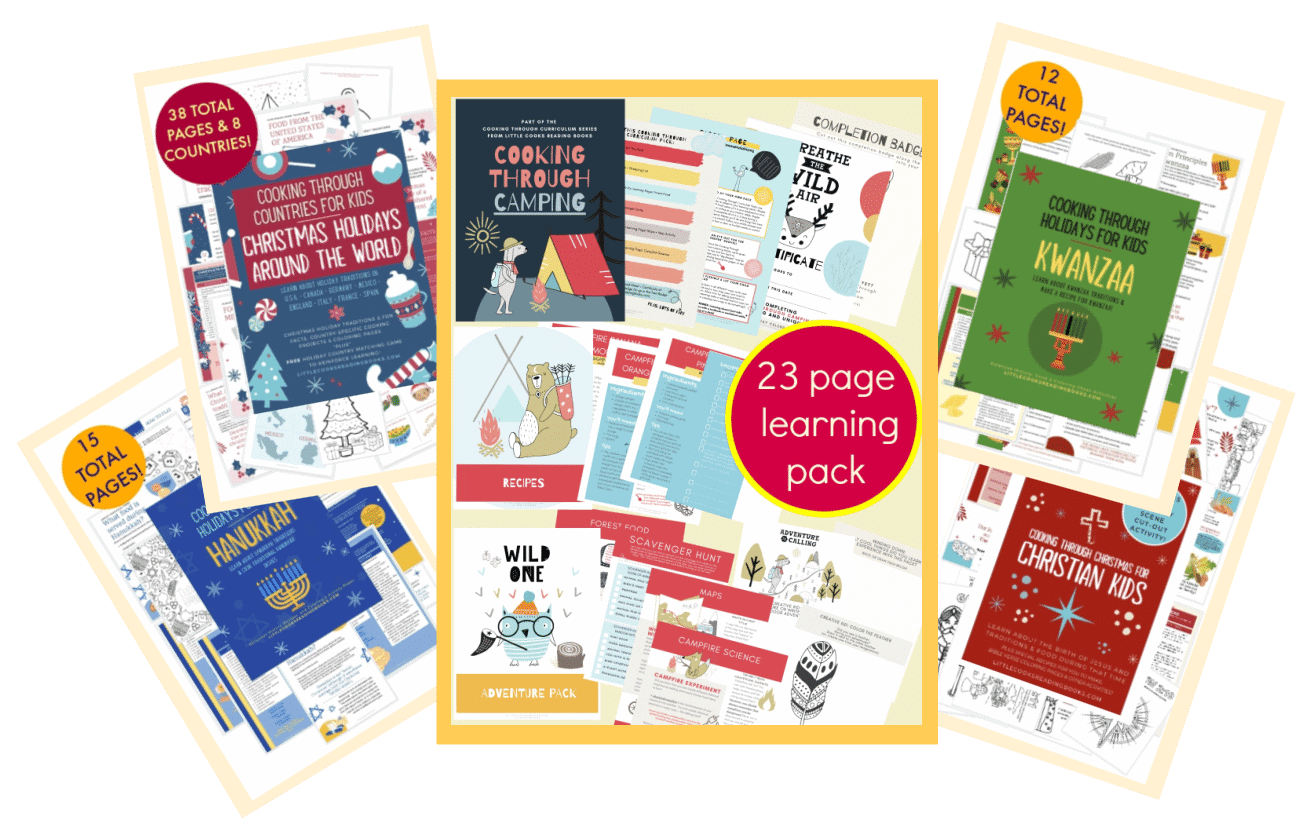 As an Amazon Associate I earn from qualifying purchases. Please refer to our
DISCLOSURE
.