Need a sun tea recipe, but wondering is making sun tea safe? This is a yummy summer drink recipe and one of those unique outdoor kid activity ideas, but there are important things to know before making this recipe with kids or for your family.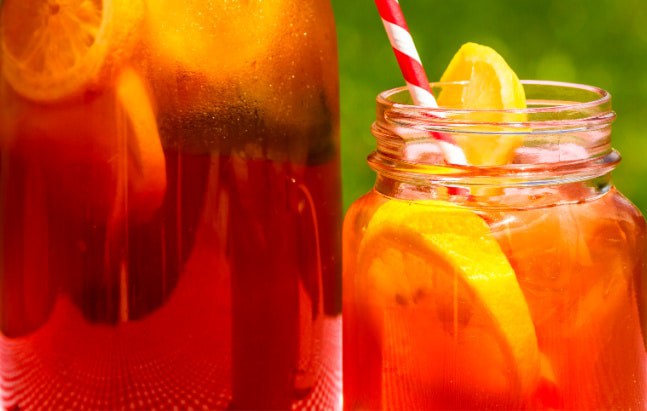 SUN TEA HOW TO MAKE & SUN TEA SAFETY
What is sun tea?
Sun tea is tea made in the sun and something I remember from my childhood. I would see glass jars of tea steeping in the summer sun and then the tea recipe would be ready to drink by the end of the day!
What's the difference between sun tea and regular tea?
Sun tea is tea that is placed in a glass jar in the sun to warm and steep. Regular tea is made from boiled water on the stovetop. They both use whatever tea you choose. However, for safety reasons, it is recommended to use black tea for sun tea.
Affiliate links are used on this site. As an Amazon Associate I earn from qualifying purchases. Read more in our DISCLOSURE.
Is sun tea a southern thing?
Sun tea is definitely seen a great deal throughout the south. Sun tea was set out on the porch while people worked on the farm or went off to work on a hot summer day. Then, it was ready at the end of the day. While it's not exclusively a southern thing, you definitely see sweet tea throughout the south.
You may have heard about sun tea dangers and wondering if they're true. Before we get to how to make sweet tea in the sun, let's cover some important safety issues.
Is sun tea safe?
Why sun tea is bad for you?
You may be wondering can sun tea make you sick? The issue with sun tea is that it never gets hot enough to kill bacteria, which breeds in warm conditions between 40 to 140 degrees °F. So, you should proceed with caution in making sun tea. Do not add things like sugar or slices of fruit or citrus while the tea is in the sun. Add the additional things after so they don't promote bacteria growth.
How warm does it have to be to make sun tea?
Sun tea needs direct sunlight. But, even in direct sunlight, it will never get beyond 130 degrees °F, which puts it in the prime range to breed and grow bacteria. If you are concerned about the safety of sun tea, bring it to a rapid boil after it has been sitting in the sun to help kill any bacteria.
Should you refrigerate sun tea?
Once your sun tea is finished in the sun, bring it in and remove the tea bags. Then, refrigerate immediately until ready to use so that you can help stop any bacteria growth.
Can you make green tea in the sun?
You can technically make any tea flavor, including green tea, in the sun. However, many have recommended that you only brew black tea in a sun tea recipe in order to reduce the bacteria growth that can occur with sun tea recipes.
OTHER FUN SUMMER DRINK RECIPES:
Sun Tea Tips
How many tea bags in sun tea?
To make sun tea, you will need one tea bag for every cup of water. So, the number of teabags will depend on how big your tea container is for brewing sun tea.
How long do you leave sun tea in the sun?
When making sun tea, leave sun tea in direct sunlight for 3-4 hours. If you leave it longer than that, the tea may have a bitter taste.
Why is my sun tea bitter?
Sun tea generally gets bitter if when left in the sun too long. The longer you leave the tea in the sun, the more bitter it will taste.
Can you make sun tea in a plastic container?
You may be wondering if you can you make sun tea in a plastic pitcher? You don't need an expensive vintage sun tea jar for the recipe. Any large glass jar with a lid will do. You want to use glass instead of plastic because glass helps the process of oxygenation better than plastic. Also, heating plastic may have negative consequences such as releasing chemicals from the plastic and it could also affect the taste of the tea.
How To Make Sun Tea In The Winter
To make sun tea in the winter, you just need a sunny window sill! Combine tea bags and water in a glass jar and place on near in a window that gets direct sunlight for at least 3-4 hours.
How To Brew Sun Tea
Please remember, making sun tea can have some issues with bacteria, so make at your own risk.
TO HELP REDUCE BACTERIAL GROWTH, DO NOT ADD SUGAR OR CITRUS TO YOUR SUN TEA WHILE BREWING IN THE SUN.
If you want the same ease of making sun tea without the sun, see the tips after the sun tea recipe.
We've included family size tea bags in our recipe, but you can use single tea bags, too.
How many regular tea bags are in a family size tea bag?
If you need to substitute single tea bags for family tea bags, there are 3 single tea bags in every family size tea bag. So, for one gallon, you will want to substitute 12 single tea bags for 4 family size tea bags.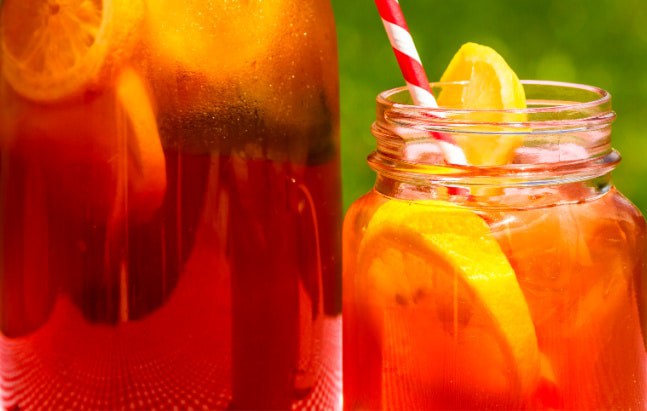 Many people remember sun tea recipes from their childhood, especially in the south. It's a fun recipe to make with kids, but be sure to read through the notes to understand the possible dangers of sun tea.
To make this recipe, you'll need a one gallon glass jar with a tight-fitting lid.
Additional Time
10 minutes
Total Time
4 hours
15 minutes
Ingredients
16 cups of filtered water (fill up a one gallon glass jar with lid)
4 family size black tea bags (or, 1 regular tea bag for every cup of water)
1 1/4 cups sugar
Lemon wedges for garnish (optional)
Instructions
Fill one gallon glass container (with lid).
Add 4 family size black tea bags.
Place lid tightly on glass container. Sit in direct sunlight for 3-4 hours.
Remove from sun and pour tea into a pot. Bring to a rapid boil (to help kill bacteria).*
Remove from heat and stir in sugar until dissolved.
Pour over ice and garnish with lemon.
Notes
*IMPORTANT: Boiling the water is an optional step that some people skip. However, slowly heating tea in the sun brings about the risk of bacteria. Rapid boiling after being in the sun helps to kill bacteria. Additionally, it is recommended to only use black tea (and not flavored or herbal teas) to help reduce the bacteria growth. Only add sugar, lemon, fruit or other items after the tea was in the sun, right before serving.
Nutrition Information:
Yield:
16
Serving Size:
1
Amount Per Serving:
Calories:

62
Total Fat:

0g
Saturated Fat:

0g
Trans Fat:

0g
Unsaturated Fat:

0g
Cholesterol:

0mg
Sodium:

10mg
Carbohydrates:

16g
Fiber:

0g
Sugar:

16g
Protein:

0g
Nutrition information is estimated. Changes to the recipe and use of different brands may cause changes to the nutritional information to vary slightly from the ones provided here.
How do you make sun tea without sun?
If the dangers of sun tea make you uneasy, you can cold brew your tea in the refrigerator with the same results:
In a large glass jar or pitcher, add cups of water to make the amount you need. (Keep track of how many cups of water you add.)
For every one cup of water, add one tea bag.
Place container in refrigerator for 3-5 hours. The longer you leave it, the stronger the tea will become.
Add sugar, fruit, lemons, mint or whatever you like with your tea before serving.
Refrigerate when not using.
Cook With Books for Kids
Sun tea is a great learning unit for kids to pair up with some sun books for the summer or any time of year!
Try these children's books with this recipe:
HAVE YOU EVER MADE SUN TEA?
LOOKING FOR FUN COOKING PRINTABLES FOR KIDS?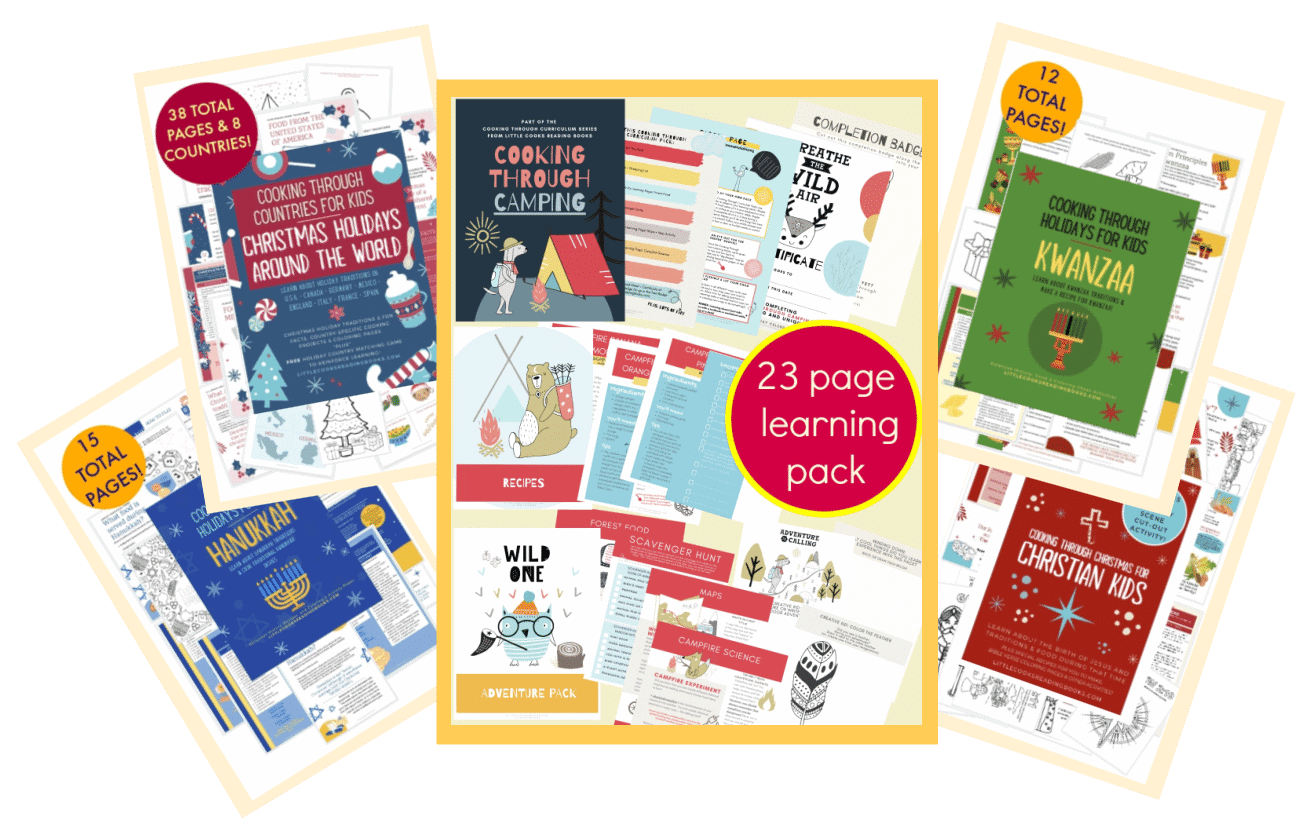 As an Amazon Associate I earn from qualifying purchases. Please refer to our
DISCLOSURE
.