Remember using food color to dye eggs? Want to know how to dye Easter eggs with food coloring or if you can make gel food color Easter eggs? This old school Easter egg dye DIY is a cheap and easy Easter activity for kids with supplies you probably already have at home! If you need ideas for coloring Easter eggs / ideas for dyeing easter eggs, try the easy food coloring method for eggs!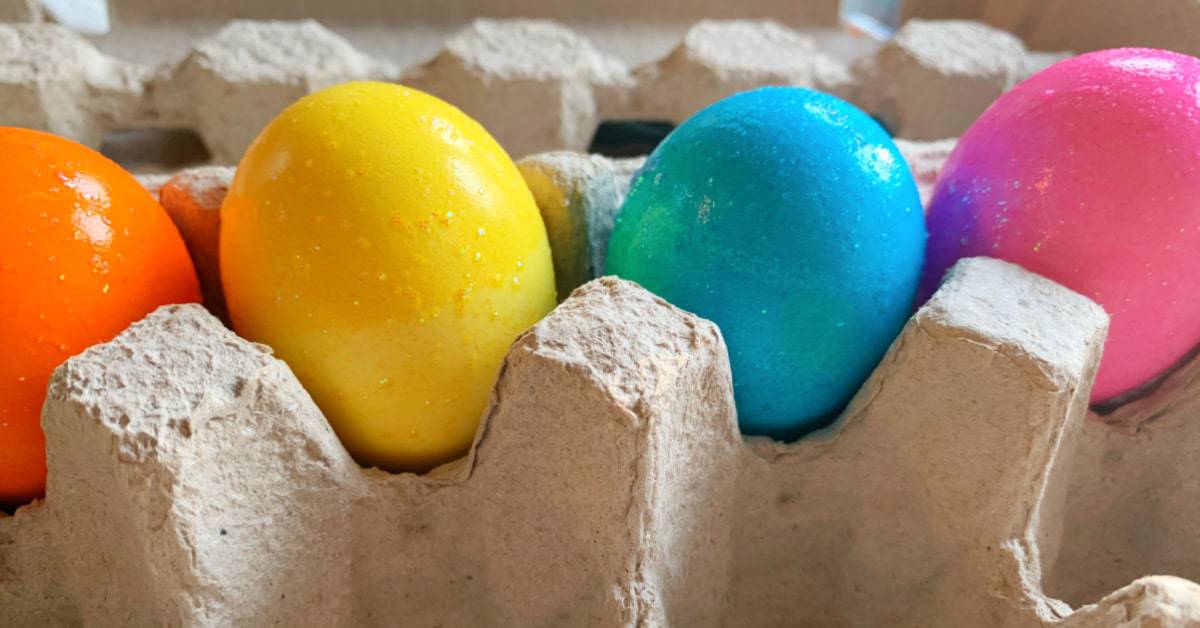 How To Use Food Color To Dye Eggs
Growing up, we used to color eggs using food coloring and we still do it today! Colored boiled eggs is a fun Spring activity for kids. You may be wondering can food coloring dye eggs?
Coloring easter eggs with food coloring is a fun and cheap way for dyeing eggs.
So… how do you make egg dye using food colors?
How do you make Easter egg dye with food coloring?
For food color Easter eggs, you'll need:
Boiled eggs (hard cooked eggs)
Egg carton
Boiling water
Vinegar
Food coloring (colors of choice, regular food coloring and not a special color Easter eggs food coloring) OR gel food color Easter eggs color
Small cups
Spoons
Paper towels
Art smock, old tshirt, or apron!
See the full directions and dyeing recipe below on this easter egg coloring method with food color!
Best Food Coloring To Color Eggs
Food color Easter egg dye is an easy way to color eggs! The best food coloring for dyeing Easter eggs is the food-safe coloring dye.
For dyeing eggs, you can use:
Before we get to our egg color recipe and how to food color boiled eggs, let's give you some tips for coloring Easter eggs…
Will food coloring dye eggs?
Yes, food color makes fun, vibrantly colored eggs, especially when mixed with vinegar. The longer that you leave the eggs in food coloring, the deeper the colors of the eggs with become. (You don't really need a food dye color chart for Easter eggs!) Once they are dried, you can then decorate them with food color markers, stickers, crayons and more.
FUN EASTER EGG TIP: For a fun trick, use a white crayon to write or draw on the egg before putting it in the food dye. The design will often show up once it's in the egg dye coloring!
DON'T MISS: MORE Fun Easter Activities For The Family [Easter Ideas for Kids]
But what about how to color easter eggs with gel food coloring?
Can I use gel food coloring to dye eggs?
Yes! You may be wondering can gel food coloring be used to color easter eggs because there's a lot of conflicting information out there about this egg dyeing technique. Gel food coloring is just a more concentrated version of regular food coloring. How to dye eggs with gel food coloring: Where you would use 10-20+ drops of regular food coloring in dyeing eggs, gel food color takes a lot less – only about 5 drops.
Is egg dye the same as food coloring?
Food coloring can be used as egg dye instead of the egg dye kits that you buy at the store. That way you can make homemade egg coloring at home for a lot less instead of purchasing dye kits.
You can also try color eggs with food coloring and rice (like the process I used here).
How much vinegar to dye easter eggs?
You need 2 teaspoons of white distilled vinegar for each 1/2 cup of boiling water, per color. Add the food color, vinegar, and water to the cup and stir before adding the egg.
Why do you use vinegar to dye eggs?
You may be wondering do you need vinegar to color eggs? Vinegar is acidic and helps deepen the colors of the dyed eggs. If you dye eggs without vinegar, the colored eggs will be a lighter, more pastel shade. It will be harder to develop vibrant colored eggs.
Will apple cider vinegar work for coloring eggs?
Apple cider vinegar is also an acid, so it will work well with food color to dye eggs. However, since apple cider vinegar is tinted a brownish color (where white vinegar has no color), it may affect the dyed color of eggs and turn out a little differently than the food coloring when mixing colors.
But what about if you don't have Easter eggs vinegar and food color?
How To Dye Eggs Without Vinegar
What can you use if you don't have vinegar to dye eggs? For dying eggs, replace the acidity of the vinegar with another acid, like lemon juice. Then, follow the Easter eggs recipe listed and color them as usual. You may have to adjust the acidity of other ingredients when replacing them for vinegar.
Can you eat food colored eggs?
Yes! You can eat food colored eggs as long as they are dyed with a food safe coloring (like the kind you use in baking and icing tint). Just be sure to keep the boiled, colored eggs refrigerated immediately before use and then refrigerate them again after coloring the eggs. So, food dye and eggs are safe!
How To Store Dyed Easter Eggs
Once you've colored your dyed Easter eggs, place them back into the egg carton. Store them in the refrigerator until ready to eat. It is not recommended that you hide the colored Easter eggs all day and then attempt to eat them later.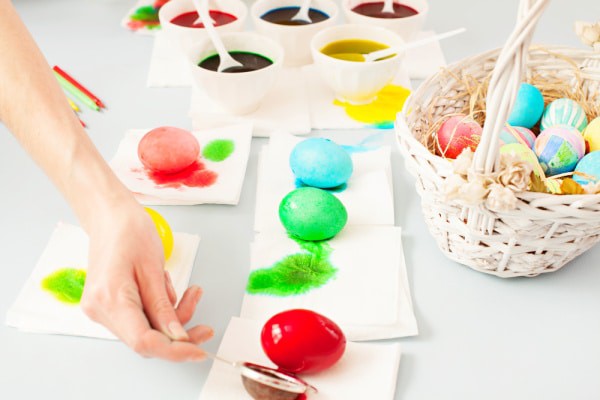 ALSO CHECK OUT:
How long do dyed easter eggs last?
How long can you keep dyed Easter eggs? Boiled, colored eggs will last in the refrigerator for up to one week. Leave the shells on until you are ready to eat them. When you peel the eggs, they are more susceptible to bacteria once they are out of the shell.
OK! Let's get to how to food color eggs!
Here's how to dye easter eggs at home using food colors…
How To Make Dye For Easter Eggs With Food Coloring [How to Dye Easter Eggs Without a Kit]
FOOD COLORING EASTER EGGS RECIPE
Colored hard boiled eggs can eve be used to make Easter dyed deviled eggs because some of the coloring will seep through the eggshell and voila! Food colored deviled eggs!
Here's how to color hard boiled eggs with food coloring (using food color for Easter eggs)…
Yield: 12
Coloring Easter Eggs With Food Color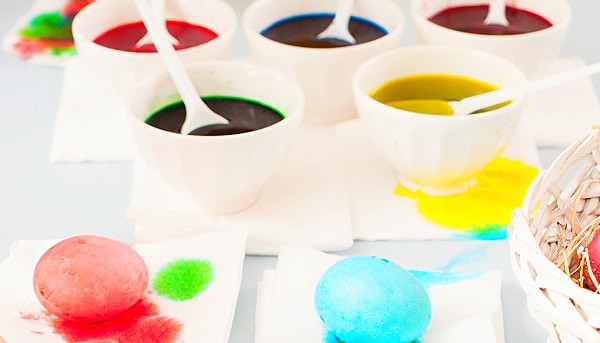 Learning how to dye easter eggs with food coloring is a fun spring activity or Easter activity for kids!
Total Time
1 hour
5 minutes
Materials
1 dozen boiled eggs (keep the egg carton for drying)
1/2 cup boiling water for each color
2 teaspoons white distilled vinegar for each color
Food coloring (colors of choice)
Tools
Bowls or mugs, large enough to place an egg and have the liquid cover it completely (one for each color)
Slotted spoon
Paper towels
Aprons or craft shirts*
Instructions
To each mug/bowl, place a 1/2 cup boiling water, 2 teaspoons vinegar, and 10-20 drops of food coloring until you reach the desired color. Repeat this for each mug/bowl.
Allow the dye liquid in the cups to cool.
Gently place an egg in each cup of dye color.
Allow the egg to sit in the dye color for at least 5 minutes. The longer you allow the egg to sit in the dye, the deeper the colors will become.
Once egg has reached desired color, remove with a slotted spoon and place in the egg carton or gently on a wire baking rack to dry.
Peel and eat or store in the refrigerator (unpeeled) until ready to use, up to one week.
Notes
FUN TIP: Before dyeing the eggs, use crayons to draw designs and write on the boiled egg shells. Then, when you color the eggs, it will be designed and decorated, too!
*IMPORTANT: Food coloring can stain, so be sure you've protected clothing, tables, carpet, etc. before starting this project! We love these inexpensive aprons for kids.
Best Easter Books For Kids
Here are good Easter books for kids to pair up with this activity:
Hope you have fun learning how to use food color to dye eggs!