These dirt pudding with Oreos cups (worms & dirt or mud and worms) are fun kid snacks or when you need an easy craft food project. They make perfect party treats for Halloween or Easter, birthday party themes, or just an easy summer recipe for kids to make on their own.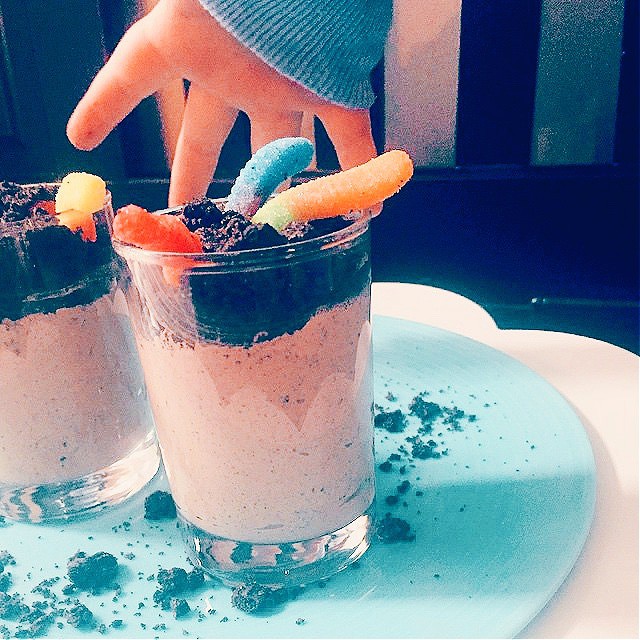 HOW TO MAKE DIRT PUDDING WITH OREOS
What Is A Pudding Dirt Dessert Cups Recipe?
Pudding dirt cups are kids' pudding snacks with cookies like Oreos. The individual pudding dirt cups are made with pudding with crushed cookies added to the top to make it look like you're eating dirt or soil.
(Don't ask. It's a one of those super popular desserts for kids whenever there's a party!)
And, bonus? It's an easy recipe to make with kids or if you need an easy preschool recipe or even if you're looking for toddler cooking for kids recipes.
Affiliate links are used on this site. As an Amazon Associate I earn from qualifying purchases. Read more in our DISCLOSURE.
Some people also call this dirt pudding dessert:
Dirt dessert

Oreo dirt cups

Graveyard dirt cups
Dirt cake
Dirt cake cups

Dirt pudding pie cups

Dirt and worms pudding cups
Worms & dirt
Worms in dirt dessert
So, if you've heard any of those, this is the same (or variation of) those dessert recipes.
YOU MIGHT ALSO HAVE FUN WITH THIS CHILDREN'S RECIPE:
Dirt Pudding Ingredients
Dirt pudding is made with just four main ingredients:
Chocolate pudding
Milk
Frozen whipped topping (like CoolWhip)
Chocolate sandwich cookies (like Oreos)
Gummy worms (optional, but super fun to make dirt pudding with gummy worms!)
Some make these dirt cups with cream cheese or dirt cups without cool whip and use heavy cream they whip themselves, but we like to keep things simple! For this recipe, we made our pudding cups with with pre made pudding and Cool Whip.
If you want a more homemade version and want to make your own whipped cream for this recipe (it's easier than you think), check out our:
Other Fun Dirt Pudding Ideas and Flavors
We made our dirt pudding with worms because we paired this recipe with children's books about gardening and growing, but you can leave the worms out if you want.
(Although, the worms make fun dirt pudding for Halloween / Halloween party ideas if you're making the dirt cups for that.)
But, you don't have to make this a dirt pudding cups with gummy worms recipe or even a dirt pudding with chocolate pudding!
You can change around what you put on top of the dirt cups (or in the pudding cups) based on your theme:
Dinosaur dirt cups with plastic dinosaurs on the cookie dirt
Marshmallow flowers or flower candies on top for a spring garden
Golden (vanilla) cookies and vanilla pudding for a beach theme with tiny beach balls or sharks
Mini animals and tractors for a farm animal theme
Mini trucks for a construction or monster truck birthday party theme
Fall pumpkin patch dirt cups with mini pumpkins
Chocolate rocks for a geology theme lesson
Dirt cups for halloween or dirt pudding graveyard with RIP signs and zombies or bones coming out of the cookie dirt (these

tombstones and grabbing hands

would be awesome with this recipe!)

Make this a bucket of dirt dessert recipe using

mini sand buckets

 (let kids use the shovel for eating!)

Vanilla pudding with vanilla cookies dirt and chocolate sprinkles for an ant house (

see ours here

)
Parfait dirt cups with the cookies layered between pudding and whipped cream on top
Just tailor these kid-friendly dessert ideas to your party theme! Making dirt pudding is easy and fun. You can even let kids assemble their own dessert recipes!
OK, let's get to the dirt and worms pudding cups recipe!
DIRT PUDDING RECIPE WITH COOKIES
You can make dirt pudding with Oreos or with any other chocolate cookie. (It doesn't even have to be dirt dessert chocolate pudding. You can use whatever pudding you want, but the chocolate pudding makes the best mud dessert!)
We make our Oreo dirt pudding recipe without cream cheese, but a lot of people like to add in softened cream cheese.
Also, if you don't want chocolate dirt cups, just switch out the pudding and make vanilla dirt cups ("sand cups").
Here's how to make quick and easy dirt cups!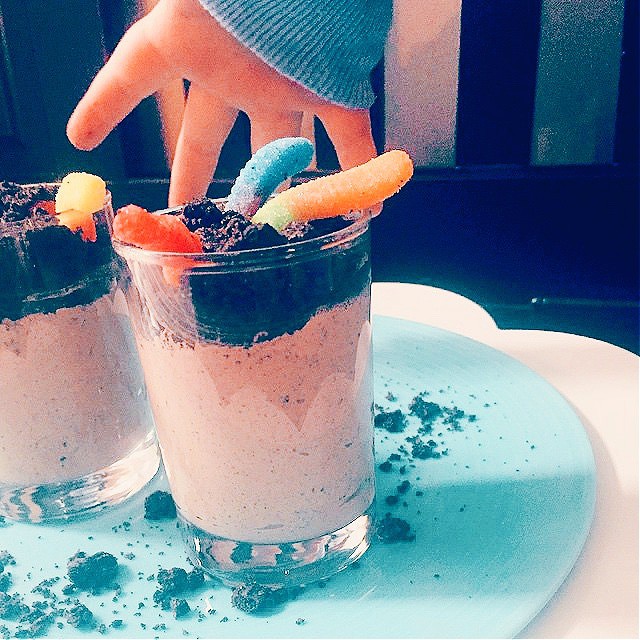 Dirt pudding cups are easy recipes that are fun for parties, fun back to school treats, or theme parties.
Total Time
1 hour
15 minutes
Ingredients
2 cups cold whole milk
1 package instant chocolate pudding (3.9 or 4 ounce package)
8 ounces frozen whipped topping (like Cool Whip) thawed
16 chocolate sandwich cookies (like Oreos), crushed
20 gummy worms or sour gummy worms, optional, for garnish
Instructions
In a mixing bowl, whisk milk and pudding until pudding is dissolved. Set aside to thicken (about 5 minutes).
Place sandwich cookies into a resealable bag. Seal bag. Using a wood kitchen mallet or wood spoon, crush the cookies to a fine consistency (until it looks like dirt).* Set aside.
Once pudding has thickened. Fold whipped topping into the chocolate pudding. Stir.
Add 1/2 of the crushed cookies to the pudding mixture. Gently stir.
Spoon pudding mixture into individual cups. Chill for at least 60 minutes (or until ready to serve).
Remove pudding cups from refrigerator. Sprinkle top of each cup with remaining crushed cookies for the "dirt." Gently press gummy worms into top of mixture (optional, but awesome).
Serve immediately.
Notes
*The cookie crushing is one of the most fun parts of this recipe for kids! Set aside your food processor for this recipe and let the kids whack away at the bag of cookies! They'll have a blast!
The serving size for this will depend on the size of cup you use. We used small orange juice glasses and got 6 cups out of this.
Nutrition Information:
Yield:
6
Serving Size:
1
Amount Per Serving:
Calories:

388
Total Fat:

9g
Saturated Fat:

5g
Trans Fat:

0g
Unsaturated Fat:

3g
Cholesterol:

15mg
Sodium:

324mg
Carbohydrates:

70g
Fiber:

1g
Sugar:

32g
Protein:

8g
Nutrition information is estimated. Changes to the recipe and use of different brands may cause changes to the nutritional information to vary slightly from the ones provided here.
HOW TO STORE DIRT PUDDING CUPS
Dirt pudding should be stored chilled until ready to use and will keep in the refrigerator for around 3-4 days. If you're chilling the cups before a party or serving, I would chill the pudding in the cups and add the crushed cookies before serving. If you have to chill with the cookies on top, the cookies will get soft eventually. Just add new crushed cookies for a refreshed crunch once you remove from the refrigerator.
Children's Book Pairing
If you're making these pudding cups with dirt (and worms or even gummy bugs / bug grahams), it's a great kid snack to pair with garden and growing books for kids. (If you haven't tried pairing recipes with books for kids, it's a fun way to learn!)
Try these garden books for kids:

Let us know how your dirt pudding cups with gummy worms recipe turned out (or if you used something other than gummy worms)!
LOOKING FOR FUN COOKING PRINTABLES FOR KIDS?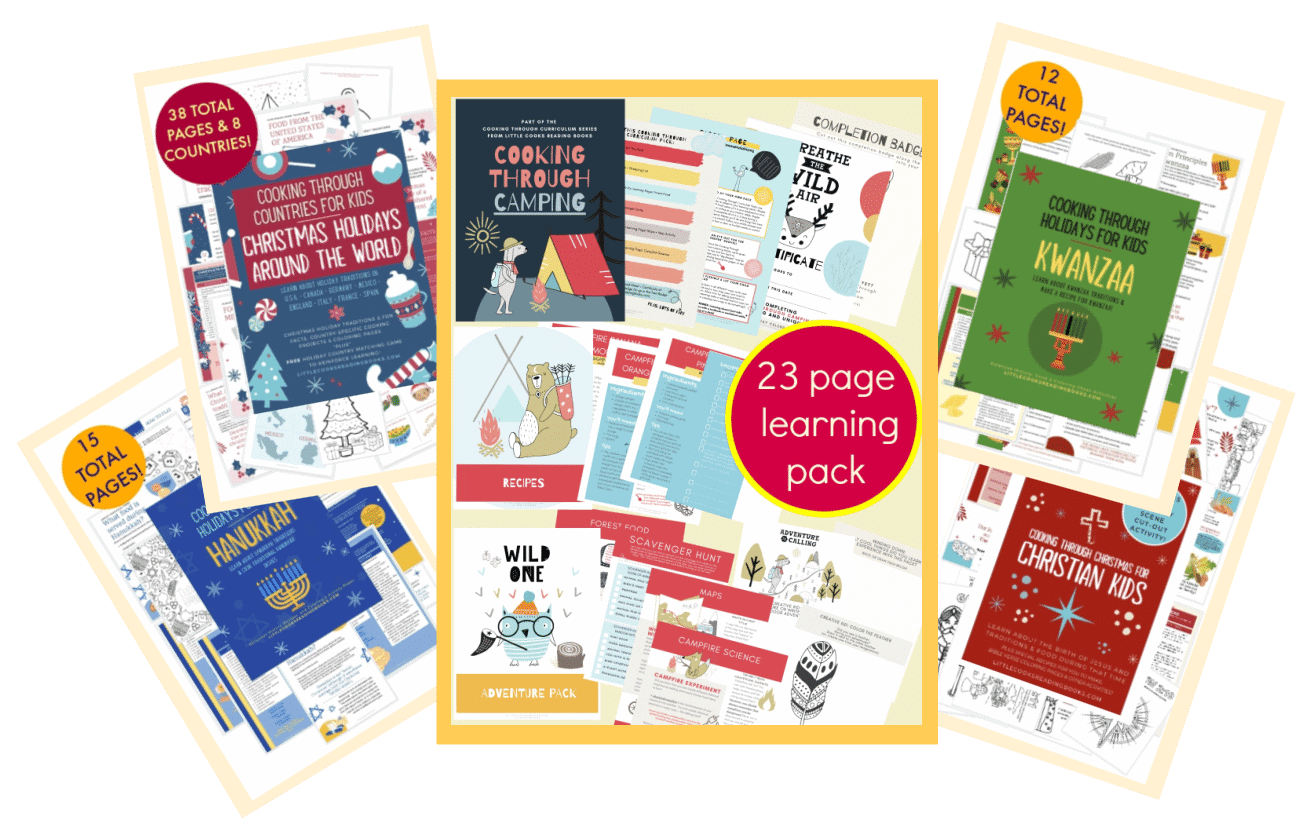 As an Amazon Associate I earn from qualifying purchases. Please refer to our
DISCLOSURE
.