Snickers salad with apples, also called candy bar apple salad or snickers caramel apple salad, is such an easy dessert and will quickly become a favorite fall apple dessert or if you're looking for leftover apple recipes before your apples go bad!

Apples With Snickers Salad Recipe
The first time I ever heard of snickers salad with apples was during my baby shower.
Someone brought it to the shower and I was like, "Um, what is this creamy and chewy apple recipe heaven with candy bars?!"
(Or, something like that . . .)
It was light and fluffy (and chewy!) and not too sweet.
Affiliate links are used on this site. As an Amazon Associate I earn from qualifying purchases. Read more in our DISCLOSURE.
Soon I learned that it was apple snickers salad and I was hooked.
We've been making it for family gatherings and cookouts since then and it's always a hit with all ages.
If you're looking for a quick dessert (or easy desserts for a crowd), this is a good one because it's fast to make and you can easily double (or triple it) for the size of your group or event!
This is such a simple recipe that you can throw it together for last-minute gatherings or outings (or even a simple snack at home).
What is Snickers Salad?
Snickers salad, also called Candy Bar Apple Salad, is a chilled, whipped cream salad with Snickers candy bars and crunchy apples added. It is a light, creamy dessert alternative that works well as a snack or even a dessert option for a large gathering when you need a fast, easy dessert recipe.
(I mean, what's not to love?)
It's really easy to double the recipe and only takes a few minutes to make!
ALSO CHECK OUT THESE APPLE RECIPES & PUMPKIN RECIPES:
Easy Apple Fries Recipe (Baked and Air Fryer!)
Easy Apple Butter
Apple Salad with Pear and Cranberry
How To Dry Apple Slices For Healthy Snacks and Nature Crafts
Most Perfect Pumpkin Cookies You'll Ever Eat!
4 Yummy Roasted Pumpkin Seeds Recipe Ideas
Is Pumpkin A Fruit? Learning About Pumpkins and Pumpkin Recipes
How Do You Make Snickers Salad?
The recipe for Snickers apple salad is made with just four ingredients:
Cool Whip (whipped cream)
Snickers
Green apples
Snickers candy bars
Honestly, you can't get a much easier recipe than this Snickers apple salad recipe, which makes it a perfect dessert recipe to do with little ones (especially those with short attention span).
To make this recipe you just chop the apples and snickers and add them to Cool Whip and pudding!
(Really! That's it!)
Some people also like to add different fruit, likes grapes or strawberries as a Snickers fruit salad.
It's definitely a recipe that you can play around with and see what your family likes best!
---
Want to make your own whipped cream for the dessert?
---
Do you peel apples for Snicker salad?
No, there is no need to peel the apples for the Snickers salad. Simply wash and dry the apples. Then core and chop the apples into bite sized pieces before adding them to your candy salad.
How long does Snickers salad last?
The apple Snickers salad recipe is best made the day of or the night before. The Snickers apple salad will last in the refrigerator for only a couple of days. Past that, the apples will brown and become mushy and the salad tend to get watery.
Apple Snickers Salad Recipe Paired with
An Apple for Harriet Tubman
We decided to pair up this fun recipe with the book An Apple for Harriet Tubman by Glennette Tilley Turner and illustrated by Susan Keeter.
From the book:
Like other enslaved African American children, young Harriet Tubman had to work hard.

In her master's orchard, she spent long hours picking the juicy apples she was forbidden to eat.

Harriet vowed to one day be free and to grow apple trees of her own. When she was grown, she made her escape to the North.

Then, repeatedly risking her life, she returned to lead many other African Americans to freedom.
As we were studying Harriet Tubman in homeschool, we came across a fantastic story about her.
It wasn't a story that was documented in history books.
Instead, it was a story that was recounted by one of her relatives.
The relative told that one of Harriet's job as a small girl on a plantation was to pick apples.
However, as an enslaved person, she wasn't allowed to eat the apples — not even one of them!
(Ever! Can you imagine?!)
If Harriet snuck and ate the apples, she was beaten.
After she gained freedom and moved to New York, she planted an apple orchard of her own.
She then shared the apples with the entire town and anyone that needed food or wanted the apples.
Isn't that a great story?
We love Harriet Tubman's story and her leadership.
We were so interested to learn about her apple story, so we decided to pair the story with a theme recipe using apples and make Apple Snickers Salad.
Listed Book Age Range: 4-8 years, but it does cover the struggles of Harriet Tubman as an enslaved person. Age 4 might be a little young. Just review the book before you read it to your younger kids.
(READ WHY I DON'T PUT "READ AT YOUR LEVEL" RESTRICTIONS ON MY KID.)
We like to read the book before we make the recipe.
That way we can discuss what we learned in the book while we make the recipe and relate it to the recipe we're making.
SNICKERS SALAD WITH APPLES RECIPE
Some people make this snicker apple salad with cream cheese, too, for a thicker, creamier dessert salad (or even a snickers salad recipe without pudding).
Just allow the cream cheese to come to room temperature before adding it to the recipe so that it's easier to stir.
(You can add Snickers salad with pudding and cream cheese, if you want.)
Yield: 10
Snickers Salad with Apples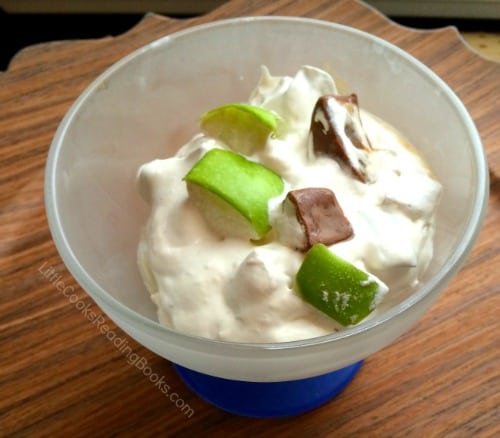 Apple Snickers Salad is a quick dessert option for any meal or group gathering!
Ingredients
16 ounces Cool Whip, thawed
4 single serving packs Vanilla pudding , (pre-made, snack-size packs)
4 Granny Smith apples, chopped
4 Snickers bars
Instructions
Wash and chop Granny Smith apples. Add to a large mixing bowl.
Cut Snickers candy bar into bite size pieces and add to the mixing bowl.
Add 16 ounces of Cool Whip to the mixing bowl. Stir.
Add 4 single serving vanilla pudding packs to the mixing bowl. Stir until Snickers, apples, Cool Whip and pudding are combined.
Cover and chill until ready to serve. Use within one day.
Nutrition Information:
Yield:
10
Serving Size:
1
Amount Per Serving:
Calories:

296
Total Fat:

12g
Saturated Fat:

12g
Trans Fat:

0g
Unsaturated Fat:

4g
Cholesterol:

3mg
Sodium:

82mg
Carbohydrates:

33g
Fiber:

2g
Sugar:

28g
Protein:

3g
Nutrition information is estimated. Changes to the recipe and use of different brands may cause changes to the nutritional information to vary slightly from the ones provided here.
READ MORE: CHILDREN'S BOOKS ON HARRIET TUBMAN
If you want to continue learning more about the amazing Harriet Tubman (and you really should), then check out these children's books about her!
LET US KNOW WHEN YOU'VE MADE YOUR SNICKERS SALAD WITH APPLES AND WHAT YOUR FAMILY THOUGHT ABOUT IT!
LOOKING FOR FUN COOKING PRINTABLES FOR KIDS?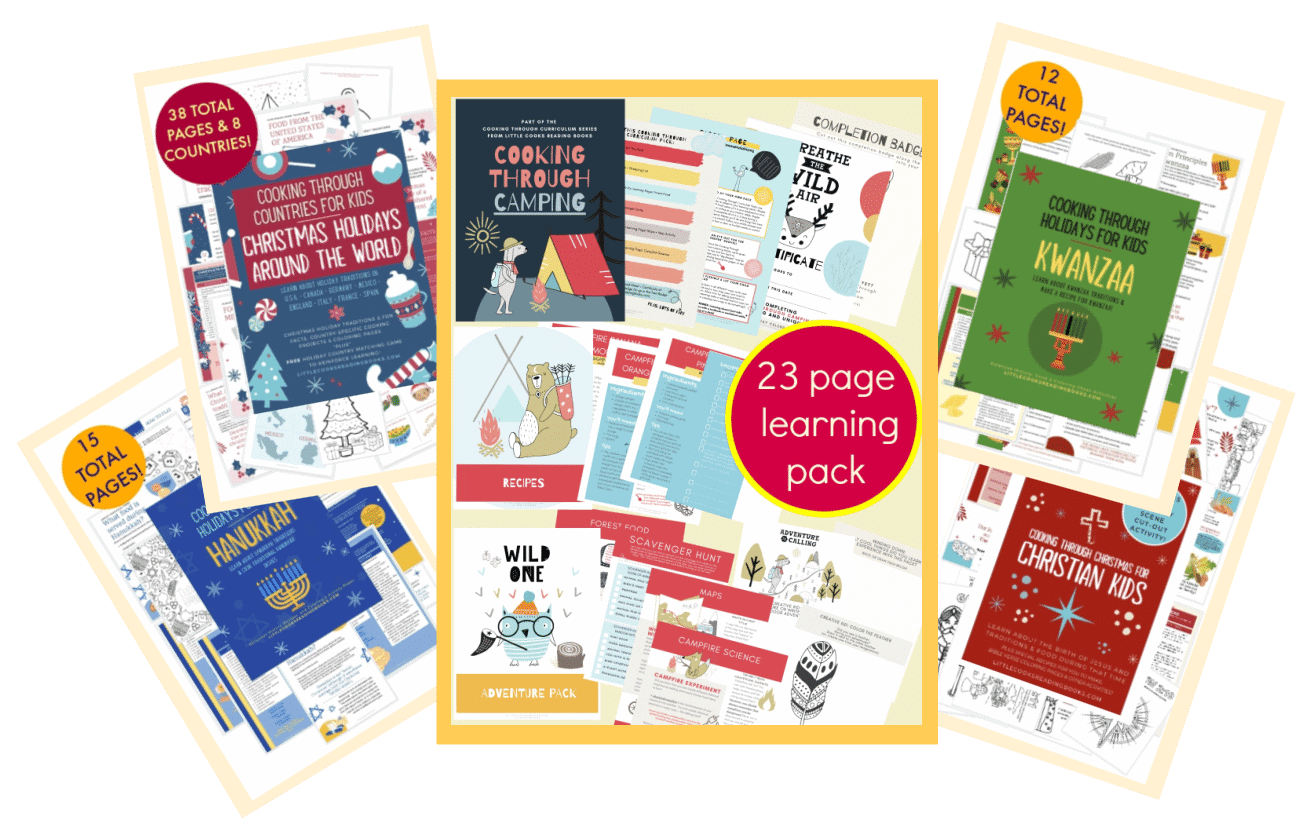 As an Amazon Associate I earn from qualifying purchases. Please refer to our
DISCLOSURE
.