This Snickers salad with apples is such an easy dessert (and refreshingly creamy!) that you'll soon find yourself making this for all your gatherings! It's both a little sweet and a little salty from the chewy candy bars, but also packs a nice crunch from the crisp apples. It's perfect for summer cookouts or fall right after you've visited the apple orchard!

The first time I ever heard of snickers salad with apples was during my baby shower.
Someone brought it to the shower and I was like, "Um, what is this creamy and chewy apple recipe heaven with candy bars?!"
(Or, something like that . . .)
Affiliate links are used on this site. As an Amazon Associate I earn from qualifying purchases. Read more in our DISCLOSURE.
It was light and fluffy (and chewy!) and not too sweet.
Soon I learned that it was apple snickers salad and I was hooked.
We've been making it for family gatherings and cookouts since then and it's always a hit!
If you're looking for a quick dessert (or easy desserts for a crowd), this is a good one because it's fast to make and you can easily double (or triple it) for the size of your group or event!
This is such a simple recipe that you can throw it together for last-minute gatherings or outings (or even a simple snack at home).
What is Snickers Salad?
(Also called Candy Bar Apple Salad)
Snickers Salad is a chilled, whipped cream salad with Snickers candy bars and crunchy apples added.
(I mean, what's not to love?)
It is a light, creamy dessert alternative that works well as a snack or even a dessert option for a large gathering.
It's really easy to double the recipe and only takes a few minutes to make!
DISCLOSURE: Affiliate links are used on this site and may be used in this post.
Apple Snickers Salad Recipe Paired with
An Apple for Harriet Tubman
We decided to pair up this fun recipe with the book An Apple for Harriet Tubman by Glennette Tilley Turner and illustrated by Susan Keeter.
From the book:
Like other enslaved African American children, young Harriet Tubman had to work hard.

In her master's orchard, she spent long hours picking the juicy apples she was forbidden to eat.

Harriet vowed to one day be free and to grow apple trees of her own. When she was grown, she made her escape to the North.

Then, repeatedly risking her life, she returned to lead many other African Americans to freedom.
As we were studying Harriet Tubman in homeschool, we came across a fantastic story about her.
It wasn't a story that was documented in history books.
Instead, it was a story that was recounted by one of her relatives.
The relative told that one of Harriet's job as a small girl on a plantation was to pick apples.
However, as a slave, she wasn't allowed to eat the apples — not even one of them!
(Ever! Can you imagine?!)
If Harriet snuck and ate the apples, she was beaten.
After she gained freedom and moved to New York, she planted an apple orchard of her own.
She then shared the apples with the entire town and anyone that needed food or wanted the apples.
Isn't that a great story?
We love Harriet Tubman's story and her leadership.
We were so interested to learn about her apple story, so we decided to pair the story with a theme recipe using apples and make Apple Snickers Salad.
Listed Book Age Range: 4-8 years, but it does cover the struggles of Harriet Tubman as a slave. Age 4 might be a little young. Just review the book before you read it to your younger kids.
(READ WHY I DON'T PUT "READ AT YOUR LEVEL" RESTRICTIONS ON MY KID.)
We like to read the book before we make the recipe.
That way we can discuss what we learned in the book while we make the recipe and relate it to the recipe we're making.
How Do You Make Snickers Salad?
Honestly, you can't get a much easier recipe than this Snickers Salad with Apples, which makes it a perfect dessert recipe to do with little ones (especially those with short attention span).
To make this recipe you just chop the apples and snickers and add them to Cool Whip and pudding!
(Really! That's it!)
Some people also like to add different fruit, likes grapes or strawberries.
It's definitely a recipe that you can play around with and see what your family likes best!
---
Want to make your own whipped cream for the dessert?
---
SNICKERS SALAD WITH APPLES RECIPE
Yield: 10 servings
Apple Snickers Salad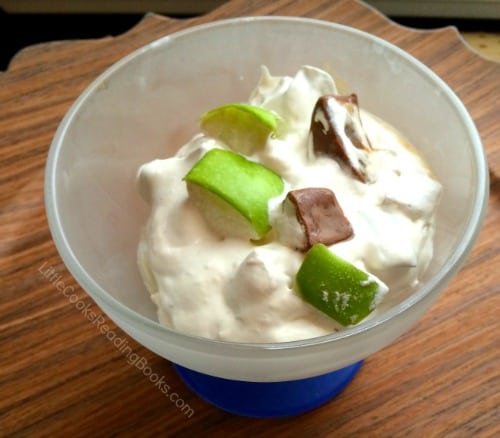 Apple Snickers Salad is a quick dessert option for any meal or group gathering!
Ingredients
16 ounces Cool Whip, thawed
4 single serving packs Vanilla pudding , (pre-made, snack-size packs)
4 Granny Smith apples, chopped
4 Snickers bars
Instructions
Wash and chop Granny Smith apples. Add to a large mixing bowl.
Cut Snickers candy bar into bite size pieces and add to the mixing bowl.
Add 16 ounces of Cool Whip to the mixing bowl. Stir.
Add 4 single serving vanilla pudding packs to the mixing bowl. Stir until Snickers, apples, Cool Whip and pudding are combined.
Cover and chill until ready to serve.
Nutrition Information:
Yield:
10
Serving Size:
10 servings
Amount Per Serving:
Calories:

330
---
READ MORE: CHILDREN'S BOOKS ON HARRIET TUBMAN
If you want to continue learning more about the amazing Harriet Tubman (and you really should), then check out these children's books about her!
As an Amazon Associate I earn from qualifying purchases. Please refer to our
DISCLOSURE
.