This apple fries recipe (or apple pie fries recipe) is not only super simple (baked or for the air fryer!), but it makes for a healthy snack for kids or even as one of your yummy apple desserts. This apple fry snack is also perfect for fall apple orchard picking time, fall apple recipes and anytime you need healthy snacks ideas!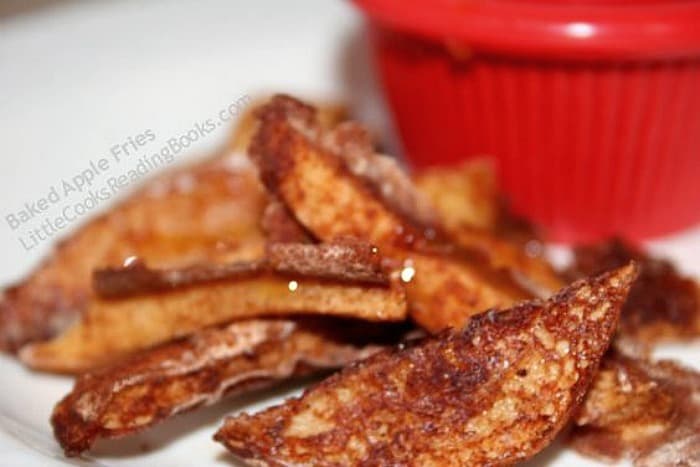 Easy Apple Fries Recipe
This baked apple fries recipe with cinnamon is a great healthy snack alternative to fried apple rings or fried apple sticks. We've given you both the baked apples recipe, as well as how to do air fryer apple fries.
(We've made apple fries baked / apple fries oven style and air fryer apple fries and loved them both!)
How To Make Apple Fries In Oven
Apple fries with cinnamon sugar recipe steps:
Affiliate links are used on this site. As an Amazon Associate I earn from qualifying purchases. Read more in our DISCLOSURE.
Cut apples into fries, slices or rings.
Cover in cinnamon mixture. (see full recipe)
Place prepared apples in a single layer on a greased cooking sheet.
Bake for 15-20 minutes in oven.
That's it!
We like to add a caramel dipping sauce to our apple recipe, but they are yummy to eat alone, too!
(See the full baked apple fries recipe below.)
These are an easy, healthy apple fries recipe alternative to the deep frying LegoLand copycat recipe you see going around!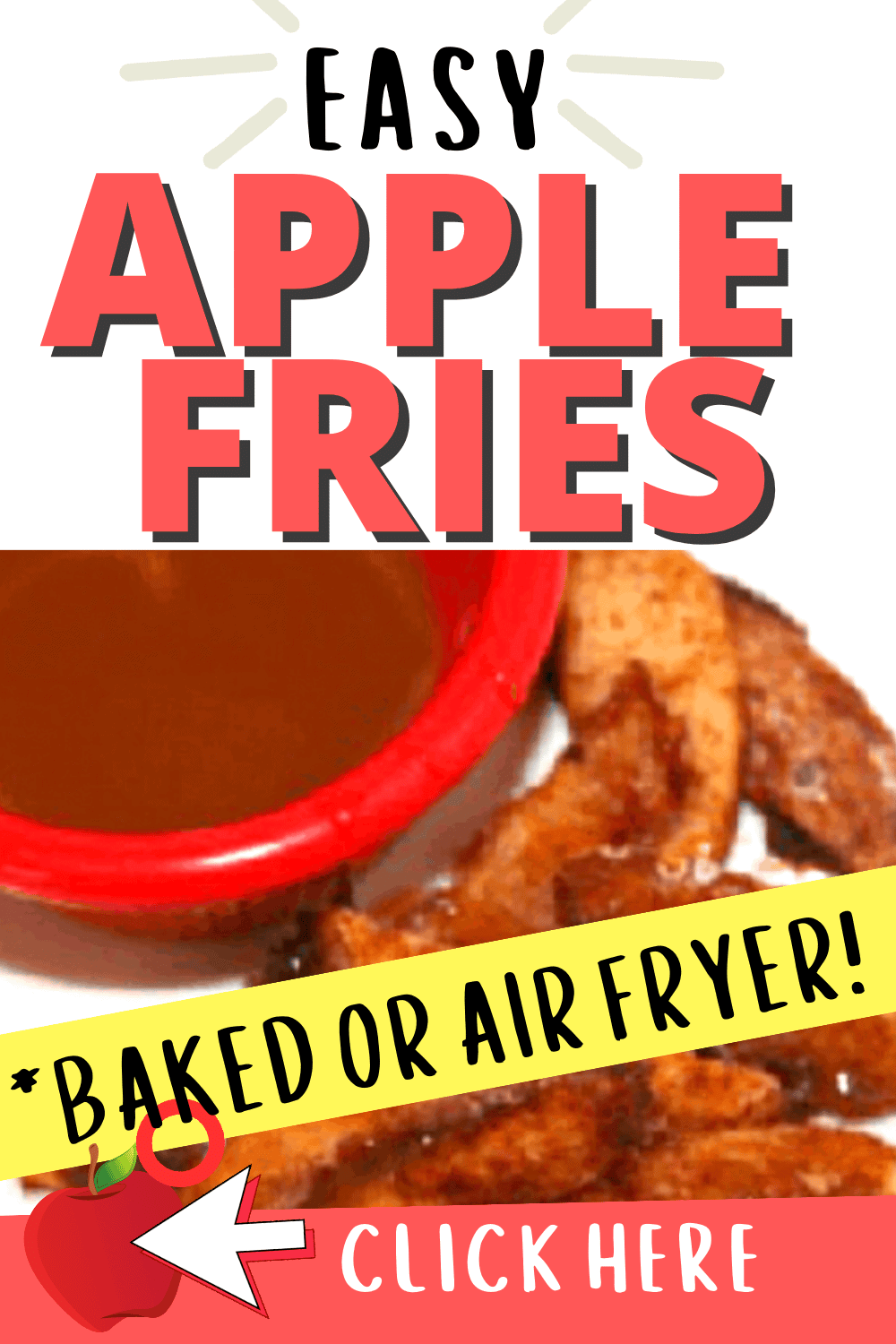 How To Make Apple Fries In Air Fryer
This cinnamon apple fries recipe air fryer is super easy, but the apple fries air fryer can burn easily. Keep an eye on your apple fries!
How to make fries with air fryer:
Preheat air fryer to 380 degrees. (Your air fryer may differ, so test a few apple fries in the air fryer first!)
Prepare apple fries with cinnamon coating mixture. (see recipe for apple fries recipe baked below)
Lightly spray bottom of air fryer basket with oil or non-stick cooking spray.
Lightly spray apple fries with cooking oil.
Layer apple fries in a single layer in basket. Cook for 5 minutes.
Using tongs, turn apple slices over and cook for 2 more minutes. Carefully remove from basket with tongs and let cool on a sheet of parchment paper.
Repeat until all slices are cooked.
Want to try more fun apple recipe ideas after your air fried apples? We've also baked apple rings and even made creepy air fryer apple faces for Halloween snacks!
Apple Fries Dip Ideas
We made our apple fries with caramel sauce, but you can also eat apple fries with:
Chocolate dipping sauce
Strawberry dipping sauce
Caramel cheesecake dip
Marshmallow dipping sauce (like marshmallow cream)
Peanut butter dip
Nutella dipping sauce
Vanilla yogurt
Plain, because they're yummy!
Fried apple sticks are great for an apple snack board with different dipping sauces, too!
What are apple fries?
Apple fries are simply apples cut into fry shape (or matchstick shape) and "fried" like french fries. However, you can bake apple fries or make air fryer apple fries for a healthy recipe version. They are a sweet treat that is usually coated in cinnamon and sugar. You may heard of them as fast food apple fries or even Legoland fried apples.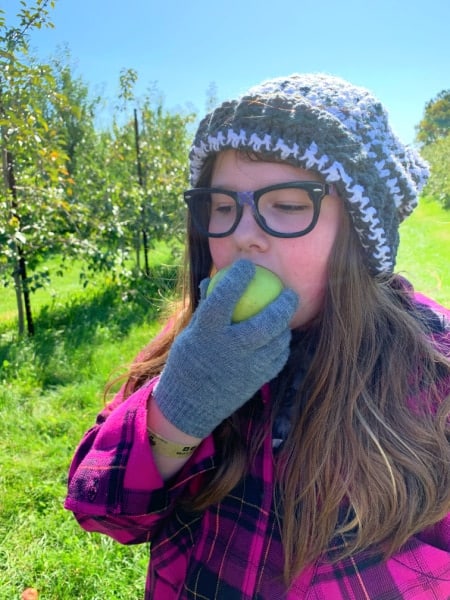 One of our favorite things to do in the fall is to visit an apple orchard near me and then pick our own apples. But, it's easy to get carried away while there and come back with more apples than you can eat before they go bad.
So, be sure that you are prepared with baked apple recipes or other healthy apple recipes so your fruits don't go to waste!
If you're looking for healthy apple recipes, you'll love these apple fries in the oven (sometimes called apple sticks). And, you don't even need to wait until fall!
(I keep saying apple fries, but you can cut them into apple rings and use this same recipe.)
This is one of our best apple recipes and is always a hit with kids, but check out our other apple recipes (and even fall pumpkin recipes), too!
Before we get to baking apples, let's talk about an apple french fries air fryer recipe — a great alternative to deep fried apple sticks.
For Apple Fries In Air Fryer
Yes! You can do an apple fry recipe in air fryer, too.
And, air fried apple fries are still the perfect healthy snack.
However, fried apples burn easier in the air fryer, so you need to keep a close eye on them!
See the air fryer recipe directions for healthy air fryer apple fries in the notes section of the printable recipe card.
However, this recipe for baked apple pie fries in the oven is honestly just as easy! So, if you don't have an air fryer, no worries.
(But, you should definitely get one, even for other recipes! I resisted for a while, but I can't believe how awesome they are!)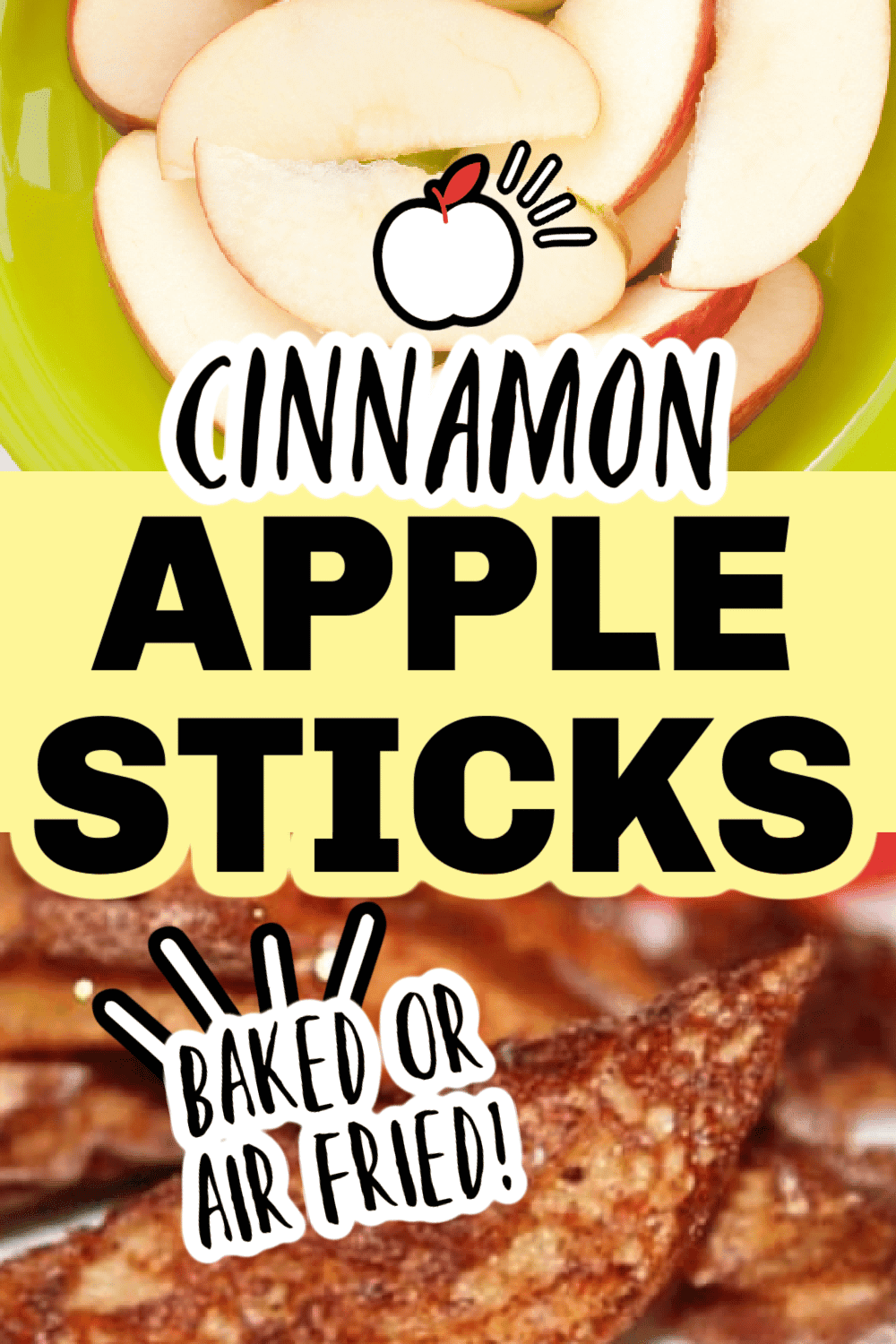 How To Make Apple Fries (French Fried Apples)
How To Cut Apple Fries
To cut apple fries:
Peel the apples.
Starting with the stem side at the top, slice down (to the core) all the way around the apple so that you have four different large chunks of apple.
Using one chunk of apple at a time, place the flat side of the apple down on the cutting board. Slice (lengthwise) in about 1/4 inch thick slices.
If you want thinner apple fries (or matchsticks), turn the apple slices you just created (still in a stack) and slice down to create the matchsticks or thin apple fry slices. (We like ours thicker like steak fries for our fry-like pieces).
If you've ever made a sweet potato fries recipe, it's like cutting your sweet potato.
Sometimes, we use our vegetable chopper for this. (Just be sure to supervise the kids during this step or have this be an adult step to slice the apples.)
We have also used an apple slicer, too.
GREAT WITH THIS RECIPE! You can just slice the apples into whatever size works best for you with a knife! (No special equipment required!) If kids want to help, try this safety cutting set for kids.
YOU'LL ALSO LOVE THIS APPLE DESSERT RECIPE: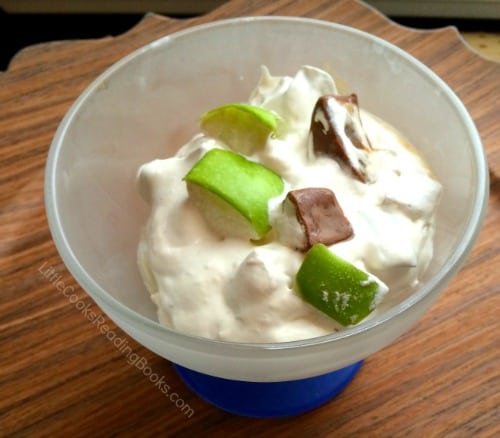 Snickers Salad with Apples – Yes! A candy bar salad!
What can you
OK!
Let's get to the full fried apple sticks recipe!
Baked Apple Fries Recipe (with Alternate Air Fryer Apples Recipe Included)
These homemade apple fries are such an easy recipe to make any time of the year!
We made these as green apple fries because we like the tartness and the texture of Granny Smith apples, but you can try these apple cinnamon fries with any apples.
Here's how to make apple french fries…
Yield: 4
Baked Apple Fries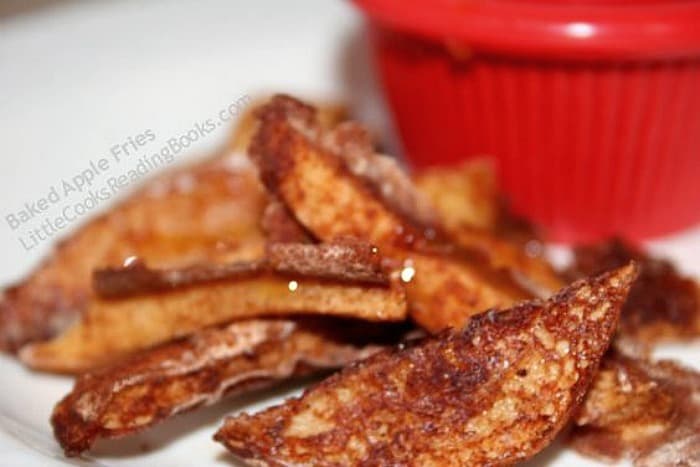 This baked apple fries recipe makes a fantastic healthy snack or even apple dessert! If you're looking for the air fryer apple fries recipe, I've included that in the notes section below.
Ingredients
2 Granny Smith apples
2/3 Cups Cornstarch
1/2 Cup Sugar
1/4 Teaspoons Cinnamon
1/2 Cup Caramel sauce (optional, for dipping)
Instructions
Heat oven to 350 °F degrees.
Peel, core and wash apples.
Slice apples into french fry sticks to desired size (or into apple rings). Set aside.
In a medium bowl, mix together corn starch, sugar, and cinnamon.
Toss apple slices in mixture until covered completely.
Place apple slices in single layer on baking sheet sprayed with non-stick cooking oil.
Bake for 15-20 minutes, turning once halfway through, until a slightly crispy outer layer forms.
Cool slightly before serving. Serve with side of caramel dipping sauce, if you like.
Notes
AIR FRYER APPLE FRIES RECIPE
To make apple fries in the air fryer:
Preheat air fryer to 380 degrees.
Prepare apple fries according to the directions above.
Lightly spray bottom of air fryer basket with oil or non-stick cooking spray.
Spray apple fries with light spray of oil.
Layer apple fries in a single layer in basket. (Do not overlap. You may have to cook in batches, depending on the size of your air fryer basket.) Cook for 5 minutes.
Using tongs, turn apple slices over and cook for 2 more minutes. Carefully remove from basket with tongs and let cool on a sheet of parchment paper.
Repeat until all slices are cooked.
Nutrition Information:
Yield:
4
Serving Size:
4 servings
Amount Per Serving:
Calories:

299
Total Fat:

0g
Saturated Fat:

0g
Trans Fat:

0g
Unsaturated Fat:

0g
Cholesterol:

0mg
Sodium:

143mg
Carbohydrates:

75g
Fiber:

2g
Sugar:

54g
Protein:

1g
Nutrition information is estimated. Changes to the recipe and use of different brands may cause changes to the nutritional information to vary slightly from the ones provided here.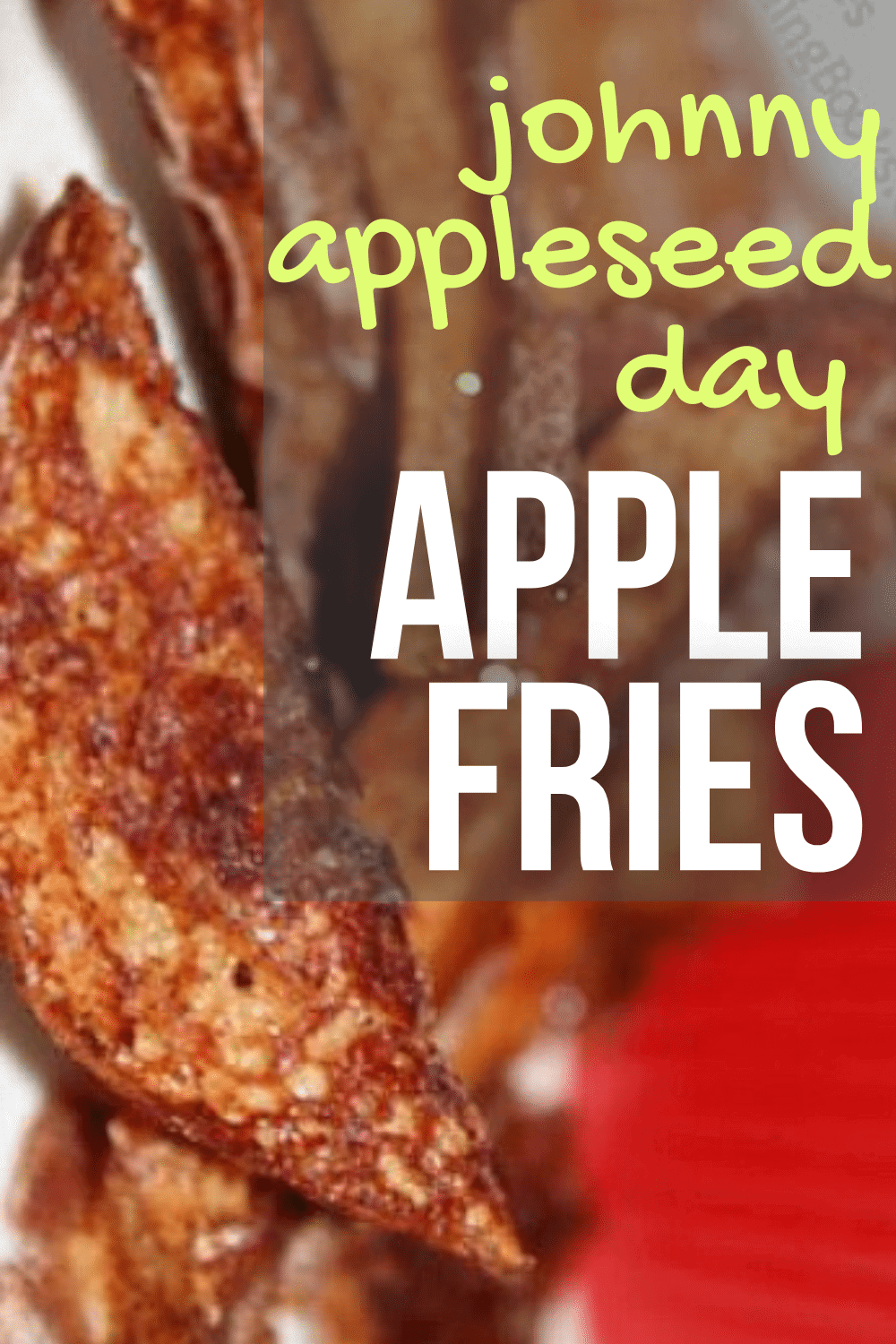 Recipe and Read: Kids Apple Books
Here are our children's read-along suggestions for this recipe…
Apple Fries Paired with 3 in 1: A Picture of God or Johnny Appleseed Book for Kids
The 3 in 1: A Picture of God
by Joanne Marxhausen is a fantastic book that describes the difficult concept of the Father, the Son, and the Holy Spirit to children by illustrating with an apple.
(So, it's a perfect pairing with this apple dessert!)
The book talks about how just as the apple is three parts–the skin, the flesh and the seeds–it is still one apple.
Also, there are three "persons" the Father, the Son, the Holy Spirit, but only one God.
The artwork and the message are simplified, but that's what is appealing about this book in teaching what could be a confusing topic.
If you're looking for a non-biblical book for an apple cooking project, check out Johnny Appleseed: The Legend and the Truth.
From the book:
Everyone knows the legend of Johnny Appleseed, the man from Massachusetts who planted apple trees all the way to California.

But the true story of Johnny Appleseed, or John Chapman, is even greater than the legend.

In deft and lyrical prose, Jane Yolen tells the whole story of an individual who forever changed the landscape of America.
It's a great read about the legend for any time of the year.
For our reading-cooking project, we decided to pair it with our baked crispy apple fries – and they were delicious!
We are putting these on our regular snack making schedule after this!
While cutting up the apple, we were able to discuss the concepts of the book again.
Listed Book Age Range: 5-8 years
ALSO CHECK OUT THESE APPLE RECIPES & PUMPKIN RECIPES:
Easy Apple Butter
Snickers Salad with Apples
Easy Apple Salad with Pear and Cranberry (one of our favorite fall apple salad recipes!)
How To Dry Apple Slices For Healthy Snacks and Nature Crafts
Most Perfect Pumpkin Cookies You'll Ever Eat!
Roasted Pumpkin Seeds Recipe Ideas
Is Pumpkin A Fruit? Learning About Pumpkins and Pumpkin Recipes
Let us know what you think about this apple fries recipe!
LOOKING FOR FUN COOKING PRINTABLES FOR KIDS?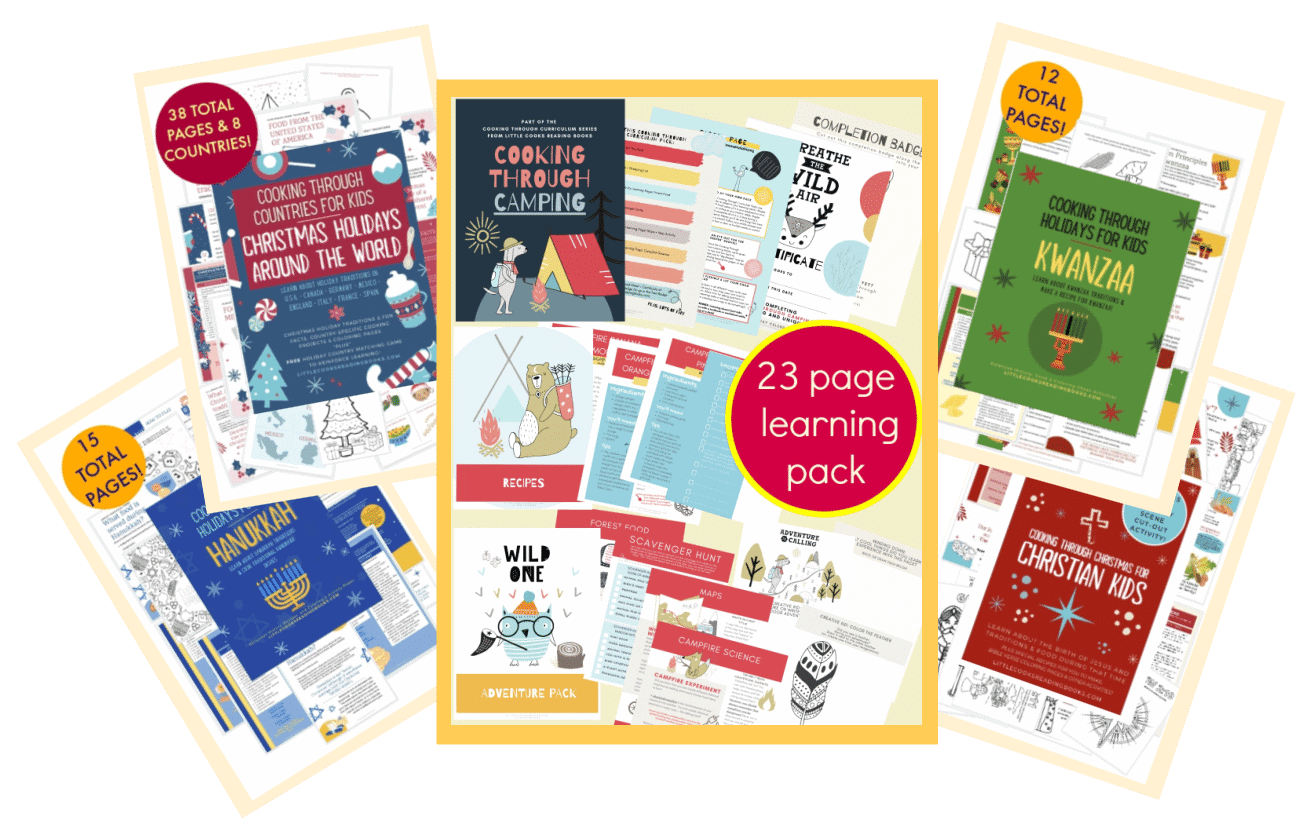 As an Amazon Associate I earn from qualifying purchases. Please refer to our
DISCLOSURE
.