Wondering how to make tie dye cake (also known as camouflage cake, swirl color cake, rainbow cake, or layered cake)? What if I told you that this cake recipe is super easy and you can even tie dye cupcakes, too.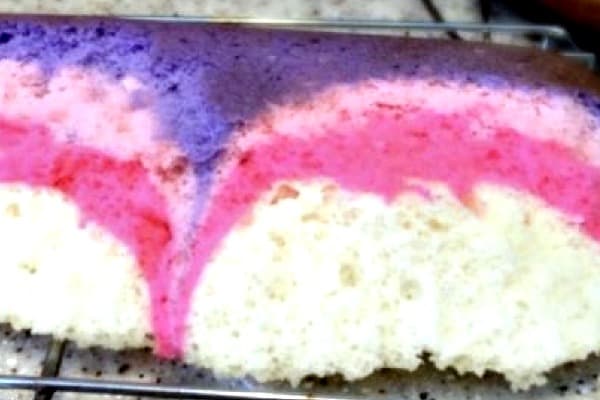 How To Make Tie Dye Cake
Not long ago, my kid was at a birthday party where the mom had made this amazing tie dye cake.
(I call it tye dye cake, but I think some people also call it camouflage cake, swirl color cake, rainbow cake, or layered cake.)
Her cake was so beautiful and vibrant that I knew I had to learn how to make tie dye cake!
Affiliate links are used on this site. As an Amazon Associate I earn from qualifying purchases. Read more in our DISCLOSURE.
But, it didn't seem like an easy dessert to make.
(And, I didn't really get a chance to pick that mom's brain on the ins and outs of layered cakes while she lead the balloon game.)
But, how did she get those amazing tie dye cakes, layered on top of each other, with vibrant colors and swirls and tie-dyes on the inside?
I just assumed that it was some lengthy process of baking different colored cakes and assembling them in some creative way that included spring form pans in varying sizes, a super secret baking spatula that cooking shows never tell you about, some fairy dust, a big knife, and some Wonka-esque magic . . . which seemed like way, way more work than I was willing to put in.
(For real. I know.)
And then . . .
My daughter said that she wanted a Alice in Wonderland Cheshire cat birthday cake that "was different color swirls on the inside."
(OF. COURSE. SHE. DID.)
I knew it was time to learn how to make a tie dye cake and, you guys, I was so surprised when I learned how easy it is.
(And I didn't even need any fairy cake dust!)
Making a colored layered cake was simple and fun and my kid loved it!
It's definitely a technique we'll use in the future now!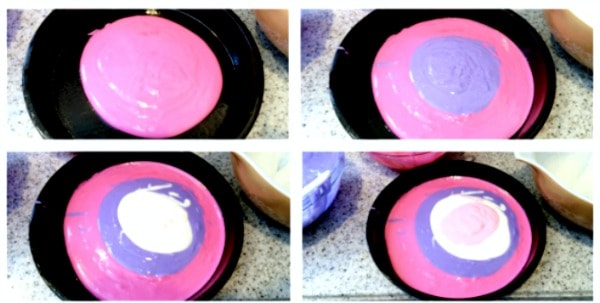 Tie Dye Cake Recipe Step-by-Step
Today, there are specific tie dye cake mix (in the box) on the market. However, you don't necessarily need a (sometimes pricier) tie dye cake mix. We made ours with a plain white cake mix and gel coloring. You use at least three colors of dyed cake batter and layer them on top of each other. We also made it as a tie dye sheet cake AND using a round cake pan and they both turned out beautiful! If you need other tie dye cake ideas, you can even use this technique to make tie dye cupcakes, too!
3 Tips for Tie Dye Cakes
When making tie dye cakes, here are some important tips to remember:
Gel food colorings are thicker than regular food coloring and tend to make the cake more vibrant.
Be sure to use white cake mix with egg whites so that your initial cake batter mix stays white. (Using the whole egg will make the batter yellow.)
If you want a layered look, scoop the cake batter on top of each other. If you want it swirled, scoop the colors side-by-side and lightly run a spatula through to swirl them a little.
Can you add food coloring to white cake mix?
Yes, just add 3-5 drops of food coloring and mix completely. You may find that the gel food colorings provide richer colors for your cake layers.
SUPER EASY TIE DYE CAKE RECIPE
To make this an easy recipe for tie dye cake, we used boxed cake mix. However, you can use any of your favorite white cake recipe for this.
Yield: 10 pieces
How To Tie Dye Cake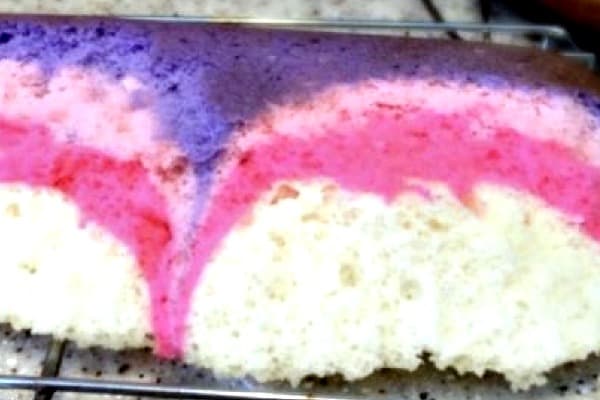 Making this beautiful tie dye cake recipe is so much easier than you think. Also, it's easily adapted to make a tie dye sheet cake or even tie dye cupcakes. Finish it off with the icing of your choice!
Ingredients
1 Box vanilla cake mix + ingredients to make it (from the box)
Gel food coloring (colors of choice)
Instructions
Preheat oven to 350°F for metal and glass pan(s) or 325°F for dark or coated pan(s). Grease sides and bottom of pan(s) and flour lightly.
In a large mixing bowl, combine ingredients from the box cake mix. BE SURE TO USE ONLY EGG WHITES SO THAT THE MIX STAYS WHITE INSTEAD OF YELLOW.
Divide the cake batter into as many bowls as you want colors.
Drop 1-2 drops of gel food coloring into each different bowl. Mix each bowl until the desired color is achieved for each bowl.
In the cake pan, scoop ¼ cup cake mix batter (first color) and pour into pan. This will be your "base color." (If you are using a long pan, place two round scoops, so there are two round scoops side-by-side.)
Drop the next color in a ¼ cup scoop on top of the base color. Repeat process with all colors, pouring them on top of each other, until the cake mix is gone.
Bake cake according to package directions. Add 3-5 minutes to bake time for dark or coated pan(s). Cake is done when a toothpick inserted into the middle is clean. Cool completely before assembling and icing.
Notes
If you want a more camouflage cake or swirl cake, drop the batter side-by-side in the pan instead of top of each other.
Nutrition Information:
Yield:
10
Serving Size:
1
Amount Per Serving:
Calories:

196
Total Fat:

2g
Saturated Fat:

1g
Trans Fat:

0g
Unsaturated Fat:

0g
Cholesterol:

0mg
Sodium:

381mg
Carbohydrates:

43g
Fiber:

1g
Sugar:

23g
Protein:

2g
Nutrition information is estimated. Changes to the recipe and use of different brands may cause changes to the nutritional information to vary slightly from the ones provided here.
Children's Books That Inspire Art
Because we made this for a party, we didn't pair it up with a children's book. However, I think this recipe would be a lot of fun to pair with art themes for kids and inspire further learning about art.
We'd love to hear your tips on how to make tie dye cake!
LOOKING FOR FUN COOKING PRINTABLES FOR KIDS?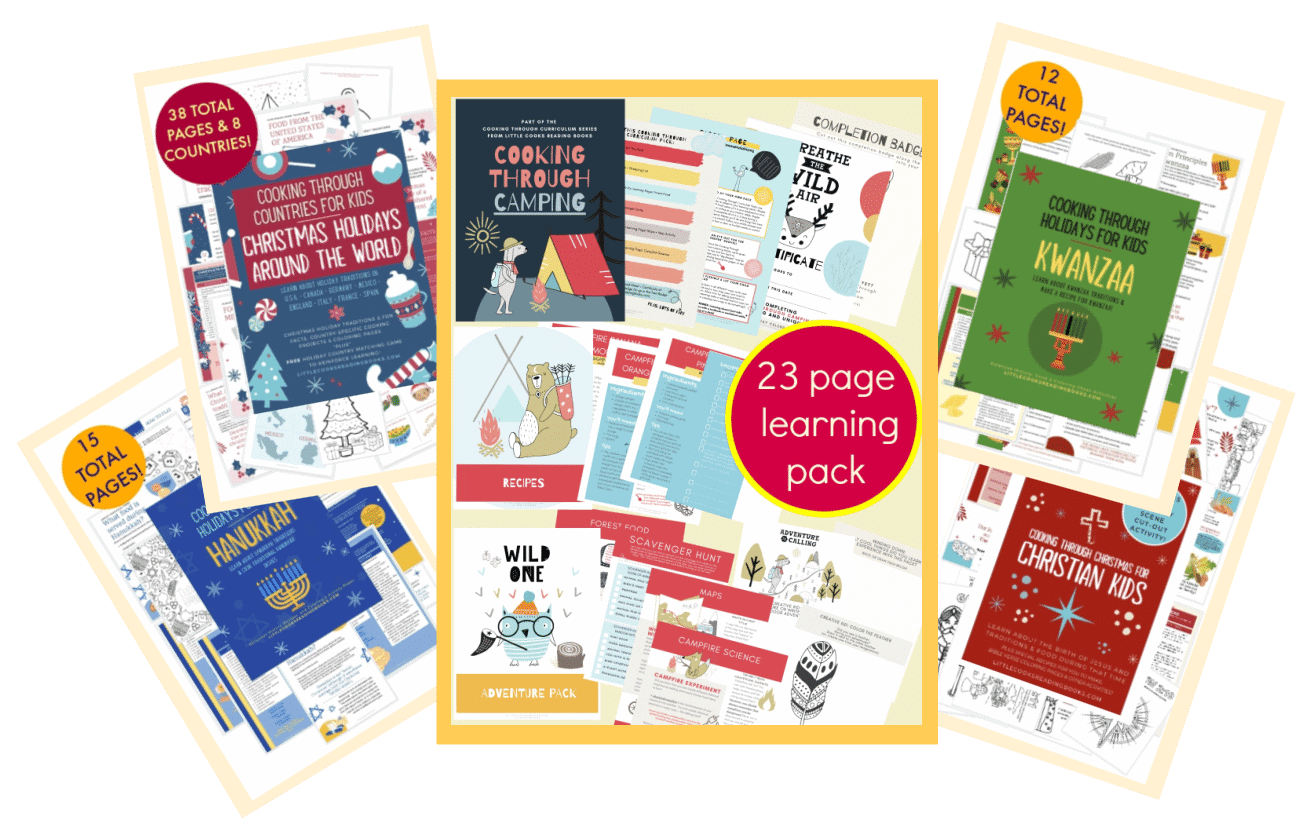 As an Amazon Associate I earn from qualifying purchases. Please refer to our
DISCLOSURE
.