Last Updated on
This jelly roll recipe is so much fun to make with kids because what's more fun than rolling a cake?! It's like magic!
Jelly roll cakes can be really fun to make with kids because there are so many variations.
You can fill the cake with different things and make a chocolate jelly roll cake, vanilla jelly roll cake, a swiss roll cake, and even a cranberry jelly roll cake (or, anything else your imagination can come up with!).
Also, you can top the outside of the jelly roll with fun things like icing and then coconut, sprinkles, candies, and more.
Affiliate links are used on this site. As an Amazon Associate I earn from qualifying purchases. Read more in our DISCLOSURE.
Even just a little powdered sugar sprinkled on the outside makes a beautiful and yummy jelly roll cake.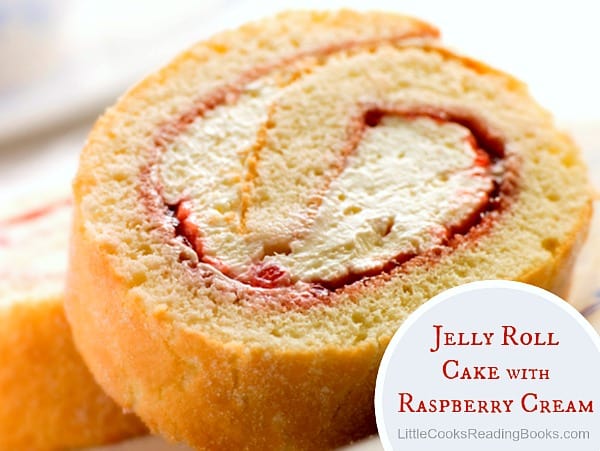 What Is a Jelly Roll?
Jelly roll cakes are simply a  thin layer of cake, filled with some type of filing (like a jelly), and then rolled up into a "log" form.
If you haven't made one or had one before, you've probably seen one in the grocery stores around Thanksgiving when pumpkin rolls start appearing.
Jelly Roll Pan: The Secret to the Recipe
The hardest thing about making a jelly roll cake, even if you've made them before, is rolling up the cake without it falling apart.
The key is using the right jelly roll pan
and taking your time when you're rolling and unrolling the cake.
Watch this to see how to roll a jelly roll cake!
Jelly Roll Cake Video
Here's how to make cake rolls:
— Jump to Recipe —
Jelly Roll Cake paired with Alexander and the Terrible, Horrible, No Good, Very Bad Day Children's Book
Alexander and the Terrible, Horrible, No Good, Very Bad Day is a children's book by Judith Viorst and illustrated by Ray Cruz.
Alexander just knew it was going to be a  terrible, horrible, no good, very bad day.
From the book description:
He could tell it was going to be a terrible, horrible, no good, very bad day.

He went to sleep with gum in his mouth and woke up with gum in his hair.

When he got out of bed, he tripped over his skateboard and by mistake dropped his sweater in the sink while the water was running.

He could tell it was going to be a terrible, horrible, no good, very bad day. 

It was a terrible, horrible, no good, very bad day. Nothing at all was right. Everything went wrong, right down to lima beans for supper and kissing on TV. 
You'll want to read the book to find out if Alexander's day gets any better!
Listed Book Age Range: 6-9 years
---
---
The reason we decided to pair a jelly roll cake with Alexander and the Terrible, Horrible, No Good, Very Bad Day book
is because in the book poor Alexander, who, in case you don't know, is having an awful day, watches all of his friends have dessert with their lunch.
And, of course, Alexander doesn't have any dessert packed in his lunch.
(It's just one of the many things that go entirely wrong for Alexander that day.)
In the book, one of Alexander's friends has a piece of jelly roll cake with coconut and sprinkles.
So, we decided to make a jelly roll cake, too!
However, my kid isn't a huge fan of  coconut, so we left off the topping and just decided to leave our jelly roll cake plain on the outside.
But, you can easily add coconut, sprinkles, or anything else just by applying some of the cream cheese mix to the outside and then rolling the cake in the toppings or sprinkling/pressing the toppings onto the cake.
Jelly Roll Cake Recipe
If you're looking for yummy dessert recipes with raspberry jam, definitely try this one!
Print Recipe
Jelly Roll Cake with Raspberry Cream
Don't be afraid to try this jelly roll cake with kids. It may take a couple of times to get the rolling right with them, but it's a lot of fun!
Equipment
Jelly roll pan at least 14-3/4 by 9-3/4 by 1-inch
Ingredients
3

Large

Eggs

1

Cup

Granulated sugar

1 1/2

Teaspoons

Vanilla extract

3/4

Cup

All-purpose flour

1

Teaspoon

Baking powder

1/4

Teaspoon

Salt

3/4

Cup

Powdered (Confectioners') sugar

3/4

Cup

Raspberry jelly or jam

(or any other flavor you would like)

4

Ounces

Cream cheese

(softened)

1 1/2

Cups

Whipped topping (like Cool Whip in a tub)

(thawed)
Instructions
Line a jelly roll pan with cooking parchment paper or waxed paper. Spray lightly with baking spray. (Pan should be at least 14-3/4 by 9-3/4 by 1-inch.) Set aside.

With an electric mixer, beat the eggs until they are mixed completely.

Gradually beat the granulated sugar into the eggs. Using the mixer on low speed, slowly beat in the water and vanilla extract.

Gradually add the flour, baking powder and salt, beating just until batter is smooth and mixed completely.

Pour the mixture into the prepared jelly roll pan and spread so that it is even to the corners.

Bake for 10 to 13 minutes or until a toothpick inserted in center comes out clean.

While the cake is baking, spread a clean dish towel flat onto the counter. Sift powdered sugar over the entire dish towel (to keep the cake from sticking to the dish towel).

When it comes out of the oven, immediately loosen cake from edges of pan and invert onto the prepared dish towel.

Carefully remove the parchment paper from the cake. If there are hard edges on the cake, trim those off with a knife.

While the cake is still warm, carefully roll it in the towel, starting from a short (narrow) end. Rolled in the towel, cool on wire rack, seam side down, at least 30 minutes before adding the filling.
FOR THE FILLING
Mix 1-1/2 cups of whipped topping and cream cheese together.

Unroll the cake and remove towel.

Stir the jam or jelly. Spread the jam or jelly in a thin layer over the cake.

On top of the jelly, spread the cream cheese and whipped topping mixture.

Carefully roll up the cake again.

Sprinkle sifted powdered sugar on top.

Wrap loosely in plastic wrap and refrigerate until ready to use.

Slice into pieces and serve with a little more sifted powdered sugar on each piece.
Notes
Nutrition information is estimated. Changes to the recipe and use of different brands may cause changes to the nutritional information to vary slightly from the ones provided here.
Don't forget to pair the recipe with Alexander And The Terrible Horrible

children's book!
As an Amazon Associate I earn from qualifying purchases. Please refer to our
DISCLOSURE
.