This sweet Abraham and Sarah craft tent is a fun way to discuss the Bible story while packing the camel to move. Grab our free Abraham and Sarah move craft printable — perfect for preschool Bible lessons, toddler Bible activities, Abraham and Sarah Sunday school craft ideas, Abraham crafts for Sunday school, Sabbath school crafts, trust God craft activities, Bible camel craft for kids, or Abraham, Sarah and Isaac Bible crafts for homeschool or home Bible kids activities. Comes with FREE Bible crafts for preschoolers printable!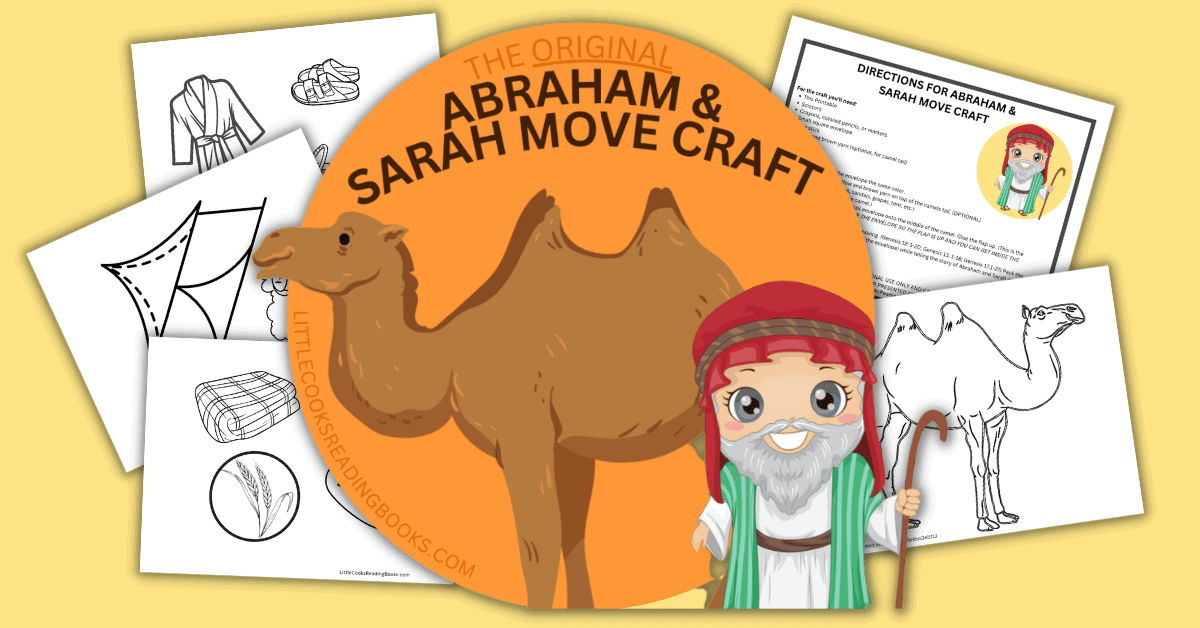 Abraham and Sarah Craft Free Printables
This Abraham and Sarah preschool craft (aka: Abraham and Sarah tent craft with camel or craft for Abraham and Sarah have a baby) is great to go along with any Abraham and Sarah have a baby craft projects you have, too! You may have seen others floating around, but this is the original printable Abraham and Sarah craft ideas for the move in the Bible! Definitely add this to your preschool Sunday school crafts or homeschool Bible studies!
Craft For Abraham And Sarah
For the printable Abraham and Sarah craft, you'll need:
Printable Bible crafts instructions (free trust God craft activities printable below)
Crayons, colored pencils, or markers
Small square envelope
Scissors
Glue stick
Yellow and brown yarn (optional)
Get the full Abraham and Sarah craft activities instructions below and free Bible printable Abraham and Sarah cutout tent craft with camel activity!
Affiliate links are used on this site. As an Amazon Associate I earn from qualifying purchases. Read more in our DISCLOSURE.
Learning About Abraham And Sarah For Kids
As part of our homeschool curriculum, we study the Bible.
Now that my daughter is older, she does an online Bible history class.
However, when she was younger, our Bible "study" consisted of Bible stories from a great children's Bible book.
As you can imagine, it takes some creativity to keep a kid interested in some of the Bible stories.
For example, we came off of studying Noah's Ark (which of course she loved) right into studying about Abraham and Sarah.
As you can imagine, the story of Abraham for kids paled in comparison to the story of ALL.THOSE.ANIMALS. from the Ark.
So, I knew I had to do something to get her interested in God telling Abraham and Sarah to move to a new land and then blessing them with a baby.
What could I do to make the story of Abraham and Sarah for children as interesting as Noah's Ark Bible stories?
I looked around for a couple of days for a craft to make about Abraham and Sarah and didn't find anything interesting.
(My kid is so not into coloring sheets. Go figure. An Abraham and Sarah coloring page was out for her.)
I decided to create one.
Who were Abraham and Sarah?
Abraham and Sarah (or Sarai) are from the Old Testament in the Bible. Abraham is seen as the person that all Jews descend from and Sarah is Abraham's wife, who had her son Isaac at age 90.
God Made a Promise to Abraham Craft
One of the things that did capture my daughter's interest from our Bible book story about Abraham was that Abraham and Sarah had to pack a camel to move.
So, I decided to focus on that aspect and make an Abraham and Sarah God's promise preschool craft.
We made a camel that she was able to "pack" with some belongings.
What does the story of Abraham and Sarah teach us?
The Abraham and Sarah story teaches us to listen to God's promise and trust in God's word and promises to us.
For our Sarah Abraham preschool craft, we focused on the vocabulary word trust since Abraham and Sarah didn't completely understand God's direction, but had to trust Him in order to relocate and have a baby.
If you're looking for a great Abraham and Sarah activities for preschool, homeschool, or fun Sunday school craft, this is perfect!
This Abraham trusted God craft has turned into one of our favorite Bible crafts of all time!
(And, it will definitely be one of the best Abraham Bible crafts for preschoolers in your Sunday school class, youth group, or homeschool co-op!)
Get the Bible crafts for preschoolers free direction sheets below.
ALSO TRY THESE BIBLE ACTIVITIES FOR KIDS:
How To Host a Back To Bethlehem Journey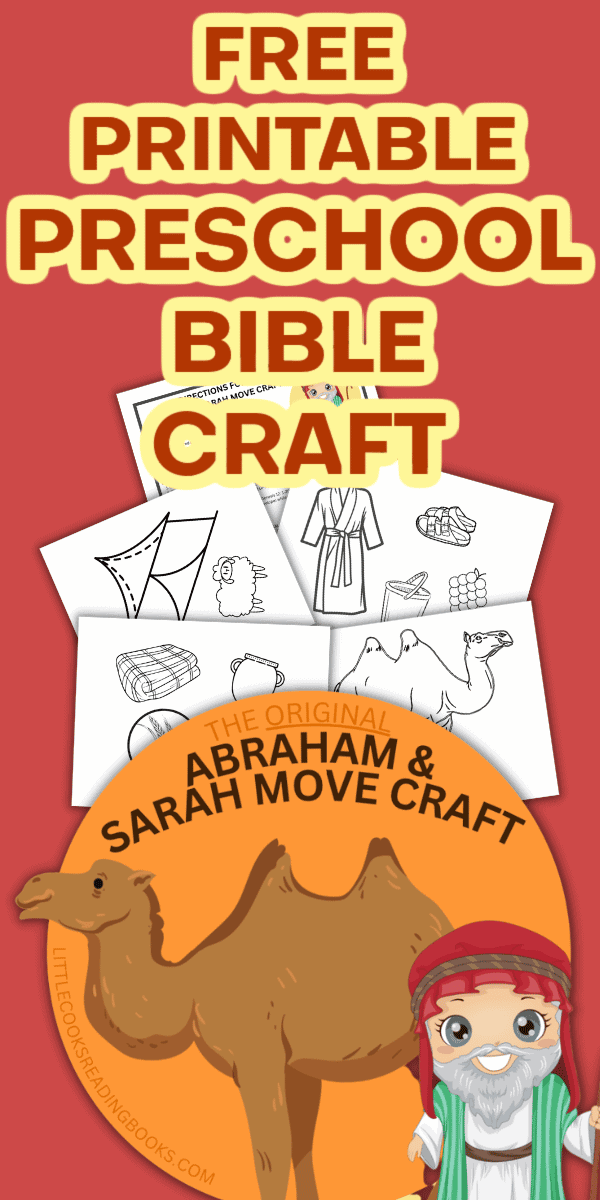 Abraham and Sarah Lesson Plan Ideas
Bible Verses for the Abraham Sunday school craft:
Genesis 12: 1-20
Genesis 13: 1-18
Genesis 17:1-27
Unit Study To Go With Craft Project for Abraham and Sarah
If you want to make this into an entire Abraham and Sarah lesson for Sunday school, groups, or homeschooling, add this video storybook of the story of Abraham and Sarah.
Also check out these children's books on the Abraham and Sarah story (especially if you're looking for the Abraham and Sarah story in pictures! They're perfect to go along with preschool craft for Abraham and Sarah / Abraham and Sarah pack and move craft!
Abraham Trusts God Children's Book
Saran and Abraham The Wonderful Promise Children's Book
(Let us know if you have other stories to go with Abraham & Sarah arts and craft ideas or other fun Bible ideas for kids activities like this!)
OK!
Let's get to our Sarah and Abraham moving craft (aka: Abraham and Sarai craft — Sarai from the bible is Sarah).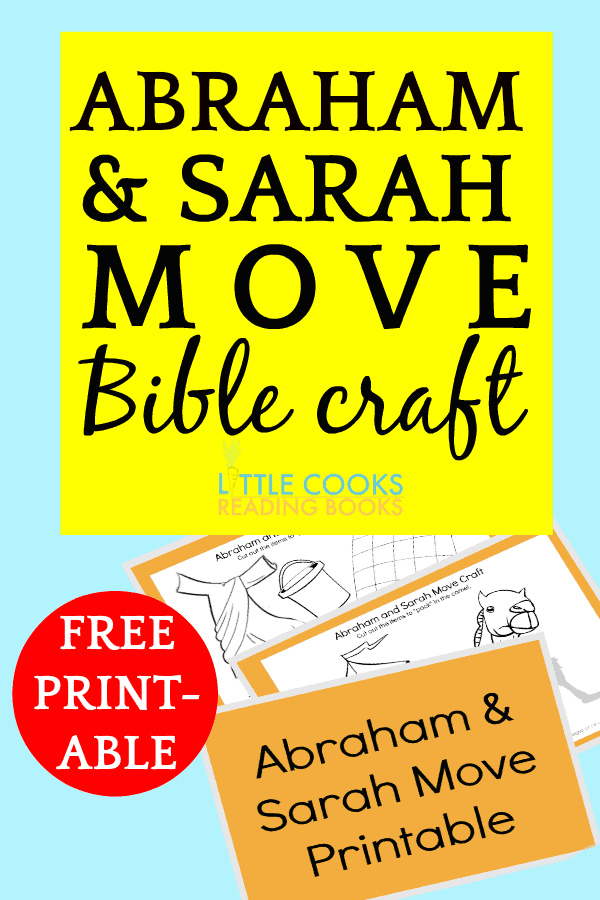 Abraham and Sarah Move Bible Craft
TIP: Since this is camel craft for preschoolers, be sure to use the small square envelopes with the pointed flap (and not the straight across or rounded). The "tip" of the flap will make the camel's hump when flipped up.
These are the Sarah and Abraham craft directions if you want to print them out from here, but the God's promise to Abraham and Sarah craft printable pages are below (with the Abraham and Sarah crafts printable pages at the bottom of the post).
IMPORTANT: The actual Abraham and Sarah Bible craft printable activity is at the bottom of this post. Click there to print out the pack a camel activity, which also includes the directions.
Yield: 1
Abraham and Sarah Move Craft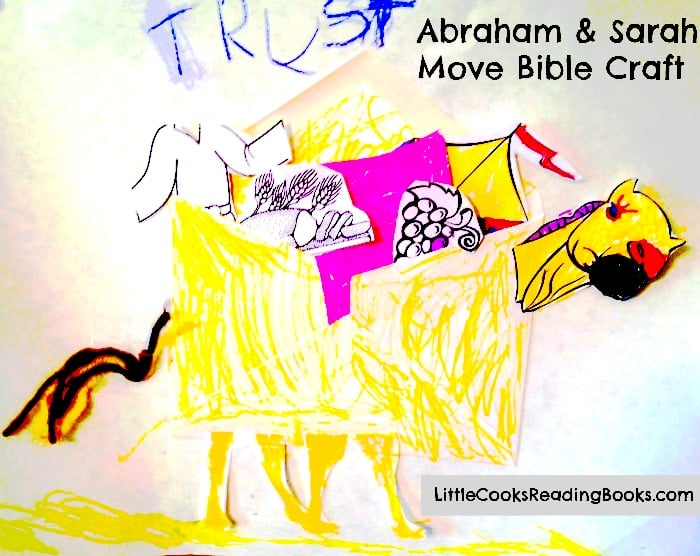 This is one of the best Abraham Bible crafts for preschoolers and up while you tell the Abraham and Sarah story in pictures with packing the camel to move! Super fun for Sara and Abraham craft ideas!
*SCROLL DOWN! DON'T FORGET TO PRINT OUT THE FREE ABRAHAM AND SARAH PRINTABLE PACK!
Materials
White envelope: square size with triangle flap (not rounded edge because the triangle flap will be the camels hump)
Crayons or colored pencils
Brown and/or yellow yarn
FREE Abraham and Sarah Printable (below)
Piece of white or colored construction paper
Instructions
Print out the printable.
Color "packing items" on the printable and cut out items.
Color the camel's head and legs and cut them out.
Color the envelope (this will be the camel's body).
Paste the envelope onto the middle of the construction paper, with flap up and "pocket" opened toward you.
Glue the camel's head onto the end of the envelope and the feet under the bottom of the envelope.
Use the yarn for the camel's tail.
Write TRUST above the camel.
Read the Bible or tell the Abraham and Sarah story while allowing the child to "pack" the camel with the cutouts (put the cutouts inside the camel envelope), making sure to focus on discussing how Abraham and Sarah put their TRUST in God.
Get the printable Abraham and Sarah activity sheets below! KEEP SCROLLING!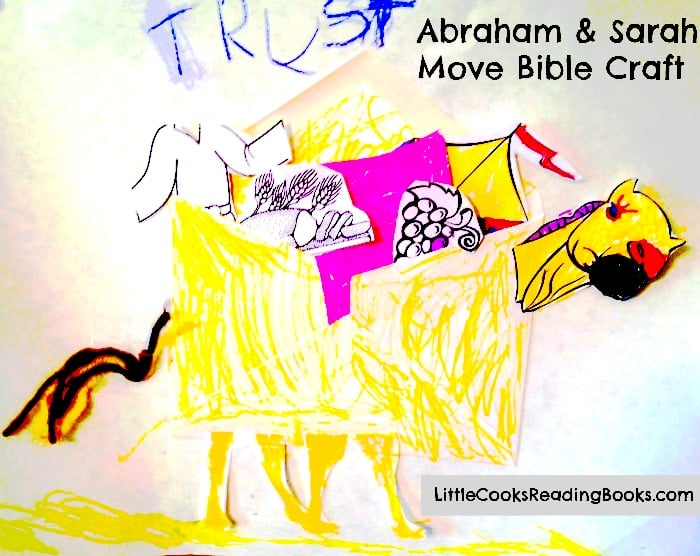 This was the one that my daughter made when she was around 4 years old. It was one of her all-time favorite Bible crafts! I've updated the printable since then (so it may look a little different than in the pictures). This craft with Sarah and Abraham will always hold a special place in my heart! (I mean, look at that picture of our trust God crafts project. It's glorious!)
GET THE ABRAHAM AND SARAH FREE PRINTABLE (UPDATED! New Printable Sheets!)
This God's promise to Abraham worksheets printable / God's promise to Abraham activity sheet includes the directions for making the Abraham and Sarah kids craft.
CLICK HERE or on the image below to get your free Bible printable.
NOTE: This image below shows the old Abraham and Sarah printable. (The new Sarah and Abraham moves to a new land craft sheets can be seen in the image at the top of the post.)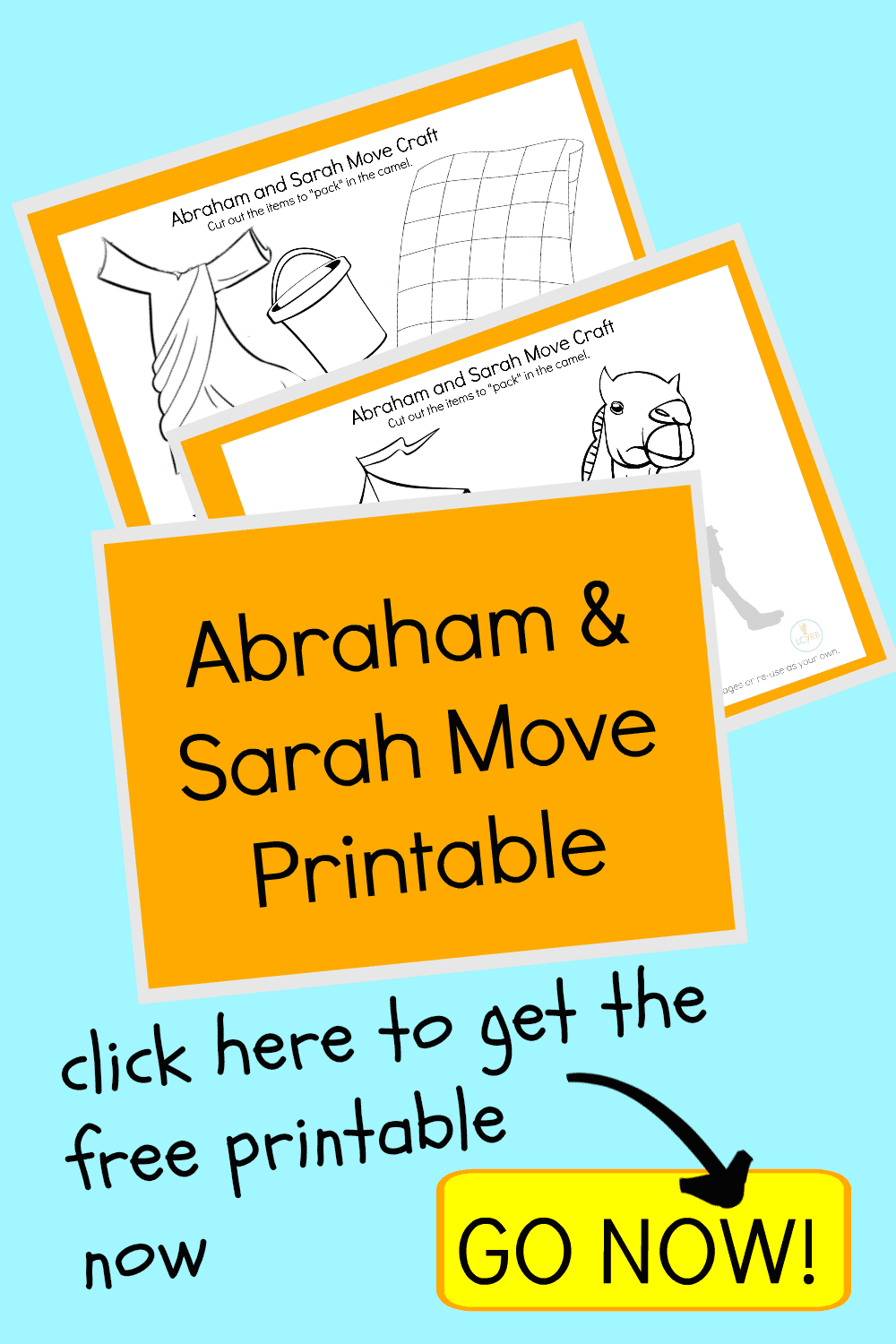 Do you have a favorite Abraham Sarah and Isaac craft? Let us know and we'll add it to our post!
Let us know what you think about the Abraham and Sarah craft Bible activities!
LOOKING FOR FUN COOKING PRINTABLES FOR KIDS?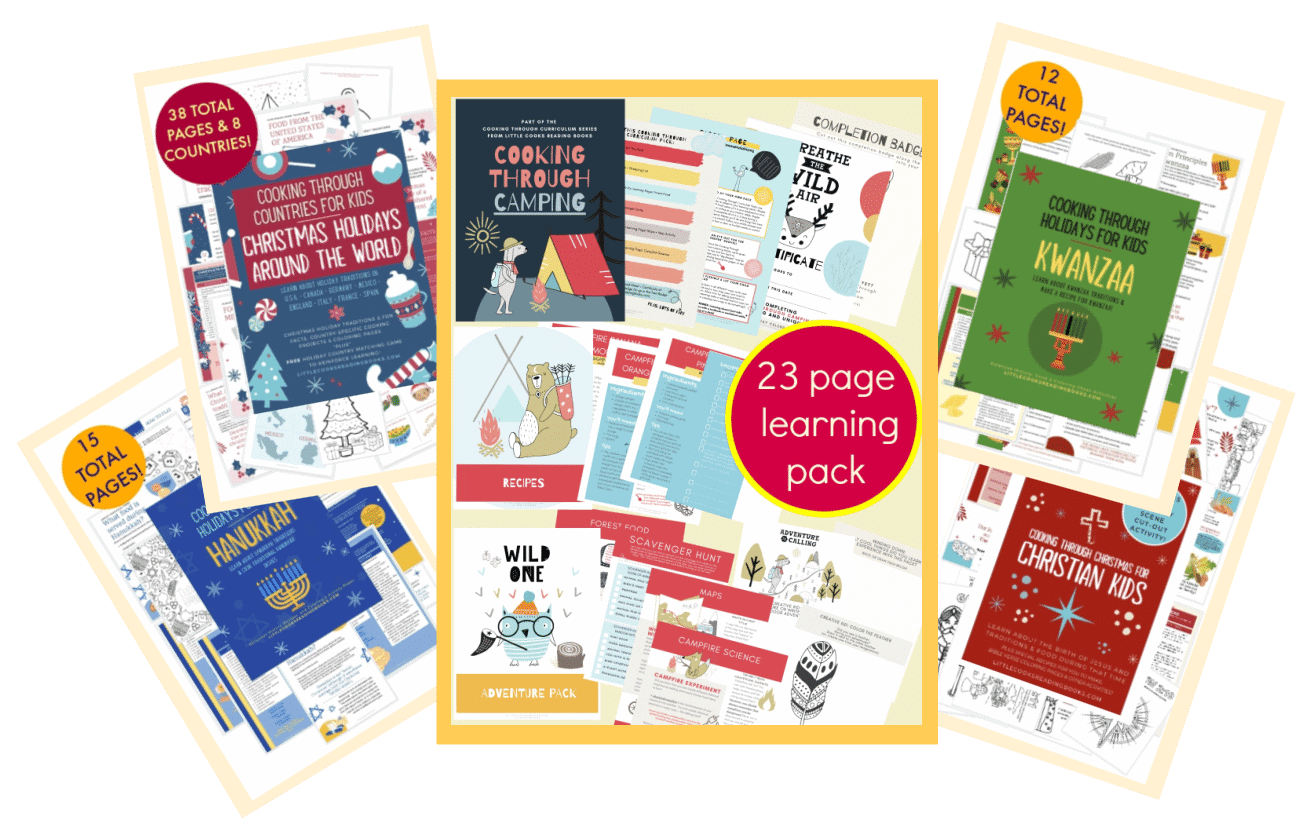 As an Amazon Associate I earn from qualifying purchases. Please refer to our
DISCLOSURE
.