Learn how to dye pasta (aka: how to make rainbow pasta) for eating, sensory pasta play, or how to dye pasta for crafts / kitchen science! (It's so easy!) This rainbow pasta recipe is an awesome recipe to make for a brightly colored rainbow spaghetti lunch, a fun theme party like Noah's Ark, or even to dye cooked pasta for sensory play. Add this to your must-make, fun and easy kid recipes!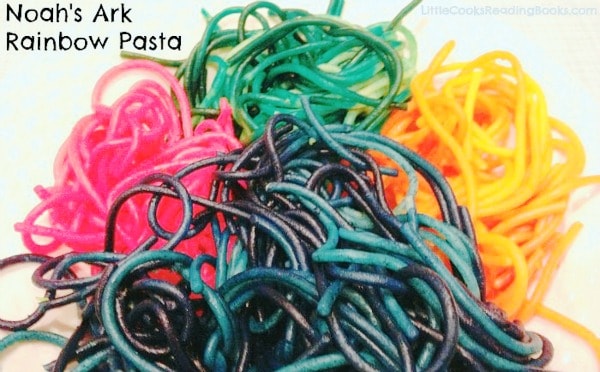 How To Dye Pasta for Sensory Play and Eating
When my daughter was five, she asked me to read her Noah's Ark book to her.
(Who doesn't love the Noah's Ark story, right?)
After, she said she wanted to make a Noah's Ark cooking craft and, after some discussion, we decided to try rainbow spaghetti noodles (aka: learning how to dye pasta).
Affiliate links are used on this site. As an Amazon Associate I earn from qualifying purchases. Read more in our DISCLOSURE.
If you aren't familiar with the story, in the end God sends a rainbow to Noah and his family to let them know that he will never flood the world like that again.
So, rainbow spaghetti sounded fun to go with this theme and we made a Noah's Ark Rainbow Pasta Recipe (and it's fun pasta sensory play, too, so read on if you're wondering how do you dye pasta with food coloring or rainbow noodles sensory play.)
YOU'LL ALSO LOVE THIS FUN RECIPE: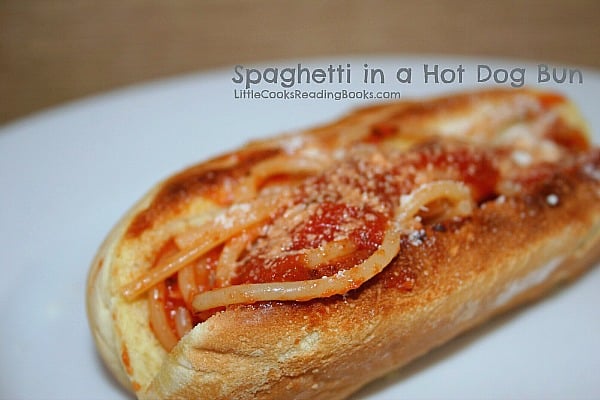 How To Make Rainbow Pasta
How to dye pasta to eat:
So, How do you make rainbow pasta or dye pasta noodles? (I think you're going to be surprised at just how easy this process is to dye pasta!)
First you need to cook and drain your pasta and let it cool slightly.
Then, portion your pasta into bowls or resealable plastic bags. You'll need to portion it into as many colors that you will be using. For example, for our rainbow pasta we used red, blue, green, and orange. We portioned our pasta to dye into four different resealable bags.
Then, add 10-20 drops of food coloring into the bags with the pasta. Massage and move the pasta around in the bag (or bowl) until you receive the desired color. We use resealable bags instead of bowls because we've found that the noodles get coated with the food coloring better. (And, it's more fun to carefully squish around pasta in a bag, especially if you're doing this with little ones.)
How To Dye Pasta Pink
You can achieve dyed pasta with the pink color by adding less red color. You need to add 10-20 drop of food coloring (at least) to get all of your food coloring colored, so just use less drops of red. You can also use pink food coloring, which is a thing now (and how we achieved our vibrant pink dyed pasta!).
If you're wondering how do you make sensory play rainbow pasta or how do you dye cooked pasta for sensory play I have great news: it's the same easy recipe process as described above.
Learning how to dye spaghetti for sensory play is a fun process for the kids, so let them enjoy the coloring part, too! (Plus, you can try mixing colors for another learning level!)
ALSO CHECK OUT: How To Dye Rice For Sensory Play Activities
How do you color pasta for play?
How do you dye pasta for sensory play?
To make rainbow pasta sensory play, cook the pasta according to package directions. Drain and cool pasta slightly and portion into sealable plastic bags. Then, add 10-20 drops of food coloring to each bag and lightly mix around until desired colors are reached. Use them for sensory play (or for eating)!
How To Make Rainbow Pasta For Sensory Play or Eating paired with Noah's Ark Children's Book
To go with the how to dye noodles for sensory play lesson, here's our kids' book recommendation:
We have a great Noah's Ark board book by Lucy Cousins that was out of print for a while, but now it looks like it's available again!
YAY!
(We even had this Little People Noah's Ark that she used to play with while I was reading her the book!)
It really is a sweet book and this is definitely one of those books that we'll put away in our keepsake box because it holds so many great memories as one of my daughter's favorite books.
If you're past the board book stage, that's OK!
Luckily, there are many, many really cool Noah's Ark children's books on the market, so you'll have a lot to choose from.
Remember, these noodles can be eaten, too! You don't have to use them just for spaghetti sensory play or rainbow spaghetti messy play!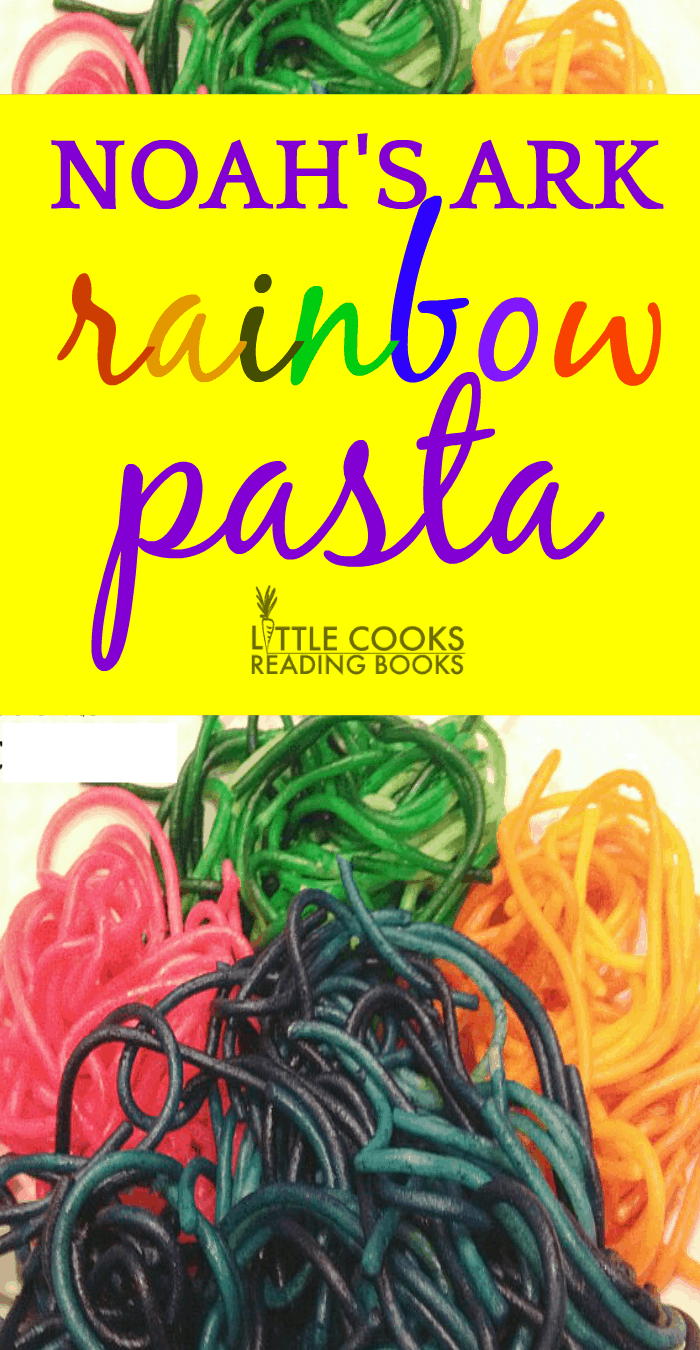 How To Make Rainbow Spaghetti for Sensory Play or Eating
(How To Dye Pasta with Food Coloring)
Yield: 8 servings
Rainbow Pasta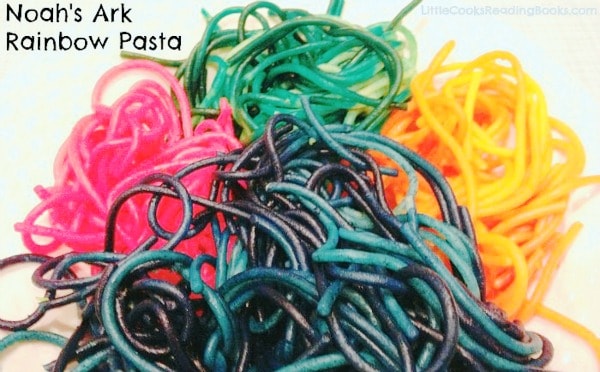 Learning how to make rainbow pasta is so easy! Change up the colors on this rainbow pasta to match whatever theme you want!
Ingredients
16 Ounce Box dried spaghetti noodles
Food coloring of choice
Instructions
Cook noodles according to package directions. Drain and let cool slightly.
Portion noodles into resealable plastic bags (or bowls).
Add 10-20+ drops of one food coloring to the first bowl. Mix until you get the desired color. (If you're using a resealable plastic bag, add the color, seal the bag, and then use your hands to massage the noodles around in the color, turning the bag as you go.)
Repeat the process with the second food coloring in the next bowl/bag of noodles.
Repeat until all the noodles have been colored.
Top with butter or favorite pasta sauce. (Or, leave plain for sensory play.)
Notes
We use spaghetti instead of angel hair pasta because we had better luck getting the color to adhere to the regular (thicker) spaghetti noodles.
Nutrition Information:
Yield:
8
Serving Size:
1
Amount Per Serving:
Calories:

85
Total Fat:

0g
Saturated Fat:

0g
Trans Fat:

0g
Unsaturated Fat:

0g
Cholesterol:

0mg
Sodium:

3mg
Carbohydrates:

17g
Fiber:

1g
Sugar:

1g
Protein:

3g
Nutrition information is estimated. Changes to the recipe and use of different brands may cause changes to the nutritional information to vary slightly from the ones provided here.
We hope you have fun learning how to dye pasta! Let us know if you used it for sensory play pasta or for eating!
LOOKING FOR FUN COOKING PRINTABLES FOR KIDS?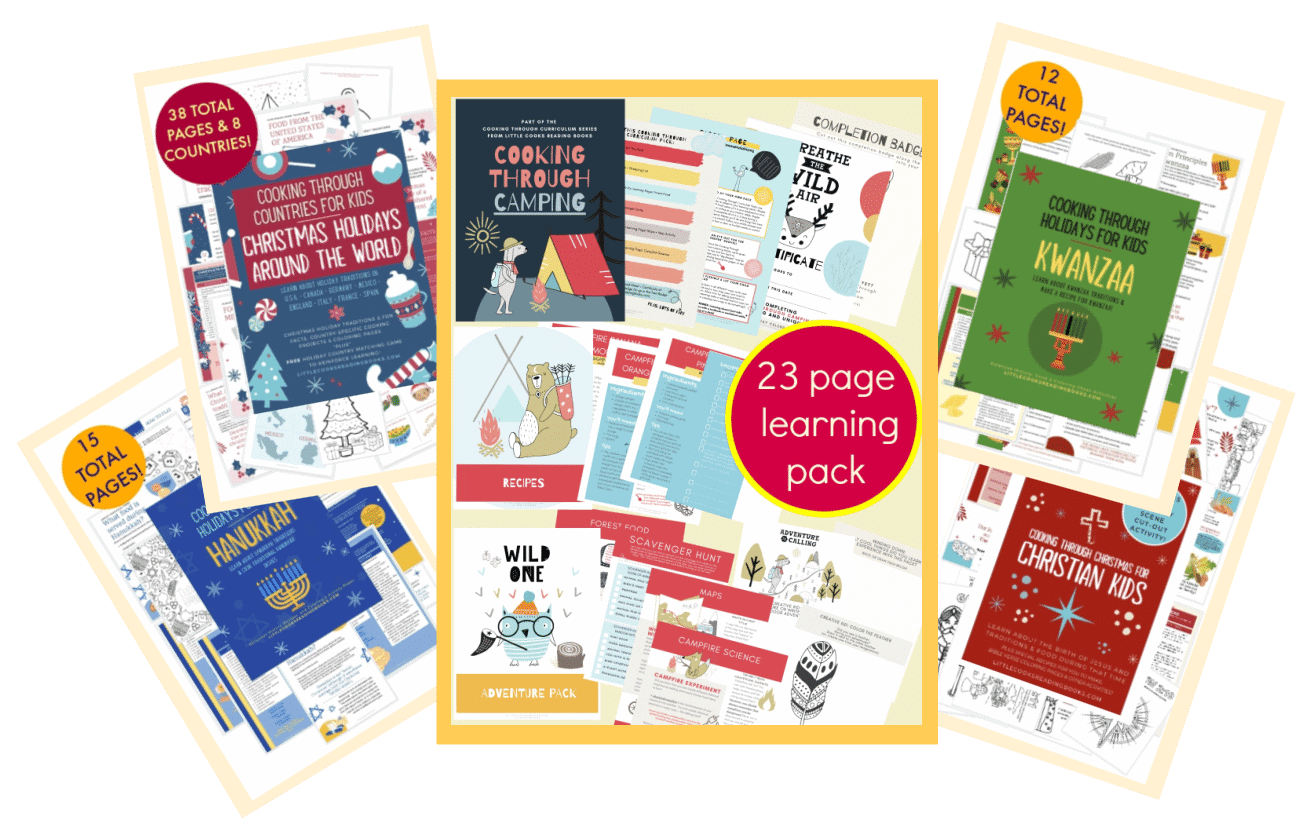 As an Amazon Associate I earn from qualifying purchases. Please refer to our
DISCLOSURE
.