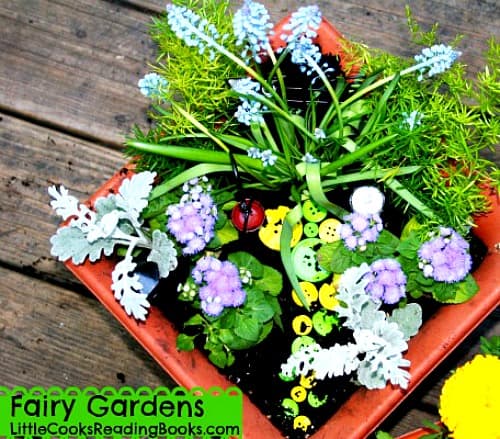 A few years ago, my five year old and I made such a fun project that she still talks about today (YEARS later!): a DIY Fairy Garden.
My kid is always up for a new project (of any kind), so after seeing a few people post about fairy gardens I decided we were going to do a fairy garden, too.
I mean, what's more fun than trying to figure out what tiny little fairies would like in a garden and making things to scale for them, right?
And, it gives you an opportunity to discuss the importance of plants and what they do for our environment, animals, and food cycles.
Affiliate links are used on this site. As an Amazon Associate I earn from qualifying purchases. Read more in our DISCLOSURE.
How To Make A Fairy Garden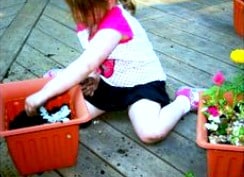 When making your fairy garden, the trick is to think like a fairy.
(Seriously.)
Tall flowers can be "trees" and tiny rocks can be paths.
We even used colorful buttons as a path and found some cute inexpensive fairy-sized furniture for our garden.
This was a great one-on-one time project and we have four awesome planters for our deck.
(Yes, we made FOUR fairy gardens. Don't judge.)
DISCLOSURE: Affiliate links are used on this site and may be used in this post.
What's the purpose of a fairy garden?
You may be wondering, "What's the purpose of a fairy garden?"
Fairy gardens are fun, creative, and imaginative play for kids because you're building something that gives the illusion of small creatures living there.
It's especially great if you read about fairies and then make your fairy garden!
My daughter played with her fairy container gardens all summer when we made them, rearranging fairy furniture and adding rocks or other cool things she found.
Also, don't make the mistakes of thinking that fairy container gardens are only for girls or young ones! Both boys and girls of all ages and stages can have fun with this kids' craft!
Fairy Garden Supplies
The fairy garden supplies you need is limited only by your imagination! So, be sure to sit down and talk to your kids about what they want their fairy garden to look like before you shop.
Also, you can buy seed packets and grow your garden from seeds or buy plants and flowers from your landscaping store. (We go with the plants and flowers that are already growing so it doesn't take so long for your garden to sprout!)
Here are some things to consider when shopping for fairy garden supplies:
Fairy garden containers or fairy garden terrariums
Fairy garden plants and flowers and "grass" (moss)
Fairy garden furniture
Fairy garden accessories
Fairy lights
Colorful rocks
There are no "rules" for fairy gardening!
You just need to use your imagination on what you think your fairy would like!
Fairy Garden Kit
If trying to build a fairy garden from "scratch" seems intimidating, you can grab a fairy garden kit!
(Yes, it's really a thing!)
These are kits that usually come with a container and seeds and items for your garden.
You can find fairy garden kits that are geared toward younger ages (and are also play "houses") or you can choose more of a terrarium fairy garden.
Some of the kits come with fake fairy garden plants, but we really recommend adding real plants, too.
(Taking care of plants is a great learning and life skill for kids!)
Here are our picks for best fairy garden kits:

Also, if your kids like figurine play, you may want to add some fairy figurines to encourage imaginative play.
(I really like this pack and also this pack of fairies!)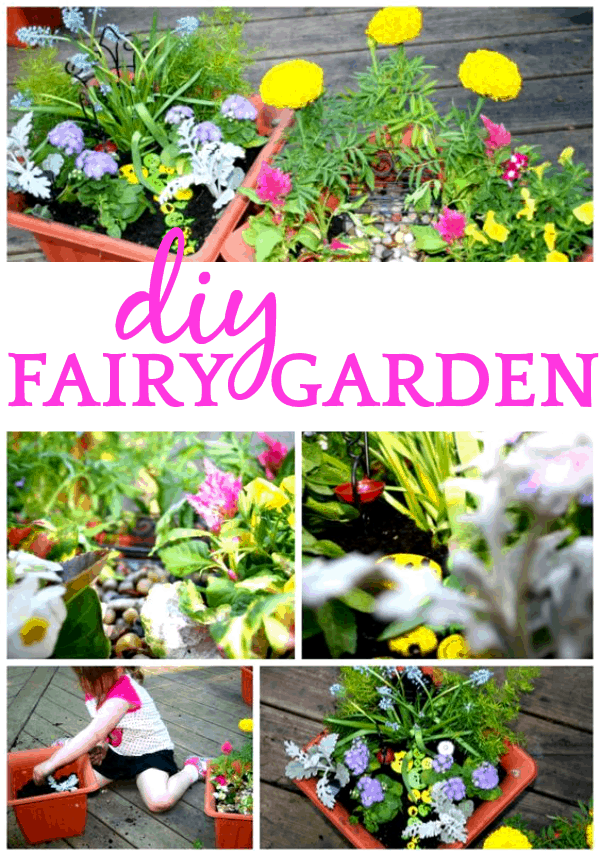 PIN TO SAVE
How To Make A DIY Fairy Garden
We're "wing it" kind of people, but if you're a planner it might make you feel better to sketch out your garden before creating and planting.
(You'll want to wait until you have all your fairy garden supplies so you'll know what you need to include in your design.)
You'll need:
Planter, bowl, or container
Potting Soil
Plants and flowers of different sizes and types
Pebbles, rocks, buttons or any other small items for your path
Miniature fairy garden furniture
Fairy dust (white glitter) (next time we're going to try this cool glow in the dark glitter)
Directions:
1. Fill your planter about half-way up with potting soil.
2. Starting at the back, place your taller plants and flowers. (My daughter got marigolds because she calls them "fairygolds" from a show she saw.)
3. Fill in the sides and corners with the rest of the flowers, leaving room for your path.
4. Create your path (start with a smaller point at front of planter and get wider as you to to the back).
5. Finish up with your small garden furniture and decorations. Look around the house for fun things to add–thimbles can be bathtubs for the fairies and more! Get creative.
6. Sprinkle your fairy garden with some of the fairy dust (white glitter) to let the fairies know that it's a magical place to visit!
Recommended For Your Container Fairy Garden
Try these fun fairy garden supplies:
Children's Fairy Books
You knew this part was coming from me, right?
Don't forget to pair up your DIY fairy garden project with some great fairy books to read.
Check out this children's fairy book series:
ONE LAST THING ON FAIRIES . . .
Creating this fairy garden encouraged a lot of imaginative creative play for my daughter (MONTHS of it!).
It piqued her interest so much that she wanted to read more about fairies and learn more about them.
She even decided to install a "Fairy Door" in our homeschool classroom, which has continued more imaginative play, reading, and learning—even a few years later since we made that first fairy garden!
So, don't overlook the benefits that go beyond just creating a fun gardening project with your kids!
Last Updated on
As an Amazon Associate I earn from qualifying purchases. Please refer to our
DISCLOSURE
.