This homemade bird feeder craft for kids is so simple that you can do this craft with kids of all ages — probably with items you already have at your house! We'll show you how to make homemade bird feeders with peanut butter and also without peanut butter! Perfect bird crafts for preschoolers and beyond!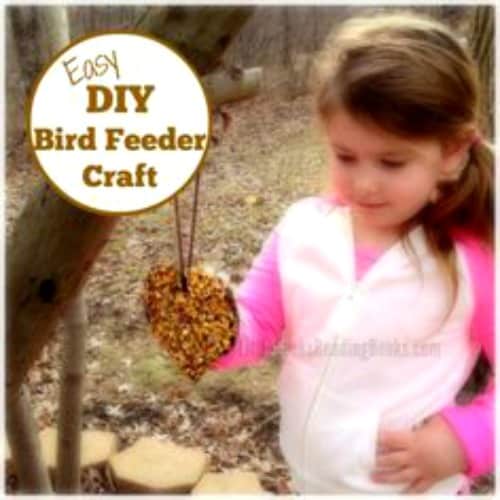 Our house backs up to a woods, so we love to see the birds (and other creatures like bunnies and deer) come up into our backyard.
Even though we have store bought bird feeders, we decided to try to make some DIY bird feeders of our own.
Affiliate links are used on this site. As an Amazon Associate I earn from qualifying purchases. Read more in our DISCLOSURE.
These turned out to be super simple and really fun!
(And, they even make great gifts for friends, too.)
Since then, my daughter has made these several times throughout the years!
How To Make Homemade Bird Feeders With Peanut Butter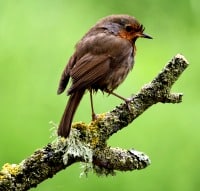 To make our homemade bird feeder, we started with some cardboard we recycled from a box.
We cut our cardboard into heart shapes.
(Those are the shapes my daughter wanted to use, but you can cut your birdfeeder into any shape you want!)
Then, we spread peanut butter on both sides of the cardboard and pressed it into bird seed. We strung the shape through twine and then hung our bird feeder on our tree!
We understand that some may not be able to use peanut butter on their feeders.
Don't worry!
Here's an alternative:
Homemade Bird Feeders Without Peanut Butter (How To Make Bird Feeders With Lard)
Clearly there are some people who can't use peanut butter because of allergies and sensitivities.
No worries!
You can still make this DIY bird feeder with . . . just using lard instead of peanut butter!
Lard is still safe for birds and is what basic suet is made of.
So, you can still make these homemade bird feeders without peanut butter!
DIY Homemade Bird Feeder Craft
YOU'LL NEED:
Sturdy cardboard (an old box or shoebox works great)
String, twine, or yarn
Peanut butter or lard (or both–this is what basic suet is made from)
Mixed bird seed
Paper plates
Hole punch
Scissors or craft knife
CRAFT DIRECTIONS:
1. Draw the shape of your bird feeder onto the cardboard. (We decided to use hearts, which makes this an awesome Valentine's Day craft, too!)
2. Cut the shape out of the cardboard with scissors. (A craft knife
works really well with the cardboard, but you'll need to monitor kids using it or use it for them.)
3. Using the hole punch, punch a hole at the top of the shape. (You may need to use scissors or the craft knife if your cardboard is really thick.) Thread the ribbon or yarn through the hole and tie it to make a big loop.
4. Pour the birdseed onto the paper plate.
5. Liberally spread one side of the cardboard shape with the peanut butter or lard. Place the shape, lard/peanut butter side down, into the birdseed on the plate. Press firmly, but gently.
6. While shape is still facing down, spread peanut butter or lard on the other side of the shape. Flip the shape over and press into this side into the birdseed. (Add more birdseed to the plate, if needed.)
7. Lift shape and fill in any empty spots by pressing birdseed into it with your hands.
8. Hang outside and enjoy watching all the feathered friends that come by to enjoy your yummy craft!
Wooden Bird Feeder DIY Kits
Want to keep going?
Grab a DIY wooden bird feeder kit to make with your kids (and learn a whole new skill set!).

All About Birds
Pair this craft for kids with an awesome bird book and you can actually accomplish a lot of fun nature learning!
Our favorite bird books include: Birds, Nests & Eggs (Take Along Guides) and Beginning Birdwatcher's Book: With 48 Stickers.

We've used both of these a great deal throughout the years (and for all seasons) in homeschooling.
This is an easy craft to pair up with learning all about birds and why birds are important in our life.
Here are other children's book picks for nature studies and learning all about birds:
Last Updated on
As an Amazon Associate I earn from qualifying purchases. Please refer to our
DISCLOSURE
.