This homemade bird feeder recipe craft is a super easy for kids activities in fall / nature craft for winter or fun nature crafts for preschoolers and up any time of year. Learn how to make a DIY bird feeder as an easy kids craft with several different recipes for birdseed ornaments. Make this a DIY organic nuts & seeds bird feeder craft throughout the year with peanut butter, as bird feeder without peanut butter / without nuts and with lard.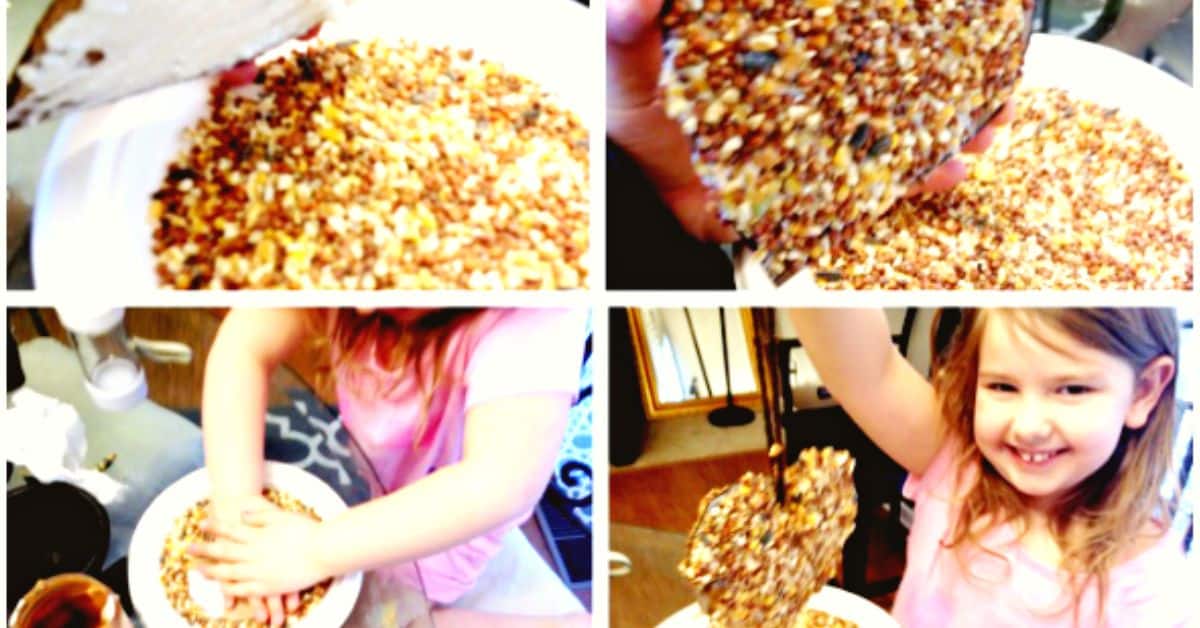 How To Make A Hanging Homemade Bird Feeder Recipe for Kids Activities
I love this recipe for homemade bird feeder craft because it's a fun craft for fall, winter project for kids / fun family activity for cold winter days, and even works well for nature crafts for groups. It's such an easy craft activity if you're wondering how to make a bird feeder for school project, looking for a birds preschool craft, or bird seed crafts.
Once you decide if you're going to use peanut butter or lard for the base you'll need to add in the wild bird food (seeds, etc.). IMPORTANT: Use peanut butter without Xylitol!
If you've been looking for directions on how to make a simple bird feeder at home with kids, you'll love this!
Affiliate links are used on this site. As an Amazon Associate I earn from qualifying purchases. Read more in our DISCLOSURE.
You can make a homemade bird feeder recipe using:
Black sunflower seeds
Dried fruit
Raisins
Unsalted peanuts
Nyjer seeds (Thistle Seeds)
Millet
Uncooked oats
Fresh, unseasoned pumpkin seeds (fresh or dried by you with no oils or seasonings)
Plain, air-popped popcorn (NOT seeds)
Get the full directions on how to make homemade bird feeder recipe and bird feeder child craft below. (You can make this as homemade bird feeder no peanut butter or with peanut butter.) KEEP SCROLLING for the bird feeder craft DIY!
You can make this as a DIY bird feeder toilet paper roll craft or cut out your own cardboard shapes (like we did!).
It's a beautiful alternative to the homemade bird feeder milk jug craft, DIY window bird feeder, or other homemade bird feeder ideas.
You can even make these as homemade bird feeder ornaments or homemade bird feeder cakes to give out as Christmas gifts or party favors!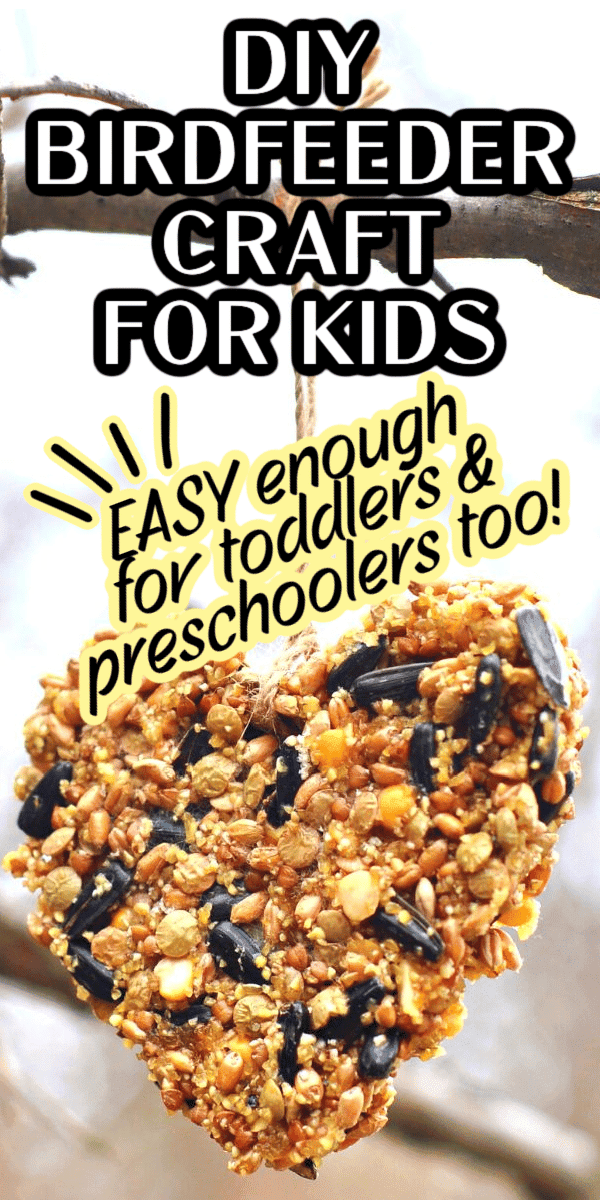 There are important things you need to know if you're wondering how do you make homemade wild bird food and how to make a bird feeder craft with kids.
Be sure to discuss these with your kids before learning how to make feeder for birds!
What things are harmful to birds?
What foods are bad for birds?
Milk
Salt / salty items
Raw meat
Baked goods (cookies, cake, cupcakes, pies, etc.)
Bread
Honey
Xylitol
Caffeine
Apple seeds
Fruit pits
Dried coconut / desiccated coconut
Polyunsaturated margarines
Vegetable oils
Avocado
Split peas, beans, dried rice or lentils (only large birds can digest them dry)
Junk food (cheese puffs, potato chips, pretzels, etc.)
Popcorn kernels
While doing your bird feeder for craft, talk to your kids about how not all foods are good for birds. Just because foods are OK for humans doesn't mean the food are good for birds.
Can you make a homemade bird feeder with honey?
It is not recommended that you make your homemade feeder for birds with honey or use honey in bird food. Birds can have difficulty digesting honey. In addition, it can easily grow that is toxic to birds. Also, honey is sticky that it gets all over birds and can harm feathers, flying, and movement.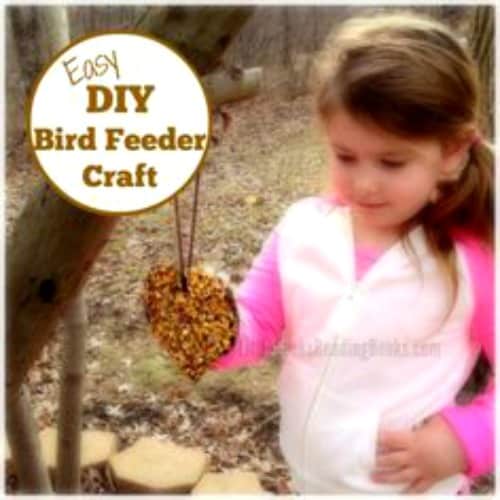 Easy Homemade Bird Feeder Recipe Ideas
How To Make Homemade Bird Feeders With Peanut Butter
To make our homemade bird feeder, we started with some cardboard we recycled from a box.
We cut our cardboard into heart shapes and made a heart shaped bird feeder craft.
Those are the shapes my daughter wanted to use because we made these as a Valentine's Day heart bird seed feeder craft, but you can cut your birdfeeder into any shape you want!
You can even make them as homemade bird feeder wreath shapes if you're giving them for holiday nature gifts.
There are so many ideas for bird feeders. This is just one way!
Then, we spread peanut butter on both sides of the cardboard and pressed it into bird seed. We strung the shape through twine and then hung our bird feeder on our tree!
We understand that some may not be able to use peanut butter on their feeders.
Don't worry!
Here's an alternative:
Homemade Bird Feeders Without Peanut Butter (How To Make Bird Feeders With Lard)
Clearly there are some people who can't use peanut butter because of allergies and sensitivities.
No worries!
You can still make this DIY bird feeder with just using lard instead of peanut butter!
Lard is still safe for birds and is what basic suet is made of.
So, you can still make these homemade bird feeders without peanut butter!
(If you're still looking for a homemade peanut butter bird feeder recipe, see the craft printable directions below!)
CHECK OUT MORE NATURE CRAFT IDEAS FOR FUN KIDS ACTIVITIES:
Easy DIY Nature Garland With Dried Fruit
How To Dry Apple Slices For Nature Crafts
How To Dry Oranges Slices For Nature Crafts
How To Make A Popcorn Garland With Cranberries
Autumn Sensory Activity for Preschool and Free Fall Printable
Let's get to how to make easy bird feeder at home with children (even as a bird feeder toddler craft or how to make bird ornaments)…
DIY Homemade Bird Feeder Recipe Craft
Easy Craft Hanging Bird Feeder
This is an easy bird feeder recipe for toddlers, bird feeder craft for preschool, or even bird lessons and kids activities for elementary and middle school. I love that it's an easy group activity so it's perfect for homeschool co-op, youth group activities, Girl Scout crafts / Boy Scout nature projects / bird feeder projects for cub scouts, or even just a fun after school project for kids.
Remember: You can make this a homemade bird feeder recipe without peanut butter by using lard instead. If you use peanut butter, it must be without Xylitol, so check the ingredients.
You can make this as a bird feeder craft toilet paper roll feeder. Instead of cutting out a shape (like we did), just use the bird food recipe and put it on a toilet roll instead.
This is a cheap bird feeder craft and you may be able to make it with things you already have in your house!
Here's how to make own bird feeder with kids and how do you make a bird feeder step by step…
Yield: 1
Homemade Bird Feeder Recipe Craft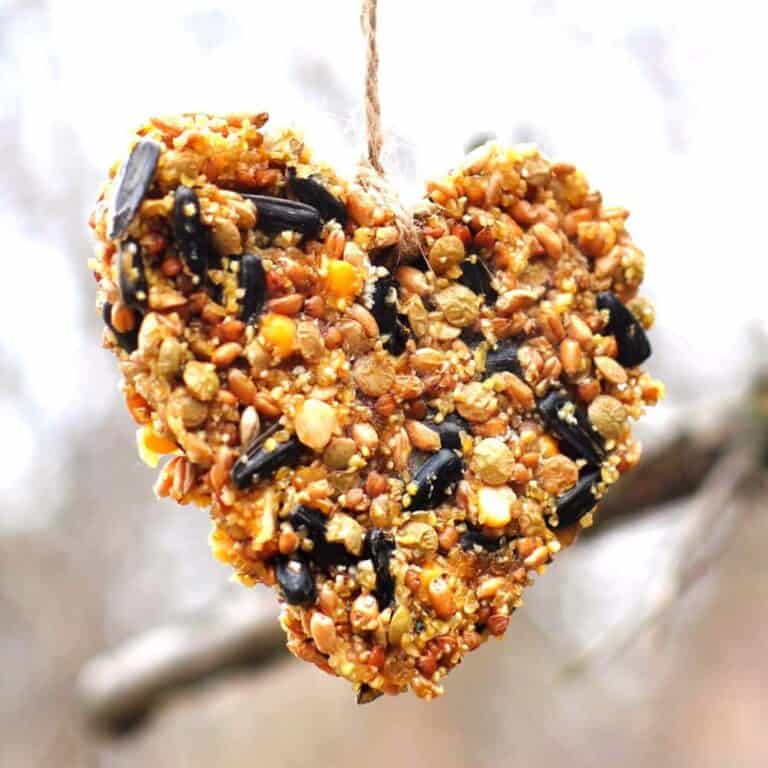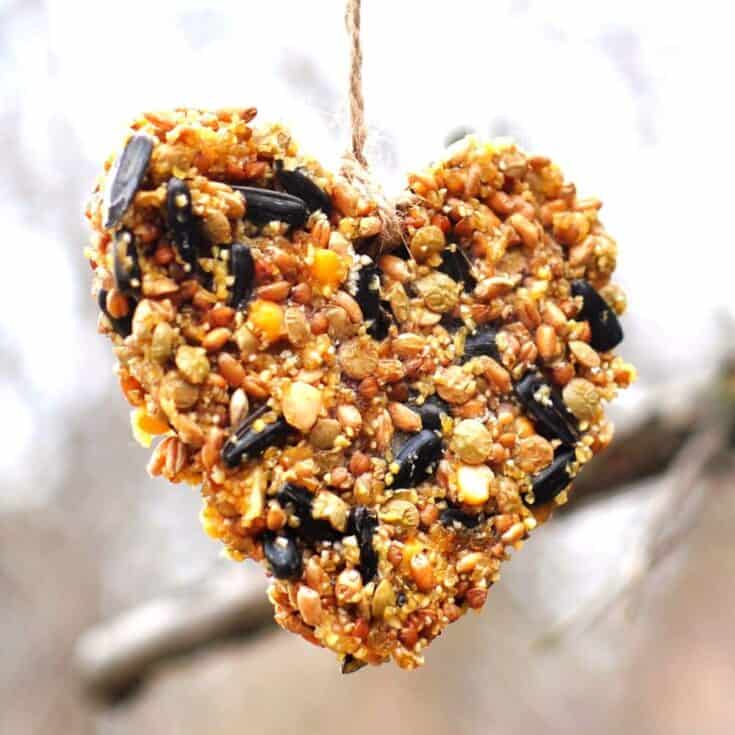 This is a good DIY birdfeeder craft for preschoolers and older! (Even easy bird feeders to make with toddlers!)
These sweet edible bird feeders even make great gifts for friends as heart shape bird seed ornaments. (Who wouldn't love getting one of these kid made bird feeder ornaments for a gift?)
Materials
Sturdy cardboard (an old box or shoebox works great) or toilet paper rolls if you're making it as a toilet paper bird feeder craft
String, twine, or yarn
Peanut butter* or lard (or both–this is what basic suet is made from)
Mixed bird seed
Tools
Paper plates
Hole punch
Scissors or craft knife
Instructions
Draw the shape of your bird feeder onto the cardboard. (We decided to use hearts, which makes this an awesome Valentine's Day craft, too!)
Cut the shape out of the cardboard with scissors. (A craft knife works really well with the cardboard, but you'll need to use it as instead of the kids.)
Using the hole punch, punch a hole at the top of the shape. (You may need to use scissors or the craft knife if your cardboard is really thick.) Thread the ribbon or yarn through the hole and tie it to make a big loop.
Pour the birdseed onto the paper plate.
Liberally spread one side of the cardboard shape with the peanut butter or lard. Place the shape, lard/peanut butter side down, into the birdseed on the plate. Press firmly, but gently.
While shape is still facing down, spread peanut butter or lard on the other side of the shape. Flip the shape over and press into this side into the birdseed. (Add more birdseed to the plate, if needed.)
Lift shape and fill in any empty spots by pressing birdseed into it with your hands.
Hang outside and enjoy watching all the feathered friends that come by to enjoy your yummy bird food craft!
Notes
IMPORTANT: Make sure you use peanut butter without Xylitol
Learn About Birds for Kids (Bird Lesson Plans)
If you want to make a study unit to go with your DIY bird feeder craft for kids and enjoy wild bird, encourage a love of nature by try these teaching resources / learning resources and more bird activities…
Wooden Bird Feeder DIY Kits & Crafts With Birds
Want to keep going and learn more about birds?
Grab a DIY wooden bird feeder kit to make with your kids (and learn a whole new skill set!).
Color and make bird gliders
All About Birds: Birds for Preschoolers and Up!
Pair this craft for kids with an awesome bird book and you can actually accomplish a lot of fun nature learning!
Our favorite bird books include to go along with the bird feeder craft easy project:
Birds, Nests & Eggs (Take Along Guides)
Beginning Birdwatcher's Book: With 48 Stickers
We've used both of these a great deal throughout the years (and for all seasons learning) in homeschooling. They go well with the easy craft to pair up with learning all about birds and why birds are important in our life.
Here are other children's book picks for nature studies and learning all about birds…
Children's Books About Birds
These kids books go well with the craft homemade bird feeder recipes / bird feeder and craft ideas.
Bird Books For Kids:
A Backyard Birding Adventure: What's in Your Yard?
My Awesome Field Guide to North American Birds: Find and Identify Your Feathered Friends
Bird Watch Book for Kids: Introduction to Bird Watching
Big Book of Birds (The Big Book Series)
The Little Book of Backyard Bird Songs
Any of those are good with your bird feed DIY crafts!
Have fun learning how to make homemade bird food! Tag us in your bird feeder craft for kids!
Do you have a homemade bird feeder recipe you use?
LOOKING FOR FUN COOKING PRINTABLES FOR KIDS?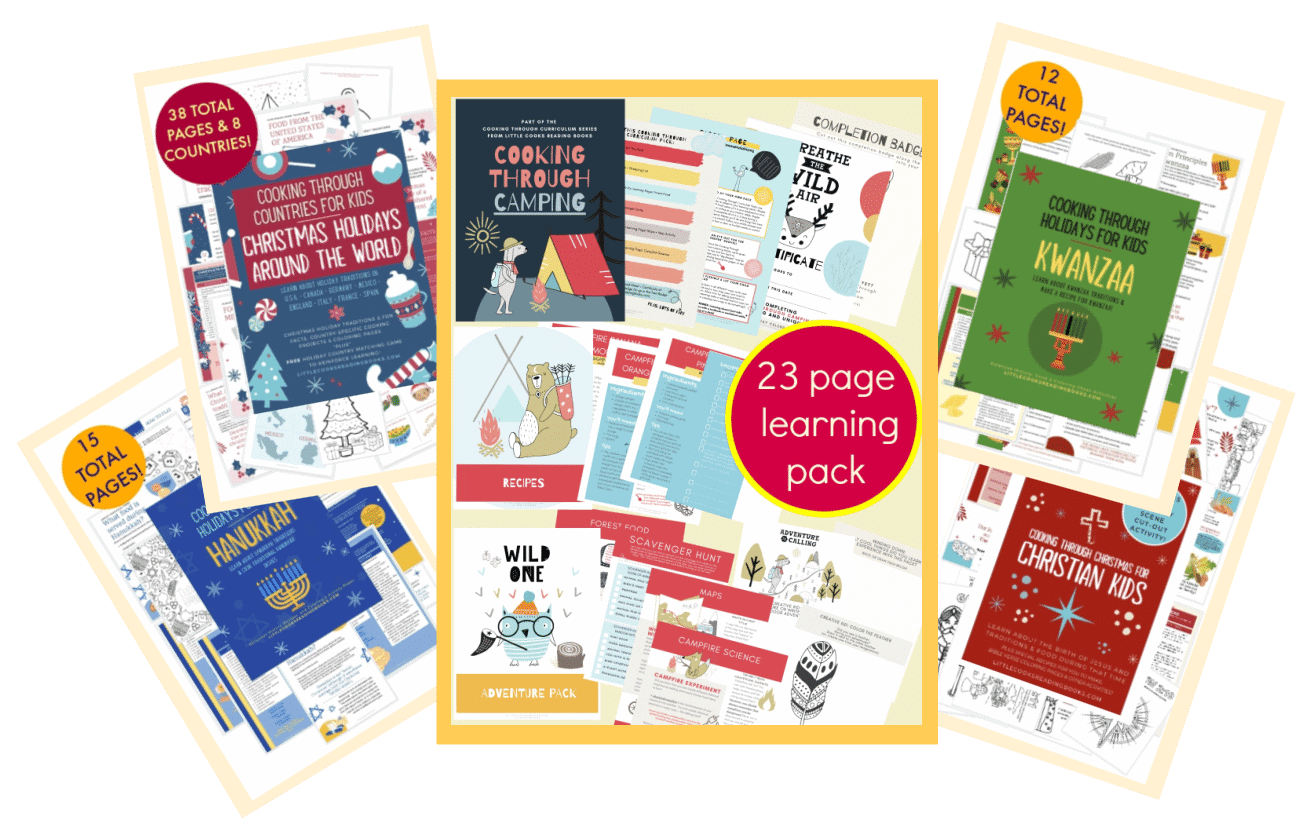 As an Amazon Associate I earn from qualifying purchases. Please refer to our
DISCLOSURE
.