How to preserve fall leaves is a great fall activity for kids! We have easy DIY preserving waxed leaves tips and tricks and best methods for working with autumn leaves for nature garland, fall crafts for kids, leaf decorations and more from pressed leaves. Here's how to preserve pressed leaves…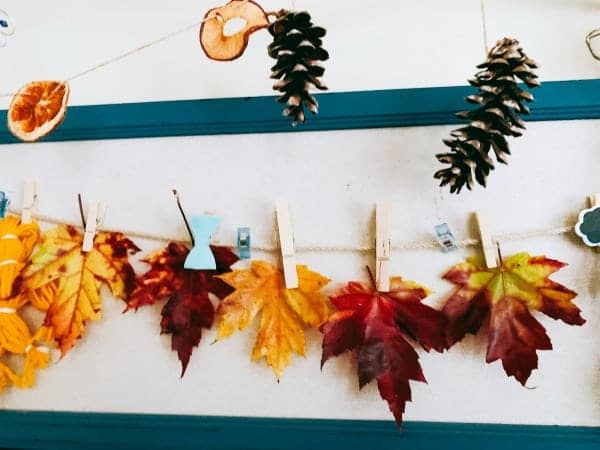 HOW TO PRESERVE FALL LEAVES
Learning how to press & preserve leaves and how to wax leaves is a great way to preserve fall leaves for crafts or even how to preserve leaves for framing and decorating.
How do you preserve fall leaves color?
A great way to preserve fall leaves color is to dip leaves in wax. The wax adds a coating to the leaf that preserves them where they are. Pick the leaves while they are fresh at the height of their color for the most vibrant wax dipped fall leaves.
How To Preserve Leaves With Wax Paper and Beeswax
DIY wax leaves is a simple process:
Affiliate links are used on this site. As an Amazon Associate I earn from qualifying purchases. Read more in our DISCLOSURE.
Collect fresh, colorful and vibrant autumn leaves of different sizes and types. (Dried leaves won't work as well because they're too brittle.)
If leaves aren't flat, press leaves under a heavy book until flat. (This is how to press leaves without wax paper.)
Slowly melt wax in a pot or double boiler.
Using tongs, dip leaves in wax one at a time, covering front and back. (Careful when dipping leaves in wax! It's hot!)
Tap tongs on side of pot to remove excess wax from leaf.
Carefully place on prepared waxed paper or hang to dry. (No need to iron your leaves with this method!)
No need to press leaves! Easily smooth down any corners that are curling and this method of drying leaves will create flat leaves.
Use preserved leaves in fall crafts, nature garland, or autumn wreaths / autumn decorations.
(SEE FULL HOW TO WAX LEAVES DIRECTIONS BELOW)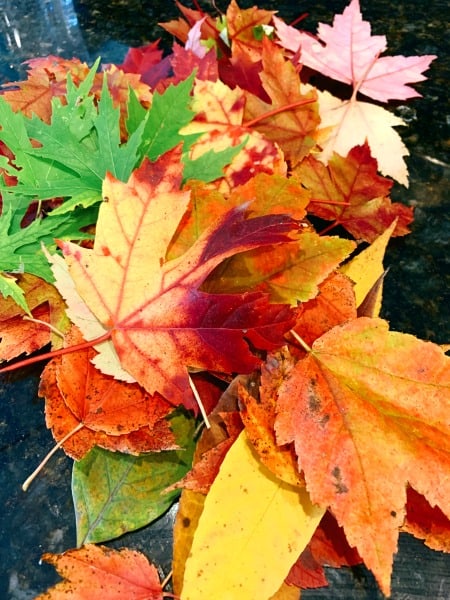 Can you wax leaves?
YES! Waxing leaves will not only preserve their fall color, but the waxing process will also allow you to keep them for fall crafts, Thanksgiving decorations, or even how to wax leaves for preserving. It's one of the best methods to make preserved fall leaves!
If you're wondering How do you dry leaves for kids? or how to preserve autumn leaves, this is a great way! (My daughter loved this project when learning how to preserve maple leaves!)
Some people have asked me about laminating leaves, which is another method of preserving leaf. However, I prefer waxing leaves to laminating because you can still touch the leaves and it makes them super vibrant.
If you're looking for how to preserve leaves color, definitely use bees wax! This is the best way to preserve leaves, in my opinion. No need for ironing leaves in wax paper or leaf pressing with wax paper!
NEED A FUN FALL CRAFT FOR KIDS OR LOOKING FOR A DRIED LEAVES CRAFT?
ALSO CHECK OUT THIS PRESSED LEAF CRAFT FOR KIDS: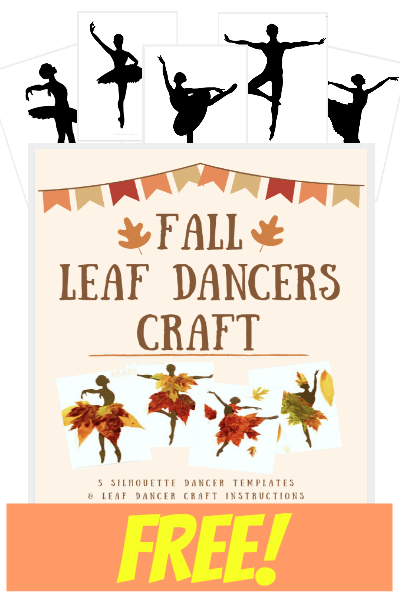 (One of our all time favorite dried autumn leaves projects! We used this for framing fall leaves!)
How long do wax dipped leaves last?
Fresh leaves dipped in wax will last for a very long time, but will start to get crispy and brittle after some time. Be sure to dip the leaves before they become completely dried out and cover the leaf completely with wax. Hang or lay flat to dry and use wax covered leaves in decorations or crafts.
There's no need to learn how to preserve leaves with Mod Podge or how to preserve leaves with hairspray because this method makes such a colorful preserving leaf that lasts for a long time through all your craft projects and even nature decorations!
OK!
Let's get to how to press a leaf and how do you wax leaves craft for preserving leaves…
How To Make Wax Leaves Tutorial (Step-by-Step)
A few reminders when learning how to make wax dipped leaves before we get to the instructions:
IMPORTANT: Wax leaves preserving deals with (no surprise) hot wax. It's important to do this craft under close adult supervision or, if you have younger kids, have an adult do the wax dipping.
We made beeswax leaves, but you can use paraffin wax also.
Where to buy beeswax?
You can buy beeswax online, or at any large craft store. You can also buy it anywhere they have candle making supplies.
Important Things Before We Get To the Craft Directions:
A little beeswax goes a very long way. We used 1/2 cup of beeswax pellets and we covered around 60 leaves of varying sizes.
Beeswax can leave a film of wax on your pots and utensils. You need to clean them out immediately while they are still hot (and the remaining wax is still melted). Wipe the pot and utensils out while hot with a paper towel and then immediately scrub with hot, soapy water.
You can hang your wax dipped leaves to dry, but we just placed ours on wax paper and allowed them to try that way. We hung some with our nature display and used some for crafts.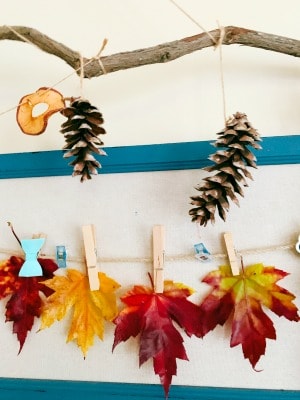 Yield: 60
How To Preserve Leaves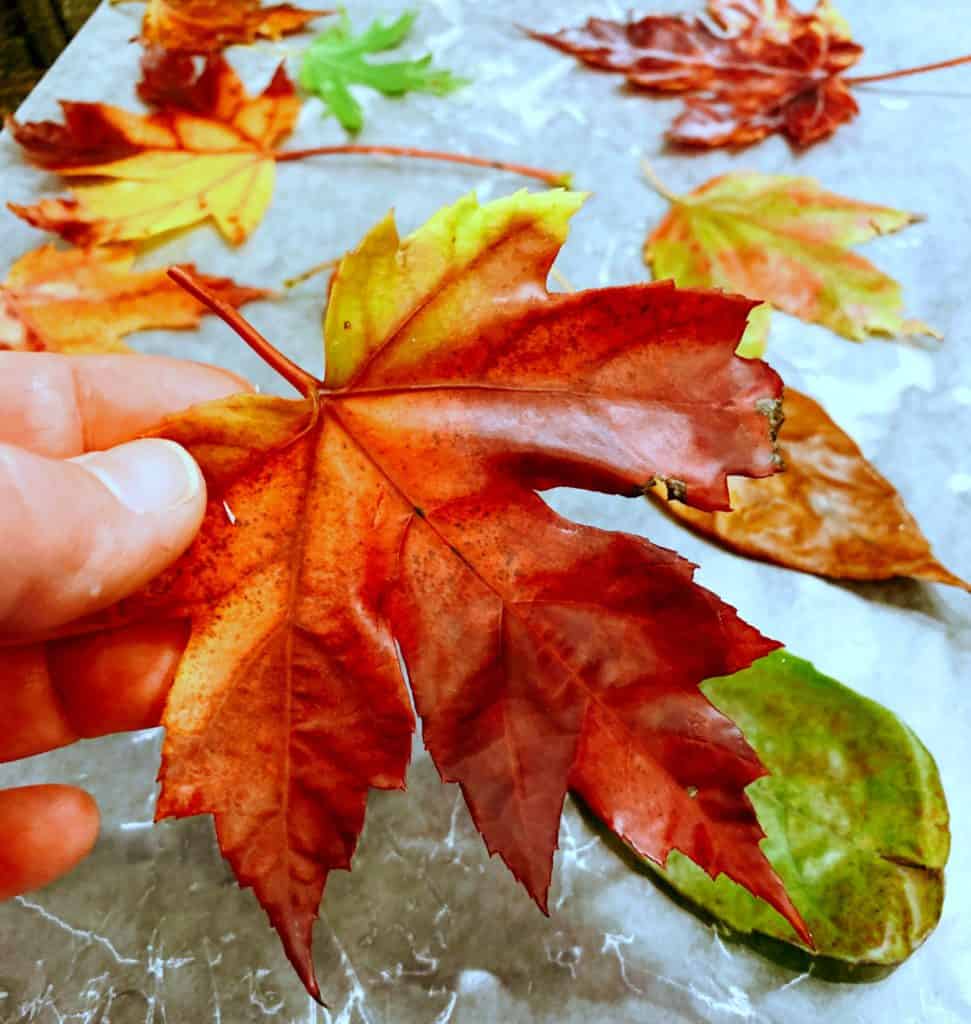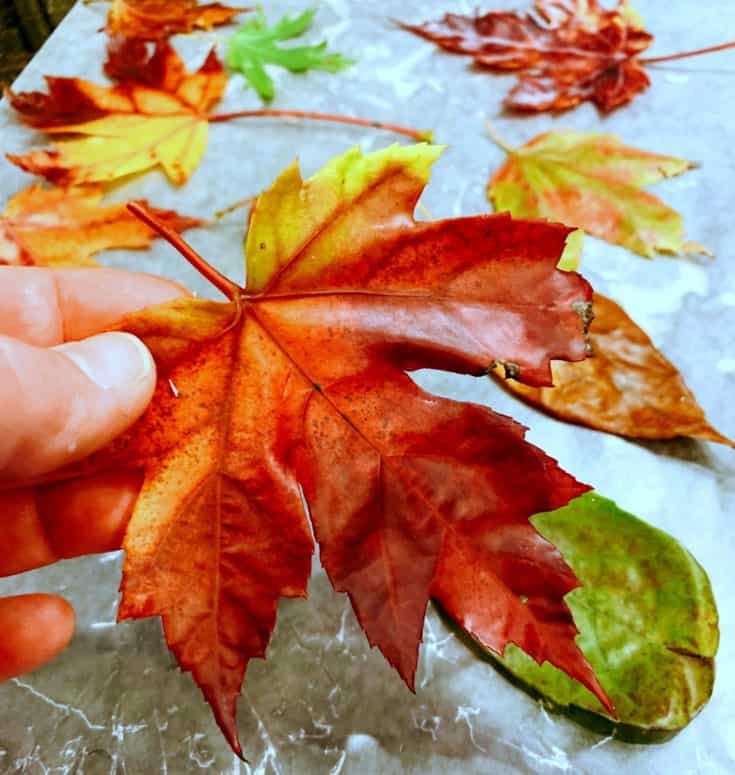 These dipped wax leaves make beautiful decorations or fall leaves for crafts. Since you're dealing with hot wax, it may be best to have adults do the leaf dipping part.
Materials
1/2 cup beeswax pellets
60 fresh leaves (not dried out)
Wax paper
Tools
Small pot or double boiler
Tongs
Instructions
In a small pot or double boiler, melt beeswax pellets over low heat until completely melted. Do not allow to boil.

Spread out wax paper on counter.
Carefully drop a leaf in melted beeswax. Using tongs, grasp leaf from melted wax and hold up over pot so excess wax drips off.
Place leaf on wax paper. Using tongs, immediately pick up leaf so that it doesn't stick to wax paper. Return to paper to dry completely.
Repeat the process with each leaf, one by one. (Do not do more than one leaf at a time or else they will stick together.)
Use wax leaves for decorations or crafts. The wax leaves will last indefinitely!
Notes
Beeswax can leave a coating on your pot and utensils if you allow it to dry. Carefully wipe hot beeswax out of pots with dry paper towels and then immediately clean with hot soap and water. (Same for your utensils.)
Children's Books For Preserve Autumn Leaves Project
I love this preserve autumn leaves project because there are so many great children's books and learning opportunities that go along with why do fall leaves change color.
Check out:
HOPE YOU HAVE FUN LEARNING HOW TO PRESERVE FALL LEAVES!
LOOKING FOR FUN COOKING PRINTABLES FOR KIDS?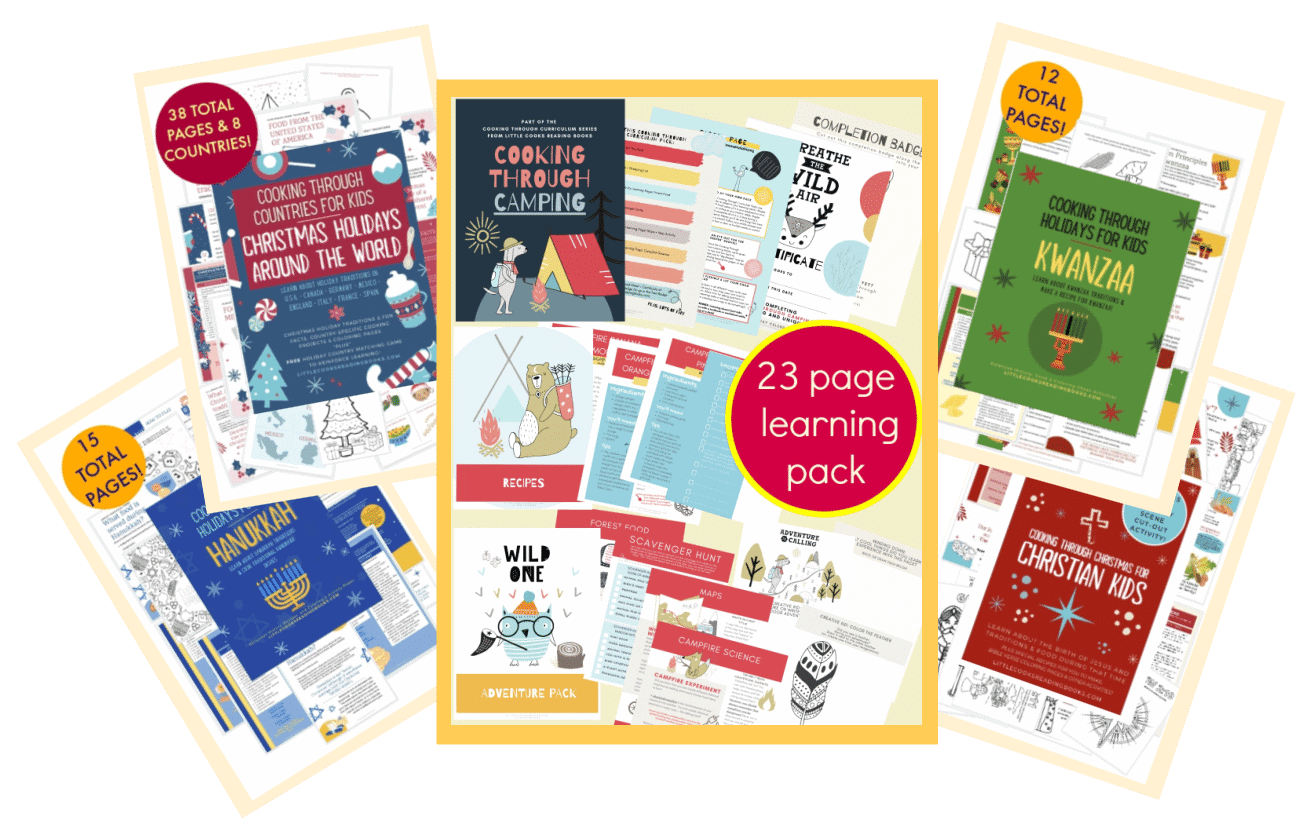 As an Amazon Associate I earn from qualifying purchases. Please refer to our
DISCLOSURE
.