Tried cornbread pumpkin recipe (also called pumpkin spice cornbread recipe)? It's not your regular homemade cornbread recipe! If you're looking for a new pumpkin recipe (or wondering what can I do with too much pumpkin?), try this sweet and savory recipe!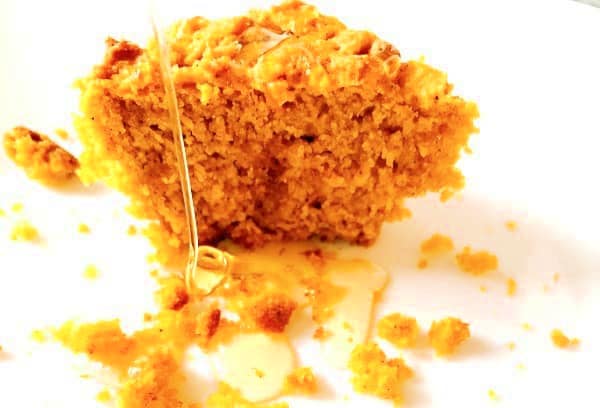 BEST CORNBREAD PUMPKIN RECIPE EVER!
I've been making a homemade cornbread recipe for … a long time. So, we decided to try this cornbread pumpkin recipe for one of our fall recipes. (Cornbread from pumpkin may seem weird, but it's so yummy!)
How To Make Pumpkin Cornbread
For a cornbread with pumpkin recipe, you'll need:
All purpose flour
Cornmeal
Canned pumpkin
Ground cinnamon
Ginger
Cloves
Brown sugar
Butter
Milk
Eggs
Vegetable oil
See below for full pumpkin corn bread recipe.
Affiliate links are used on this site. As an Amazon Associate I earn from qualifying purchases. Read more in our DISCLOSURE.
I made the pumpkin cornbread in cast iron skillet, but you can also make it in a regular baking pan, as cornbread pumpkin muffins, or whatever corn bread recipe pan you use normally. (It's great if you're looking for non-traditional cornbread muffin ideas!)
(My kid said she like this better than our plain cornbread recipe! If you love a traditional cornbread in cast iron skillet recipe, you'll love this one, too!)
What do you eat with cornbread?
Cold glass of milk
Vegetables
Beans
Greens
Soup
Stews
Chili
Salad
Barbecue
Honey
Peanut butter
Alone with butter or cinnamon butter
YOU'LL ALSO ENJOY: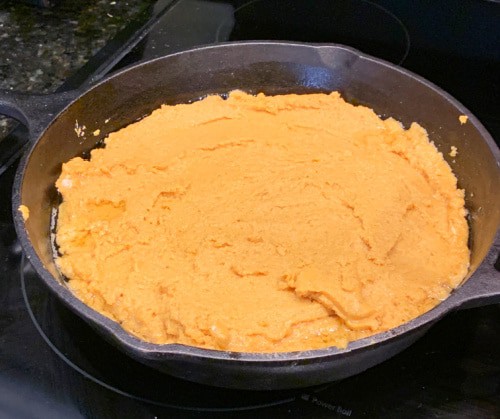 Before baking cornbread, read through these tips to help with the recipe:
Why does my cornbread stick to my cast iron skillet?
If your cornbread is sticking to your cast iron skillet, make sure you are using a seasoned skillet. Then, heat oil in the cast iron pan before filling it with the cornbread batter and baking. After baking, allow your cornbread to cool slightly and it will be less likely to stick to the skillet.
Should you let cornbread cool before removing from pan?
Allow your cornbread to cool slightly or completely before removing it from the pan. The longer cornbread sits, the better it will hold together. This makes it easier to remove from the pan after cooling.
Does cornbread need to be refrigerated?
Cornbread can be stored on in an airtight container at room temperature for a couple of days. You can refrigerate cornbread for up to a week, or freeze the cornbread in a freezer container.
PUMPKIN RECIPES NOTE: You may also hear this called cornbread pumpkin cake recipe, but don't be mistaken: This pumpkin spice cornbread is not sweet, it is savory pumpkin cornbread. However, adding butter, cinnamon butter, or honey will give it that sweetness, if you crave that or are looking for a sweet pumpkin cornbread recipe.
To Make Pumpkin Skillet Cornbread with Honey Butter: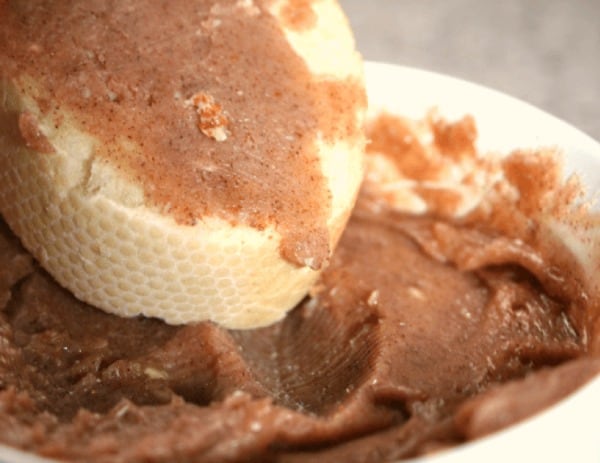 Use pumpkin cornbread with cinnamon honey butter, plain honey, or plain butter for a yummy treat!
OK!
Let's get to our skillet pumpkin cornbread!
Easy Pumpkin Cornbread Recipe
You can make this pumpkin cornbread with Jiffy mix or a pumpkin cornbread using mix, but it's just as easy to make it from scratch!
You can also use this for pumpkin sausage cornbread stuffing! Just replace your plain cornbread with this pumpkin corn bread.
This pumpkin puree cornbread is easy with just regular canned pumpkin (like you use for pumpkin pie recipes); however, you can make this cornbread with pumpkin puree that you can yourself, too.
Also, if you have roasted pumpkin seeds, you can make cornbread with pumpkin seeds, too! (Although we like it just like it's listed and getting the pumpkin flavor by adding pumpkin to cornbread mix.)
Someone even told me that they've made pumpkin jalapeno cornbread and now I want to try that the next time I make this pumpkin skillet cornbread!
Yield: 8
Pumpkin Cornbread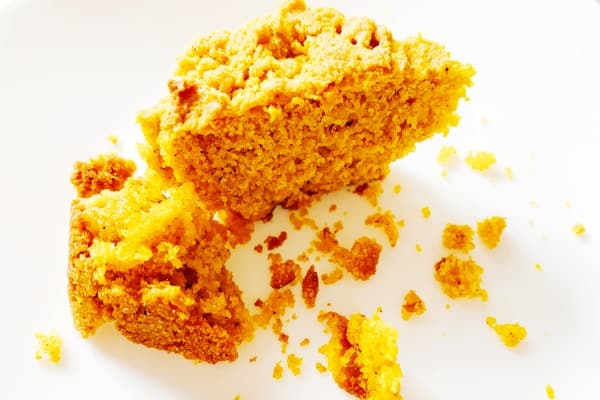 The trick to making this recipe for pumpkin cornbread crunchy is to heat the cast iron skillet with oil before placing the batter in and baking. It makes a crunchy cornbread coating.
Don't miss our cinnamon honey butter recipe, which is yummy with cornbread pumpkin!
Ingredients
1 cup all purpose flour
1 cup cornmeal
1 teaspoon baking powder
1/2 teaspoon baking soda
1/2 teaspoon salt
1/2 teaspoon ground cinnamon
1/2 teaspoon ginger
1/4 teaspoon ground cloves
1/2 cup light brown sugar, packed
1/4 cup unsalted butter, melted
1 cup canned pumpkin
1/2 cup milk
2 large eggs, lightly beaten
1 tablespoon Crisco or vegetable oil
Instructions
Preheat oven to 375 °F.
Place Crisco (or vegetable oil) into a cast iron skillet. Heat skillet on stovetop on low while preparing rest of recipe.
In a large mixing bowl, stir together flour, cornmeal, baking powder, baking soda, salt, cinnamon, ginger, nutmeg, and cloves. Make a well in the middle of the ingredients. Set aside.
In a medium mixing bowl, add brown sugar, making sure there are no clumps. Stir in melted butter and pumpkin until combined. Mix in eggs and milk.
Pour pumpkin mixture into well of dry ingredients. Fold with a spatula until just combined and no dry ingredients can be seen. Do not overmix or it could make your cornbread crumbly!
With the cast iron skillet, carefully swirl oil until it covers the entire skillet. Pour batter into hot skillet and spread evenly.
Bake for 25-30 minutes, or until a toothpick inserted in the center comes out clean.
Cool slightly before cutting into squares or triangles for serving.
Notes
We made this as a cast iron pumpkin cornbread recipe, but you can use cornbread muffin tins or a baking pan, too.
Also, if you have any leftover, make pumpkin cornbread stuffing!
Nutrition Information:
Yield:
8
Serving Size:
1
Amount Per Serving:
Calories:

258
Total Fat:

10g
Saturated Fat:

4g
Trans Fat:

0g
Unsaturated Fat:

5g
Cholesterol:

63mg
Sodium:

309mg
Carbohydrates:

39g
Fiber:

3g
Sugar:

12g
Protein:

5g
Nutrition information is estimated. Changes to the recipe and use of different brands may cause changes to the nutritional information to vary slightly from the ones provided here.
Fall Children's Books To Pair With The Best Pumpkin Cornbread
WE HOPE YOU ENJOY THIS CORNBREAD PUMPKIN RECIPE AS ONE OF YOUR FALL ACTIVITIES WITH KIDS!
LOOKING FOR FUN COOKING PRINTABLES FOR KIDS?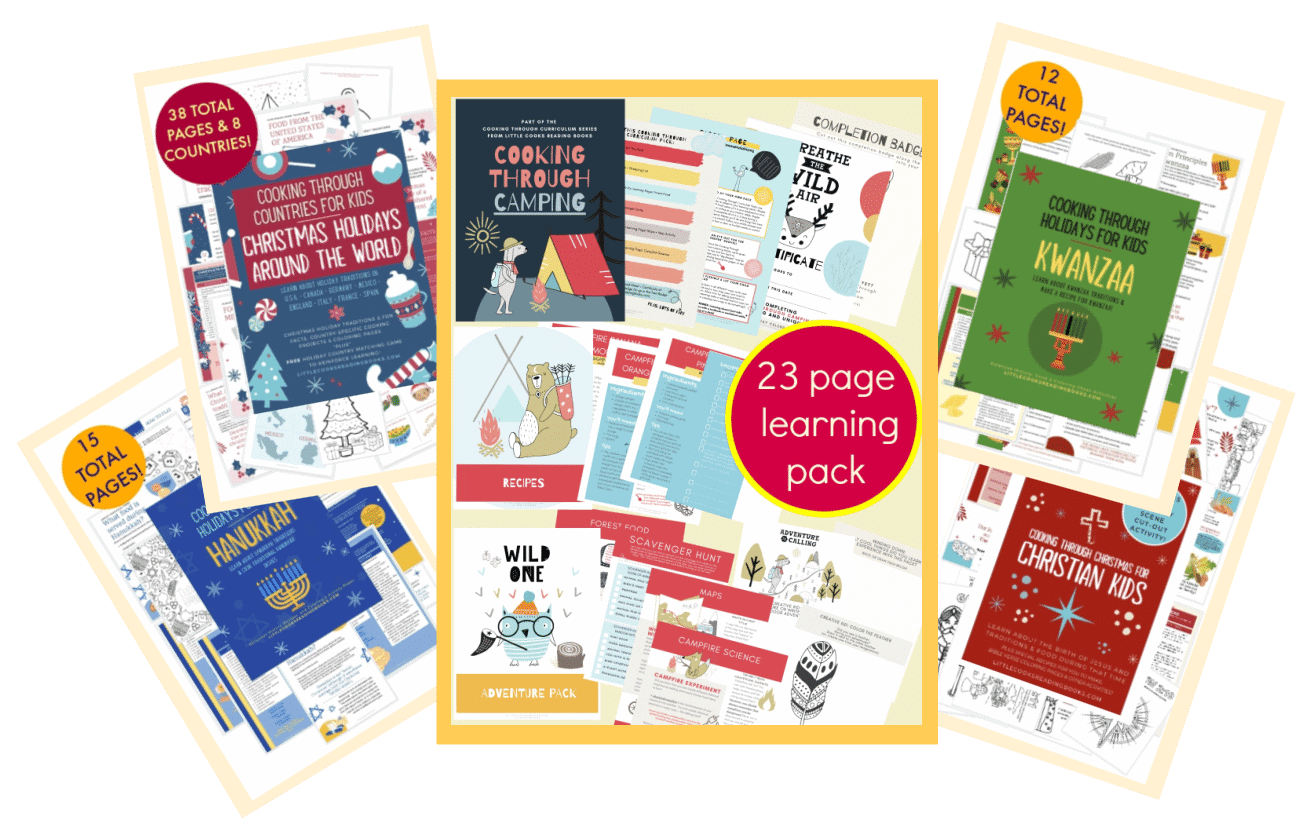 As an Amazon Associate I earn from qualifying purchases. Please refer to our
DISCLOSURE
.