Garland with dried fruit and other nature finds is a great holiday project or fun DIY crafts for kids any time of the year! And, nature garland or Christmas garland with fruit is so beautiful! Learn how to make fruit garland, how to make pinecone garland with dried fruit, get natural garland ideas, and how to make dried fruit Christmas garland or a nature garland for your homeschool classroom decorations!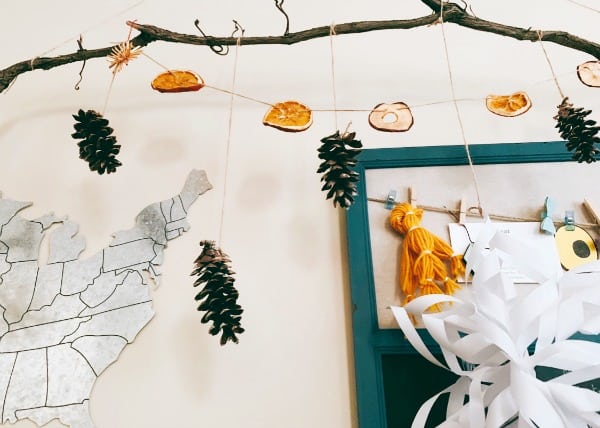 How To Make Garland with Dried Fruit, Pinecones, and Nature Finds
How do you make dried fruit garland?
Dried fruit garland Christmas decorations can be made out of drying fruit and anything you can find in nature and string together on a natural twine.
Items for Making A Dried Fruit Garland or Dried Fruit Hanging Decorations:
Evergreen branches
Leaves
Pinecones
Dried lemons
Berries
Dried limes
Cranberries
Dried oranges
Nuts
Dried apples
Dried apricots
Dried pears
Bay leaves
Twine or fishing line
If you want a scented garland, make it a dried fruit and cinnamon garland (with cinnamon sticks).
(Get the full dried fruit garland DIY instructions, including how to string dried fruit garland, below. Keep scrolling!)
How long does dried fruit garland last?
You may be surprised to know that your dried fruit garland can last for up to two years! Keep your natural fruit garland in a cool, dry place (away from the sun) and somewhere they won't attract bugs or critters! The color will eventually fade and the fruits and garland items may become brittle the longer they sit, so you will eventually need to make a new one.
Or, after you use it for the holidays, use this dried fruit garland for birds or other animals — but only if you haven't used any paint or craft spray on them!
How do you make dried fruit Christmas garland?
If you're wondering how do you make dried fruit for Christmas decorations or how do you dry oranges for decorations, there are several ways.
How to make dried citrus garland:
Dry fruit in the microwave
Dehydrate them using a dehydrator
Make dried fruit in the oven (see dried fruit Christmas garland DIY drying instructions below)
How To Make Dry Fruit Garland: Learn how to dry oranges and make dried apples for your garland.
(You can use this same process for how to make lemon garland or any dried citrus for garland, dried fruit for wreath making, or citrus ornaments.)
More How To Make A Garland For Christmas (or How To Make Cranberry Garland):
HOW TO MAKE POPCORN GARLAND WITH CRANBERRY
Where should I put garland in my house?
Around the front door
On the Christmas tree
Hanging on the fireplace mantel
Around windows
Draped on the stair banister
On the balcony outside
YOU MAY ALSO ENJOY MAKING THIS FALL LEAF DANCERS NATURE CRAFT!
Does dried orange garland attract bugs?
The trick to dried orange garland (or any dried fruit garland or dried citrus decorations) not attracting bugs is to make sure that they are completely dry and dehydrated before stringing the garland. We kept our dry fruit garland decoration in our homeschool classroom for over a year and it remained beautiful with no insects!
How long does real garland last?
How long real garland will last depends on what you use for your natural DIY garland. If you use fresh greenery (like evergreen garland fresh), it will last up to a month, especially if it's in the cold (like outdoors). If you are using fresh dried fruit garland, it can last between 6 months – 2 years.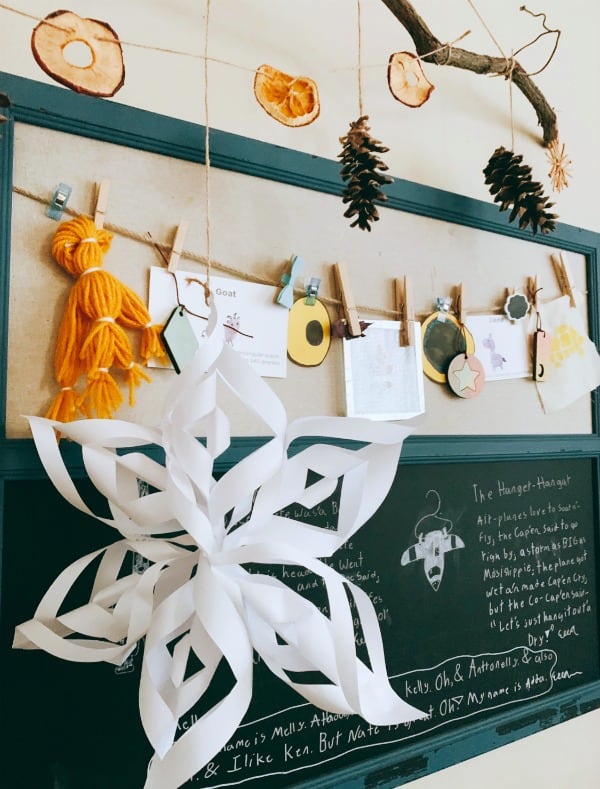 OK! Let's get to how to make a dried fruit garland (real garland).
If you're wondering what to do with the stuff you find on nature walks with kids, you'll love this nature inspired garland!
We hung our primitive dried fruit garland in our homeschool room (in the pictures) and really enjoyed it all year.
How To Make Homemade Garland
We make dried fruit garland as a quiet craft right before the holidays.
We've listed what we used for our homemade garland, but you can get creative and use anything you find in nature!
We used natural twine for our diy pine garland with dried fruit, but you can use any color of (thick) string, twine, or yarn that matches your project.
We didn't use sugared fruit, but you can make frosted fruit garland, too, by sugaring them (especially if you are using cranberries). LEARN HOW TO SUGAR CRANBERRIES HERE
NOTE: Sugared fruit will be more likely to attract insects!
Yield: 1
How To Make Garland With Dried Fruit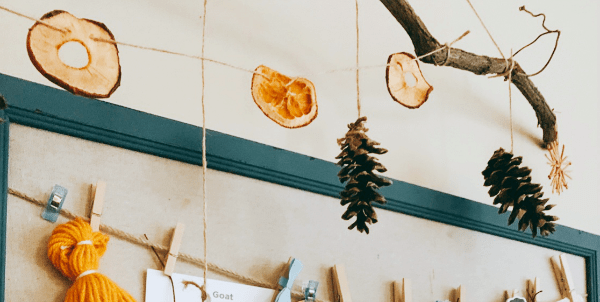 You'll be surprised when you learn how to make garland and see how easy it is! Play around with it by adding your own items (like paper snowflakes!) and have fun with this holiday craft!
Total Time
1 hour
10 minutes
Materials
Natural twine
Dried orange slices
Dried apple slices
Pine cones
Instructions
Cut a length of twine to the length of garland that you want to make.
Thread the twine through the yarn needle. Tie a knot in one end of the twine (big enough so it doesn't slip through) and pull the knot up to the eye of the needle. You should have a single layer of thread. [To learn how to dry fruit, see the dried apples post and the dried oranges post]
Starting with a dried orange, carefully thread the needle in one side of the orange and then out the other so that the dried orange slices hang evenly. Slide the orange close to the other end of the twine, but not at the very tip.
Next, carefully thread the dried apple on one side and then out the other (like you did for the orange slice). Push the apple as close to the orange slice as you want. Some people like their fruit garland tight, but we like it loose and left about 4-6 inches in between each element.
From the twine roll, cut a piece of twine about 3 inches long. Tie a pinecone onto the garland twine next to the apple.
Repeat the same pattern, dried orange, dried apple, pinecone, until you've created the garland length you want.
Remove yarn needle from twine and tie a knot in each end of the garland to prevent your items from sliding off.
Carefully hang garland on Christmas tree, fireplace mantel, on stairs or even in your classroom or craft room!
Notes
We used our homemade nature garland for our homeschool room, so we tied the pinecones hanging down from our dried fruit (instead of threading it beside the apples and oranges).
You can buy
artificial fruit garland
, but natural garland is so easy to make. Give it a try!
Children's Books to Pair with This Garland Craft
HAVE FUN LEARNING HOW TO MAKE GARLAND WITH DRIED FRUIT!