Fried biscuits are so yummy alone or dipped in apple butter, cinnamon honey butter, or just honey! You can make fried biscuits from scratch, but this canned biscuit recipe is just as good. (Consider it a can biscuit hack!) Eat them for a breakfast recipe or even as a baked side for dinner (like with fried chicken!). Here's how to fry biscuits…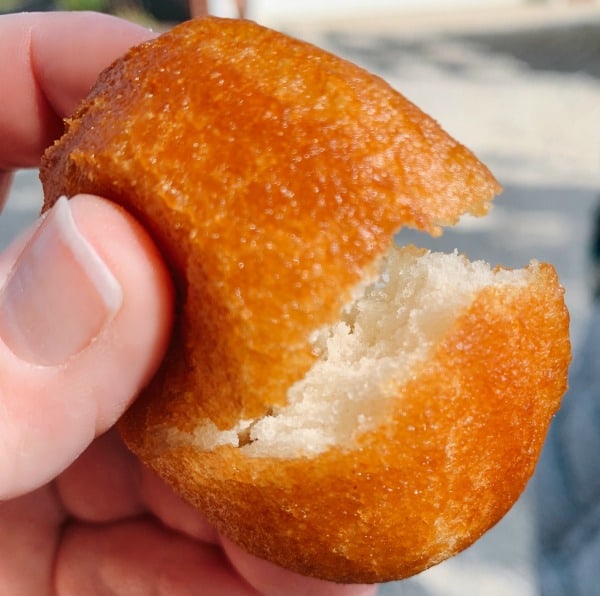 How To Make Southern Fried Biscuits
These DIY sweet fried biscuits (also called fried sugar biscuits) are a Southern recipe favorite. You can make them as fried biscuits with sugar (or fried biscuits with cinnamon and sugar), but if you're going to eat your fried biscuits and apple butter or jam, I like to leave them plain.
To make fried biscuits, you'll need:
Refrigerated plain biscuits, homestyle or Southern (NOT flaky)
Vegetable oil
White sugar (optional)
Cinnamon (optional)
Butter (optional)
Get the full pan fried biscuits from can recipe below. KEEP SCROLLING!
Affiliate links are used on this site. As an Amazon Associate I earn from qualifying purchases. Read more in our DISCLOSURE.
If you've ever made fried biscuits donuts from canned biscuits, the fried biscuit dough is just like that … but more in a puffy donut hole form!
Some people even eat them as fried biscuits and gravy, but I've never had them like that. (Let me know if you have!)
Before we get to the fried can biscuits recipe, you may be wondering what is a fried biscuit and can you fry biscuits…
What are deep fried biscuits?
Fried biscuits are a breakfast or sweet dessert treat made from deep fried biscuit dough. Instead of baking the biscuits, the raw biscuit dough is fried in oil (think deep fried canned biscuits). The recipe for pan fried biscuits are sometimes covered in sugar or cinnamon and sugar or served with apple butter or honey butter.

Can you cook biscuits on top of the stove?
Yes! You can pan fry biscuits on the stovetop. For frying biscuits, you will just need a deep pan (or biscuit in cast iron skillet) that will hold enough oil to cover the biscuits when you are frying them. This will help the fried biscuit recipe puff up a little more.
You can also make these as electric skillet biscuits or even dutch oven canned biscuits fried.
(These would be great griddle recipes for camping / campfire recipes in a dutch oven!)
How long do canned biscuits last after opening?
Once you open a can of biscuits, you should refrigerate the leftover biscuit dough in an airtight container and use it within 4-5 days. However, the best way to keep raw biscuit dough is to separate the biscuits and lay them flat on a cookie sheet. Freeze the biscuits and then transfer them to a freezer container until you need biscuit dough.
ALSO CHECK OUT:

What To Eat With Biscuits That Are Fried
Fried biscuits can be eaten with:
Apple butter
Butter
Honey
Honey butter
Cinnamon butter
Cinnamon and sugar
Sugar
Powdered sugar
Jam or jelly
Chocolate sauce
Fried chicken biscuits and gravy
Sausage gravy
OR, leave them plain!
TRY WITH THE FRIED BISCUITS RECIPE:
Recipe For Cinnamon Butter (Shockingly Simple!)
YOU'LL ALSO LOVE THIS RECIPE:
Chocolate Crescent Rolls Air Fryer
OK! Let's get to how to make fried biscuits!
HOW TO MAKE PAN FRIED BISCUITS
For these deep fried biscuits, use plain biscuits (without butter in the dough) and don't use the flaky biscuits.
I like the plain (or buttermilk) Southern homestyle biscuits for this fried canned biscuits recipe. (We use the Pillsbury biscuits, but any brand of non-flaky biscuits will work.)
You can try to make these as homemade fried biscuits, but honestly, the canned biscuits are great for this recipe.
Also, I leave our biscuits plain because we often eat them with apple butter, but you can roll them in cinnamon and sugar (or just sugar) if you want a fried doughnut treat.
Now, on to the fried can biscuits recipe!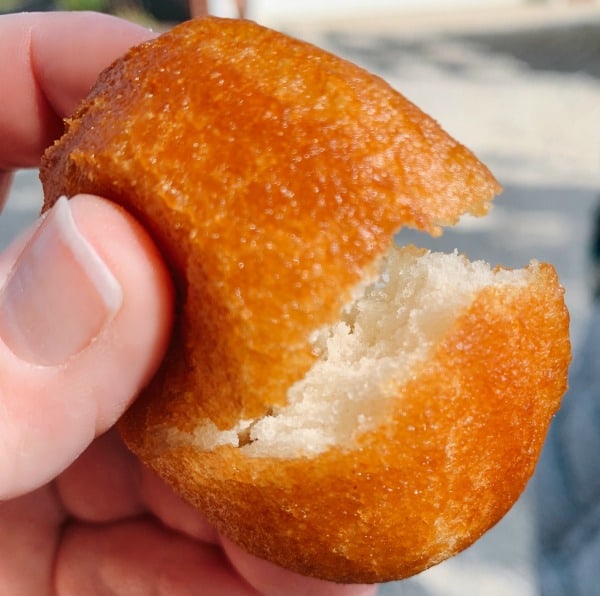 This recipe is best with plain, homestyle / Southern, or buttermilk biscuits. Don't use the flaky refrigerated biscuits for this fry biscuit dough recipe.
Ingredients
1 (16.3 ounce) can refrigerated plain biscuits (can of 8)-homestyle or Southern (NOT flaky)
3-4 cups vegetable oil
1/2 cup sugar (optional)
1 Tablespoon cinnamon (optional)
Instructions
Add oil to a deep saucepan, dutch oven or small pot. Heat to 375 °F.
If coating with cinnamon and sugar (optional), mix together cinnamon sugar in a small bowl. Set aside.
Remove biscuits from container. Using kitchen scissors or a knife, cut each biscuit into 4 sections. For each section, roll into a ball and then slightly flatten to a disc shape.
Drop each biscuit "disc" into the hot oil. Do not overlap. Fry for 2-3 minutes on each side, or until light golden brown.
Using a slotted spoon, remove fried biscuits from oil and transfer to a paper towel lined plate to drain. If using cinnamon and sugar, transfer fried biscuits to bowl of cinnamon sugar. Flip once to cover biscuits on both sides with sugar mixture. Cool slightly before serving.
Serve plain or with apple butter, cinnamon butter, honey, honey butter or melted chocolate.
Notes
You can also make these fried biscuits with powdered sugar!
Nutrition Information:
Yield:
24
Serving Size:
1
Amount Per Serving:
Calories:

989
Total Fat:

109g
Saturated Fat:

8g
Trans Fat:

3g
Unsaturated Fat:

96g
Cholesterol:

0mg
Sodium:

15mg
Carbohydrates:

6g
Fiber:

0g
Sugar:

4g
Protein:

0g
Nutrition information is estimated. Changes to the recipe and use of different brands may cause changes to the nutritional information to vary slightly from the ones provided here.
HAVE YOU EVER HAD QUICK FRIED BISCUITS?
LOOKING FOR FUN COOKING PRINTABLES FOR KIDS?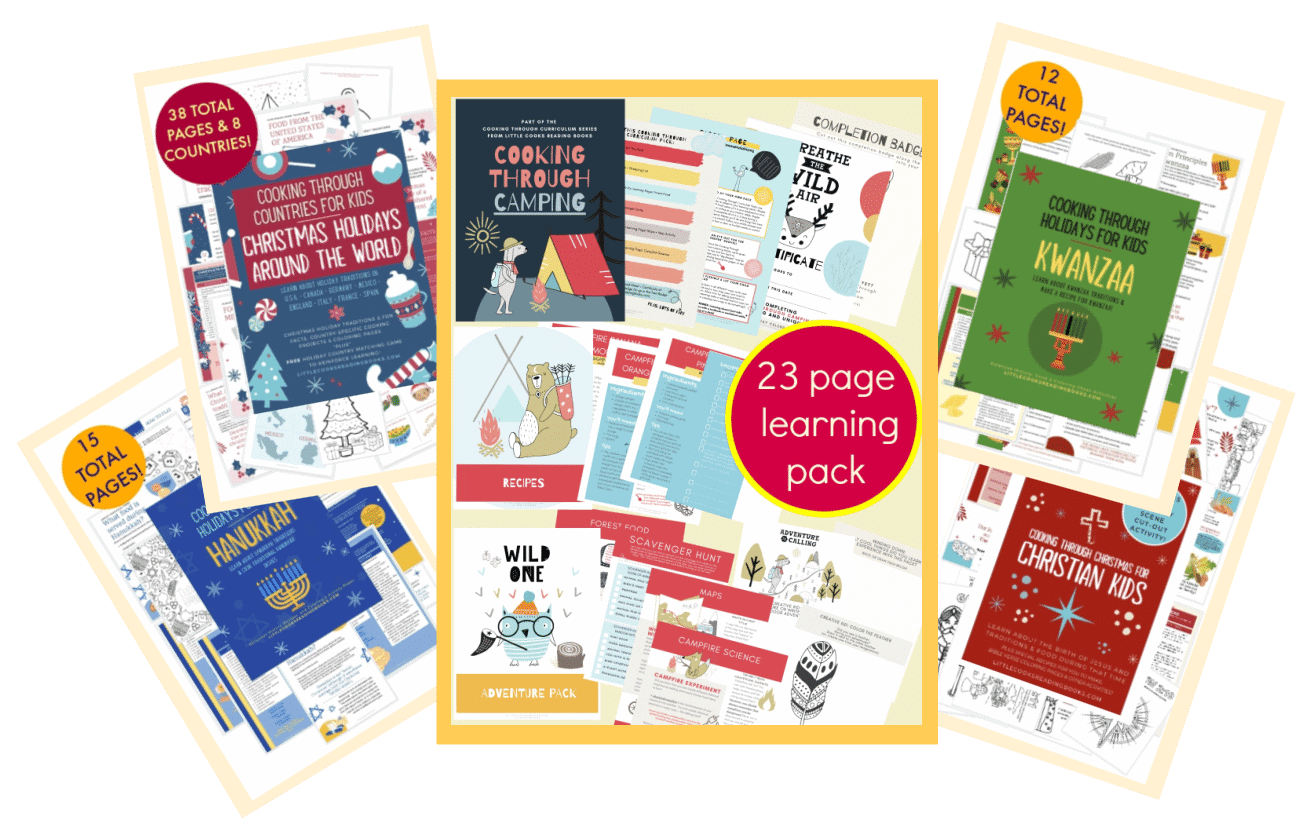 As an Amazon Associate I earn from qualifying purchases. Please refer to our
DISCLOSURE
.