Best recipe for apple butter for canning or eating ASAP, perfect if you've been wondering how do you make apple butter in a crock pot (this is a super easy slow cooker recipe!). Be sure to pick extra apples at the apple orchard for this fun fall recipe to make with kids!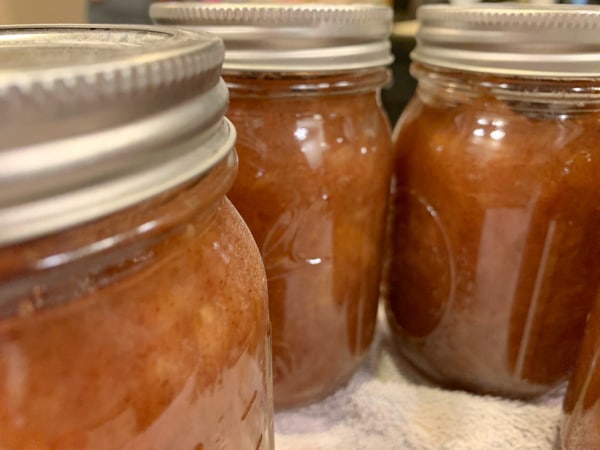 BEST RECIPE FOR APPLE BUTTER TO CAN OR EAT ASAP!
There's nothing like homemade apple butter, especially in the fall after you've gone to the apple orchard with the kids. (So be sure to pick extra apple for your apple butter recipe!)
Apple Butter Homemade: How do you make apple butter from scratch?
Making apple butter is easier than you think and can be made on the stove top, apple butter in a crock pot, or you can make apple butter in an Instant Pot. Apple butter from scratch can made a variety of ways, depending on if you like it more intense with cinnamon, cloves, and nutmeg, or milder with just cinnamon.
In addition to apples, apple butter recipes can include a variety of apple butter ingredients like:
Affiliate links are used on this site. As an Amazon Associate I earn from qualifying purchases. Read more in our DISCLOSURE.
Cinnamon
Sugar
Brown sugar
Apple cider
Apple cider vinegar
Nutmeg
Cloves
Allspice
Honey
Lemon juice
Salt
Vanilla
If you search for how to make apple butter the old fashioned way (or Grandma old fashioned apple butter recipe), you'll still get a variety of different recipes from mild apple butter to a deeper, richer traditional apple butter recipe with different spices with a stronger taste.
This recipe for fresh apple butter is fun to show the kids the entire apple growing cycle and how it gets from farm to table!
Before we get to the recipe for old fashioned apple butter, let's answer some common questions that will help if you've never had or made apple butter.
What is apple butter?
Apple butter is a more concentrated form of apple sauce. The apples cook for a longer time, allowing sugar to caramelize and turn a deeper brown than applesauce.
What does apple butter taste like?
Apple butter has a consistency like applesauce. However apple butter tastes more intense and stronger than applesauce because of the long cooking process with spices like cinnamon or nutmeg.
What is the difference between apple butter and applesauce?
The difference between apple butter and applesauce is that apple butter is more concentrated. Because a recipe for apple butter cooks longer, it removes more of the water, breaks down the apples more, and becomes thicker than apple sauce.
What is apple butter used for?
Uses for apple butter:
Biscuits
Apple butter sandwich
Toast
Cornbread
Apple slices
Apple butter pancakes
Waffles
Cake or baked goods
Apple butter pie
Apple butter pumpkin pie
Muffins (to make apple butter muffins)
Apple butter bread
Filling for cakes or cupcakes
Oatmeal
Pork / apple butter pork chops
Chicken
Alone!
Can you eat apple butter by itself?
Yes! You can eat apple butter by itself. It is a thicker, more cinnamon flavor than applesauce and good to eat alone, but it is also yummy spread on things like toast, waffles, as an oatmeal topping and more!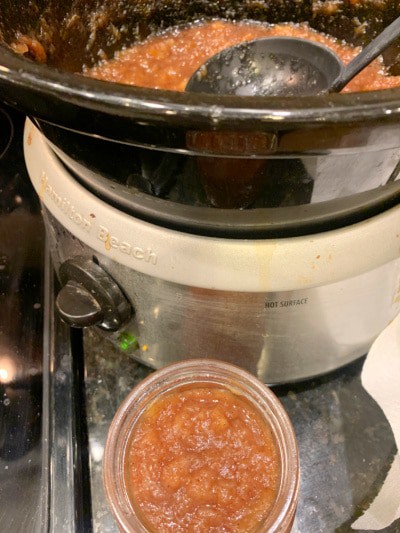 ALSO CHECK OUT THESE APPLE RECIPES & PUMPKIN RECIPES:
Easy Apple Fries Recipe (Baked and Air Fryer!)
Snickers Salad with Apples
Easy Apple Salad with Pear and Cranberry
How To Dry Apple Slices For Healthy Snacks and Nature Crafts
Most Perfect Pumpkin Cookies You'll Ever Eat!
4 Yummy Roasted Pumpkin Seeds Recipe Ideas
Is Pumpkin A Fruit? Learning About Pumpkins and Pumpkin Recipes
What apples are good for apple butter?
A good recipe for homemade apple butter using fresh apples depends on the type of apples! The best apples for apple butter are Mcintosh, Red Delicious, or Gala, Cortland, Fuji or even a mix of those. Although Granny Smith apples may be a go-to for baking apple dishes, they are not as good for a recipe with apple butter.
Some people even use pears for a recipe for apple pear butter!
Can you use apple butter instead of butter?
Can you substitute apple butter for butter? Apple butter is not a replacement for regular butter, as they are very different. Apple butter is just called "butter," but there is no dairy (or actual butter) in an apple butter recipe. Don't substitute apple butter in recipes that call for butter, but it can be used in place of applesauce.
Is apple jelly the same as apple butter?
Apple jelly is not the same as apple butter. Apple jelly is a clear, amber preserve that is a thick, spreadable consistency. Apple butter is cooked down apples that makes a darker, chunkier spread that is very different from apple jelly. However, they can both be used for breads and baked goods spreads.
OK!
Let's get to our recipe to make apple butter!
(Don't miss out tips about storing apple butter after the recipe!)
PERFECT WITH THIS RECIPE: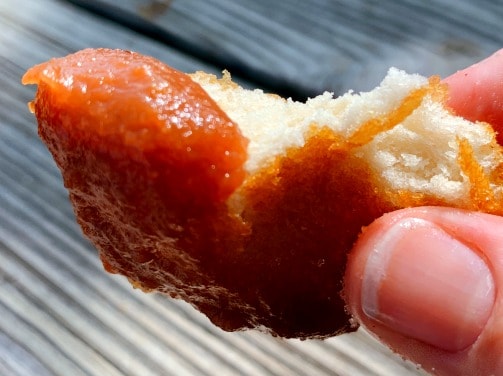 BEST RECIPE FOR APPLE BUTTER IN SLOW COOKER
This is the recipe for home canned apple butter that I remember from childhood and an apple butter slow cooker is a favorite recipe. (We've made it as a crock pot recipe, but you can make apple butter recipe instant pot, too!)
Also, don't be afraid to play around with it and use different spices in smaller batches to see what your family likes best!
Apple butter making is fun for the whole family, so don't forget to get your kids cooking, too!
Yield: 32
Recipe For Apple Butter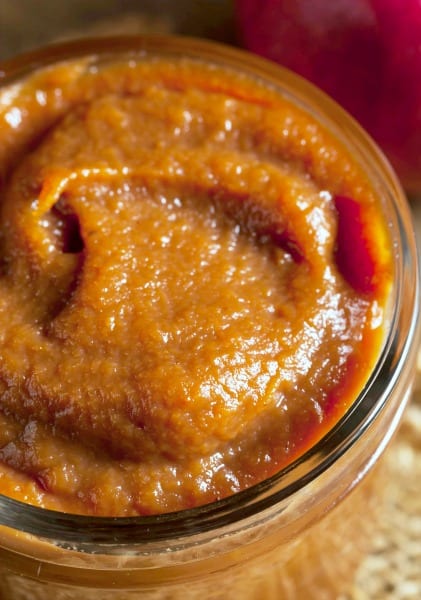 This crockpot apple butter recipe makes around 4 pints of apple butter.
Total Time
8 hours
20 minutes
Ingredients
5 pounds apples, cored and chopped
4 cups white sugar
3 teaspoons ground cinnamon
1/4 teaspoon ground cloves
1/4 teaspoon salt
Instructions
In a medium mixing bowl, mix together sugar, cinnamon, cloves, and salt. Set aside.
Place apples in a large crockpot. Pour sugar mixture over apples and mix so that apple pieces are covered.
Place lid on crockpot and cook on low for 8 hours, or until apples have cooked down and are thick and brown. If your apple butter has a lot of liquid or is runny, remove the lid and let the apples cook for another hour or until more of the liquid has evaporated.
Stir apple butter until smooth and combine. If you like a smoother apple butter or find you have chunks of apple peels, you can run it through a blender or food processor.
Store apple butter in refrigerator for a few weeks or place in a freezer safe container and freeze. You can also can apple butter to keep for up to 2 years when stored in a cool, dark place.
Notes
*You can leave your apples with the peel on or peel them.
*If you like a spicier apple butter, you can also add a 1/2 teaspoon ground nutmeg.
*Apples have a lot of water, so they will naturally cook down without the need to add more liquid. However, if you find that your apples are cooking down fast or burning, add a 1/4 cup of water or apple cider to the bottom of the crockpot.
Nutrition Information:
Yield:
32
Serving Size:
1
Amount Per Serving:
Calories:

134
Total Fat:

0g
Saturated Fat:

0g
Trans Fat:

0g
Unsaturated Fat:

0g
Cholesterol:

0mg
Sodium:

18mg
Carbohydrates:

35g
Fiber:

2g
Sugar:

32g
Protein:

0g
Nutrition information is estimated. Changes to the recipe and use of different brands may cause changes to the nutritional information to vary slightly from the ones provided here.
One of the problems that people have with an apple butter recipe is trying to get the right consistency.
What should the consistency of apple butter be?
The consistency of apple butter should be a little thicker than apple sauce. You don't want a thinner, runny apple butter. It should be thick enough to spread on a piece of toast.
How do you know if apple butter is thick enough?
Apple butter will be thick and dark once it is cooked down. If you're unsure if apple butter is thick enough, get a spoon of the apple butter. Away from the steam of the pot or crockpot, turn the spoon on it's side. The apple butter is thick enough if it clings to the spoon and doesn't immediately slide off.
How do I thicken apple butter?
Apple butter will naturally thicken the longer they are cooked because the water from the apples will cook off. If your apple butter does not seem to be getting thick, remove the lid from the pot or crockpot during the last hour off cooking and allow more of the liquid to evaporate off.
HOW DO YOU STORE APPLE BUTTER?
How long is homemade apple butter good for?
Apple butter stored in refrigerator should lasts for around a month or a little more.
Apple butter stored in the refrigerator in an airtight freezer container will last for up to 6 months.
Canned apple butter, unopened and stored in a cool, dark place, will last for 2 years or a little more.
Can apple butter be left out?
Apple butter has a no preservatives and a very low sugar content, which means that the apple butter can easily mold if left out on the counter or table. Once you've used the apple butter, place it in the refrigerator shortly after.
Do you refrigerate apple butter?
Yes, you should refrigerate apple butter when it's not being used. Since apple butter molds easily, it should be stored in the refrigerator or in the freezer for longer term storage.
How long is homemade apple butter good for once opened?
Once homemade apple butter is opened, it will last (if stored properly in the refrigerator) for a little over a month. Each time you use the apple butter, check it before eating to see if any mold has formed on the butter or on the inside of the lid or container. If it has, discard the apple butter instead of eating.
Can you freeze apple butter in Mason jars?
You can store apple butter (and many other things) in Mason jars in the freezer. However, since glass can break and glass jars take up a lot of room in the freezer, freezing apple butter flat in a freezer bag may be a better option.
How do you know if apple butter is bad?
Apple butter that has gone bad may develop an odor or sour smell. It may also get very thin and watery or you may also see mold forming. If your apple butter has any of these (or all), do not consume and discard the apple butter immediately.
APPLE BOOKS FOR KIDS
These are great children's books to pair with this recipe:
LET US KNOW HOW THE EASY RECIPE FOR APPLE BUTTER TURNS OUT!
LOOKING FOR FUN COOKING PRINTABLES FOR KIDS?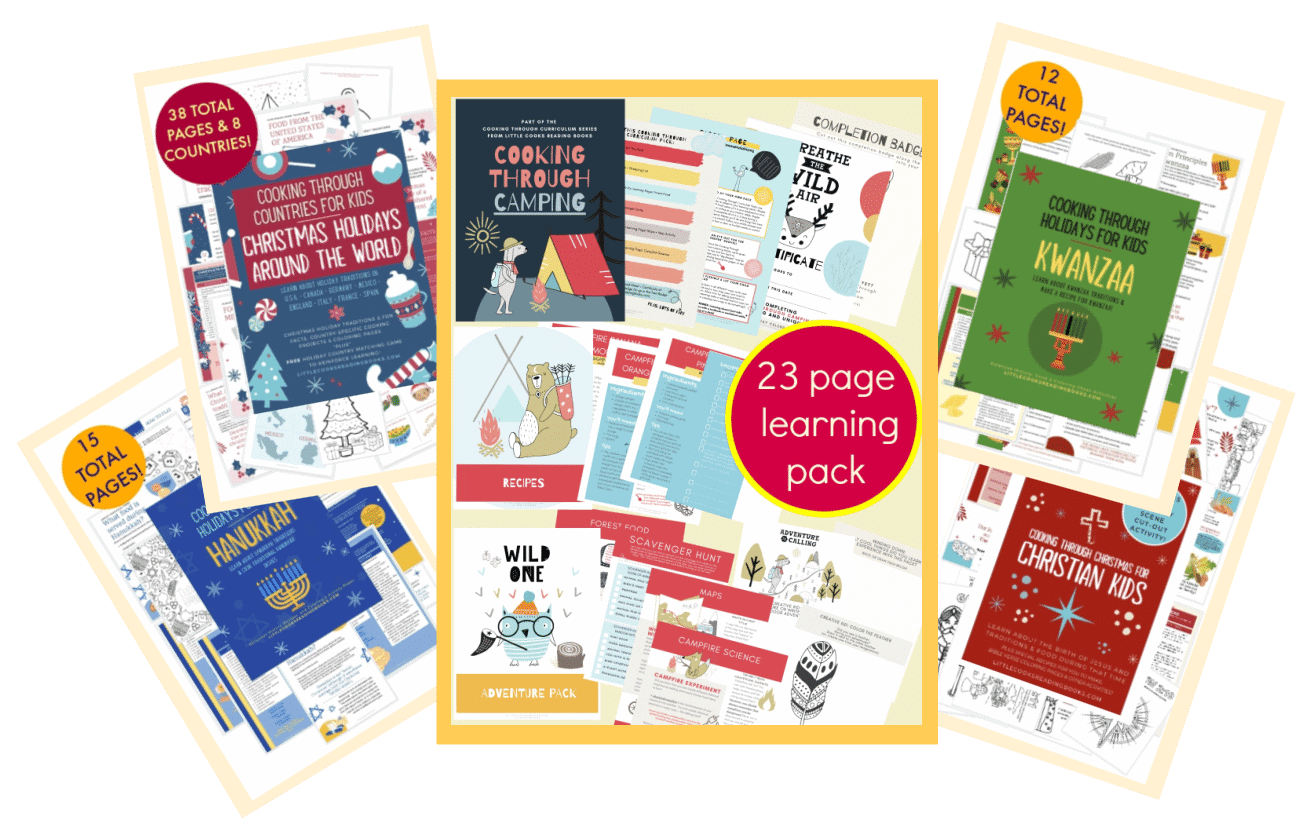 As an Amazon Associate I earn from qualifying purchases. Please refer to our
DISCLOSURE
.