Cranberry apple salad is an easy salad recipe with fruit ready in 10 minutes! Perfect for recipes for fall, salad recipe for summer, holiday salads, or ideas on what to do with apples after fall apple orchard picking!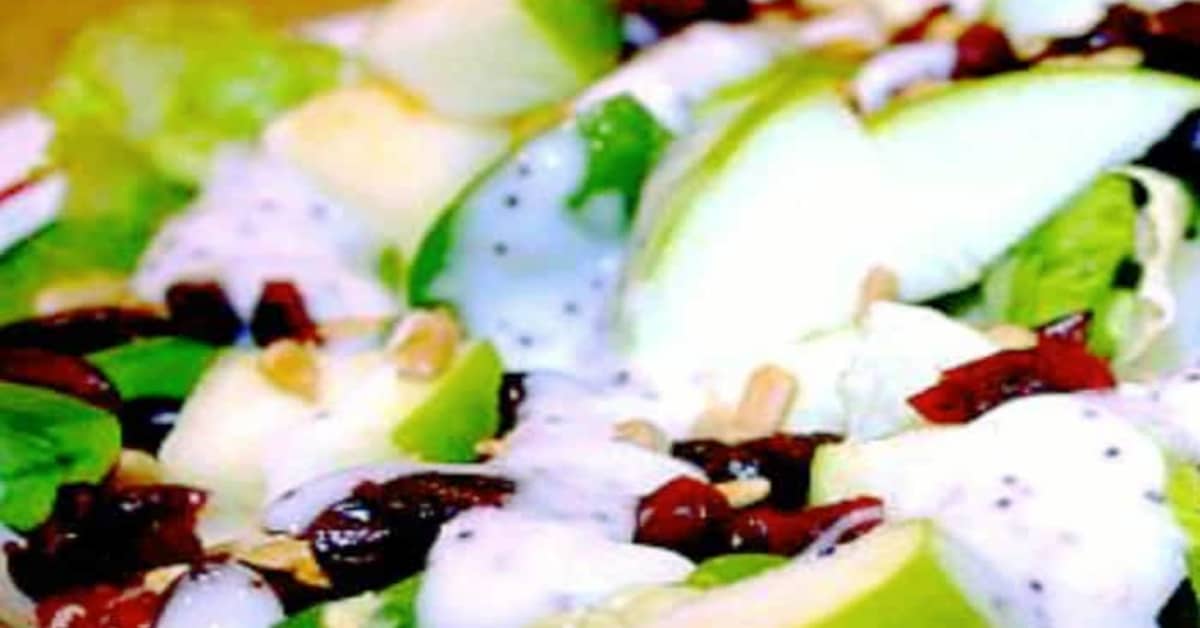 Simple Cranberry Apple Salad
We love this green apple salad and it's one of our go-to easy salad recipe for summer, fall, and winter!
To make cranberry and apple salad, you'll need:
Roman lettuce, butter lettuce, or spinach (or mix)
Green apple
Pear
Dried cranberries
Sunflower seeds
Poppy seed dressing
(see full apple pear cranberry salad recipe below)
Affiliate links are used on this site. As an Amazon Associate I earn from qualifying purchases. Read more in our DISCLOSURE.
Before you wrinkle your nose with "Blech! Apple in salad!" or "I don't like apple salad with lettuce!" or "A recipe for cranberry apple salad? That's dumb!" attitudes, let me tell you that every time I make this at gatherings, people love it.
I mean, they loooooove using apple for salad in this way! (And yes, many are surprised they like this apple recipe!)
With this apple pear salad, you get a nice mix of crispness between the fruit and lettuce, some tartness with dried cranberries, crunchiness with sunflower seeds, and then an amazing poppy seed dressing to top it all off.
It's a great last-minute addition to a meal, quick and easy side dish for a pitch-in, and simple kids' recipe for them to make on their own!
This recipe is perfect for fall apple and pumpkin picking, too!
ALSO CHECK OUT THESE APPLE RECIPES & PUMPKIN RECIPES:
Easy Apple Fries Recipe (Baked and Air Fryer!)
Snickers Salad with Apples
Easy Apple Butter
How To Dry Apple Slices For Healthy Snacks and Nature Crafts
Most Perfect Pumpkin Cookies You'll Ever Eat!
4 Yummy Roasted Pumpkin Seeds Recipe Ideas
Is Pumpkin A Fruit? Learning About Pumpkins and Pumpkin Recipes
Before we get to the recipe for apple salad, here are some tips for this recipe:
What is the best apple for salad?
You can use any apples for salad, but often the crisp, tart, green apples work best. Granny Smith apples work well with lettuce or spinach salads and can balance between sweet and tart of other salad ingredients.
How do you slice apples for salad?
Slice apples for salad in thicker cuts by cutting the apple in half and then into quarters. Then, slice off the core with the seeds and slice each quarter into smaller cuts. When slicing apples for salads, there is no need to peel the apple. Just wash the apple and cut the apple with the peel on.
Should you peel apples for fruit salad?
Whether or not you should peel apples for fruit salad depends on the kind of fruit salad you are making. In general, it's better to leave the peel on the apple so that they don't turn brown quickly. If you're peeling apples, toss them in lemon juice to prevent them from browning quickly.
What is a good dressing for apple salad?
You can, of course, use any apple salad dressing you want, but we really recommend that you give the Poppy Seed dressing a chance! Some people also like
(We happen to love this specific dressing.)
OK!
Let's get to the apple salad recipe!
How To Make Cranberry Apple Salad with Pear
This simple cranberry apple salad with poppy seed dressing makes a festive Christmas dish!
You can also add apple salad with chicken if you want a meat option or even make this a spinach apple salad (instead of lettuce).
Also, some people make this apple cranberry fruit salad with walnuts, but we like it with sunflower seeds.
If you're taking this salad on-the-go for a pitch-in or holiday party, add the dressing when you arrive at the party so that the lettuce doesn't get soggy.
Yield: 4
Apple Salad with Pear and Cranberry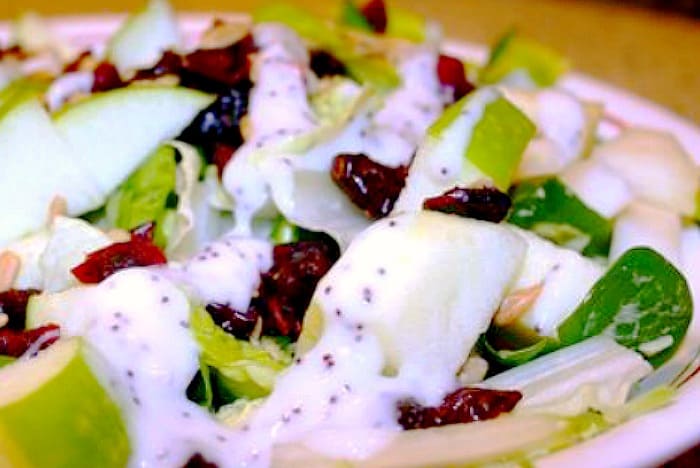 This cranberry apple salad recipe is a yummy lunch recipe or side dish for all seasons! It makes perfect salads for kids and adults!
Ingredients
1 bunch Roman, butter lettuce or spinach (or mix), washed and torn
1/2 cup dried cranberries
1 green apple, cored and chopped
1 pear, peeled, cored and chopped
2 Tablespoons sunflower seed kernels
Poppy Seed Dressing (to taste)*
Instructions
Toss together lettuce, apple, pear and cranberries.
Right before serving, add dressing.
Top with sunflower seeds. Serve immediately.
Notes
We made our apple salad with sunflower, but you can make the apple salad with walnuts or pecans, too. (Or, even leave the nuts out of the salad!)
*We use a store-bought Poppy Seed dressing.
Nutrition Information:
Yield:
4
Serving Size:
1
Amount Per Serving:
Calories:

171
Total Fat:

5g
Saturated Fat:

1g
Trans Fat:

0g
Unsaturated Fat:

4g
Cholesterol:

1mg
Sodium:

321mg
Carbohydrates:

33g
Fiber:

4g
Sugar:

26g
Protein:

2g
Nutrition information is estimated. Changes to the recipe and use of different brands may cause changes to the nutritional information to vary slightly from the ones provided here.
File under: green apple salad recipes
Easy Apple in Salad Recipe Paired with Bad Apple: A Tale of Friendship
We decided to pair up our cranberry apple salad recipe with the children's book Bad Apple: A Tale of Friendship by Edward Hemingway.
Just like apples and lettuce seem an unlikely pairing, so do apples and worms.
However, when little Mac apple meets Will the worm, they become fast friends.
But . . . apples and worms aren't supposed to be friends, right?
Soon, Mac is being called things like "Bad Apple" and "Rotten!" for his friendship with Will.
Mac decides to stand up to the bullies and fight for his friendship, no matter how different he and Will are from each other.
This engaging story will open doors for dialogue with your kids about diversity, bullying, differences, friendship and more!
Listed Book Age Range: 3-5 years
Let us know what you think of this apple salad!
LOOKING FOR FUN COOKING PRINTABLES FOR KIDS?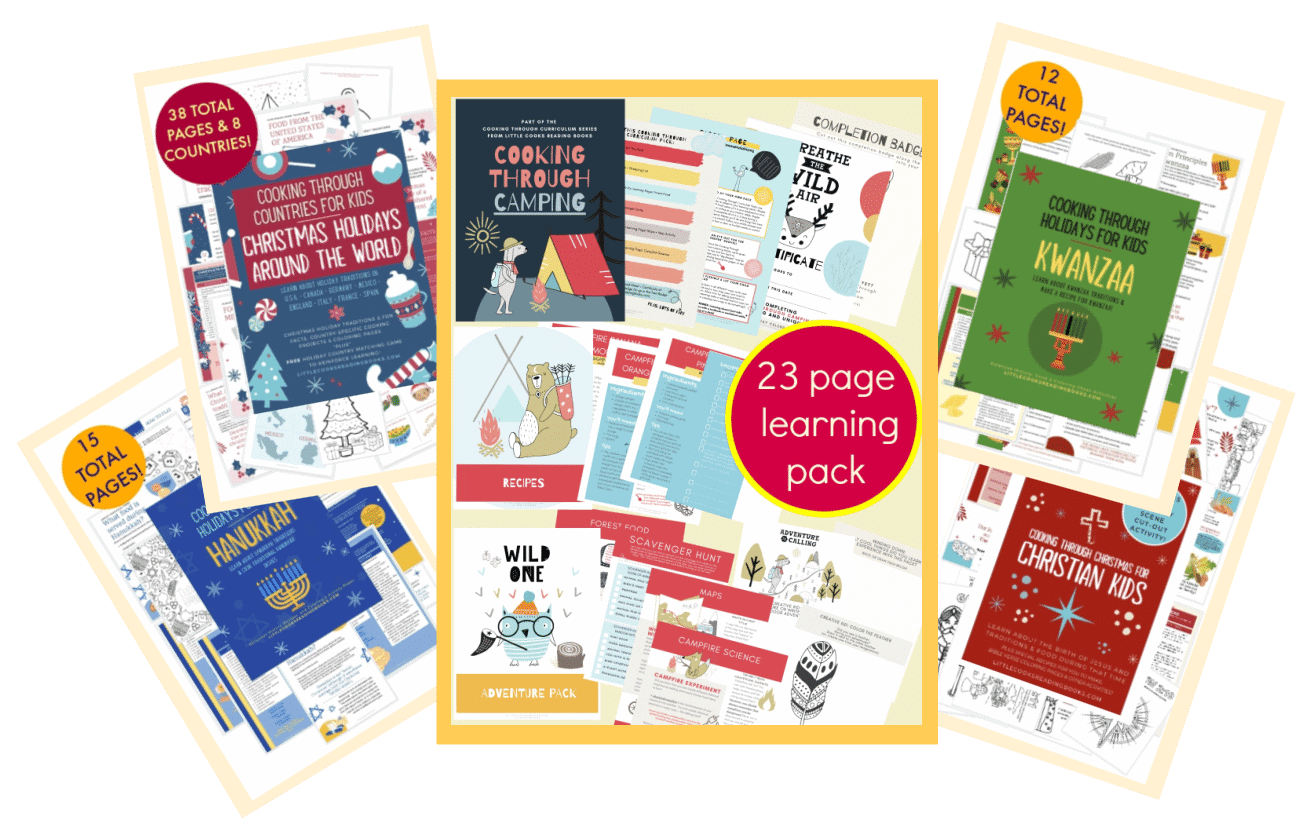 As an Amazon Associate I earn from qualifying purchases. Please refer to our
DISCLOSURE
.