Asparagus salad drizzled with balsamic vinaigrette is one of our favorite spring salads when asparagus season starts. This vegetable recipe is great because it makes one of those easy side dishes or even asparagus meals on its own. If you're looking for an asparagus easy recipe or perfect salad ideas (that kids will love, too!), this is it! Add it to chopped summer asparagus salads list, too!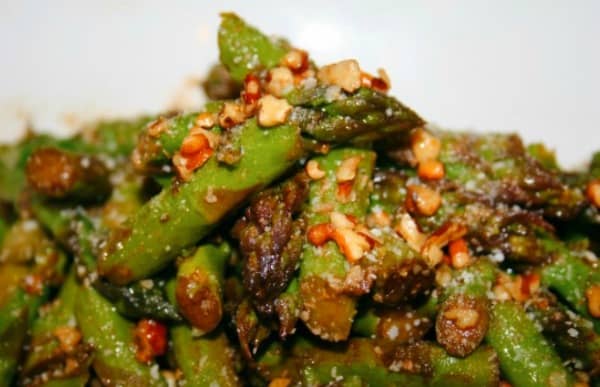 EASY ASPARAGUS SALAD RECIPES

Before we get to the roasted asparagus salad recipe, let's cover some facts about asparagus and questions people often have about the vegetable. (These are fun to go through when cooking with kids, too!)
Can you eat asparagus raw in a salad?
Some people eat raw asparagus salad or shaved asparagus salad without cooking. However, it can be tough, especially the woody bottom parts of the asparagus. Shredding it into a salad will make asparagus easy to eat, or saute it lightly in oil before adding it to the salad.
Affiliate links are used on this site. As an Amazon Associate I earn from qualifying purchases. Read more in our DISCLOSURE.
Can you eat cooked asparagus cold?
Yes. You can eat asparagus cold or warm right after cooking. This asparagus salad recipe is great served immediately or even after it has been chilled.
What part of asparagus should you eat?
Most people eat the top of the asparagus spear, which is the most tender part. The woody bottom ends of the spear are tough, but can be used in soups, purees, stir fry dishes and more. So, while you can eat the whole asparagus stalk, the top spear is the best.
What does asparagus taste like?
Asparagus is a unique taste that is unlike anything else. It has a distinct flavor that is a little like stronger, more earthy, freshly-cooked green beans (in both taste and texture). If your asparagus is sour or bitter, it means that it has gone bad (or may have been cooked too long).
If you tried it and don't like asparagus, it may have been because it wasn't cooked right.
(There's nothing worse than mushy, overcooked asparagus or … asparagus from a can. Shudder.)
So, if you tried asparagus before and didn't like it, especially for the texture, you might be in for a treat with this recipe (and the other things you learn here!).
What asparagus good for?
Asparagus is a really versatile vegetable. You can eat it alone, steamed, grilled, baked or boiled, with just a little salt and olive oil. There are also many different asparagus recipes like asparagus soup, asparagus and chicken, asparagus quiche and more!
Is asparagus healthy?
It's probably no surprise, but plain asparagus is very healthy! It is low in calories and fat, but is also high in fiber and Vitamins A, C, E and K (and more!).
Asparagus Benefits include:
High in protein
Is an antioxidant
Full of vitamins
Low in calories
Low in fat
High in fiber
Has healthy minerals
Acts as diuretic
& MORE!
MORE SUMMER SALAD RECIPES TO TRY: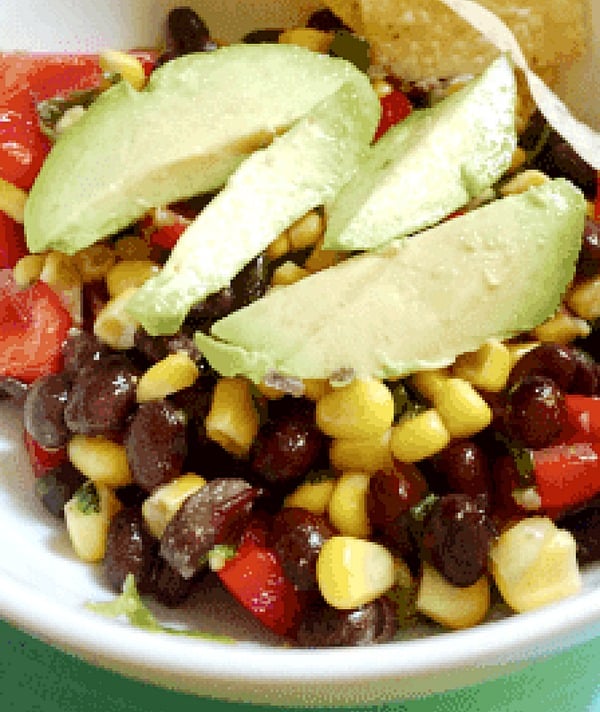 Asparagus: How To Cook
How Do You Cook Asparagus?
There are many different ways to cook asparagus and asparagus recipes like:
Grilled asparagus with lemon
Boiled or steamed on the stove
Baked asparagus in the oven
Asparagus with lemon
Asparagus wrapped in bacon (YES! It's a thing!)
Asparagus soup
In a casserole
Asparagus with parmesan
Asparagus quiche
In a frittata
Asparagus risotto
In pasta
Asparagus fries
Asparagus stir fry
Asparagus in the air fryer
Honestly, I could keep going (but I think you get the idea…).
There are so many good asparagus recipes and asparagus dishes, but it's good (and simple) tossed in a little olive oil with salt sprinkled on it.
Asparagus Cook Time
How do you clean and cook asparagus?
Asparagus is simple to prepare. You wash it and then snap the bottom parts off. (If you bend the asparagus spear, it will naturally break at the "woody ends" point that you discard.) There are many ways to cook asparagus, but the easiest way is to steam it for around 5-7 minutes, until just tender but still crisp.
There are asparagus steamer pots (with baskets), which are great! You can also just use a regular vegetable steamer insert or a steamer set (which is what I use).
Do you wash asparagus before cooking it?
Yes, just run the asparagus spears under cool water to remove any dirt or grit. Then, bend each asparagus stalk until it snaps. Discard the woody lower end. The top portion is the part you keep and cook!
How long do you blanch fresh asparagus?
Blanching fresh asparagus is very fast. Add asparagus to boiling salt water and let it boil for 3-4 minutes. Drain and transfer to an ice bath immediately to stop the cooking process.
Asparagus Season
When asparagus in season?
The prime harvesting season for asparagus is April, but asparagus season is from late February to June. However, it is available all year in most grocery stores.
Can asparagus go bad?
Yes, asparagus can go bad. It becomes discolored and turns mushy. It may even taste sour or bitter if you eat asparagus without realizing it has gone bad.
How do you know when asparagus goes bad?
Like many vegetables, asparagus is easy to look at (and feel) and tell if it has gone bad. If it is soft or mushy, is discolored, has black spots on the stalk, or if the tips are very dark green (almost black) and mushy, the asparagus is bad and should be thrown away.
How long can asparagus last in fridge?
Fresh, raw asparagus can last around 4 days in the refrigerator. (It will depend on how fresh it was in the grocery store!) To store asparagus, wrap the bottom parts of the stalk (the woody ends, not the tips) in a slightly dampened paper towel inside an unsealed plastic bag or stand in a glass jar with a enough water just to cover the bottom ends. Place in refrigerator until ready to eat (within 4 days).
Can asparagus be frozen?
Asparagus can be frozen. It is best to use frozen asparagus in dishes and for cooking as it won't have the same flavor and texture as fresh asparagus. It is best to blanch the asparagus before freezing to help retain the color and nutrients.
How Asparagus Is Grown
Asparagus is a fun to cook with kids for several reasons:
It's quick and easy.
It's healthy.
Asparagus is a fun finger food.
Learning how asparagus is grown is interesting.
There's that whole bodily function aspect, which kids always appreciate. (More on that in a bit. You're welcome.)
Asparagus Harvesting
It's interesting to see asparagus growing because (to me) it just looks like someone stuck a bunch of asparagus spears from the store into the ground.
Watch this video with your kids to learn about growing asparagus and harvesting. (There's a lot of cool history in there!)
DID YOU KNOW IT TAKES 5 YEARS TO GO FROM ASPARAGUS SEED TO A FULLY YIELDING PLANT TO HARVEST THE ASPARAGUS?
Asparagus grows fast! Sometimes as much as 6 inches in one day!
And, About That Asparagus Pee Smell Thing…
You may have heard about how eating asparagus make your pee smell.
But, does asparagus make pee smell really?
Why does asparagus pee stink?
Asparagus contains asparagusic acid (for real). The human body breaks it down into sulphur compounds. The sulphur is what gives urine that asparagus smell. (Sulphur is that same smell from rotten eggs and skunks!) The tricky part comes in if the person who ate the asparagus is an excreter or non-excreter AND if you are someone who can actually smell the asparagus in the urine. (Not everyone can!)
WATCH THE VIDEO WITH THE KIDS HERE
(And do your own science project. You're welcome.)
OK. Enough urine talk. Let's get to the asparagus recipe.
(How's that for a segue? Heh.)
Easy Asparagus Salad With Asparagus Balsamic
You can serve this asparagus salad immediately or as a chilled asparagus salad.
If you want to make this a chopped asparagus salad, just cut the asparagus in smaller, bite-size pieces.
Want to change it up? Instead of shaved parmesan, add feta cheese and cherry tomatoes to make this a Mediterranean asparagus salad.
Or, use a lemon vinaigrette for a lighter taste!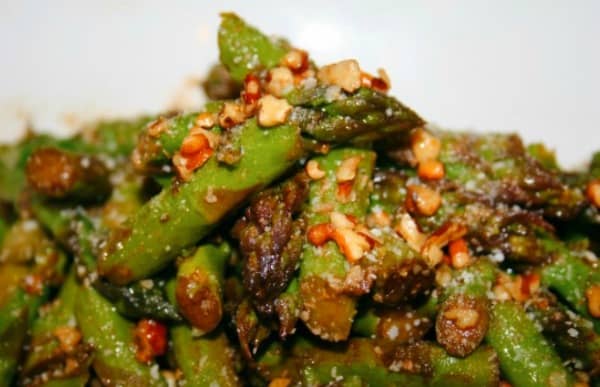 Once you've had asparagus in salad, you may never want to go back to a plain salad recipe again!
The toasted nuts are (obviously) optional, but give a nice extra crunch to this dish.
Additional Time
5 minutes
Ingredients
2 bunches asparagus, cut and steamed
1/4 cup olive oil
2 tablespoons Balsamic Vinegar
2 tablespoons grated parmesan, or 1/4 C shaved parmesan
1/3 cup toasted pecans, walnuts or pine nuts (optional)
Salt and pepper, to taste
Instructions
Rinse asparagus and bend each stalk until it breaks. Discard the bottom tough ends (or save for a soup purée). Cut the remaining tender tops into 1-inch diagonals.
Steam the asparagus pieces for 5-7 minutes, or until just tender. Remove from steam immediately and place in a bowl. Set aside.
In a small mixing bowl, whisk together olive oil and Balsamic vinegar.
Pour half of oil/vinegar mixture over asparagus and toss. Add the rest of the oil/vinegar mixture if needed, or to taste. (We like ours with a little more dressing so we add all of it.) Set aside.
Toast nuts in oven just until brown. Watch closely because they will burn quickly in just a couple of minutes! (You can also do this on the stove top with a little butter or oil in a pan.)
Toss asparagus mixture again just before serving. Top with parmesan cheese, toasted nuts, and salt and pepper. Serve.
Notes
Store leftover salad in refrigerator for up to two days. (How dare you have leftovers of this yumminess?!)
Want to make this a chilled asparagus salad? Remove asparagus from heat and immediately place in water and ice bath for up to 5 minutes. Strain and mix with olive oil and vinegar.
Nutrition Information:
Yield:
6
Serving Size:
1
Amount Per Serving:
Calories:

184
Total Fat:

18g
Saturated Fat:

3g
Trans Fat:

0g
Unsaturated Fat:

14g
Cholesterol:

5mg
Sodium:

111mg
Carbohydrates:

3g
Fiber:

1g
Sugar:

1g
Protein:

3g
Nutrition information is estimated. Changes to the recipe and use of different brands may cause changes to the nutritional information to vary slightly from the ones provided here.
Vegetable and Growing Children's Books Good To Pair With This Recipe
LET US KNOW WHAT YOU THINK ABOUT THE ASPARAGUS SALAD!
LOOKING FOR FUN COOKING PRINTABLES FOR KIDS?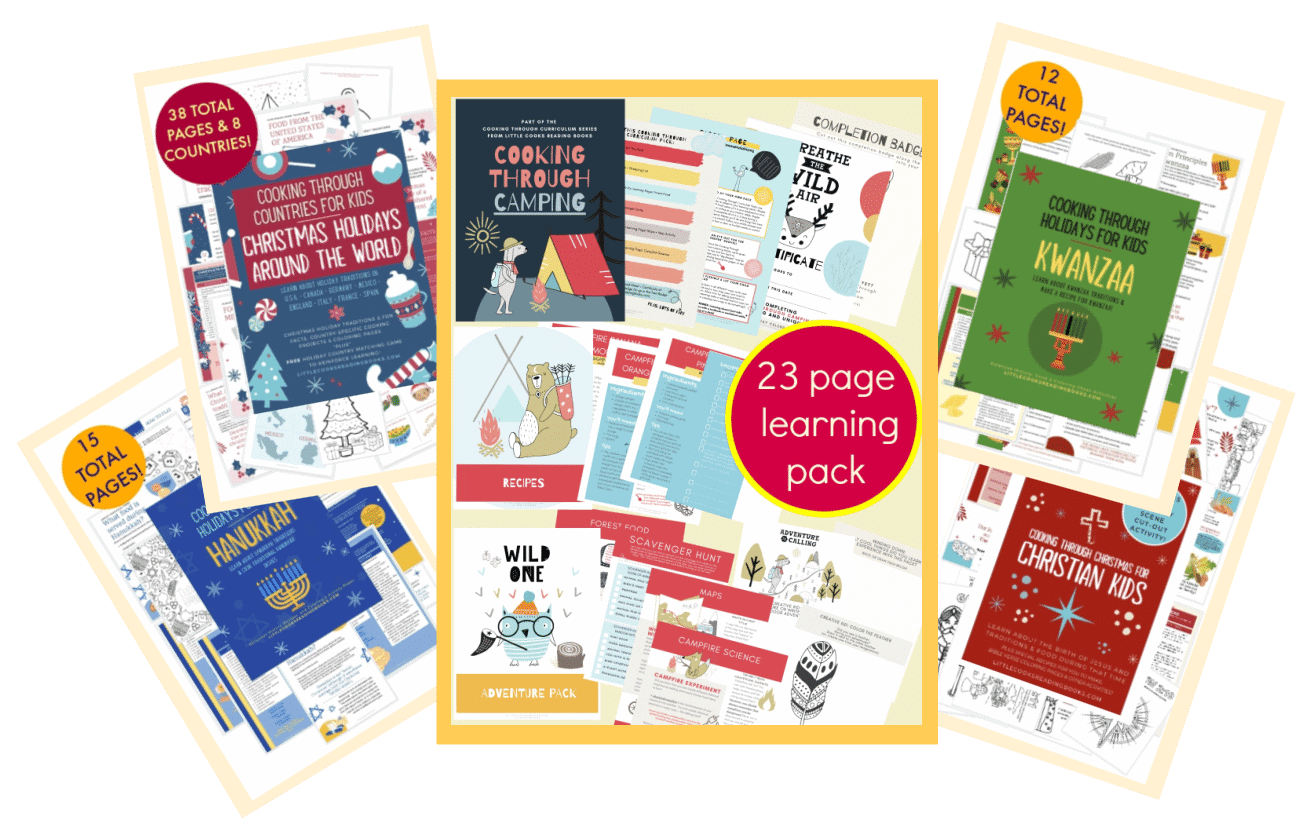 As an Amazon Associate I earn from qualifying purchases. Please refer to our
DISCLOSURE
.