This dandelion salad will surprise and delight your family and is a great (safe) introduction to foraging for food with kids. This easy dandelions recipe is refreshing, yummy, and also makes a fun outdoor family activity!

How To Make Dandelion Salad
Before we get to how to make dandelion salad, let's answer some common questions about dandelions.
How To Eat Dandelion
Can you eat raw dandelion greens?
Many people wonder, Is it safe to eat dandelions from your yard? Yes! Raw dandelion greens are great in dandelions salad! Plus, they provide vitamins like A, C, and K, and also minerals like iron and calcium. Just be sure that you eat raw dandelion greens that have not been sprayed with pesticides or other chemical lawn or bug spray.
If you want to eat dandelion greens raw, forage the young spring leaves before the plant starts to flower (if you can). These are the milder tasting greens.
Can you eat the flower of the dandelion?
Yes, you can eat the yellow flower of the dandelion. They are crunchy and can be eaten raw, like in a salad, cooked, or even breaded and fried. You can also infuse them into teas, wines, or even jams or syrups!
Can you eat dandelion greens stems?
Yes, you can eat dandelion greens and stems. All parts of the dandelion are edible, from the greens (leaves) to the flower and even the stem. Even the dandelion roots are edible and some people brew them for tea or coffee!
How do you prepare dandelion greens to eat?
Dandelion greens should be thoroughly washed and dried after picking. The most common way to eat dandelion greens are raw in salads or to saute or fry them as a fried green.
Dandelions can also be used to make:
Fried dandelion greens
Fried dandelion flowers
Sauteed or braised dandelions
Dandelion salad
Pesto
Scrambled eggs or a quiche
Dandelion tea
Dandelion wine
Dandelion jelly or jam
Dandelion syrup
Dandelion coffee (from the roasted roots)
Soups
Decorations for shortbread cookies (press the flowers or petals into the dough)
About Dandelions
Did you know…
The word dandelion comes from the Middle French word 'dent de lion' meaning 'lion's tooth'. … The English variation and spelling of the word dandelion dates back to the early 15th century.
[source]
The dandelions scientific name is Taraxacum officinale.
What is another name for dandelion?
Lentodon taraxacum
Bitterwort
Blow-ball
Cankerwort
Clock flower
Common dandelion
Irish daisy
Lion's tooth
Priest's crown
Puffball
Swine's snout
Tell-time
Yellow gowan
[source]
Are dandelions weeds?
Dandelions are actually perennial herbs and have been used for centuries for food and medicinal purposes. They are only viewed as "weeds" because some people find them annoying to have in their yard and so they classify them as a weed.
Are dandelions poisonous?
No. The dandelions to eat are the same dandelions that grow in your backyard or that you see in the park! There are some people with specific medical conditions or allergies that may have reactions to dandelions. So, like anything, eat them in moderation.
According to the Northern New England Poison Center:
Dandelions are safe to eat in moderation. Eating dandelions regularly or taking supplements that contain dandelion may cause health problems for people with diabetes or people who take certain medications, such as blood thinners, lithium or diuretics.
Dandelions Life Cycle
The dandelion life cycle is pretty amazing. In fact, some people may not even realize that those yellow flowers we see growing everywhere are the same dandelions that then turn into those white fuzzy balls!
When the dandelions change to the that furry white seed ball (that's fun to blow!) after it has flowered, it's called the "dandelion clock."
You may have seen those white parts of the dandelions blowing in the wind in the summer! This is the "puffball."
You have to watch this amazing time-lapse video on the dandelion life cycle!
Dandelions Wish
It is said if you can blow all of the dandelion clock in one breath, then your wish will come true (or a true love will come back to you!).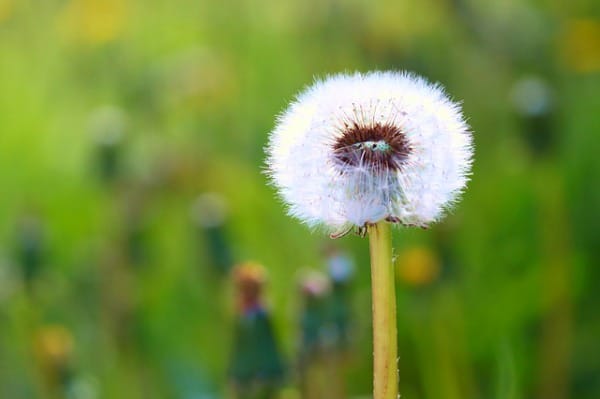 Fun Facts About Dandelions
Dandelions are natural diuretics, which means they can make you pee A LOT! Because of this, dandelions are sometimes call "pee-a-bed."
Dandelion stems are filled with a milky juice. Even though they are safe to eat, the stems sometimes give some people heartburn or diarrhea. (YUCK!)
The milky white "sap" from the dandelion stem can be used to treat rough skin like calluses, corns, or warts. They are sometimes called "Milk Witch" because of that milky white substance.
Dandelions are sometimes called "Clockflower" or "Tell-Time" because folklore says the number of breaths it takes to blow all the white puff seeds off is the time of day. For example, if it takes three breaths, it is 3 o'clock.
Children's Book Recommendations
Any of the following books would pair well with this recipe (and learning about dandelions would make a great study unit!).
Children's Books on Dandelions
Learning More About Foraging for Food

On to our easy salad recipe!
How To Use Dandelion In Salad
What is dandelion salad?
Dandelion salad is made up of the green leaves ("the greens") and even the stems and flowers of dandelions. You can eat the salad like this with a little salt and oil, or add in any other things that you like in salads!
Are dandelion greens good in salad?
Yes! Just like any greens, they have their own unique flavor that they add to salad. Dandelion greens are more on the bitter or nutty flavor side, so some people enjoy the greens added into a salad of other kinds of greens or lettuces. The young dandelion leaves (early spring) are best for salads.
What does dandelion salad taste like?
Dandelion salad has a slightly bitter and nutty taste. Some people compare it to endive or radicchio salad. It is said that the earlier you pick the dandelion greens (like early spring), the more mild they will be. Dandelions get more bitter the longer you wait. The larger the green, the stronger the taste and they become tougher. The more mature dandelion leaves are better for cooking.
---
AN IMPORTANT NOTE ABOUT COOKING WITH DANDELIONS:
If you are going to cook with dandelions, you want to make sure that the yard or field where you pick your dandelions has not been sprayed with weed or bug spray or any other chemical spray. Don't eat them from your yard if you spray your yard with chemical sprays!
---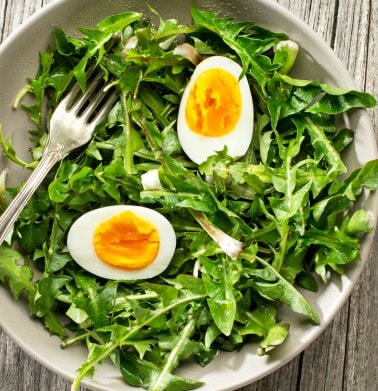 This simple salad is so refreshing. And, it's an easy kids' recipe that they can make alone!
Ingredients
1/4 cup canola oil
2 teaspoons fresh squeezed lemon juice
3 cups torn young dandelion greens, washed and dried
2 green onions, sliced
1 cup oranges, peeled and cut into wedges
2 hard boiled eggs, sliced (optional)
Dandelion blossoms, washed and dried (optional)
Salt and pepper, to taste
Instructions
In a small bowl, whisk together oil and lemon juice. Whisk in salt and pepper, to taste. Set aside.
In a large salad bowl, toss together dandelion greens and onions.
Drizzle oil and lemon juice over greens and onions. Toss to coat.
On top of the greens, arrange the eggs (optional), orange slices, and dandelion blossoms. Add salt and pepper, to taste. Serve immediately.
Notes
IMPORTANT: Never use or consume dandelions that have been treated with lawn care chemicals, weed killer, bug spray or any other chemicals.
MORE TIPS:
We used oranges in our recipe, but any citrus works well. Try it out with grapefruit or tangerines!
You can also leave out the citrus and instead add any other things you would add to a salad -- arugula, nuts, shaved cheese, fried bacon bits, etc. Don't be afraid to play around with it.
Nutrition Information:
Yield:
4
Serving Size:
1
Amount Per Serving:
Calories:

201
Total Fat:

17g
Saturated Fat:

2g
Trans Fat:

0g
Unsaturated Fat:

14g
Cholesterol:

93mg
Sodium:

138mg
Carbohydrates:

10g
Fiber:

3g
Sugar:

4g
Protein:

5g
Nutrition information is estimated. Changes to the recipe and use of different brands may cause changes to the nutritional information to vary slightly from the ones provided here.
HAVE YOU EVER HAD DANDELION SALAD?
LOOKING FOR FUN COOKING PRINTABLES FOR KIDS?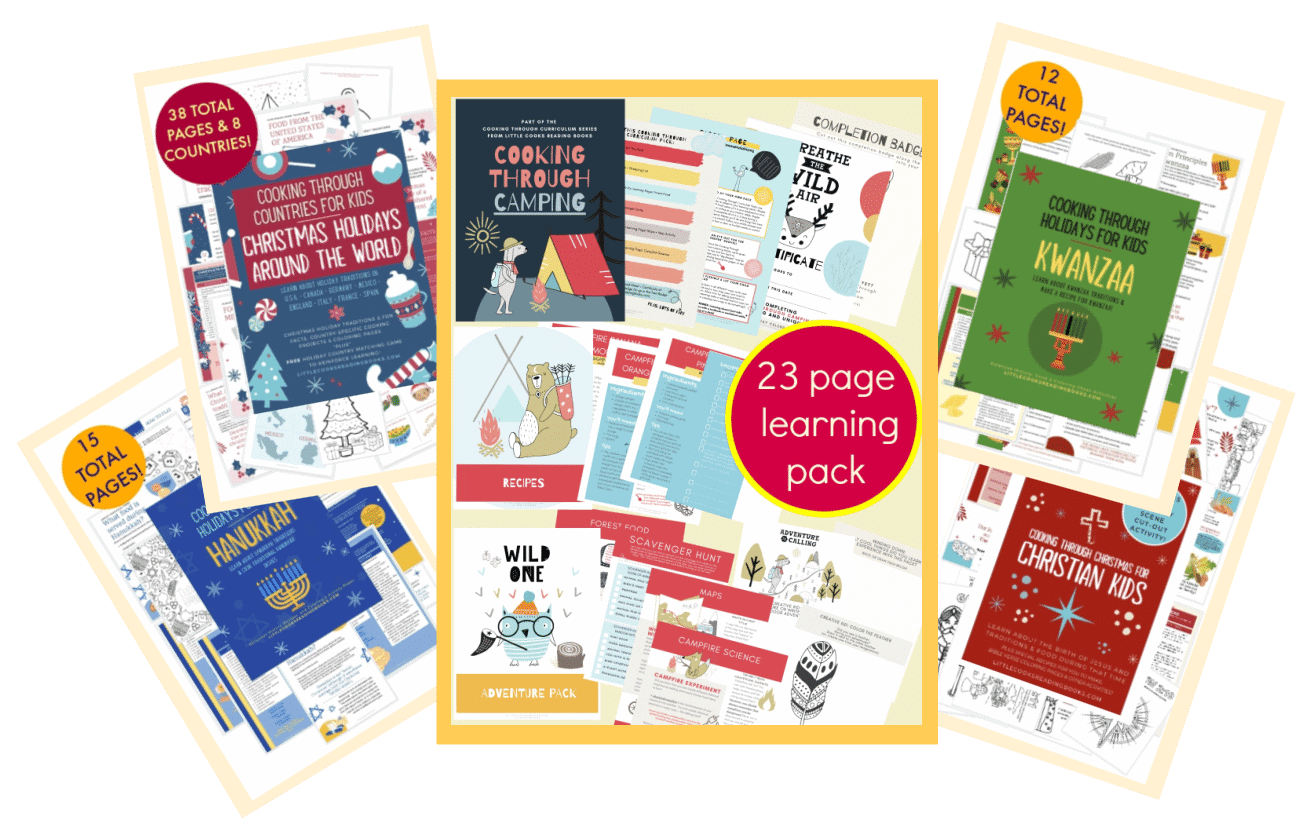 As an Amazon Associate I earn from qualifying purchases. Please refer to our
DISCLOSURE
.