This recipe for ham and cheese sliders is sometimes called funeral sandwiches, Hawaiian sliders, or cheese and ham rolls. They are baked sandwiches in the oven and will quickly become a go-to easy meal for party food, what to do with Thanksgiving ham leftovers, game day food, or easy lunch or dinner recipes. The juicy, sweet ham pairs well with the melted Swiss cheese for amazing baked sliders!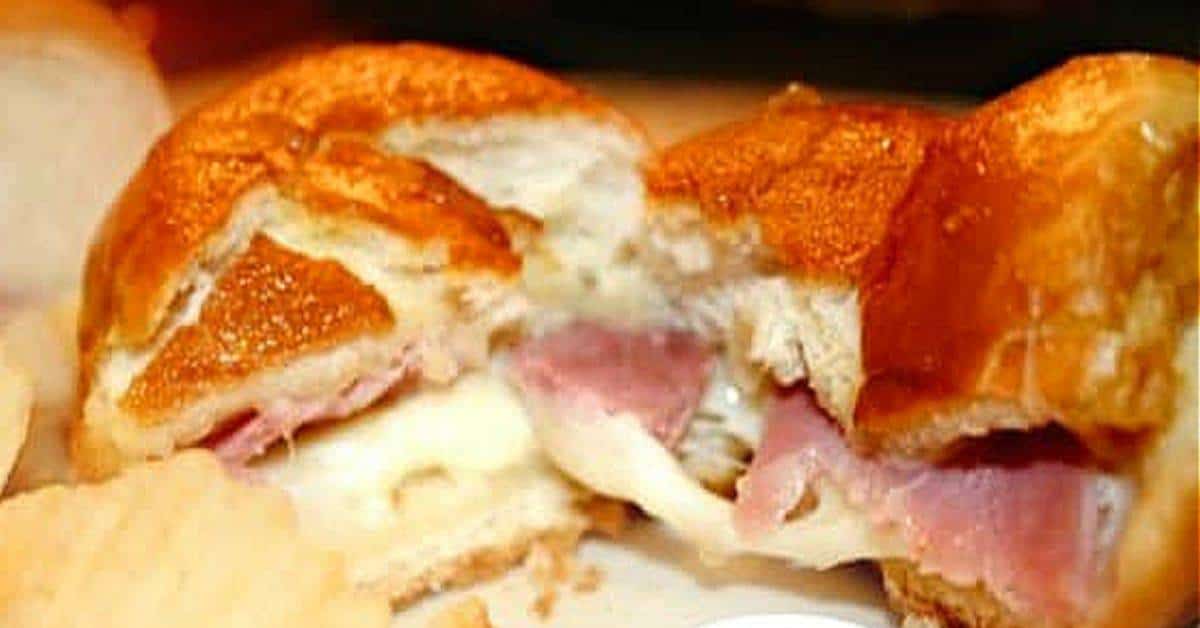 EASY RECIPE FOR HAM AND CHEESE SLIDERS
Ingredients for easy ham and cheese sliders:
Ham
Swiss cheese or cheddar cheese
Rolls (like Hawaiian sweet rolls)
Dijon mustard or a spicy brown mustard
Butter
Worcestershire sauce
Brown sugar
Poppy seeds (optional)
(Don't miss the mini ham and cheese sliders with Hawaiian rolls recipe below. Keep scrolling!)
Affiliate links are used on this site. As an Amazon Associate I earn from qualifying purchases. Read more in our DISCLOSURE.
What are funeral sandwiches?
Funeral sandwiches are the same thing as the baked ham and cheese sliders with a glaze. (People call the sandwich recipe different names). They are called funeral sandwiches because in the South, people often bring food to people's houses after a loved one dies. These funeral slider sandwiches are often one of those dishes.
What do you serve with sliders?
Potato chips
Pretzels
Salad
Macaroni
Corn
Chips and Salsa
Pasta salad
Baked beans
Coleslaw
TRY THIS SIDE DISH WITH THE HAWAIIAN SWEET ROLLS SLIDERS:
What cheese is good with ham?
Swiss cheese
Cheddar
American cheese
Blue cheese
Mozzarella
Havarti
Gruyere
Before we get to the recipe for ham and cheese sliders, let's answer some common questions people have when making sliders. (We'll get to our ham and cheese slider recipe after!)
First, if you're not familiar…
What are sliders?
Sliders started as miniature hamburgers. Today, they refer to a mini version of different types of sandwiches. They were originally named "sliders" because the small hamburgers were so greasy that they would slide right down your throat!
What is the difference between a hamburger and a slider?
The size of the sandwich and how it is cooked usually determines if it is a slider vs hamburger. Sliders are much smaller, bite-sized versions of hamburgers. Slider hamburgers were traditionally steam grilled with the bun. However, today sliders are made a variety of ways and still called "sliders."
What kind of bread do you use for sliders?
If you're making baked sliders, use a sweet roll (like Kings' sliders Hawaiian rolls), a potato dinner roll, or any small bun or roll that works well with the type of sandwich you're making. Some people even use small ciabatta buns, based on their recipe sliders meat.
How do you keep sliders from getting soggy?
If you want to make a slider recipe that stays fresh and doesn't get soggy, consider baking or toasting the slider bun. A toasted or baked slider will hold up longer and take a longer time for the sauces to make them soggy.
How many sliders are needed per person?
Remember, sliders are small and can usually be eaten in a couple of bites. You should plan for about 2-3 sliders per person, and maybe a little more if you want leftovers (and you will want leftovers of this recipe for ham and cheese sliders!).
RECIPE FOR HAM AND CHEESE SLIDERS
This baked ham and cheese sliders on Hawaiian rolls recipe is one of our family favorites!
These are sweet ham and cheese sliders because of the brown sugar. Ham and cheese sliders with brown sugar may sound too sweet, but it actually works really well with the ham and Swiss cheese. (We also make ours ham and cheese sliders with garlic, and that cuts the sweetness, too.)
We made these as Hawaiian roll sliders, but you can really substitute any roll or bun that you like.
Also, instead of just ham and Swiss sliders, try mixing them up with turkey or chicken and other cheeses, too.
Yield: 12
Ham and Cheese Sliders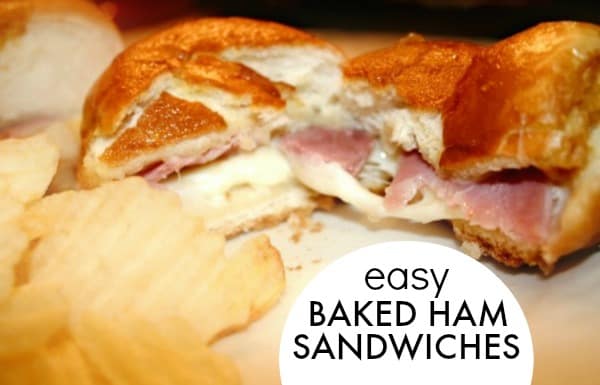 You can make these ham and cheese sliders without poppyseed or with poppyseeds on top. They are great either way! (Just sprinkle with poppyseeds before baking.)
Ingredients
1 package of 12 rolls (like Aunt Millie's rolls or King's Hawaiian)
1/2-1 pound sliced ham
2 packages Swiss cheese, thinly sliced
1/2 cup butter, melted
3 Tablespoons Worcestershire sauce
2 Tablespoons spicy brown mustard
2 Tablespoons brown sugar
Dash of onion or garlic powder
Poppy seeds (optional)
Instructions
Cut rolls in half. Set tops aside.
Line bottom of an ungreased baking pan with the bottom of the buns.
Layer buns with cheese, ham, and then another slice of cheese. (You may have to do some creative cutting or tearing to get the ham and cheese the right size to fit on the buns.)
Place top of the bun on sandwiches.
In a small mixing bowl, whisk together melted butter, Worcestershire sauce, spicy brown mustard, brown sugar, and garlic or onion powder.
Pour sauce over the top of the sandwiches, making sure that each is covered.
(OPTIONAL) Sprinkle poppy seeds over top of buns.
Preheat oven to 350 degrees. Bake, uncovered, for 15-20 minutes, or until cheese is melted and tops of buns are a golden brown. Serve immediately while hot.
Notes
**OPTIONAL STEP: After pouring sauce over sandwiches, cover and refrigerate for 4-24 hours. This is an optional step, but will really give time for the flavor to develop and make the sandwiches taste better. So if you have time, marinate them!
Nutrition Information:
Yield:
12
Serving Size:
1
Amount Per Serving:
Calories:

233
Total Fat:

17g
Saturated Fat:

9g
Trans Fat:

0g
Unsaturated Fat:

6g
Cholesterol:

70mg
Sodium:

554mg
Carbohydrates:

5g
Fiber:

0g
Sugar:

3g
Protein:

16g
Nutrition information is estimated. Changes to the recipe and use of different brands may cause changes to the nutritional information to vary slightly from the ones provided here.
Cook and Book: Cooking Activity Lesson Plan Idea
Hamilton the Book for Kids

We made these after we read the Hamilton book for kids.
We call them our HAM-ilton sandwiches.
(You're welcome.)
Then, we watched Hamilton Streaming and listen to the Hamilton soundtrack to round out this learning unit.
If you don't want to go the HAMilton ham and cheese sliders theme:
1. BOO, and
2. Use other great sandwich books for this cook and read!
Sandwich Books for Kids
ENJOY THIS RECIPE FOR HAM AND CHEESE SLIDERS!
LOOKING FOR FUN COOKING PRINTABLES FOR KIDS?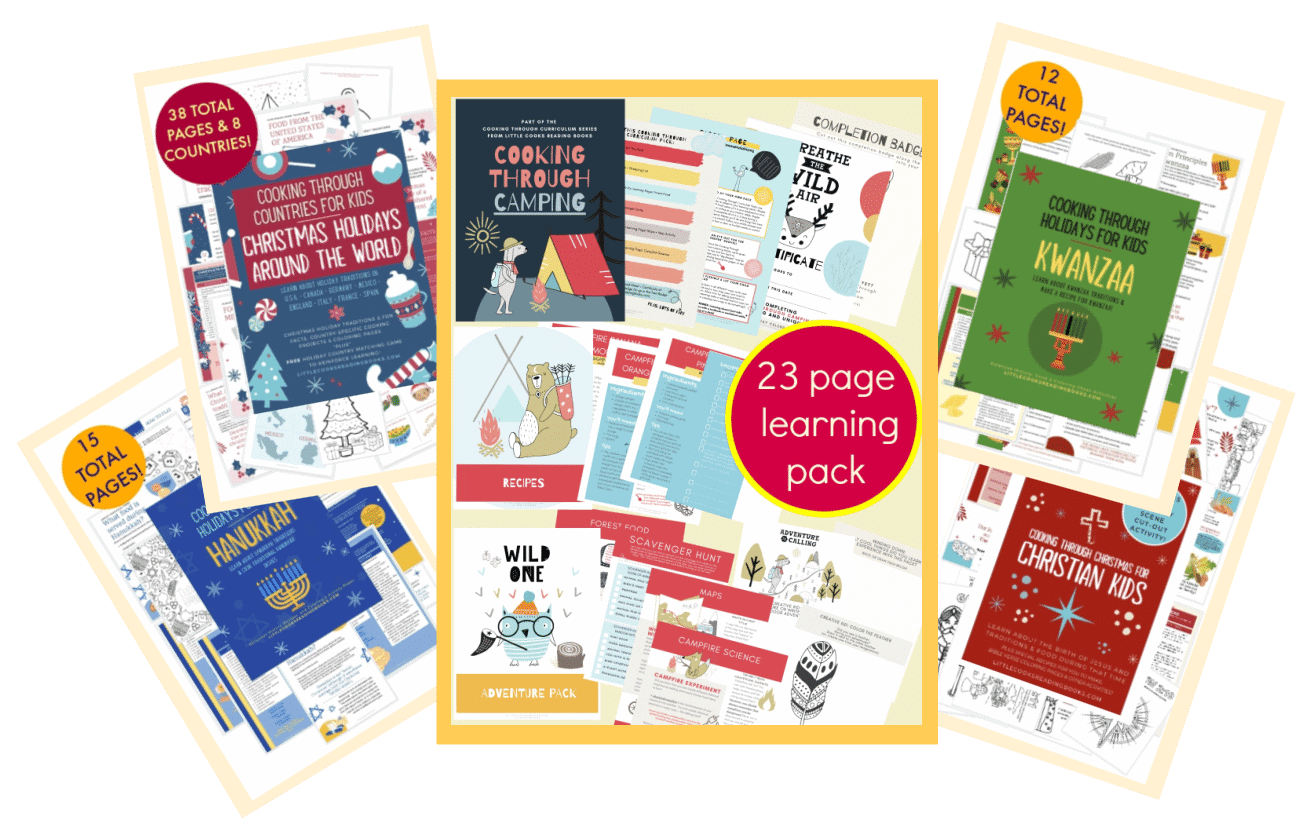 As an Amazon Associate I earn from qualifying purchases. Please refer to our
DISCLOSURE
.