Green beans and potatoes in crockpot is one of those easy crockpot recipes. You can make this as a green bean recipe with bacon or ham or make it as a vegetarian crockpot recipe! Simple slow cooker recipe that makes a full meal or a great side dish for a fall recipe, winter dinner or summer cookouts!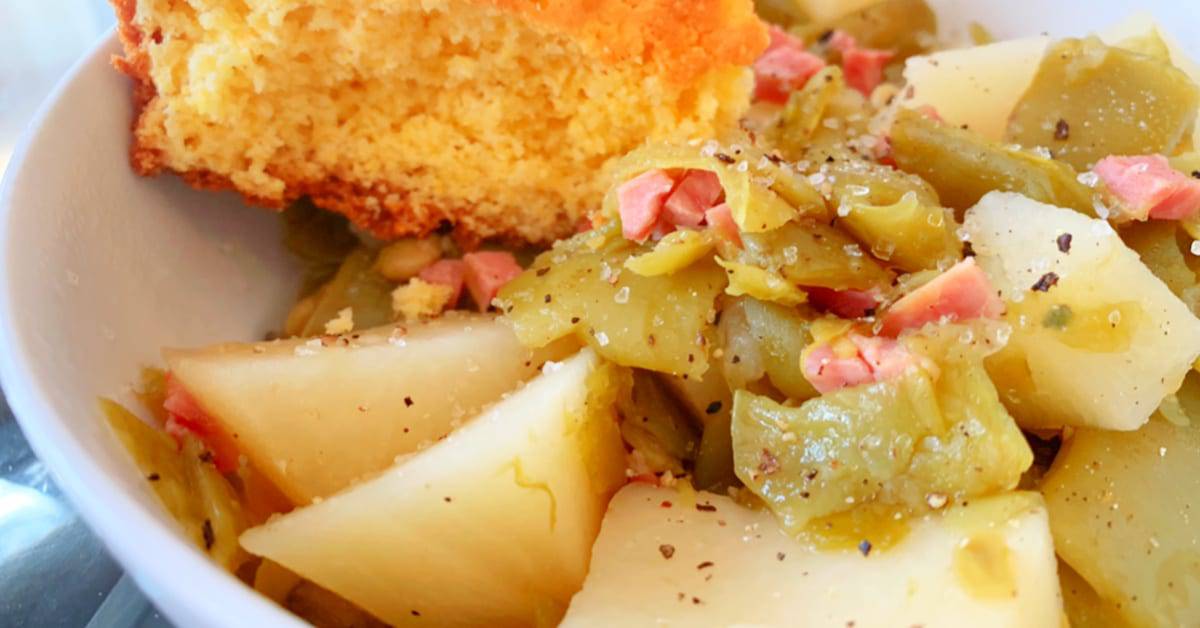 Green Beans And Potatoes In Crockpot
If you're looking for the southern potatoes and green beans recipe, this is it. This is the version that I remember my mom making and having at all my family gatherings growing up with big slabs of homemade cornbread!
How To Cook Green Beans and Potatoes In a Crock pot:
Potatoes
Flat green beans (see tip)
Minced garlic
Bacon or ham
Chicken broth
Salt
Pepper
We use can green beans and potatoes (fresh), but you can also use fresh green beans from the garden for this crockpot recipe.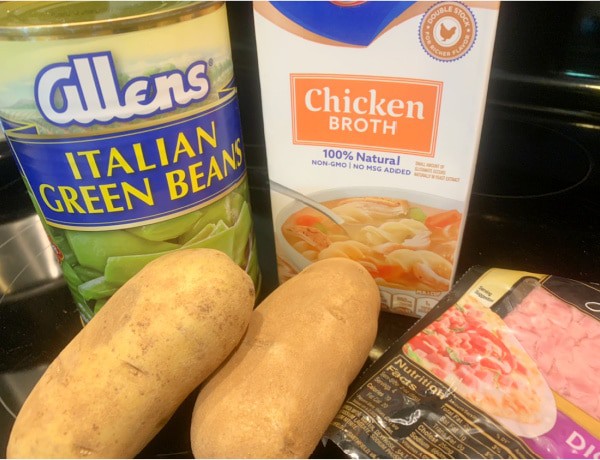 Affiliate links are used on this site. As an Amazon Associate I earn from qualifying purchases. Read more in our DISCLOSURE.
How long to cook ham green beans and potatoes in crock pot?
Cook ham, green beans and potatoes in the crock pot on high for around 2-3 hours. Any longer and you run the chance of your potatoes being cooked through, but your green beans becoming mushy.
Can you put raw potatoes in a slow cooker?
Yes! With this southern green beans and potatoes recipe (or any crock pot recipe), you just peel and chop your fresh potatoes and add them to the cooker. Layer them in the bottom with the liquid covering them because the potatoes will take longer to cook than the other items.
What can I add to green beans for flavor?
If you want to add more flavor to any easy crockpot green beans recipe, try:
Chicken broth
Beef broth
Vegetable broth
Salt and pepper
Garlic
Onion
Chili powder
Red pepper flakes
Cumin
Chopped bell pepper
Do you cut green beans before cooking?
If you are using fresh green beans and potatoes in crock pot, you will want to snap off the ends or the beans (or trim the ends) and then pull any string that is along the edge. (If it has a string or not will depend on the type of green beans you're using.) You can then cut them into bite-sized pieces or leave them long for cooking.
OK!
Let's get to how to cook canned green beans and potatoes!
How To Ham Green Beans and Potatoes In Crockpot
This is one of my favorite green bean recipe crock pot for cool weather comfort food!
We make our green beans & potatoes and bacon crockpot recipe with bacon or chopped up ham.(Sometimes, if we've made a ham, I throw the ham bone in there, too.)
Also, we use regular white baking potatoes, but you can make this as green beans and new potatoes in crock pot, too.
If you want to make it a vegetarian dish, you can leave the meat out and switch out the chicken broth for vegetable broth and it will be tasty, too!
TIP: We use the southern Allen's green beans (those big flat Italian green beans) because they really are the best with potatoes!
Do you have to use a crockpot? Nope! (I just do it because it makes it a super simple recipe.) The stovetop green beans recipe and oven potatoes and green beans recipe are both after this slow cooker recipe.
We like to serve dish this with a big hunk of homemade cornbread with butter!
Yield: 6
Southern Green Beans and Potatoes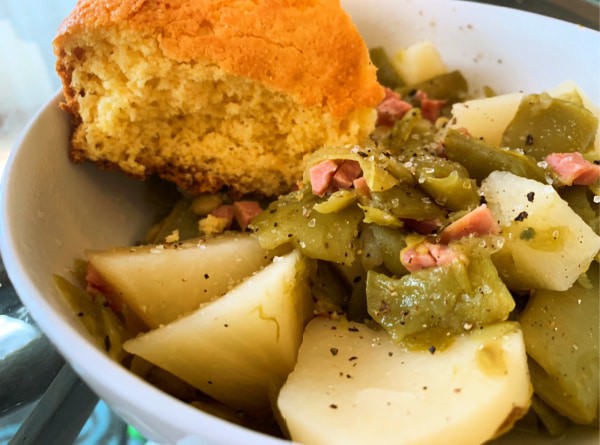 We love Allen's green beans (if you can find them), but any thicker canned or fresh green beans will work! I use a slotted spoon to drain off the liquid when serving, but some people like it served with the liquid it was cooked in, so try it out!
Total Time
3 hours
10 minutes
Ingredients
4-6 white potatoes, peeled and cubed*
2 - 14.5 ounce cans canned green beans, undrained
2 cloves garlic, minced
1/2 pound thick cut bacon, cut into 2 inch pieces
2 cups chicken broth
salt and pepper to taste
Instructions
Place cubed potatoes into the crockpot.
Spoon in minced garlic and stir.
Add canned green beans (with liquid) and uncooked bacon. Stir to combine.
Pour chicken broth over mixture. Add salt and pepper to taste.
Cover with lid and cook on high for 3 hours.
Notes
*The amount of potatoes will depend on how big your crockpot is.
This is a really easy recipe to play around with, including doubling the recipe for larger crowds. If you don't have bacon, you can also add cooked ham pieces or even a ham bone from a cooked ham.
If you're using fresh green beans, use around 2 pounds with the ends trimmed and increase chicken broth to 3 cups.
Nutrition Information:
Yield:
6
Serving Size:
1
Amount Per Serving:
Calories:

198
Total Fat:

1g
Saturated Fat:

0g
Trans Fat:

0g
Unsaturated Fat:

0g
Cholesterol:

2mg
Sodium:

690mg
Carbohydrates:

43g
Fiber:

6g
Sugar:

3g
Protein:

6g
Nutrition information is estimated. Changes to the recipe and use of different brands may cause changes to the nutritional information to vary slightly from the ones provided here.
Here are the directions if you don't want to make green beans ham and potatoes in a crockpot.
How do you make ham, potatoes and green beans on the stove?
Southern slow cooker green beans and potatoes can easily be made on the stovetop, too. Place all ingredients in a large pot or dutch oven. If needed, add additional water until potatoes and beans are covered. Bring pot to a boil, then reduce heat and simmer for 15 minutes or until potatoes are tender when pierced with fork.
YOU MAY ALSO LIKE:
How do you cook green beans and potatoes in oven?
While crockpot ham, green beans and potatoes are super easy in the slow cooker, you can also make ham potatoes and green beans in the oven recipe. Instead of canned green beans, use fresh green beans with the ends trimmed. Toss peeled and cubed potatoes in olive oil, salt, and herbs, and bake on a baking pan at 425°F for 20 minutes, or until potatoes are soft when pierced with a fork.
The flavor is different than the southern green beans recipe in the crockpot, but these roasted potatoes and green beans are good, too.
RECIPES BASED ON CHILDREN'S BOOKS
I think this is a fun recipe to pair up with children's books about gardening, especially if you have picky eaters who might not want to try/eat green beans or potatoes.
Helping them understand where the green beans and potatoes come from might make them more willing to try this recipe!
Let us know how your green beans and potatoes in crockpot turn out!
LOOKING FOR FUN COOKING PRINTABLES FOR KIDS?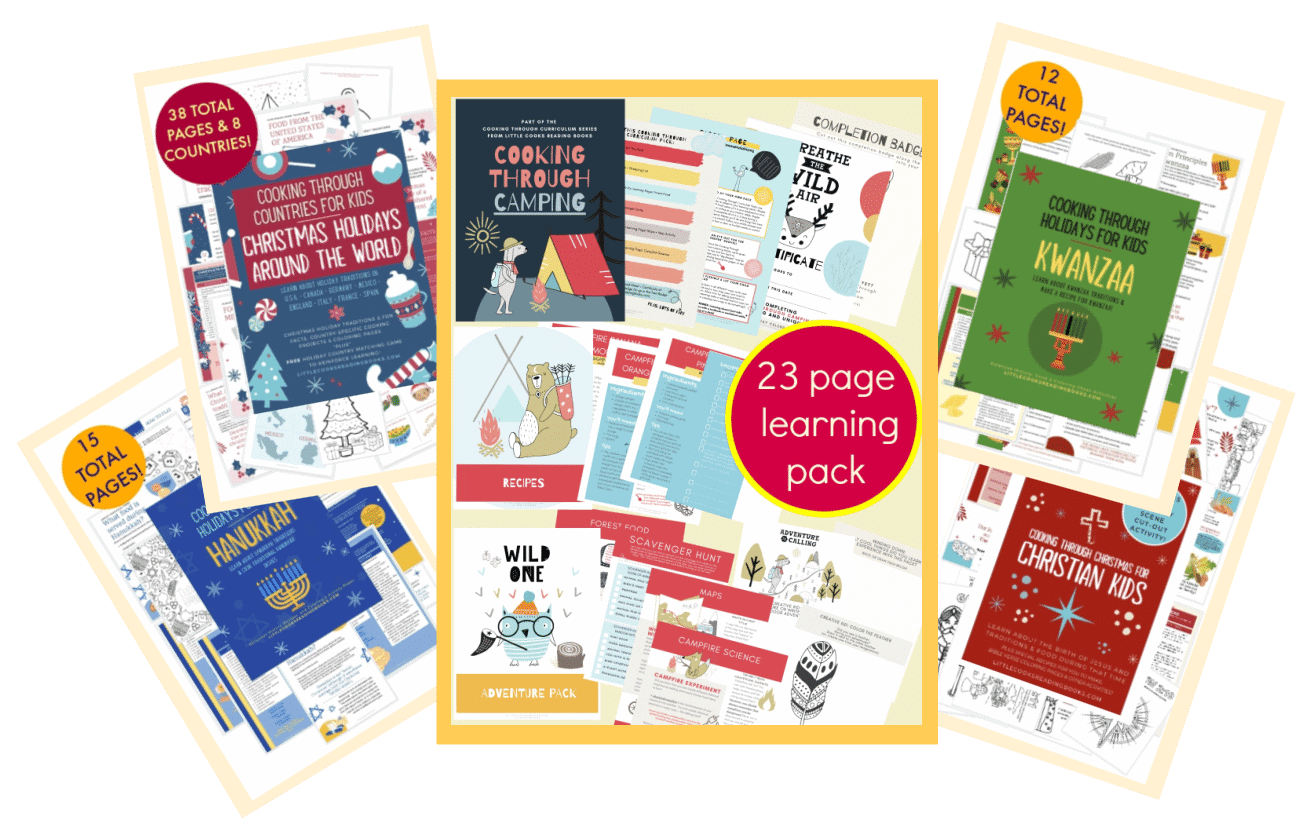 As an Amazon Associate I earn from qualifying purchases. Please refer to our
DISCLOSURE
.