This turkey dressing old fashioned recipe is the one family favorite holiday recipe that everyone asks for every single year. (They don't even miss the Thanksgiving recipe for stuffing inside the turkey anymore!) Even kids love this classic Thanksgiving side dish!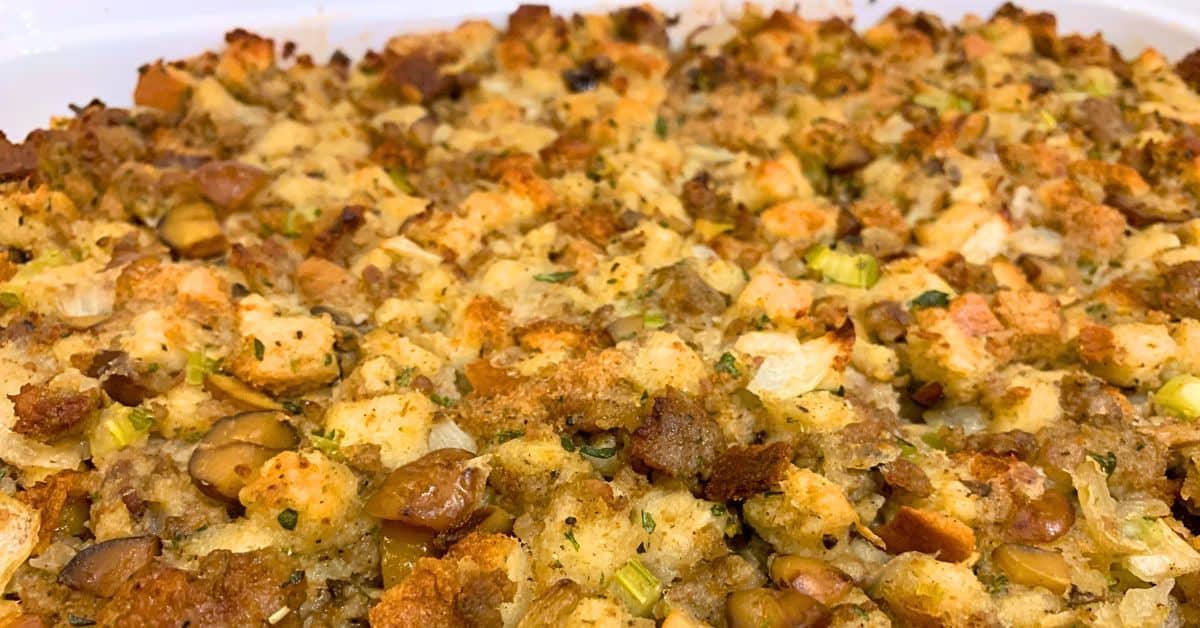 Yummy Turkey Dressing Old Fashioned Recipe Like Grandma Made
This is a classic family recipe that I've adapted, changed, and perfected over the years for Thanksgiving dinner. This is not a quick and easy dressing recipe, but it does make the best turkey stuffing ever! We usually make it for Thanksgiving to go with turkey, but it's great for a Christmas side dish, too.
Ingredients for Dressing:
Dried Cubed Stuffing Of Choice / Stale Cubed Bread
Unsalted Butter
Onion
Celery
Sausage (optional)
Chestnuts
Fresh Parsley
Fresh Thyme
Fresh Rosemary
Milk
Broth / Chicken Stock
Salt
Black Pepper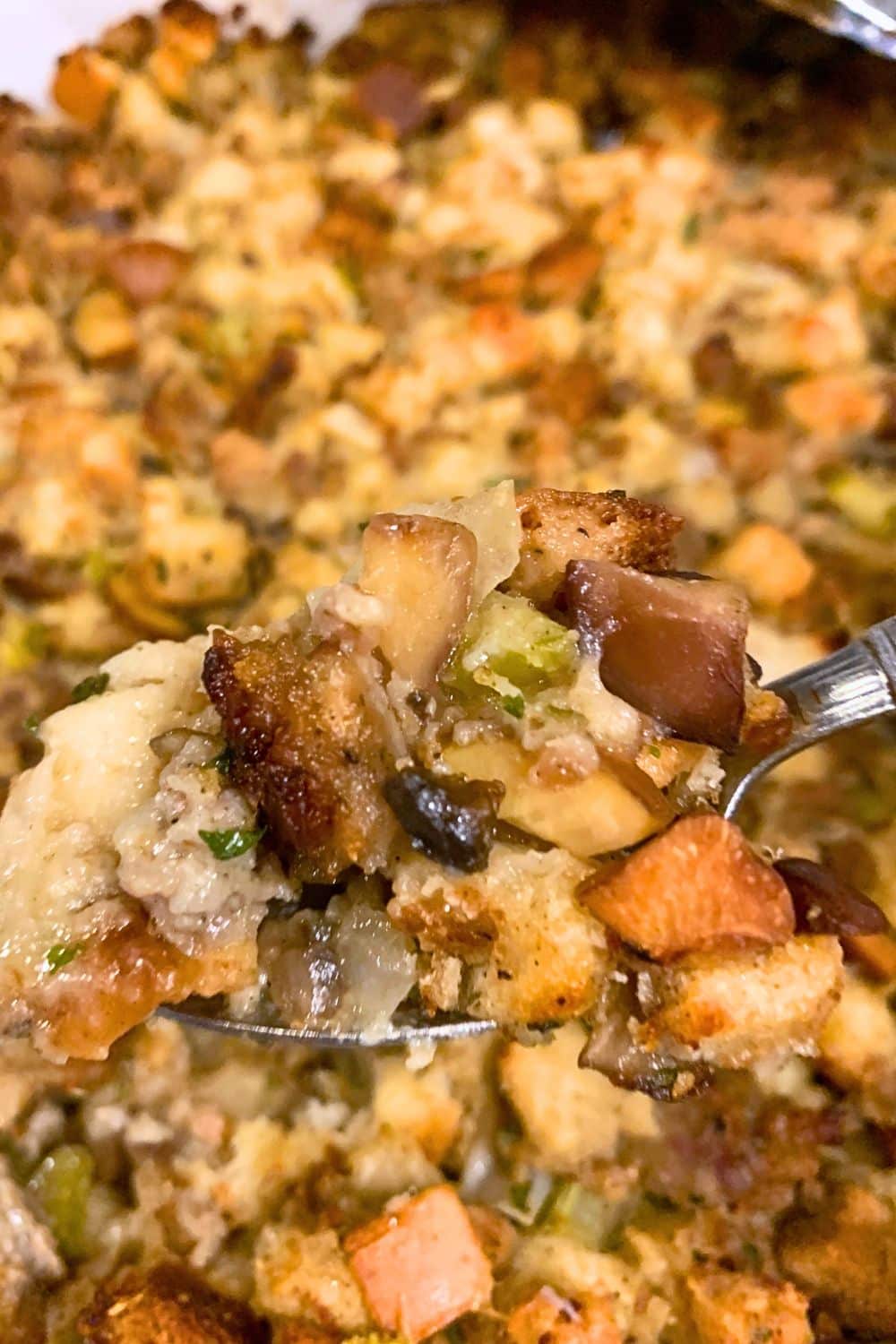 Affiliate links are used on this site. As an Amazon Associate I earn from qualifying purchases. Read more in our DISCLOSURE.
How To Make Homemade Dressing Step-By-Step
One of the great things about this homemade dressing is that you can not only play around with the recipe (leave out the sausage if you want a vegetarian dressing), but it's also an easy recipe to double for a double batch for large Thanksgiving crowds (or even triple!).
KEEP SCROLLING FOR THE FREE PRINTABLE RECIPE CARD.
1. Bring your milk to room temperature.
Before getting started, pour your milk in the measuring cup so that it will be room temperature by the time you get started.

2. Prepare Bread Cubes For Dressing
Decide what type of bread cubes you want to use for dressing. This is a versatile recipe that's easy to switch out ingredients, so if you have a favorite prepackaged herbed seasoned stuffing or even like to use leftover homemade sourdough bread cubes / day-old bread, use those!
I usually use Pepperidge Farm Herb Seasoned Cubed Stuffing or even the sage version, classic version, or unseasoned version.
You can use any dried bread cubes you have available to you and this recipe will still turn out great. (I've used seasoned and unseasoned.)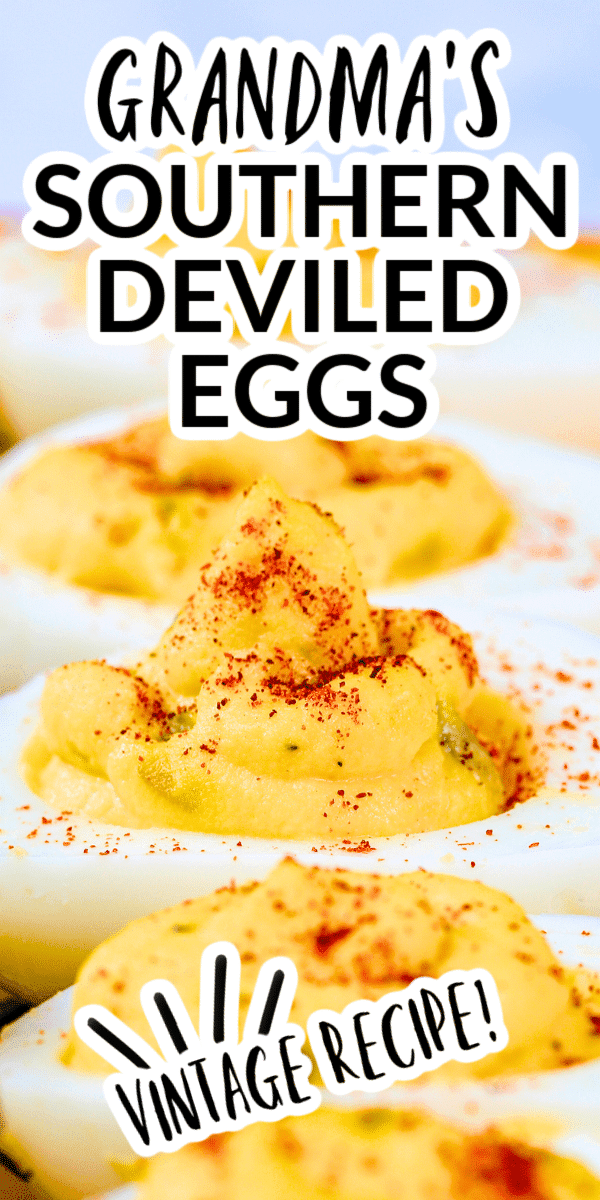 ALSO TRY THIS POPULAR THANKSGIVING RECIPE: SOUTHERN DEVILED EGGS
3. Let your bread cubes absorb the liquid!
SECRET RECIPE TIP #1: I think this is one of the most important steps! I also think skipping it is one of the reasons that Thanksgiving dressing can turn out dry after cooking.
I always add my liquids to the bread crumbs and let them sit while I'm preparing the other ingredients.
The trick to moist (but never-soggy) stuffing is to just moisten the stuffing and then let it sit while you prepare the other ingredients.
IMPORTANT RECIPE TIP: Never let your uncooked mixed stuffing sit out for more than 2 hours! The USDA recommends that you do NOT mix the ingredients and the refrigerate them overnight. (But you can mix the ingredients and freeze them for baking later.)
4. Gently mix ingredients together.
In a very large bowl, mix cooked sausage, sauteed onion and celery, chestnuts, and seasoning together with the wet bread cubes.
I use fresh herbs because I think they're more flavorful in this dish.
RECIPE TIP: I buy this type of chestnuts for quick and easy recipe use.
Gently stir, taking care that ingredients are mixed together, but you're not breaking down the bread or making it mushy.
SECRET RECIPE TIP #2: don't leave out the chestnuts! It's another thing that makes this dressing recipe better than others! It gives this holiday recipe a nice chewy texture and new guests always ask, "OH! What is that?"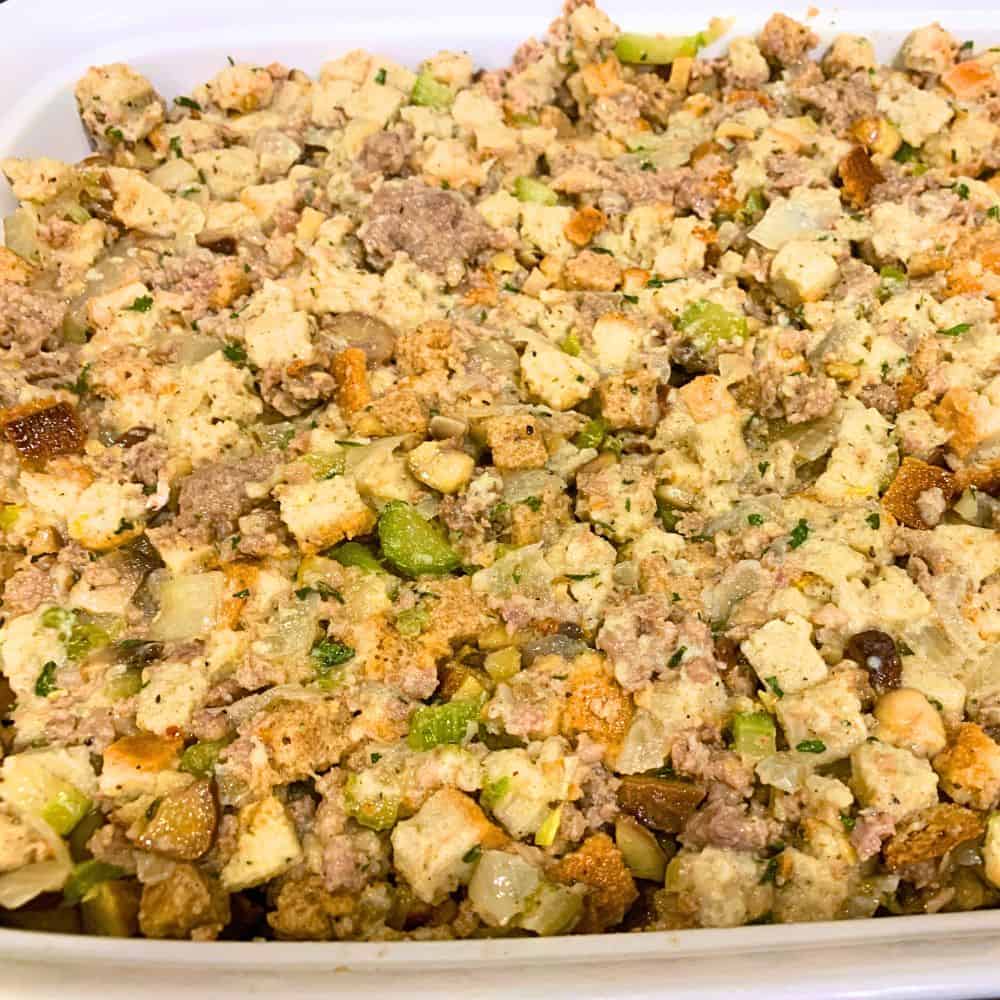 5. Bake and serve!
Bake your dressing recipe in a prepared baking dish / casserole dish for 1-1/2 hours.
Serve immediately (it's great with turkey gravy or alone).
Refrigerate or freeze leftover stuffing in an airtight container.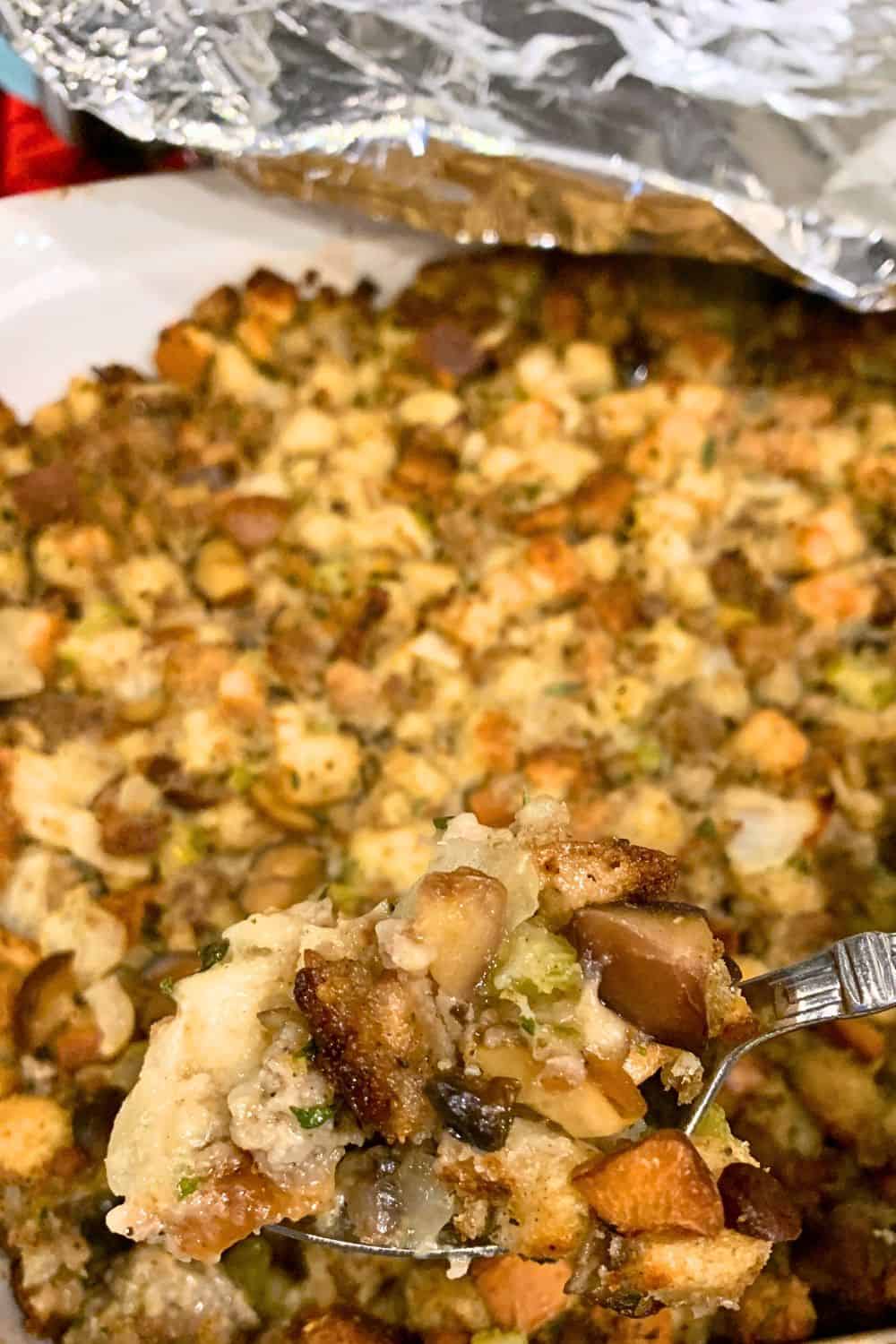 RECIPE TIP: For traditional thanksgiving stuffing (inside the Thanksgiving turkey), see the printed recipe card NOTES below if you want to stuff it inside the turkey for cooking.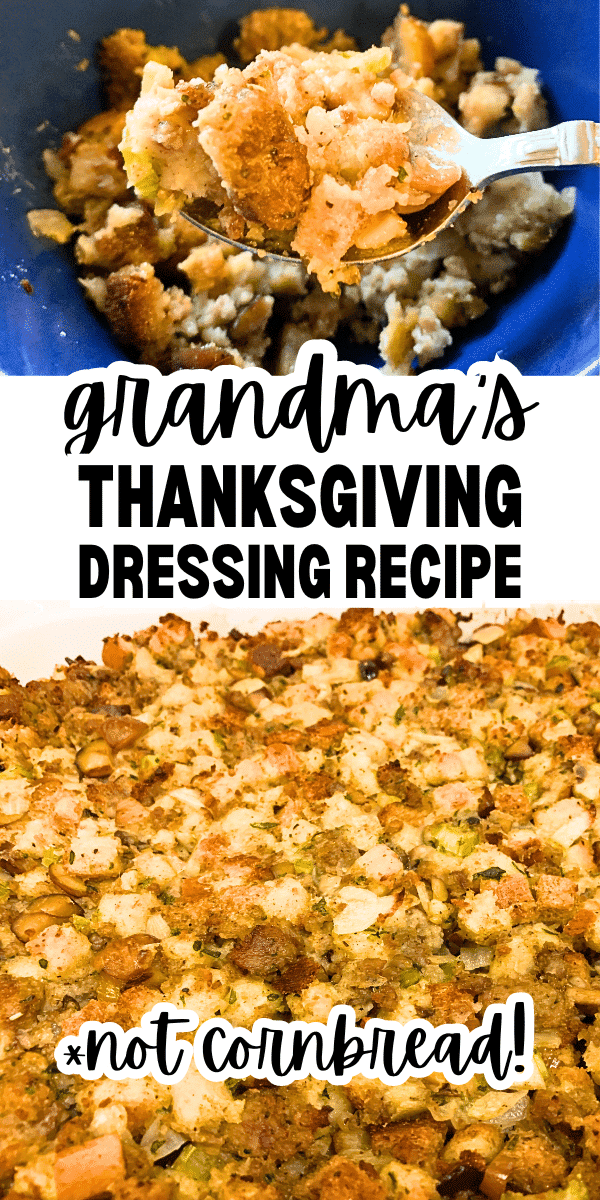 Best Thanksgiving Recipe For Stuffing (Printable Recipe Card)
Yield: 12
Turkey Dressing Old Fashioned Recipe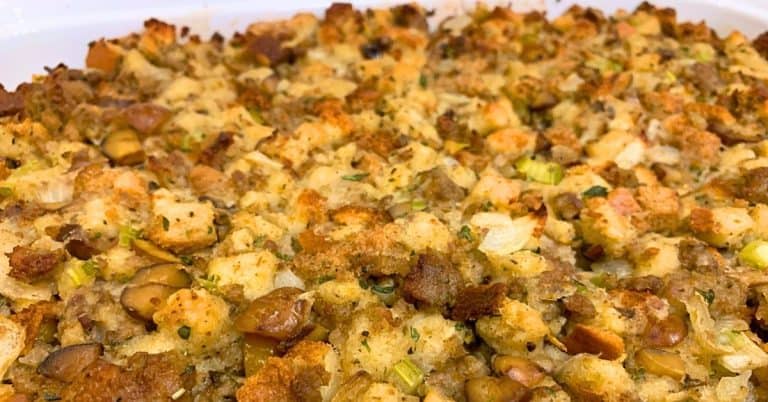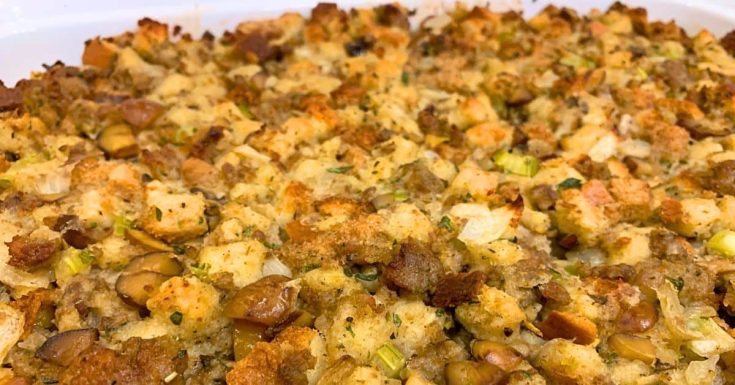 Before baking turkey dressing, be sure to scroll up and read all the tips in the post and also the tips in the NOTES section below this recipe.
Cook Time
1 hour
30 minutes
Total Time
1 hour
50 minutes
Ingredients
12 ounce package cubed stuffing*
3 Tablespoons unsalted butter
1 medium yellow onion, chopped
1 celery stalk, chopped
1 16-ounce roll bulk pork sausage (plain or sage)
3 cups of low sodium chicken broth, warmed
1 cup of whole milk, room temperature
2 cups shelled and cooked chestnuts, chopped**
1/4 cup fresh flat-leaf parsley, chopped
1Tablespoon fresh thyme, chopped
1 Tablespoon fresh rosemary, chopped
Salt and pepper, to taste
Instructions
Preheat oven to 375°F. Butter a 13x9-inch casserole dish. Set aside.
In a large mixing bowl, toss together stuffing bread cubes, room temperature milk, and warmed chicken broth. Gently stir. You want all of the cubes moistened, but you don't want them mushy. Set aside to absorb liquid.
In a large pan, brown the sausage, crumbling it as it cooks. Cook through, around 10 minutes. Using a slotted spoon, transfer to a paper towel lined bowl to drain completely. Set aside.
In the same pan you cooked sausage, add the onion and celery to the sausage grease left in the pan. If you don't have grease left for cooking, melt butter in pan. Sautee onion and celery over medium heat until both are tender and translucent (around 3 minutes). Using a slotted spoon transfer to the cubed stuffing bowl.
Add drained sausage to the stuffing bowl mixture.
To the bread cubes, onion, celery, and sausage mixture, add the chestnuts, parsley, thyme, and rosemary. Season with salt and pepper. Gently stir all ingredients until mixed well. Don't over mix or the cubes will become mushy!
Transfer dressing mixture to the prepared casserole baking dish. Cover with aluminum foil. Bake for 1 hour. Remove aluminum foil and bake another 20 to 30 minutes until browned and crispy on top.
Serve immediately. Refrigerate or freeze leftovers.
Notes
*I usually use Pepperidge Farm cubed stuffing and I play around with which one I buy. Sometimes I buy seasoned, sometimes I buy plain, and sometimes I buy wheat (or a mix). It's good with any of those!
**You can roast your own chestnuts and shell them, but I usually buy pre-packaged cooked and shelled chestnuts now. You can get them in vacuum sealed packages or jars.
TO USE AS STUFFING IN THE TURKEY:
Pack the dressing loosely into the neck and body cavity of the turkey. Add 30 minutes to the turkey roasting time for turkeys 16 pounds or less and 1 hour to the roasting time for turkeys over 16 pounds. Once removed from cooking, use a food thermometer to test that the center of the stuffing has reached 165°F.
Nutrition Information:
Yield:
12
Serving Size:
1
Amount Per Serving:
Calories:

242
Total Fat:

11g
Saturated Fat:

4g
Trans Fat:

1g
Unsaturated Fat:

6g
Cholesterol:

13mg
Sodium:

423mg
Carbohydrates:

29g
Fiber:

2g
Sugar:

4g
Protein:

7g
Nutrition information is estimated. Changes to the recipe and use of different brands may cause changes to the nutritional information to vary slightly from the ones provided here.
Recipe Substitutions and Tips For A Thanksgiving Dressing Recipe
Best Homemade Thanksgiving Dressing Recipe Tips
Although I don't make it that way any longer, you can make this as turkey dressing using giblets like grandma made. I removed the giblets from the turkey and fried them in olive oil or vegetable oil until cooked through. Then, I diced them and added them to the stuffing mixture before baking.
If you can't find bread crumbs, you can make this Thanksgiving dressing with stove top croutons. (The breading inside the box.)
You can use any type of croutons (fresh toasted, stale bread, or pre-packaged stuffing cubes) like focaccia stuffing cubes, wheat croutons, stale bread cubes (from stale bread at home) or any bread cubes or cubed stuffing mix you have.
You can make this a vegetarian Thanksgiving dressing by using vegetable broth instead of chicken broth, replacing the milk with another cup of chicken broth, and eliminating the sausage. It's just as good like that!
What is cubed stuffing mix?
Cubed stuffing mix is a type of dried bread cubes generally used for Thanksgiving dressing or stuffing inside of a turkey. These dried bread cubes can be made from various types of bread, such as white, wheat, or cornbread (any of which can be used for making dressing or stuffing!).
RECIPE TIP: If you substitute cornbread for the bread cubes in this recipe, you may need to adjust and add more liquid (like broth). I usually find cornbread stuffing dry and it takes a little more practice to get it perfectly moist. If this is your first time making a dressing recipe, I would skip the cornbread kind.
What is the difference between Thanksgiving dressing and stuffing?
They can both use the same recipe, but stuffing is "stuffed" inside the turkey before cooking and cooked with the bird. Dressing is cooked in a casserole dish on it's own.
Another Favorite Thanksgiving Side Dish At Our House: Slow Cooker Corn Casserole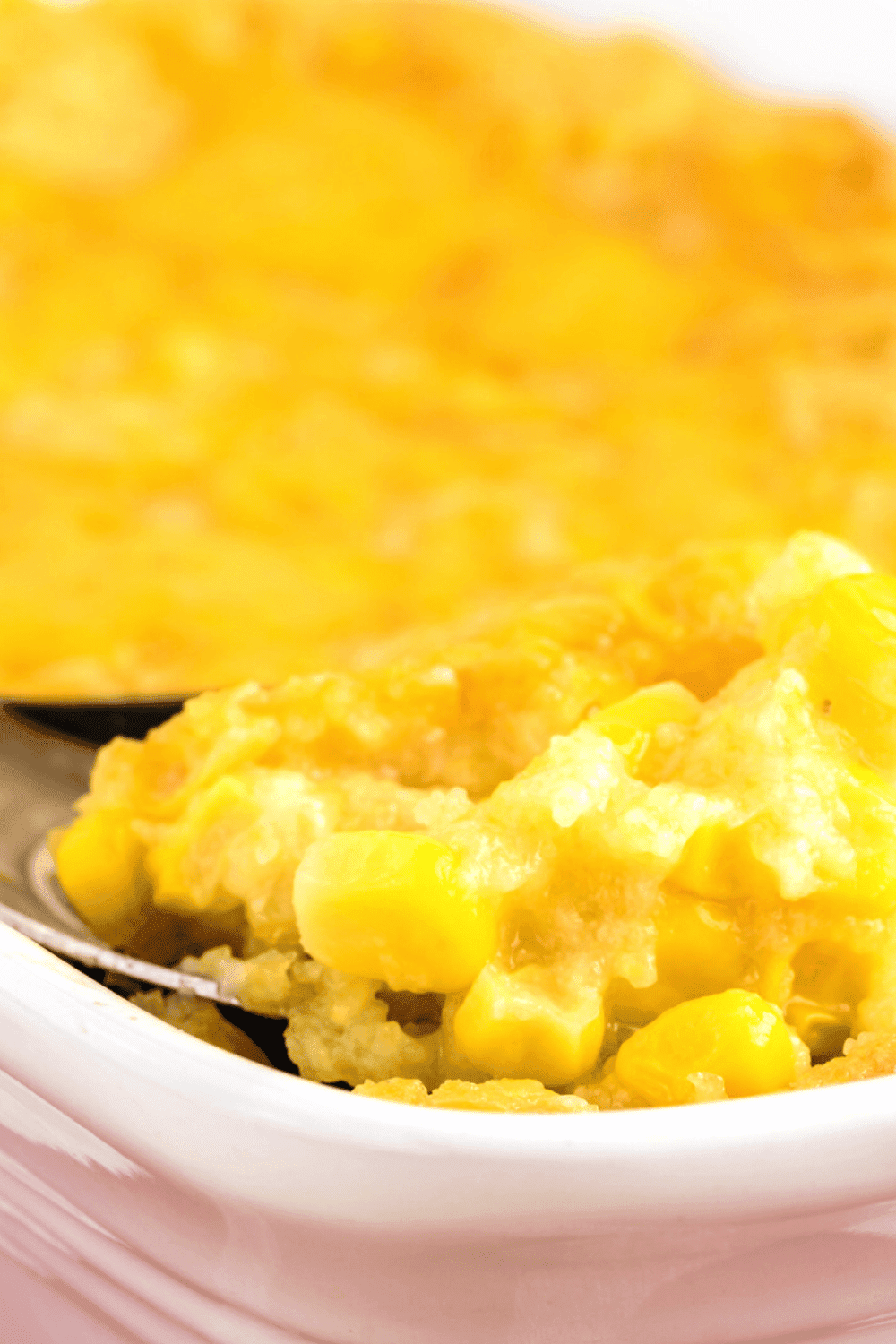 Happy Thanksgiving!
Let me know if you try this turkey dressing old fashioned style recipe for the holidays!
LOOKING FOR FUN COOKING PRINTABLES FOR KIDS?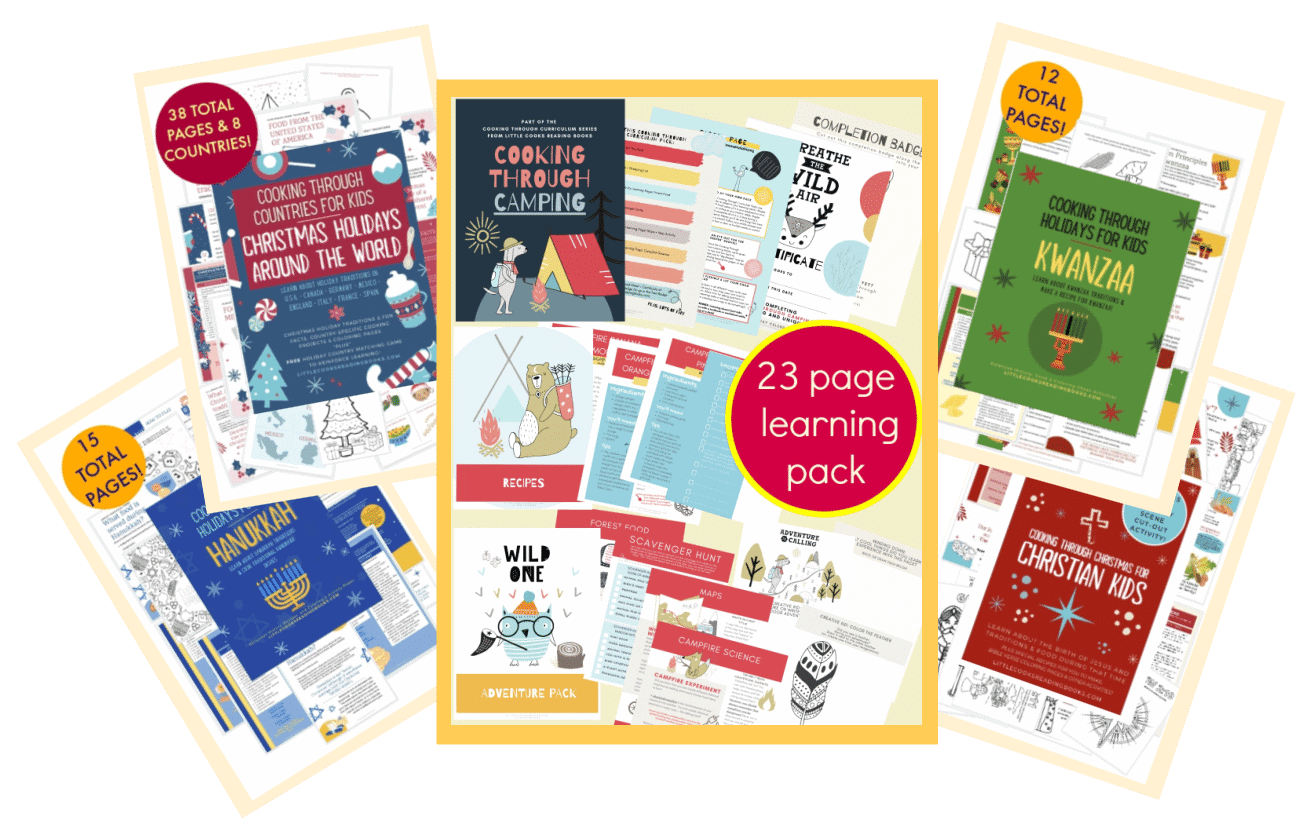 As an Amazon Associate I earn from qualifying purchases. Please refer to our
DISCLOSURE
.