A hysterical Halloween game for family or for Halloween parties for kids, Witchy Poo Poo is a fun guess the food game if you're looking for ideas for witch themed parties or a funny holiday activity for adults and kids!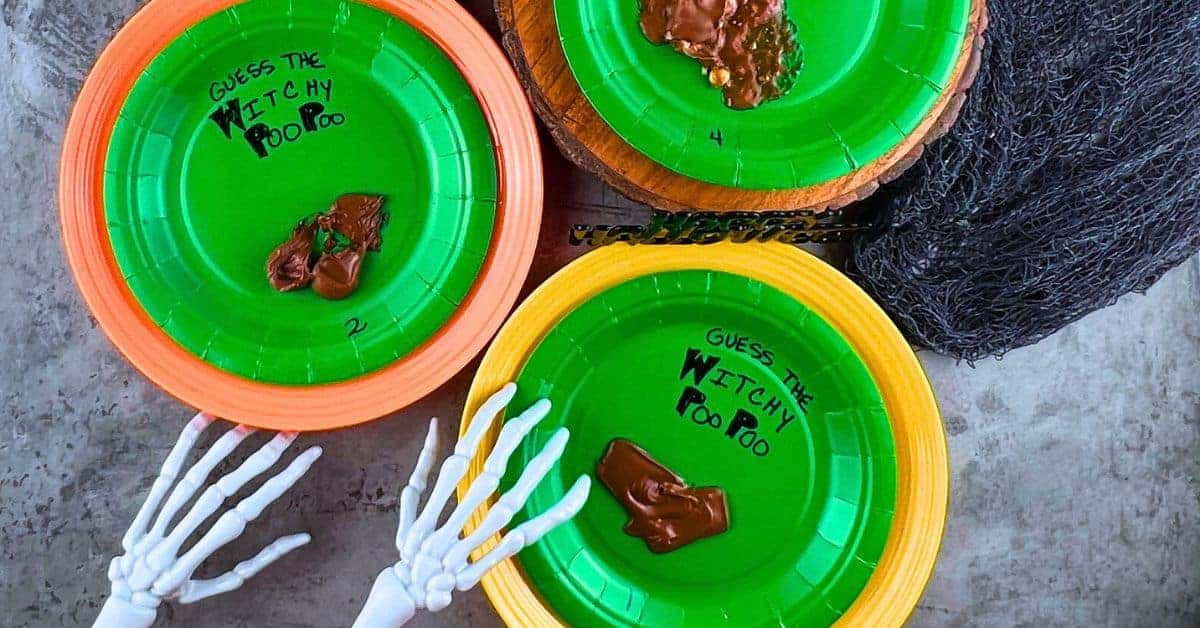 Hilarious Witchy Poo Poo Halloween Game For Family Fun (Melted Candy Bar Game)
Oh no! Witchy ate too much candy and now you need to help her by guessing her Witchy Poo Poo! This is one of those hysterical games for Halloween that will get everyone laughing! Great if you're looking for gross Halloween food games, candy games, or Halloween guessing games.
How Do You Play Guess The Candy Bar Game?
For the Guess The Witchy Poo Poo Game, You'll Need:
5-10 different kinds of chocolate candy bars or chocolate (any type of candy bars you want)
Paper plates
Black marker
Pens or pencils for each guest
Paper for each guest
Keep scrolling for the full Halloween game instructions and how to play Witchy Poo Poo! Be sure to scroll to the bottom for tons of other fun Halloween activities — plenty of games for game night and party games!
Affiliate links are used on this site. As an Amazon Associate I earn from qualifying purchases. Read more in our DISCLOSURE.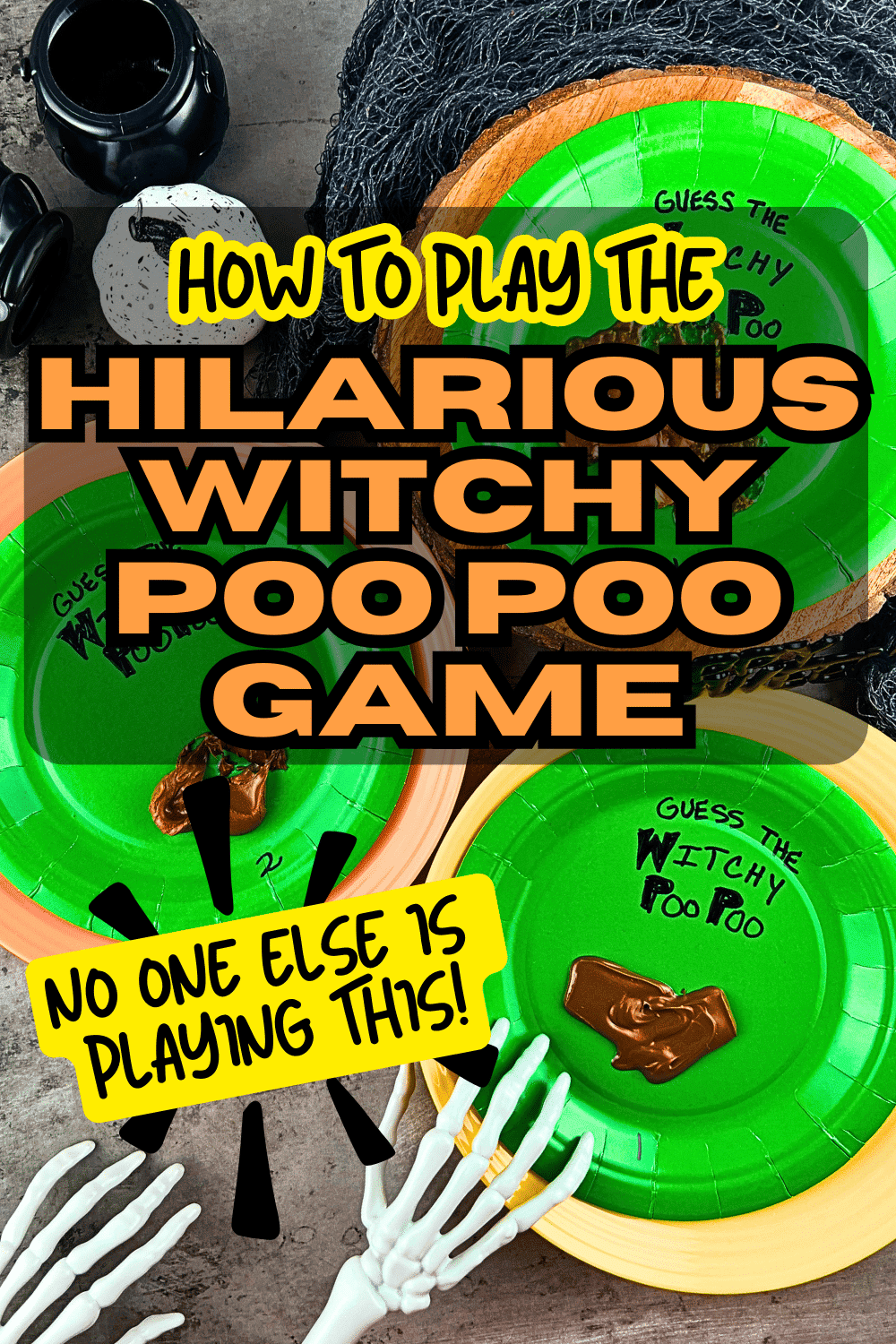 What is Witchy Poo Poo?
Witchy Poo Poo is a fun game for Halloween that I adapted for a Halloween activity. It involves melted candy bars, or Witchy's Poo Poo, on a plate where game players have to guess the correct candy bar. It's a hilarious and gross Halloween game idea kids love as much as adults!
It is based on the premise of the guess the melted candy bar games that you may have seen as a diaper game for baby showers. This is a really great game for all ages and one of the best witch games!
Witchy Game Prize Ideas
Don't forget to grab a witch themed prize or two to give away to the winners. (Be sure to plan if there's a tie!)
Witch Party Favors:
Cute witch hats like this for your little witches to wear during the game play
Witch Finger Puppets
Witch's Potion Bubbles
Witch-themed Stickers
Witch's Crystal Ball Bouncy Balls
Witchy Bracelets or Necklaces
Witch-themed Coloring Books
Glow-in-the-Dark Witch Tattoos
Witch's Cauldron with Candy
Witch-themed Puzzles
Witch-themed Games like Hocus Pocus Yahtzee
Witchy Plush Toys or Black Cats plushies
Witch-themed Books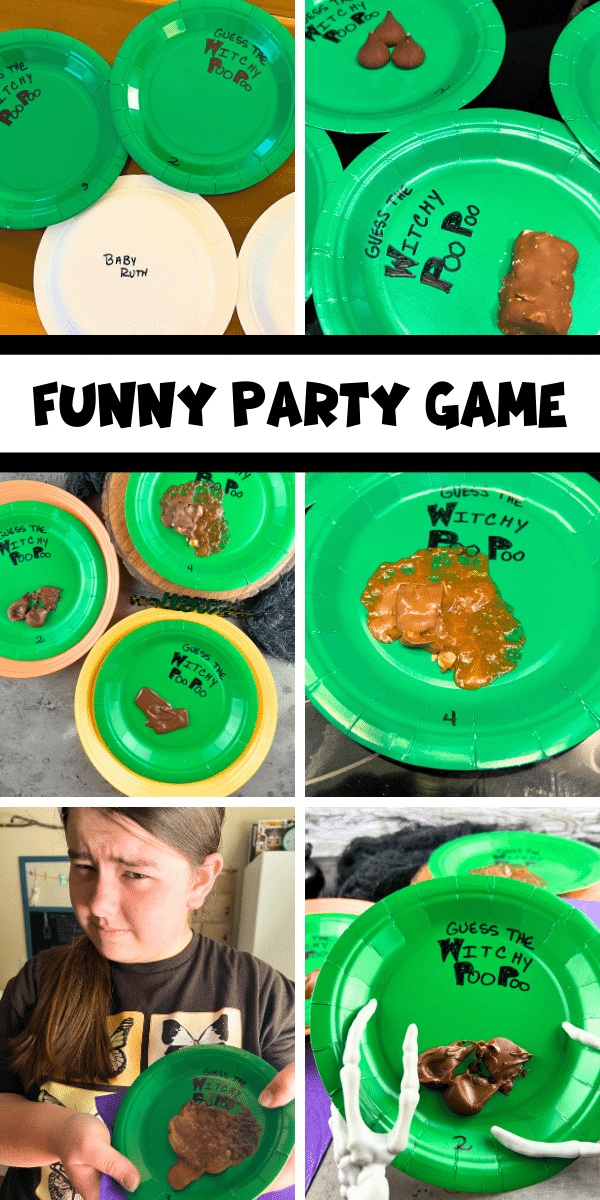 How To Play The Halloween Candy Bars Game (Witchy Poo Poo Guessing Game)
We know there are plenty of games for the holiday, but this is one of the greatest witch games we've ever played (especially if you're looking for laugh out loud funny Halloween game ideas or group games)! I love this game because it's fun for Halloween party kids activities or just a fun family game night idea for after trick or treating or if you're doing a Halloween stay at home night. This is also the perfect opportunity to use up all that leftover Halloween candy!
Object Of The Halloween Candy Game
Party guests try to guess which candy bars Witchy ate based on looking, smelling, and even tasting the melted candy bars. (If they want!) Each party guest writes their guess on their Halloween game log. The person with the most correct game guesses wins a prize!
Witchy Poo Poo Game Materials
5-10+ different kinds of fun size chocolate candy bars or chocolates that people will recognize (variety of candy bars)
Halloween paper plates
Black markers
Pens / pencils for each guest
Paper for each guest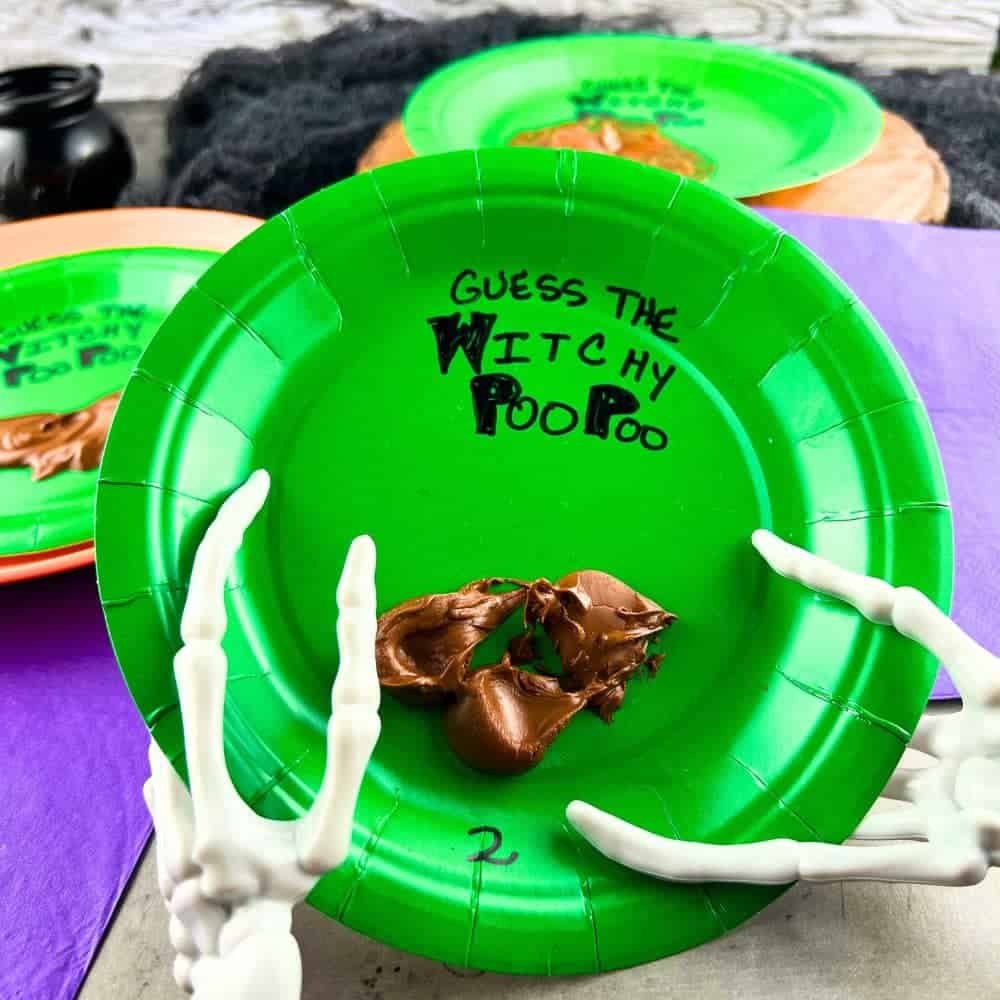 Game Instructions & Setup
You can make this whole game in just a few minutes of time. (So, it's a quick and easy game to setup!)
Turn each paper plate over and write the name of one candy bar on each plate using a marker. (One candy bar type on each plate. This will be your answer key to identify the melted candy bars at the end of the game.) Flip the plate back over to the side you will use and number each plate. We also wrote "Guess The Witchy Poo Poo" at the top of each plate, but you don't necessarily have to do that.
Unwrap each candy bar and place one or two on each paper plate. If you are using full sized candy bars, you will just need a small piece. (Don't melt the entire candy bar!) IMPORTANT: Make sure you get the correct candy bar on the correct plate. Check the name on the underneath of the plate before you melt the candy bar on it.
One at a time, heat each candy bar in the microwave (just for a few seconds!). After melting, you may have to smash them down with a spoon a little to make them harder to recognize. Set aside and allow them to cool until party time!
To Play the Witchy Poo Poo Guess The Candy Bar Game
Have players sit around a table where they can easily write and pass plates. Give each player a piece of paper and pen.
Start by explaining that Witchy has an upset stomach and it's their job to help figure out what Witchy ate by examining her Witchy Poo Poo. Tell them they can look at the poo, sniff the poo, and even break off a tiny piece to taste it.*
Once they have examined that candy bar on paper plate, they write their guess of that paper plate number on their paper – be sure they number the guesses. For example, if the melted candy bar was on paper plate 1 they would write 1. Milky Way, 2. Kit Kat, etc.
Players pass the plate to the person on their left and then get a new plate. Game play continues until every party guest has guessed all the witchy poo on plates and written their answers on the paper.
Host then holds up each paper plate and announces the candy bar on the numbered paper plate.
The guest with the most correct candy bar guesses wins (most correct answers). Have a small prize to give to the winner! (SCROLL UP in the post for best game prize ideas!)
DON'T MISS MORE HALLOWEEN GAMES KIDS LOVE: THE GROSS FOOD HALLOWEEN GAME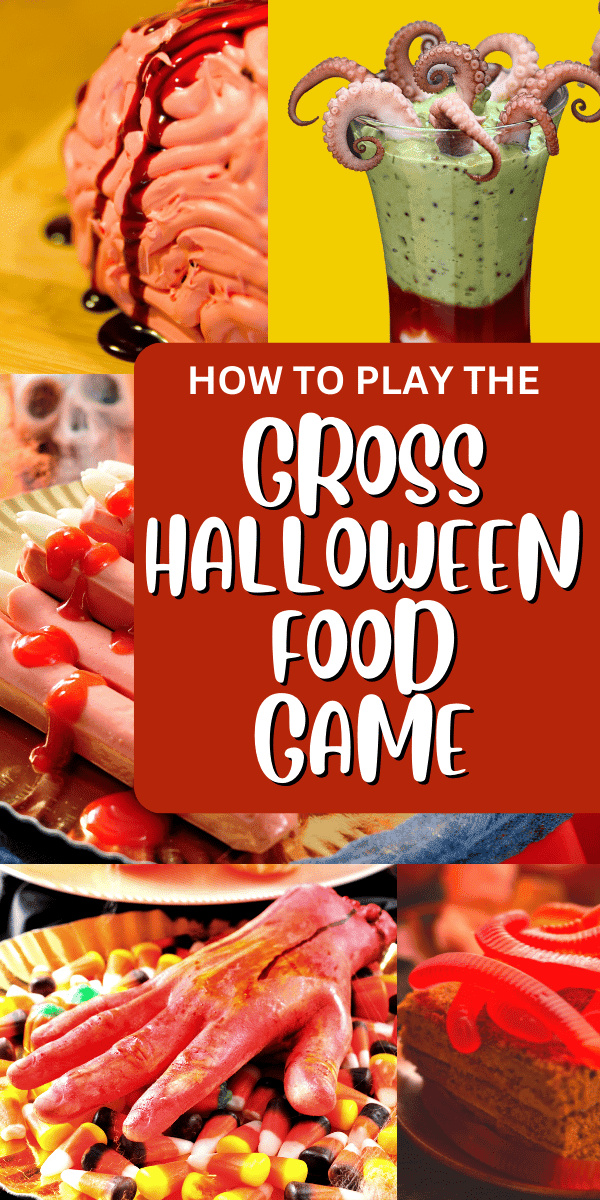 Important Game Tips
*Some people play the guess the melted candy bar game with the game rule of no tasting allowed and just play it as a sniff-a-poo candy bar game. You can play that way, too! (We just think it's funnier to tell players they can taste it and it makes it a kids gross game, which they love!) If you allow tasting, you will want to use larger melted candy bar pieces or a couple of fun-size candy bars. Make a rule that they have to break off a tiny piece for tasting.
TIP 1: To make this easier (especially if you have younger kids playing), you can play this as a match the candy bar game. Simply list out the names of all the candy bars used or tape them to a foam board so that all the players can see them. You can also add in some other random chocolate bars too (that weren't used in the game) to make it a little more difficult.
TIP 2: You will also want to keep track of the candy bars you are melting! Some of them are hard to recognize once you have heated them and they are melted. Be sure that you check the back of the paper plate for the name of the candy bar before you place the candy bars on plates and melt them.
IMPORTANT TIP 3: If you are using Hershey kisses they will not melt completely! (Same for Hershey bars.) You will need to heat them for a few seconds and then smash them down a little with a piece of parchment, wax paper, or the back of a spoon to make them flat and harder to recognize.
Do you have favorite games with candy? Let us know and we'll add them to our Halloween gaming list!
Keep The Halloween Fun Going!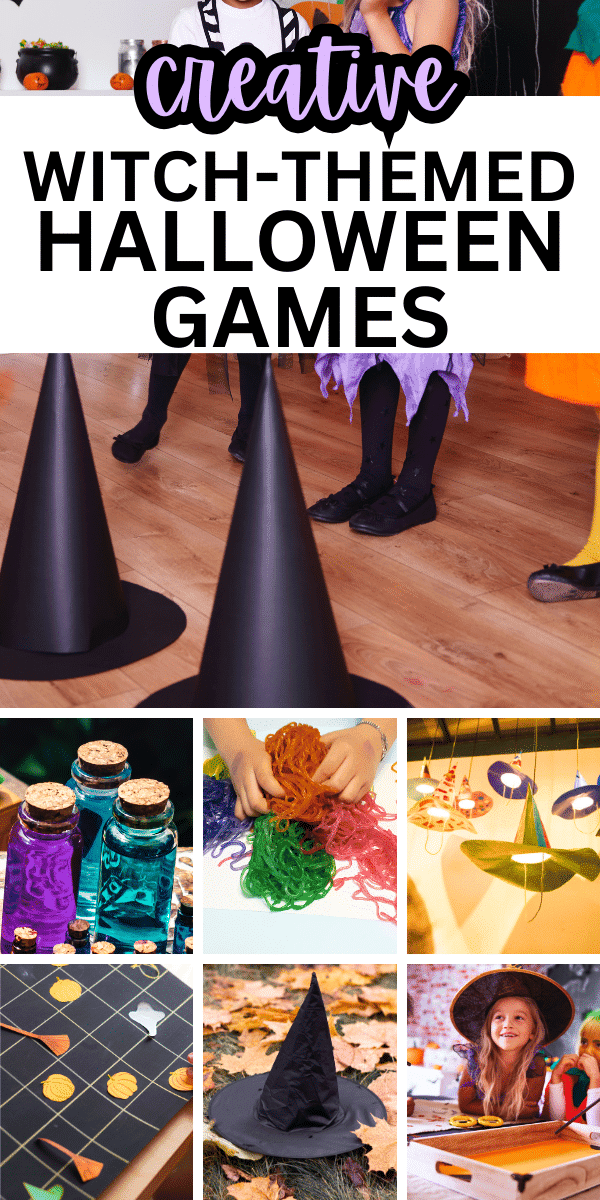 Fun Halloween Witch Games For Kids and Other Fun Halloween Ideas
We hope you enjoy this Halloween game for family and kids game nights and parties!
LOOKING FOR FUN COOKING PRINTABLES FOR KIDS?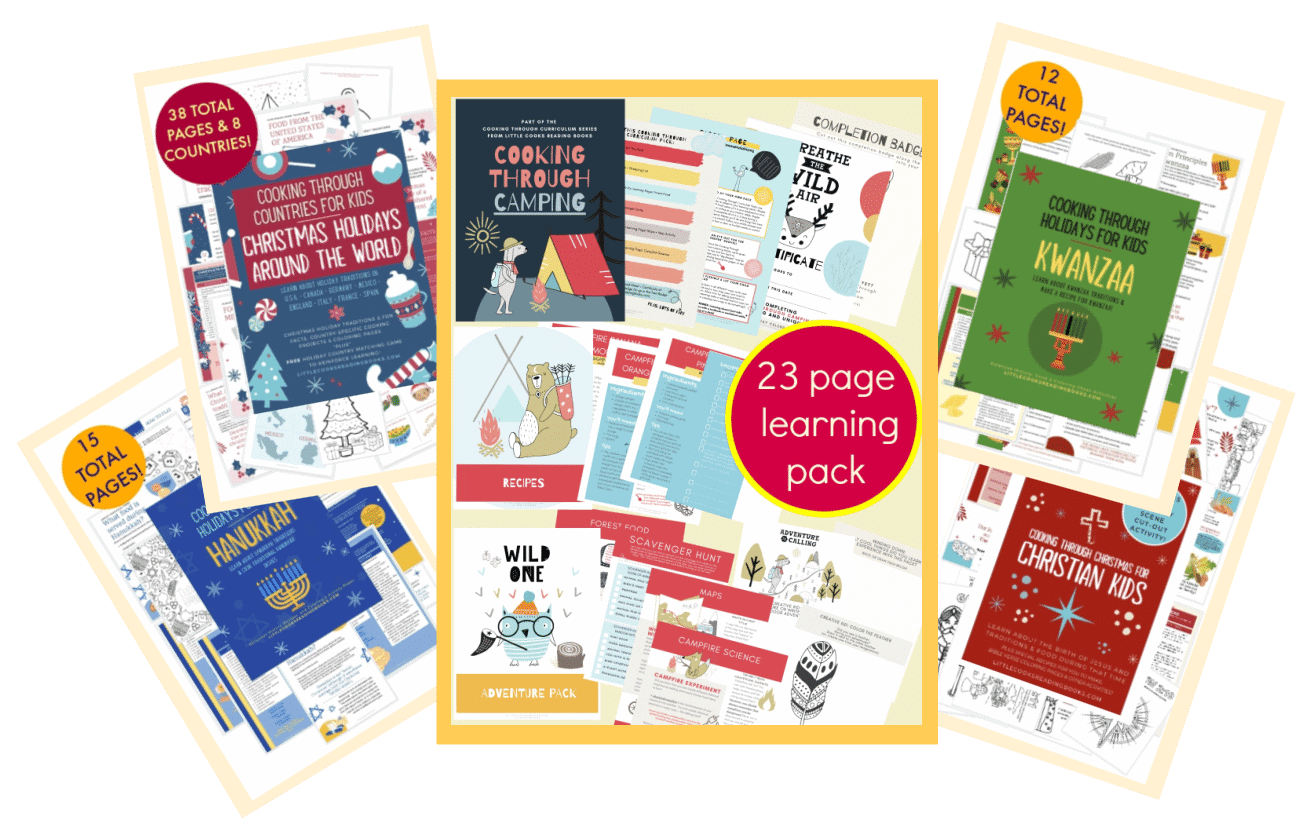 As an Amazon Associate I earn from qualifying purchases. Please refer to our
DISCLOSURE
.