The donut hanging game (aka: donut on a rope or eat the donut game) is a super fun Halloween game, summer birthday party game, or party game for kids for any special occasion or children's event. This food on a string game is an updated (and safer!) alternative to the bobbing for apples game (it's a donut bobbing game instead!).
How To Do The Donut Hanging Game Challenge
The hanging donut eating game (doughnuts game) is popular for Halloween games ideas or any donut game party theme / donut eating games no matter the occasion!
So, what is the donut challenge, how do you do a bob donut, and who will be fastest to eat a dangling donut?
How do you play the hanging donut game?
To play the doughnut on a string game (aka: donut on a string eating contest), you'll need a variety of doughnuts to match the theme (like Halloween doughnuts or birthday theme doughnuts or whatever your party theme). Tie each doughnut on the end of a stringing hanging from a tree. Each party game player places their hands behind their backs (it's a no hands game!) and tries to be the first person to eat their entire dangling donut before others!
Affiliate links are used on this site. As an Amazon Associate I earn from qualifying purchases. Read more in our DISCLOSURE.
For the doughnut challenge game, you'll need:
Variety of doughnuts with holes
String, twine, ribbon, or fishing line
Tree, pole, or stand (to hang the doughnuts from)
Blindfolds (optional, but adds another level of difficulty and good for adults / older kid party challenges)
Don't miss the full directions for a donut game for Halloween party below. Keep scrolling for the how to play the donut game rules!
How do you win a donut on the string eating contest?
Here's how to win donut on a string:
Keep the donut balanced on the string by alternating bites from each side.
Bite only around the edges and keep the hole intact to hold the donut. If your donut drops to the ground, you lose!
When you get to the end when there's only a small ring of donut left around the hole, carefully bite off the bottom, making sure to leave the top "arc" of the donut still hanging on the string.
Eat the last top bit (the arc) of the donut to win the doughnut string game!
ALSO LEARN HOW TO PLAY THE HALLOWEEN BOO BASKET GAME!
Donut On A String Alternative (Party Bobbing Games)
If you don't want to play the donut on string Halloween game with doughnuts, try:
Bagels on a string
Pineapple rings on a string (and call it ring on a string game)
Apples on a string (carved like pumpkins)
Bananas on a string (peeled, with ghost faces made out of chocolate)
Candy bars on a string (Great alternative to doughnut game halloween idea! You probably already have Halloween candy bars!)
*If you're using other things besides donut game ideas, you'll have to get creative with how you hang those on the string!
Want other Halloween party ideas to go with the donut hanging from string game?
DON'T MISS THESE OTHER FUN HALLOWEEN IDEAS:
Halloween Ideas for Family Fun Activities
Disgusting Halloween Party Foods Kids Will Love!
Halloween Birthday Sleepover Activities
Want a fun name for your hanging donut eating game?
Donut On A String Game Name Ideas
If you want to know what to call the donut string game in the classroom or for a party, try these fun Halloween game names…
Simple nickname for game ideas:
Goblin Gobble
Dangling Donuts Game
Donut Gobble Game
Face Monster Mash
Doughnut Drop Game
Bobbing For Donuts
Donut Rush Me Game
Donut Dunk Game
Monster Maze of Donuts
Bloody Bites (great for older kids and use red jelly donut flavors like raspberry filled doughnuts or cherry filled doughnuts, but just know that it's harder to play the doughnut came with filled donuts!)
Scary Sweets Doughnuts on a String
Monster Munch
Spooky Sweets Game (hang floating ghosts like this in the tree too!)
Donut King Game / Donut Queen Game (you can even give the winners crowns!)
So, how do you play bobbing for donuts? Let's get to how to play dangling donuts game!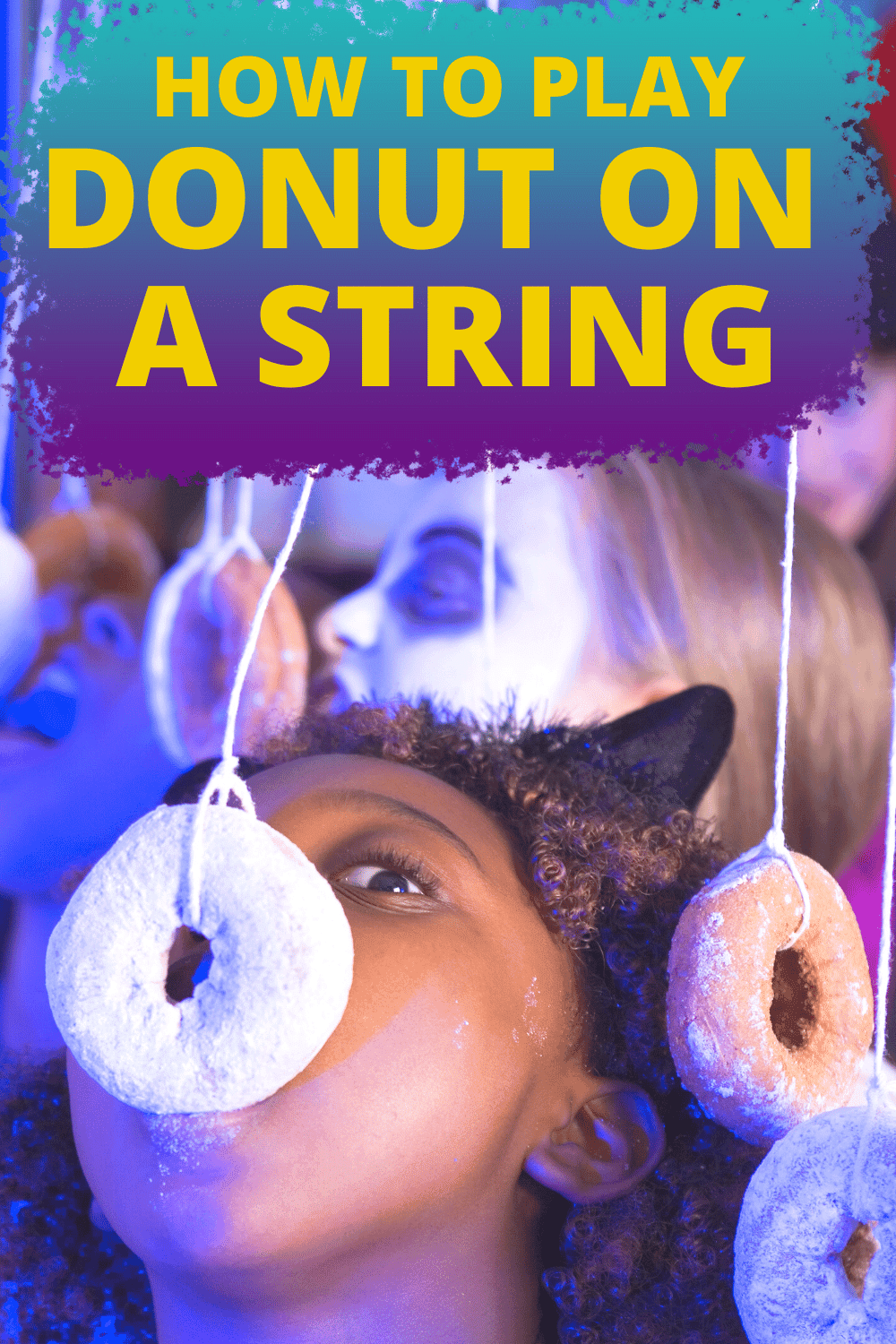 Donut On A String Game Setup
Looking for a fun and festive way to celebrate Halloween with your friends and family? Look no further than the hanging donut game. (You definitely need to add this to your games to play with donuts!)
This simple and party game is perfect for all ages and is sure to get everyone into the Halloween spirit.
Here's how you can play the hanging doughnut game:
1. Pre-hang strings from tree limbs.
Before the party, hand your long strings (fishing line, ribbons that match your party theme, or twine) from the tree limbs. You'll need one for each child attending the party.
You will also need to make them long enough so a child can reach the bottom of the string, plus some extra string to tie the donut onto.
Be sure to space out the tied strings so kids aren't running into each other. Make sure that the donuts are evenly spaced apart and that they can freely swing from the string or ribbon.
Gently tug on the string so to test that it will hold swinging back and forth (and kids being crazy at a party).
TIP: Fishing line is sturdy, but might easily slice through the donut (depending on the kinds of doughnuts you buy). You might want to try waxed string like this.
If you don't have trees to make this a donut tree game, you can make this a donut stand game by tying the strings to any area that you have that hangs down (porch overhang, from the ceiling indoors, etc.). Just be sure that it's sturdy and not something that will fall if kids tug on the string!
2. Players choose donuts.
Place a variety of donuts on a table (you will need at least one donut for each player, plus extras, just in case). You can use any type of donut, but we recommend using Halloween-themed donuts for an extra touch of festive fun.
TIP: If you make it a powdered donut on a string game it's really funny because kids get powdered sugar from the donut all over their face! Also, filled doughnuts, like creme-filled donuts, don't work as well and will fall off easier. It's better to use donuts with holes.
Loop the string through each donut a couple of times and tie it so the child can reach the donut with their mouth.
YOU'LL ALSO HAVE FUN WITH THE FOOD CHALLENGE GAME! Gross Halloween Food Game
3. Start playing the donut game!
It's time to start playing! Explain the rules to the kids and remind players that no hands are allowed!
The object of the game is to race to be the first player to eat their donut without using their hands or making the donut drop to the ground. If it drops to the ground or you use your hands and touch the donut, you're out!
First person to eat all of their donut wins the donut party game! (And hopefully a fun game prize you have for them! GET FUN HALLOWEEN PRIZES HERE.)
Some people call this a donut on a string minute to win it game and set a timer for 60 seconds. Definitely add this as a donut games for parties! It's a really fun group game!
Again, we made this as donuts on a string Halloween games, but it can be used for any party theme and great for a donut theme party. (This would make a really fun carnival hanging game for a carnival party theme!)
It's a fun choice if you're looking for game with string, too!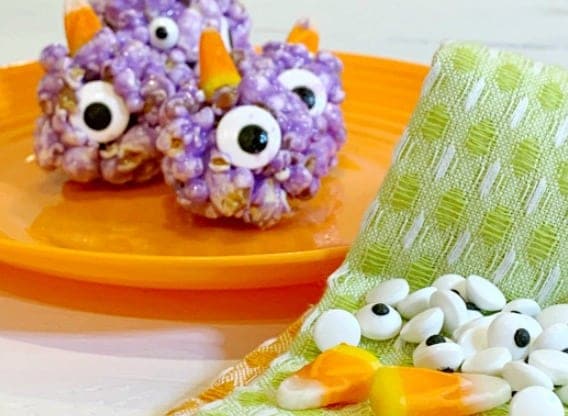 READ THIS NEXT: HOW TO MAKE HALLOWEEN POPCORN BALLS
If you've played a game with doughnuts, let us know your tips for the donuts hanging string game!
Have fun with the donut hanging game!
LOOKING FOR FUN COOKING PRINTABLES FOR KIDS?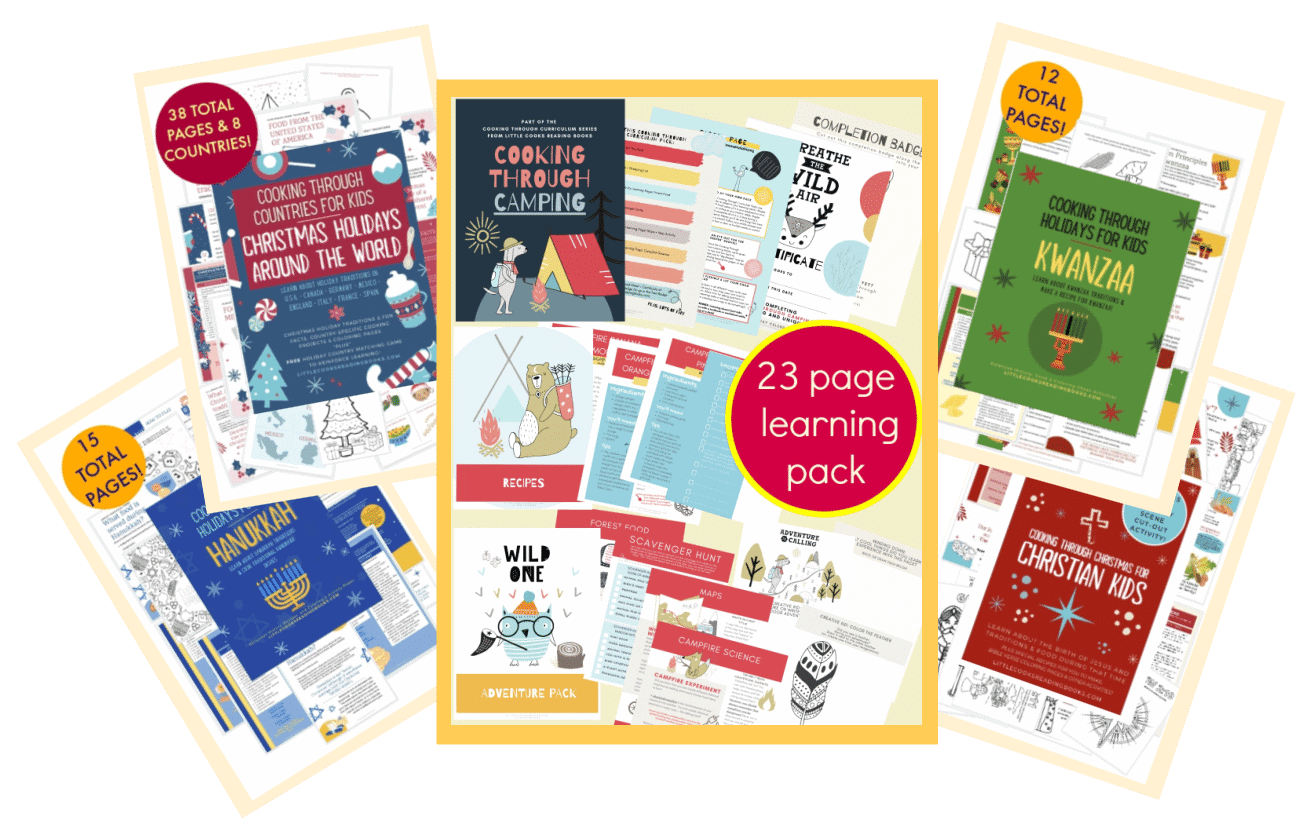 As an Amazon Associate I earn from qualifying purchases. Please refer to our
DISCLOSURE
.