Looking for store bought Halloween treats or easy Halloween party foods tips? These last-minute Halloween snacks will not only save your party, but no one will know these weren't homemade Halloween recipes! Some great pre-packaged Halloween class party snack ideas and Halloween snack board ideas, too! (Halloween images for inspiration!)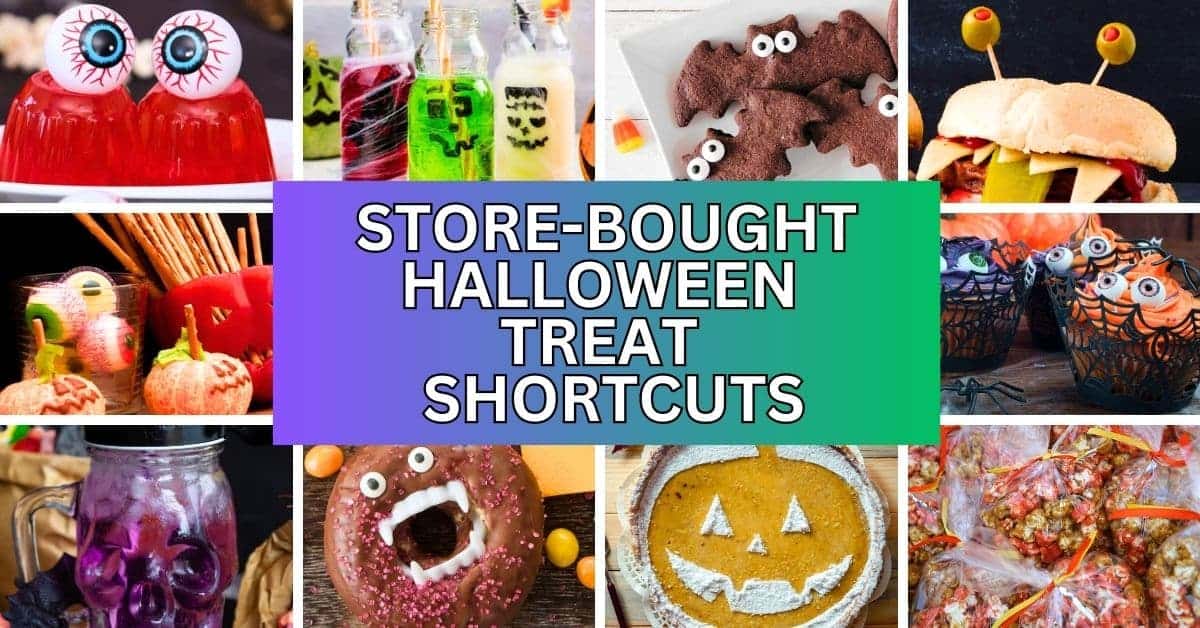 How To DIY Store Bought Halloween Treats To Look Homemade
Many of these are store-bought Halloween treats you can update and make in less than 5 minutes! I like to call these sanity saver snacks or cheater Halloween ideas. (And, I have zero guilt about it.) Kids still love these Halloween ideas — even if you just spend minutes making them!
Easy Halloween Food Ideas That Kids Will Love (Store Bought Halloween Snack Ideas)
What snacks to have at a Halloween party?
Monster Fruit Cups: Buy individual fruit cup packs, pudding packs, or Jell-O packs. Stick googly eyes to the cup lids.
Affiliate links are used on this site. As an Amazon Associate I earn from qualifying purchases. Read more in our DISCLOSURE.
Jack-o'-Lantern Oranges: Draw jack-o'-lantern faces on oranges using a non-toxic food marker and put them in a fun Halloween bowl.
Halloween Popcorn: Buy a bag of regular popped popcorn and chocolate covered popcorn (white or chocolate is fine). Mix popcorns with Halloween sprinkles and Halloween colored candies. Portion into Halloween cupcake holders or mini pumpkin favors.
Mummy Juice Boxes: Wrap store-bought juice boxes with white gauze. Add googly eyes on the front of the juice boxes.
Witches' Hats: Buy chocolate-dipped cookies (like Fudge Stripes) and place a Hershey's Kiss on top (with some chocolate icing "glue") to create mini witch's hats. (These look really cute on a Halloween dessert platter!)
Bat Cookies: Purchase chocolate sandwich cookies and remove one side of the cookie. Break the remaining cookie in half and stick them into the cream filling to create bat wings for bat cookies.
Candy Corn Parfait: Layer store-bought vanilla pudding with precut orange and yellow fruits (such as mandarin segments and pineapple chunks). Top with whipped cream and a candy corn on top.
Boo Nanas: Put chocolate faces on bananas for cute healthy treats for Halloween. (Easy finger foods for Halloween for all ages!)
Monster Eyeball Pudding: Buy pre-packaged chocolate pudding cups, remove the top, and place a gummy eyeball candy on top of the pudding. You can also add crushed Oreo cookies as monster face hair before you add the eyeball.
Bag-O-Bones: Separate out pre packaged Cheetos Bag Of Bones Cheeto snacks in Halloween favor bags with a skeleton favor attached to the top.
See more store bought Halloween treat ideas with pictures below. (Plenty of no bake recipes!) KEEP SCROLLING for Halloween picture inspiration — whether you're looking for store bought halloween treats for school, Halloween snack preschool ideas / simple kindergarten fall party snack ideas, or just easy Halloween things to do at home for kids activities!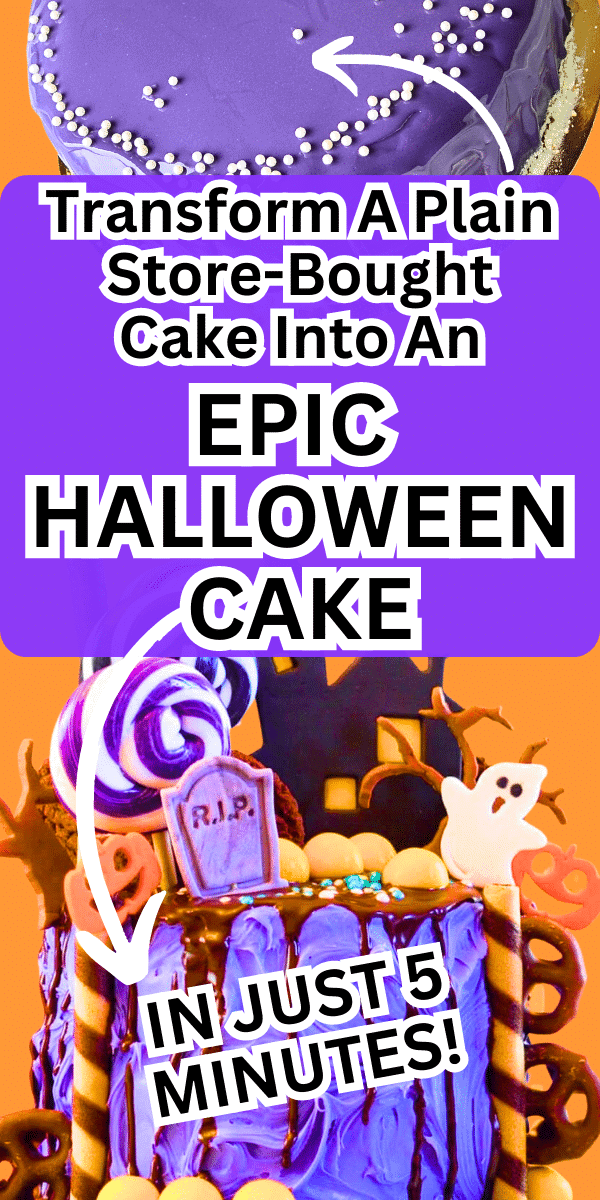 35+ Halloween Treat Store-Bought Shortcuts And Fun Party Food Tips
Try these super simple store bought Halloween treats for parties or any time you need easy Halloween snacks last minute! Here's how to make the best store bought Halloween treats into cute ideas for your Halloween party table in fun, kid friendly ways.
Easy Halloween Cakes
Can I be honest? More than once I've taken a store-bought cake and altered it to meet the party theme… and no one ever knows.
(Ok. ONE TIME someone noticed, but I'm not friends with her anymore…)
(Kidding…)
Anyway, if you really want to wow at your Halloween party, buy a plain iced cake of any kind, type, or color and then jazz it up with Halloween decorations, Halloween candies, and other Halloween treats! (Halloween cookies stuck into the top of a Halloween cake are super cute!)
And, bonus? It's a lot cheaper than a custom cake for Halloween (and many other Halloween desserts)!
Here are fun ideas for Halloween cakes from store-bought cakes:
Easiest Halloween Cake Ever
This is a fun cake to put together because you can buy any cheap round tiered cake at the grocery store. Then, have fun adding your own decorations (and even drizzled chocolate).
Choose things like cake toppers, Halloween holiday sprinkles, Halloween suckers and other Halloween candy, toy Halloween favors, chocolate covered pretzels, Halloween cookies, and more. You can even decorate the Halloween cake down the sides, too!
Also, kids will have fun picking off the extra candy and toys when you cut the cake!
Frankenstein Monster Cake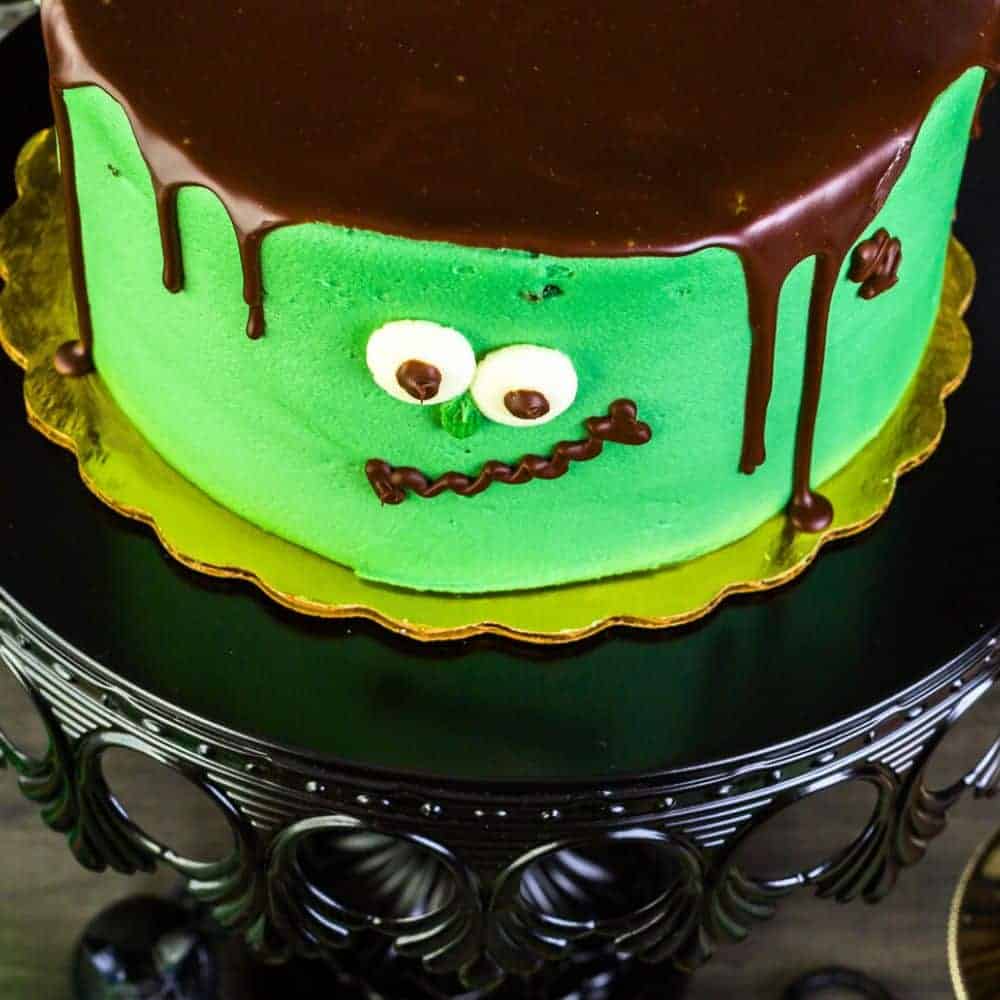 Grab a green iced store-bought cake and smooth the icing down. Melt some dark chocolate melts and carefully pour over the top of the cake. (It's OK if some of the chocolate runs down.) Finish off decorating this easy Halloween cake with edible googly eyes and piped chocolate mouth.
Cheater Halloween Pumpkin Pie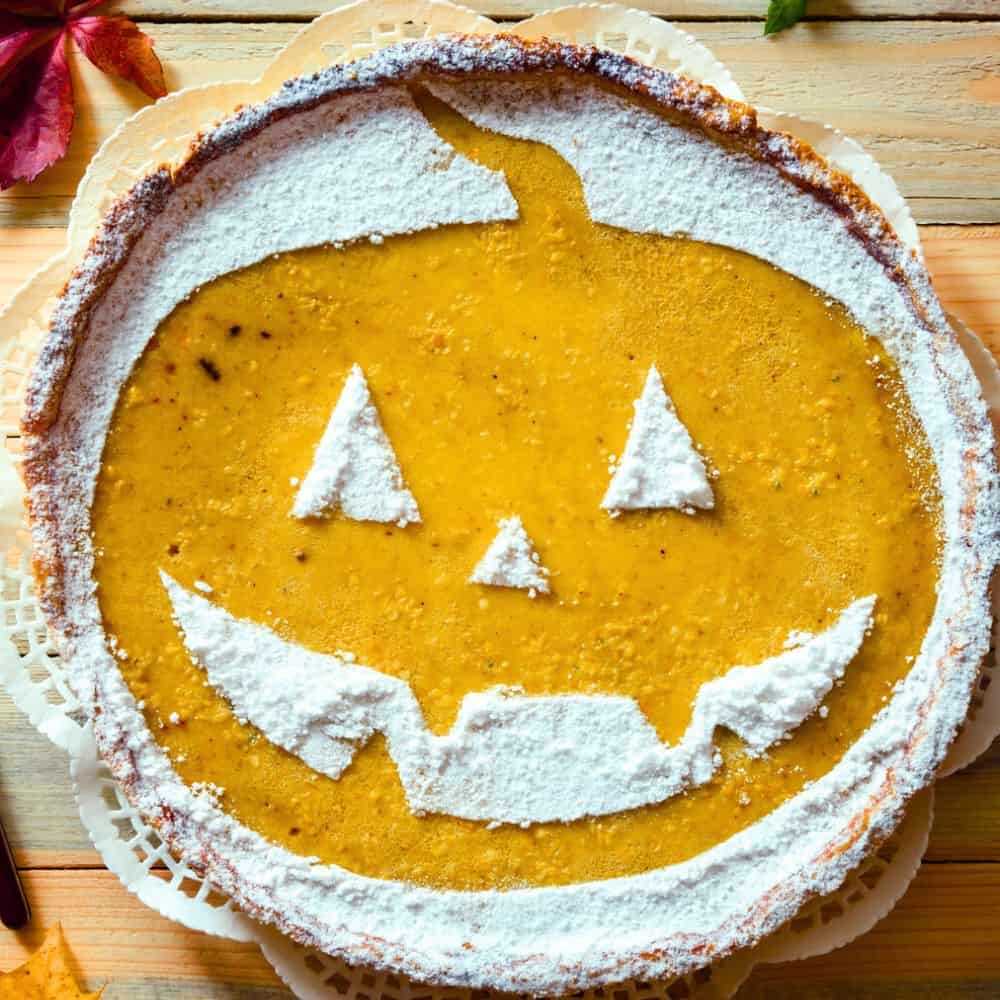 Ok, this isn't really cake, but I thought I would put it in this category since pies and cakes go together.
Buy a store made pumpkin pie and then use Halloween stencils and powdered sugar to turn it into a cute Halloween pie. It gives it that homemade baked goods look. Take it out of the package and place it on a white doily or Halloween plate.
Best Easy Halloween Cupcakes Hacks
Listen to me when I tell you this simple Halloween cupcake tip: there are unlimited things you can do with Halloween sprinkles, candy eyes, and some cheap Halloween decorations that will take plain cupcakes (store-bought cupcakes or cakes!) to Halloween superstar level.
(I'm being totally serious.)
Pick up some inexpensive iced cupcakes at the grocery store (look for Halloween icing color like white, orange, green, purple or black) and then use some of these easy party ideas.
Everyone will think you spent hours on your homemade Halloween cupcakes and making these Halloween recipes!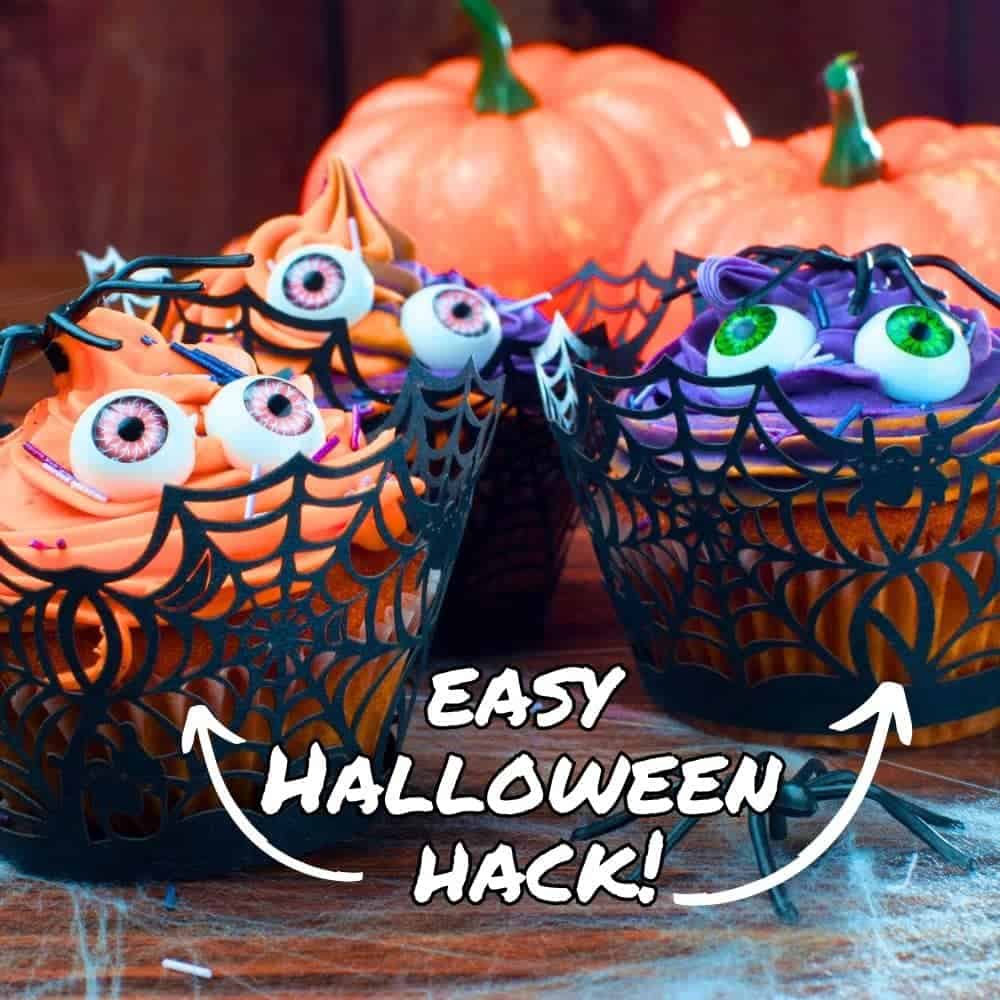 Halloween Cupcake Liner Hack
One of the easiest Halloween tips for cupcakes is to put the cupcakes into super cute or nice cupcake holder / cupcake liners like these. (Just leave them in the store-bought cupcake liner and sit them in the new liner.)
This is such an inexpensive and easy hack for Halloween party tables!
Then, add any kind of fun sprinkles, toppings, edible eyes, or fun Halloween favors to the top of the cupcakes to take them to the next DIY food level.
Halloween Owl Cupcakes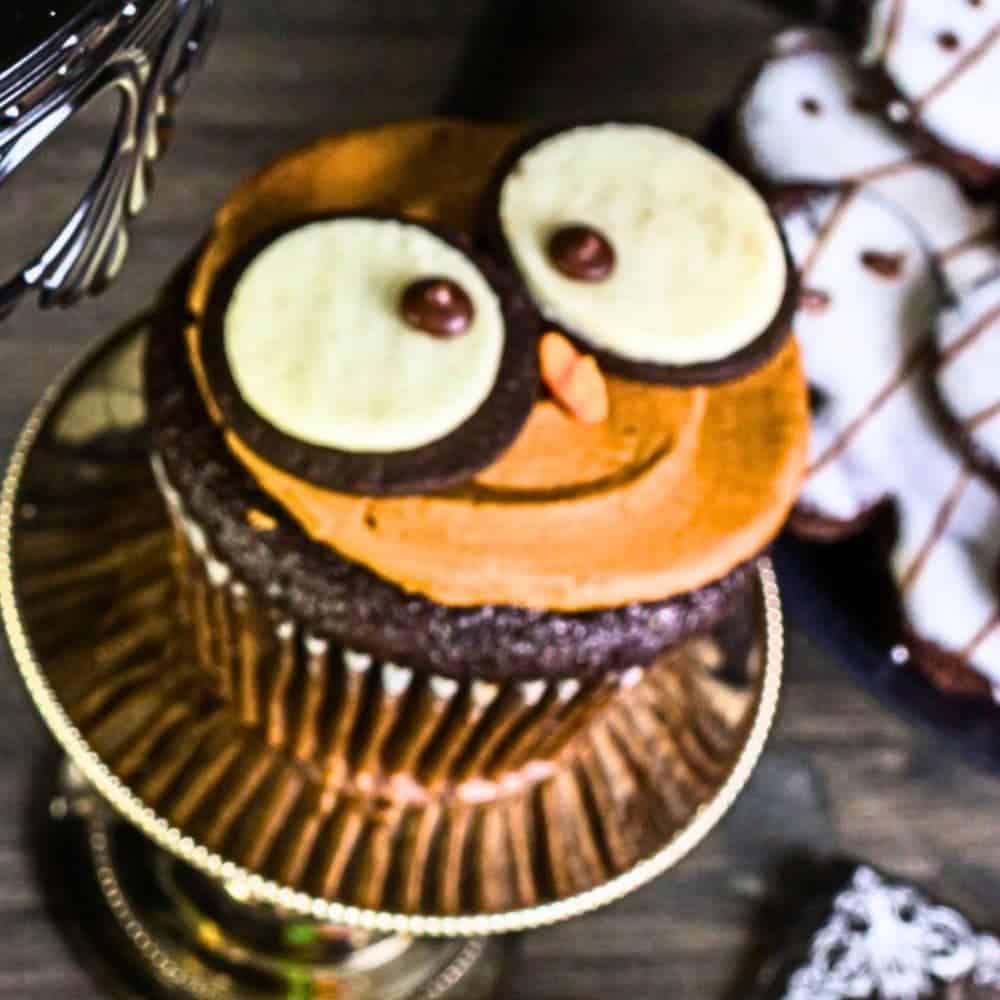 Use chocolate storebought cupcakes with chocolate icing to make a Halloween owl! Smooth out the chocolate icing. Separate an Oreo cookie for the eyes and push and upside down candy corn in for the nose. Dot the eyes with extra chocolate.
You can also use just a simple Halloween ribbon and Halloween cupcake picks (toothpick Halloween flags) like this: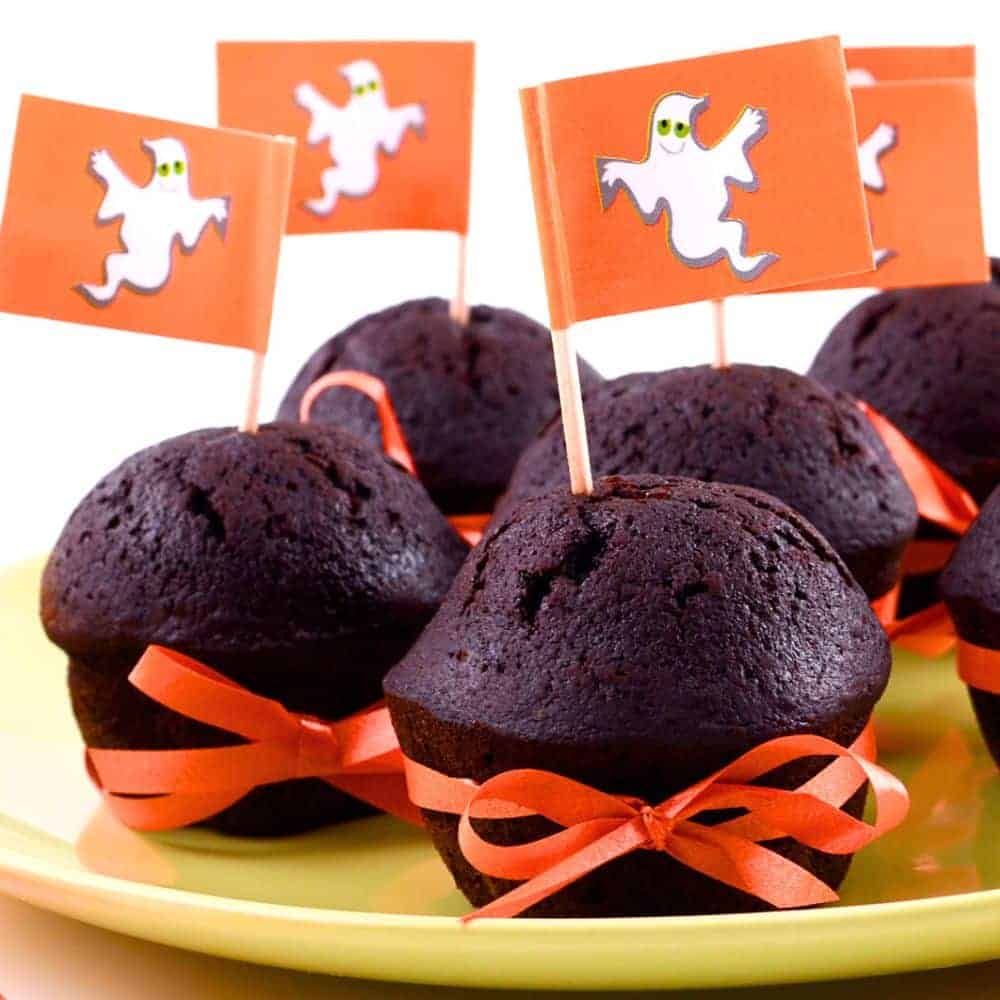 This is such an easy Halloween trick but looks really cute on your table for parties or Halloween events!
And, yes. I give you permission to use these baking tips for the kids event or school bake sale. Just take them out of the plastic container and put them on a cute Halloween serving platter before heading to the Halloween event! (Honestly, I use these cheap platters for all holiday foods all year!)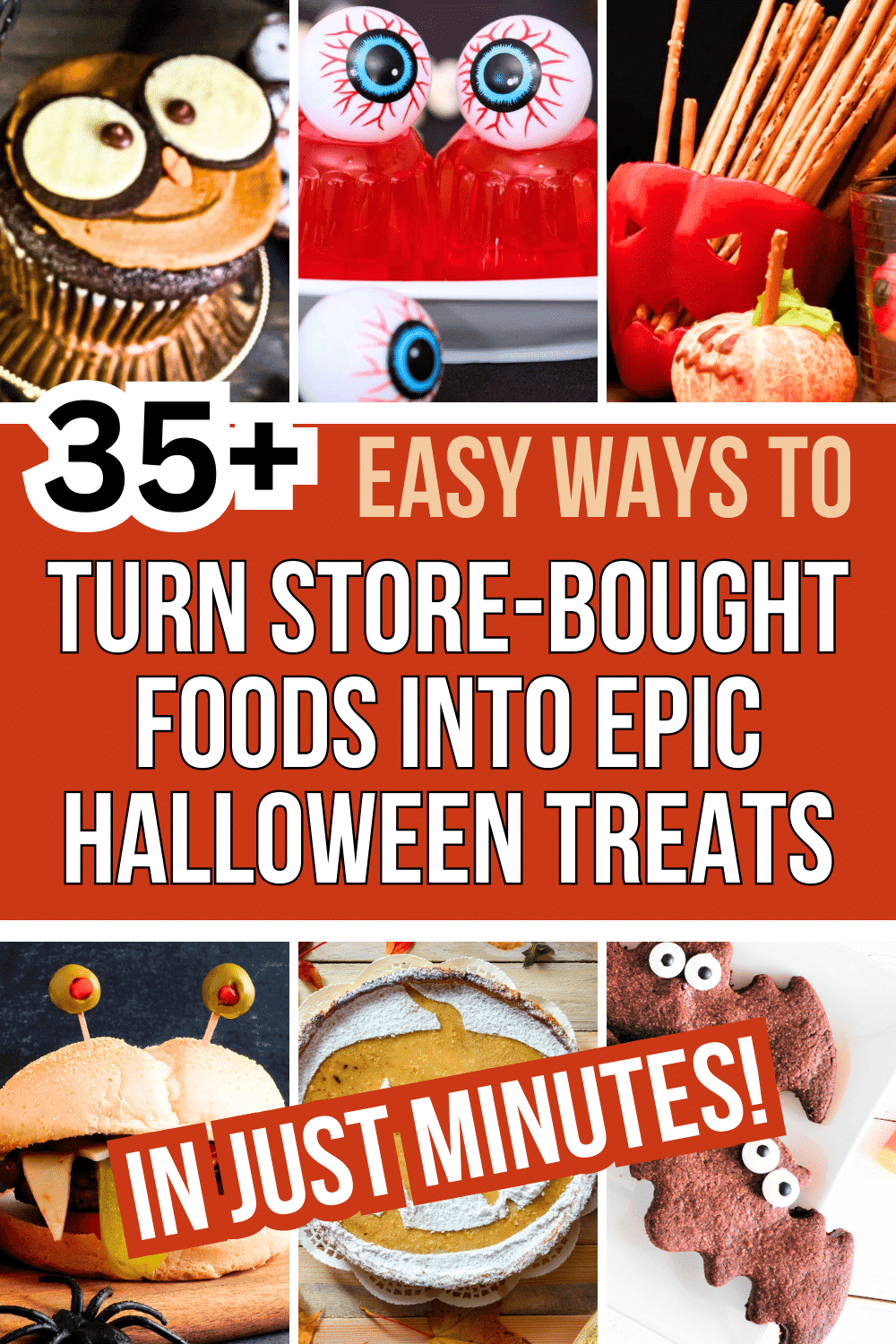 Easy Halloween Cookies Hacks And Other Tips For Halloween Sweet Treats
There are so many cute things you can do with store bought Halloween cookies and other Halloween goodies (and they're super simple Halloween hacks)!
Dip Oreo cookies into Halloween colored chocolate melts and roll them in Halloween sprinkles before they dry.
Use store bought doughnut holes for easy DIY cake pops! Put the doughnut holes on sucker sticks and dip into melted chocolates. Roll in Halloween sprinkles before chocolate dries. (Shhh! We'll never tell that you didn't bake anything for these!)
Put edible eyes on store bought cookies or doughnuts with dabs of icing.
Put white round candies (like M&Ms) or powdered white donut holes and put spider rings all over them for spider eggs.
Buy plain pre-made rice krispie treats and press Halloween sprinkles into the top. Place them in cute Halloween bags for take-home favors.
Put Halloween vampire teeth or gummy teeth in the holes of donuts for funny monster doughnuts. Layer them on a bottle of milk with a straw for easy carrying.
Put store bought rice crispies on sucker sticks. Then, dip each one into chocolate melts (white, green, orange, brown). After they harden, make faces with eye candies and melted chocolates.
Get store bought donut holes (chocolate). Then easily transform them to spiders! Add black licorice as legs and edible google eyes with a dab of icing.
Cheater Bat Brownies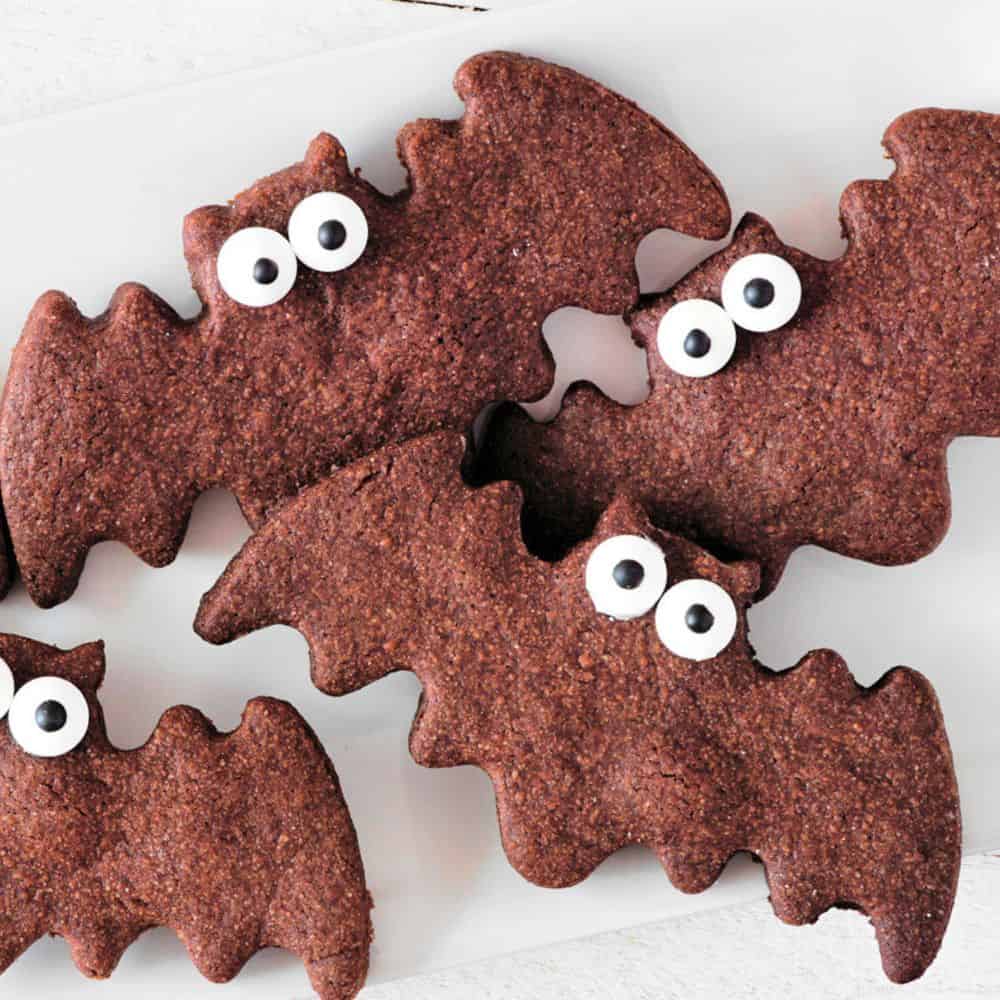 Buy a pan of brownies (without icing). Use a bat cookie cutter to cut them into bat shapes. Add edible googly eyes with a dab of icing.
Easy Halloween Drink Ideas For Kids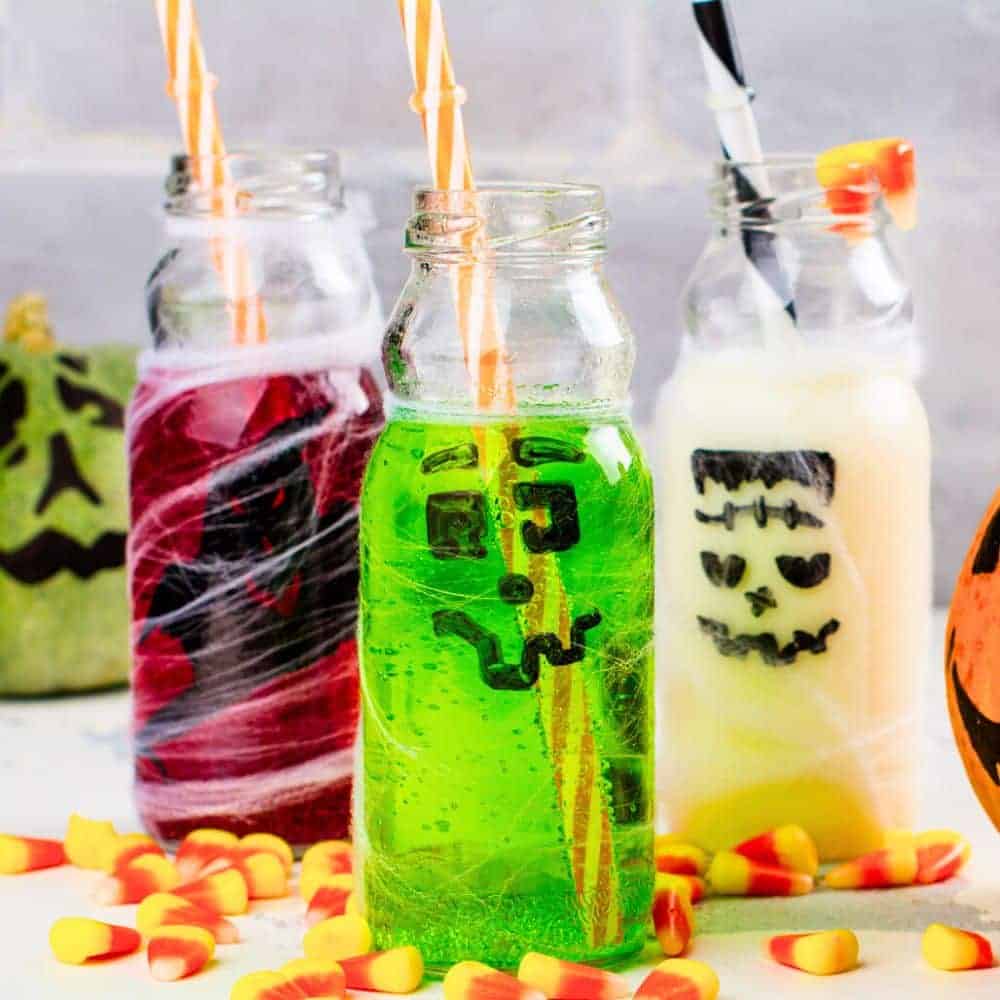 If you're throwing a Halloween party for kids, the actual Halloween drink matters way less than what the drink is in or how fun it looks. Buy any orange, purple, or green punch, juice, or milk or chocolate milk from the store and use these Halloween drink tips for decorating.
Pumpkin face stickers like this on a glass transform a boring Halloween orange punch bought from the store into pumpkin punch!
Glass milk bottles like these make it easy to add a straw and layer things onto it (like fun Halloween doughnuts with eyes or ring cookies!).
Wrap drink bottles or cups in gauze or Halloween spider webs for fun decorations.
Use edible markers to draw faces on monster marshmallows like this and add them to Halloween hot cocoa. (MOM TIP: Buy a gallon of chocolate milk and heat it up. No need to make it from scratch, it you don't want!)
Freeze gummy eyeballs into ice cubes and use them with a bloody red punch or red Kool-aid.
Stick googly eyes onto cups for funny drinks (and an easy Halloween decoration).
Use test tubes instead of cups. They look great on a party Halloween table and give off that Mad Scientist Halloween vibe!
Healthy Halloween Snacks For Kids
If you are looking for Halloween treats that are healthy, head to your store's fruit and veggie aisle. You can make quick and easy Halloween treats from fruits and vegetables in just minutes!
Pepper Pumpkins: Cut the top off of sweet peppers. Then, cut a face into pepper to look like a pumpkin face Fill with breadsticks or pretzel sticks. Serve with a vegetable dipping sauce.
Pro Party Tip: Tint the ranch dipping sauce with red food coloring for a fake blood dip.
Pumpkin Oranges: Kids always love this special Halloween treat. (I think because most kids love those mini oranges!). Peel Mandarin oranges. Stick a mini pretzel stick into the stop for a stem and place a small piece of lettuce for the leaf. Using melted chocolate and a spoon or knife, make a pumpkin face onto each orange.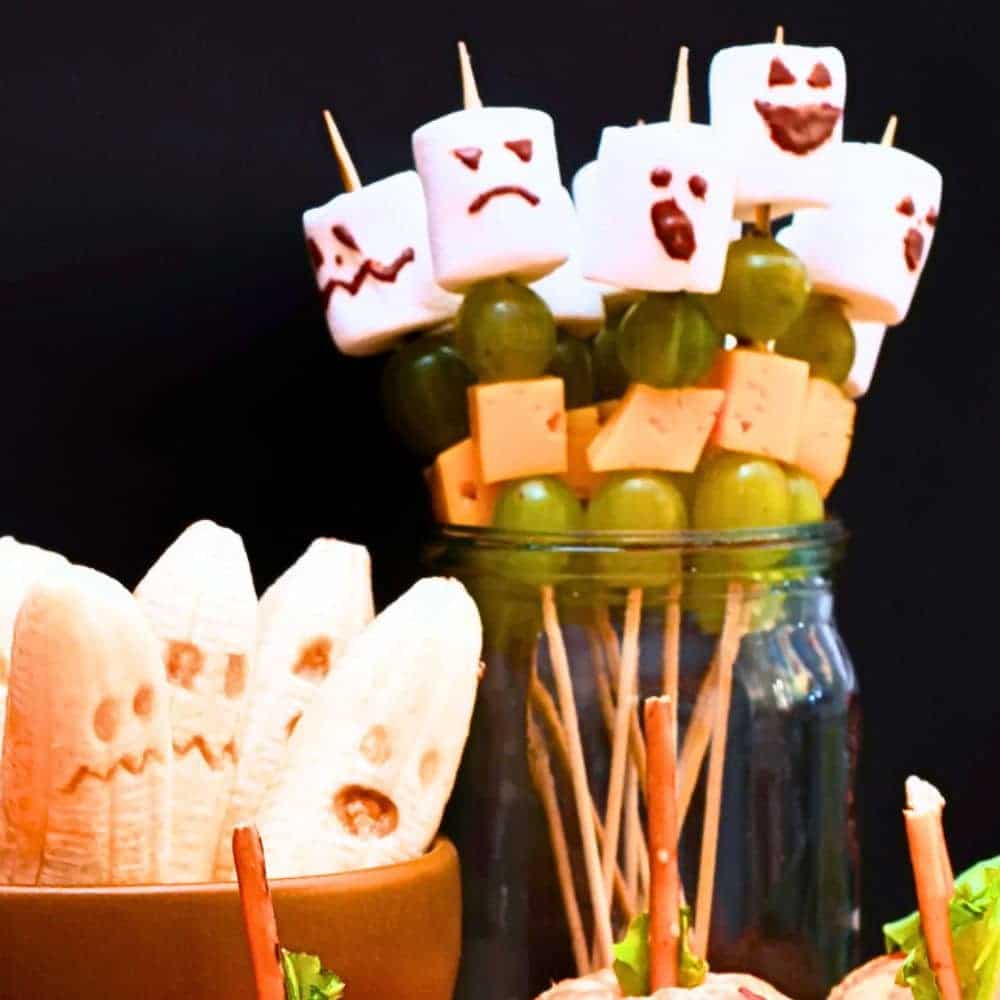 Halloween Ghost Bananas (Boo-Nanas): This is a super easy Halloween snack! Simply peel the bananas and, with a toothpick or skewer, etch faces into the bananas. (We've also made banana faces with melted chocolate.) Then, put them in a bowl so they stand up, with the faces pointing out.
Halloween Fruit Skewers: Buy pre-made fruit skewers of any kind (or, make your own! Ain't nobody the boss of you!). Then, draw faces on marshmallows (using food pens like this) and place them on top of the skewers. Drop them in a festive Halloween jar or tall mason jar and voila! You have fun Halloween treats and healthy Halloween party snacks in less than 5 minutes!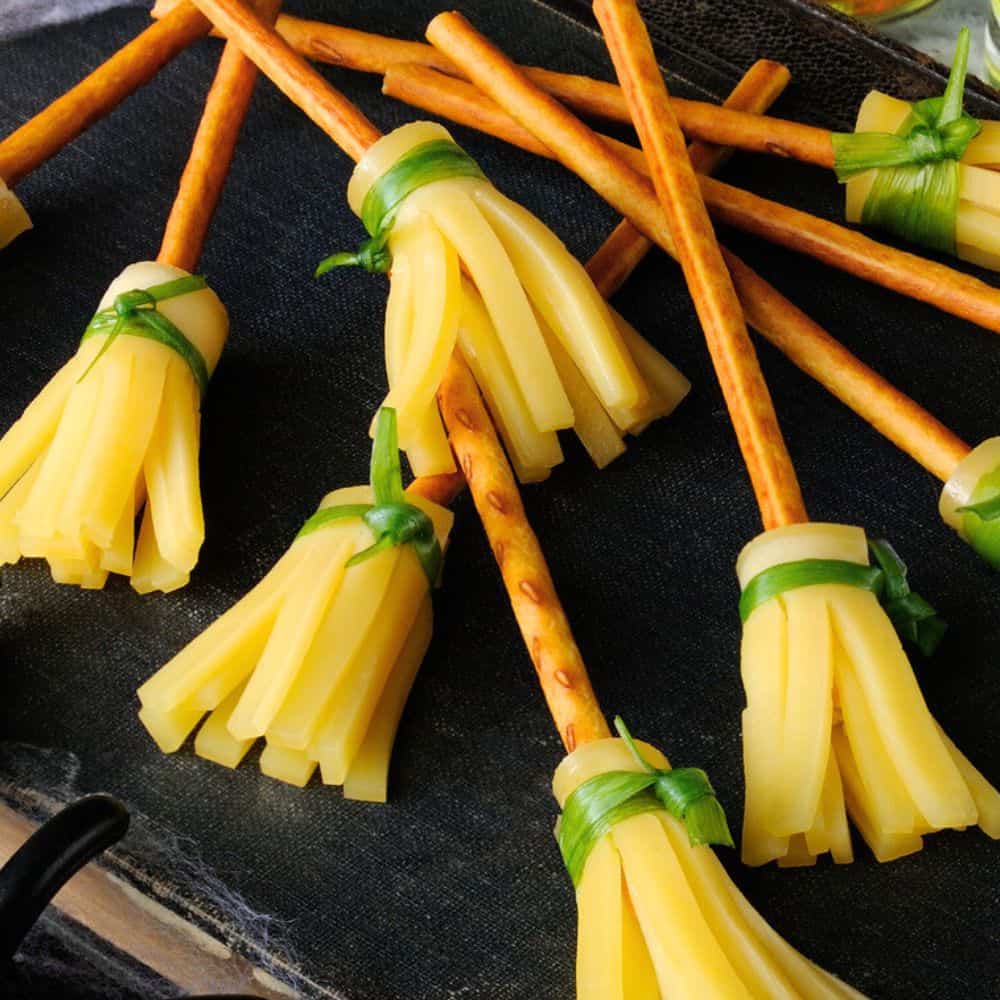 Witch Broomsticks: Head to the store and buy two items: mozzarella cheese sticks and small pretzel sticks. Cut mozzarella cheese sticks in half. On the bottom of each cheese chunk, cut into thin strips. Insert pretzels into the top of the cheese strip to create mini witches broomsticks. (You can add a tie of green onions, if you want, but it's not necessary. The pretzels will stay stuck in the cheese without it.)
Halloween Cheese Idea: Don't have time for witch brooms? Buy individually wrapped cheese sticks and glue fun eyes onto the package or draw a face on each one with a marker. Serve them on ice still in the package!
Savory Halloween Dishes
Easy Halloween Sandwich Ideas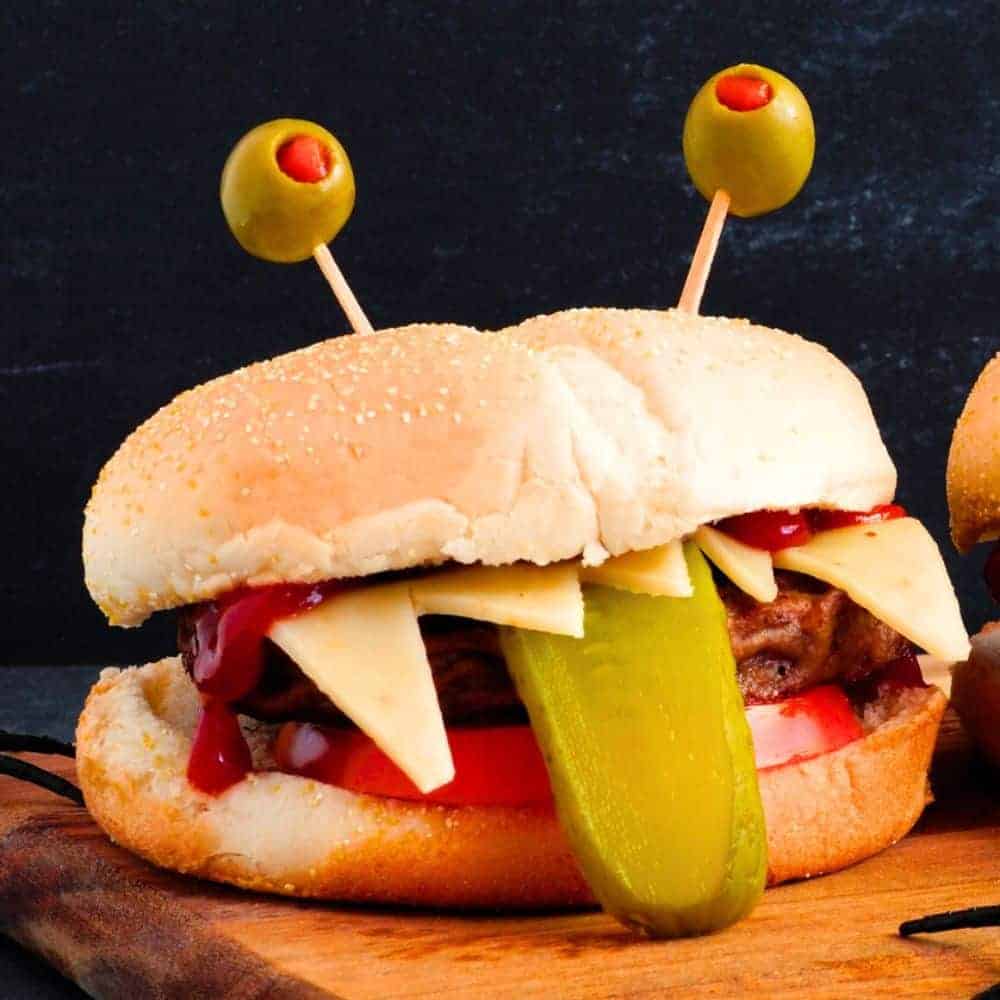 Buy any type of sandwich at the grocery store. Then easily transform them into Halloween Sandwich monsters with pickle tongues and toothpick olive eyes. Have more time (or energy)? Add in some cheese teeth.
PRO PARTY TIP: Buy a round premade cheese ball at the store and make it into a bat. Stick blue tortilla chips (one on each side) for wings and add edible candy eyes.
Black Pasta for Halloween
Full stop: you gotta get some black pasta for Halloween because there are so many fun dishes you can make with it. (You can buy black spaghetti like this or make your own colored spaghetti.)
These take a little more effort, but they're still really quick and easy Halloween meal ideas.
Black Pasta Spiders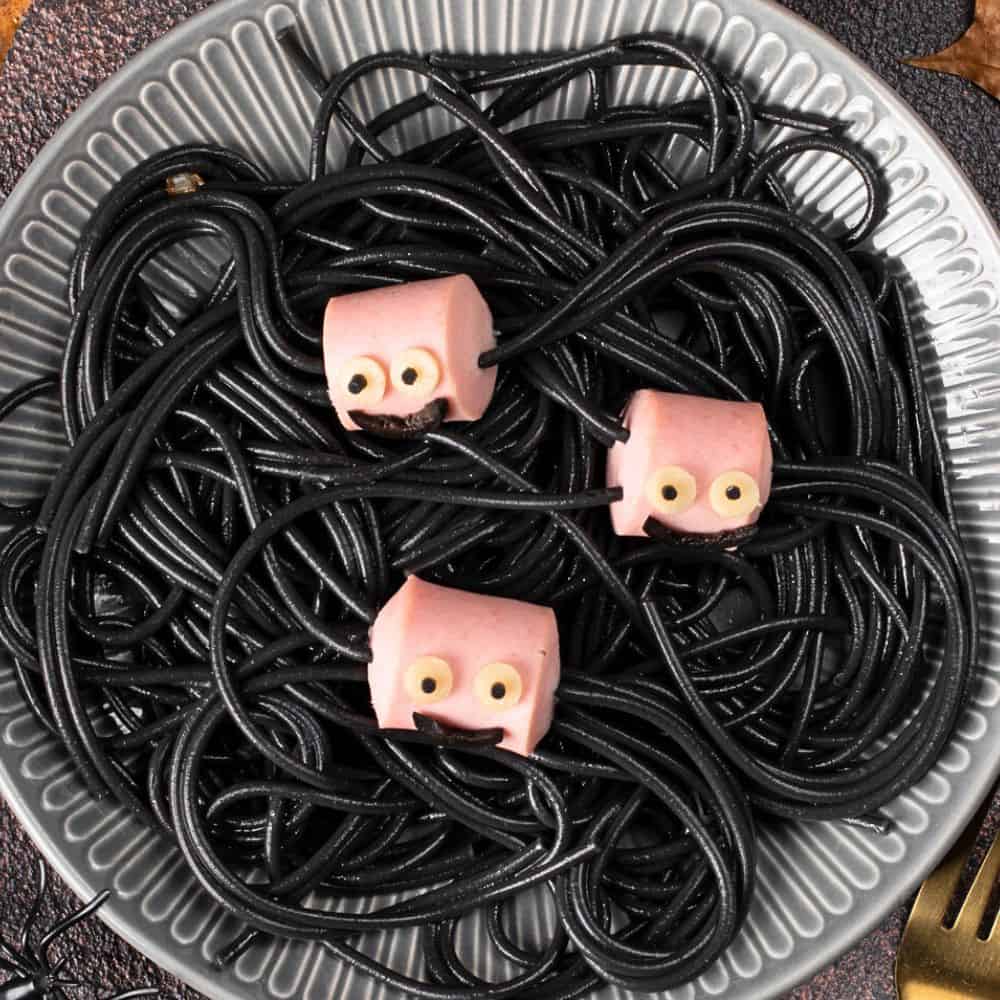 PRO RECIPE TIP: Thread the hard spaghetti noodles through the cut hotdogs before cooking and cook them all in the pasta water together. Add edible eyes to the hotdog with a dot of marinara sauce.
Halloween Mozzarella Eyes with Black Pasta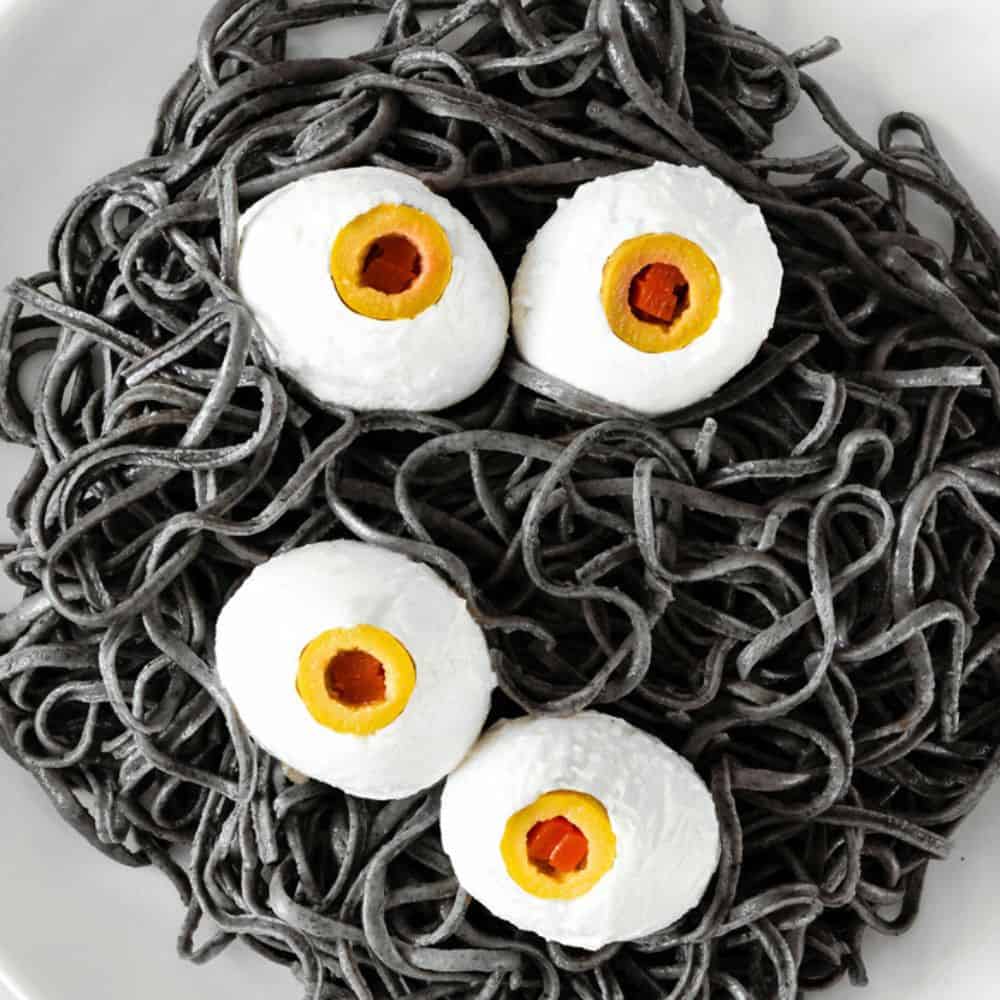 You can also add mozzarella balls with holes cut out and stuffed olives inserted to your black pasta for a creepy here's looking at you kid spooky Halloween food idea.
Black Halloween Pasta With Mummy Mushrooms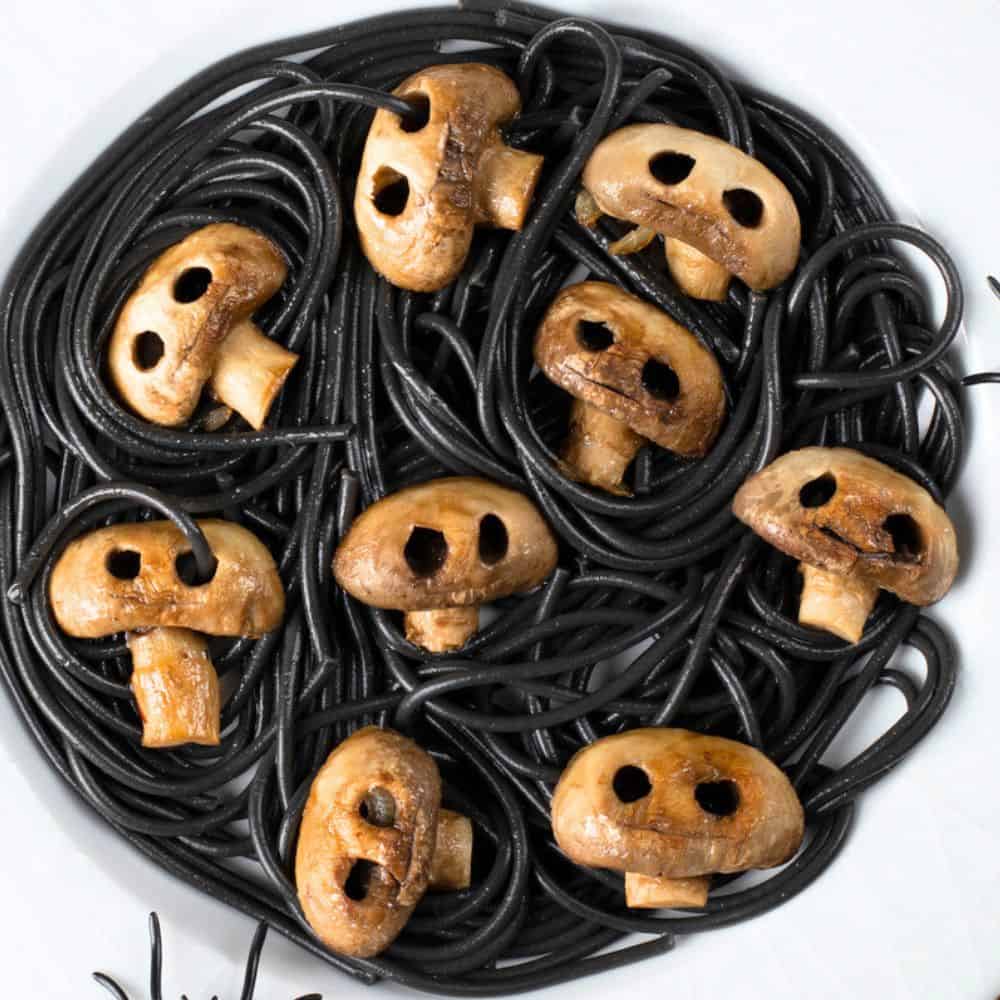 Before you cook mushrooms for your pasta, carve eyes and mouths into them with a skewer or toothpick. It makes a creepy pasta dish and looks like shriveled head pasta.
PRO RECIPE TIP: Serve any of these Halloween pasta dishes with a side of fake blood marina sauce.
DON'T MISS MORE FUN HALLOWEEN FOODS: GROSS HALLOWEEN RECIPES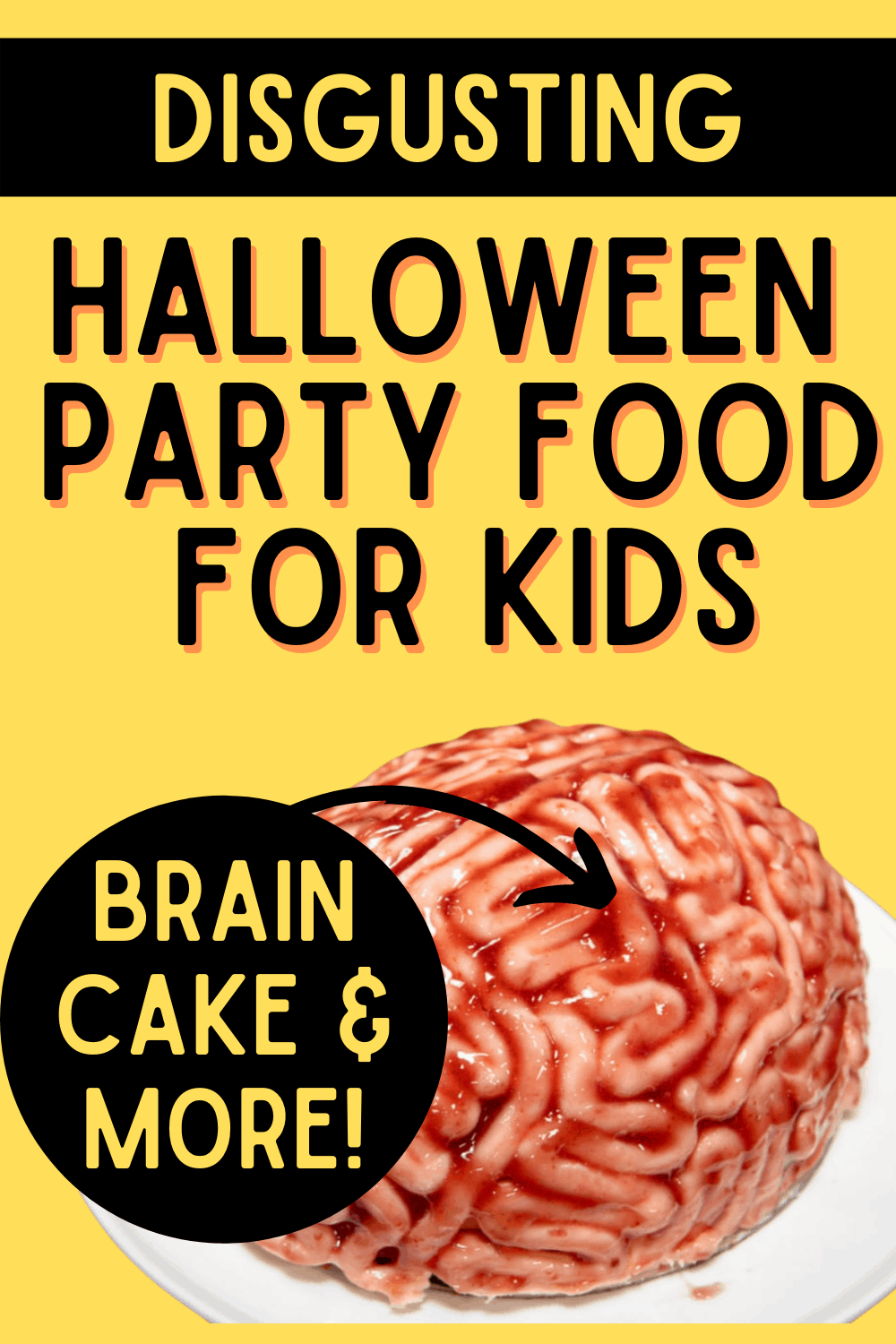 Other Easy Halloween Food Hacks
Halloween Eyeball Trick For Food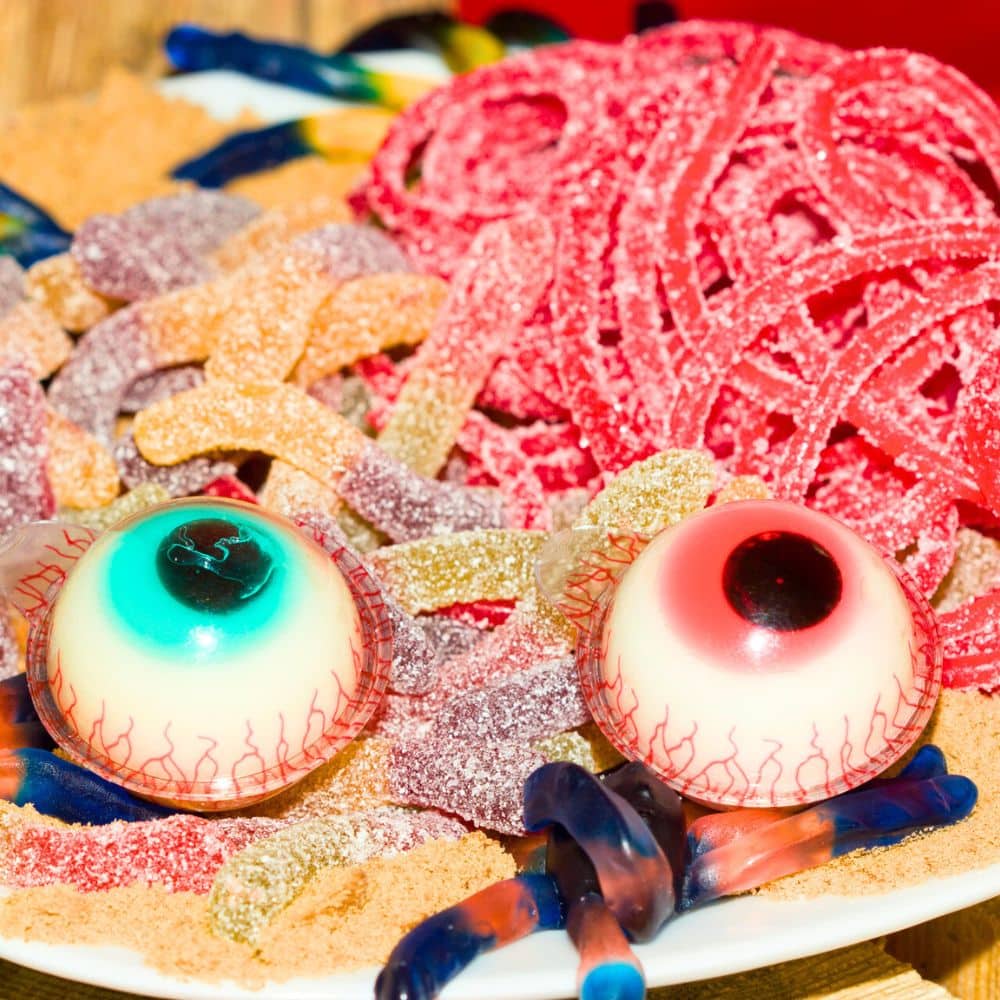 Add Halloween eyeballs, googly eyes, or edible eyeball gummies to any dish and kids LOVE IT. (Just trust me on this.)
Throw a plate of sour gummy worms and sour gummy laces on a plate with some Halloween eyes and it looks great on your Halloween table. (Bonus points for the ones that light up and change colors, but you can also buy the edible ones.)
Halloween Jello Idea for Monster Jello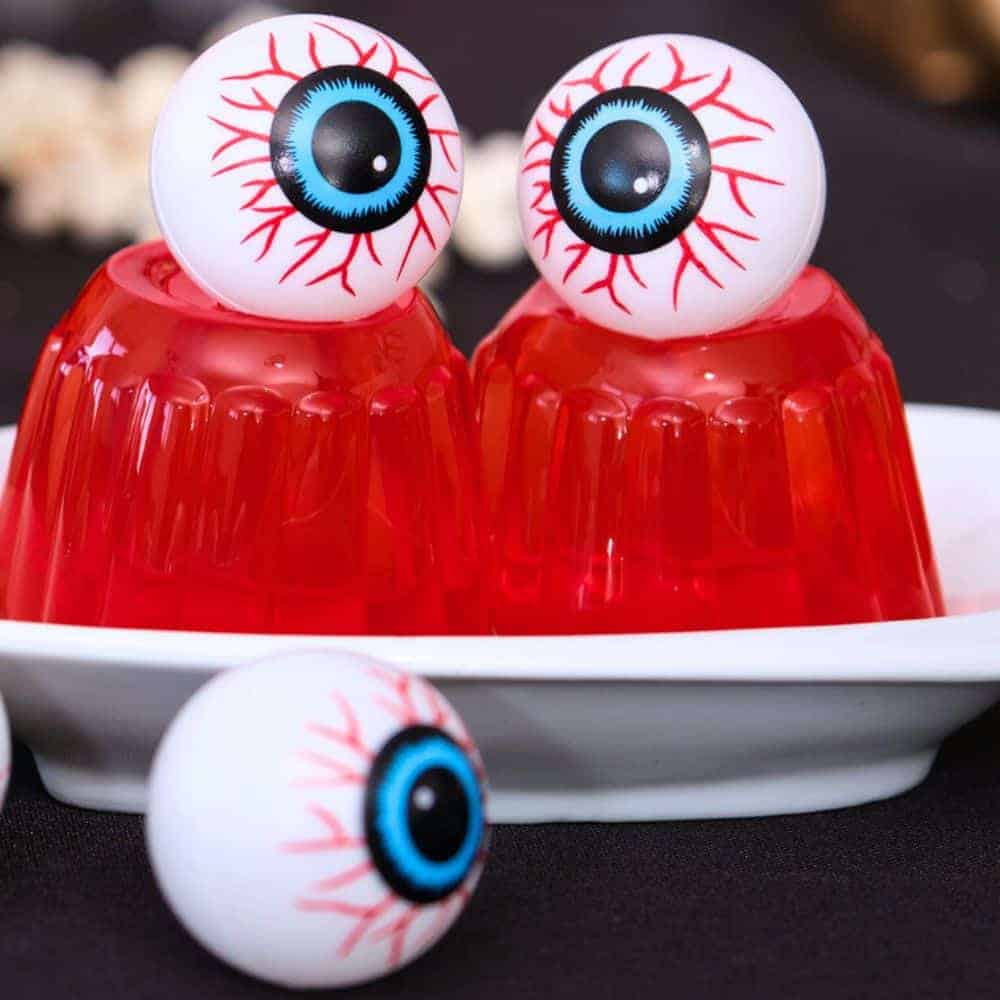 Buy those individual Jello packs (in red or green) and slide them out of the package onto a plate. (If they don't want to come out, slide a thin knife around the edge inside). Place them on plates side by side with big Halloween eye toys on top.
Such an easy hack for store-bought Halloween ideas that are super fun party ideas!
NEED MORE HALLOWEEN FOOD IDEAS? CHECK OUT FUN HALLOWEEN BREAKFASTS FOR KIDS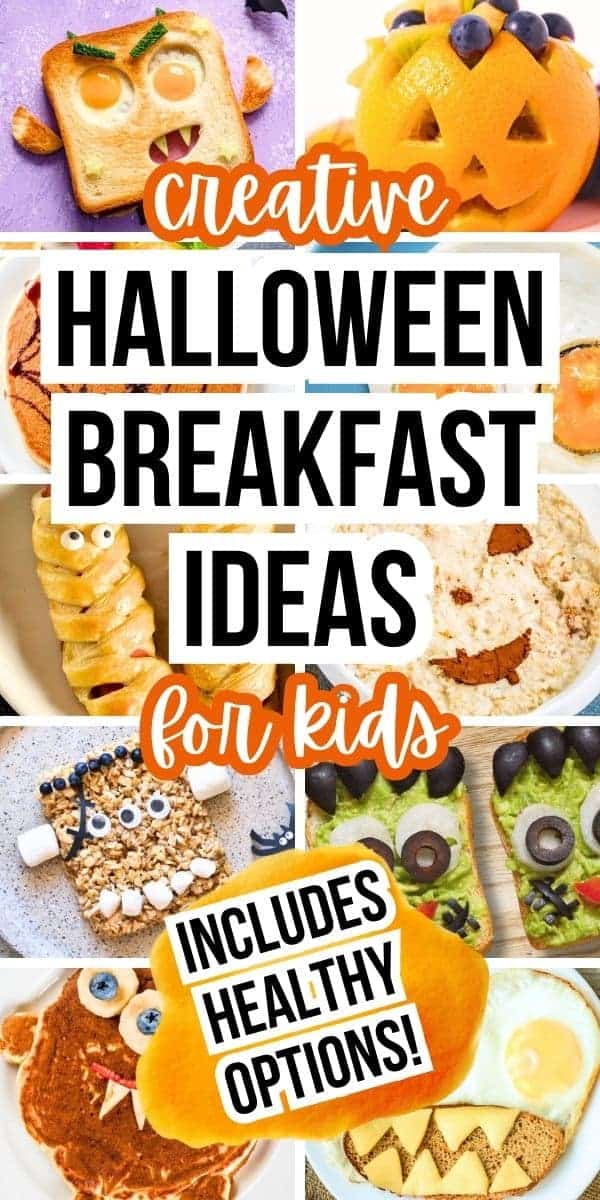 Let us know your best store bought Halloween treats hacks!
LOOKING FOR FUN COOKING PRINTABLES FOR KIDS?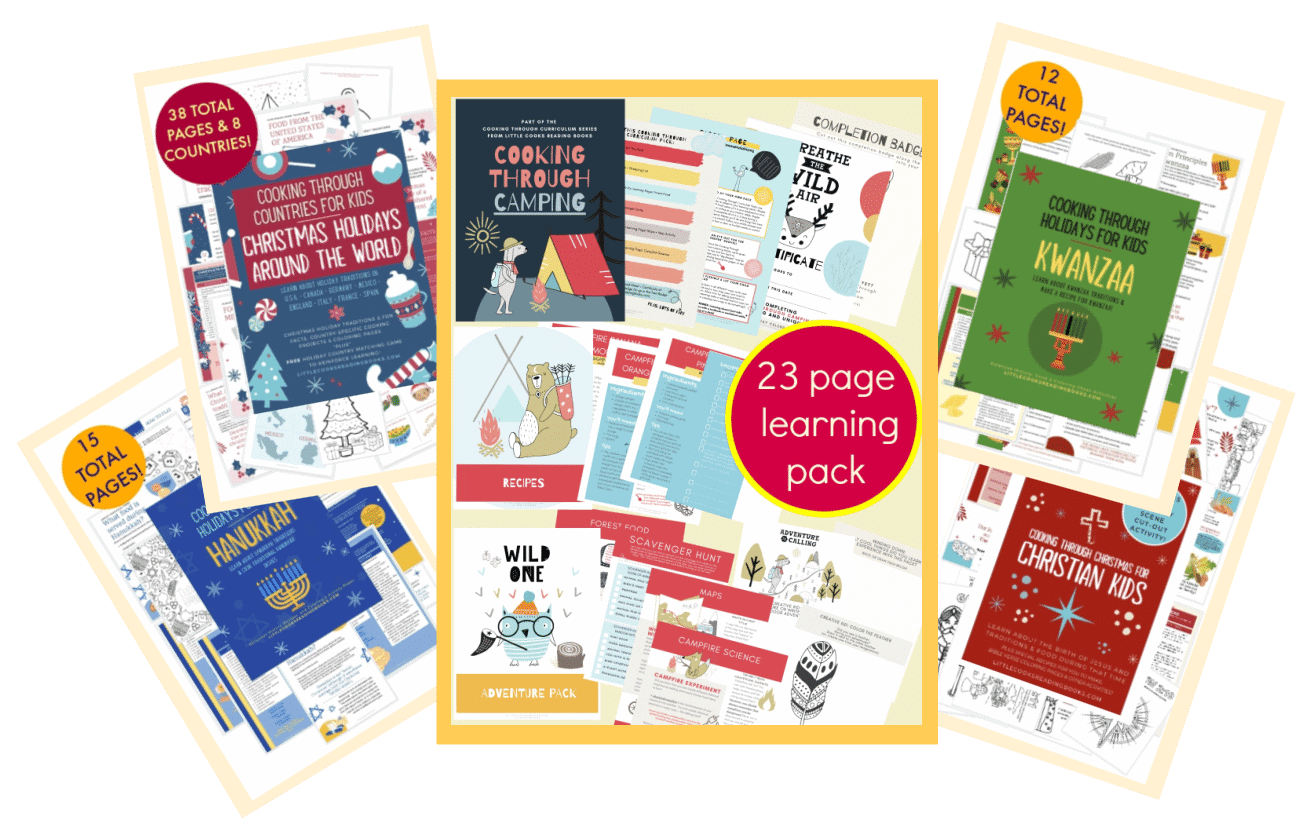 As an Amazon Associate I earn from qualifying purchases. Please refer to our
DISCLOSURE
.