Did you know you can grow Easter basket grass for a living Easter basket for kids? It's a great alternative to store-bought Easter grasses that you can't recycle and makes a beautiful spring basket for kids! Once you make this, you'll never go back to plastic Easter grass!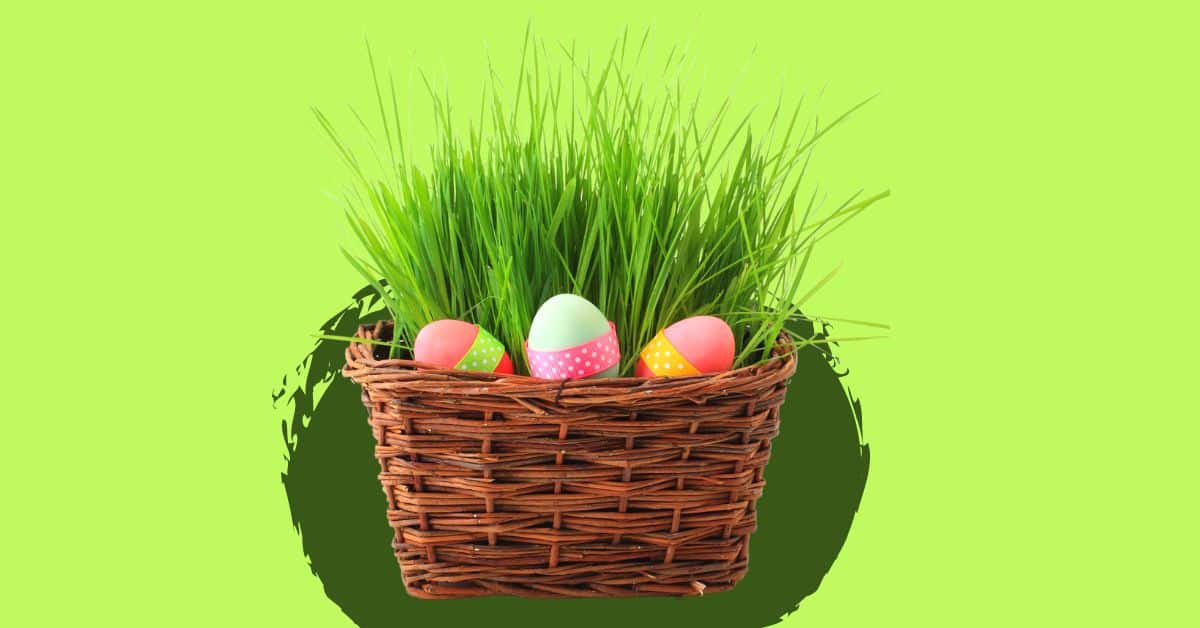 Grow Easter Basket Grass For Children's Easter Baskets This Year
Growing real live Easter basket grass is easy, but it will take some planning. Start a few weeks before you need it for the Easter holiday. Here's an overview of how to grow unique DIY Easter grass — a great alternative for Easter grass from the store!
How To Grow Grass From Seed For Easter Baskets
Choose the right type of grass seeds. There are different varieties of grass seeds available, but for Easter baskets, you should choose seeds of quick-growing grass like wheat berry grass or rye grass.
Select the initial container for growing grass. You can use any container that is shallow and wide enough to hold the soil and seeds. (You can also sow the seeds directly into a lined basket.)
Sprinkle the grass seeds evenly over the soil. Fill the container with potting soil. You can use as many or as few seeds as you like, but make sure to cover the soil evenly. Press soaked seeds gently into the soil with your fingers, but there's no need to cover them with dirt. *SEE FULL DIRECTIONS FOR SPROUTING WHEATBERRIES BELOW
Water the soil lightly but thoroughly. Use a spray bottle to mist water to avoid disturbing the seeds. Make sure the soil is moist but you don't want the soil soaked, so don't overwater.
Cover the container with plastic wrap or a clear lid. This will create a greenhouse effect that will help the seeds to germinate faster.
Place the container in a warm, bright location. Grass seeds need warmth and light to germinate. A windowsill or a warm spot near a sunny window is ideal.
Remove the cover once the seeds start to germinate. This should happen within a few days. The grass will grow quickly, and you can start to trim it with scissors (if you want) once it reaches a height of 2-3 inches. This is fun for kids to watch and help with!
Arrange the grass in your Easter basket. Once the grass is grown, you can transfer it in your Easter basket and place your Easter eggs in the grass, decorate it with ribbon and flowers, add jelly beans and candy, use it for Waldorf Easter basket learning toys, or other festive items. (Even a fun Easter brunch centerpiece because a wheat grass easter centerpiece is beautiful!)
KEEP SCROLLING for the full printable craft directions for growing real Easter grass and what seeds to use for Easter grass for baskets. (Important tips for growing real green Easter grass below!)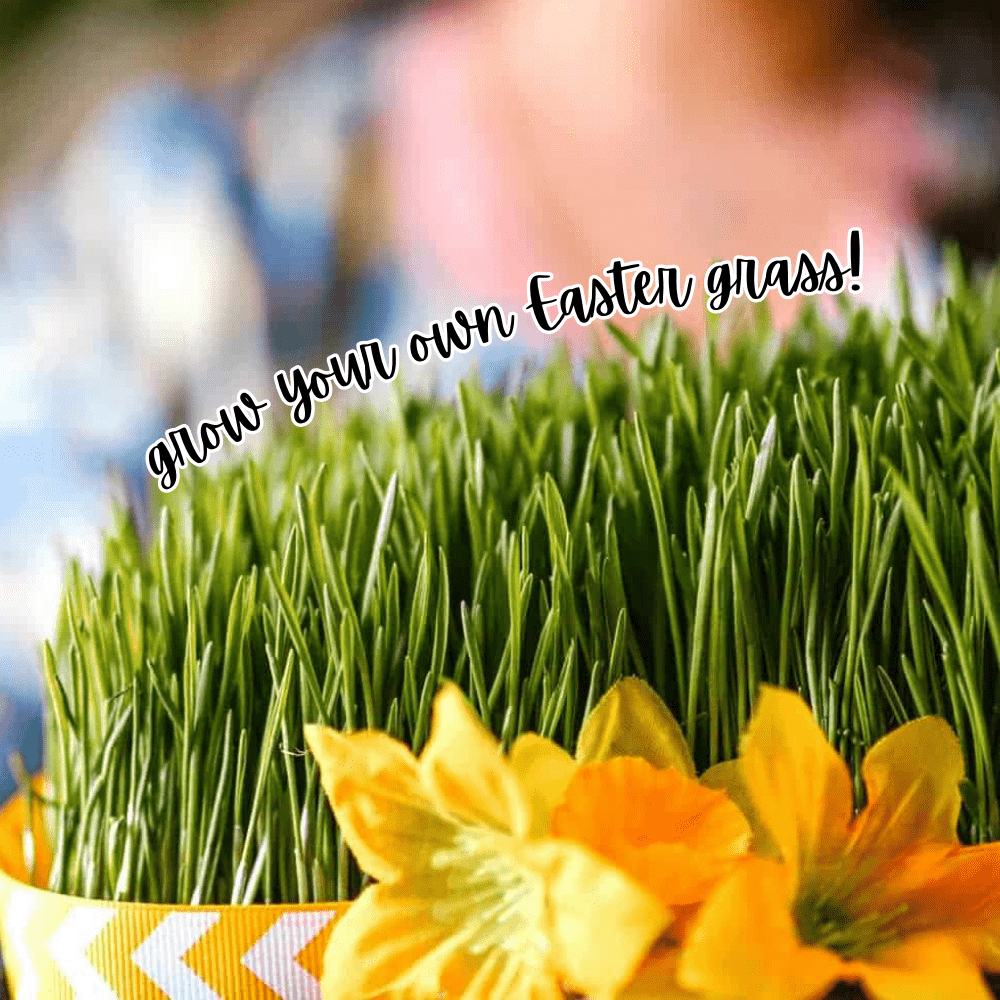 Affiliate links are used on this site. As an Amazon Associate I earn from qualifying purchases. Read more in our DISCLOSURE.
Before we get to how to make homemade easter grass, here are some frequently asked questions about making Easter grass (and other ideas for Easter grass)…
What are the seeds for Easter grass?
The best seeds to grow Easter grasses are either rye seeds or wheat seeds (aka: wheat berries) because these both sprout and grow quickly. Be sure that you buy raw wheat berry seeds or raw rye seeds.
For our Easter project, we're going to show you how to grow wheat berries Easter grass. However, the directions are the same for rye seeds.
How long does it take to grow grass for Easter basket?
The length of time it takes to grow grass for an Easter basket can vary depending on the type of grass you are growing and the growing conditions. However, quick-growing grass varieties like wheatgrass and rye grass typically take around 7-10 days to germinate and grow to a height of 2-3 inches. So if you start the process about around 2 weeks before Easter, you should have enough time to grow the grass and use it in your Easter basket. The earlier you start, the taller and more grass you'll get!
What is the fastest growing grass for Easter baskets?
The fastest growing grass for Easter baskets is typically wheatgrass. It's a popular choice for Easter baskets because it grows quickly and easily, and it has a bright green color that looks great in Easter baskets. To grow wheatgrass for Easter baskets, you can plant the seeds in a shallow container filled with potting soil and water it regularly. The grass should begin to sprout in just a few days and should be ready for harvesting in about a week or so.
Print the wheatgrass Easter basket directions below!
ALSO CHECK OUT THIS CREATIVE LEFTOVER EASTER GRASS IDEA (things to do with Easter grass)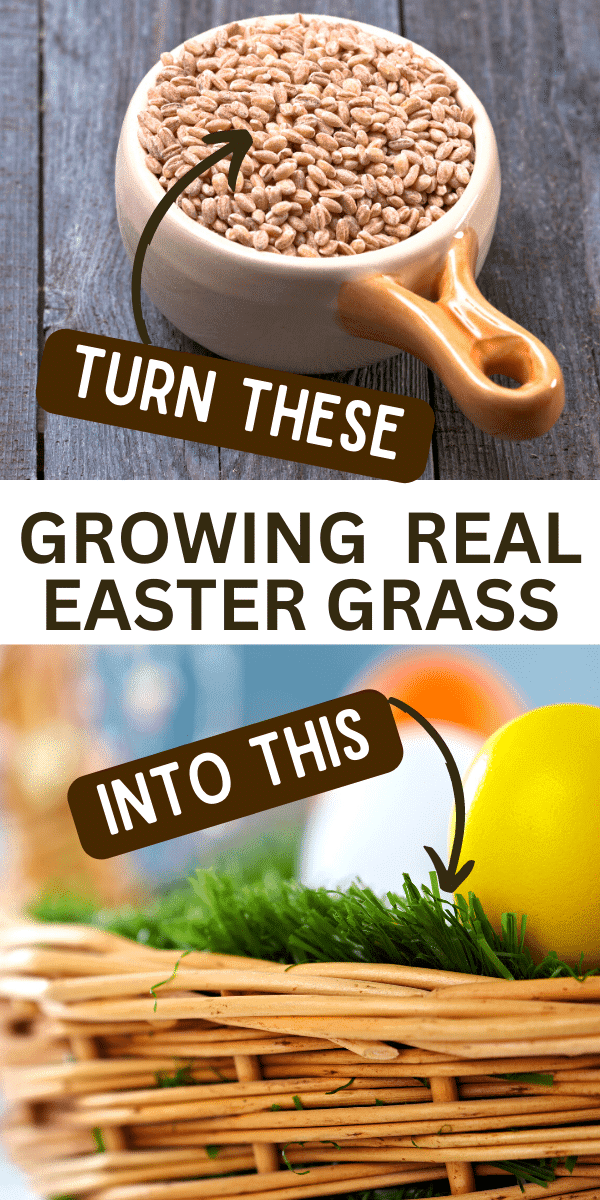 Can you eat Easter grass?
Yes! You can eat Easter grass grown from wheat berries! Once you've finished with the Easter grass in your basket, you can use the wheat grass for things like smoothies. The raw wheatgrass may be hard on the digestive system, so most people blend it into juices or drinks. You can also feed it to your pet bunnies or chickens! (You can also cook and eat wheat berries.)
CHECK OUT MORE EASTER IDEAS:
Creative Way To Color Eggs With Kids
How To Play The Egg Cracking Game
Fun Easter Activities For The Family
OK!
Let's learn how to make easter grass grow for your basket! This spring project is even fun for Easter activities for kids and Easter activities for adults! Here's how to grow your own Easter basket grass with your kids!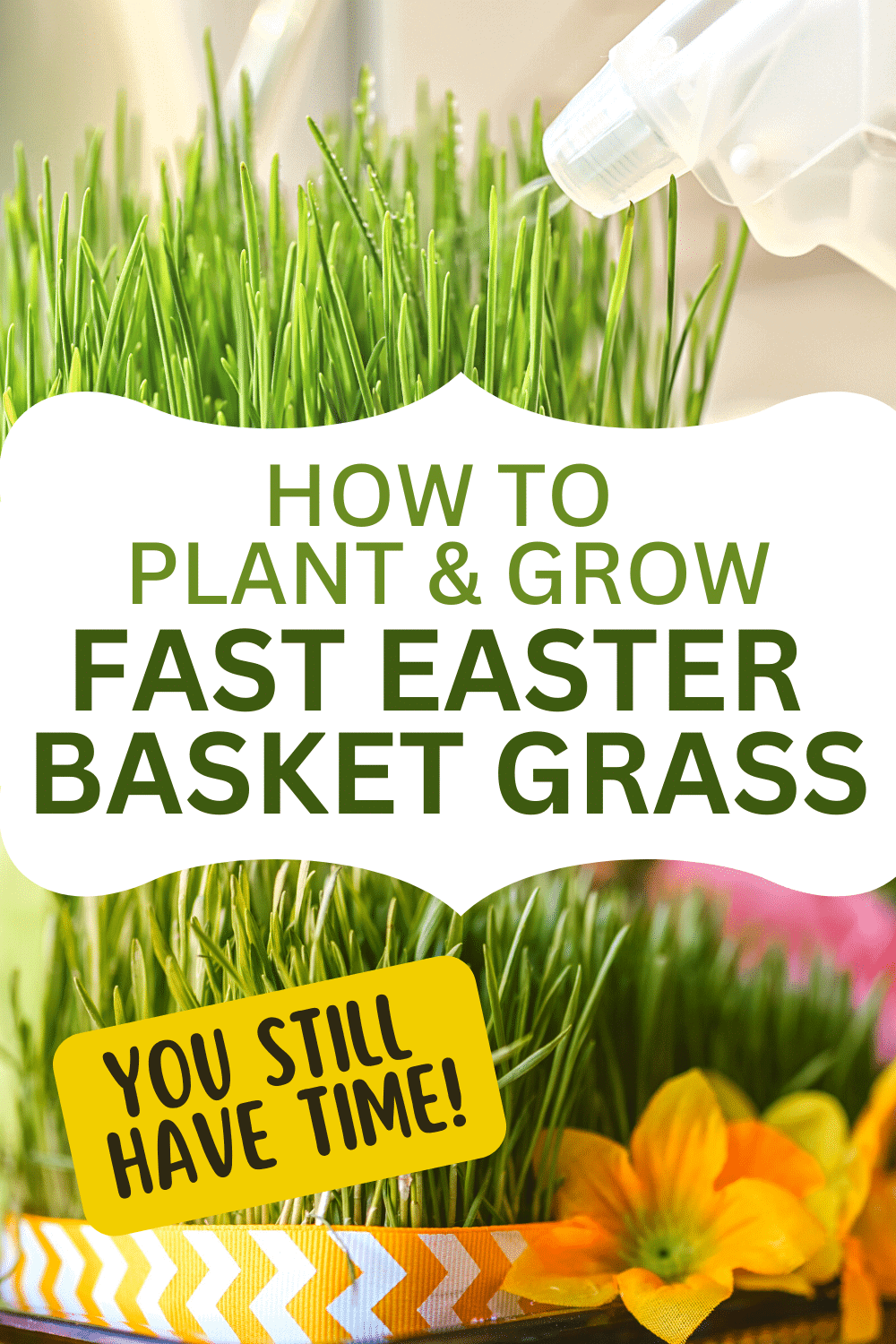 How To Make A Wheat Grass Easter Basket (Eco-Friendly Easter Baskets)
How do you grow wheatgrass in an Easter basket?
If you're wondering what to use in Easter basket instead of grass that you buy at the store, this is a fun paper grass alternative to try with Easter grass seeds.
Real grass with Easter eggs is not only beautiful, but's also a sustainable way to create an Easter basket for kids! And, it also makes a fun Easter centerpiece!
(Plus, if you're looking for science Easter projects or crafts to do with Easter grass, this is a fun idea!)
To get wheat grass to sprout, you need to use raw wheat grass seeds. (We use these raw hard winter winter wheat berries for growing and eating!) You can also check your local health food store.
To grow grass, you need a shallow container with just a little bit of soil. If you have a lined basket, just plant them directly into that!
CRAFT TIP: If you're growing the seeds directly in your Easter basket, you'll want to get a lined Easter basket like this or use a plastic bucket. If you're not using this basket for other Easter bunny activities (like hunting eggs), I think this is beautiful and reusable after Easter.
Here's how to grow grass for Easter baskets and how to make grass baskets — a compostable Easter grass and Easter grass you can eat!
Yield: 1
How To Grow Easter Basket Grass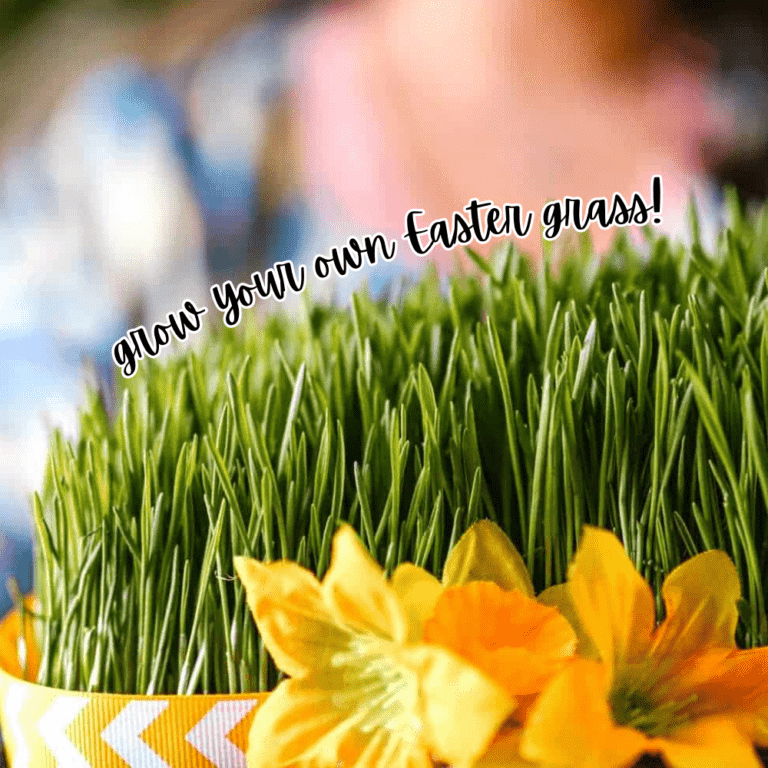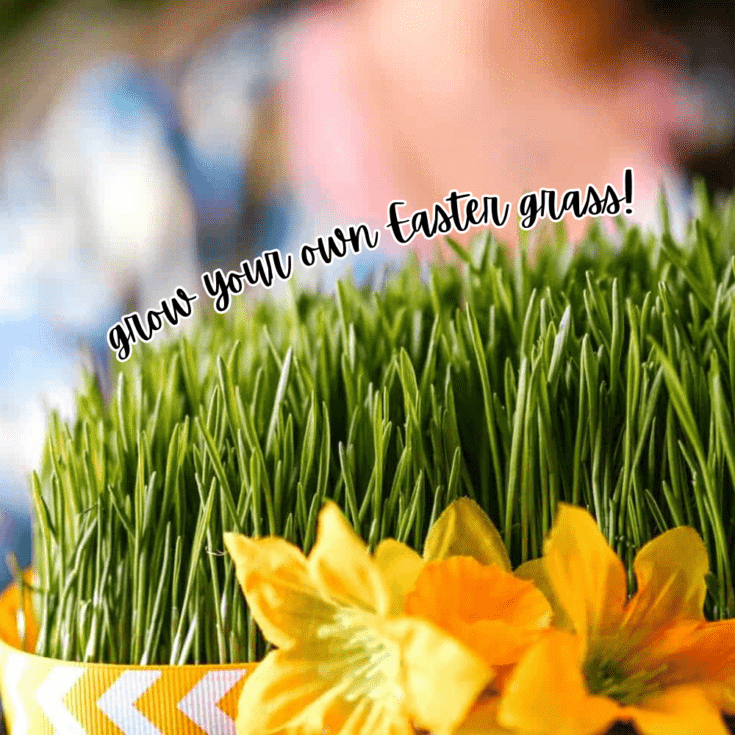 Growing live grass for Easter baskets not only make a unique Easter basket for kids, but it's also a fun spring STEM project for kids!
Total Time
7 days
12 hours
15 minutes
Materials
Plastic lined Easter basket or other shallow planter
Mini pebbles or rocks (If your basket/container doesn't have drainage)
3-6 Teaspoons raw winter wheat berries*
Potting soil or soil from the yard
Water
Instructions
Place wheat berries in a medium glass bowl and cover with water. Soak overnight. (They'll expand in size as they soak, so use at least a medium bowl.)
THE NEXT DAY: Spread a thin layer of the pebbles / rocks into the bottom of your lined container. (OPTIONAL, only if you don't have drainage in your container.)
Place potting soil into the lined Easter basket or container (on top of the rocks if you're doing those). Cover the bottom completely with soil.
Drain the soaked wheat berries. Gently place them evenly across the top of the soil. Press down lightly. (No need to place soil on top of them.)
Sprinkle a small amount of water on the wheat berries on the soil. DO NOT OVER WATER! Keep your wheat berries moist, but not swimming in water (and the soil should not be muddy).
Place plastic wrap over the top of the container to create a mini greenhouse (you can also use a lightly moist dishtowel). Put the entire container of covered seeds into a warm place. (It doesn't have to be in the sun, just in a warm place.)
In around 2 days, you will see the wheat berry seeds sprout. When this happens, remove the plastic wrap or dishtowel and place in the sun.
Continue to lightly water while the grass grows. You'll have full Easter grass in about 1 week!
Wheat grass will eventually die after a few weeks. (It's not like your lawn grass.) Simply add it to your compost bin, place it outdoors, or blend it into a smoothie. (YES! It's edible Easter grass!)
Notes
*Plan for 1 teaspoon of wheatberries for every 2 inches of container space. You can use more or less, but this gives you a general idea of how many seeds you'll need.
If you're growing wheat grass in a different container than the Easter basket, wait until the grass has grown tall (about a week of full growth) before gently transferring it to the Easter basket to be used for Easter festivities.
DID YOU KNOW: You can also cook and eat wheatberries! We use them for healthy bowls all the time!
TRY THIS EASTER EGG CRAFT NEXT: HOW TO GROW AN EGG GARDEN!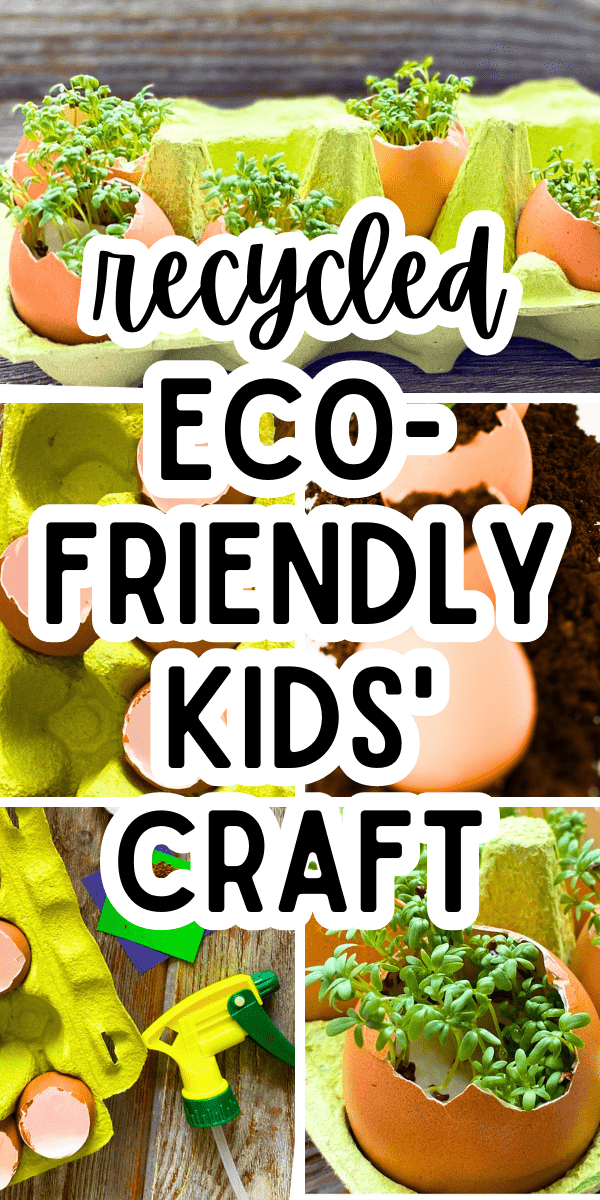 HAPPY EASTER!
Let us know how your Easter grass eggs basket turns out!
Have fun learning to grow Easter basket grass and decorating with this Easter grass DIY!
LOOKING FOR FUN COOKING PRINTABLES FOR KIDS?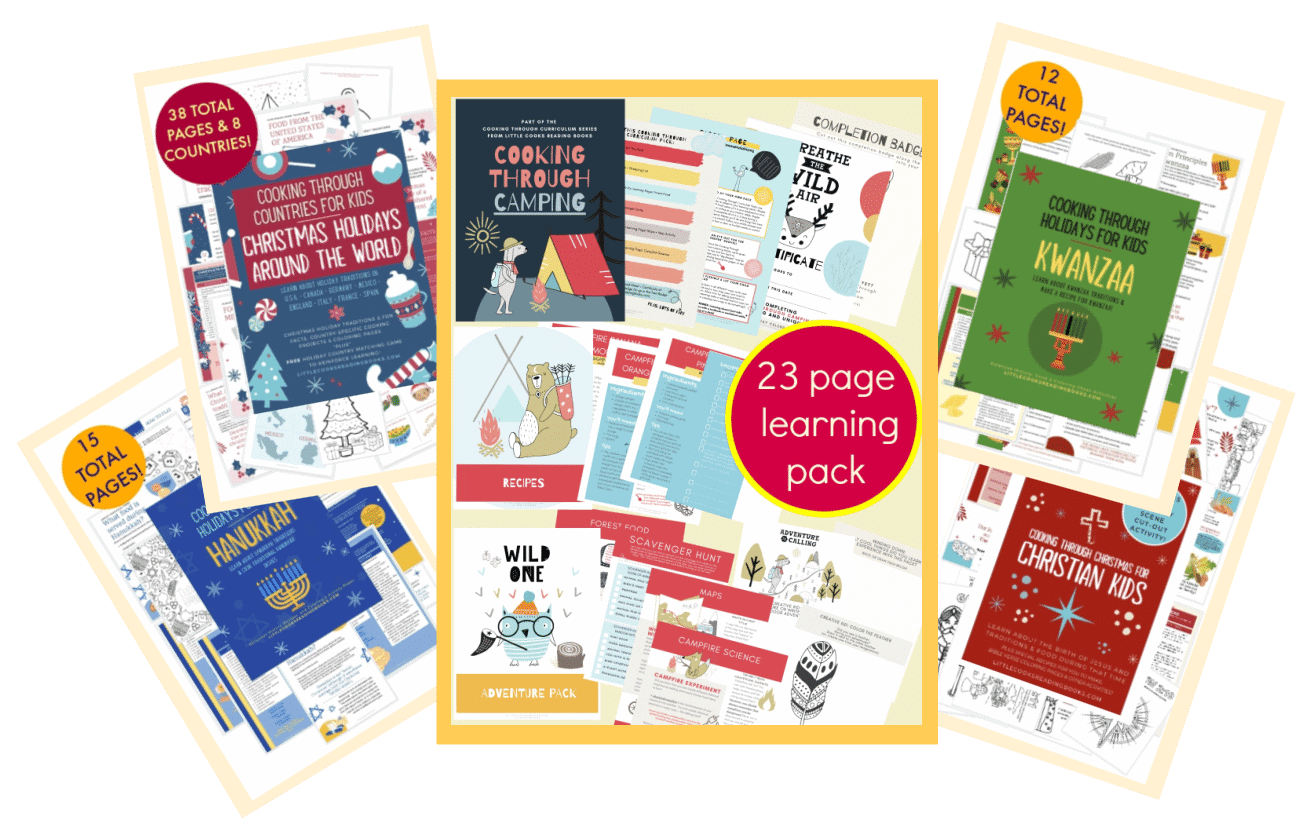 As an Amazon Associate I earn from qualifying purchases. Please refer to our
DISCLOSURE
.