This leftover Easter grass activity is a fun way to use up all that Easter basket filling without just throwing it away in the garbage! Creative way to recycle Easter grass for use throughout the year, fun crafts, DIY games, or season sensory ideas. Great for toddler activities and up!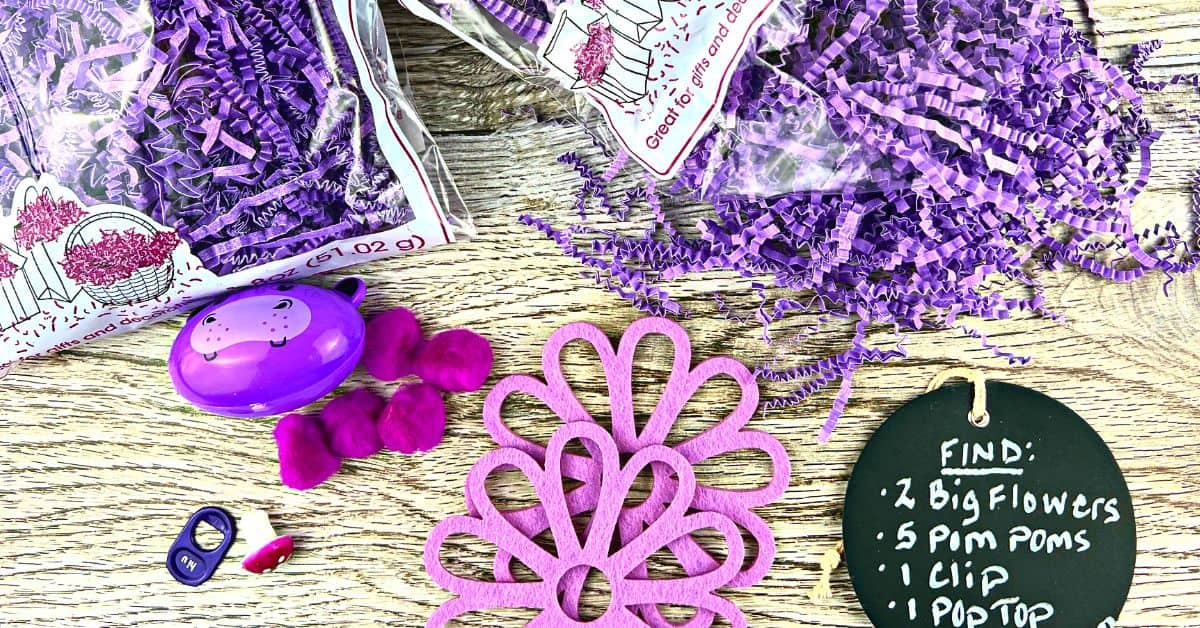 What To Do With Leftover Easter Grass
If you're like us, each year you have bags of Easter grass leftover from the Easter holiday and you don't know what to do with it. Don't throw out that Easter basket filler! If you're wondering how do you recycle Easter grass, there are creative ways to recycle that Easter grass for other play, crafts, and kids activities!
Wondering what to do with leftover grass from Easter baskets?
What can I do with Easter basket grass?
Make Easter grass art: Use glue, cardboard, and scissors to make a fun and colorful Easter grass art project. Cut out Easter shapes, letters, or designs, and glue the grass onto the cardboard to create a textured and festive piece of art.
Use it for gift wrapping: Add a festive touch to gift wrapping by using leftover Easter grass as filler inside gift bags or boxes. This is a great way to reuse the grass and create a fun and unique gift presentation.
Make a fake bird's nest: Use the Easter grass to make a cozy nest for a toy bird or other small animal. This can be a fun and educational activity for kids, who can learn about how real birds use grass to build their nests. (Don't put the grass out for real birds, though!)
Create Easter grass collages: Cut out shapes or images and glue them onto paper, then use Easter grass to create a textured and colorful collage or art project.
Use Easter grass for a treasure hunt: Hide small toys or treats in the Easter grass, then let kids search for them in a fun and exciting treasure hunt. This can be a fun and engaging sensory activity for children.
Make Easter crafts animals: Use paper outlines or cardboard cutouts and glue of animals. Then use Easter grass to give them texture and color.
Create Easter grass monsters: Use cardboard cutouts and glue to create monsters, then use Easter grass to give them texture and color with the leftover grass.
Use Easter grass for a search and find game: Fill a jar or container with Easter grass and hide things in the grass. Have kids count the number of items hidden inside. (See our printable craft card for kids activity for Easter below and what to do with paper Easter grass after Easter!)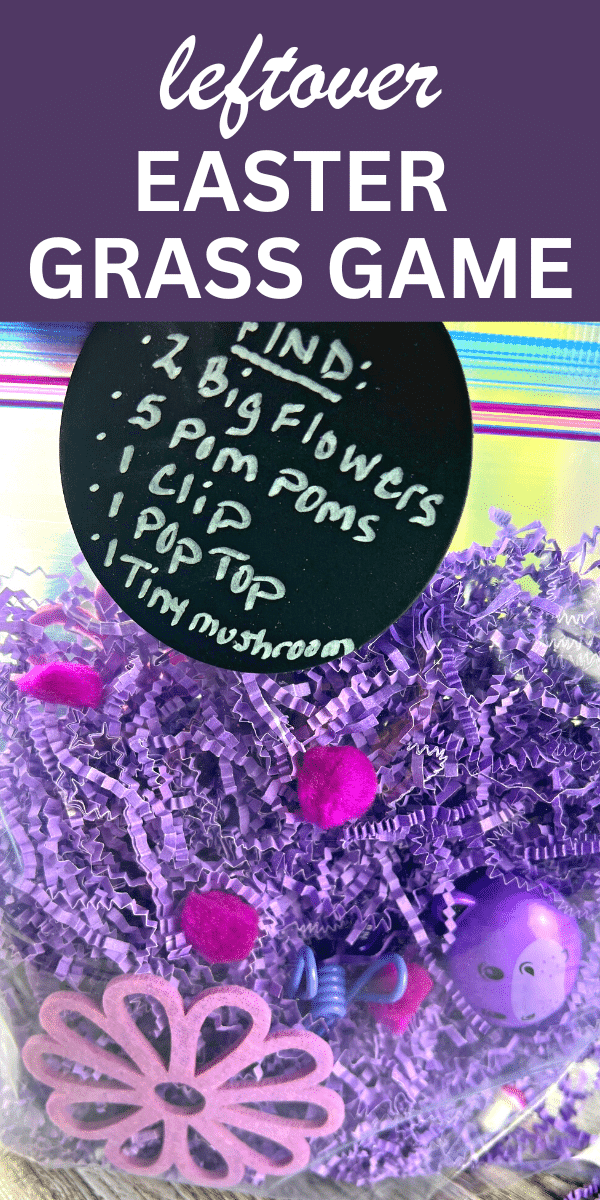 Affiliate links are used on this site. As an Amazon Associate I earn from qualifying purchases. Read more in our DISCLOSURE.
Is Easter grass recyclable?
Easter grass may be recyclable. You cannot recycle plastic Easter grass, nor is the foil grass recyclable. The paper grass can be recycled, so look for the recycling symbol on the package. There is also now edible Easter grass!
If you have the non-recycled Easter grass, use it for crafts or projects instead of throwing it in the trash!
DON'T MISS MORE LEFTOVER EASTER FUN: What Can I Do With Leftover Easter Egg Dye?
MORE LEFTOVER EASTER IDEAS: What To Do With Leftover Easter Eggs
Fun Leftover Easter Grass Activity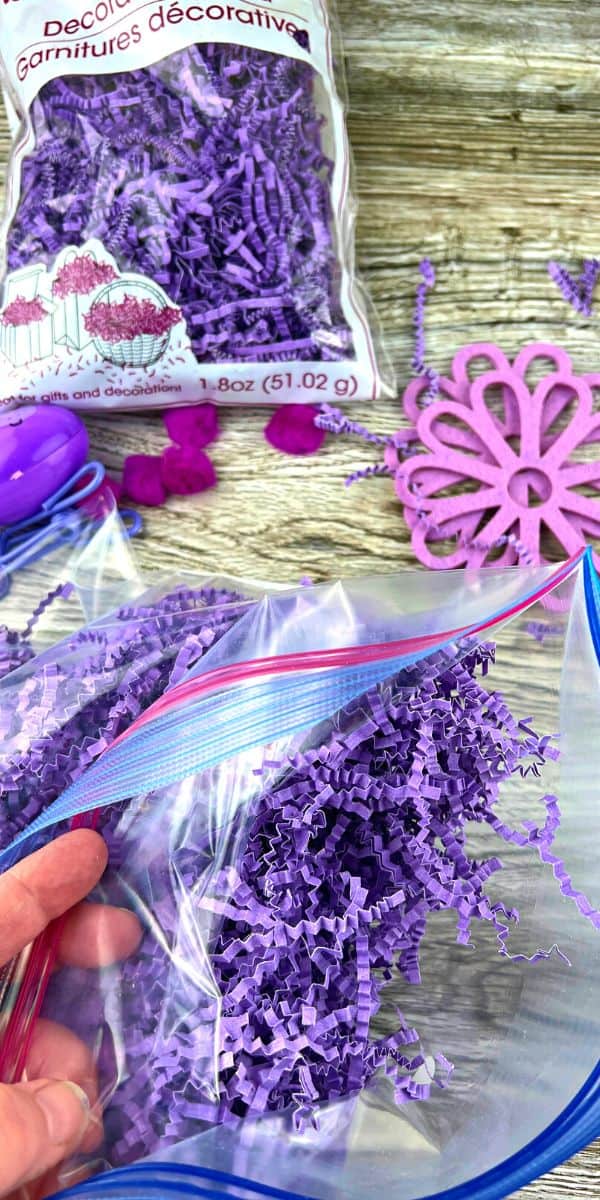 How To Make Easter Grass Sensory Bins Games
Here's what to do with Easter grass that's leftover from your Easter baskets — make a sensory bag or use it for search and find game for kids!
This activity works for Easter basket paper grass or the foil grass / plastic easter grass, so don't throw it out (even the ones you used for the Easter baskets and after you've used it for Easter eggs in grass!).
We used one color of Easter grass per bag and then the same colored items. For example, if you use red easter grass in a bag, only use red colored toys or items. If you use white easter grass, only use white items, yellow easter grass gets yellow items, etc. (We just picked out items we had around the house or you can grab some small party favors like this.)
However, you can mix all the Easter grasses together and do a mixture of colored items, too.
Don't miss an alternative game play idea after the printable activity card! KEEP SCROLLING!
Yield: 1
Leftover Easter Grass Activity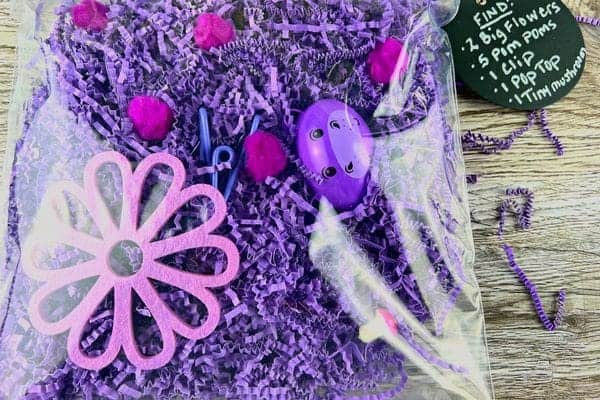 Leftover Easter grass makes fun sensory ideas or games for kids, so don't throw it out! We used items found around the house to make this "I Spy" Easter Grass Sensory Bag that can be played with all year. (It's not just for Easter!) Change out the items for a fresh game periodically!
Materials
Gallon Ziploc bags (or resealable bags)
Easter grass (any kind / color)
Small items and small toys
Paper (for label)
Tools
Glue (if you want to seal the bag - good for toddlers or younger kids so they can't open the bag)
Instructions
Fill a gallon Ziploc bag with leftover Easter grass.
Gather items from around the house to put in the sensory bag. We used items like felt flowers, pom poms, paper clip, binder clip, mini mushroom, but you can use anything you have.
Write a list of the items on a paper label.
Place items throughout the Easter grass in the bag.
Reseal the bag and see who can find the items just by looking at the bag (no opening the bag unless you're playing the blind search and find game - see the post for the how to).
Notes
We used one color of Easter grass for each bag and then the same (or similar) colored items for the bag to make it a little more challenging. However, you can make your Easter bags any way you like, even mixing Easter grasses and colored items.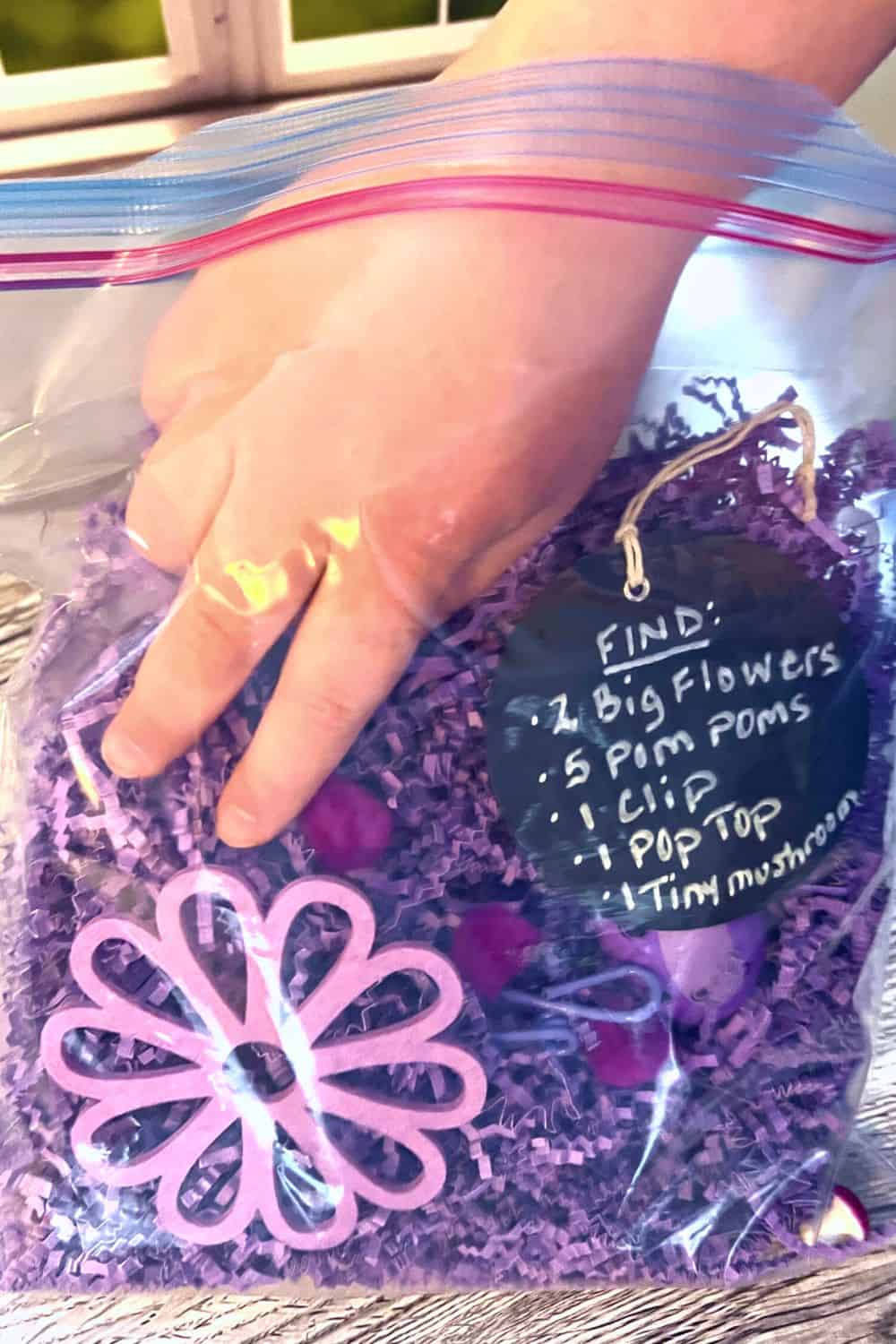 Alternative DIY Easter Game Play
For older kids, it's fun to play this as a Easter sensory grass game.
Blindfold the kids and tell them the item they have to find, just by touching the items in the bag.
MORE EASTER FUN IDEAS:
Creative Way To Color Eggs With Kids
How To Play The Egg Cracking Game
Fun Easter Activities For The Family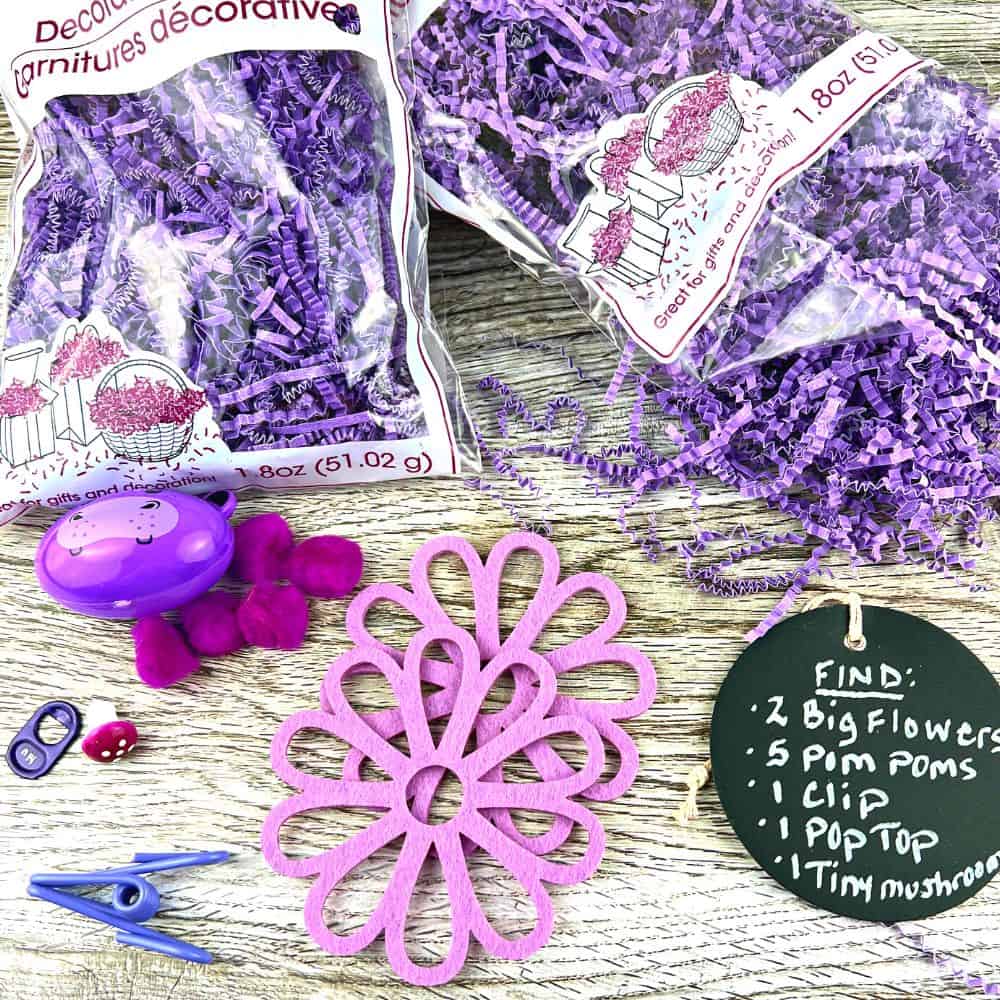 Have fun with the leftover Easter grass activity for kids!
LOOKING FOR FUN COOKING PRINTABLES FOR KIDS?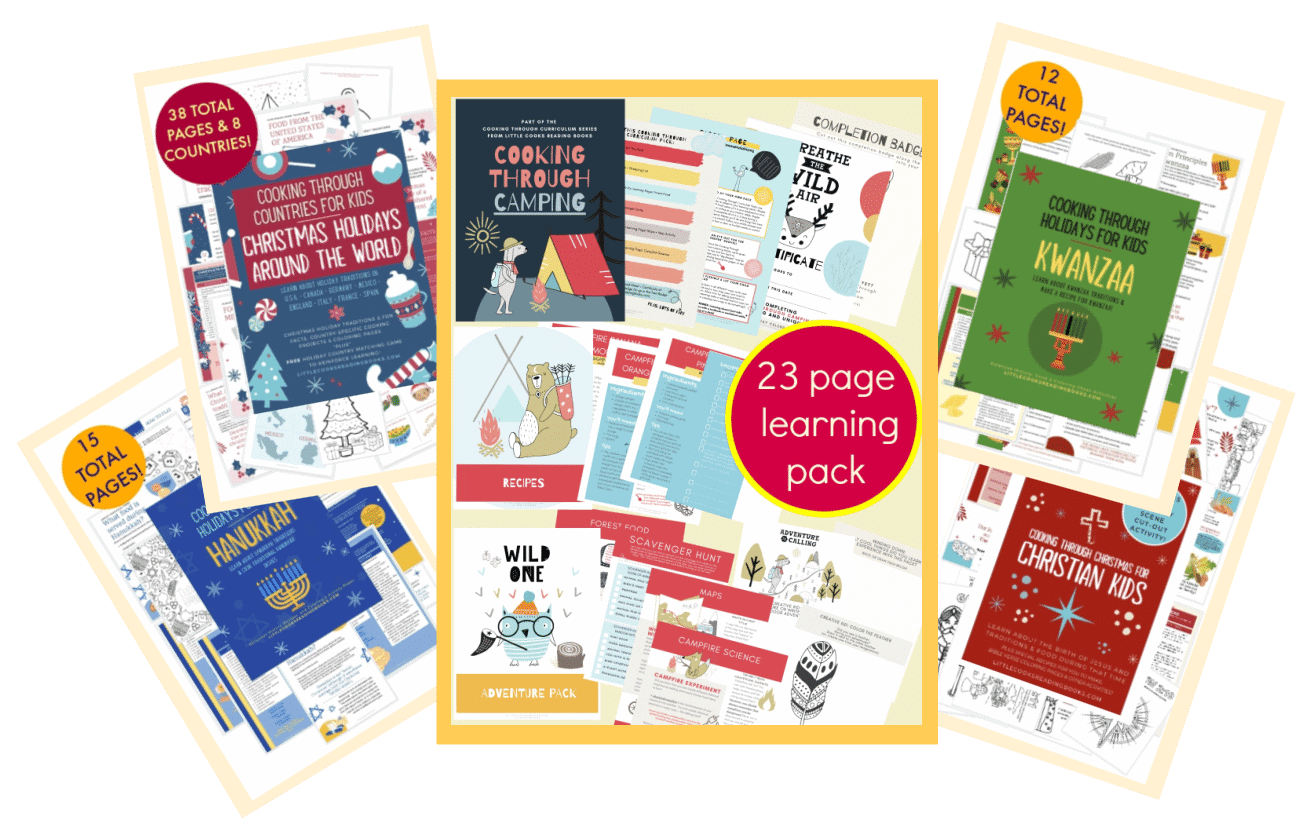 As an Amazon Associate I earn from qualifying purchases. Please refer to our
DISCLOSURE
.