Need fun beach snacks for a beach picnic or a beach themed party for kids? If you're wondering what snacks to take to beach for kids or want easy beach food ideas / lake snacks ideas, we've got you covered with easy no fuss snack ideas for children!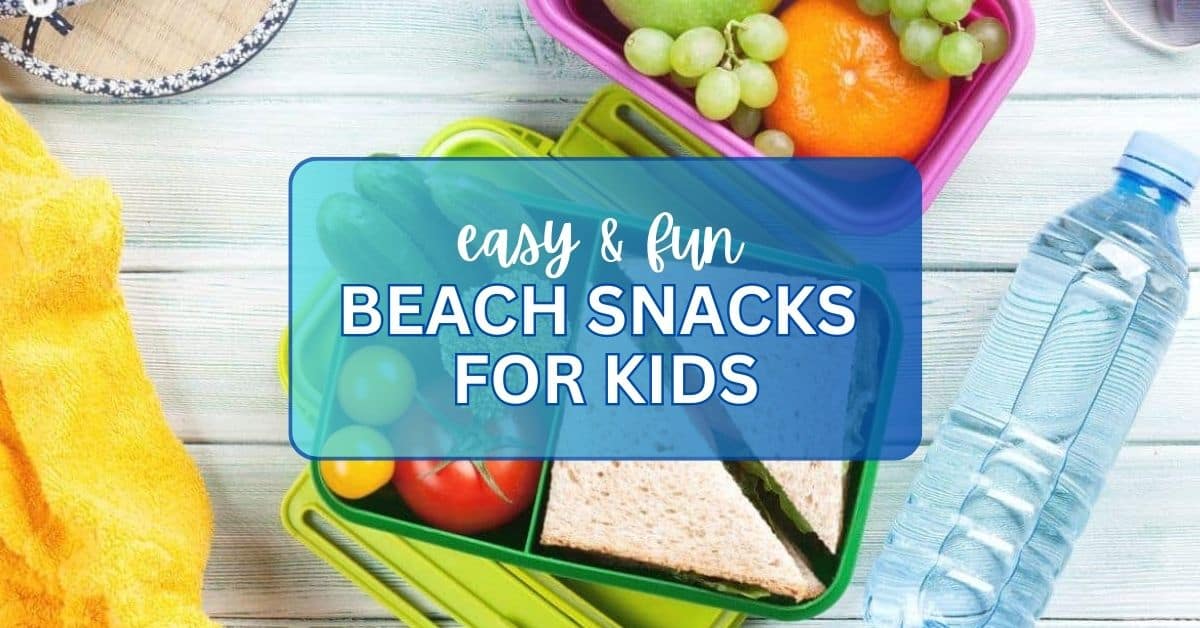 Easy and Fun Beach Snacks For Beach Day Picnic
Need best snacks for beach weekend or for a fun day at the lake? Snacks for the beach should be hassle-free and easy to make… even as a last-minute beach food! (And, it's easy to make beach snacks healthy and yummy!)
What food to bring to the beach for kids?
27 Quick Beach Snacks:
Fresh fruit skewers (strawberries, pineapple, grapes, blueberries)
Trail mix (nuts, dried fruit, pretzels)
Homemade granola bars
Cheese and crackers
Yogurt cups with fruit and granola
PB&J sandwiches cut into fun shapes
Veggie sticks with hummus or ranch dip
Popcorn (separate into different baggies with a different popcorn flavoring in each baggie)
Fruit cups (TIP: Freeze your fruit cups for a refreshing snack for kids!)
Squeeze fruit pouches
Pretzel sticks with peanut butter dip cups
Turkey and cheese roll-ups (one of our favorite beach sandwiches ideas)
Sliced apples with almond butter
Energy balls (oats, peanut butter, honey, chocolate chips)
Mini muffins (banana, blueberry, zucchini)
Rice cakes with almond butter and banana slices
Pita chips with hummus (a family favorite for healthy beach lunch ideas!)
Cucumber slices with cream cheese and everything bagel seasoning
Homemade fruit leather
Ants on a log (celery, peanut butter, raisins)
Edamame
Fruit smoothies in spill-proof containers
Tuna salad with whole wheat crackers
Hard boiled eggs
Mediterranean fruit (dried)
Granola
Fruit snacks
Beef jerky or turkey jerky
Sliced watermelon for refreshing healthy beach snacks
I love this list because it includes the best beach snacks for adults and healthy snacks beach for kids to enjoy, too! They also make quick and easy beach vacation lunch ideas when you want to spend all your time on the sand and in the water and not cooking. (Keep scrolling for beach themed snacks for toddlers, no chill snack ideas for the beach, and a beach snack mix recipe!)
Affiliate links are used on this site. As an Amazon Associate I earn from qualifying purchases. Read more in our DISCLOSURE.
SNACK PRO TIP: A good beach snack is that something that is easy and that won't melt easily in the heat or sun. Remember that when packing food for beach picnics! You can also pack healthy snacks for the beach without needing a cooler. (See below.)
Let's get to our full summer foods and the best beach snacks for toddlers and up (including good summer snacks for adults, too!).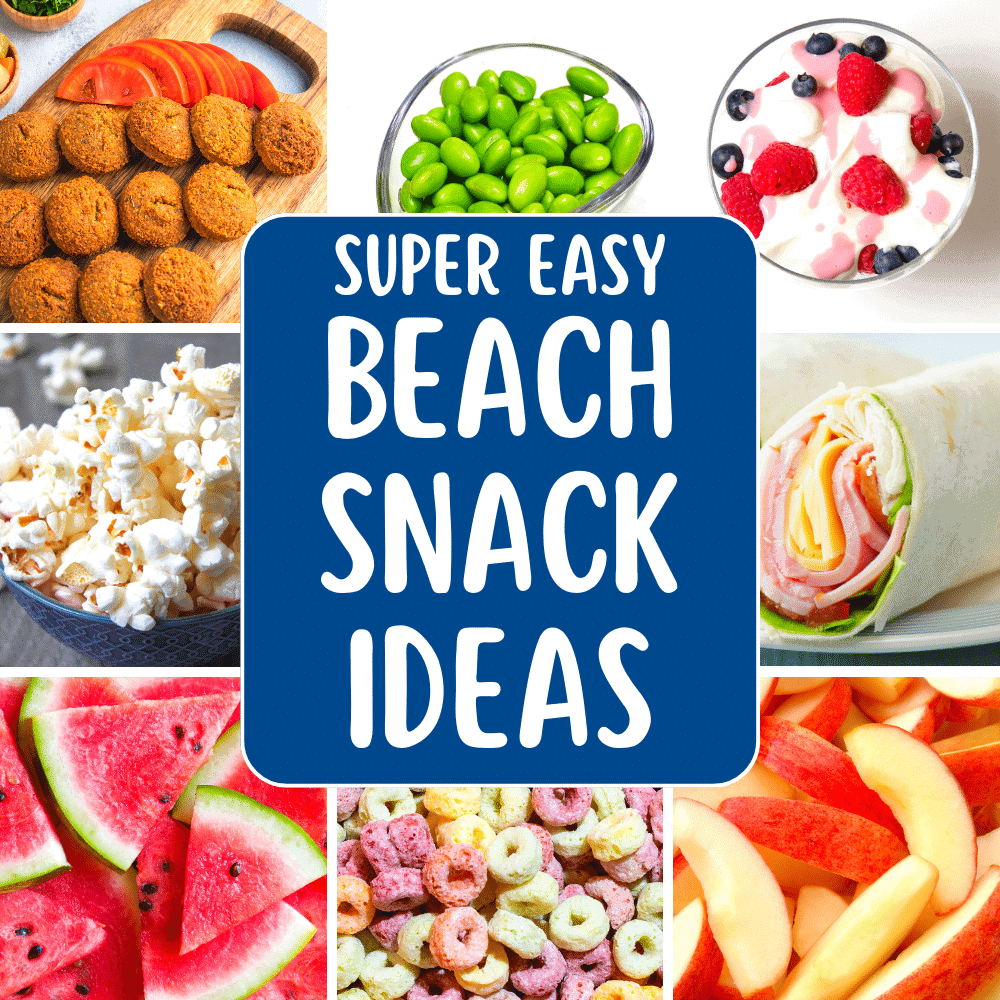 What if you just need beach snacks for toddlers? Here are good beach snacks to include for younger kids.
16 Beach Food Ideas For Toddlers
What snacks can you bring to the beach?
Ham and cheese rollups (no bread)
Fresh fruit salad (cut up fruits like watermelon, strawberries, grapes, and pineapple)
Baby carrots and cucumber slices with hummus dip
Trail mix with raisins, nuts, and pretzels (see our beach mix recipe below!)
Yogurt cups with animal cracker dippers
Mini bagels with jam
Apple slices with almond butter cups
Goldfish crackers
Chicken nuggets
Hard-boiled eggs
Turkey and cheese roll-ups (on tortillas)
Frozen yogurt tubes (They can eat them frozen or if they melt! One of my favorite beach snack ideas!)
Mini muffins (like banana or blueberry muffins) (Buy the prepackaged ones for easy grab and go beach day snacks.)
String cheese sticks (if you're bringing a cooler! We love this one to keep your hands free!)
Pretzel sticks with mustard dip
Mini peanut butter and jelly sandwiches (bonus points for sandwiches cut into fun shapes with beach cookie cutters!)
What are your favorite toddler snacks to take to the beach? Let us know about we'll add them to our food beach list!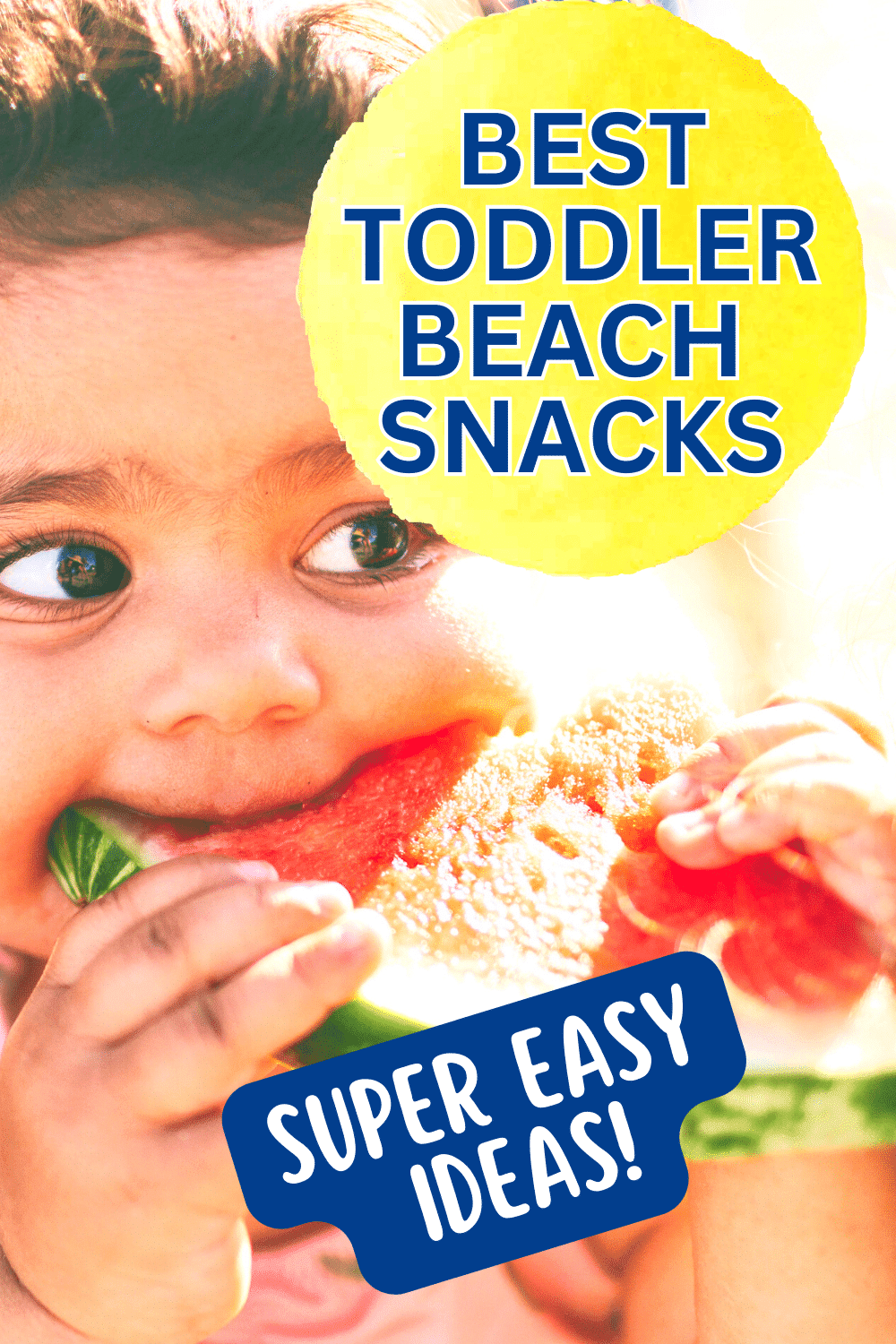 15 Beach Snacks No Cooler Needed!
Need summer snacks for the beach where you don't have to put food in a cooler? Try these summer beach snack ideas that don't need to be kept cold for make ahead food for the beach — throw into baggies for easy snacks to pack for the beach!
Easy beach snacks for kids without a cooler:
Trail mix with nuts, dried fruit, and pretzels (no chocolate!)
Edamame
Apple slices
Beef jerky or turkey jerky
Rice cakes
Baby carrots
Popcorn
Roasted chickpeas
Granola bars (not chocolate covered!)
Fresh fruit such as bananas or oranges and whole apples
Animal crackers
Squeezable fruit pouches
Mini muffins
Falafel balls
Squeeze butters (we love these go packs!)
Let us know your favorite beach vacation snacks that don't need to be kept cold or how to stay healthy on the beach with easy bagged foods and we'll add them to our beach picnic snacks list!
EXTRA SNACK TIP: Grab some ocean themed packaged snacks like these for a fun beach idea! They're super fun if you're looking for beach snacks to buy or easy snacks to bring to beach!
ALSO CHECK OUT MORE SUMMER FUN FOODS: Kid Recipes For July 4th (Fun Patriotic Red White Blue Foods)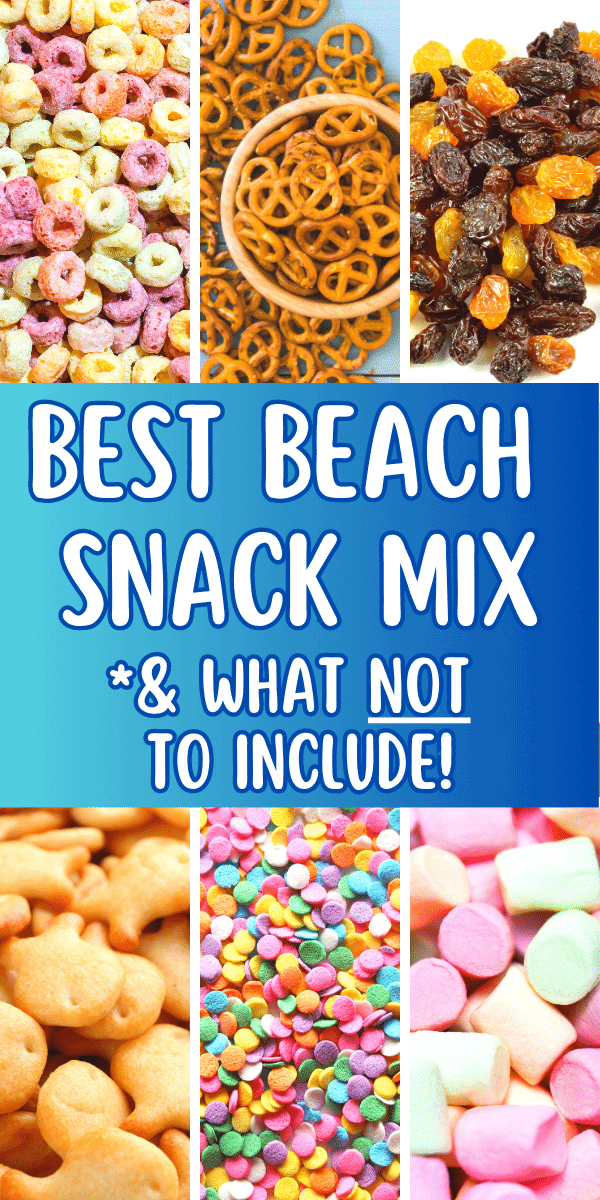 How To Make An Easy Beach Snack Mix
Try this for quick and easy make ahead beach trip snacks!
Ingredients:
2 cups of pretzel sticks
2 cups of Cheerios and/or Chex cereal
1 cup of goldfish crackers
1 cup of colored mini marshmallows
1 cup of dried fruit (such as cranberries or raisins or a mix)

Beach sprinkles

(optional, for a beach themed snack)
Instructions:
Mix all ingredients together in a large bowl.
Pour the snack mix into individual containers or resealable bags for each child.
Pack the containers or bags in a cooler or beach bag with ice packs if you can to keep the mix fresh.
Enjoy the snack mix while playing on the beach or taking a break from the sun!
Recipe Note: You can also customize the mix by adding or substituting other ingredients, such as nuts, M&Ms, or popcorn. Be mindful of any potential allergies for the children who will be enjoying the snack mix with you. Also, leave out any chocolate (like chocolate chips) so that you don't end up with a melted mess!
You'll also love this kid friendly food for party beach theme!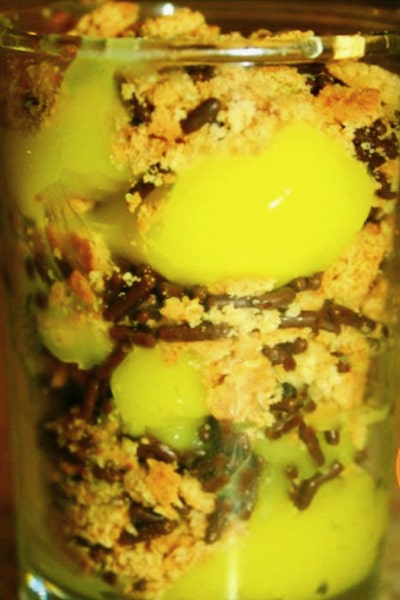 EDIBLE SAND CUPS (fun beach foods and snacks!)
Vegetarian Beach Snacks
Fresh fruit: Fruits like watermelon, pineapple, grapes, strawberries, and mangoes are refreshing, hydrating, and perfect for snacking on the beach.
Hummus and veggies: Carrot sticks, cucumber slices, cherry tomatoes, and bell pepper slices can be paired with hummus for a delicious and healthy snack.
Trail mix: A mixture of nuts, seeds, and dried fruit is a perfect snack to munch on the beach.
Edamame: Boiled edamame is a protein-packed and healthy snack that can be easily transported to the beach.
Chips and guacamole: Choose tortilla chips made with whole grains and pair them with fresh guacamole for a satisfying snack.
Veggie wraps: Wrap up your favorite veggies in a whole-grain tortilla or lettuce leaf for a portable, healthy snack.
Smoothies: Make smoothies with your favorite fruits and veggies at home for a refreshing beach drink to take along! BEACH DRINKS TIP: Use these refillable squeeze pouches for your smoothie. Freeze it at home and then it makes a frozen slushie drink or a regular smoothie once it defrosts — even if you're not taking a beach cooler for your day out!
Roasted chickpeas: Crunchy and flavorful roasted chickpeas are a perfect snack for the beach.
Popcorn: Air-popped popcorn seasoned with a little salt and nutritional yeast makes for a healthy and satisfying snack at the beach.
ALSO CHECK OUT THESE PORTABLE SNACK IDEAS: EASY SNACKS FOR HIKING WITH KIDS (More Day Out Food Ideas For Kids)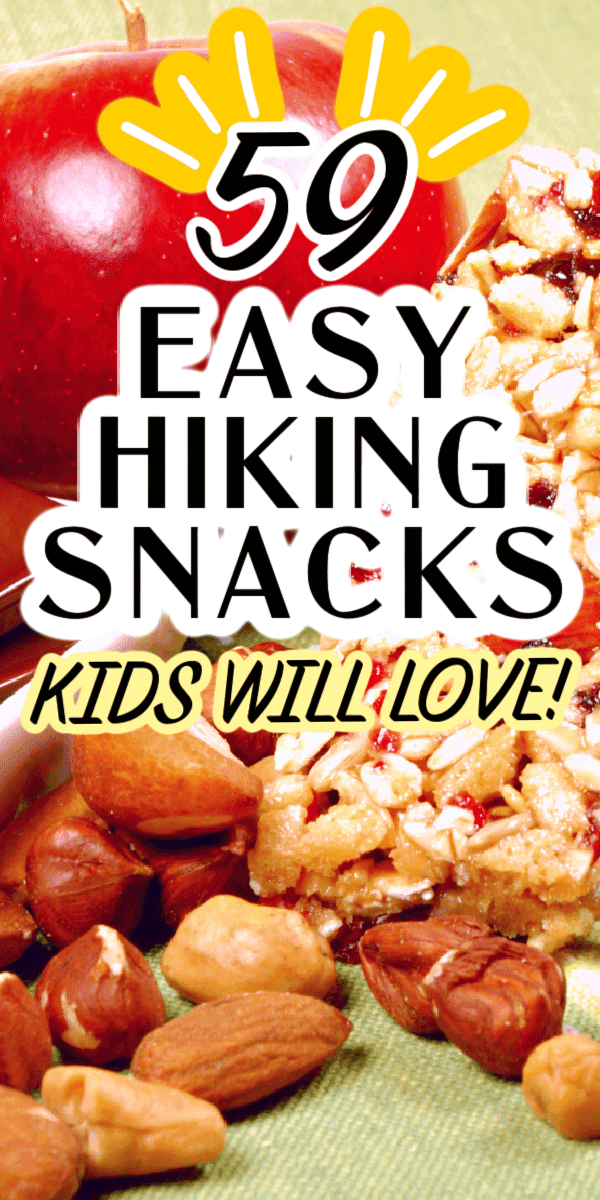 Enjoy your fun beach snacks for kids and adults!
LOOKING FOR FUN COOKING PRINTABLES FOR KIDS?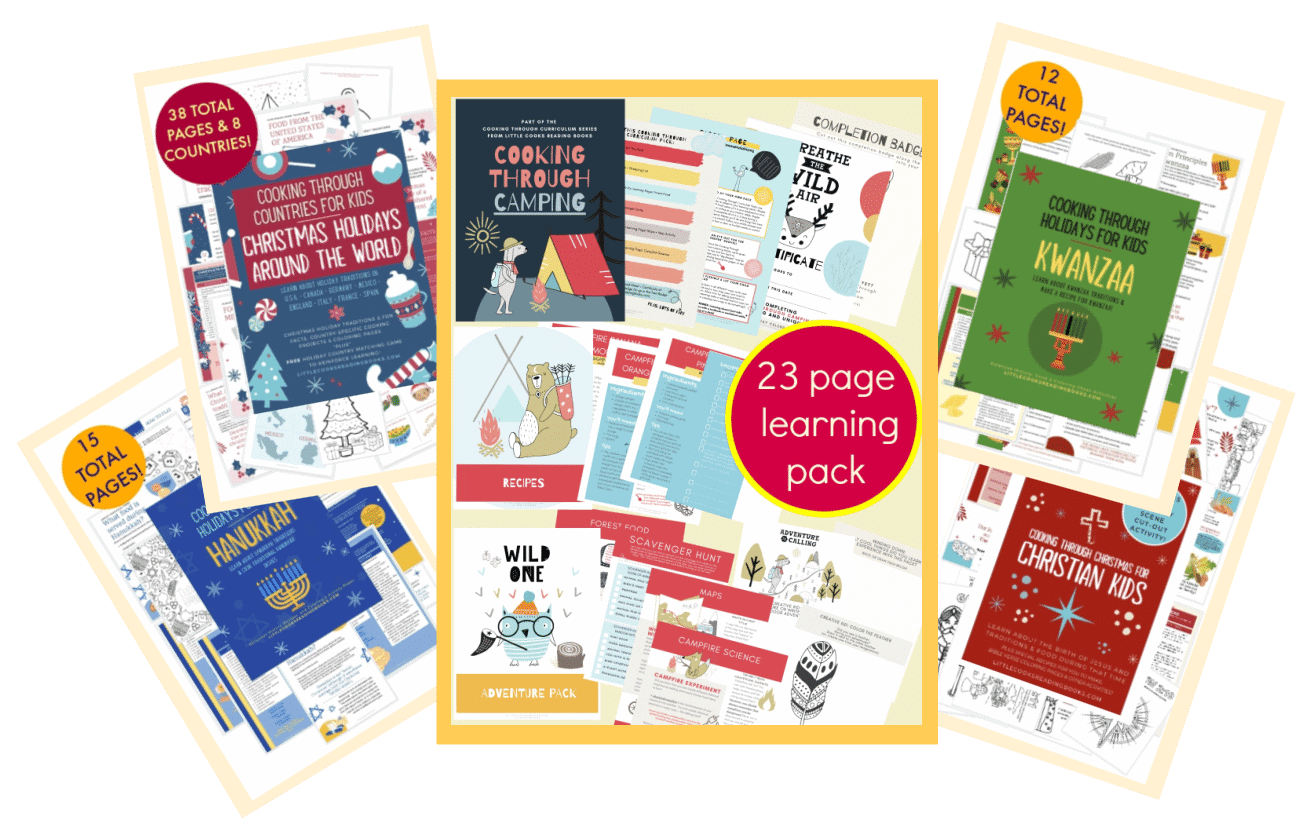 As an Amazon Associate I earn from qualifying purchases. Please refer to our
DISCLOSURE
.