This colored spaghetti recipe is such a fun pasta recipe for kids! (And colored pasta noodles aren't just fun to eat, they're fun to play with, too!) Here's how to color pasta to eat for kids of all ages (even older kids and picky eaters will enjoy this dish!).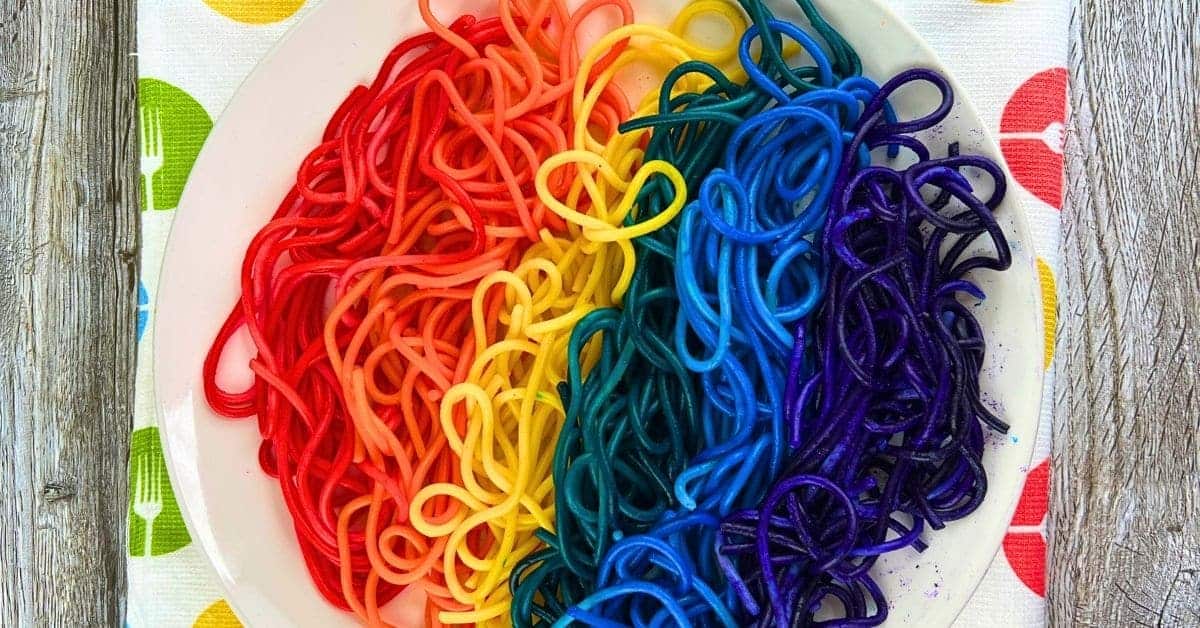 Edible Colored Spaghetti Recipe
This rainbow pasta recipe is sure to be a hit a kids' parties, birthday parties, a summer pasta salad for a barbecue, or even just a simple children's lunch on a day you want to do something a little extra! (Add this to your spaghetti secret recipe menu to pull out when your kids are having a hard day!)
How to Dye Spaghetti For Eating
To color spaghetti to eat, you'll need:
Favorite dried spaghetti noodles
Favorite pasta sauce
Food coloring (in the colors you want, we made rainbow dyed pasta)
Sealable bags (like a Ziploc bag)
Get the printable recipe card for how to make color spaghetti below! This is one of those easy recipes that you can make with what you have in your pantry right now!
Affiliate links are used on this site. As an Amazon Associate I earn from qualifying purchases. Read more in our DISCLOSURE.

Can I add food coloring to spaghetti?
Yes! You can use food-safe food dye to color spaghetti for play or for eating. Cook the spaghetti al dente and then add gel food coloring to the desired colors.
How To Food Color Spaghetti To Eat
How do you change the color of spaghetti noodles?
Star with cooked thick spaghetti noodles. (The regular spaghetti, aka: thick noodles, work better than angel hair pasta because it holds the color better.) Drain the pasta and allow to cool. (Don't add olive oil or rinse with cold water!)
Separate the cooled pasta in resealable bags. (We did six food colors, so we had six resealable bags of pasta.) You can try to do this in bowls, but we found baggies the easiest way (and less messy).
Add 20-40 drops of food coloring to a bag. Seal bag and gently massage the spaghetti noodles through the bag until all the noodles are colored. (This is a fun sensory kids activity, too!) IF NEEDED: Add more food coloring and repeat process until you've achieved the pasta coloring you want. The color of pasta is up to you and your food theme! (We did colors of the rainbow, but you may only want to make green pasta or orange coloring for a Halloween pasta recipe.)
Repeat with other bags.
Top with favorite spaghetti sauce and/or parmesan cheese!
Learn how to make dyed spaghetti with the full recipe directions below.
How long does rainbow spaghetti last?
Store your colored spaghetti in an airtight container in the refrigerator like you would any other cooked spaghetti noodles. They should keep in the refrigerator for up to a week.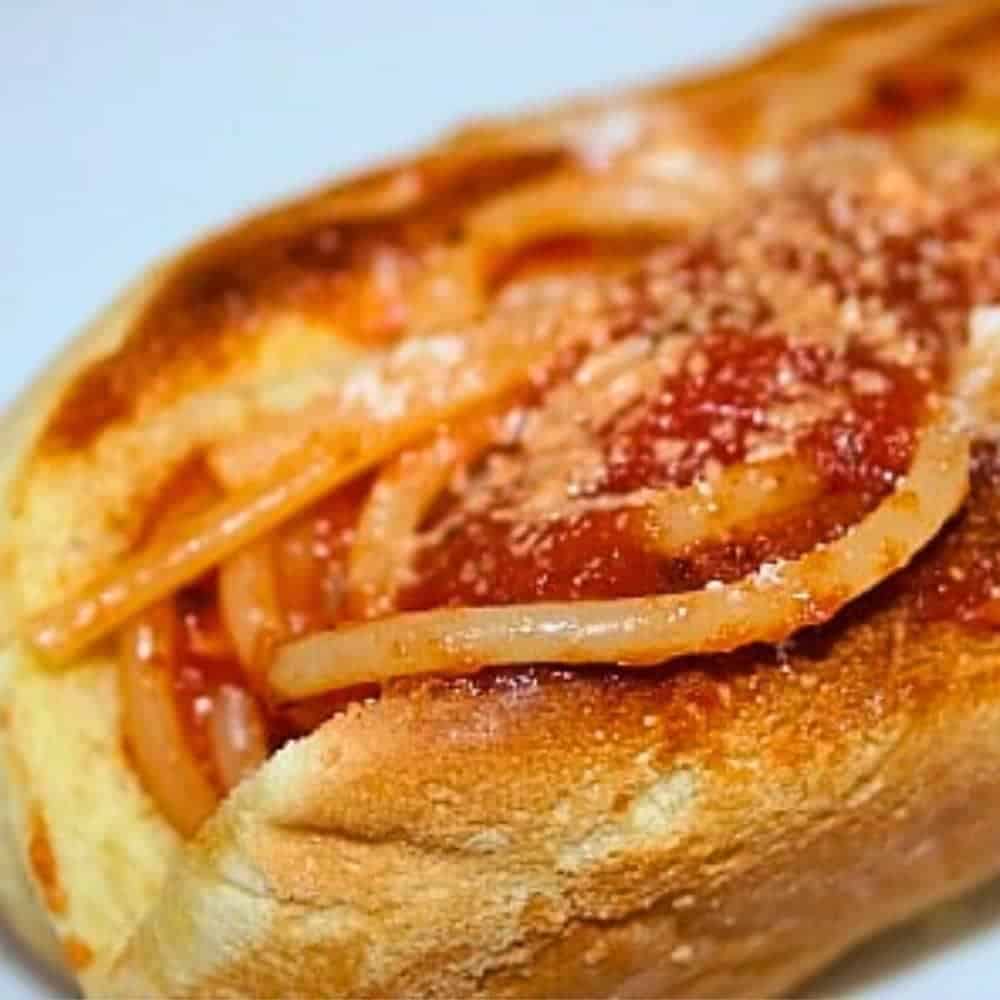 TRY THIS EASY SPAGHETTI NEXT: HOW TO MAKE SPAGHETTI IN A HOTDOG BUN (JUST LIKE THE BOOK!)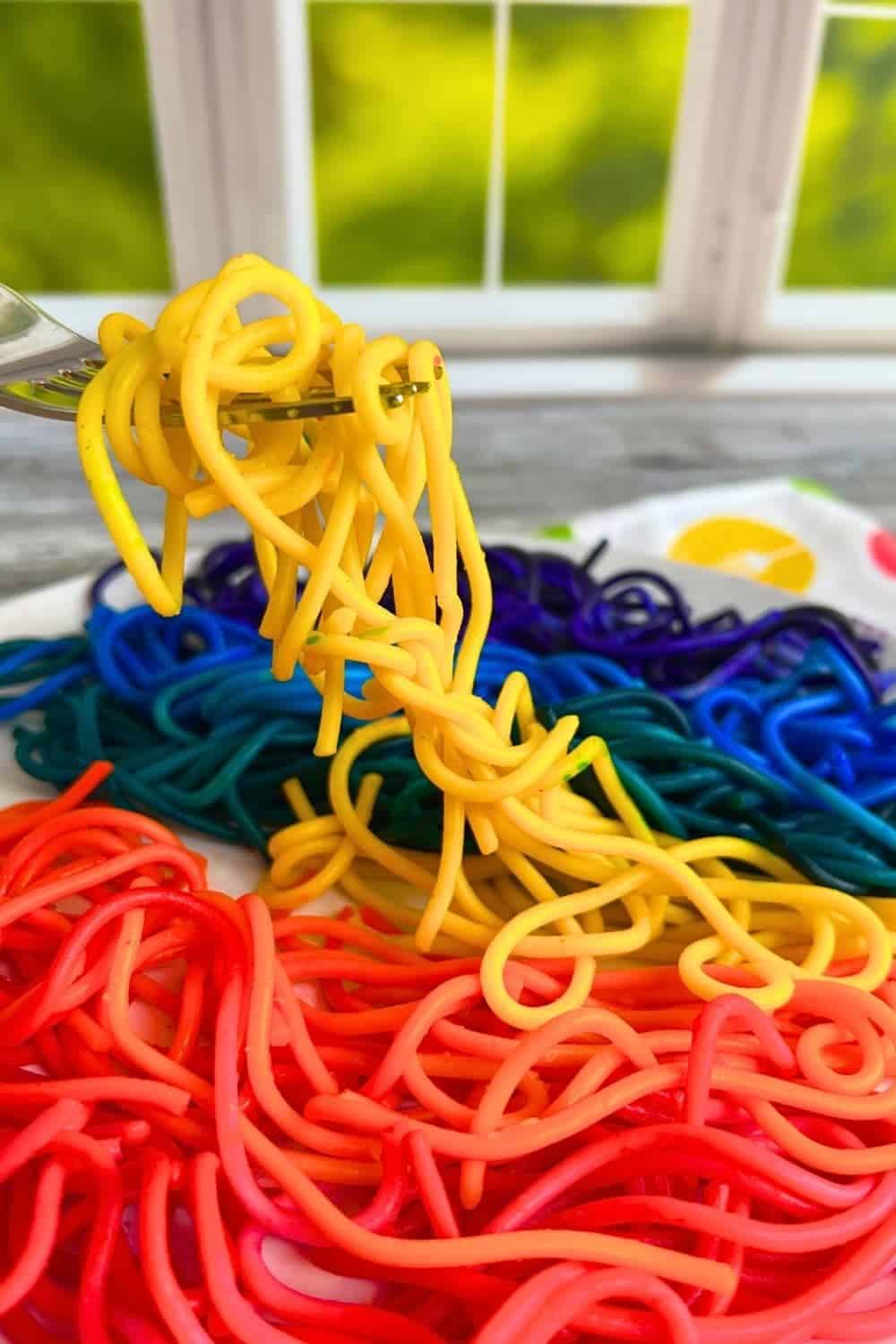 How to Make Rainbow Pasta Noodles For Spaghetti
This makes a fun rainbow pasta salad or to eat with your favorite spaghetti sauce / pasta sauce! You can even just make is rainbow spaghetti with parmesan if your kids don't like sauces.
It's just a fun way to present your pasta dish and a great way to get your kids involved in cooking. (They'll have fun adding the drops of food dye and creating their own colors or making rainbow colors for rainbow foods!)
PRO TIP: You can also make a fun rainbow pasta sauce by alternating different colored pasta sauces! It's so much fun with different colors!
We found that using gel food dyes make the most vibrant color and most colorful pasta. However, you do have to let it sit for a bit so that the gel colors can set. (You can see in our picture the purple got on the edge of the plate because we didn't let the dyed pasta dry enough time.)
Here's how to make easy rainbow colored pasta to eat — different ways to serve pasta…
Yield: 8
Colored Spaghetti Recipe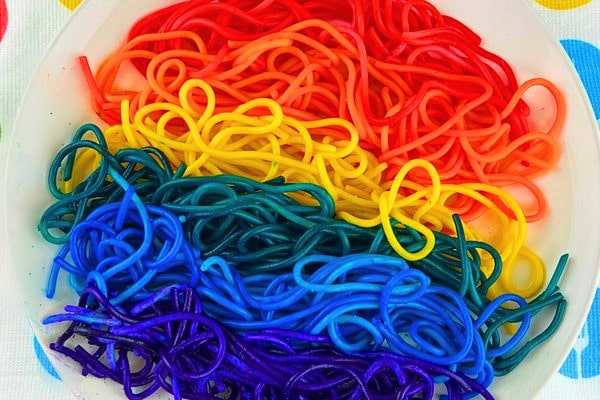 Learning how to make dyed spaghetti is a fun kids food craft activity that you can eat after!
Be sure to read the tips for coloring spaghetti noodles in the post, so scroll up!
Additional Time
10 minutes
Ingredients
16 ounce box of dried spaghetti (the regular spaghetti noodles, not angel hair pasta noodles)
Gel food coloring, colors of choice
Pasta sauce of choice, optional
Parmesan cheese, optional
Instructions
Cook spaghetti noodles al dente (around 8-10 minutes) according to package directions.
Drain noodles in colander and set aside to cool slightly.
Portion noodles into resealable plastic bags. You will have as many resealable bags of pasta as colors you want to make. For example, we made six colors so we had six bags of pasta.
Each bag is for one food coloring. Add 10-20 drops of food coloring. Seal the bag and let kids gently move the pasta around until all noodle pasta is colored. Add more food coloring, if needed.
Repeat with each pasta bag until you have all the spaghetti dyed the colors you want.
Remove pasta from bags and arrange on a plate. (We made rainbow pasta, so we arranged ours in a rainbow.) Let sit and allow food colored pasta to dry.*
If needed, warm in microwave and then top with favorite spaghetti sauce and/or parmesan cheese. Serve and watch the smiles!
Store leftover colored spaghetti in an airtight container for up to a week.
Notes
*Allowing the colored pasta to sit for a few minutes and "dry" will make the colors less likely to smear and be messy pasta!
Nutrition Information:
Yield:
8
Serving Size:
1
Amount Per Serving:
Calories:

96
Total Fat:

1g
Saturated Fat:

0g
Trans Fat:

0g
Unsaturated Fat:

0g
Cholesterol:

1mg
Sodium:

86mg
Carbohydrates:

18g
Fiber:

1g
Sugar:

1g
Protein:

3g
Nutrition information is estimated. Changes to the recipe and use of different brands may cause changes to the nutritional information to vary slightly from the ones provided here.
Want More Pasta Recipe Ideas? Try Pepperoni Pasta Salad (aka: Pizza Pasta Salad) – A Pasta Dish Kids Love!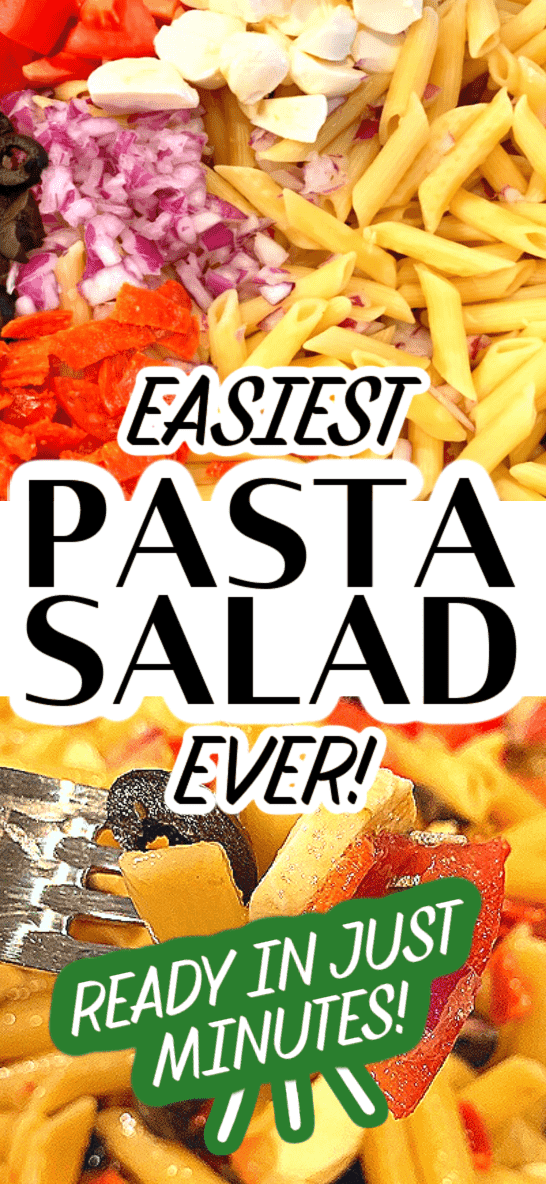 Let us know how your colored spaghetti recipe turns out!
LOOKING FOR FUN COOKING PRINTABLES FOR KIDS?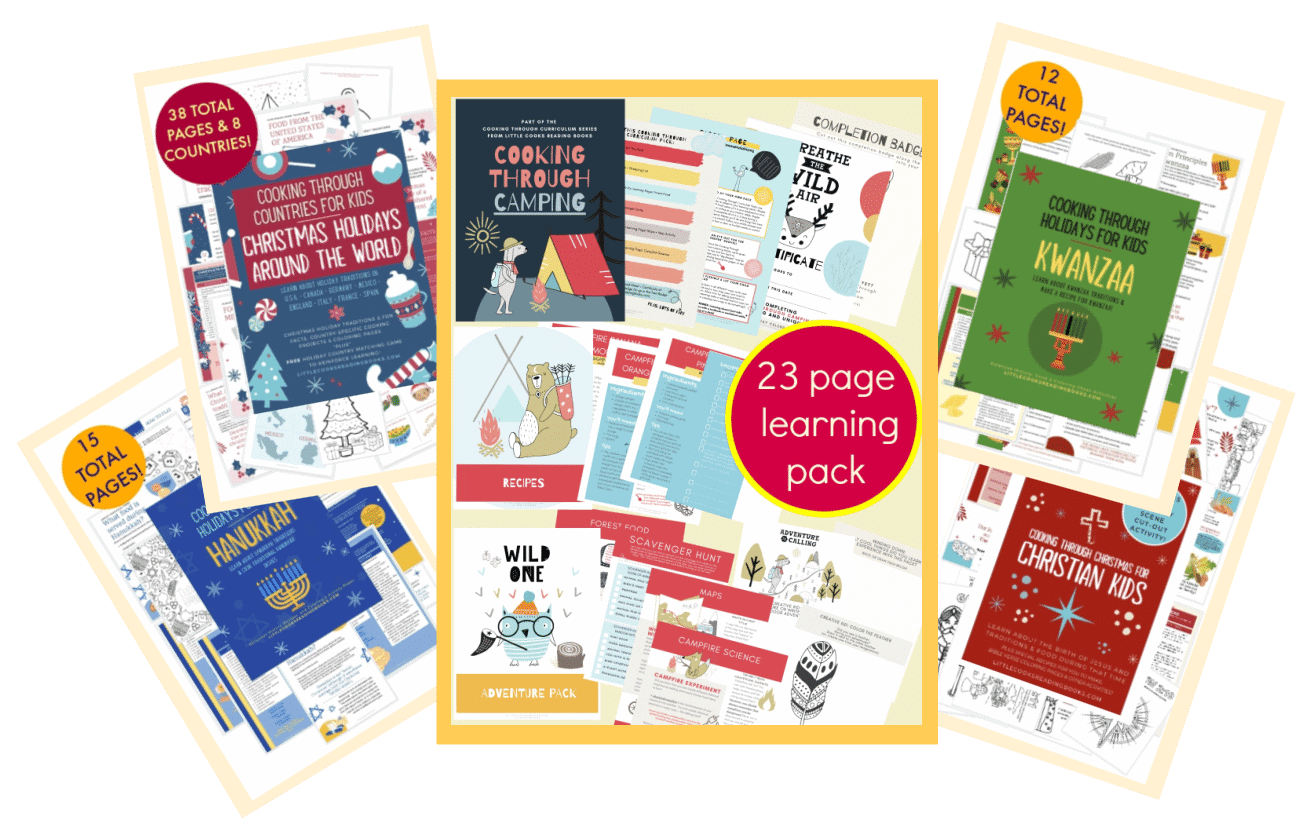 As an Amazon Associate I earn from qualifying purchases. Please refer to our
DISCLOSURE
.