This simple pasta salad with pepperoni (or pizza pasta salad as my kid likes to call it), is such an easy recipe for Italian pasta salad that it's the perfect simple summer pasta salad or easy side dish for parties / BBQ side dish. Perfect kid friendly recipe for quick and easy lunch or even after school snack! It's a recipe for cold pasta that's always a hit with all ages and a family favorite recipe here!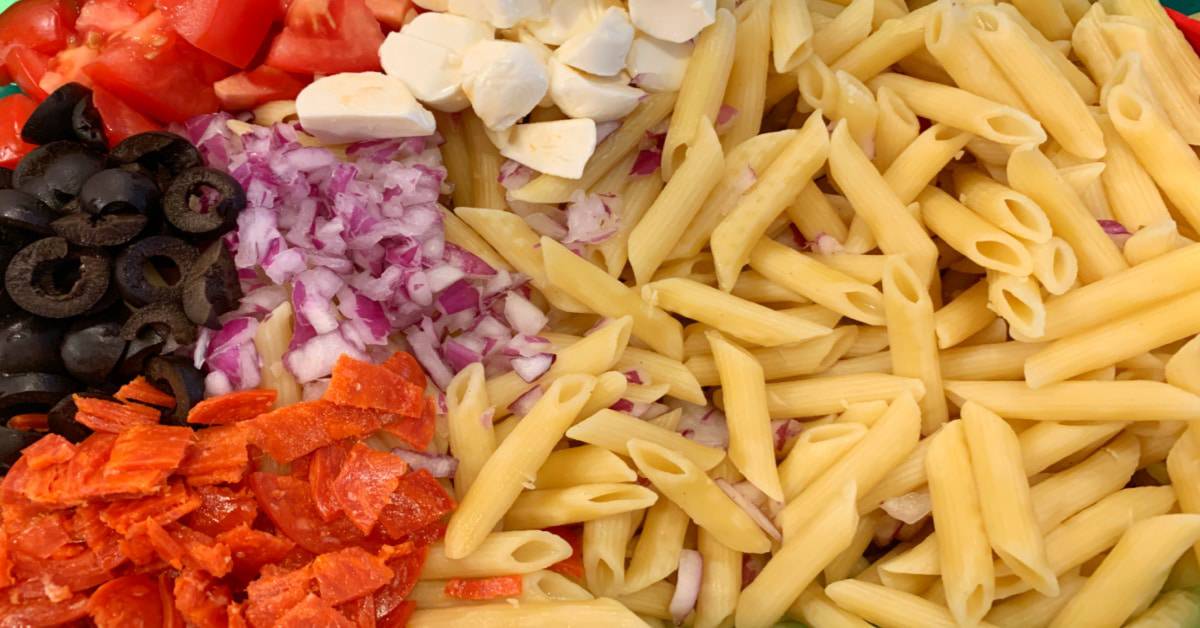 Best Simple Pasta Salad With Pepperoni (Antipasto Pasta Salad Recipe)
This is one of our favorite summer salad pasta dishes and it's so easy to whip up last minute! (It really the best pasta salad recipe ever!) This recipe for Italian pasta salad with zesty Italian dressing is easy to adapt and use your own homemade Italian salad dressing or use a favorite dressing for salads from the grocery store. (We often use that zesty Wishbone Italian dressing for this and it's cheap and makes the best Italian dressing recipe for pasta salad!) Whether you're looking for pasta salad recipes for a crowd or after school snack pasta salad recipe for kids, this works!
Recipes For Cold Italian Pasta Salad
Easy Cold Recipe For Italian Pasta Salad:
Penne pasta (or any short to medium pasta — even bow tie pasta, fusilli spiral pasta, or tri color tortellini!)
Pepperoni
Tomatoes
Red onion
Mozzarella
Black olives
Zesty Italian vinaigrette (the dressing for pizza pasta salad can be your favorite Italian dressing!)
Parmesan
See the full recipes for cold Italian pasta salad and learn how to make Italian pasta salad below. KEEP SCROLLING for the simple pasta salad with pepperoni printable recipe card! (We'll also answer some recipe FAQs like how long does pasta salad last in the fridge, etc.)
Affiliate links are used on this site. As an Amazon Associate I earn from qualifying purchases. Read more in our DISCLOSURE.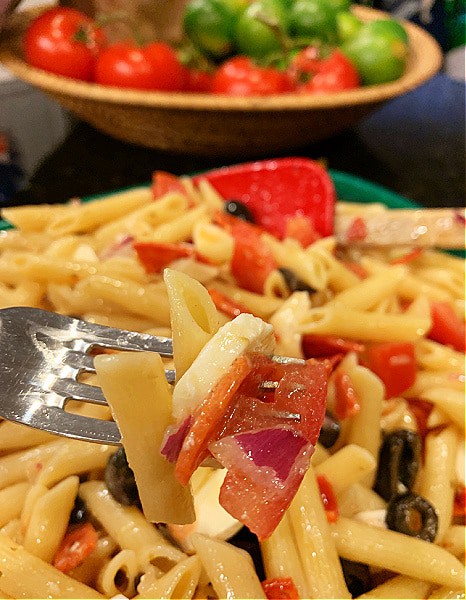 Wait… can you put pepperoni in pasta salad?!
Does pepperoni go in pasta salad?
Since this is a simple pepperoni pasta salad, we vote YES to putting pepperoni in pasta salads. It makes a fun and easy antipasto salad that goes with most anything or makes a great meal on its own.
We often make this as pasta salad Italian dressing pepperoni black olives, pepperoni artichoke pasta salad, and more!
You can even try it as ham and pepperoni pasta salad, pepperoni feta pasta salad, or add chicken for easy chicken pasta salad recipes. Play around with it for simple dinner ideas with pasta salad!
What kind of pepperoni for pasta salad?
The best pepperoni for pasta salad is any kind of pepperoni that you buy that your family likes! We've made it with regular pepperoni, as turkey pepperoni pasta salad, and as little pepperoni pasta salad with those mini pepperonis. We've enjoyed all those pasta salad variations!
RECIPE TIP: Kids seem to really love it when we make this pasta salad with mini pepperoni!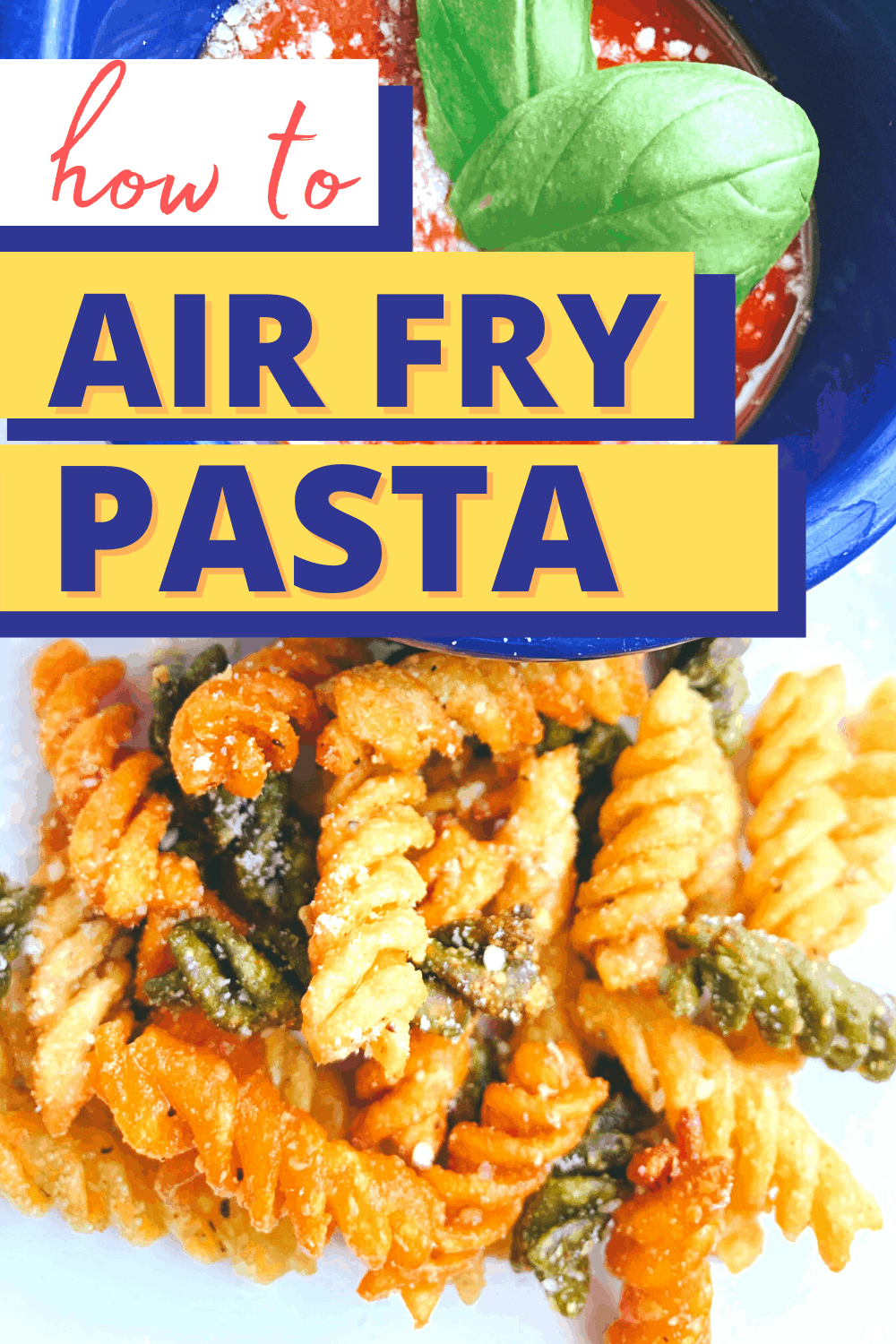 Should you rinse pasta when making pasta salad?
There is no need to rinse the pasta when making a pasta salad, unless you are trying to cool down the pasta quicker and serve Italian cold pasta salad immediately. If that's the case, rinse pasta in a colander under cold water until it is cool and then continue making pasta salad according to the recipe.
How do you get dressing to stick to pasta?
The best way to get dressing to stick to pasta is to add half the dressing to the pasta salad, stir, and then add the rest of the dressing on top before serving. As cold pasta salad sits, the dressing will start to pool at the bottom of the dish. Just give the pasta salad a stir occasionally during the party to keep the pasta coated with Italian dressing.
NEED MORE EASY SALAD RECIPES? YOU'LL ALSO LOVE:
What can you add to Italian style pasta salad?
There are many ways to make this Italian cold pasta salad recipe! You can make it a loaded pasta salad by adding additional salad ingredients from the list below.
Additional ingredients for summer Italian pasta salad:
Turkey pepperoni
Green bell peppers
Red bell peppers
Salami
Parmesan shavings
Artichokes
Olive oil
Tri color rotini
Feta cheese
Spinach
Mini fresh mozzarella balls
Shredded mozzarella
Cherry tomatoes
Chopped cucumbers
Fresh garlic
Arugula
Lemon honey dressing
What goes in Italian pasta salad is only limited by your imagination! You can also try Italian pasta salad with cheese varieties (like shredded cheddar, etc.). (See below for what to eat with pasta salad.)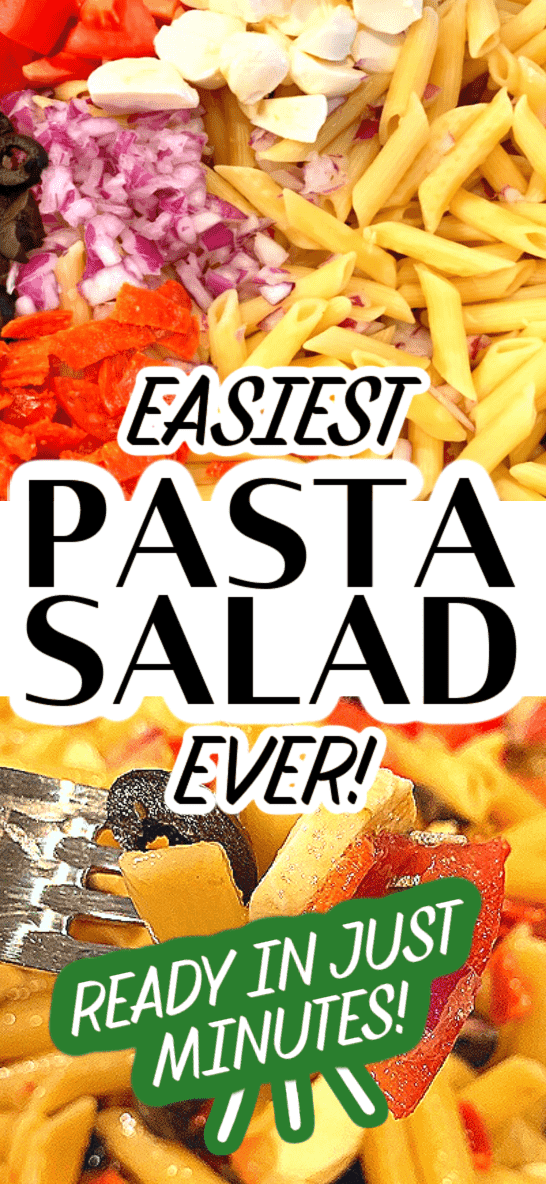 You may be wondering what goes with pasta salad? (I think you'll be surprised!)
What goes with Italian pasta salad?
What to serve with pasta salad:
Grilled hotdogs
Garlic bread
BBQ chicken
Grilled hamburgers
Sandwiches or paninis
Fried chicken
Cornbread
Black beans
Summer soups (like a gazpacho)
Crusty bread
Grilled chicken
Pork chops
Corn
Crackers

Fried green tomatoes

(or a fried green tomato BLT!)
Alone as a main dish!
OK! Let's get to this easy Italian pasta salad recipe! This is one of my go-to summer pasta salads for hot evenings when I don't want to cook for the best pepperoni pasta salad!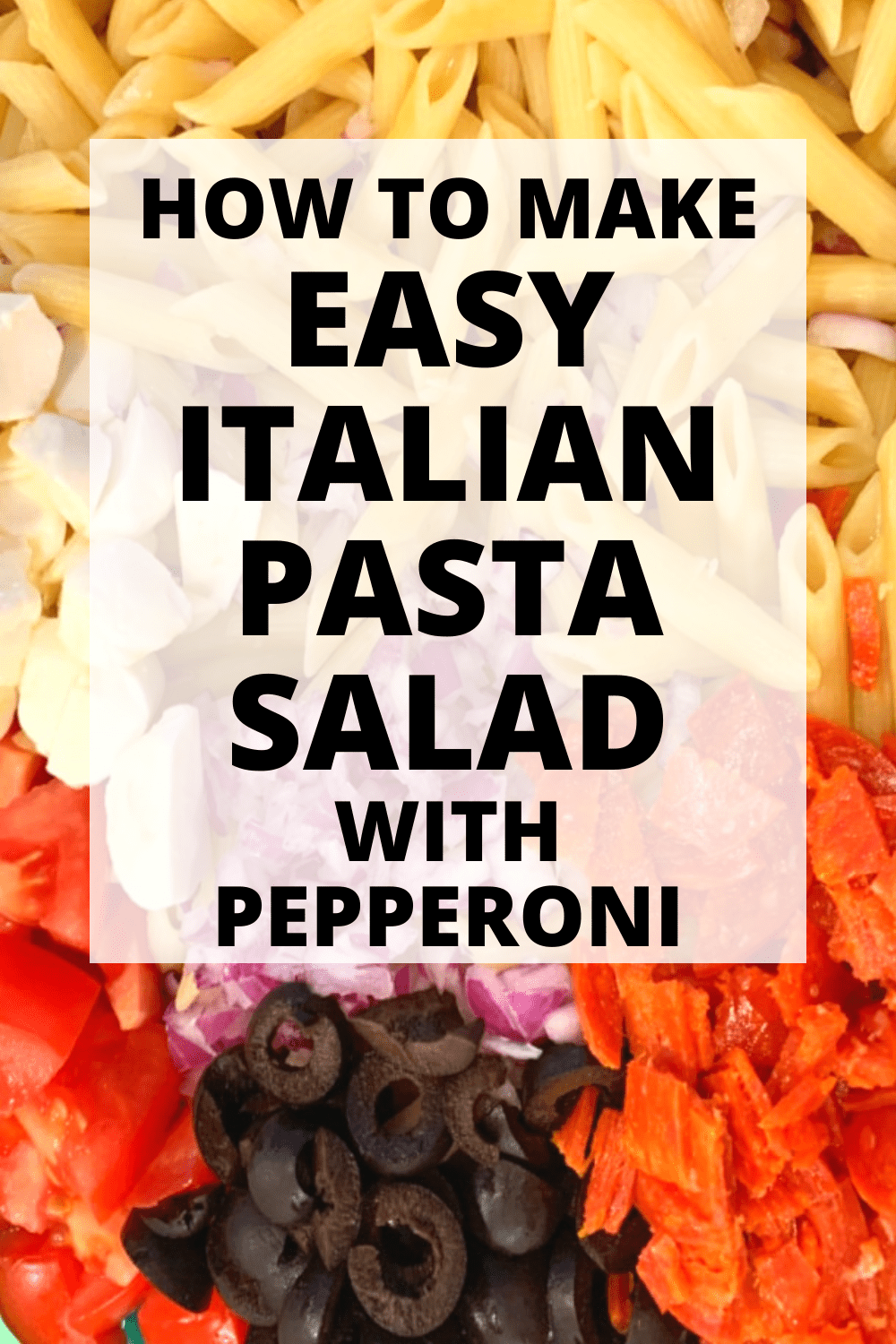 How To Make An Italian Pasta Salad Recipe With Pepperoni
How To Make Pasta Salad With Pepperoni And Cheese
Side pasta salads or summer salad recipes with pasta are easy because you can make ahead the pasta and prep the ingredients and then throw them together last minute!
We use store bought dressing for zesty Italian pasta salad recipes, but you can use your own homemade Italian dressing too (or even a creamy Italian dressing!).
(My husband loves it this pepperoni pasta salad with Olive Garden dressing, which you can buy in the store now!)
Some people like this as pepperoni pasta salad with mayo, ranch dressing, or a creamy dressing, but I like the lighter, oil-based dressing with this cold pepperoni pasta salad recipe. (This is not a creamy pasta salad with pepperoni!)
If you don't like dressing, make this as a plain pasta salad recipe. I think it's good that way!
You can also make this as an Italian pasta salad no meat just by leaving out the pepperoni and doubling the mozzarella cheese and vegetables. (It's still yummy!)
Don't be afraid to play around with this recipe and try different pepperoni pasta salad ingredients! Try it as an Italian pasta salad with salami or a pasta salad with Italian dressing and cucumbers and any other summer vegetables you have from the garden! Play around with pasta salads for summer! (We love it as pasta salad with pepperoni and cheese cubes.)
If you want more of an antipasto pasta salad, make it as pasta salad with pepperoni and hard salami.
Here's how to make pepperoni pasta salad (get tips for storing pasta salad using pepperoni after the printable recipe card)…
Yield: 8
Easy Pasta Salad With Pepperoni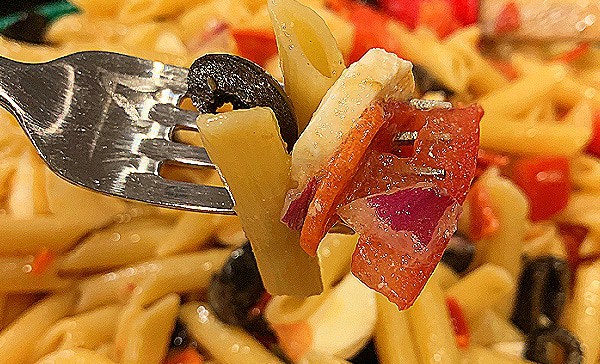 This cold pasta salad recipe is such a simple recipe (even an easy recipe for kids to make on their own!). Keep the ingredients on hand to whip it up whenever you need a last minute easy side dish or lunch recipe for kids.
We have great tips for the pepperoni pasta cheese salad before this recipe card and after. Be sure to check the post!
Ingredients
1 16-ounce box penne pasta (or rotini)
2 6-ounce packages of pepperoni (or turkey pepperoni), about 50 pepperoni, cut into quarters
1 1/2 cups Italian tomatoes (or cherry tomatoes), chopped
1/2 cup red onion, chopped
1 cup fresh mozzarella, cubed
1/2 cup black olives, sliced
1/4 cup fresh basil, chopped (optional)
1 cup zesty Italian vinaigrette of choice (may need more or less, to taste)
Grated parmesan, for topping
Instructions
Boil pasta al dente, according to package directions. Drain and cool.
In a large bowl, add pasta and remaining ingredients, except Italian vinaigrette. Stir.
Drizzle half of the Italian vinaigrette over the salad, stir and taste. Add remaining vinaigrette dressing, if needed. Stir and toss until fully coated.
Top with grated parmesan and serve immediately, or chill before serving.
Notes
Any small to medium pasta works with this recipe. You can even make it a macaroni salad Italian recipe or even a summer an Italian spaghetti salad recipe if that's all the dry pasta you have in your pantry!
Nutrition Information:
Yield:
8
Serving Size:
1
Amount Per Serving:
Calories:

532
Total Fat:

38g
Saturated Fat:

14g
Trans Fat:

1g
Unsaturated Fat:

21g
Cholesterol:

72mg
Sodium:

1379mg
Carbohydrates:

26g
Fiber:

2g
Sugar:

6g
Protein:

20g
Nutrition information is estimated. Changes to the recipe and use of different brands may cause changes to the nutritional information to vary slightly from the ones provided here.
How To Store Pasta Salad
How long does Italian pasta salad last in the fridge?
Cold pasta salad Italian dressing will last in the refrigerator for up to 5 days once the ingredients for pasta salad are mixed together. Be sure to store the pasta salad in an airtight container with a lid and place in the refrigerator immediately after using.
If you are making this tomato pepperoni pasta salad ahead of time, mix the ingredients and then add the dressing right before serving if you want to make it last longer.
Can you freeze pasta salad?
You can freeze pasta salad, but the texture and taste of the pasta will change once it's been frozen and then thawed and reheated. I, personally, don't recommend freezing pasta salad.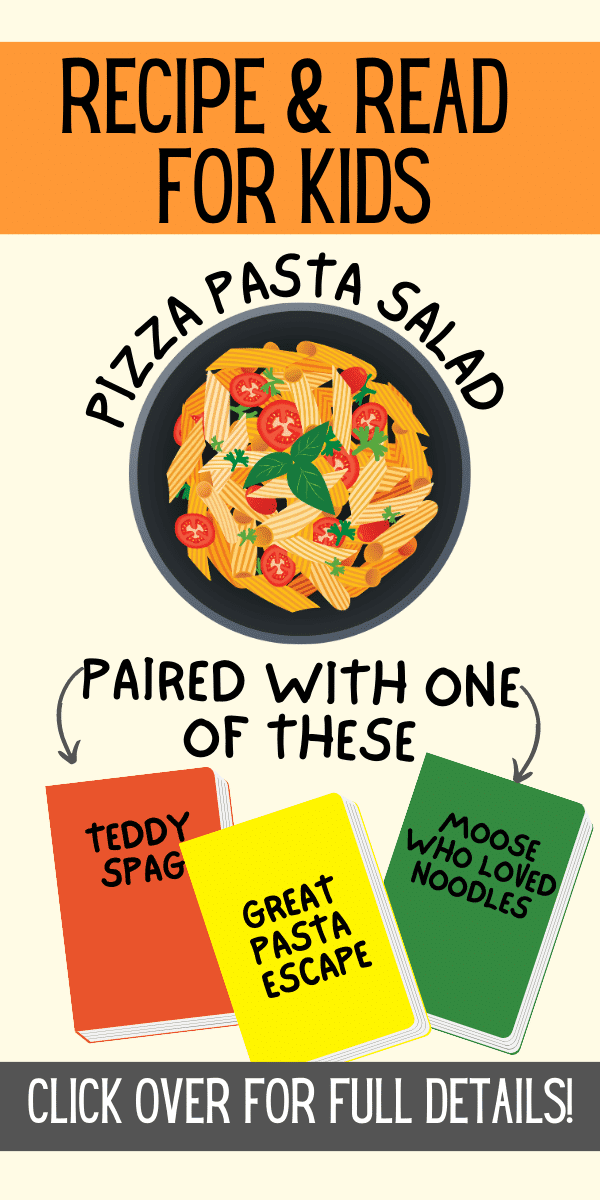 Recipe and Read To Go With Recipe For Italian Pasta Salad
I also love this recipe because it's such an easy recipe to make with kids or even an easy recipe for kids to make alone.
Get them involved in making this pepperoni pasta salad easy recipe!
(Use this kids' safety cutting set and let them chop their own ingredients!)
These are great children's book pairings for this pasta salad pepperoni cheese recipe:
TRY THIS EASY RECIPE NEXT: FRESH ASPARAGUS SALAD
TRY: FUN PASTA RAINBOWS TO EAT!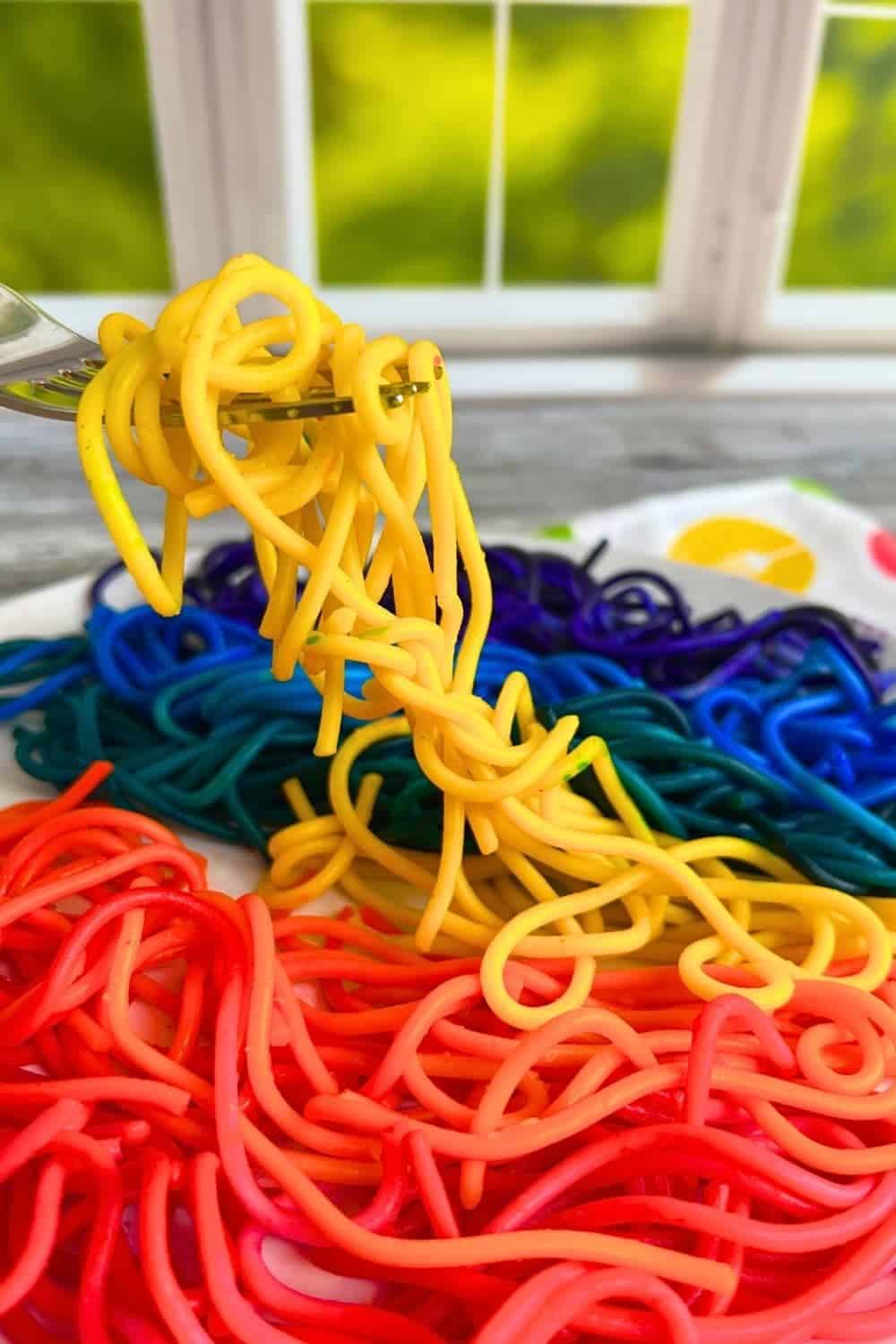 What are your favorite Italian noodle salad recipes ingredients or what do you pair with your pasta salad with pepperoni and veggies?
Let us know what you think about this simple pasta salad with pepperoni!
LOOKING FOR FUN COOKING PRINTABLES FOR KIDS?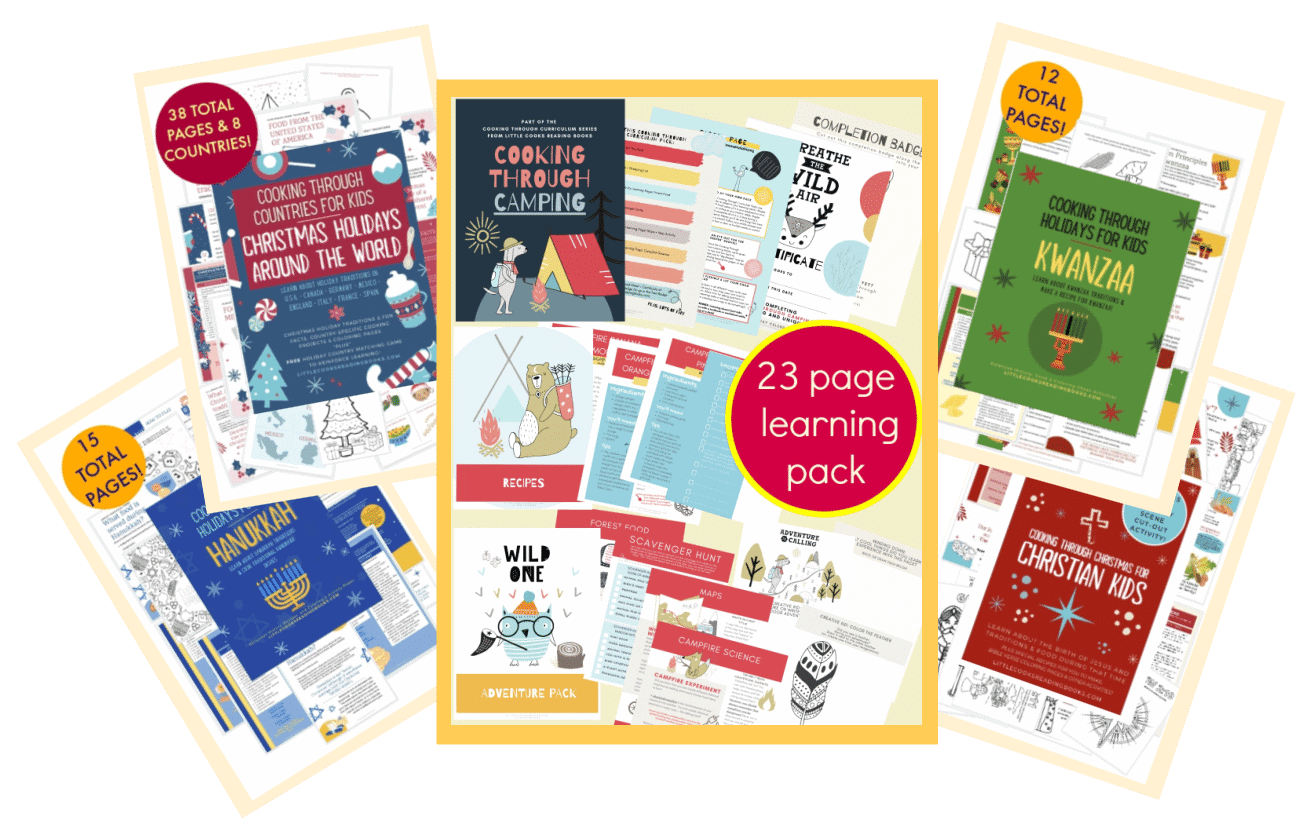 As an Amazon Associate I earn from qualifying purchases. Please refer to our
DISCLOSURE
.