This air fryer pasta snack (or air fryer pasta chips) is one of our new favorite recipes, probably because I love fried ravioli. (You may have even seen this as a TikTok trend recipe recently!) This is a fun after school snack for kids or even a festive and easy party appetizer that you can add last minute to your holiday recipes!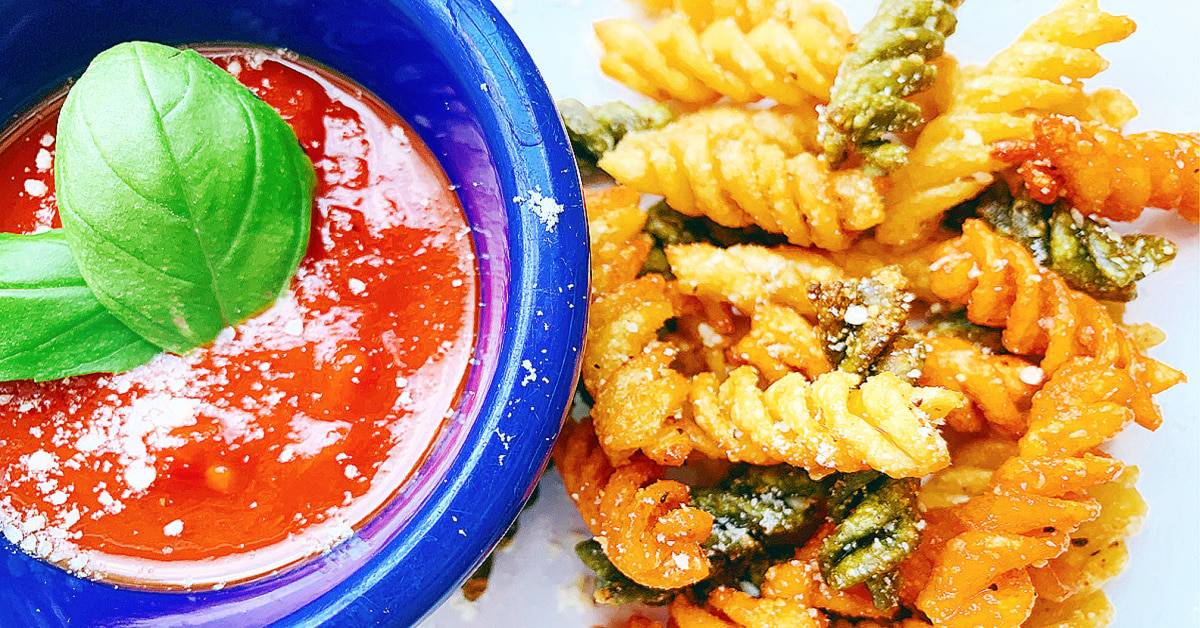 EASY AIR FRYER PASTA SNACK RECIPE
Before we get to the air fryer pasta chips recipe, let's cover some common questions cooking pasta this way.
Can You Cook Pasta in Airfryer?
The answer to can you air fry pasta is YES! Our recipe was air fry dry pasta that we boiled al dente first. (We didn't boil pasta in air fryer.) But, it's a great way to use leftover pasta, too!
You can air fryer penne pasta, make air fryer bow tie pasta, or any pasta shape! We used rotini because we had a festive red, green, and white pasta and wanted to see what it would look like for a fun Christmas appetizer recipe.
Affiliate links are used on this site. As an Amazon Associate I earn from qualifying purchases. Read more in our DISCLOSURE.
How Long To Air Fry Pasta
How long to air fry your pasta will depend on your preferences. If you are making crispy air fryer chips, then you'll air fry your pasta around 10 minutes. If you like your fried pasta chewy and crispy, you will cook them for around 7 minutes. Remember, air fryer settings vary greatly, so you may have to play around with your crispy pasta chips to get the right level of crispy that your family likes.
Can you air fry leftover pasta?
Yes, you can make air fried leftover pasta. In fact, air frying leftover pasta is a great recipe for leftovers and gives your pasta a unique twist. Instead of just reheating pasta in air fryer, make it into pasta that is fried!
ALSO CHECK OUT: Simple Pepperoni Pasta Salad
Can we deep fry pasta?
Yes. You can use the air fryer pasta recipe and, instead of air frying the pasta, you fry it in a deep fryer or a pan with oil where the pasta can be completely submerged.
YOU MAY ALSO LIKE: Easy Apple Fries Recipe (Baked and Air Fryer!)
OK! Now on to the recipe. Definitely add this to your air fryer pasta dishes! Kids will love it!
How To Make Fried Pasta in Air Fryer
We have a debate in our house when we make this air fryer fried pasta — whether they should be crunchy pasta chips in air fryer, or chewy pasta — so we do them in two batches:
Around 7 minutes for crispy, but chewy air fryer pasta
Around 10 minutes for crispy, crunch air fried pasta chips
Again, all air fryers are different, so you might want to fry pasta in a small batch at the beginning (a test batch) to see which way you like your fried pasta snack!
TIP:
This is a fun recipe to play around with and use different spices, seasonings, and sauces. However, you will need a lot more spices and seasonings than you think. Don't be afraid to go heavy on the seasonings before air frying the pasta.
Yield: 6
Air Fryer Pasta Snack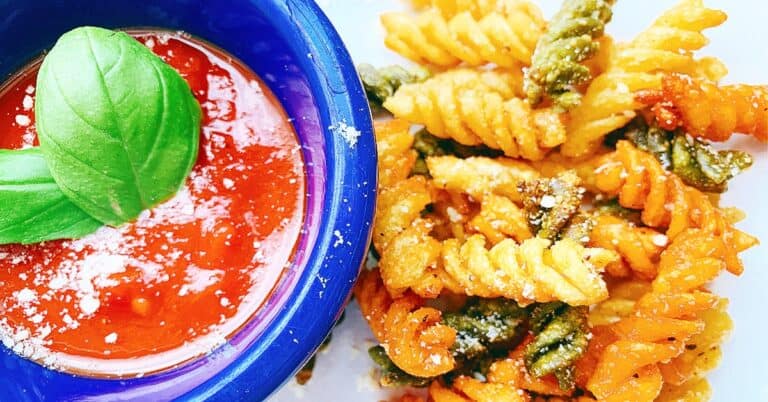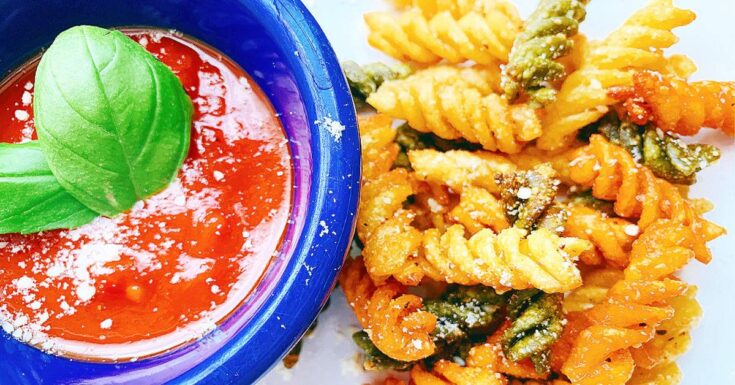 This air fryer pasta snack is so easy and makes a fun party recipe, too!
Ingredients
1 12-ounce box any short, flat or tube pasta (we used rotini, the corkscrew pasta)
1/2 cup olive oil
1 teaspoon ground garlic
1 teaspoon oregano (or pizza seasoning)
1/4 cup grated Parmesan cheese, plus extra for topping
Salt and pepper, to taste
Cooking spray
Marinara dipping sauce (optional)
Instructions
Boil pasta al dente according to package instructions (around 9 minutes). Drain and set aside.
Spray air fryer basket lightly with cooking spray. Preheat on 400° F for 5 minutes.
In a large mixing bowl, combine cooked pasta, olive oil, garlic, Parmesan cheese, and oregano. Salt and pepper, to taste. Stir to combine completely.
Spoon pasta into preheated air fryer basket. Air fry on 400°F for approximately 7 minutes for crisp, but chewy pasta. Cook for approximately 10 minutes for crispy pasta chips.* Stop and shake the basket halfway through the time. (You may have to cook in batches depending on the size of your air fryer.)
Remove from air fryer and top with additional Parmesan cheese, salt, and pepper. Serve with a side of marinara sauce for dipping.
Notes
*Every air fryer is different, so you may want to start out air frying the pasta for 6-7 minutes, trying it and then seeing if you want a crispy pasta chip and need it to cook more.
Nutrition Information:
Yield:
6
Serving Size:
1
Amount Per Serving:
Calories:

233
Total Fat:

20g
Saturated Fat:

3g
Trans Fat:

0g
Unsaturated Fat:

16g
Cholesterol:

4mg
Sodium:

317mg
Carbohydrates:

10g
Fiber:

1g
Sugar:

2g
Protein:

3g
Nutrition information is estimated. Changes to the recipe and use of different brands may cause changes to the nutritional information to vary slightly from the ones provided here.
Books About Pasta for Kids
Fun cook and read book for this recipe:

ALSO TRY: RAINBOW PASTA TO EAT!
Let us know when you make your air fryer pasta snack and what you think of them!
LOOKING FOR FUN COOKING PRINTABLES FOR KIDS?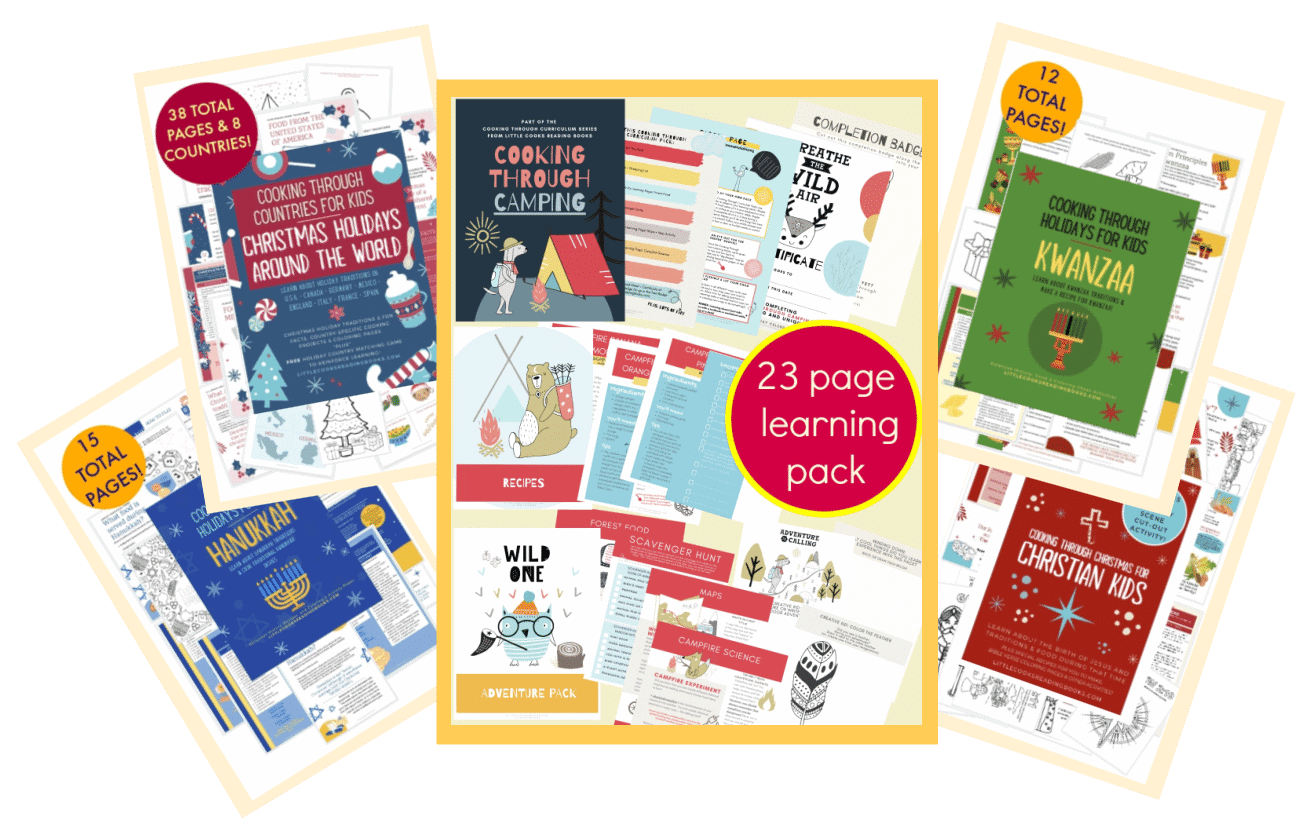 As an Amazon Associate I earn from qualifying purchases. Please refer to our
DISCLOSURE
.