These Halloween monster apples make creepy Halloween treats or not to spooky Halloween recipes for parties! These apple treats in air fryer will be a Halloween party favorites for kids, preschool Halloween ideas, or even fall food activities for kids after apple orchard trips! Perfect for jack o lantern apples, zombie face, edible ghost crafts and more! Here's how to dehydrate apples in air fryer for a fun Halloween apple snack!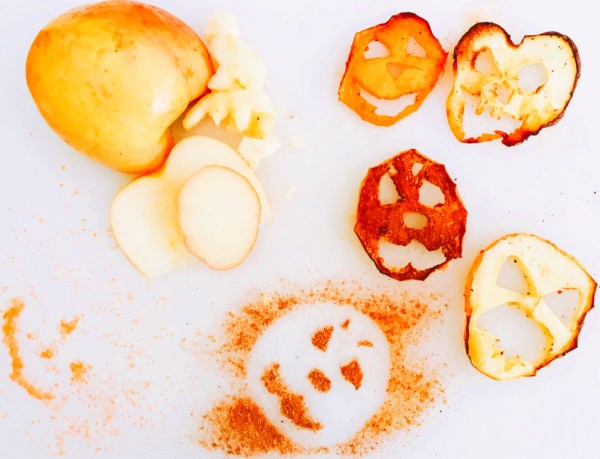 HOW TO MAKE CREEPY HALLOWEEN MONSTER APPLES
Dehydrating apples in air fryer is so much fun with kids because you're not exactly sure how your Halloween apple monsters will turn out until after the apple faces have been air fried! They may turn out to be silly apple bites or spooky Halloween party treats!
These apple snacks will be a hit at your kids' Halloween party or Halloween sleepover, but your kids will also love making them as a fun and easy Halloween food crafts or fall apple kids activities / Halloween apple orchard ideas.
Great ideas for healthy Halloween treats, too!
Affiliate links are used on this site. As an Amazon Associate I earn from qualifying purchases. Read more in our DISCLOSURE.
To Make Creepy Halloween Treats From Apples You'll Need:
Large apples
Halloween sprinkles (like orange, purple, or green)
Cinnamon and sugar
Cooking spray
Toothpicks
Air fryer
See the full Halloween snacks recipe below. If you're looking for an alternative to Halloween candy apples or Halloween caramel apples, try this Halloween recipe!
Can you air fry apples?
Yes, you can easily air fry apples in a variety of ways — from apple faces, to apple fries, to apple chips and more! Add different seasonings to make fun apple recipes.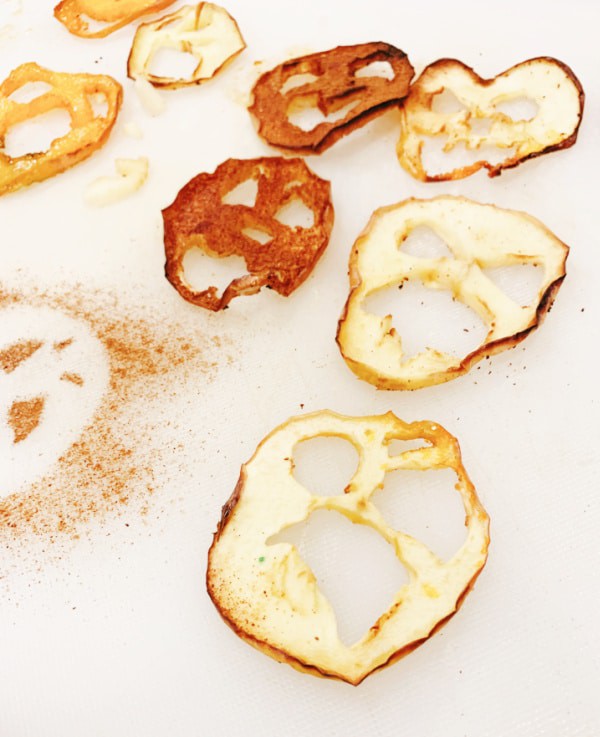 This fun treat has been one of our favorite apple Halloween food ideas.
We laughed so hard seeing how our carved apples came out! The Halloween apple faces were sometimes very different than how we planned them, which made it super fun (and funny)!
It was great fun to see how they turned out.
They are a unique alternative to those Halloween apples with teeth you see everyone else posting about!
Before we get to our creepy Halloween apple treats, you may be wondering…
Can I make apple chips in an air fryer?
If you're wondering can you put apples in an air fryer the answer is yes! You can air fry them longer for a crispy apple chip or shorter for a more chewy apple (like dehydrated apples). Air fried apples make perfect creepy Halloween party food ideas and cute Halloween treat ideas for fall activities.
ALSO CHECK OUT MORE APPLE RECIPES:
Other Apple Snacks In Air Fryer and Baked (air fryer apple fries)
Snicker Salad Recipe with Apples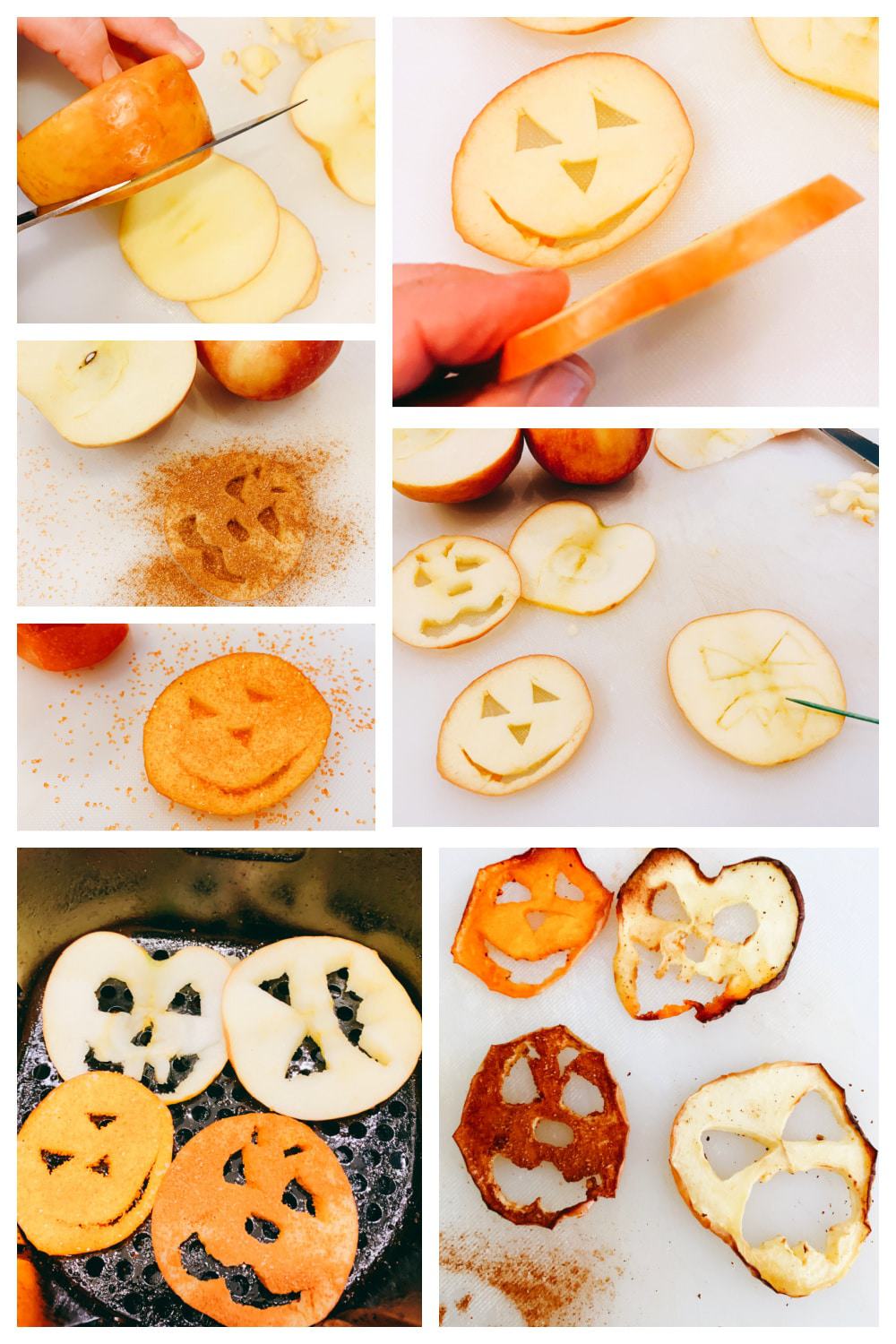 How to make Halloween treats with apples step-by-step
If you're looking for air fryer apple recipes easy and fun for Halloween, this air fried apples recipe is it!
Air Fryer Halloween Monster Apples for Creepy Halloween Treats
These apple snacks in air fryer turn out different every time and that's part of the fun of making them with kids. They shrink and twist and make your zombie snacks, apple jack 0 lanterns, or Halloween monster treats or ghosts take on a completely different look than you thought.
You can use any kind of apples that you have — it doesn't have to be Granny Smith apples / green apples or Red Delicious apples.
If you use a large apple with thinner apple slices, you can get up to 8 apple monster mouths out it! (These are slices and not air fryer apple wedges.) Play around with the width of your air fryer apples slices because every air fryer is different.
(Leave the apple peels on!)
You can also make an easy Halloween apple dip of melted caramel dip to go with these air fryer apple slices, peanut butter, melted chocolate or dark chocolate dipping sauce, or even air fried apples with ice cream.
We ate ours as-is (and didn't dip apples) and they were yummy!
If you don't want to make these as air fryer baked apples, you can also bake them in the oven (but they probably won't shrivel as much and create the weird faces).
Lastly, if you want to make them as air fryer apple dessert healthy (or without added sugar), leave off the sugar sprinkles. Just know that the coloring that you see in the pictures (like the orange pumpkin apple) is from the melted sugar crystals. If you leave those off you'll just have apple colored Halloween monster apples. (Which is fine, too. We left some ours plain.)
You can also try edible glitter like this or food coloring. (We haven't tried those.)
They are great just as dried apple slices on their own or as air fried apples with cinnamon. (We made these fried apples without butter!)
These cute Halloween treats will definitely be an annual snack activity / snack treat for Halloween.
DON'T MISS: Easy Halloween Party Food Treats for Kids
Here's how to air fry apples and make fun Halloween monster apples / little monsters heads. (I called some of ours apple zombie treats / zombie head and pumpkin poison apples, which were perfect for Halloween time!) After frying apples, store them in an air-tight container.
Yield: 8
Halloween Air Fryer Apples Monsters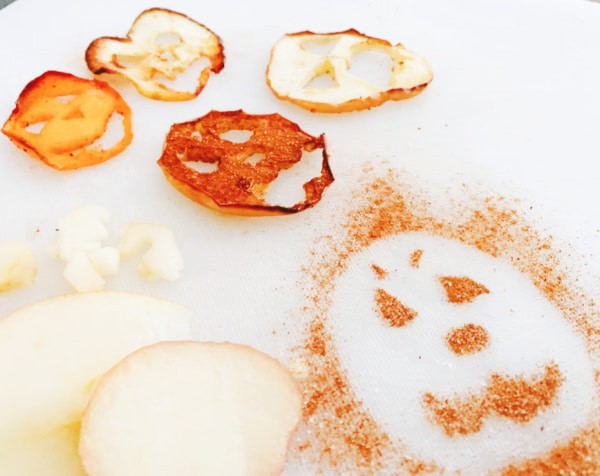 These creepy Halloween treats are as fun to make as they are to eat! You can make shrived zombie heads, monster faces, or funny pumpkins.
TIP: Every air fryer is different. When making these air fry apples slices, test out one first before making the whole batch. It will give you an idea how to make air fried apples for your specific air fryer.
Ingredients
1 large apple
Orange Halloween sugar sprinkles
Cinnamon and sugar
Instructions
Place apple on cutting board, with the apple stem at the top. Slice a small circle off of one side of the apple (starting at top and slicing down toward cutting board). Set aside. Continue slicing about 1/4-inch thick so that you have round slices. (A large apple will give you about 4 slices until you get to the core.) Turn the apple to the other side, slice of a small round and continue slicing the apple slice like you did before.
Using a toothpick, "carve" a face into each apple slice.
Leave some of the carved apple slices plain. Sprinkle some with cinnamon and sugar and some with orange sugar sprinkles. Set aside.
Preheat the air fryer at 400 °F for 2-3 minutes.
Spray air fryer basket with cooking oil. Place carved apple slices in a single layer on bottom of air fryer.
Air fry the apples for 5-10 minutes, depending on your air fryer. The plain ones will take less time than the apples covered in sugar. Keep a close eye on your fried apples, checking them every 2 minutes so they don't burn. Carefully remove from air fryer and let cool before eating. Continue airfrying until all apples are cooked.
Notes
IMPORTANT: Air fryer times vary greatly depending on the air fryer, so your time may vary a little. The apple slices with the sugar will take longer because the sugar melts into the apple. We like our air fried apples chewy, but if you like your apples crispy, you may need to cook them longer.
Nutrition Information:
Yield:
8
Serving Size:
1
Amount Per Serving:
Calories:

110
Total Fat:

0g
Saturated Fat:

0g
Trans Fat:

0g
Unsaturated Fat:

0g
Cholesterol:

0mg
Sodium:

1mg
Carbohydrates:

29g
Fiber:

3g
Sugar:

24g
Protein:

0g
Nutrition information is estimated. Changes to the recipe and use of different brands may cause changes to the nutritional information to vary slightly from the ones provided here.
KIDS WILL ALSO LOVE: Disgusting Halloween Food Challenge Game
Halloween Study Unit Idea for Fun Halloween Treat Apples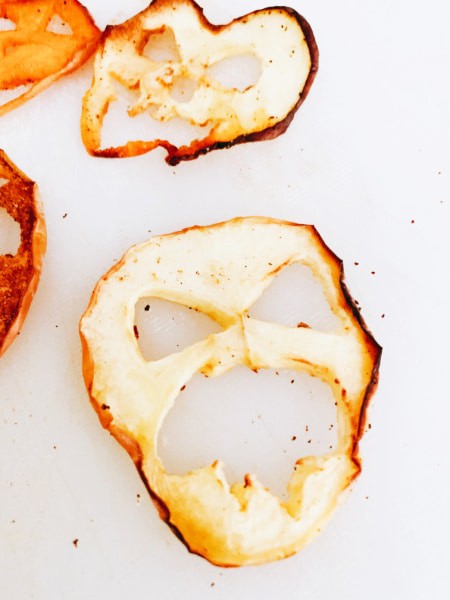 I think these would be cool Halloween treats to make for a Halloween study unit with "scary" art like The Scream by artist Edvard Munch.
You could study Munch and The Scream painting and then try to make your apple air fryer snacks to look like the subject in The Scream!
(I mean, how much do these apple Halloween treats look The Scream?!)
Have fun with your Halloween monster apples for your Halloween celebrations or food crafts!
LOOKING FOR FUN COOKING PRINTABLES FOR KIDS?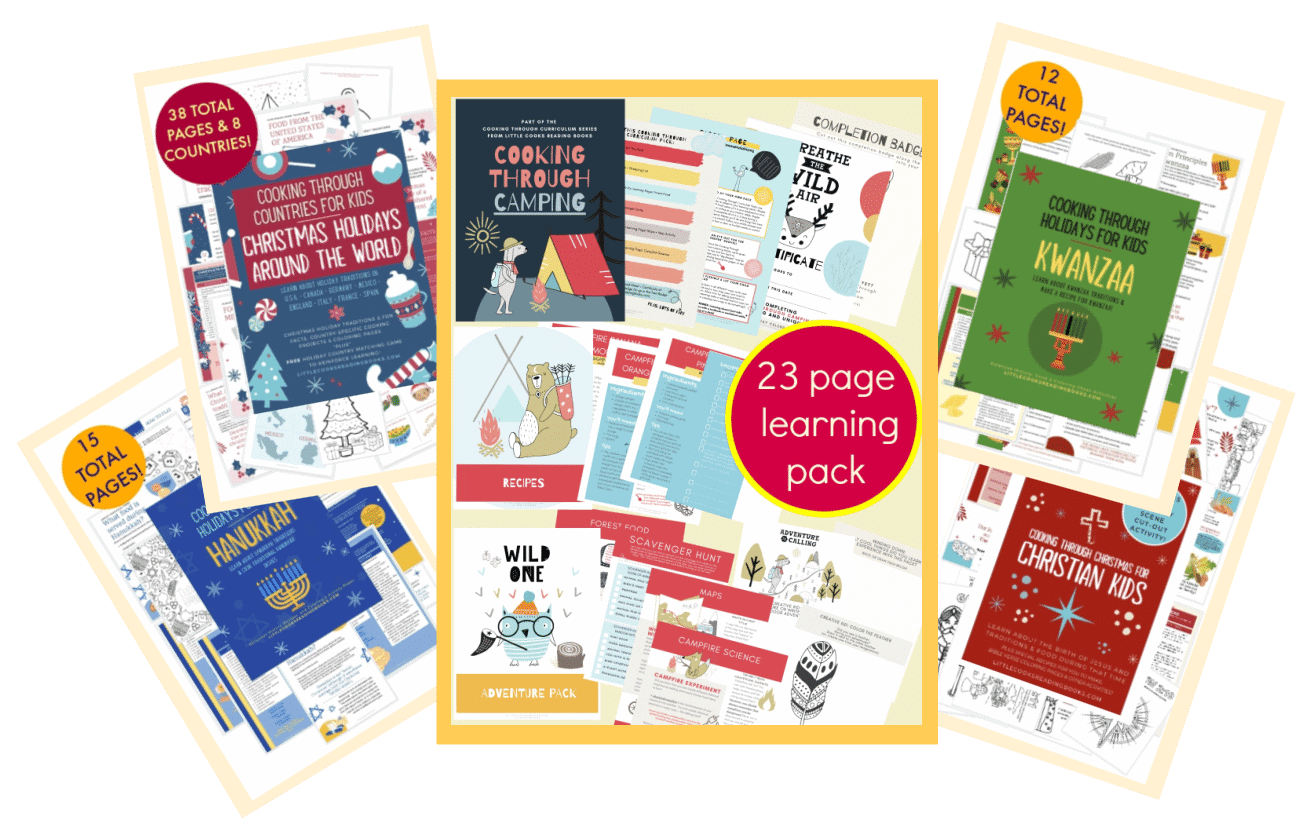 As an Amazon Associate I earn from qualifying purchases. Please refer to our
DISCLOSURE
.